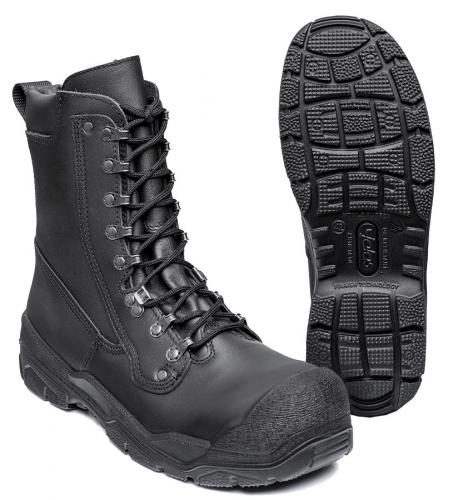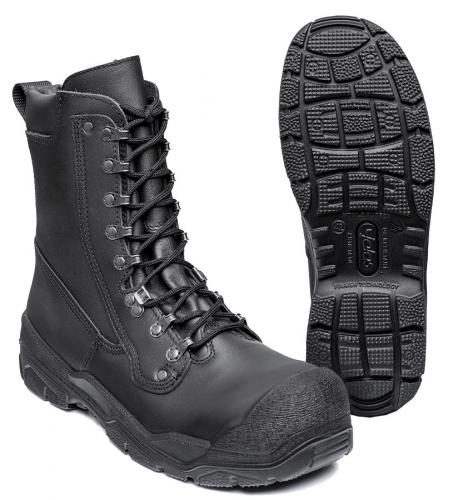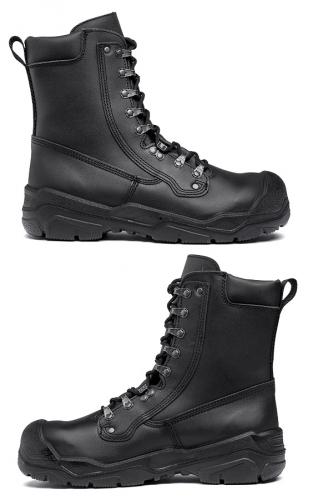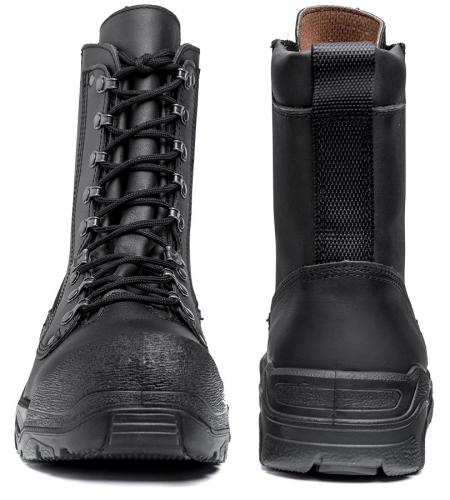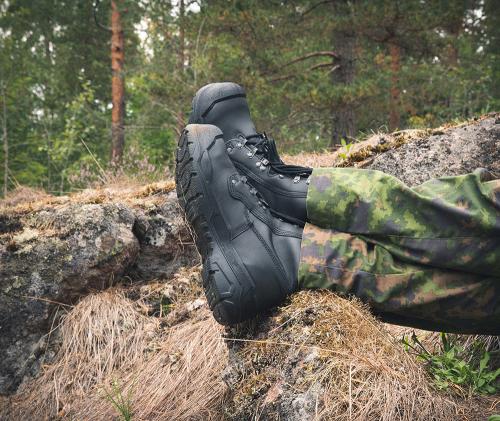 Jalas
Jalas FDF M05 Combat Boots
Price 159.99 USD
excluding sales tax
If there's something the Finnish Defence Forces handle well, it's winter conditions. Take it from us: these M05 combat boots of the latest iteration are proper all-leather combat boots for the whole year, but they stand above the competition especially in the cold.
Loading products...
Trouble with the metric system? Try our converter: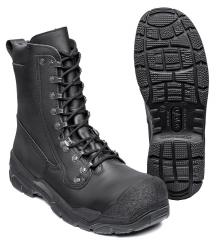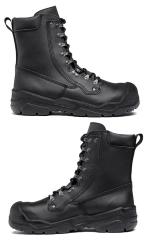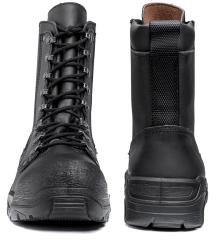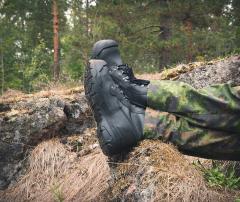 If there's something the Finnish Defence Forces handle well, it's winter conditions. Take it from us: these M05 combat boots of the latest iteration are proper all-leather combat boots for the whole year, but they stand above the competition especially in the cold.
The FDF M05 Combat Boots are designed for northern conditions, and it's not every day you run into better footwear. The anatomic design and shock absorption are leading the industry, and if you only choose the right socks, these will be the thing to wear when you cover long distances on foot.
This combat boot meets or exceeds work shoe standard SFS-EN ISO 20347:2012, Category O2, Class 1 requirements, and optional requirements:
Cold insulation (CI)
Heat Resistant Outsole (HRO)
Oil and gasoline resistance (FO)
Outer sole traction (SRC)
Outer sole tread
Improved soles
The sole of the M05 is extended to cover the parts most prone to wear & tear, like the nose and heel. If you're tired of worn leather on your toe box, that's something you can leave behind with these.
In the latest iteration the traditionally lightweight boots got some heft and it's all in the sole: it resists torsion and bending better than before, which helps carry large loads over rough terrain. Those of you who want a more flexible sole, check out the Fantom Drylock instead.
Shock absorption and excellent traction are Finnish footwear legacy features. Kinda like all-season tyres, these have such a good grip on ice that you'd need studs to do better. The secret is not just the tread, but special material which doesn't harden in the cold.
The inner soles are also wide, shock-absorbing and well ventilated.
Familiar top
The lacing is a very practical traditional speed lacing system. All metal parts are stamped sheet metal, which won't snap like crumbly die-cast rubbish. Once you have tightened the lower part, locking hooks at the instep retain lace tension and you can leave the shaft a bit looser for better blood circulation.
These boots are meant to be used with double socks at least, so there is no lining or padding. The idea is that a wet boot dries more quickly and can be stuffed with dry socks to get back into action. The shaft is padded at the top and features a loop to help to put the boot on.
Size info
These follow FDF sizing, which is practically speaking one size larger than the label says. So if you usually wear 44, most likely a 43 will fit you best, unless you plan to wear three pairs of socks of course. The last is wide.
Here's a chart of insole lengths. Measure your foot and pick a 1-2 cm (3/8" - 7/8") longer insole for toe clearance, or measure an existing insole of shoes that fit you.
| Shoe size | Insole length |
| --- | --- |
| 35 | 235 mm |
| 36 | 245 mm |
| 37 | 250 mm |
| 38 | 255 mm |
| 39 | 262 mm |
| 40 | 268 mm |
| 41 | 275 mm |
| 42 | 278 mm |
| 43 | 287 mm |
| 44 | 296 mm |
| 45 | 302 mm |
| 46 | 307 mm |
Care of leather boots
Although Gore-Tex seems to be the thing today, traditional leather boots still have their advantages. Because of the simple construction, these will probably outlast most "hi-tech" boots and stand up to rough abuse. Grease these up once in a while to keep them waterproof and the leather supple.
Made in Finland
Made by Jalas, the same company that makes these for the Finnish Defence Forces. We have used these enough to say that if you need really good traditional leather combat boots, here's a top choice - you get what you pay for.
Kierto Circular Economy
Return this product used but clean and unbroken, and you'll receive half of the product's original price as Varusteleka credits. Service is available only in Finland. Only Registered users can make Kierto returns. See more information about Kierto.
All products: Jalas
Recommendations
Loading products...
Reviews
You have already submitted a review. You can edit your text by clicking on it. You can filter the reviews by clicking on the elements of the summary.
Log in and write a review. You can filter the reviews by clicking on the elements of the summary.
Remove filter
Suomi
(27)
English
(3)
I would recommend for a friend
N.N.

17.04.2018

Verified purchase
Pohja tosiaan paljon parempi kuin aiemmin. Nahka myös jämäkämpää kuin aiemmin Jalaksella.
Hyvät popot, kyllä näillä kelpaa metsään mennä.
27
6
I would recommend for a friend
Jere H.

18.04.2018

Verified purchase
I would recommend for a friend
Aukusti M.

16.05.2018

Verified purchase
Mielestäni parhaat varsikengät mitä rahalla saa, suunniteltu suomalaiseen jalkaan ja maastoon.
45
13
I would recommend for a friend
Sami P.

01.07.2018

Verified purchase
Todella hyvät ja vanhempaa mallia huomattavasti paremmat varsikengät.
Liikun paljon luonnossa ja kengänpohjan jäykkyys on omiaan parantamaan kulkua ja etenkin kulkijan nilkkojen rasitus on pieni.
Kengänpohjan kuvioinnin seurauksena kenkä ei sudi vaikka lähtökiihdytys on kova ja alustana märkä kallion pinta.
Hintansa väärti.
12
4
I would recommend for a friend
Ville V.

02.07.2018

Verified purchase
Hyvät popot myös lättäjalkaiselle, jolla leveä lesti.
9
6
I would recommend for a friend
Mikko S.

09.09.2018

Verified purchase
Tutut ja turvalliset, kestävät hyvin vaeltamista ja eräjormailua.
11
2
I would recommend for a friend
Anders T.

29.09.2018

Verified purchase
I got my boots last week and first impression is quite good. I take a 44 and bought a 43.They are still on the large side though so I replaced the Jalas insole with a thicker one instead.Other than that are they OOB(Out of the Box) Earlier today did go for a short hike (about 4,5 k) and the boots performed nicely. As there had rained was there some mud on the trail but the traction was very good. As these will be used as "Bad Weather Boots" will I not go for a high gloss polish. Instead have I used Altberg Leder-Gris® Wax Oil. I am sure that there are other products out there , but I really like the Altberg Wax Oil, and have used it for years. I will come back and give my final verdict after I have tried them more thoroughly. Until then a really good bot for a decent price. After using the boots in winter condictions can I vouch for that the traction on snow and ice is good quite good actually. The only negative that I can think of is that I have had some fitting issues. That they are generous in their size can be solved by going down one size. That is not my problem but rather that they are wide very wide IMHO. For winter wear have I for many years used the three layer system in severe climate.First a normal Cotton calf high sock then a thick army issue one and on top on that a thinner army sock if needed. But with these have I gone to using a thicker sock as the outer layer. It is the heel area that is the main problem for me.
I solved the problem by using two insoles instead of one and by using three socks as standard. Apart from that is it a very good boot even if you dont have paws like a bear.
8
1
I would recommend for a friend
Adam R.

20.10.2018

Verified purchase
Very good boot, the leather and stitching is all top quality. The boot is nice and wide so your feet don't get squashed. You can wear lots of socks which makes it a good cold weather boot. The sole is very grippe on all terrain which is very nice. Very good in shallow wet weather.

I only have a couple of gripes, the sole doesn't seem to last all that long, after a few months the sole is wearing flat in some areas because the sole tread is very shallow from the factory. That seems to be a new trend in modern boots and I don't like it. They really need to make the treat much deeper so it stays grippe in all terrain for longer. The sole has just started to peel away from the leather but it hasn't started letting water in there yet so it's still good. I've only been wearing them for about 5 months every day so that's not too bad. Still I don't really want to see it coming away at all. I really like the rubber toe area, really helps keeping the boots in good condition. The innersole is superb I can't fault it.

The biggest problem I have with the boot is that at the top of the boot where the tongue meets the base of the boot there is an M shape that combines the two pieces of leather, water gets in there and will drip onto your feet. This will only happen in deep water or deep snow but it's still and issue. Also the plastic tips to the laces start to come off so I replaced them with kevlar laces with metal tips. Problem solved.

I suppose the only other problem I have with it is that they aren't all that easy to clean, too many areas for dirt to collect, they should maybe look at making a simpler design with no little corners for crap to get down into.

Best way to care for them is to simply clean them up and apple liberal amounts of leather grease.
13
1
I would recommend for a friend
Nova S.

18.01.2019

Verified purchase
Erittäin mahtavat kengät, sopii mainiosti monenlaiseen tarpomiseen. Kestää mitä tahansa säätä eikä talvellakaan tarvitse tarpeettomasti liukastella. Toimii myös hienosti vain yksien sukkaparien kanssa.
6
3