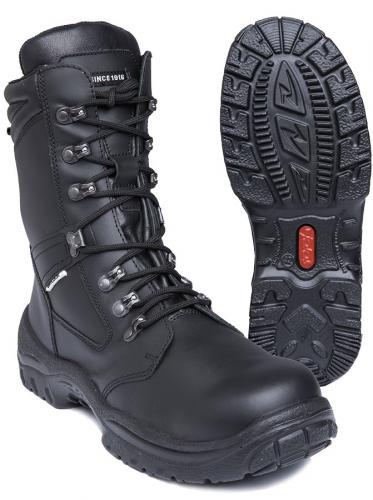 Jalas Fantom Drylock
Price 147.99 USD excluding VAT
Flat Rate Shipping to USA $9.99
86 % recommends
Sold 58 pcs in the last two weeks
Loading products...
Trouble with the metric system? Try our converter: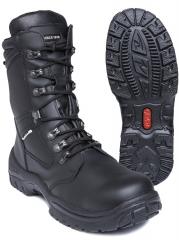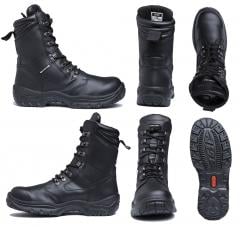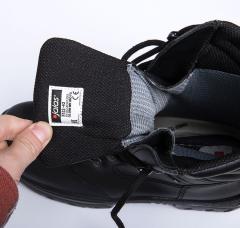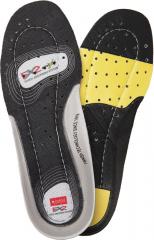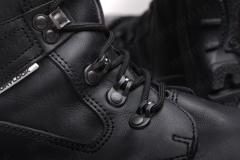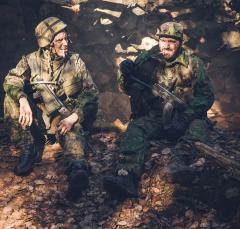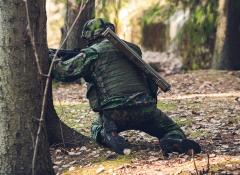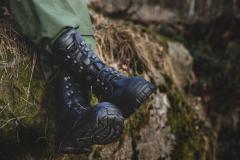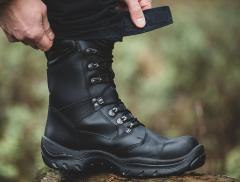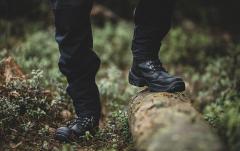 In Finland the comic character "The Phantom" (you know, the butch guy who runs around the Bengal jungle in purple tights) is immensely popular. In fact he's so famous that Jalas actually went and named a boot after him. And a top quality boot it is too! We are especially thrilled, as these fit our wide, hairy Finnish hobbit feet well.
When The Phantom leaves the Nuuksio jungle and goes to downtown Espoo, we're quite sure he wears these, as it's always pretty sloshy and cold there. Like the Finnish army M05 boots, these are full leather, but here's the catch; these have a waterproof membrane. If you're not a Finn, you probably pass this by with a shrug, but we're pretty excited - in a country that lags behind everyone else about 10-20 years, that's something! It's almost like, you know, introducing electricity to Zimbabwe (again).
Now, as us Finns do know something about winter, these have some pretty good qualities for cold weather footwear (along with the membrane): a rubber sole with good traction, strong construction and a proper full leather tongue. Last but not least, these are sized pretty generously to accommodate thick (double) socks inside. Oh, and the insole is super, one of the best we have ever seen.
Miscellaneous info
Full leather construction. Means you can actually polish the leather to keep it in good shape. We recommend using special membrane-compatible polish, regular ones might block the membrane.
Shock absorbption in the sole and superior traction - these are meant for Finnish weather conditions and works better than most in freezing temperatures too. The rubber doesn't get stiff easily and can take heat up to 300 degrees celsius.
Reinforced nose. Please note that this is not a safety toe. It's the same kind found on most standard military footwear.
Speed lacing. Now, Jalas made a nifty little thing to make this better: they put small ball bearings inside the tunnel loops. Think about it, which causes more wear to the laces, a metal corner or a round bearing? This also makes the pull easier.
Fits better around the shaft than the standard M05 boot, thanks to the thicker tongue and light padding inside.
The membrane isn't Gore-Tex. Instead, it's something the boot manufacturer, Jalas, calls "Drylock". The manufacturer of the membrane fabric itself is Porelle. If you're confused, no worries - the membrane works just as it should: keeps water out and lets sweat fumes out. Porelle promises some pretty awesome specs for their membrane.
Size info
The sizing system is very Finnish - the sizes run big. As this boot is designed for Finnish feet, the last is wide. It probably would be wise to take one size smaller than usual. Of course, this is very individual and should be used only as a guideline.
Conversion chart
| EUR-size | Insole length | US-size |
| --- | --- | --- |
| 35 | 235 mm | US 4 |
| 36 | 242 mm | US 5* |
| 37 | 248 mm | US 5.5 |
| 38 | 255 mm | US 6.5 |
| 39 | 262 mm | US 7 |
| 40 | 268 mm | US 8 |
| 41 | 275 mm | US 9* |
| 42 | 282 mm | US 9.5 |
| 43 | 288 mm | US 10.5* |
| 44 | 295 mm | US 11 |
| 45 | 302 mm | US 12 |
| 46 | 308 mm | US 12.5 |
| 47 | 315 mm | US 13.5 |
| 48 | 322 mm | US 14.5* |
| 49 | 328 mm | US 15 |
| 50 | 335 mm | US 16* |
* This size falls in between half and full sizes of the US system and our chart indicates the larger US-size. The rounding is just 2 mm (0.08") and these have a lot of toe clearance so you'll be fine.
Made in Finland by Jalas.
Employee's comments
What we have here is an exceptionally comfortable boot. Call me old fashioned, but initially, I was somewhat doubtful of the whole concept of a leather boot with a waterproof membrane, reasoning that since a membrane boot tends to be somewhat stuffy, as does your average leather boot, then a membrane leather boot ought to be like wearing wellies.
I was however proven wrong when, after a brisk 40 km march in the pouring rain, my merino wool socks were no sweatier than they'd be after a light city walk in low shoes. In addition to this my feet weren't chilled by the near-freezing water we repeatedly had to wade through, something that is often the case with membraned boots that have a non-waterproof outer material, such as Cordura or nylon.
I usually dismiss all kinds of "guaranteed to keep you dry and warm" sales pitches automatically, experience having shown that being outdoors just doesn't work that way, but this product came eerily close to doing what it said on the tin. Hats off to the designers, well done! With time I've also come to realize the value of the leather upper + membrane lining -combo; both mitigate the other's weaknesses. Whereas even a well cared for pair of leather boots will start letting water in after some 60+ km without greasing, the membrane will stay waterproof until it's worn through. On the other hand, should the membrane be broken, you can always polish up the leather and have the boots be almost as good as new that way.
Last, but by no means least, I want to say a word or two about the FX2 insoles that come with these. They are a marvel and no mistake! They have the usual plethora of features most high-end insoles have these days, but what really sets these babies apart is their double shock absorbtion. Instead of just having a bit of rubber under the heel, which is the usual solution, these have two patches of shock absorbing foam, making walking a whole new experience in comfort. These insoles are to a long distance walker what anabolic steroids are to a weightlifter.
Arne
Recommendations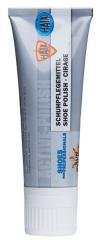 Haix shoe care for Gore-Tex, 75 ml, black
9.99 USD
Sometimes purchased with.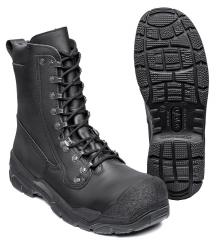 Jalas FDF M05 Combat Boots
147.99 USD
Viewed together.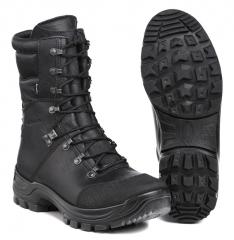 Alpina Trapper
91.99 USD 147.99 USD
Similar product.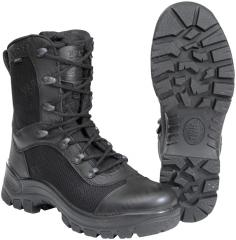 Haix Airpower P3
156.99 USD
Similar product.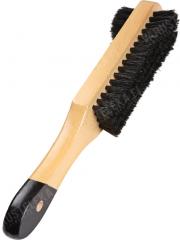 Shoe brush, dual action
5.99 USD
Sometimes purchased with.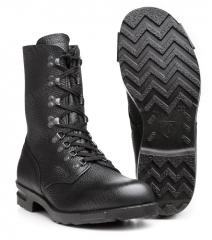 Norwegian M77 combat boots
128.99 USD
Viewed together.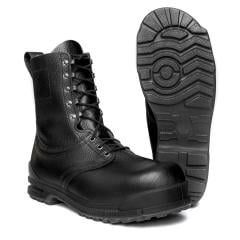 Swedish M90 winter combat boots
73.99 USD
Viewed together.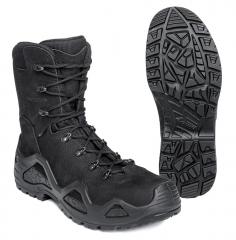 Lowa Z-8N GTX - Särmä TST M19 Combat Boots
183.99 USD
Similar product.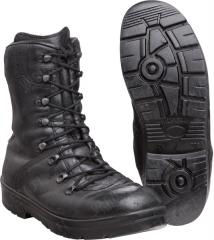 BW KS2005 / Haix DMS combat boots, surplus
59.99 USD
Viewed together.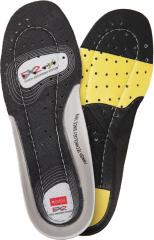 Jalas FX2 insoles
21.99 USD
Sometimes purchased with.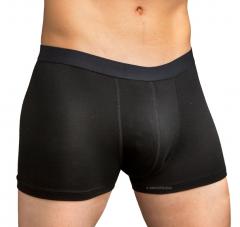 Särmä viscose boxers, black
9.99 USD
Might be of interest.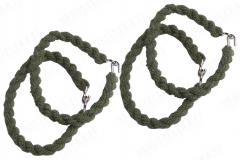 Mil-Tec elastic trouser blousers, two pairs
2.99 USD
Might be of interest.
Reviews
You have already submitted a review. You can edit your text by clicking on it.
Log in and write a review.
Remove filter
Suomi
(61)
English
(11)
I would recommend for a friend
aleski h.

30.05.2016 (Edited 27.04.2017)
5/5
15
4
I would recommend for a friend
Daniel L.

02.08.2016 (Edited 04.08.2016)
I would recommend for a friend
Matti P.

25.08.2016 (Edited 01.09.2016)
Tainnut olla neljä vuotta käytössä kesät-talvet, kyllä kelpaa lompsia eteenpäin.
25
6
I would recommend for a friend
Roger S.

01.11.2016 (Edited 29.11.2016)
My best shoes so far for in the forest and hiking! Will be very hard to top for that price and usage

(For steep terrain I use a heavier boot with stiffer soles though.)
18
3
I would recommend for a friend
Tommi M.

17.11.2016 (Edited 18.11.2016)
I would recommend for a friend
Tuisku S.

24.11.2016 (Edited 29.11.2016)
Parhaat kengät, jotka kestävät noin 2 vuotta päivittäisessä käytössä, myös softatessa. Kengät pitää jalat lämpiminä sekä kuivina, kunnes kalvo on itsessään jo läpimärkä. Muutaman päivän hyppelyn jälkeen kengät vaativat kuivaamista sisäpuolelta. Kenkien kalvo pääsi kulumaan puhki noin 1.5v kohdalla, joka päästää läpi veden ja kastelee osittain sukan. Kenkien sisäpohjan eristeet hävisivät vuodessa ja päästää sillointällöin vedet sisään.

Mukavat JALASsa siihen saakka, kun ne ovat kuivat.
22
6
I would recommend for a friend
Tuomo M.

30.12.2016 (Edited 17.05.2017)
Sopivat hienosti jalkaan ja hengittävät uskomattoman hyvin!
12
2
I would recommend for a friend
Iiro V.

01.01.2017 (Edited 11.04.2018)
Pätevät kengät jotka toimivat kuin sariini lastensairaalassa. Ovat myös kauttaaltaan vedenpitävät, keväällä mulahin mukavasti ojaan polvea myöten, ja vesi pysyi napakasti kengän sisällä. Kevyet kokonahkaiset maiharit jotka eivät juurikaan hiosta edes kesähelteillä, tokihan myös vedenpitävät, sekä vallankin mukavat omaan jalkaan. Plussaa myös pohjan pitävyys jäätiköllä verrattuna joihinkin muihin maihareihin, vaikka rakas maamme kuinka koitti tappaa allekirjoittanutta jäisellyydellään, niin vedin pidemmän korren, kiitos mustanaamioiden.
32
9
I would recommend for a friend
Juho M.

13.01.2017
Tosi mukavat omaan räpylään joka pakkaa olemaan Suomalaisittain leveä ja korkea. Vedenpitävyys tuli myös testattua, sukat pysyi kuivina mukavasti.

Tosin mulla 42 jalka, otin 42 kokoiset ja hyvin menee merinosukka+villasukka sisälle, josta tykkään enemmän.
9
1
I would recommend for a friend
Jani T.

20.01.2017
Mahtavat kengät, komea ulkonäkö ja jalkaan muotoutuu sen suurempaa "sisään ajoa".
7
1
I would recommend for a friend
Stephen C.

25.01.2017
Just received these boots today. I live in New Hampshire in the US, we get a lot of snow. My US-made boots were not up to the task and despite being "waterproof" they wore out quickly and started leaking on me during a hike. Freezing cold water in your waterproof boots is not what you want!

So I investigated military boots for different countries in the arctic. Canada, Sweden, Finland, Russia. The Finns had the best boots by my estimation, so I bought these.

The fit is very different from US boots in my opinion; these boots are more 'foot shaped' than my old boots, meaning they conform to the foot closer. Mine are a little snug on me, I think if I were going to buy again I'd get a bigger size. I rounded down when converting my US shoe-size to EU, I should have rounded up I think :) So far it hasn't been uncomfortable and I suspect they will loosen up a little after I've worn them awhile.

They are kind of magical in the snow. My old boots would sink right to the bottom when I take a step, these float on top and almost don't even leave a footprint. The treads are not very deep, but are 'complex' ... I think this helps in the snow, as opposed to my old boot that had deep treads with a fairly standard pattern. I look forward to trying them out in new / deep snow, but so far its been great.

As for the insoles, they are comfortable for military boots. :) If you're used to civilian shoes, you will probably still find them uncomfortable, but I've worn nothing but boots for years and so these are way better than your average military boots.

I very much like that the lace 'hardware' doesn't have sharp edges. I think my laces will last longer this way. Time will tell!

Overall, very happy, and looking forward to taking these boots on a good adventure to see how they hold up. After a string of very inferior US boot purchases, I'm hoping the Finns can show us how its done :)
63
3
I would not recommend to a friend
Tuomas K.

21.03.2017
Näistä tuli vanha kumisaapas mieleen. Päällipuoli oli verrokkeihin nähden epämääräisen löperö ja kävelytuntuma oli koosta riippumatta kömpelö, vaikka pohja on joustava. Jalaksen nauhakoukkuja joutuu aina korjaamaan pihdeillä. Plussaa nahkaisuudesta, mutta en suosittelisi - ilmeisesti toisilla toimivat käytössä hyvin. Omaan jalkaan Leka-Jalas-yhteistuotos oli parempi ja Sievin GT tähänastisista paras.
6
25
I would recommend for a friend
Antti L.

10.05.2017 (Edited 10.05.2017)
Istuvat ainankin minun jalkoihin kuin nyrkki silmään. Kun pitää pinnan kunnossa kalvolankilla, voi narut kireellä kävellä niin syvään lätäkköön kuin vartta riittää eikä tule vesi läpi.
Toinen pari jo menossa, ensimmäisistä tamppasin pohjat puhki.
Uutta Jalaksen FX2-pohjallista kun raaskii vaihdella alle, niin pysyy käyttömukavuus kohdillaan.
8
2
I would recommend for a friend
Timo K.

29.06.2017 (Edited 29.06.2017)
Nilkan kohdalla on erilaiset hakaset, ilmeisesti niiden avulla pystyy nauhoittamaan jalka- ja varsiosan eri kireydelle. Mutta kun on kysymys pikanauhoituksesta, niin kuinka noita olisi tarkoitus käyttää? Rautalangasta kiitos.
14
0
I would recommend for a friend
Jack T.

02.08.2017
I would not recommend to a friend
Joona N.

23.08.2017
Itsellä pohjat kuluneet käyttökelvottomiksi noin vuoden käytön jälkeen. Harmittaa ostaa uusia näin pian ja ihmettelen miten toisilla ovat kestäneet vuodesta toiseen (sunnuntai-pohjat?). Olivat hyvät "niinkauan kun kestivät" ja halusinkin pehmeämmät pohjat maanteitä ajatellen kovien metsämaihareiden sijaan, joten ehkä vika siinä. Kuitenkin kestävyys ehdoton miinus, jonka takia en toisia ostakkaan. (Toisaalta, onhan näillä tuhansia kilometrejä takana)
19
10
I would recommend for a friend
Aleksi H.

11.09.2017
Erittäin hyvä hankinta. Kalvo toimii.

Takana nyt arviolta muutama sata kilometriä kävelyä, suurin osa muualla kuin asfaltilla. Vielä en ole saanut kalvosta vettä läpi edes upottamalla. Toisaalta kalvon hengittävyys on myös tullut testattua. 12h yhtäjaksoisen jalassa pitämisen jälkeen lattiaan saa kyllä leimattua yhden jalanjäljen sukkahiellä, mutta kahta ei. Eikä edes ketuta pitää maihareita jalassa tuo 12h putkeen.

Erittäin hyvä valinta vähän kaikkeen. Itse tulee käytettyä sienimetsässä, kävelylenkillä, tetsatessa, joskus jopa baariin lähtenyt puolivahingossa nämä jalassa. Hyvin pysyivät myös tansilattian eritteet kalvon pois sukista.
3
3
I would recommend for a friend
Jouni H.

05.10.2017
Kolme vuotta kesti päivittäisessä käytössä, kerran viikossa HAIX: kalvo plankki pintaan, pitää vettä ja pohjat on hyvät maastoon.
0
0
I would recommend for a friend
Jouni H.

05.10.2017
Kolme vuotta kesti päivittäisessä käytössä, kerran viikossa HAIX: kalvo plankki pintaan, pitää vettä ja pohjat on hyvät maastoon.
3
0
I would recommend for a friend
Juho A.

08.10.2017
Aivan loistava ostos. Sopii jalkaan kuin nyrkki silmään. Ostin nämä aikanaan inttiin ja voin sanoa, että palveli jalkoja paremmin kuin pv:n omat m05 maiharit. Kesti tetsaamisen säällä kuin säällä ja talvella pystyi seistä paikallaan montakin tuntia (kuten intissä on tapana) ilman jalkojen kylmettymistä. Jalat pysy myös kuivana ympäri vuoden.
3
1
I would recommend for a friend
Perttu T.

21.10.2017
Nelisen vuotta käytössä enimmäkseen talvisin ja huonolla säällä, kalvot kestäneet hyvin, käyttömäärästä riippuen about kuukauden välein kunnon lankkaus. Nauhatsydeemi on ilmiömäinen, alkuperäiset nauhat käytössä edelleen.
3
1
I would recommend for a friend
Erkki H.

27.10.2017
Hankin tämmöiset yhteen intin vapaaehtoiseksi luokiteltuun harjoitukseen. Vapaaehtoisissa saa muun tavaran varusvarastolta - mutta ei jalkineita. Hyvin toimivat. Merinosukat alle ja aika täydellinen yhdistelmä. Kovassa käytössä ovat olleet sen harjoituksen jälkeen ja edelleen kuin uudet, kun muistaa pistää sopivaa kalvokenkäplankkia päälle silloin tällöin
1
1
I would recommend for a friend
Jari K.

28.10.2017
Mukavat jalkaan. Pitävät hyvin vettä. 82km lenkki sujui mukavasti ilman totuttelua uuteen kenkään.

Kon valinta oli (kkemattmalle) vaikea. Sovittaessa iso koko tunti mukavalta. Kävin onneksi vaihtamassa numeroa pienempään, ja ensimmäisen käytökerran jälkeen tuntuu, että olisi ehkä vieläkin numeroa pienempi toiminut. Ilmeisesti nahan ominaisuus on, että ensisovitamalla tulee otettua tarpeettoman iso.

Kkon katsomatta, minulle leveä lesti on meiluinen, ja näissä kengissä ei varpaita purista. Varsi ja nilkka pitävät kuitenkin kengän tiukasti paikallaan. Oikein miellyttävä tuttavus.
2
1
I would recommend for a friend
Harri V.

29.10.2017
Fantomit ovat todella hyvät kengät jalkaan. Muotoutuvat hyvin jalkaan, FX-pohjallinen pitää huolen että kantapäivätä ei kolota, pohja pitää kivikossa (jopa märässä) kuin tauti. Myös talvella pito on mainio.

Erityisesti pidän siitä että nämä eivät tue jalkaa liikaa vaan maastonmuodot tuntuvat läpi ja ainakin teoriassa nilkan lihakset vahvistuvat. Ovat siis toista maata kuin jäykät vaelluskengät, joilla on hankala kävellä asfaltilla.

Miksi sitten vain kolme tähteä?
Koska kalvo petti neljän noin viikon mittaisen vaellusreissun jälkeen ja pääosa vedenpitävyydestä meni sitten siinä. Kokeilin hoitaa ohjeen mukaan Haixin kalvokenkärasvalla - ei auttanut.
Viimeisenä keinona kokeilin kalvottomille nahkakengille tarkoitettua vanhaa kunnon SA-Int-lankkia. Se tepsi. Ei täysin mutta riittävästi että pari-kolme nilkkasyvyistä puroa pystyy näillä kuitenkin ylittämään ilman kastumista. Suurimman osan aikaa tuo riittää.

Summasummarum: jos talsit paljon oikeasti märässä ja vedessä niin tuo kalvon kestävyys saattaa aiheuttaa mielipahaa. Muuten aivan loistavat tohvelit.
8
1
I would recommend for a friend
Henri S.

30.10.2017
Nyt lyhyen aikaa metsällä käytössä olleina tuntuu tosi hyviltä kengiltä ja jalat on pysyneet kuivana. Jalas istuu hyvin suomalaiseen lättäjalkaan.
Jos näistä kengistä jotain jää kaipaamaan, niin verrattuna Haix ProR nauhoitus on hieman hankalampi eikä kenkä ole yhtä tukeva. Eniten ymmärrystä ja hermoja vie nauhoitus kun on tottunut vetämään nilkan kukuilla eikä lenkeillä. Mutta muuten oikein pätevät pelit ja talvella mahtuu mukavasti villasukka väliin.
2
0
I would recommend for a friend
Saana K.

01.11.2017
Parhaat koskaan omistamani kengät. 4 vuotta käyttänyt näitä yleisinä käyttökenkinä sekä metsäily/vaelluskenkinä, ja ovat pitäneet vettä täydellisesti todella märällä suollakin kävellessä. Mukavat ja ketterän tuntuiset kävellä.
10
1
I would recommend for a friend
Mika L.

06.11.2017
Erittäin toimivat ja asialliset bootsit. Nyt n. 50 km takana sisäänajoa ja en anna pois. EN!
3
1
I would recommend for a friend
Jan T.

07.12.2017
Tästä on jo monta vuotta kun olen kyseiset kengät ostanut. Jumalauta että ovat hyvät kengät, ostin vastaavat myös turvakärjellä varustettuna.

Varustelekasta ostetut ovat edelleen erinomaisessa kunnossa ja nähneet kilometreja aivan perhanasti. Näillä monoilla lompsitaan vielä pitkälle, ja kun puhki kuluvat niin ostan uudet samanlaiset.
4
0
I would recommend for a friend
Tuuli H.

10.12.2017
Parhaimmat kengät ikinä! Näillä kävelee elokuusta toukokuulle tarvitsematta muita popoja. Rahaa säästyy rutkasti kun ei vain muita kenkiä halua edes kokeilla, saati ostaa. Kesälläkin nämä pistää mielellään jalkaan kun tarvitsee tukevampaa jalkinetta retkeilyyn tai muuhun metsäilyyn. Ja onhan näissä asennetta!
3
1
I would recommend for a friend
Maria A.

02.01.2018
Näissä ilmeisesti hieman jakaa mielipiteitä koon sopivuus. Ongelmia itsellä näyttää aiheuttavan sekä leveä, että korkea jalkapöytä. M05:ssa käytössä oli koko 38. Näissä Fantomeissa on kuitenkin vuori, joka on tehty hyvin napakaksi. Siitä johtuen Fantomeissa vasta koko 40 osui sopivaksi. Harmi sinänsä, voisivat istua pituutensa puolesta hieman paremmin kokoa pienempänä. Muuten kuitenkin ihan toimivat kengät.
7
0
I would recommend for a friend
Ville M.

05.01.2018 (Edited 05.01.2018)
Olen erittäin kova sukkamehun tuottaja. Syystä,jota en ymmärrä, näiden kenkien kanssa ongelma on paljon pienempi kuin minkä tahansa muiden kenkien kanssa.



Nämä hengittää aivan älyttömän hyvin.

Ja pitää liukkaalla jäälläkin.



Ainoa huono puoli toistaiseksi on se, että pikanauhojen keskiholkki ei pidä hyvin nauhoja kiinni. Helposti tippuu kävellessä, eikä sitä välttämättä huomaa ihan heti.



Jos nykyiset kengät on liian kylmät parien villasukkien kanssa, niin sitten ostan talvikengiksi toiset 1-2 kokoa isommat.
4
2
I would recommend for a friend
Janne J.

12.01.2018
Oikein mainiot jalkineet jokapäiväisestä kavelystä talvikäyttöön. Kengännauhat saisivat olla 20cm pidemmät. Really nice shoes that are comfortable for all weather conditions and uses from everyday use to winter use. shoelaces could be 20cm longer for easier use.
0
0
I would recommend for a friend
Riikkaliina L.

15.01.2018
Kertakaikkiaan, paras kenkä ostos ehkä niinku ikinä! Super hyvät jalassa, lesti on hyvä, lämpimät ja kaikin puolin parhaat joka paikan höylät. Arvoin kahden koon väliltä ja pienempi oli parempi. Ja silti mahtuu villasukkaa väliin tarvittaessa.
2
0
I would recommend for a friend
Janne V.

09.02.2018
Noin viiden vuoden ja satojen kilometrien jälkeen nahka oli kärjistä kulunut aika pahoin, sekä pohjat luovuttivat ja repesivät auki päkiän kohdilta. Pakkasilla pohjat tuntuivat kovettuvan ja muuttuivat hieman liukkaimmiksi, mutta silti kelvolliset talvikäyttöön pienellä varauksella vähäisillä miinusasteilla. Yhdet parhaimmista kengistä tähän mennessä, erityismaininta nauhojen kiinnityksestä (alkuperäiset nauhat ja vielä lähes täysin ehjät), korvaajaa yritän etsiä lähinnä pohjien takia, kaikesta huolimatta suosittelen.
1
0
I would recommend for a friend
Jarkko K.

22.02.2018
Muuten oikeinkin loistavat kengät, mutta näillä pakkaslukemilla omani ovat kuin luistimet. Tällä hetkellä ulkona -11.
6
0
I would recommend for a friend
Olli R.

23.02.2018
Hyvät kengät. Pohjallisen kanssa miellyttävä käyttää. Uutena hyvä pito jopa märällä kalliolla. Omani kävelty vuosien aikana satoja kilometrejä, joten kulutuspinta nyt vähissä. Ostan uudet samallaiset. Suosittelen.
2
0
I would recommend for a friend
Laura T.

26.02.2018
Puolikas piste lähtee pois pohjan liukkaudesta kovilla pakkasilla, muuten ovat täydelliset meikäläisen jalkaan. Vaikka onkin leveä lesti niin tukevat jalkaa hyvin, seikka joka ei kaikissa leveälestisissä kengissä toteudu.
4
0
I would recommend for a friend
Vertti M.

07.03.2018 (Edited 07.03.2018)
Tasan vuoden ollut kengät nyt käytössä, kesällä ja talvella, kaupungissa ja maastossa. Ei ole kertaakaan tullut vedet sisään ja jalat ovat pysyneet muutenkin kuivina. Käytössä näiden kanssa on ollut 99% ajasta Lekan merinovillasukat joita voi kyllä suositella talvi- sekä kesäkäyttöön.



Kengät istuvat hyvin ja varsi tukee sopivasti nilkkaa. Laadultaan oma pari on ollut hyvä, ei ole saumat revenneet ja nauhatkin ovat pysyneet ehjänä.



Ainoana miinuksena, jonka vuoksi annan "vain" 4.5 tähteä, olen huomannut, että näin toisen talven aikana pohjat ovat kovettuneet pakkasella (10-20 astetta pakkasta) todella nopeasti jolloin kengät menettävät huomattavasti pitoa kävellessä tamppaantuneella lumella/jäällä.
2
1
I would recommend for a friend
Tero P.

11.03.2018
Parhaat omistamani varsikengät. Nämä on mukava vetää jalkaan, istuivat täydellisesti omaan jalkaan ilman minkäänlaista sisäänajoa. Ovat kestäneet jokapäiväisessä käytössä, sekä kertausharjoituksissa. Kalvo pitää ja mikä tärkeintä, ompeleet ja saumat ovat pysyneet ehjänä. 4,5 tähteä koska pohjat tosiaan kovettuvat käytössä, pitävät äänekästä kopsetta.
1
0
I would not recommend to a friend
Anders T.

21.03.2018 (Edited 25.03.2018)
First these boots are very comfortable.It is like wearing a sports shoe. Good traction on snow and sleet, and light very light compared to some other boots that I own. But They are IMHO way to "soft" for serious use. An example grab the boot by the heel and the toe then try to twist the boot. I own sports shoes that are harder to twist than these boots. I cant imagine how a conscript on a long tab in difficult terrain will feel with these boots on.The leather in my example at least is about as soft as on my old army dress shoes. This it not good for a boot of this type must the leather be thicker .If I hadnt had them on for a day would I return them or exchange them for the Norwegian M77 instead. If one wants a relative light boot that can stand some hard going would I choose the Altberg Defender instead, or for a "Winter" boot Rangers Félin Armée française . I would even use my old worn pair of the Swedish M90 boots .Oh well shall I keep them or throw them in the garbage? That is something that I must think about. I will NOT use them again ever.
As there are a number of good reviews on these boots must my conclusion be "To each his own".
11
19
I would recommend for a friend
Rami K.

04.04.2018
I would not recommend to a friend
N.N.

06.04.2018
Liian pehmeät pohjat ja nahkakin on liian pehmeää. Ei kestä oikeaa metsäkäyttöä, siis polkujen ulkopuolella. Kaupungillapatsasteluun omiaan, oikeaan käyttöön on muut kengät,
16
13
I would recommend for a friend
Lasse M.

08.04.2018 (Edited 08.04.2018)
5-6 vuotta nyt käyttöä syyskuu - huhtikuu joka vuosi. Lisäksi kesälläkin satunnaisia metsäreissuja, paikoitellen jopa kovaakin käyttöä, mutta hikoilu on pysynyt nätisti kurissa. Muutoin pääosin asfaltilla kävelyä. Nyt alkaa pohja olla hiljalleen sileänä, mutta talvi - kaksi näillä varmaankin mennään vielä. Talvikäytössä pitävimmät kengät ikinä, vaikka pito himppusen heikkeni ensimmäisten talvien jälkeen. Pitää veden, loskan, paskan ja muun poissa ja kunhan muistaa (raaskii) vaihtaa pohjalliset aina välillä, niin taas latu maistuu. Pohja on pehmeä joo, mutta omissa kirjoissa tämä on etu, ei vika. Kuriositeettina vielä mainittakoon, että orkkis-nauhat popoissa edelleen on, joten siinäkin varmaan jokunen dinaari tullut säästettyä...



Have used these 5-6 years now from august to april. Also used these at summer in forest, occasionally also in harder use, but my feet sweated only just a bit. Mainly still at asphalt. Now the bottom begins to be quite flat, but still think that it probably lasts for a winter or two. At winter these have had best grip ever, even though they got slightly more slippery after a couple of winters. These boots keep snow, slush, shit and everything elese outside and as long as you remember (and have the heart to) buy new insoles, they will work just fine. The bottom is soft yes, but in my opinion it's advantage, not a flaw. As a curiosity thing yet, I still have the original shoe laces after all these years.
3
0
I would recommend for a friend
Ignacio N.

02.05.2018 (Edited 13.11.2018)
I just got them and went running with them for 6 Km plus some forest training but that was my first impression: comfortable from the first moment. Difficult to tie but that´s just about getting used to it. Not too heavy (even though I used before the feather weight Haix Airpower P9 dessert) and nice feeling boots. Quite warm, even if it can be an all year around boot but I rather have a more summery boot with more socks in winter. As it says, not a safety toe but it feels like, pretty hard stuff. Sure will save your toes if chopping wood or dropping heavy stuff on them. I think I have here an amazing pair of boots. I´ll write more in couple of moths. UPDATE: unfortunatelly I´m extremelly disappointed with these boots. They are comfortable, protective and high quality. Great support of the ankle, even if you twist it while running, just keep going, no problem. But the sole bonding (the glue between sole and leather) failed after a week. Right boot, two places. Even after two repairs in the shoemaker. I must say VARUSTELEKAS CUSTOMER SERVICE WAS OUTSTANDING, AMAZING AS ALWAYS. I got a second pair, sent even before I asked for it and they took care of the shoemaker costs, but the second pair was the same, right boot same place, where the toes bend, open side, a couple of "holes" in the sole bonding the first day I went running. And belive me, I´m not exactly Rambo... I don´t want to get another pair of these boots. Seems to be not a problem for the waterproofing, since stepping over some small streams and rain nothing got in, but a "combat boot" shoud take this training and much more. I don´t understand what happened, I have known Jalas from other people and I know they are top quality. I´ll use them until I destroy them (probably soon) and I will sure go back to HAIX boots. Mmmmm... or may be give a chance to the Jalas FDF M05..... I really like the feeling and fit of Jalas. If it wouldn´t be for the fail sole bonding, these would be defenitely my new boots to always have. And you probably should not take this review too much in consideration. May be it was just bad luck. Would be nice to read some english reviews after tough use.
6
1
I would recommend for a friend
Antti P.

07.05.2018 (Edited 06.07.2019)
Muutetaanpas mielipidettä. Ensitaival näiden kenkien kanssa tuntui kiviseltä ja hölskyvältä, mutta sisäänajovaiheen jälkeen niistä muotoutui oikein hyvät ja miellyttävät kengät, jotka ovat kestäneet rankkaa käyttöä niin maan perkeleesti. Kyllä näitä tulee ikävä kun niistä joskus aika jättää.
0
0
I would recommend for a friend
Jesse J.

12.05.2018 (Edited 12.05.2018)
Ihan vitun hyvät kengät. Oon käyttäny näitä nyt vuoden, niin töissä kuin siviilissäkin, ja tuntuu ihan älyttömän hyvältä jalassa. Töissä tulee käveltyä, juostua, kiivettyä, kahlattua kurassa/paskassa/lätäköissä ja välillä potkittuakin, mut Jalakset ei petä.
3
0
I would recommend for a friend
Nick H.

31.08.2018
I absolutely love these boots. I bought them about a year ago, and have worn them almost every day since then, excluding when cleaning and airing them out. Most boots quickly lose their waterproof qualities in the climate of the USA's Pacific Northwest coast, but these have stood the test quite well. I've worn them at my job, where I'm constantly walking around and using harsh floor cleaning chemicals. I've worn them as a Nature guide in sub freezing temperatures near Mount Rainier. I've worn them while welding in my garage. I've worn them on my motorcycle. They even did well in the warm desert like conditions of Eastern Washington. Throughout all this, they have miraculously stayed waterproof and, when paired with proper good socks, perfectly comfortable.
As I stated above, I love these boots. However, they might not be ideal for all people. Firstly, they are very lightweight and flexible. I personally like this a lot, as it allows me to have a better range of motion, but in situations like scrambling up rocks, they don't give as much support as thicker more stiff boots.
Additionally, the leather is very soft. I don't mind, as this makes them nice and supple without much maintenance, and the flexibility is nice in situations like when sinking in deep fluffy snow. However, they do show wear if not cared for. I've been putting a tad bit of mink oil on them, and it keeps them nice, but during the start of last spring they started getting some salt stains.
However, while I have loved these boots, I will have to put them to rest soon. After such heavy usage, they have finally passed into an irreparable state, in which the leather itself has broken near the inside edge wear they attach to the sole. This is a very sad thing to witness after they have been my companions for so long, but alas, they have served me well.
These boots are remarkable thing, a mix of comfort and function like no other that I have worn. I absolutely recommend these if you are looking for a very nice multi purpose boot. If worn only for weekend adventures and the like, I would entirely expect these to last to the recommended 5 years stated in the user manual, and probably far longer if cared for.
Thanks Varusteleka!
8
1
I would not recommend to a friend
Ville E.

18.09.2018
Mukavat jalkaan, loistava vaimennus, pitää jalat lämpimänä kylmällä ja kuivana kostealla.

Käytössä on jo toinen pari, kolmatta ei tule: nahka kuluu säännöllisellä huollollakin kelvottomaksi nopeasti ja saumat pettävät. Ei riittävän kestävä ympärivuotiseen käyttöön kaikissa maasto -ja keliolosuhteissa.

Ts. ei sotilaskäyttöön.
30
8
I would not recommend to a friend
Joonas P.

26.09.2018
I would recommend for a friend
Viki V.

12.10.2018
I would recommend for a friend
Jim A.

19.12.2018 (Edited 01.02.2019)
Not as wide as claimed but very nice boots. I must have real hobbit feet , or My Daddy was a duck.
2 months later . These are best boots I have bought . Have always wore boots from 80's forward!!! These are very comfortable boots , days on end still comfortable. I would recommend to everyone , they would start wearing boots.
2
0
I would recommend for a friend
Niko H.

05.01.2019
Aivan mahottoman hyvät kengät. Viitisen vuotta kesti ensimmäinen pari puolivuotisessa käytössä, ja nyt lähtee toinen pari tilaukseen. Ajattelin että ekasta parista olisi kalvo puhki kun jalka märkänä sai tampsia, mutta lopulta syyksi selvisikin että koko pohja oli halki. Eli ei ainakaan voi valittaa että suojakalvot pettää aikaisin.

Kengät muotoutuu hyvin jalkaan, jättävät tilaa useammalle sukalle ja ovat ihan lämpöiset yhdelläkin sukalla.

Ainoina miinuksina mainitsisin että kovalla pakkasella pohjat kovettuvat ja muuttuvat aika liukkaiksi. Samaten nahka tuppaa varsinkin kärjistä kulumaan nopeasti, mutta jos kerta kuukauteen kehtaa lankkailla, niin ei pitäisi ongelmia tulla.
1
0
I would recommend for a friend
Miikka L.

22.01.2019
Neljä vuotta pahuksen hyvät kengät, mitä nyt se vasemman jalan kappale piti koko ajan kävellessä outoa lonksuvaa ääntä. Nyt kuitenkin on se tilanne, että kenkien pohjat ovat kuluneet niin tasaisiksi, ettei niitä voi enää talvella käyttää ja pohjien uusiminen olisi kallis ja hankala operaatio. Ei toki neljä talvea ole varsikengiltä huono saavutus, varsinkaan kun ne neljä vuotta nämä olivat mukavimmat kengät, mitä olen ikinä omistanut.
1
0
I would recommend for a friend
Jussi V.

02.02.2019
No nyt on hyvät saappaat. Kuukauden päivät näillä kävelleenä voin todeta että Fantomit ovat hintansa väärtit. Omaan jalkaani istuvat hyvin ja sukkia mahtuu kahdetkin päällekäin, mutta kengät saa kiristettyä ohuemmillekin sukkakerroksille. Jalat eivät väsy ja kosteus pysyy ulkopuolella. Varren pehmusteet ovat erinomaiset. Suosittelen kalvokengille soveltuvaa lankkia, ainakin näin lumisena talvena hangessa kahlanneena kengät tuntuvat sitä kaipaavan. Korvaavat jakotavarana annetut nollavitoset kuusi nolla. Suosittelen!
0
0
I would recommend for a friend
Aki T.

13.02.2019
Reilun vuoden olleet käytössä; metsä-, mökki- ja metsästyskävelyt heitetty näillä. Ei ole vesi tai kylmä tullut jalkaan kelillä kuin kelillä (aina SA M05 alussukka). Olen käyttänyt Jalaksen turvakenkiä viimeiset 18 vuotta ja sama koko sopii hyvin; sopivasti tukea ja tilaa. Viidennen tähden puute johtuu hiukan pehmeästä päälinahasta...arka mekaaniselle rasitukselle, kuten Soliferin vaihteenvaihdin ;-)
2
0
I would recommend for a friend
Ilkka J.

16.02.2019
Erittäin hyvä kenkä. FX2 pohjallisten ja tuplasukituksen kanssa kuin pilven päällä hiippailisi. Pitoa löytyy kelille kuin kelille, eikä jalat juurikaan hikoile. Ainut miinus tulee iltin paksuudesta (?) johtuvasta ominaisuudesta, etteivät nauhat pysy siististi varren sisällä. Olen tottunut pitämään ylimääräiset nauhoitukset pois silmistä ja tarttumasta.
0
0
I would recommend for a friend
David B.

01.03.2019
I have had this boot for the winter here in Canada. It is overall a good comfortable boot. But, after some heavy work these boot gave up a good fight but the side seal is breaking on the boots and causing water to get in. But its very little water usually not enough to comeptely freeze my feet but its still an issue during work when I can't walk around feeling my feet for 8 hours. I'd give five star but it didnt last as long as I thought they would.
1
0
I would recommend for a friend
Mira K.

15.04.2019
Aivan ihanat maiharit jalassa. Näillä on hyvä tehdä töitä. Normaalisti käytän kengän kokona 39. Tilasin 38 kokona ja on sopivan kokoiset kengät. Saapuivat alle 2päivässä.
0
0
I would recommend for a friend
Dusty B.

22.04.2019 (Edited 22.04.2019)
let me start off by saying these are the best combat boots i have owned. I have worn 511, Rocky, Bellville, Canadian issue, British issue boots, and the Jalas come out on top for the price range. My pair has been worn, used and abused and sometimes straight out neglected, but still come out fine. The waterproof membrane for me is better than goretex as it breaths better but is still relatively water proof ( spending a day in wet grass constantly my feet got a bit damp), plenty water resistant for crossing shallow rivers *verified. I treat them with black boot paste, made for membrane boots, when the leather begins to show or the boot looks raw. After a year and a half of near constant use in an armed force, getting covered in oil and fuel, walking thousands of kilometers (with and without weight), trudging through month long military exercises, they are still functioning. My only complaints for the boot is that the tread wear out a little to quickly in the heel and a few of the side stitching has come out. Saying that i will add that for me it is worth while having those few stitches repaired and the boot re-soled. These are not super rigid boots for what that is worth to you. Also finally a real bonus for me is that i have never had to replace the laces!
1
0
I would not recommend to a friend
Ari M.

18.07.2019
Ei istu jalkaan mitenkään! Liian kapea lesti! Ajattelin että käytössä muokkaantuu mut ei näillä edes puolta työvuoroa pysty tekee!!
1
3
I would recommend for a friend
Antti M.

09.10.2019
Aah, ooh, ihanaa! Lättäjalkaiselle sopivat kalvomaiharit! Ei sillä, etteikö Haix tekisi semmoisia kanssa. Niillä vaan joutuu kävelemään sen sata kilsaa ennen kuin alistuvat kohtaloonsa ja lakkaavat tuntumasta keskiaikaisen oikeusjärjestelmän kodinkoneilta. Näiden kanssa sisäänajon ärsyttävin piirre on se perkeleellinen narina jota pitävät.

Vasta ihan joitain viikkoja sitten sain ensimmäiset tällaiset, joten suosittelen varauksella. Ensivaikutelman puolesta kuitenkin pitävät vettä, hengittävät, ja pohja näyttää ihan Suomen talven kanssa yhteensopivalta (kokemus tästä viimeisimmästä puuttuu vielä). Näyttävät ihan laadukkaasti valmistetuilta. Ja pohjallinen on juuri se, jonka olisin hommannut tömistelyäni pehmentämään ihan mihin tahansa muuhunkin maihariin.
0
0
I would recommend for a friend
Stig J.

16.10.2019
PROS:
I bought these boots in anticipation of moving to Svalbard in the high-arctic. It has been used for a couple of hundred kilometres of hiking, and I have never gotten cold nor wet. Nor have I suffered any damage from rock-fall or kicking of objects during these hikes.
CONS:
However, I have found that in colder temperatures (-15C to -32C effective) these can be very dangerous with regards to frostbite if you have the wrong socks. Due to its superior drylock patent the moisture will get blocked in the shoes during this kind of cold weather, and can potentially be dangerous. Hence I advice merino wool socks for that kind of weather, or in general. The shoes are really spacious and is made for these kinds of socks.
The shoes does also lack traction on ice as expected, but I have hiked ice covered mountains without micro-spikes with them on. Its just really.. really dangerous.
MAINTENANCE:
On another note maintenance with Haix shoe care cream (for goretex) has been really easy. Svalbard has a lot of dirt and sediment build-up during summer, but cleaning these boots become easy with warm water post a hike due to them being completely waterproof.

Summary: Pretty goddamn boots, I use every opportunity to boast about them, but I am giving 4/5 due to the potential hazard of frotsbite due to their superior water-repellant technology.
0
0
I would not recommend to a friend
Mikko W.

19.10.2019
Ei sovellu ammattikäyttöön. Vuoden käytön jälkeen ei pidä vettä,pohjat irtoaa ja pintanahka murenee huollosta huolimatta. Pakkasella liukkaat pohjat. Sisältä ei saa kuivaksi ilman kengänkuivuria,vaikka on on yritetty kuivata yön yli patterilla ja kuivauskaapissa. Keskimmäistä nauhahakaa täytyi pihdeillä avata, että nauhat saa pysymään omassa kolossa ja kaaritukea ei omissa pohjallisissa yhtään.
0
1
I would recommend for a friend
Arto Ö.

30.10.2019
Hyvät näistä tulee. Sisäänajo vielä käynnissä tosin. Mukana tulleet nauhat on vaan niin julmetin paksut, etteivät pysy tuolla hakasessaan.
Tästä tähti pois
0
0
I would recommend for a friend
Jari K.

03.11.2019
Oikein hyvät kengät. Hyvin istuu ja jalat pysyy kuivina. Todella mukavat kävellä. Nahka tosiaan aika pehmeää, joten saa nähdä miten tulevat kestämään
0
0
I would recommend for a friend
Anonymous customer

03.11.2019
Tuli ostettua tällaiset loppukesästä keveitä metsäreissuja ja tulevaa talvea ajatellen. Vakiintuivat syksyn vesikeleillä kuitenkin kuin itsestään myös pääasiallisiksi kaupunkikengiksi. Sovittaessa mietin, että onpas tutun ja turvallisen tuntuinen jalkine, ja kassalla syykin paljastui: nämähän ovat kuin ovatkin jatkojalostetut M05:t ja sopivat siten tämän sivarin jalkoihin kuin pitkä tukka Lapinjärvelle.
Siinä missä nollavitoset ovat brutaalit ja tekniset, nämä ovat lähinnä tekniset, mutta vielä hitusen mukavammat. Nollavitoset myös kestivät yli kuusi vuotta huonosta hoidosta huolimatta, joten Fantomeilta odotan pitkää ikää nyt kun elämänhallinta ja sitä myötä kenkienhoitointo ovat kohdillaan. Joskin vähän jännittää, koska muiden arvostelujen perusteella laatuvaihtelua näyttäisi olevan.

Yliliikkuvat nivelet kun on, niin nilkan tuki on tärkeä juttu ja näissä kengissä sitä piisaa. Saa aika pahasti rymytä että saa jalan siihen asentoon, josta nilkka lähtee rusahdusta kohti. Voisin kuvitella että se on näillä mahdollista ainoastaan jossain tunturikivikossa tai tiheässä juurakossa. Myös pohjallisten iskunvaimennus toimii ja näillä kävelee pidempään asfaltillakin.

Talvipito tuli testattua syyslomareissulla Lapissa. Pohjat pitivät moitteettomasti pakkaslumella ja jopa jäisillä pitkospuilla. Ainoastaan nollakelillä pohjien uriin pakkautunut lumi teki pohjat jossain kohti liukkaiksi. Tuplasukilla (M05 + lekan retkeilysukka) ei kylmäkään yllättänyt ainakaan vielä noin 10 asteen pakkasella.

Puolikas tähti lähtee siitä, että narut eivät meinaa millään pysyä koukuissa, joita on kyllä onneksi vain yksi pari.
0
0
I would recommend for a friend
Tero K.

18.11.2019
Ostettu 2017-10-25 sen jälkeen käyttökenkinä about päivittäin silloin kun lyhytvartiset lenkkarit tai muut kengät eivät riitä.
Väittäis sen paremmin tietämättä että ohuempaa nahkaa kuin esim vanha täysnahkaiset M05:set.
Kaksi vuotta näillä menee tosiaan kevyessä koiran ulkoilutus ja päivittäis käytössä, syystä että pohjassa ei ole tarpeeksi kulutuspintaa ja nahka antaa periksi, en tuhlaisi näiden huoltoon juurikaan aikaa enkä rahaa koska tuntuvat olevan ns. kertakäyttökenkiä ainakin omalla kohdalla.

Eli, hyvät popot mutta oma toive olisi että tähän rahaan kestäisivät käyttöä ainakin sen 4 vuotta, elopainoa siinä 103kg molemmin puolin.
Ongelmana vaan että mitkä sitten ostaisi jos ei näitä mukavan leveä lestisiä Suomalaisia?

Linkki jos moderaattori ei tätä poista.
https://drive.google.com/open?id=1eU9NHs2lns22pksj1FJskNbhPUEgGCAe
0
0
I would recommend for a friend
Teuvo H.

22.11.2019 (Edited 22.11.2019)
Kevyt kommentti kahden käyttökerran jälkeen. Uutuudenjäykkyys pääsee todella arvoonsa näiden poposten kohdalla. Hetken totututtaa aikaaviepä nauhailu jotta teräosan sekä nilkan saa sopivasti kiristettyä jalkaa tukevasti. Mutta kun manööveri on suoritettu ilman verisuonen poksahdusta päässänsä, on aika kiitollisuuden. Jäykkyys tarkoittaa tukevuutta. Sulalla kestopäällysteisellä uralla polkiessa huomaa kuinka äänetöntä meno on. Ei kopise, nitise, räpsy. Askelluksen pehmeys ja keveys yllättää ja mieleen tulee morttiaikainen siirtymä nahkasaappaiden raahaamisesta varsikenkien heilutteluun. Päätän välittömästi käydä uuden pidemmän lenkin ennen sarastusta. Toisella japsuttelulla olen edelleen mielissäni. En löysää nauhoja edes lenkinjälkeisellä pullakahvella. Lampaanrasvan ja mehiläisvahan sekoitus -purnukoita jäi matkaan Treen kokonaisturvallisuusmessuilta 2015. Tökötti hoitaa hyvin nahkan pintahommat. Sekä tuoksuu hyvälle kenkien kanssa. Odotan hetkeä kun vien kengät metsään.
Toisten kommentteja kun kenkien narinasta luen, otvailen että lie tuo lampaanrasva vaientanut omani paksunahkaisen parin.
0
0
I would recommend for a friend
Tero R.

26.11.2019
Kunhan muistaa lankata, niin tässä on hintaansa nähden huikeat kengät.
- Pohja pitää joka alustalla
- Kengät pysyvät kuivina todella hyvin
- Mukavat jalkaan.
0
0
I would recommend for a friend
Mattias Ä.

01.12.2019 (Edited 01.12.2019)
I have been using both the Finnish M05 boots and Swedish M90 boots during my years in the military. Having bought these just plainly feels like a straight, ergonomic, upgrade. Especially compared to the M90 boots, and feels alot more comfortable, sturdy and protective compared to other boots that I have tested in the military.
0
0
I would not recommend to a friend
Tuomas P.

17.01.2020 (Edited 01.02.2020)
Hankin nämä Haixien P3:n annettua periksi. Painin pitkään näiden ja uusien Haixien välillä. Ensivaikutelma hyvä, tosin ensimmäinen pari meni kolmen kuukauden jälkeen vaihtoon kun yksi sauma antautui. Toinen pari on nyt pärjännyt vuoden päivät päivittäistä käyttöä. Iskunvaimennus hyvä, pohja pitävä omaan retkeily/koirankusetus reissujen tekoon metsässä. Kalvo ei ole pettänyt ja sukat on pysyneet kuivana. Kevyt jalassa ja jaksaa tarpoa pidemmätkin pätkät. Mutta, näistä on tullut tukevuudeltaan tarralenkkareita vastaavat noin vuoden käytön jälkeen. Eli verrattuna Haixiin en usko näiden olevan niin kestävät. Harmi, mielummin ostaisi kotimaista. Toivotaan, että menisi vielä pari vuotta niin saisi rahoilleen jonkunlaisen vastineen. Suosittelen varauksella.

EDIT: Vuosi ja tasan kuukausi, niin antoi kalvo periksi ja sukat kastui. Olisin kuvitellut tämän hintaisen jalkineen kestävän kauemminkin. Joutui siirtämään osastolle, en suosittele.
0
0
I would recommend for a friend
Romy J.

27.01.2020
Hyvin istuvat ja hyvät kävellä ainakin Skottien mäkimailla päivätolkulla. Jalat kastuvat hiestä, joten sukkaa saa vaihtaa monta kertaa päivässä ja sisuksia kuivatella. Lisäksi parin kuukauden käytön jälkkeen pohjan kuvionnista jo puolet hukassa. Lisäksi aivan satavarmasti turvatarkastuksissa virkailijat pääsevät haistelemaan kenkien sisuksia. :-D

Ovat pirun hyvät, varsinkin pitkissä alamäissä kantavaimennus on tosi hyvä, tosin pohjat kuluvat nopeammin kuin muu kenkä. Edellisistä kahdesta parista hajosi saumat, näissä tuntuu nyt kestävän. Eli jotain kehitystä on tapahtunut. Jos kulutuksenkestävyys paranisi, niin olisi pop.
0
0
I would not recommend to a friend
Joni K.

15.02.2020
Vajaan metsästyskauden kanakoiran kanssa kuljettua saumat pettää ja vesi tulee sisään. Hyvät jalkaan mutta se vedenpitävyys jäi sittenkin uupumaan, joista näissä halusin maksaa. Uusia ei tule.
0
0