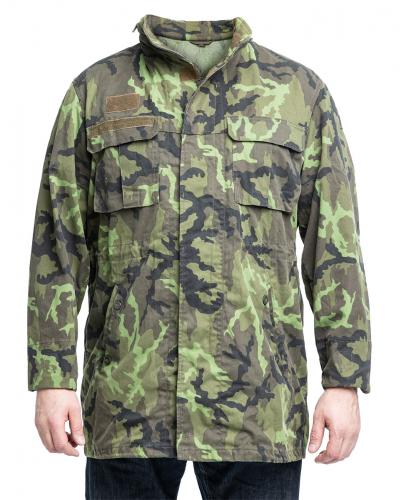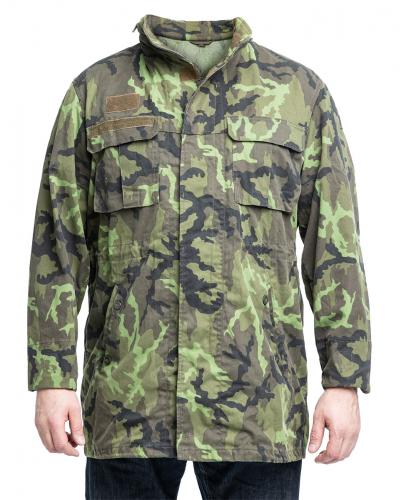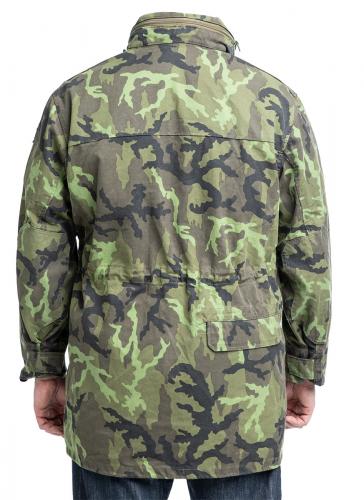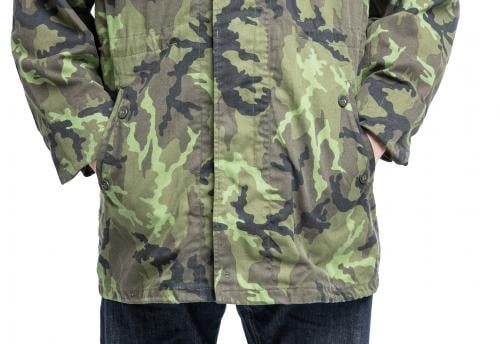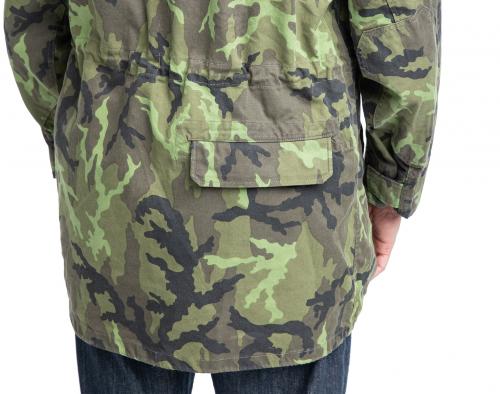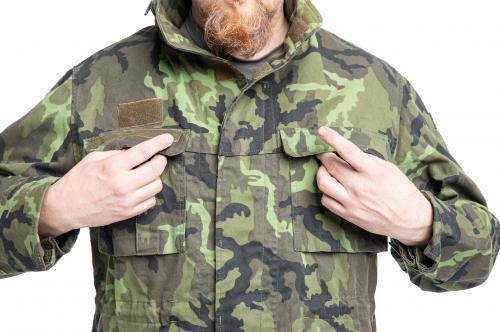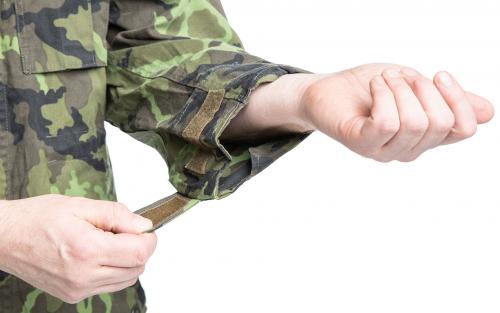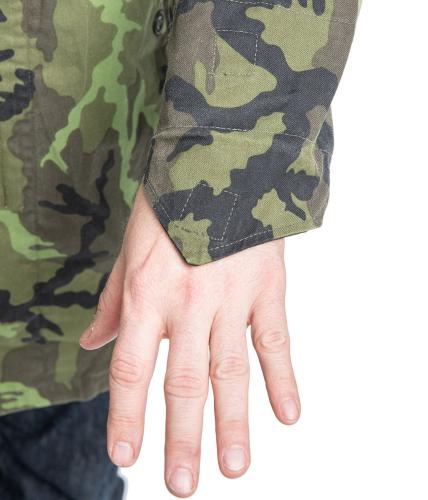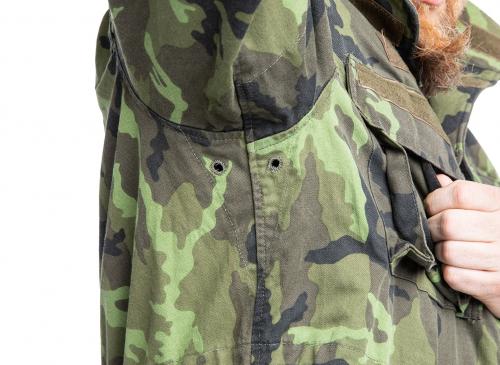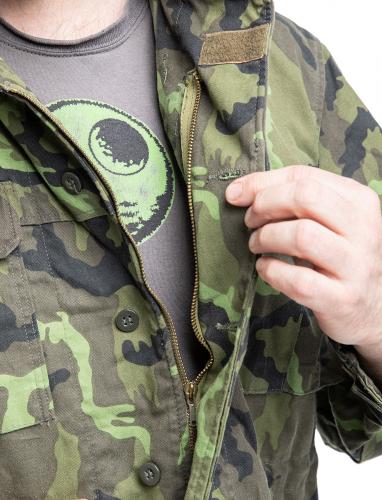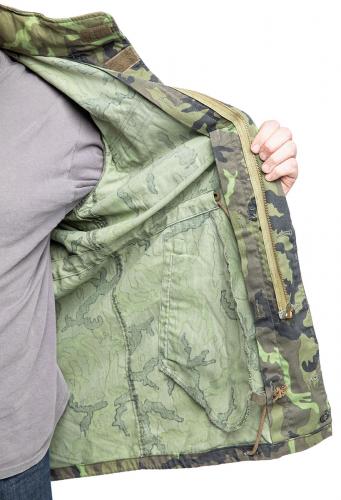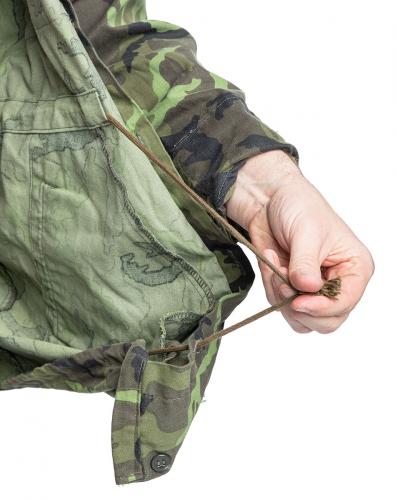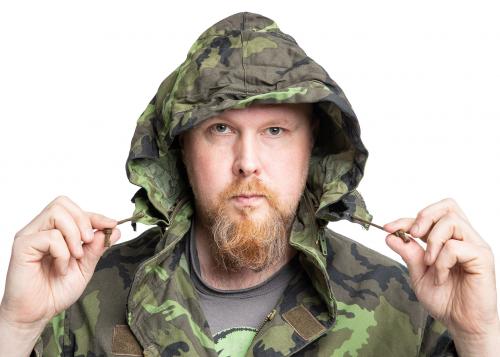 Czech Republic
Czech Vz95 Parka, Surplus
Price 34.99 USD
excluding sales tax
The Czech Vz95 Parka is a modern and functional army jacket. Genuine European surplus with the quality you can trust. It's a thigh-length general-purpose jacket without lining and with a hood hidden into the zippered collar.
Loading products...
Trouble with the metric system? Try our converter: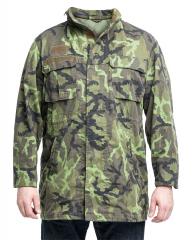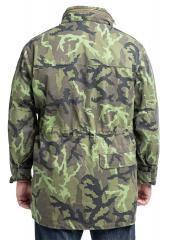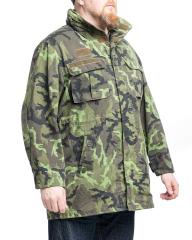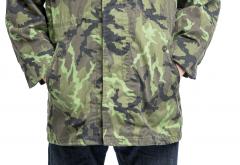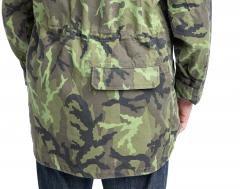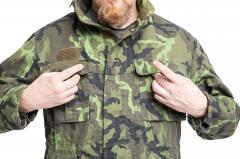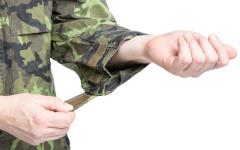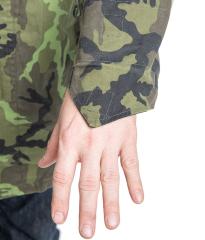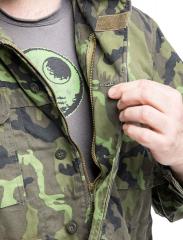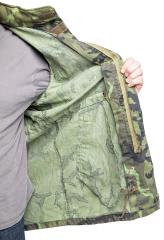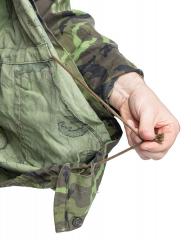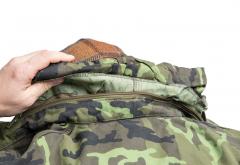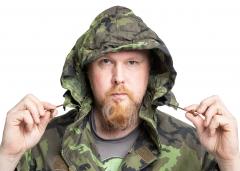 The Czech Vz95 Parka is a modern and functional army jacket. Genuine European surplus with the quality you can trust. It's a thigh-length general-purpose jacket without lining and with a hood hidden into the zippered collar.
This parka reflects the history of the Czech armed forces: influences from the Soviet winter coats as well as familiar details from the iconic US M65 field jacket, and some original features. It is a nice coat for warmer weather as it is. Also works in colder weather if you put something warm underneath it, such as the BW parka liner, the Dutch teddy bear shirt, or a Särmä fleece or something like that.
The many features of a field jacket
The front has an ordinary zipper closure and a storm flap with buttons. The cuffs have hook and loop adjustment tabs and fold-out extra protection for the back of the hand. The collar has also a hook and loop retention and the waist and hem have lovely retro-style adjustable drawcords.
By adjusting these features, you can make the jacket fit better and increase protection or ventilation as necessary. The armpits have buttonhole-type vents and you can opt to close the jacket with just buttons, though the material is very breathable already.
The pockets are fairly traditional in the front: two on the chest and two lower ones. Both have button-up flaps and the lower flaps can be stowed inside. Over the right buttock, there's a neat "poacher's pocket" of considerable size. You can slip a 1-liter (1 qt) canteen or other stuff in there with ease. The right chest has patch bases for the name and rank tabs.
The hood has buttonholes for a fur lining but as usual, accessories like these have a tendency to disappear. Around the front and the neck as well as at the sleeve cuffs, there are buttonholes for a separate liner jacket. Now those we've seen in the past years so if you're lucky you might be able to procure one of those. Finding it in your size is cosmically unlikely, though.
Pro Tip! For lack of the real thing, the Särmä Jacket Liner makes for a good substitute with a couple of things you should consider. First, the Vz95 Parka is huge so for a Medium-size jacket, you should pick a Large-size liner. Always one step wider.
Another matter is the attachment. The sleeve cuffs are directly compatible (which makes things a lot easier) but the other buttonholes don't line up perfectly - and two females are a kind of a "nature will find a way" situation. If you can sew on a few buttons of your own, you'll be fine. Or just put a thicker sweater or something like that underneath if you don't feel like handcrafting.
Material and care
The fabric is 50/50 poly-cotton, denser than summer pants, and rather durable as well. Machine wash at 60 degrees Celsius (140 F). The pattern is a Czech development from the '80s called Vz95 and it is derived from the American ERDL woodland pattern. It's very effective and stylish in our opinion.
Size info
These run yuuge! The size system is based on the user's chest and height. The length is generous and the width even more so: you can wear a thick liner as well as several other layers underneath. The widths follow the Euro system and the lengths are coded as follows:
164 cm
170 cm
176 cm
182 cm
188 cm
194 cm
For normal use, go straight for a size smaller than usual, maybe even two. The Medium sizes, for example, are just fine on a person with a 120 cm (47.2") chest and a T-shirt. Usually, this would mean an XL size!
The length is not as much over the top but even there, you can be about 5 cm (2") taller than indicated and the sleeves won't feel short. This depends on the width, of course: when the jacket has some extra width, the shoulder seams drape down and virtually extends the sleeves.
The model in the picture is 183 cm (6') with a 116 cm (45.7") chest and he is wearing a Medium Short parka. The sleeves could be a tad longer but otherwise, there is still plenty of space.
Czech surplus
In used but good, serviceable condition. Washed, of course, not shabby at all. The colors can be a bit faded and there can be some other small signs of use as well of course..
Kierto Circular Economy
Return this product used but clean and unbroken, and you'll receive half of the product's original price as Varusteleka credits. Service is available only in Finland. Only Registered users can make Kierto returns. See more information about Kierto.
All products: Czech Republic
Recommendations
Loading products...
Reviews
You have already submitted a review. You can edit your text by clicking on it. You can filter the reviews by clicking on the elements of the summary.
Log in and write a review. You can filter the reviews by clicking on the elements of the summary.
Remove filter
Suomi
(4)
English
(5)
I would recommend for a friend
lasse l.

11.11.2020

Verified purchase
I would recommend for a friend
Todd W.

15.12.2020

Verified purchase
Yea, these are Ginormous. I am 182/102 and ordered a Med Short (170/100 labeled) and its quite substantial. The arms length and shoulder width is right on but chest is definitely roomy. My size estimation would put it about 185-190/120. I probably would have been better off with Small Short. And these go up to X-Large X-Long!That might be a good Shelter Half

That being said its a solidly built jacket with thick material.It has the infamously flimsy Czech brass zipper.. missing the guide on mine (while the hood pocket has a nice solid nylon spiral zipper?)

A key factor though is the liner from the Vz85 'Czech Parka with liner' (sold here) is directly compatible with these jackets if you happen to have that parka. I installed the liner and it mitigates the oversize somewhat as it is intended for a liner. Makes a downright warm jacket

I think ill sew in a second set of buttons 6 cm over to double breast it a bit and this will make a nice brush/camping jacket
4
1
I would recommend for a friend
Jeroen V.

12.01.2021

Verified purchase
These run very big, so I ordered a medium x-long but that one was still way to big. Now my brother has a nice jacket. Ordered a small long where I normally would go for a large x-long or even extra large x-long.
But the camo is great, the material outstanding and the pockets large and numerous. Ordered a second one.
Note that the strings are without any cord-locks so watch out when adjusting them.
2
0
I would recommend for a friend
Oona I.

13.02.2021

Verified purchase
I would recommend for a friend
Kimmo H.

03.04.2021

Verified purchase
Juu, pätevä rotsi/kelpo palttoo! Kuvittelin tehneeni keksinnön kun kokeilin monta vuotta vanhan Tsekkiläinen M85 Myyrän maan parkan180/ 106 cm vuorta ton hankkimani medium regulariin JOKA ON ISO!- ja meni kun vaatturin tekemänä ja napilleen! Mutta keksinkin vaan pyärän uudestaan; Joku britti oliki jo hokannu saman...No; Istuu nyt paremmin, ei näytä niin poikaparkalta kun takki täyttyi, ja pääsee vähän hikoilemaankin näin keväällä...
2
0
I would recommend for a friend
Michael R.

18.04.2021

Verified purchase
Hello there, I am 6.3" tall and about 240lbs. Went for the Medium X-long. Sleeves are perfect, length is pretty longish. Great looking camo pattern and stylish cut. Good deal for a quality piece of surplus gear. Shop In the US makes a reproduction of the battle dress pants. Cheers!
2
0
I would not recommend to a friend
Levi S.

21.04.2021

Verified purchase
Originally ordered wrong size, no biggie, just reordered new one. took forever to arrive and when it finally got here, DHL "express" at its finest, found that zipper was broken which was a real nice cherry atop a shit sandwich. Not impressed and too burnt out from just waiting for the thing to do anything with it.
0
8
I would not recommend to a friend
Jan G.

11.08.2022

Verified purchase
Myymälässä tuotiin takki jossa oli hihassa sauma revennyt. Pyysin tuomaan toisen joka on ehjä ja mulle tuotiin toinen jota en tarkastanut kun sanottiin että on ehjä. No kotona sitten huomasin että olkapäästä tässäkin on sauma revennyt ja kun laitoin käden taskuun niin nappi lensi hiiteen. Olen ollut lekan asiakkaana jo vuosia ja olisin odottanut enemmän teidän laadunvalvonnalta.
1
0
I would recommend for a friend
Robert S.

28.08.2022

Verified purchase
Just got mine from Varusteleka. Awsome parka/jacket and unlike other places that sell surplus Varusteleka will get you as close to the best size that fits your need without wasting money (being advertised as large or xl but not telling you they are Xtra long - not great when your 65" (165 cm)

The pattern is unique and very different which makes it very cool. Mine might have been used but it was barely used and truth be told I often prefer it be worn by a warrior from Czech or wherever the item is from.

Actual review: a parkaish version of the US M65 field jacket, this one has some slight differences that you will find are improvements from the M65. This is my keep in car I forgot jacket (on purpose) always ready and tough. Get them while they last. If you collect...er like to order jackets (surplus) this one needs to be in your collection. Now I need to find the liner that goes to it (and the Czech m85)
0
0