Psst, wanna buy a used sleeping bag?
Share on Facebook
New good quality sleeping bags cost a lot. Used military surplus sleeping bags cost relatively very little, but there's a few things you'll need to know. Let's go through these a bit, but first, we'll explain the playing field, in other words, what you can expect from a bag bought from us.
The playing field
This article is about used military sleeping bags bought from Varusteleka. When you buy a pre-used bag from us, you'll get a clean, intact bag. If there's anything worth mentioning about the bag, it can be found from the product description. Usually, these bags are washed before they reach us, and so far we haven't found any bananas or mold kingdoms inside.
This applies for Varusteleka only, we take no responsibility for used bags sold by other vendors.
The used sleeping bag
The most notable thing about used bags is the fact that we have no knowledge of its history, usage, and washing. Every wash reduces the warmth a bit, and who knows in what kind of compressed cubes the bags have been stored in or not. Generally, we get pretty clean bags and if there are any lemons, we do sort them out.
In Great Nations unlike Finland they probably issue a brand new sleeping bag for each soldier at the start of the service or tour. Then the soldier uses this bag until the tour ends, and returns it to the depot. In the depot, they wash the bag and sell it off to the world. Not too bad.
How does an army bag compare to new civvie bags?
Military sleeping bags are often lambasted on their bulk and weight compared to the warmth they provide. While this is sort of true when compared to the latest of the late in civilian sleeping bag world, you might want to stop and think before shelling out hundreds and hundreds of bucks to gain some minute advantages. You smell it too? The sweet odor of used army surplus is waiting for you!
Cons
Military designs often see service for a long time before updated. This does make them feel rather bulky when the fibre technology progresses.
With used bags you don't know the history of the said bag. For the record, we haven't received any complaints about bags not working like they should, but used bag is generally not quite as warm as it once was.
Pros
Unbeatable price / quality ratio! These bags are made to high specs and certainly weren't cheap when they were made.
Excellent dependability - simple, robust construction to withstand rough use. Part of the weight comes from the strong materials.
An additional benefit comes from the low cost: if you manage to burn a hole in the bag, it feels way less bad in a fifty bucks bag than a three hundred one.
Now if you want a proper good NEW bag for a reasonable price for one, get a Carinthia Defence 4 and you'll be happy.
What now!
If you think you can live with the bulk compared to the latest options in the civilian market, go for the surplus option. People have used army surplus sleeping bags forever and they just work, time after time. Especially those who are not seeking to conquer the Alps will be quite happy with them, although durability-wise the army bags can usually conquer anything.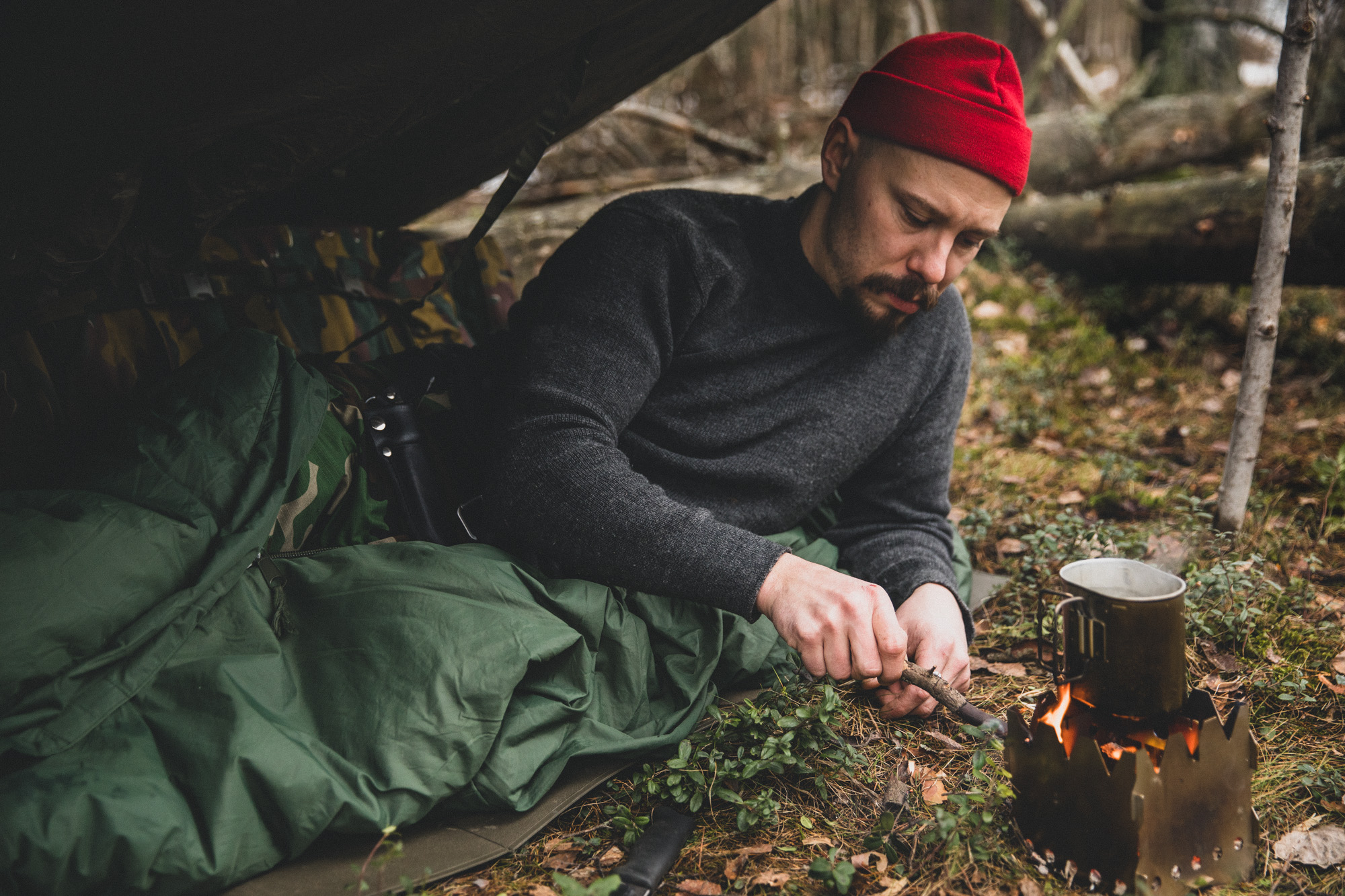 This gent is quite satisfied with his pre-used sleeping bag.