How to pack your rucksack
Share on Facebook
How to pack a rucksack? Packing a rucksack is easy – read this article, and you'll know how in no time. This article is a brief how-to, which you can apply for your own purposes and personal gear.
If you do not have a rucksack yet, go ahead and read our article on choosing a rucksack first and then get a rucksack of the right type and size – then continue on with this article.
You've got yourself a rucksack, great! You are also aware of what to put in it, even better! Now the question is, in which order and where should you put your stuff?
Instructions for tl;dr people
Pack your things in your rucksack in a way that they are logically accessible, and the heaviest items are near your back, preferably a little higher – but not at your head level. Also read our article on rucksack adjustments.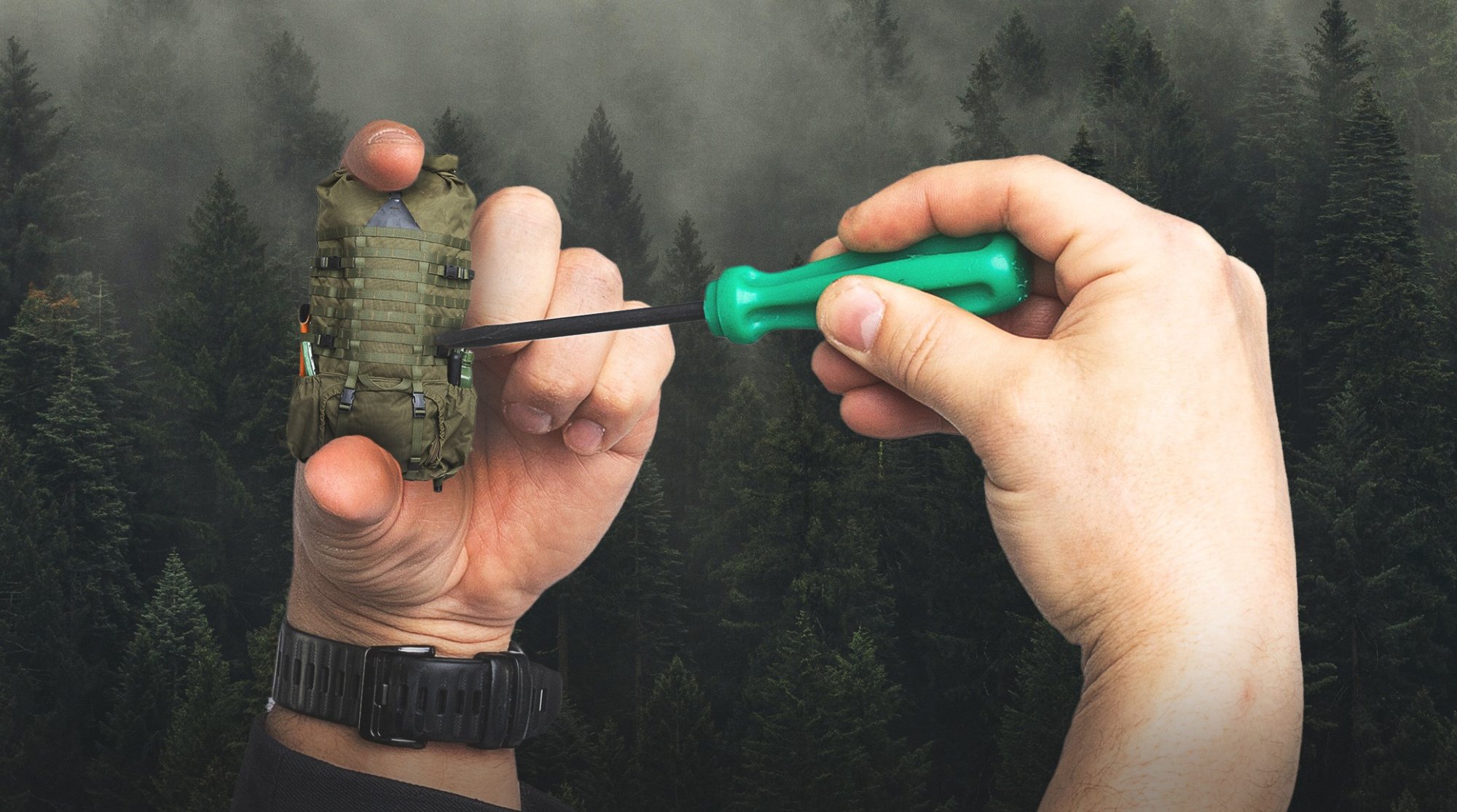 Your rucksack must have correct adjustments before use.
Longer instructions
A very long time ago when the Phoenicians were still erecting their phallic obelisks, people were already carrying stuff on their backs with various methods. Some millennia later the carrying equipment is more or less anatomical, modular, and quite smart in every respect. Various attachment points and compartments give the user the ability to customize their gear placement. This greatly enhances gear accessibility and the ergonomics of the rucksack.
Weight distribution
How to pack a tent in a backpack? Place the heaviest items in the main compartment against your back, and evenly on the horizontal plane to stabilize the load. For example, put your tent and sleeping bag upright, side by side, and on the centerline (spine). You can also remove the sleeping back from its compression bag and just stuff it to fill all nooks and crannies in the compartment – this will of course be a compromise between packability and accessibility. A down winter sleeping bag might be best kept in its compression bag, otherwise it will fill your whole main compartment by itself. Also carrying your water in a hydration bladder in its backpack compartment (if you have one) will put a lot of weight in just the right place, against your back.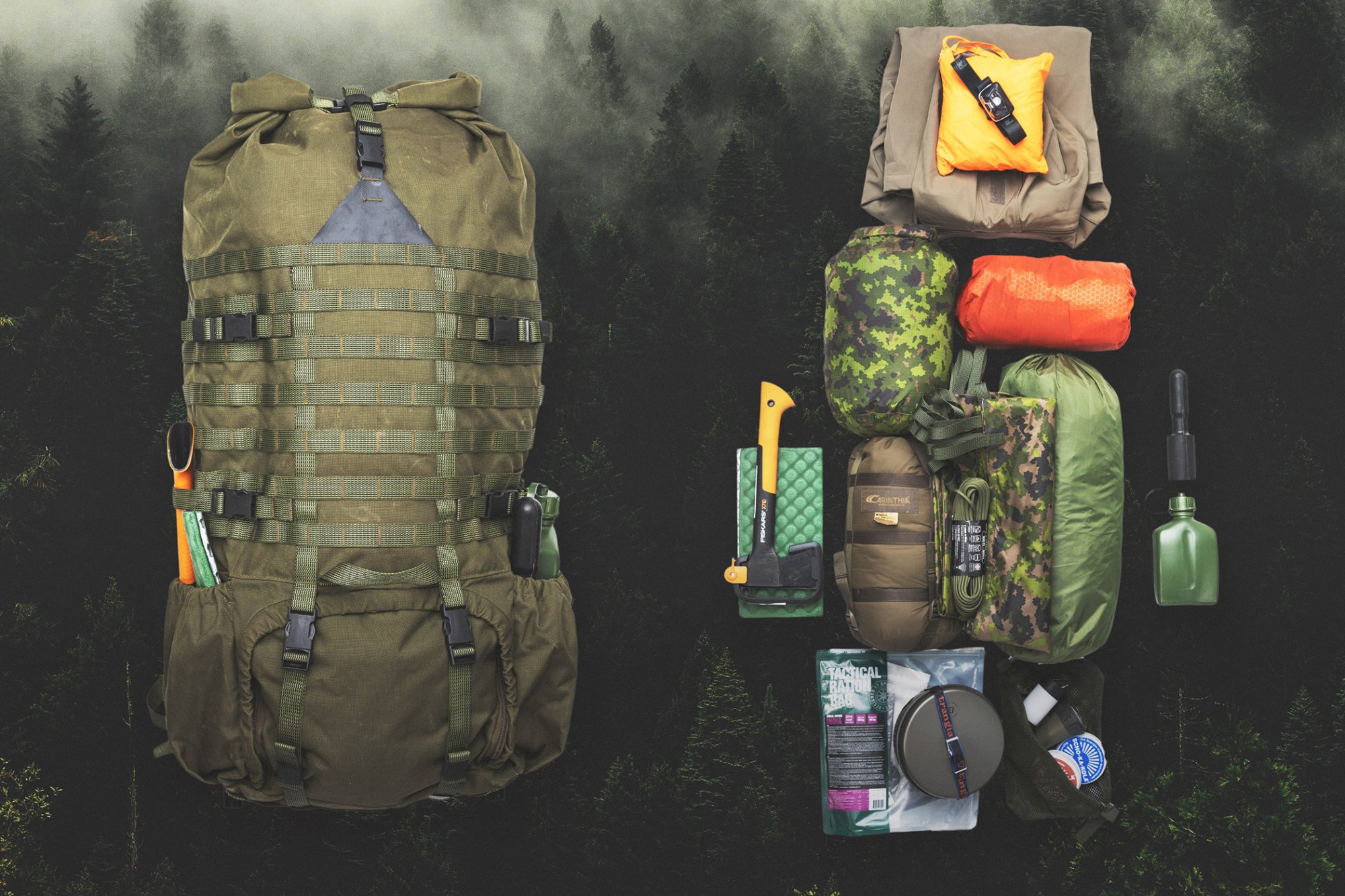 Heaviest items in the middle of the main compartment – water and rain gear readily available.
Accessibility
You will probably need to take out your shelter items only once per day – food items and cookware maybe a few times, but not in a rush. However, you should keep your water, rain gear, and thermal jacket readily available for easy use. A compact thermal jacket and rain gear probably fit in the backpack lid compartment or under the lid. You will have better accessibility and overall carrying capacity by placing items in separate cargo pouches, but also take into consideration how bulky your setup becomes, and how the weight is distributed.
Order
When you come up with a functional packing scheme, stick to it. Then you will always have your stuff in the same places, and you can find what you need even in the dark. Smaller items can be sorted in pack sacks and trinket pouches, which are available in various sizes and colors (this will help you identify your stuff). For example, put your spare boxers in a brown bag, and your medicine and hygiene products in an orange one.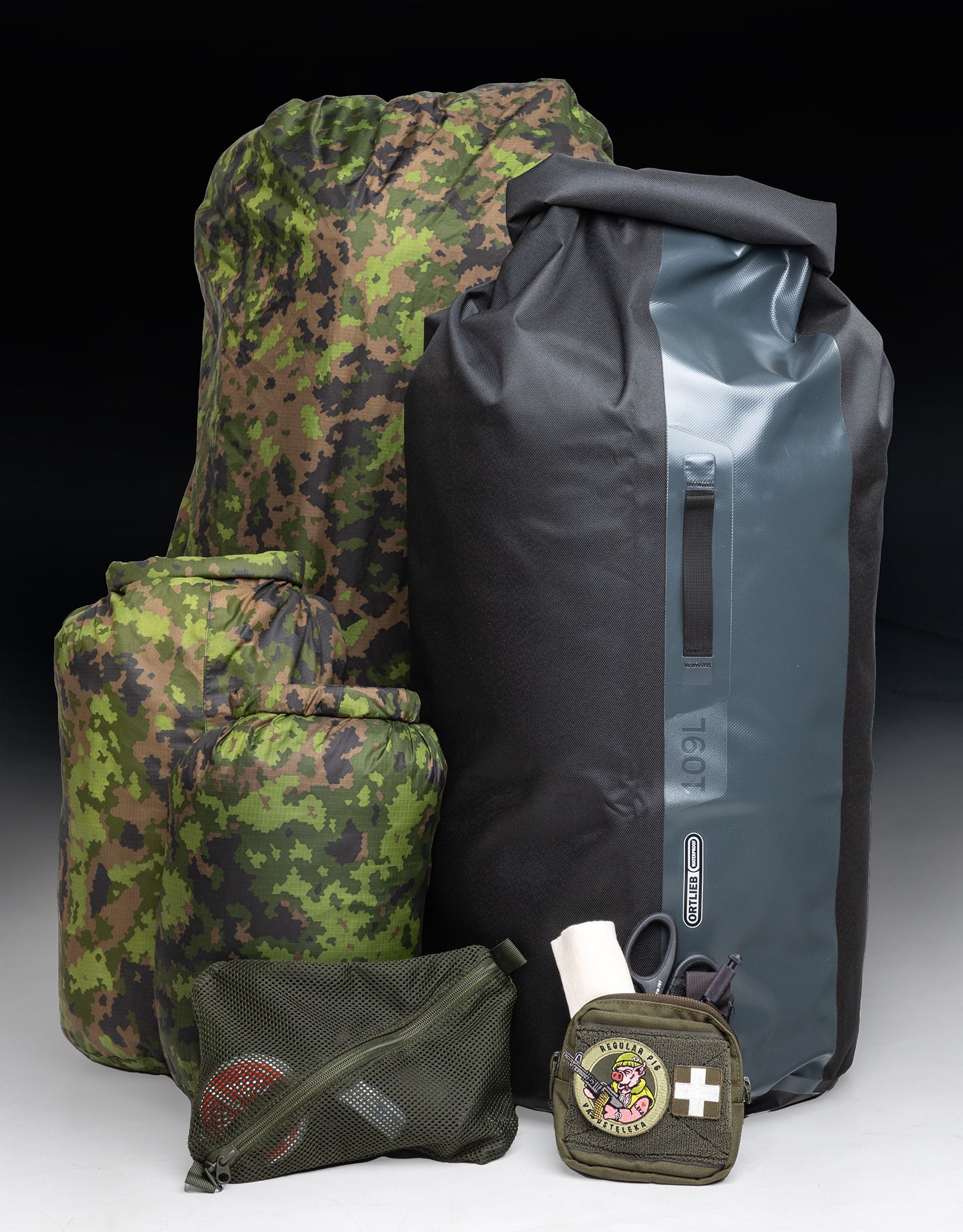 Pack sacks and dry bags come in all shapes and sizes.
Waterproof everything
Do you like to sleep in a wet sleeping bag? Not likely. There are multiple ways to shield your gear from water and rain. The safest and most expensive way is to pack everything in separate dry bags. Another way is to get a large dry bag that fits in your backpack's main compartment. A third way is to use a few dry bags, and sort your things in them with some sort of logic. Dry bags also work as pack sacks to keep your stuff in order. If you are brave, you can skip the dry bags, and just use a rain cover on your backpack when the moment arrives. This is fast and handy, but there are risks – a rain cover only shields your stuff from one direction, and probably not from wet ground or plant life when you lay your backpack down. The last and worst idea is to trust the water repellent properties of your backpack's fabrics, unless you are using some sort of diving gear, which may or may not exist. If you are going to travel over or wade through water, waterproofing will be royally essential.
Test everything
When you are done packing your backpack, put it upright on the floor. If it falls on its side or rear (as in backwards), you will have to make adjustments. It will also be wise to try it out on shorter walks before heading out to the wild.
Show me your war face!
In military applications, the correct packing of items involves a few more details. Read our excellent article on the three lines of gear placement. However, you should still pack your rucksack and backpack with stability and ergonomics in mind, just like in any outdoor activities.
If you engage in reservist (or active duty for that matter) activities, and you are supposed to be able to use your weapon system with your backpack on, then train as you fight. A detail to consider: See if you can go prone without the backpack's upper part pushing your face in the dirt. Some troops have solved this by using side cargo pouches, and not putting stuff on the top.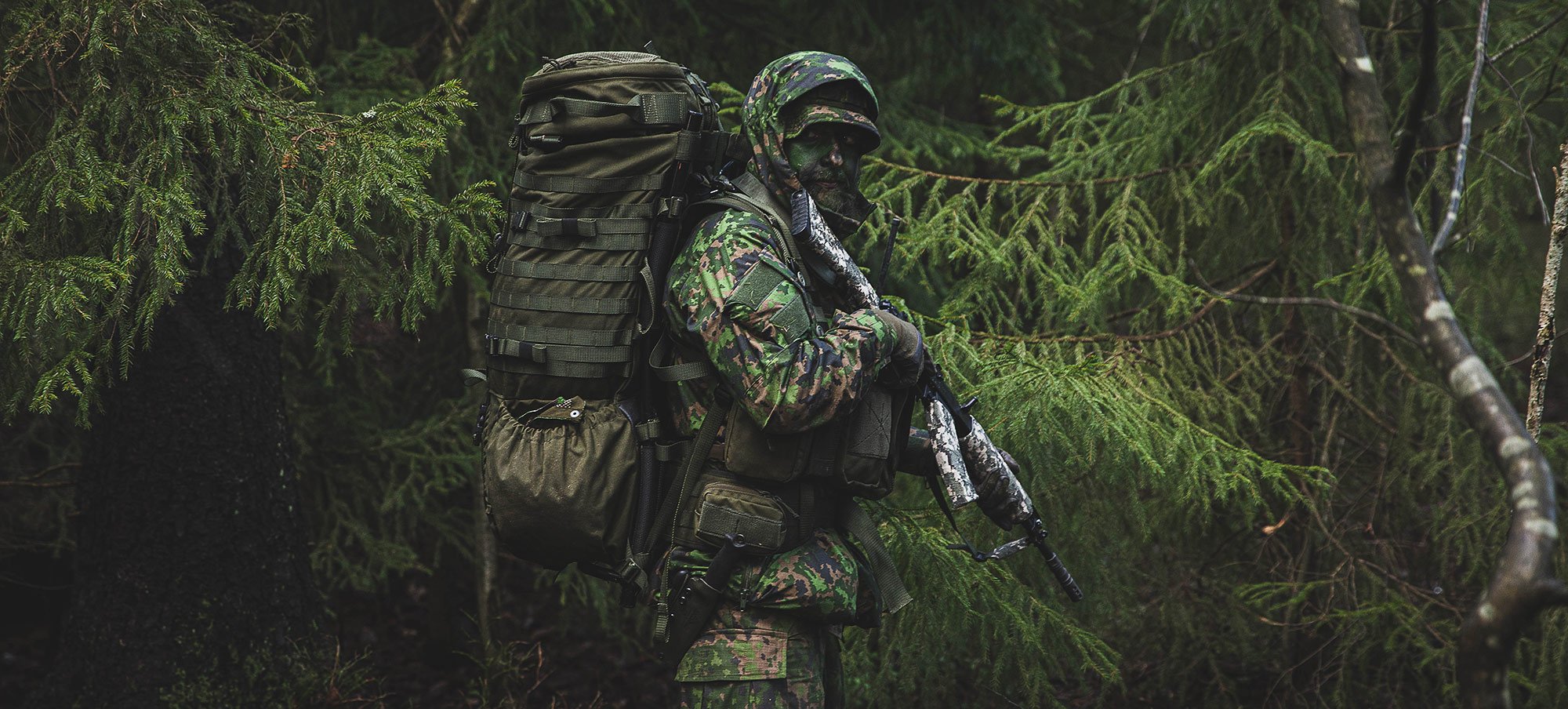 A day pack can be packed on top of the rucksack.
One example for packing a rucksack
Here we have a video on how to pack certain gear for a short trip during warmer weather – spring, summer, or fall time.
Have a good hike with your perfectly balanced rucksack!