Woodsknife Leuku 145
Price 67.99 USD excluding VAT
Flat Rate Shipping to USA $9.99
Sold 3 pcs in the last two weeks
Trouble with the metric system? Try our converter: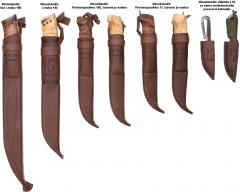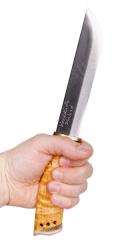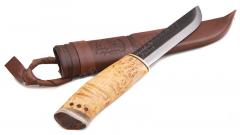 A leuku is a traditional larger outdoors knife used in Finland for ages, it's used for those jobs that require less finesse, chopping stuff and carving sticks into stakes etc. This full grown leuku with a 145 mm long blade is a good utility knife for all-around work, it's long enough to effectively chop yet it can still be used for wood carving and other smaller tasks.
Carbon steel blade and curly birch handle. The sheath is of the traditional Finnish style, wet formed leather, fitting snugly over the handle. 4-6 cm wide belt hanger.
These type of traditional knives have been around for ages, and for a reason: they are rugged, simple and practical. They have been used as weapons almost as much as everyday tools, at least in the past. Still today they are an essential piece of kit for any outdoors enthusiast. What makes a traditional puukko and leuku special compared to modern blades is that they have no saw-edge bullshit, or anything like that - you have a simple, strong and sharp carbon steel blade with a wooden handle. This truly is all you need, if you know how to use it.
Carbon steel is good stuff for knives, but without proper care it can rust. Always clean and dry off the blade after use and remember to oil it now and then (any cooking oil will do just fine).
We sell puukkos and leukus from two different makers, Woodsknife and Kauhavan Puukkopaja. Both use blades made by Laurin Metalli and the sheaths are pretty much identical. The difference is in the finish and handle design: Kauhavan Puukkopaja knives are overall less polished and made with the very most traditional handle designs ever. Woodsknife pushes the envelope a bit further with very nice finishing touches and personalized handle designs that differ a bit from what you commonly see. Putting finishing touches aside both perform equally well as tools - think about your specific needs in finish and blade size and choose the model that suits you best!
Made by Harri Merimaa / Woodsknife Oy, made in Finland.
Warning! Before buying, please make sure that these are legal to import to your country! We take no responsibility if the customs officer confiscates your precious bayonet/knife/machete! These are perfectly legal in Finland and that is all we are interested in.
Recommendations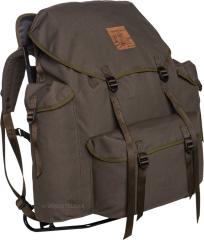 Savotta Rucksack 339
174.99 USD
Viewed together.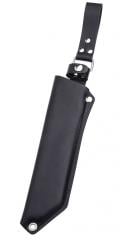 Terävä Skrama 240 leather sheath
27.99 USD
Viewed together.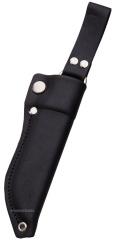 Terävä Jääkäripuukko leather sheath
27.99 USD
Viewed together.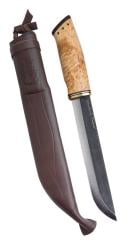 Woodsknife Big Leuku 180
73.99 USD
Sometimes purchased with.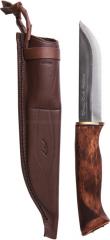 Woodsknife forest
73.99 USD
Sometimes purchased with.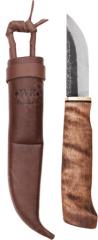 Woodsknife Traditional puukko 77, dark
43.99 USD
Sometimes purchased with.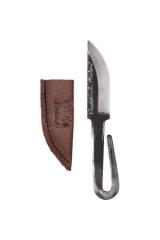 Woodsknife Wiking 1 62
21.99 USD
Similar product. Temporarily out of stock.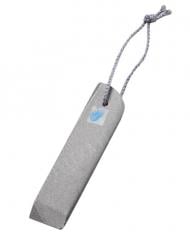 Wästikivi Eräkivi whetstone
11.99 USD
Buy also.
Reviews
You have already submitted a review. You can edit your text by clicking on it.
Log in and write a review.
Remove filter
I would recommend for a friend
Tod W.

28.05.2019 (Edited 10.06.2019)
This is the second Woodsknife product I've purchased. The first was the 180mm 'Big Leuku', also by Harri Merimaa, which I've also reviewed.
The 145 is the 'little brother' of the 180, and as such, I expected there would be little, other than blade length, to distinguish the two. While this is largely true,
side-by-side comparison reminds one that these are hand-made items, and that like human siblings, no two are exactly alike and each individual has its
own quirks. And that's OK.
The 145 balances just at the brass bolster, giving a 'lively' feel. Blade steel sharpens to a wicked scandi zero with reasonable effort on a diamond stone. The blonde curly birch on this example has really pretty figuring in it (nicer than the 180 I have, but this is a random thing). I like the ample blonde birch handle on these because
they're easy to carve and sand to a perfect personal fit, and a little oil is all you need to finish them off. In fact, I may have ordered the last Eagle Eyes 120mm Harri has in this handle style and sheath. Looks like he's shifting his product line to other styles this year.
By the way, that Eagle Eyes arrived. Third member of a happy and good looking family.
0
0
I would recommend for a friend
Guo T.

16.08.2019
The size, weight, and high scandi-grind makes this knife a great all-rounder. And not it's just that, it's also piece of art. Just a beauty. The micro secondary bevel is easily sharpened to a true scandi-grind and the steel can be sharpened to a wicked sharp edge. The handle is big, maybe a little bit too big for my small sized hands. But this can be modified quite easily. Although, it still feels very comfortable in my hands so modifying is not necessary for me personally.
Sheath? No complaints. It is well made. It looks good and it feels like a great quality product.

One side note: It does not come with a stag pommel as shown in the pictures. It comes with the same wooden pommel that is shown in the pictures of the Woodsknife Big Leuku 180.

Nonetheless, it is a great value knife and the person who assembled this is an artist.
1
0