Woodsknife Leuku 145
Price 72.99 EUR including VAT
Trouble with the metric system? Try our converter: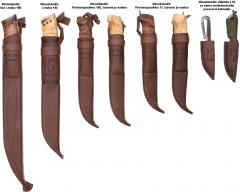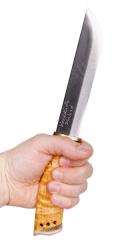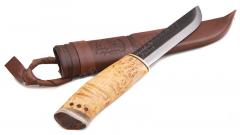 A leuku is a traditional larger outdoors knife used in Finland for ages, it's used for those jobs that require less finesse, chopping stuff and carving sticks into stakes etc. This full grown leuku with a 145 mm long blade is a good utility knife for all-around work, it's long enough to effectively chop yet it can still be used for wood carving and other smaller tasks.
Carbon steel blade and curly birch handle. The sheath is of the traditional Finnish style, wet formed leather, fitting snugly over the handle. 4-6 cm wide belt hanger.
These type of traditional knives have been around for ages, and for a reason: they are rugged, simple and practical. They have been used as weapons almost as much as everyday tools, at least in the past. Still today they are an essential piece of kit for any outdoors enthusiast. What makes a traditional puukko and leuku special compared to modern blades is that they have no saw-edge bullshit, or anything like that - you have a simple, strong and sharp carbon steel blade with a wooden handle. This truly is all you need, if you know how to use it.
Carbon steel is good stuff for knives, but without proper care it can rust. Always clean and dry off the blade after use and remember to oil it now and then (any cooking oil will do just fine).
We sell puukkos and leukus from two different makers, Woodsknife and Kauhavan Puukkopaja. Both use blades made by Laurin Metalli and the sheaths are pretty much identical. The difference is in the finish and handle design: Kauhavan Puukkopaja knives are overall less polished and made with the very most traditional handle designs ever. Woodsknife pushes the envelope a bit further with very nice finishing touches and personalized handle designs that differ a bit from what you commonly see. Putting finishing touches aside both perform equally well as tools - think about your specific needs in finish and blade size and choose the model that suits you best!
Made by Harri Merimaa / Woodsknife Oy, made in Finland.
Warning! Before buying, please make sure that these are legal to import to your country! We take no responsibility if the customs officer confiscates your precious bayonet/knife/machete! These are perfectly legal in Finland and that is all we are interested in.
These might also interest you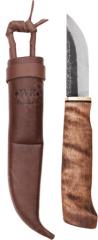 Woodsknife Traditional puukko 77, dark
46.99 EUR
Similar product.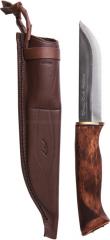 Woodsknife forest
79.99 EUR
Similar product.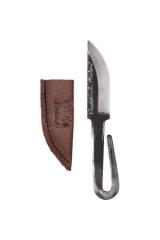 Woodsknife Wiking 1 62
22.99 EUR
Similar product.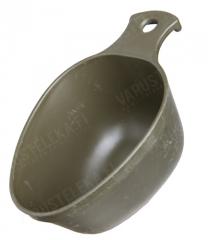 Swedish rigid plastic cup, olive drab, surplus
2.99 EUR
Often viewed together.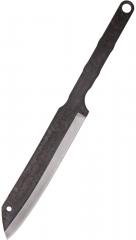 Terävä Skrama blade, carbon steel, w/o rubber grip
49.99 EUR
Often viewed together.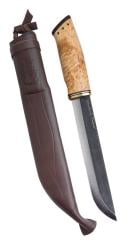 Woodsknife Big Leuku 180
79.99 EUR
Similar product. Temporarily out of stock.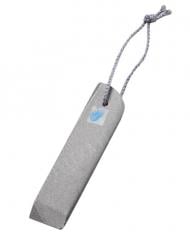 Wästikivi Eräkivi whetstone
12.99 EUR
Buy also.
Log in and write a review.