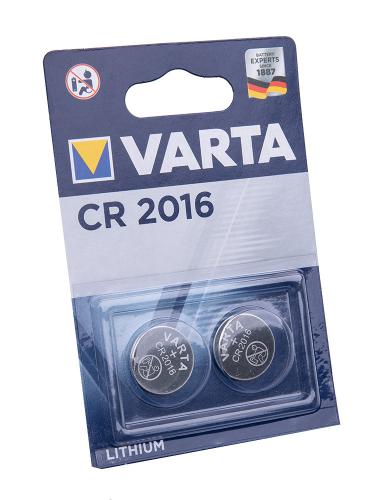 Varta Lithium CR coin cell battery, 2-pack
Price 4.99 EUR including VAT
Trouble with the metric system? Try our converter:
Probably the coin cell batteries you're looking for: the most common CR2016 or CR2032 batteries in a handy twin-pack. If you own anything that uses these, buy spares before you run out!
Coin cell batteries are used in watches, small blinkers and flashlights, where long service life and small size is mandatory. The list of benefits speaking for lithium batteries is long:
Service life: lithium batteries keep your devices going for much longer
Operations in the cold: lithium batteries keep going when alkaline stops working
Weight: lithium batteries are lighter
Storage: lithium batteries have a longer shelf-life
Device protection: lithium batteries don't leak into the battery compartment even if you forget them in place
Here's a public service announcement from the responsible folks who keep their household chemicals and guns out of the wrong hands:
Swallowing these batteries may cause serious harm or death within two hours due to chemical burns or ruptured internal organs.
Made by Varta
Varta is a trusted German brand when it comes to batteries. These batteries have a long shelf-life and good output values through their life. It's always nice to see "Made in Germany" printed somewhere.
These might also interest you
Log in and write a review.