The opening can be tightened up all the way.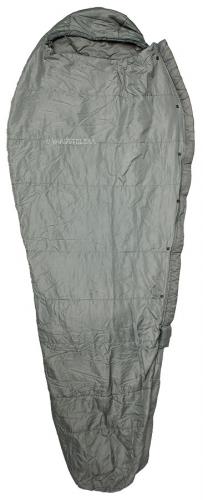 Some of the bags are gray, or "Foliage green". The only difference is the colour.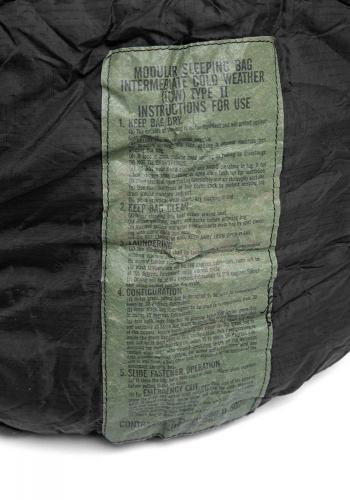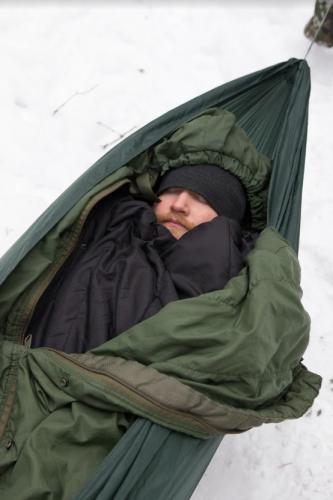 United States
US MSS / IMSS Intermediate Sleeping Bag, surplus
Price 59.99 USD
excluding sales tax
The new US Army modular sleeping bag system is probably the best there is. This is the inner Intermediate bag and can be used alone in coldish weather. Essentially a three-season bag.
Loading products...
Trouble with the metric system? Try our converter: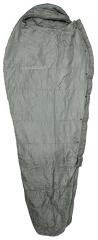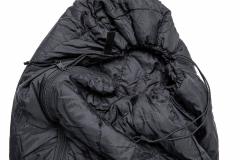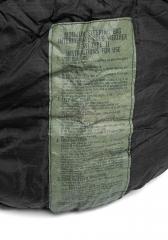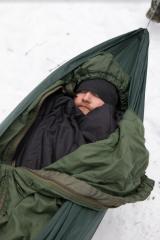 The new US Army modular sleeping bag system is probably the best there is. This is the inner Intermediate bag and can be used alone in coldish weather. Essentially a three-season bag.
About the whole system
Meant to be usable in any environment or weather, the US Army modular sleeping bag system has it all. The innermost bag is the Intermediate bag, and it is attached to the inside of the Patrol bag. If waterproofing or additional protection is required, a Gore-tex bivy cover will snap on top of the whole thing. The intermediate bag alone offers tolerable sleeping conditions for up to -10°C / 14°F, the Patrol bag to 10°C / 50°F, and with the whole deal, the system should provide comfort for up to -30°C/-22°F. The modularity has the added benefit of capturing insulating layers of air between the bags.
This particular item
This is the Intermediate bag, which is a good choice for as cold as -10°C / 14°F. The outer material is 70-denier nylon fabric, and the stuffing is Polargard HV polyester, which does not absorb too much moisture and dries pretty quickly if it gets wet.
The bag closes with a heavy-duty zipper and has a large hood. The zipper is accompanied by snap fasteners, to which the other components can be attached.
The foot space has double insulation. At chest height, there is a tightening strap that prevents warm air from escaping the lower parts of the bag.
Size and care
The bag is about 216 cm / 7' 1" long, suitable for people up to 185 cm / 6' 1", and weighs about 2 kg.
Washing sleeping bags should generally be done as little as possible. If the need arises, do it at 40°C / 104°F. However, we suggest using a separate liner bag to essentially remove the need to wash the main sleeping bag. If the bag gets wet or is washed, open the zipper and hang dry.
Used army surplus
These are used but in nice, clean, and serviceable condition. Being used, we can't guarantee the condition of each and every snap fastener. Generally, there are quite enough of them intact to attach other sleeping bag parts securely.
No stuff sack included!
All products: United States
Recommendations
Loading products...
Reviews
You have already submitted a review. You can edit your text by clicking on it.
Log in and write a review.
Remove filter
I would recommend for a friend
Dustin G.

20.02.2019 (Edited 02.06.2021)
Great bag. I am a 230lb 6'3" American and I just fit in the bag to me just right. I'm not claustrophobic but I really can't imagine using this if any bigger. I agree 6'1" or less would be perfect. My bag looks and feels brand new, even the foot-box label has no signs of use or wrinkle or fade. The extra filling in the foot-box and chest area is noticeable and kept me warm at 22F with a pad under of course. Thank you for the great purchase, first from this site but definitely not my last. Oh, I wanted it for a weekend trip that had been coming up, I ordered it on a Saturday night paid express and it showed up Wednesday morning in California. :-)
2
0
I would recommend for a friend
Adam G.

06.04.2019 (Edited 05.06.2021)
Good enough for more temperate zones. Not an arctic bag by any stretch, though. Heavy, but the price is right and the quality of the zippers/stitching/etc is great.



Some clarification on the difference between the black (older) and grey (newer) bags: The black bags will feel undersized if you're over about six feet tall. When they introduced the grey set with the UCP bivy cover, one of the changes was to increase the OAL of all the bags by a few inches to solve the common complaint of "this bag feels too short for me." In addition, the grey bag uses more modern insulation, and is thus both slightly lighter and packs down to a slightly smaller size than the old black model. The temperature rating for both is the same.

Either one will serve you fine. Don't get too caught up on which one's 5% better.
5
0
I would recommend for a friend
David G.

07.12.2019 (Edited 06.06.2021)
Easy to attach to the rest of the modular system and/or Bivy bag via the press studs, unlike the British and some European ones using an array of tie loops and strings, overall weight of this bag combined with the patrol bag and Bivy bag feels lighter and compacts down far smaller than the current British issued system.

Only flaw(s) I have noticed with these bags (intermediate and patrol) are the fabric is quite tight around the press stud fittings so is most prone to tearing around these points, and some of them have an elasticated type drawstring for tightening the hood area which leads to an excess to tie up or cut off when the elasticity gives up on life, if you work on Celsius you'll need to convert the temperature ratings and make a note somewhere.

Those flaws aside an easier system to use and assemble than most other military sleeping systems.
1
0