US Modular sleeping bag - Intermediate bag, used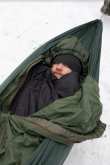 Price 68.99 USD. In stock 0 pcs.
Saatavana käytettynä!
Trouble with the metric system? Try our converter:
These might also interest you
The new US Army modular sleeping bag system is probably the best there is. This is the inner Intermediate bag, and can be used alone in coldish weather. Essentially a three-season bag.
Note: Some of these are Foliage Green. We do not separate them from the black bags, as the only difference is the colour.
About the whole system
Meant to be usable in any environment or weather, the US Army modular sleeping bag systems has it all. The innermost bag is the Intermediate bag, and it is attached to the inside of the Patrol bag. If waterproofing or additional protection is required, a Gore-tex bivy cover will snap on top of the whole thing. The intermediate bag alone offers tolerable sleeping conditions for up to -10 degrees Celsius, the Patrol bag to 10 degrees Celsius, and with the whole deal, the system should provide comfort for up to -30 degrees. The modularity has the added benefit of capturing insulating layers of air between the bags.
This particular item
This is the Intermediate bag, which is a good choice for as cold as -10 degrees. The outer material is 70-denier nylon fabric, and the stuffing is Polargard HV polyester, which does not absorb too much moisture and dries pretty quickly if it gets wet.
The bag closes with a heavy duty zipper, and has a large hood. The zipper is accompanied by snap fasteners, to which the other components can be attached.
The foot space has double insulation. At the chest height there is a tightening strap which prevents warm air from escaping the lower parts of the bag.
Size and care
The bag is about 216 cm long and weighs about 2 kg.
Washing sleeping bags should generally be done as little as possible. If the need arises, do it in 40 degrees Celsius. However we suggest using a separate liner bag to essentially remove the need to wash the main sleeping bag. If the bag gets wet or is washed, open the zipper and hang dry.
Used army surplus
These are used but in nice, clean and serviceable condition. Being used, we can't guarantee the condition of each and every snap fastener. Generally there are quite enough of them intact to attach other sleeping bag parts securely.
No stuff sack included!
Log in and write a review.