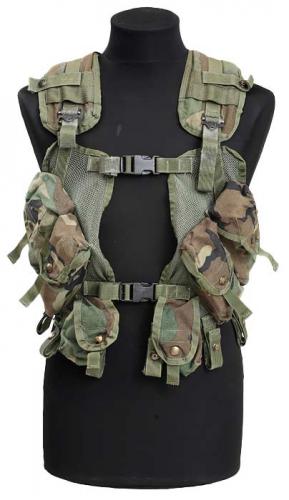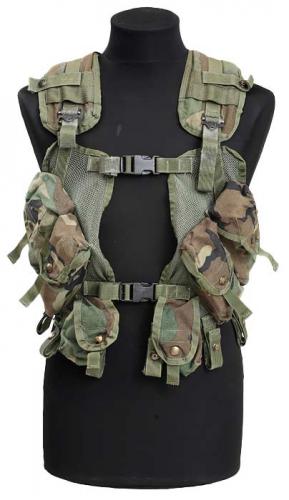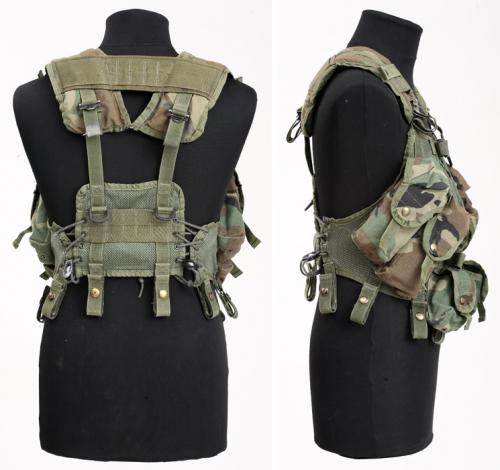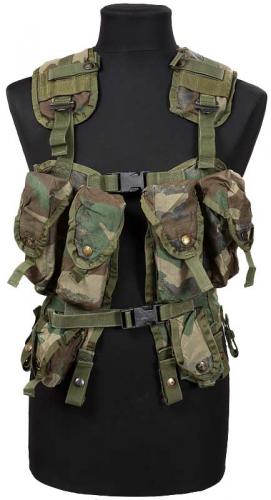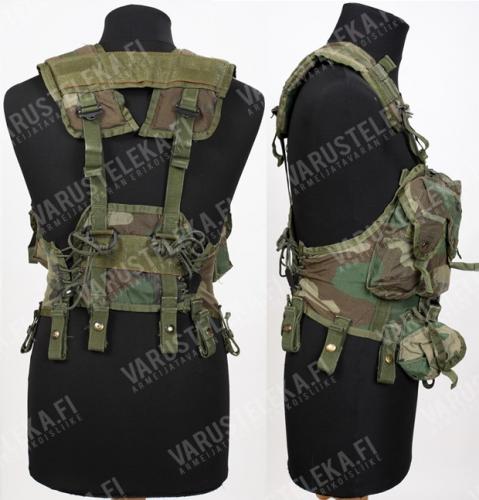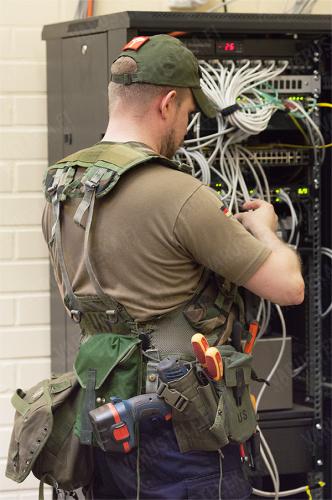 United States
US LBV, Woodland, surplus
Price 25.99 USD
excluding sales tax
A light, durable, and warproof combat vest for a low price! US Army surplus.
Loading products...
Trouble with the metric system? Try our converter: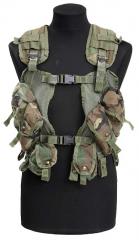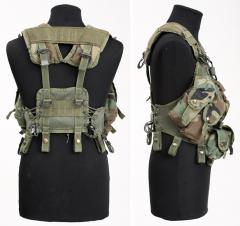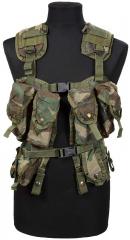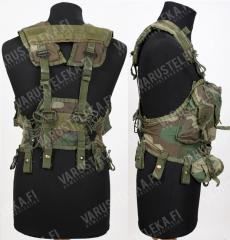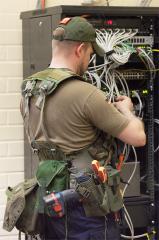 A light, durable, and warproof combat vest for a low price! US Army surplus.
The IIFS (Individual Integrated Fighting System) was adopted in 1988 to replace and complement the ALICE system and is in limited use even today. All-new items in the IIFS were the combat vest, rucksack, and day pack. This combat vest has been designed to be used together with an LC-3 belt, which is to be equipped with water canteens and pouches for additional magazines.
Two models: The LBV-E is an improved version of the LBV-88, with slanted magazine pouches and breathable mesh in place of nylon fabric. Pick whichever tickles your fancy, they're very much alike.
Features four magazine pouches for six M16 magazines, two grenade pouches, good adjustments in every direction, and ten belt loops for LC2/3 pistol belts. Basically, this vest acts rather like a set of suspenders (but with a relatively huge carrying capacity), with the main load carried on the belt. An excellent design, yet quickly superseded by the MOLLE-system.
For those not too keen on MOLLE, this "vest" is lightweight, has easily accessible pouches, and as it does not cover the entire upper body, it doesn't boil you in your own sweat.
US army surplus
Used but in perfectly serviceable condition.
Kierto Circular Economy
Return this product used but clean and unbroken, and you'll receive half of the product's original price as Varusteleka credits. Service is available only in Finland. Only Registered users can make Kierto returns. See more information about Kierto.
All products: United States
Recommendations
Loading products...
Reviews
You have already submitted a review. You can edit your text by clicking on it. You can filter the reviews by clicking on the elements of the summary.
Log in and write a review. You can filter the reviews by clicking on the elements of the summary.
Remove filter
I would recommend for a friend
Albert M.

29.08.2021

Verified purchase
This LBV is great! I purchased the LBV-E from another supplier before I found this website.
Only downside is this kit in particular not coming with the pistol belt. Having that wide belt adds a vital amount of stability to the kit, especially once you start loading in your ammo or whatever you need to carry.

SKS stripper clips and double P-Mags can go in the normal pouches, a can of Vienna sausages or shotgun shells in the grenade pouches. The pouches come with the button snap AND hook and loop strips for the quick-release when you need it. The LBV-E is a lot more comfortable to go prone with, and keeps the bulk of your magazines from getting in the way of a seat belt or normal work like carrying something.

If you've been in the market for something to go with your duty belt or just have a lonely US-type pistol belt, this is the thing to get!
8
0
I would recommend for a friend
Noah B.

24.01.2023

Verified purchase
Excellent battle jacket. Mine arrived completely new, totally unused. The pouches fit the classic USGI metal magazines well, but any aftermarket mags are a bit more tight, and only fit about one. I think it should fit around armor, but you may have to be a bit creative with the belt. The modification ability is pretty limited, mostly depending upon your choice of what you are putting on the ALICE pistol belt. I personally threw on two canteen pouches, and a buttpack. The grenade pouches are a little small for normal usage, but hold tranq darts for raccoons well enough.

If you aren't interested in building a full chest rig, or just want something simple and effective, I cannot recommend it highly enough.
2
0
I would recommend for a friend
Greg W.

12.12.2017

Verified purchase
Didn't purchase one here but I was issued one back in the day. It's a really good system and in some ways better than molle. It bears the weight well and will hold lots of mags. Not as hot as the molle system , if a little fussy on initial set up. Guys with fat necks complained that the shoulder pads would rub on their neck, I never experienced that though. It's modular in that you can hack stuff on to it with 550 cord, or stuff on the belt. You could even mix molle and Alice that way. . You can ride in vehicles because nothing is on your back unless you add the ass pack . I wore it in Panama and it wasn't uncomfortable.
63
0