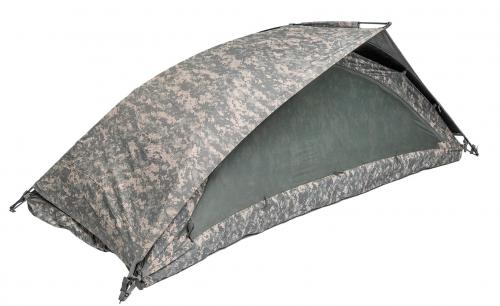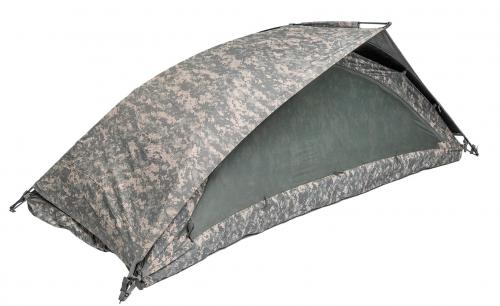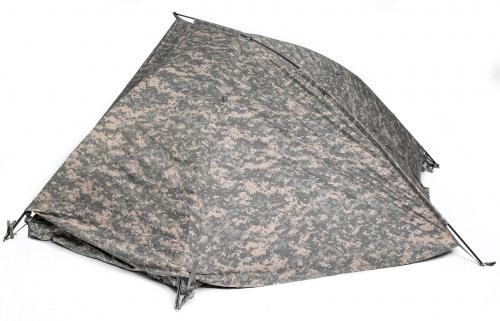 Opening the door on the right side face leads to the porch.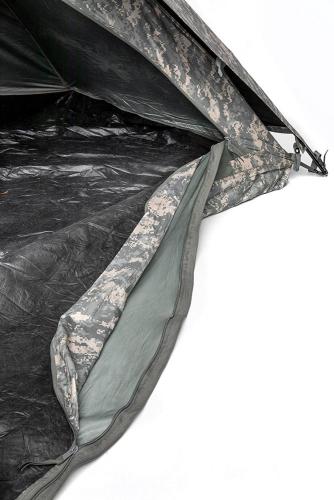 Insect mesh or nylon, the choice is yours.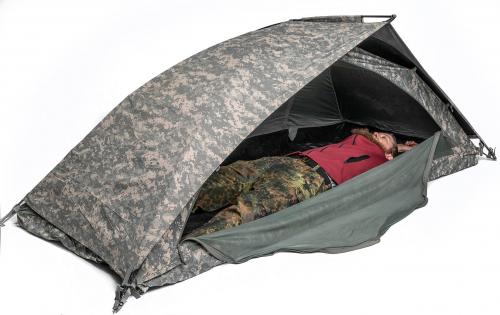 There's plenty of room for one - in an emergency the tent might fit two.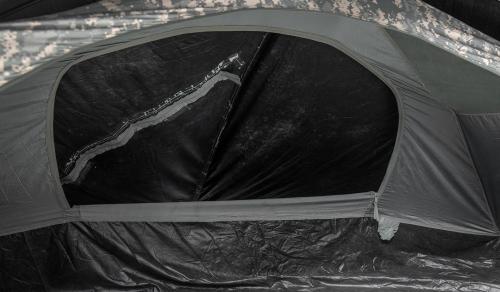 A view on the porch through the other door.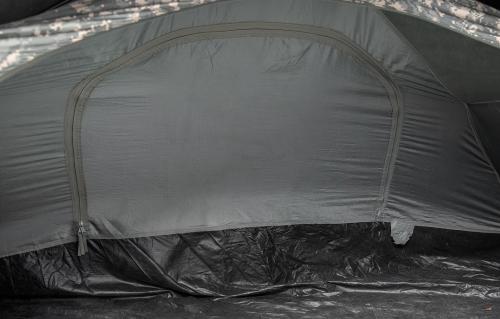 Guaranteed bugproof closure!
United States
US ICS one-man tent, UCP, surplus
Price 189.99 USD
excluding sales tax
The current issue one-man tent of the US Army! Others can only dream of such luxury palaces for one soldier only. Really well made, used, and not very militaristic thanks to the UCP camo!
This product is unlikely to be restocked and will be hidden from our website once it's out of stock.
We don't know when this product will be restocked. With surplus the restock date is unknown due to sometimes poor availability. Request restock notification and we will email you as soon as this product is available.
This product has used and returned variations. Used are washed and unbroken. Heavily used are also washed but might be missing buttons, have tears, main zipper can be broken etc. Read more about Kierto.
Trouble with the metric system? Try our converter: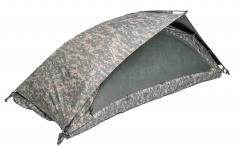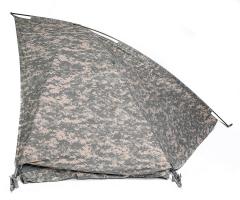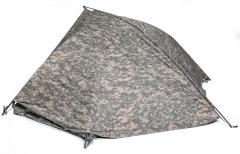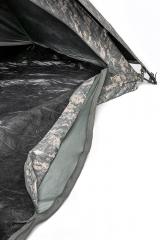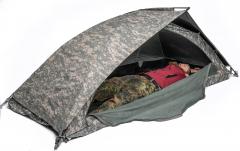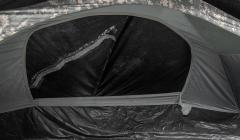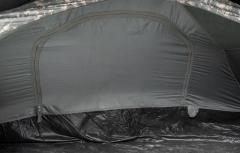 The current issue one-man tent of the US Army! Others can only dream of such luxury palaces for one soldier only. Really well made, used, and not very militaristic thanks to the UCP camo!
One-man tent
Waterproof, insectproof
Weight about 3 kg / 6.6 lbs.
Used but serviceable!
ICS - Improved Combat Shelter
Comprises of two parts, the inner tent, and the outer rain fly. Pitching the tent is very easy, just stick the aluminum poles in the holes and the thing pops up. In addition to the sleeping space, there's also a little porch for your boots and rucksack. Both parts can be used separately too!
The tent is completely insectproof thanks to the solid floor and very tight mesh. You can also zip up the nylon doors and these coupled with the rainfly make the tent "blacked out" so no light comes in or out. A very good feature in military use.
Dimensions
Extrenal measurements about 244 / 96" (L) x 103 / 40.5" (W) x 83 cm / 32.5" (H)
Packed dimensions 43 x 15 cm / 17" x 6"
Weight about 3 kg / 6.6 lbs.
Package contents
Inner tent
Rain fly
Pole set
Stake set
Some carrying bags
Jan-u-wine US army stuff
Yeah, these are ex-US Army kit made by ORC Industries in USA. In used condition: there's some wear here and there, but everything works. There might be a small hole or some on the insect net, if youre picky you should check these are repair them as encountered. Otherwise just pop it up and go campin'. One gripe: these have been packed for some time and have a strong nylon odour. We recommend striking the tent up and letting it air out for a while!
Kierto Circular Economy
Return this product used but clean and unbroken, and you'll receive half of the product's original price as Varusteleka credits. Service is available only in Finland. Only Registered users can make Kierto returns. See more information about Kierto.
All products: United States
Recommendations
Loading products...
Reviews
You have already submitted a review. You can edit your text by clicking on it. You can filter the reviews by clicking on the elements of the summary.
Log in and write a review. You can filter the reviews by clicking on the elements of the summary.
Remove filter
Suomi
(9)
English
(2)
I would recommend for a friend
N.N.

07.05.2019

Verified purchase
Teltta tuoksui vapaudelle, mutta siitä pääsi eroon hellällä Nikwax pesulla. Tosin ensiksi piti tomuttaa turhat hiekat pois, teltta oli siis ollut osallisena vapauden jakamisessa jossain hiekkamaassa.
Kaaret olivat ehjät, kiilat samoin. Mukana tuli saumojen tiivistysaine, jolle varmasti käyttöä tulee koska osa saumojen teippauksista oli jo hieman kärsinyt.
Näppärä pystyttää, painoa siviilitelttoihin nähtynä enemmän, mutta kestävyyttä todnäk enemmän käytettynäkin. Se mikä itseä tässä erityisesti viehättää on se, että teltta tosiaan ei päästä valoa sisälle, voi kerrankin nukkua rauhassa Suomen suvessa.
17
1
I would recommend for a friend
Vesa-Matti H.

05.06.2019

Verified purchase
Vapauden tuoksua ja hiekkaa löytyi myös tästä yksilöstä. Hyönteisverkossa oli pieni teippiä huutava reikä ja vetoketju tarvi kunnon voitelun ja pientä säätöä, että alkoi toimia kunnolla, mutta muuten testikasauksen ja - pötköttelyn perusteella varsin toimiva tuote. Plussaa pimeydestä ja pienestä "takahuoneesta".

Päivitys: 6 yötä lapissa heinä-elokuun vaihteessa 2019
Teltta pääsi tositoimiin vähän pidemmälle reissulle, eikä tästä mitään isoa heikkoutta sielläkään löytynyt. Matkatoverit katsoivat kasauksen helppoutta kateellisena, mutta eivät kadehtineet tiloja omiin ~kahden hengen telttoihinsa verrattuna. Takatila jäi aika vähälle käytölle, koska kamat olivat erillisen pressun alla. Esim. Iso PLCE-rinkka sinne takatilaan ei olisi kyllä oikein mahtunutkaan, joten erillinen pieni pressu kamojen suojaksi on hyvä olla matkassa, jos tavaraa on enemmän.

Lapin kesän loppupäässä hyttysiä sun muita verenimijöitä oli edelleen liikkeellä varsin runsaasti. Osa löysi jostain tien päiväsaikaan telttaan sisään, mutta jostain syystä teltta sai ne niin sekaisin, etteivät yrittäneet kimppuun vaan kerääntyivät yhteen nurkkaan etsimään tietä ulos. Näiden muutaman mulkeron pikaisen lahtauksen jälkeen loisia ei näkynyt lisää ja nukkuessa ötököistä ei siis ollut vaivaa.

Pois ne taisivat öisin kuollakin, sillä yölämpötilat laskivat hieman yllättäen jopa pakkasen puolelle. Tämä ei sinänsä ollut ongelma hyvän makuupussin kanssa, mutta teltan rakenteesta ja valitusta paikasta joen rannalla johtuen tuuli oli voimakasta ja pääsi välillä pyörimään molemmin puolin telttaa. Etupuolelta se työntyi varsin raakana sisään päällisen ja varsinaisen teltan välistä tuuletusaukkojen kautta viilentäen varsinkin makuupussiin siirtyessä paljasta nahkaa vähän turhan rajusti. Tämä ongelma poistui sullomalla ennen telttaan siirtymistä päällisen ja teltan rungon väliin ulkotakki tuulensuojaksi siten, että tuuletus toimii , mutta tuuli ei pääse puhaltamaan suoraan tupaan.

Kunnon sade jäi siis kokeilematta, mutta mitään isompaa valitettavaa ei jäänyt. Pimennetyn sisätilan huomasi lähinnä siitä, että matkatoverit heräilivät aina valoisuuteen siinä vaiheessa, kun omassa teltassa oli vielä iso kuorsausvaihde päällä.
9
0
I would recommend for a friend
Simo L.

20.05.2020

Verified purchase
Nyt on komea peli! Helppo koota ja pimeä sisältä. Oma yksilö on ilmeisesti ollut 1-2 kertaa käytössä jossain hiekka-erämaassa. Pienen putsailun jälkeen siisti, lähes pakastavedetty majoite. Mukana vieno ylijäämän aromi, joten teltta saa viettää seuraavat yöt parvekkeella raikastumassa.
2
0
I would recommend for a friend
ari t.

26.05.2020

Verified purchase
aluksi hieman ajattelin että mitähän tilattua .haju ja hiekka.mutta kun teltan pystytin niin .erittäin tyytyväinen.mutta kiilat puuttui ja korjaussarja ja salot eivät olleet ehjät mutta ne sai itte tehtyä pienellä vaivalla.nyt hyvä.kiitos hyvästä tuotteesta taas kerran-
1
0
I would recommend for a friend
Tuomas B.

18.06.2020

Verified purchase
Suosittelen ostamaan ennen kuin joku muu kerkiää nappaamaan loput saatavilla olevat.

Teltta tuli 99,999% käyttämättömänä; ei hajuja, ei hiekkaa, telttakiiloissa ei ollut edes musta maalipinta naarmuuttunut. Kiilapussin pohjalla oli jopa ylimääränen solki mukana. Yksi salko oli vähän vääntynyt mutta ei loppupeleissä käyttöä haittaa. Musta sisäpuoli oli sadesuojassa kiinnittynyt niin hyvin itteensä kiinni, että en saa salkoa vedettyä sille tarkoitettujen onkaloiden läpi mutta saattaapi johtua tästä 30 helteestä. Kenttätestaus vielä tekemättä mutta ellei koko teltta syty spontaanisti tuleen niin ei varmasti petä.
1
0
I would recommend for a friend
Antti R.

19.07.2020

Verified purchase
Hyvin marinoitu tuoksu tuli vastaan jo lähetyspakkausta avattaessa. Tilasin näitä viiden tähden hilttoneita kerralla kaksi kappaletta, koska olin tietoinen näiden suosiosta ja huonosta saatavuudesta.

Molemmat avasin ja kasasin takapihalle viikoksi haukkaamaan happea. Vesipesu ja vielä pari päivää kuivattelua sai pahimmat käryt katoamaan.

Samaan eräporukkaan kuuluva kamraati ihasteli tuotteita pihassani ja pian päästiin jo sopimukseen toisen teltan omistajan vaihdoksesta.

Saumat kaipaa uudet teippaukset, mutta näillä vanhoilla mennään nyt tämä kesä ja seitsemän päivän Inarin kajakki reissu.
1
0
I would recommend for a friend
Deleus I.

01.02.2021

Verified purchase
My tent initially had a lot of defaults but customer care at Varusteleka helped to take care of that!
2
0
I would recommend for a friend
Janne G.

05.02.2021

Verified purchase
Knowing this is surplus I expect some wear and tare but when I staked this it was very sticky inside and smelled like the user has taken a shit or vomited and never bothered to clean it. I don't know if I'll be able to actually use it. Shame since the fabric is intact and otherwise in good shape. One would expect this to be at least somewhat inspected.
4
0
I would recommend for a friend
Mikko N.

07.02.2021

Verified purchase
Tää on ihan huippu tuote!
Koetin etsiä teltasta jotakin käytön jälkiä, siinä kuitenkaan onnistumatta!
Yleensä en talvella telttaile kun mopo retket on niin lyhyitä, mutta nyt olisi kuume kokeilla :)
Mopo-Mikki
0
0