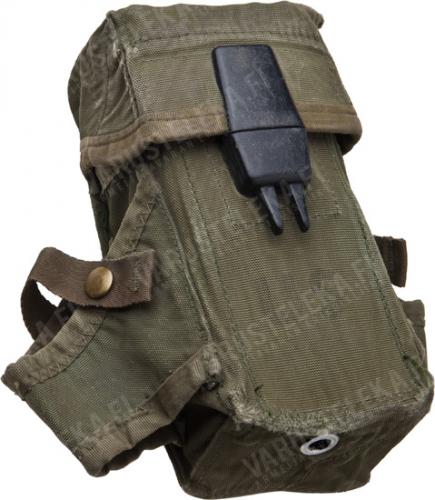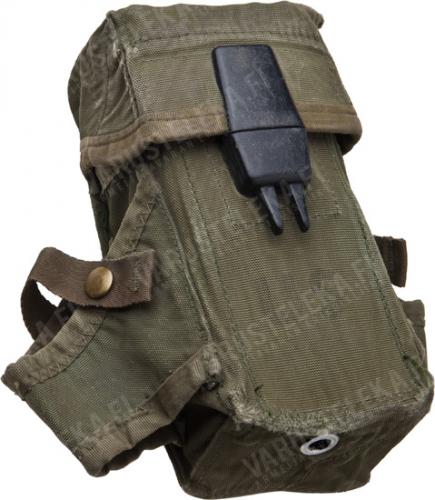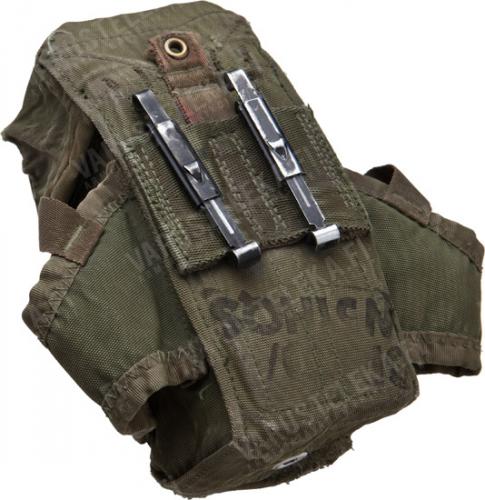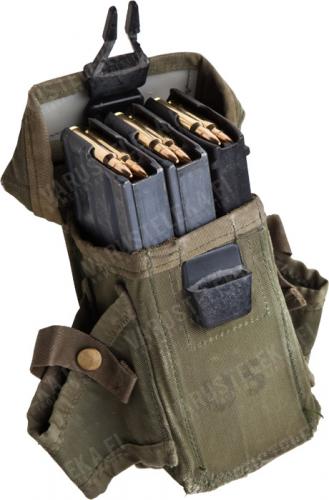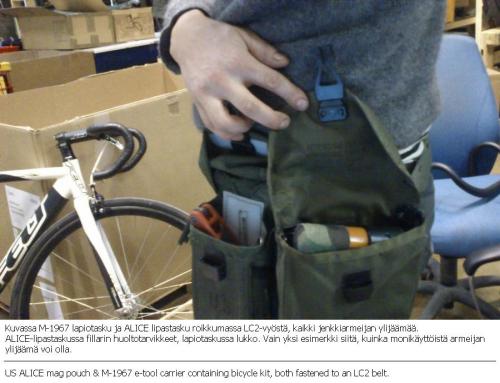 United States
US ALICE magazine pouch, surplus
Price 7.99 USD
excluding sales tax
The classic ALICE magazine pouch for three 30-round M16 mags, adopted in 1973. Used.
This product is unlikely to be restocked and will be hidden from our website once it's out of stock.
Discontinued product.
This product has used and returned variations. Used are washed and unbroken. Heavily used are also washed but might be missing buttons, have tears, main zipper can be broken etc. Read more about Kierto.
Trouble with the metric system? Try our converter: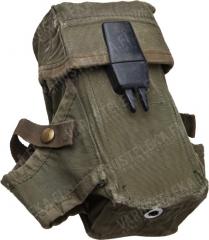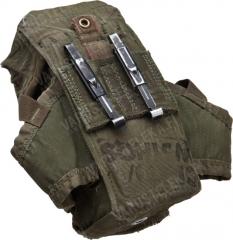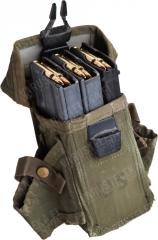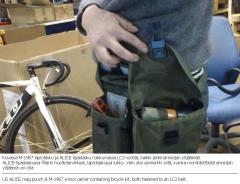 The classic ALICE magazine pouch for three 30-round M16 mags, adopted in 1973. Used.
The US ALICE load bearing system was designed around the end of the Vietnam war and was widely in use by the mid-70's. In its 40 years of existence it has become a very commonly used magazine pouch worldwide.
The pouch is a completely enclosing nylon "box" with plastic reinforcements to keep the front and back in shape. The closure buckle is large, easy to use and silent. On the inside you might find webbing dividers, but these are often removed.
On the backside you'll find two US keepers, which are removable belt loops made of steel. They can be used to attach the pouch to belts up to 55 mm (2.25") wide. Can also be attached to newer MOLLE-compatible webbing.
Alternatively to three M16 magazines, this will also hold FAL/G3/M14 magazines, or work as a small general purpose pouch, making it a pretty versatile item.
US Army surplus
In used but perfectly serviceable condition.
Kierto Circular Economy
Return this product used but clean and unbroken, and you'll receive half of the product's original price as Varusteleka credits. Service is available only in Finland. Only Registered users can make Kierto returns. See more information about Kierto.
All products: United States
Recommendations
Loading products...
Reviews
You have already submitted a review. You can edit your text by clicking on it. You can filter the reviews by clicking on the elements of the summary.
Log in and write a review. You can filter the reviews by clicking on the elements of the summary.
Remove filter
Suomi
(2)
English
(7)
I would recommend for a friend
Michael S.

03.12.2017

Verified purchase
Purchased two. One didn't have the dividers, but looks like it was made without them, not cut. Very sad. Still good.
6
0
I would recommend for a friend
Felix A.

27.07.2018

Verified purchase
These are very nice mag pouches. One of the dividers was broken but that was fine. I'm only giving it three stars because it didn't have the clips but it still is a good product
3
0
I would recommend for a friend
tat w.

08.11.2018

Verified purchase
perfect for provisioning a long hike.
i'll have my main meals accessible on my backpack and carry cigarettes, trail mix, gum & dog poo bags (empty) in one of these.
they also fit beer cans.
and you can hang fruit on the grenade loops.
3
0
I would recommend for a friend
Juha E.

22.11.2018

Verified purchase
Ehjät ja käyttökelpoiset.
En huomannut mitään nauhoituksia sisällä, enkä usko niiden puuttumisen vaikuttavan sekunnin kymmennystäkään lippaan kaivelussa.
3
0
I would recommend for a friend
Jonathan J.

15.07.2019

Verified purchase
Bought 2 of these for airsoft use as part of a complete ALICE set with belt and suspenders, also bought from here. Get some canteen pouches and this is the perfect modern, lightweight kit for when plate carriers are too heavy and too tacticool for you. One of them seems to be newer and made without the dividers, which is good. The dividers are kind of annoying because they make it a little harder to reinsert magazines but you can cut them off if you want.
3
0
I would recommend for a friend
Aleksi B.

08.09.2019

Verified purchase
Erinomainen lipastasku. Käytän SKS kiväärin patruunakampojen säilyttämiseen, menee 5 täyttä patruunaakampaa heittämällä.
3
0
I would recommend for a friend
That J.

28.10.2020

⚠ Unverified purchase
These are a great way to carry some mags (though its not the cool high speed super fast emergency reload style, I guess you'll need to take cover for a reload like a total square) and if you don't have grenades to sling in the little baby carrier pouches, you can just cut off those snag hazards (freedom!). You can put two of these on the front of your belt and attach the load bearing shoulder straps to the eyelets for a more stable run and gun set up, just like attaching the rear of the suspenders to the top of the butt Pack. If yours ships without the ALICE clips, then make do with some lightweight 'polymer' alternatives (Zip ties).
5
0
I would recommend for a friend
Jesse V.

12.11.2021

Verified purchase
There is very little that ALICE can not do. I've bought many ALICE mag pouches from various sources over the years, in differing condition. Some are like new, others need a little bit of work to keep them serviceable, but nothing a few minutes with a needle or a few seconds with a lighter can't fix. I cut the dividers out and use a seam ripper I bought from a local grocery store to pull the grenade webbing off of them. I don't have any grenades to throw and even if I did I wouldn't keep them on my mag pouches. You can use these for airsoft or LARP or as a GP pouch when outdoors. Personally I keep one on my belt at work to hold little pieces of whatever because I'm always carrying a bunch of different pens, markers, gloves, papers, etc. ALICE is eternal. All hail ALICE.
4
1
I would recommend for a friend
Albert M.

20.08.2022

Verified purchase
ALICE gear has its place for most people wanting a belt kit or a harness system to go on patrol/LARP/Airshit/hike with. These have survived the long test of time with Vietnam all the way into the 2000s if they were used by cheap National Guard units in the US. Poly magazines will have a difficult time fitting, especially if they have ridges.

The white plastic pieces can crack from the pouch being stored terribly. This will make it collapse a bit on itself and might not allow the extra bit of wiggle room poly mags need.

The dividers mostly keep the GI mags from moving around.

Having a flap top pouch will be best for protecting your magazines and will not easily facilitate your OPR8R reloads. There are ways to use this as more of a GP pouch without the divider straps and using the grenade side flap things to maybe hold a TQ or something rolled up if youre inventive like that.
0
0