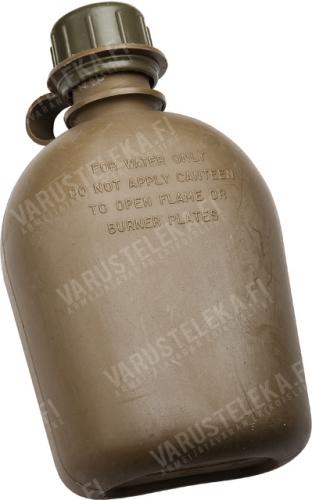 US 1qt canteen
Price 4.99 USD excluding VAT
Flat Rate Shipping to USA $9.99
Sold 15 pcs in the last two weeks
In stock 47 pcs. Also available in our walk-in store.
Trouble with the metric system? Try our converter: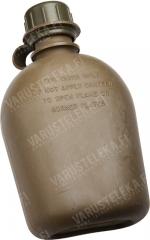 The 1 quart US issue canteen is probably one of the most ubiquitous military water bottles out there. The same stuff has been issued since the M-1956 load bearing equipment came into use, and this is still going strong! These are brand new canteens made by an official US government contractor.
This canteen is part of the US individual mess kit system. A metallic cup is available separately, which fits around the bottom of the canteen to save space in your pack. Even with the cup the canteen fits perfectly into the US army water canteen pouches, regardless of model (ALICE, MOLLE II etc.).
Review of the US 1qt canteen
This canteen, coupled with the US canteen cup, is a combo that I have fallen in love with during an autumn march. This "canteen and cup" combination is nothing new - it's been in use by soldiers for years - but with my recent test I myself understood just how useful this combination really is. Personally, I like to carry this combo in a pouch on my leg rig, along with an Esbit stove, fire-making tools, a spork, and a few food bars and instant soup pouches. With this setup you have everything you need to survive for a few days just in case, for example, your rucksack falls into some ravine, spontaneously explodes, or does something else not very beneficial to your situation. Cool stuff!

The canteen cup gives the added benefit of being able to heat stuff up when needed, which is extremely useful when in the wild. Also, the whole setup is quite compact and light, and you don't need to carry along any cookers or mess kits.


Arne
Recommendations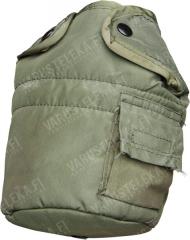 US ALICE canteen pouch, surplus
5.99 USD
Often purchased with.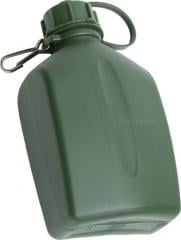 Finnish Canteen, 1 l
7.99 USD
Similar product.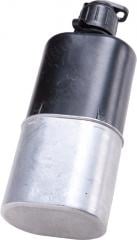 Swiss M84 canteen with metal cup, surplus
9.99 USD
Similar product.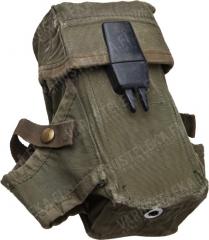 US ALICE magazine pouch, surplus
7.99 USD
Sometimes purchased with.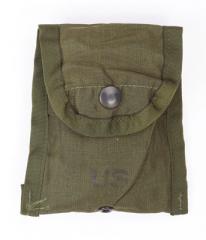 US ALICE first aid/compass pouch, usurplus
5.99 USD
Sometimes purchased with.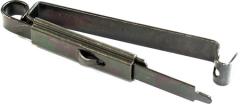 US ALICE keeper, surplus
0.99 USD
Sometimes purchased with.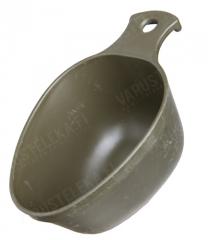 Swedish rigid plastic cup, green, surplus
2.99 USD
Sometimes purchased with.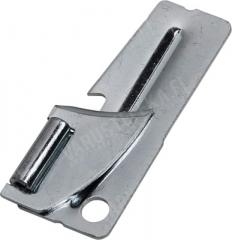 US P38 can opener
0.99 USD
Sometimes purchased with.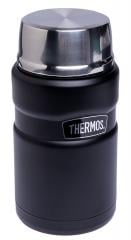 Thermos Stainless King 710 ml (24 oz)
36.99 USD
Might be of interest.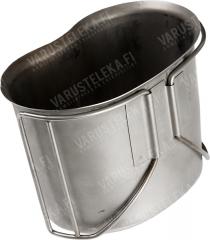 US canteen cup, surplus
9.99 USD
Might be of interest. Temporarily out of stock.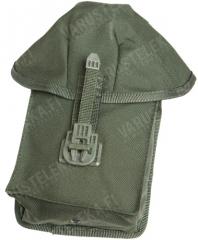 Finnish M05 water bottle pouch
32.99 USD
Might be of interest.
Reviews
You have already submitted a review. You can edit your text by clicking on it.
Log in and write a review.
Remove filter
Suomi
(6)
English
(5)
I would recommend for a friend
Harri K.

13.11.2016 (Edited 18.11.2016)
- vuosia oli kotimainen 0,5l:n puteli, joka vuosi usein ja korkin hajottua hankin tämän
- kantsii kiertää korkki oikeille jengoille, niin ei mukana olevat kamat kastu, hyvä yleisesti ottaen
- pitäisi nyt kehua kotimaista, mutta tässä kestää korkki kiinnikkeessään paremmin (tärkeä juttu)
6
3
I would not recommend to a friend
Monica J.

03.04.2017
It leaks.
4
4
I would not recommend to a friend
Kenneth M.

09.04.2017 (Edited 09.04.2017)
Its leaking it has not got rubber seal in the cap
7
4
I would not recommend to a friend
Matija C.

15.04.2017 (Edited 26.04.2017)
Can confirm it does leak, however only if rocked violently. Should be able to fix it, I'll need to go through my plumbing stash and find a rubber washer that will fit the cap and it should be good. It's still a decent canteen, but it requires some attention and work. For DIY folks.

EDIT: fixed like stated above.
4
0
I would recommend for a friend
Ville M.

02.06.2017 (Edited 02.06.2017)
Minulla on kaksi näitä jenkkimallin kenttäpulloja, enkä ole saanut kumpaakaan niistä vuotamaan. En tiedä, mistä toisten raportoimat vuoto-ongelmat johtuvat.

Pidän itse jenkkien kenttäpullosta enemmän kuin Puolustusvoimien mallista, koska kummastakin PV:n pullostani hajosi korkin pidike tavanomaisessa käytössä. Toinen hajosi varusmiespalveluksen aikana ja toinen siviilissä. Jenkkipulloissa samainen pidike on kestänyt rääkkäämistä hajoamatta.

Summary in English: I have two of these and I cannot get either of them to leak. YMMV apparently.
13
0
I would recommend for a friend
roope t.

02.06.2017
ostin tämän samaisen kirpparilta pullotaskuineen ja aivan mahtava pullo eikä katkea korkki irti kuten SA-pullolla kävi
6
0
I would recommend for a friend
Otto B.

09.07.2018
I got two, and I haven't noticed any leakage. Mine were marked "2002" and "H.T.P" and a cage number. I wrote the manufacturer, and they said that these canteens are made of HDPE and are BPA free.
This is just your basic plastic canteen, nothing fancy about it. At this price, get plenty!
5
0
I would recommend for a friend
jacob h.

21.11.2018
Mine was made in 2002 and looked as if it was either brand new or barely used (no dings or scratches in the plastic like ones that are heavily abused). Washed it out with mouthwash and hot water just in case.
2
0
I would not recommend to a friend
Sami K.

30.08.2019
Tässä on huomattavasti parempi korkin kiinnitys kuin kotimaisessa pullossa - en ole yhdestäkään pullosta saanut sitä rikki vuosienkaan aikana, kun taas kotimaisesta se hajoaa noin vuodessa. Mutta tämä on vaikeampi puhdistaa, koska suuaukko on niin pieni, ettei siitä saa oikein minkäänlaista harjaa sisään. Lisäksi näille on aika ominaista veteen tarttuva kumin/muovin haju ja maku, jota ei kotimaisessa esiinny - tämä tosin voi olla vain kaasunaamariyhteensopivien pullojen ongelma niiden tiivisteiden takia. Loppupeleissä minusta kotimainen on surkeasta korkin kiinnityksestä huolimatta kuitenkin parempi vaihtoehto.
1
0
I would recommend for a friend
Juho H.

21.09.2019 (Edited 21.09.2019)
Hyvä kenttäpullo. Ei vuoda ja tuttipulloharjalla saa jynssättyä puhtaaksi. Parempi kuin intin vastaava. Korkin pidike ei varmasti mene rikki.
1
0
I would recommend for a friend
Markku S.

07.01.2020 (Edited 07.01.2020)
Minun ostama ei vuoda, ei jätä makua muovista veteen ja voin suositella kaikille eräjormille :-) niin itse en lähtis mitään muovipulloa pesemään minkäänlaisella harjalla se kun vaan naarmuttaa muovin sileetä pintaa ja sitten niinin naarmuihin pesiytyy kaikki mikrobit ja basillit...

Ainoo ehkä oikee tapa pestä vesipullo on huuhtelu ja antaa kuivaa korkki auki ylösalaisin....jos jostain syystä pitää desinfioida niin suosittelen käyttään esim sodastream pullojen pesu tabletteja haalean veden kanssa tai esim starsun merkkistä oluenvalmistajien käyttämää pesuainetta laimennettuna veteen! :-)
0
0