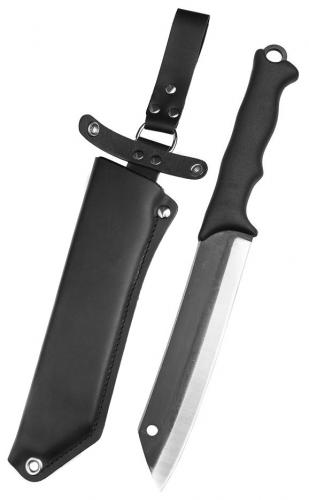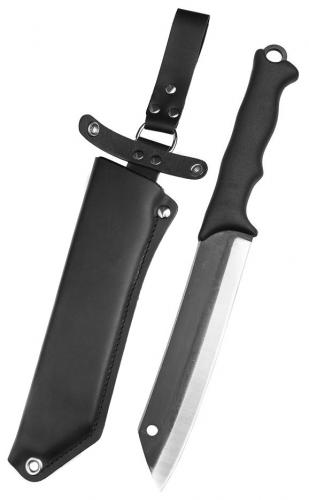 W. Leather Sheath, Right, Black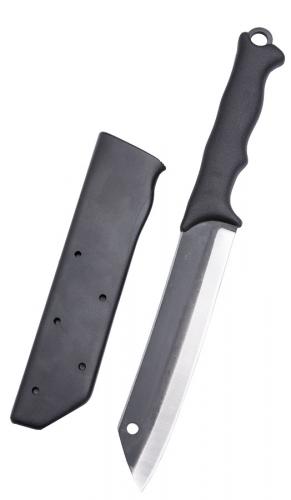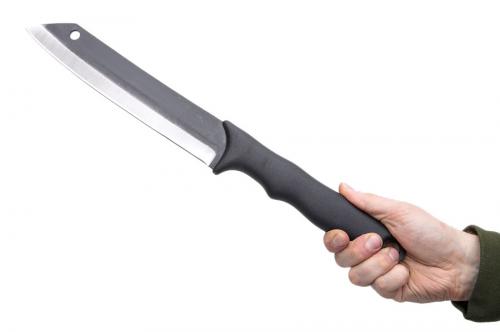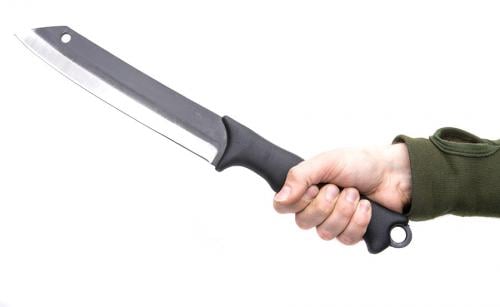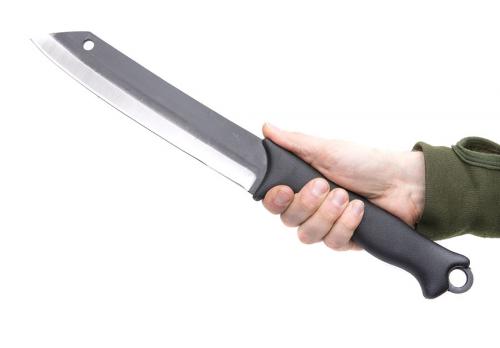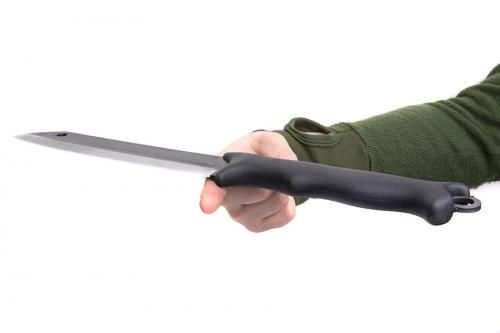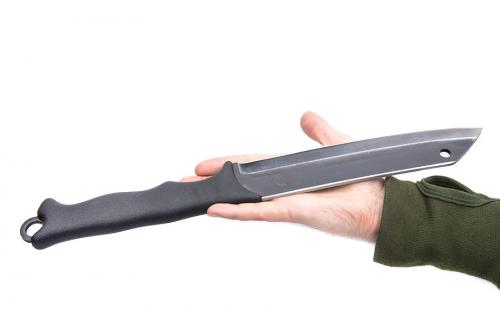 The spine has been ground and beveled to strike sparks from ferro rods.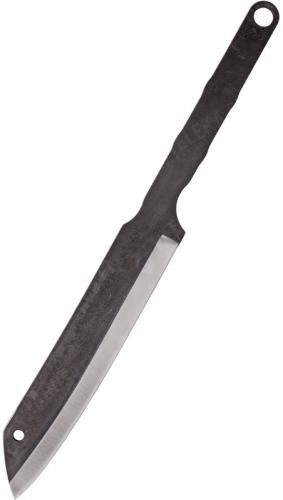 The strong tang goes all the way through the grip.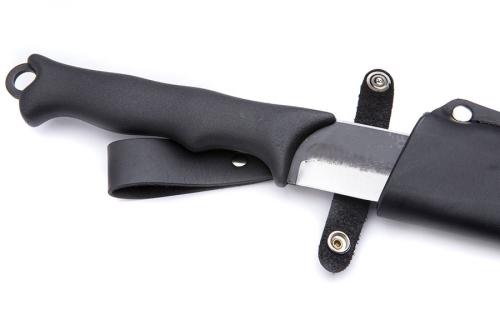 Leather sheath sold separately!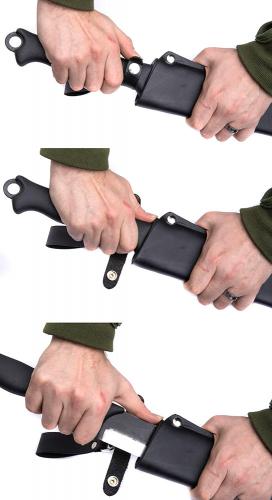 Leather sheath sold separately!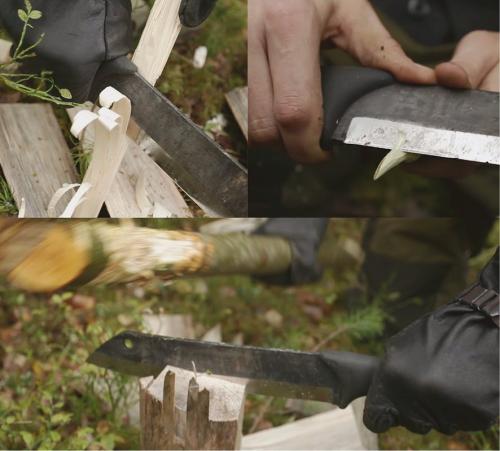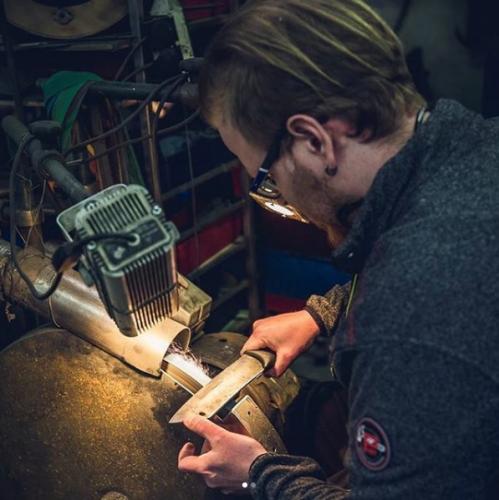 100% Finnish craftsmanship!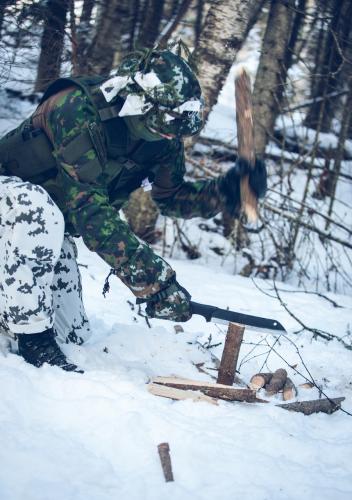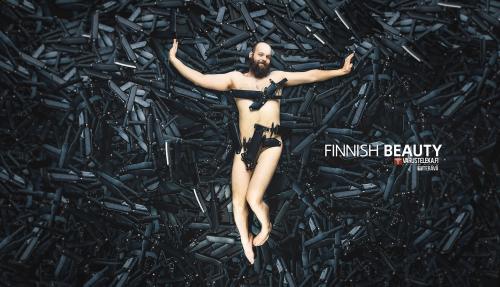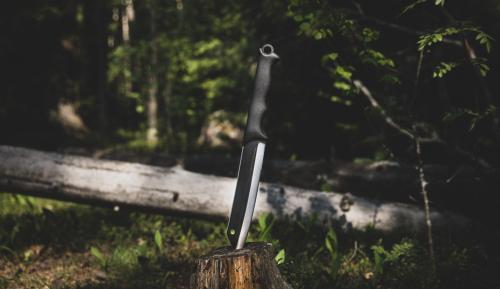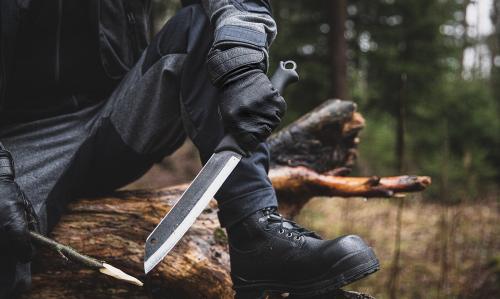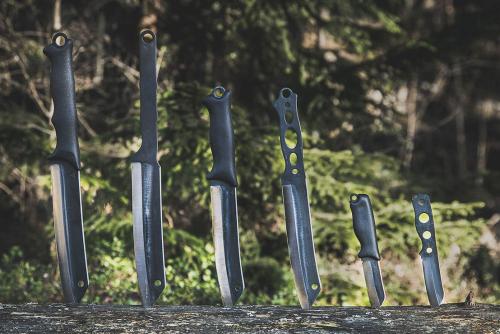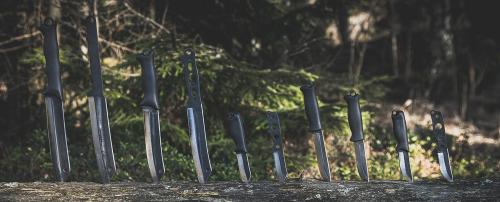 Terävä
Terävä Skrama 240, Carbon Steel
Price 74.99 - 114.99 USD
excluding sales tax
The Skrama is a versatile heavy-duty bush knife - a tool that builds shelters chops firewood and even carves feather sticks! If you're taking just one knife into the bush the Skrama is a viable option. This is naturally no axe, nor a precision tool for extremely meticulous work, but something in between and a solid and dependable companion above all.
Loading products...
Trouble with the metric system? Try our converter: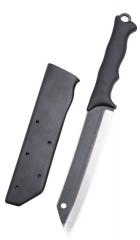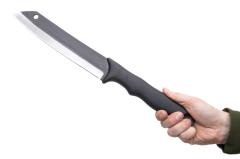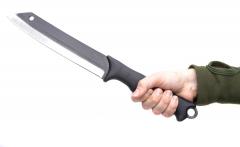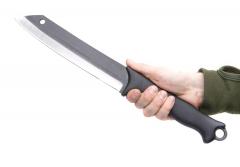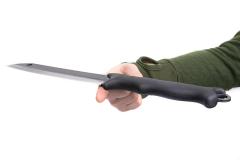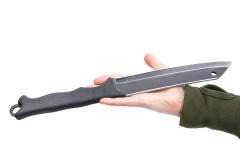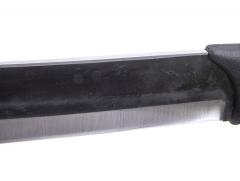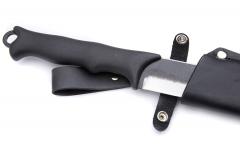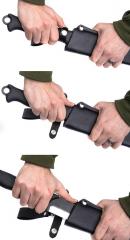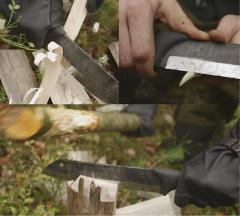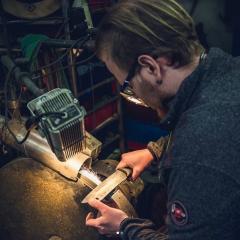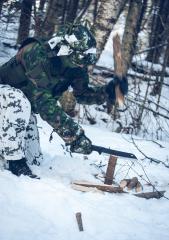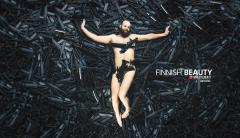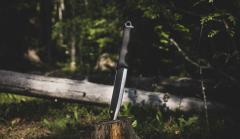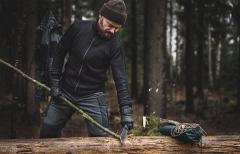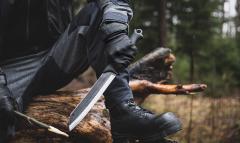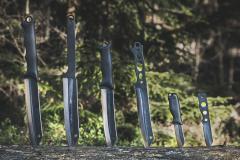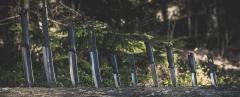 The Skrama is a versatile heavy-duty bush knife - a tool that builds shelters chops firewood and even carves feather sticks! If you're taking just one knife into the bush the Skrama is a viable option. This is naturally no axe, nor a precision tool for extremely meticulous work, but something in between and a solid and dependable companion above all.
Skrama - as in Scramasax or Seax, a big single-edged knife popular in the early Middle Ages. Much like the Scandinavian Leuku, it doubles up as a tool and defensive implement. A fine name is always nice and the best ones are those with some history behind them - our 21st-century Skrama would surely meet the demands of any Saxon man from "ye good olde days".
Specs
Metric
Imperial
Total length
430 mm
16.9"
Weight (knife only)
525 g
18.50 oz
Blade length
240 mm
9.4"
Blade width
46 mm
1.8"
Blade thickness
4.2 mm
0.17"
Main edge
34° for chopping
Base edge
25° for finer work
Steel
Carbon steel 80CrV2, 59 HRC
Grip
Molded rubber, rough texture
The Anatomy of a Skrama
The blade is slightly curved, with a hole in the tip for hanging. The back of the blade is flat, with no saw teeth or whatnot, perfect to beat a piece of wood against when batoning (Do not use a rock/axe/anything else than wood, it will eventually damage the blade!). Full tang construction ends with the bare head of the tang sticking out, with a hole for a wrist strap. The blade may have some small rust stains on the base of the handle due to the manufacturing process. These are harmless and easy to remove.
The blade is sharpened to two different angles. Near the grip, a 5 cm / 2" portion has an angle of 25° for whittling and fine work. The rest of the blade has an edge of 34°, which has proven to be excellent for this type of chopping blade.
Why is there a hole in the blade? It is there for practical production purposes only - it is used when tempering the blades and later during other steps of production. Of course, you can come up with your own uses for it too, but most importantly it is there for a purpose, not for decoration!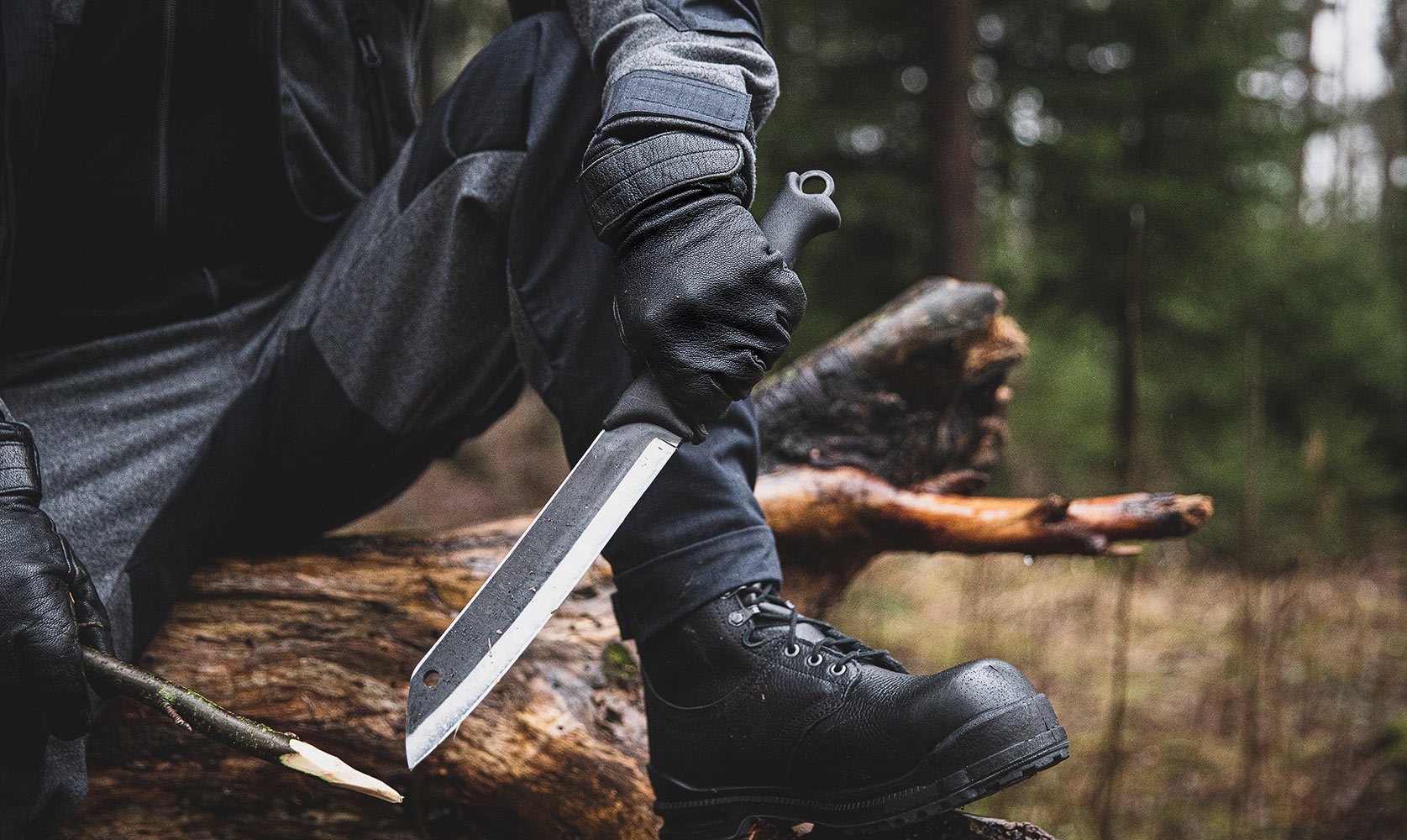 80CrV2 carbon steel and heat treatment
All Terävä carbon steel knives are made from 80CrV2. The "thing" is that this is really nothing fancy or special, just very good tool steel which can take a beating and offers good edge retention. 80CrV2 has over the decades earned a reputation as solid and reliable steel, especially for our purposes.
The heat treatment we use leaves the surface of the steel softer (approx. 52 HRC) than the inside (59 HRC). This functions a lot like fancy differential heat treatments giving the blade added strength. The surface is very resistant against any microscopic fractures or other blemishes, this results in virtually zero problems caused by material defects!
When the blade is ground the harder inner steel is revealed, even though the outer surface is only 52 HRC the actual edge is 59 HRC. This is also why we grind bevels onto the sides of the spine, otherwise, the spine corners would not be hard enough to strike sparks from Ferro rods!
Carbon steel requires care: if your knife gets wet in the bush, dry it the best you can. Never store the knife without drying and oiling the blade.
Rubber grip
The handle is designed for a "one-and-a-half" hand grip. The back end gives a good, solid grip for tough chopping action, giving the blows more power, as a bush knife this is what the Skrama is designed for. The upper third of the grip is shaped to give you a good feel for detailed work, such as making firestarters. This is however not a miniature model makers scalpel and not intended as one, but as any self-respecting Finnish blade, it can be used to carve a proper wooden cock, "Leirikyrpä" as it's known in Finnish military lingo. The knife is rather well balanced, so the heavy blade doesn't cause problems when whittling.
Skrama manufacturing
Laurin Metalli made this video documenting the past years of the Skrama production steps. The processes are honed over time, of course, but the hole close to the tip is still used as before – how it's made and used is seen here!
Leather sheath
60 mm (2.4") wide belt loop, fits just about any belt you can find, even those extra-wide military types.
D-ring swiveled belt loop lets the knife turn on your belt keeping it from coming in the way.
Snug fitting press-stud strap secured the knife properly in its place. When brand new the strap may seem "short", just pull on it a bit or wet it with warm water and it will soon get a perfect length and shape!
A grommet for a leg tie at the tip.
Drain hole at the bottom.
Right or left?
The words "Right" and "Left" in the menu might confuse some folks, so let's clarify it a bit. It refers to your dominant hand, not the side of your body. You pull your knife out of the "Right" sheath with your right hand (normal grip), no matter where the sheath is – left side, right side, or on the front. The "Left" sheath goes vice versa.
If, for some reason, you prefer to pull your knife e.g. with your right hand from the right side with your knuckles between your body and the knife handle, only then take the "Left" sheath so the blade edge will be facing forward. Simple!
Don't get confused with the Skrama sheath, it has the seam and the tip angle on the other side compared to the Jääkäri leather sheaths.
Sustainable leather
The leather of Terävä sheaths comes from Pelo Leather, a family-owned Central Ostrobothnian tannery founded in 1897. In addition to producing top-quality sheath and Nappa leathers with a minimized waste of materials and emissions, they are respectful towards the source of the raw materials: the animals as well as the nature in which they live.
Pelo Leather uses moose and yak hides provided by hunters and nomads, and only cowhides that are a side-product of the milk and meat industries. The cowhides come from local abattoirs that have standards for ensuring the wellbeing of the animals. No animals are reared for the purpose of producing these leathers.
Their business quarter is 25 years and a lot of effort is put into the processes and logistics of the business, to provide a cleaner environment for future generations. We tip our hats at them and are proud to have their leather in our sheaths!
A few words from the designer
My dreams of a proper heavy duty bush chopper started some years ago whilst swinging my Hukari (another Finnish heavy blade). During my military service, chopping down trees for camouflage, firewood, shelters etc. these dreams turned into concrete ideas. Apart from the brute Hukari nothing like this was available on the Finnish market. When I finally got the chance to make these ideas into a real life knife it was simple, everything was thought out:

The recipe:

A long, gently formed handle that would give great hitting power for long swings, this would be the knives primary function.
As a secondary function I wanted the handle to also offer a good grip for detailed work.
Simple and strong construction, full tang and moulded rubber grip.

After a few drawing we got to work with Laurin Metalli, one of the biggest named in the Finnish puukko and blade industry. Their expertise and experience made for a great collaboration, one of the best jobs for me so far! Really quick the prototypes turned into this, the final product, which is even better than I had dreamt!

Now we'll see how this turns out, buy one, use it and tell us what you think!

Stefan M.
Further reading
A two part review from The Weekend Woodsmans blog:
Kierto Circular Economy
Return this product used but clean and unbroken, and you'll receive half of the product's original price as Varusteleka credits. Service is available only in Finland. Only Registered users can make Kierto returns. See more information about Kierto.
Varusteleka Terävä
All Terävä knives and leather sheaths are manufactured by Laurin Metalli, a family business and Finland's leading knife blade manufacturer from Kauhava with roots going back to 1918. The Boltaron sheaths are made by Savotta in Karstula, Finland. Founded in 1955, Savotta is known for its simplistic and extremely rugged, Nordic designs. A Terävä blade is Finnish craftsmanship, pure and simple! And "Terävä", that's just Finnish for "sharp". For further reading check out the Varusteleka's Terävä page.
All products: Terävä
Recommendations
Loading products...
Reviews
You have already submitted a review. You can edit your text by clicking on it. You can filter the reviews by clicking on the elements of the summary.
Log in and write a review. You can filter the reviews by clicking on the elements of the summary.
Remove filter
Suomi
(44)
English
(126)
I would recommend for a friend
Tomi T.

16.09.2016

⚠ Unverified purchase
Todella tukevan ja laadukkaan oloinen veitsi, samaten tuppi.
12
0
I would recommend for a friend
Leo I.

18.09.2016

⚠ Unverified purchase
Nyt jo n. 10kk myöhemmin voin todeta että erittäin hyvä puukko/kirves/machete yhdistelmä! On pilkottu klappeja pienemmiks, vuoltu kiehisiä, muutama parimetrinen puunalku kaadettua, mahdollisuudet tälle on lukemattomat. Mustalla nahkatupilla aivan ehdot, näyttää aika miehekkäältä farkkujenkin kanssa liikkuessa. Tälle en voi muuta sanoa kuin hiton hyvä!
10
1
I would recommend for a friend
Michael D.

26.10.2016

⚠ Unverified purchase
No complaints what so ever. Functioned as advertised. Fantastic knife.
46
2
I would recommend for a friend
Kenneth D.

26.10.2016

Verified purchase
I would recommend for a friend
Ismo L.

28.10.2016

Verified purchase
2 vuotta ollut käytössä. Ollut parilla lapinreissulla, metsätöissä, mökkireissuilla ja kotonakin takan vierustalla on klapeja pienitty. Retkikirveet ja vesurit on voinut unohtaa tämän oston jälkeen. Helvetin hyvä kahva kesät talvet, ei lipeä käsistä. Ahkeralla väärinkäytöllä olen saanut pari lovea terään, mutta nekin on tahkoamalla saatu siliäksi. Vähänkään metsässä kuljeskeleville todella hyödyllinen kapistus, ei mee sormi suuhun vaikka unohtuis se pienempi puukko kotiin.
17
1
I would recommend for a friend
Harri K.

13.11.2016

Verified purchase
- voiko tähän ihmeitä lisätä, on vain eräs terä-aseita, jolla pärjää paremmin, kuin jollain halpis "survival-veitsellä"
- suosittelen!
9
1
I would recommend for a friend
Daniel H.

21.11.2016

⚠ Unverified purchase
I have had had this for a year or so, and I love it. I am currently running a passaround review on BCUSA.
18
0
I would recommend for a friend
Nicholas D.

16.12.2016

Verified purchase
This is one awesome knife. Chops, carves, the whole nine yards. I can't say enough good about this blade. The quality of the materials and workmanship is outstanding at this price point. I'd give it more that five stars if I could. Hands down one of the best knives I own.
56
6
I would recommend for a friend
Mikael S.

20.02.2017

Verified purchase
JAWOHL! The post-apocalyptic zombies and bears of the forests must go hungry again...
4
2