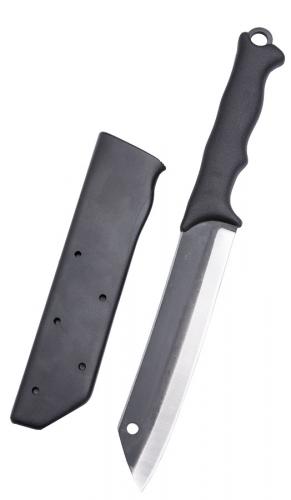 Terävä Skrama 240, carbon steel
Price 59.99 - 87.99 USD excluding VAT
Flat Rate Shipping to USA $9.99
93 % recommends
Sold 335 pcs in the last two weeks
Loading products...
Trouble with the metric system? Try our converter: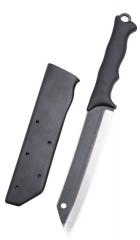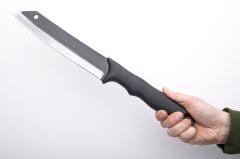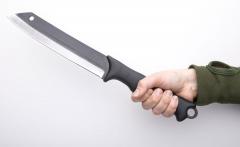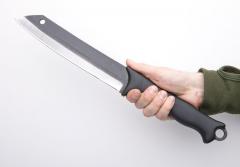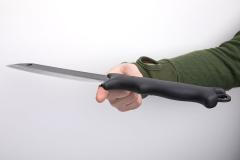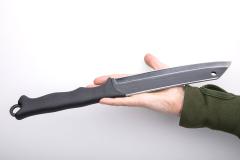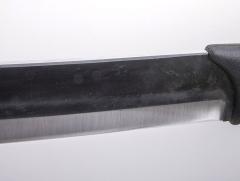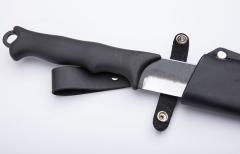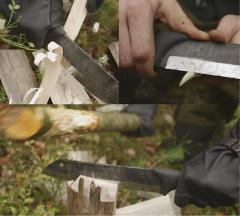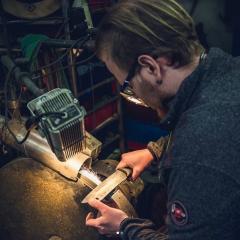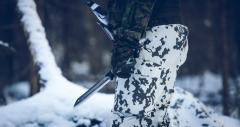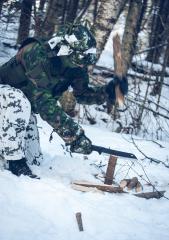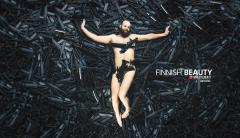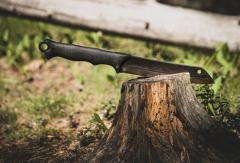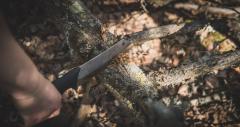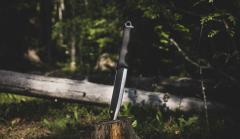 The Skrama is a versatile heavy-duty bush knife - a tool that builds shelters, chops firewood and even carves feather sticks! If you're taking just one knife into the bush the Skrama is a viable option. This is naturally no axe, nor a precision tool for extremely meticulous work, but something in between and a solid and dependable companion above all.
Skrama - as in Scramasax or Seax, a short, single-edged sword popular in the Middle Ages. Much like the Scandinavian Leuku, it doubles up as a tool and weapon. A fine name is always nice and the best ones are those with some history behind them - our 21st-century Skrama would surely meet the demands of any Saxon man from "ye good olde days".
Total length: 430 mm
Total length: 16.9"
Weight: 525 g (knife only).
Weight: 18.50 oz (knife only).
Blade: length 240 mm, width 46 mm, thickness 4,2 mm.
Blade: length 9.4", width 1.8", thickness 0.17".
Edge: 34° for chopping, 25° at the base for finer work.
Steel: Carbon steel 80CrV2, 59 HRC
Grip: Moulded rubber, rough texture for a good grip.
Blade
The blade is slightly curved, with a hole in the tip for hanging. The back of the blade is flat, no saw teeth or whatnot, perfect to beat a piece of wood against when batoning (Do not use a rock/axe/anything else than wood, it will eventually damage the blade!). Full tang construction, ends with the bare head of the tang sticking out, with a hole for a wrist strap. The blade may have some small rust stains on the base of the handle due to the manufacturing process. These are harmless, and easy to remove.
The blade is sharpened to two different angles. Near the grip a 5 cm portion has an angle of 25° for whittling and fine work. The rest of the blade has an edge of 34°, which has proven to be excellent for this type of chopping blade.
The blade is sharpened to two different angles. Near the grip a 2" portion has an angle of 25° for whittling and fine work. The rest of the blade has an edge of 34°, which has proven to be excellent for this type of chopping blade.
Why is there a hole in the blade? It is there for practical production purposes only - it is used when tempering the blades and later during other steps of production. Of course you can come up with your own uses for it too, but most importantly it is there for a purpose, not for decoration!
80CrV2 carbon steel and heat treatment
All Terävä carbon steel knives are made from 80CrV2. The "thing" is that this is really nothing fancy or special, just a very good tool steel which can take a beating and offers good edge retention. 80CrV2 has over the decades earned a reputation as a solid and reliable steel, especially for our purposes.
The heat treatment we use leaves the surface of the steel softer (approx. 52 HRC) than the inside (59 HRC). This functions a lot like fancy differential heat treatments giving the blade added strength. The surface is very resistant against any microscopic fractures or other blemishes, this results in virtually zero problems caused by material defects!
When the blade is ground the harder inner steel is revealed, even though the outer surface is only 52 HRC the actual edge is 59 HRC. This is also why we grind bevels onto the sides of the spine, otherwise the spine corners would not be hard enough to strike sparks from ferro rods!
Carbon steel requires care: if your knife gets wet in the bush, dry it the best you can. Never store the knife without drying and oiling the blade.
Rubber grip
The handle is designed for a "one-and-a-half" hand grip. The back end gives a good, solid grip for tough chopping action, giving the blows more power, as a bush knife this is what the Skrama is designed for. The upper third of the grip is shaped to give you a good feel for detailed work, such as making firestarters. This is however not a miniature model makers scalpel and not intended as one, but as any self respecting Finnish blade it can be used to carve a proper wooden cock, "Leirikyrpä" as it's known in Finnish military lingo. The knife is rather well balanced, so the heavy blade doesn't cause problems when whittling.
Leather sheath
2 mm vegetable tanned cowhide with stitched and riveted construction.
0.08" vegetable tanned cowhide with stitched and riveted construction.
Inside the leather sits the sturdy Skrama plastic liner, a thumb knob on the side of the mouth makes unsheathing easy and controlled.
6 cm wide belt loop, fits just about any belt you can find, even those extra wide military types.
2.4" wide belt loop, fits just about any belt you can find, even those extra wide military types.
D-ring belt loop lets the knife turn on your belt keeping it from coming in the way when moving about or sitting.
Snug fitting press stud strap secured the knife properly in its place. When brand new the strap may feel "short", just pull on it a bit or wet it with warm water and it will soon get a perfect length and shape!
A grommet for a leg tie has been added to the tip.
And last but not least the sheath does of course have a drainage hole at the very end.
Varusteleka Terävä
All Terävä knives are manufactured in Kauhava, Finland, by our partners at Laurin Metalli, Finlands leading knife blade manufacturer with roots going back to 1918. A Terävä blade is Finnish craftsmanship, pure and simple! And "Terävä", that's just Finnish for "sharp".
A few words from the designer
My dreams of a proper heavy duty bush chopper started some years ago whilst swinging my Taiter Hukari (another Finnish heavy blade). During my military service, chopping down trees for camouflage, firewood, shelters etc. these dreams turned into concrete ideas. Apart from the brute Hukari nothing like this was available on the Finnish market. When I finally got the chance to make these ideas into a real life knife it was simple, everything was thought out:

The recipe:

A long, gently formed handle that would give great hitting power for long swings, this would be the knives primary function.
As a secondary function I wanted the handle to also offer a good grip for detailed work.
Simple and strong construction, full tang and moulded rubber grip.

After a few drawing we got to work with Laurin Metalli, one of the biggest named in the Finnish puukko and blade industry. Their expertise and experience made for a great collaboration, one of the best jobs for me so far! Really quick the prototypes turned into this, the final product, which is even better than I had dreamt!

Now we'll see how this turns out, buy one, use it and tell us what you think!

Stefan M.
Further reading
A two part review from The Weekend Woodsmans blog:
Recommendations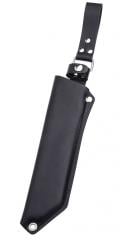 Terävä Skrama 240 leather sheath
27.99 USD
Often purchased with.




Terävä Jääkäripuukko, carbon steel
30.99 - 57.99 USD
Sometimes purchased with.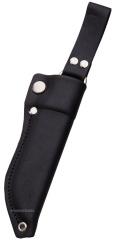 Terävä Jääkäripuukko leather sheath
27.99 USD
Sometimes purchased with.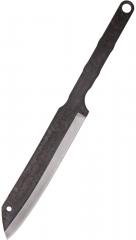 Terävä Skrama 240 Bare Tang, Carbon Steel
45.99 USD
Similar product.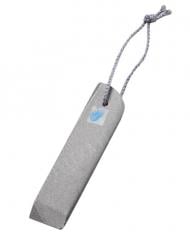 Wästikivi Eräkivi whetstone
11.99 USD
Sometimes purchased with.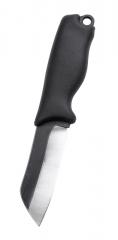 Terävä Skrama 80, carbon steel
30.99 - 53.99 USD
Sometimes purchased with.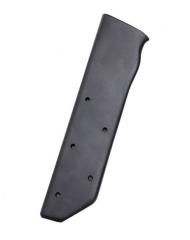 Terävä Skrama 240 Plastic Blade Cover
2.99 USD
Sometimes purchased with.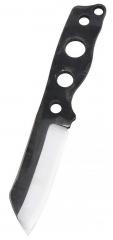 Terävä Skrama 80 bare tang
27.99 USD
Sometimes purchased with.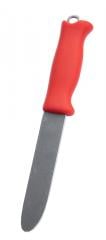 Terävä Jääkäripuukko 140 Training Knife
27.99 USD
Similar product.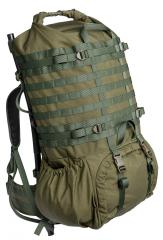 Särmä TST RP80 recon pack
459.99 USD
Might be of interest.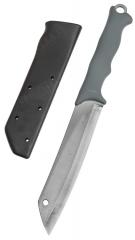 Terävä Skrama 240, stainless steel
68.99 USD
Similar product. Temporarily out of stock.

Jämä butcher's apron
15.99 USD
Might be of interest.
Reviews
You have already submitted a review. You can edit your text by clicking on it.
Log in and write a review.
Remove filter
Suomi
(29)
English
(64)
I would recommend for a friend
Tomi T.

16.09.2016 (Edited 18.04.2017)
Todella tukevan ja laadukkaan oloinen veitsi, samaten tuppi.
10
0
I would recommend for a friend
Leo I.

18.09.2016 (Edited 29.11.2016)
Nyt jo n. 10kk myöhemmin voin todeta että erittäin hyvä puukko/kirves/machete yhdistelmä! On pilkottu klappeja pienemmiks, vuoltu kiehisiä, muutama parimetrinen puunalku kaadettua, mahdollisuudet tälle on lukemattomat. Mustalla nahkatupilla aivan ehdot, näyttää aika miehekkäältä farkkujenkin kanssa liikkuessa. Tälle en voi muuta sanoa kuin hiton hyvä!
9
0
I would recommend for a friend
Michael D.

26.10.2016 (Edited 13.06.2017)
No complaints what so ever. Functioned as advertised. Fantastic knife.
40
2
I would recommend for a friend
Kenneth D.

26.10.2016 (Edited 29.11.2016)
I would recommend for a friend
Ismo L.

28.10.2016 (Edited 29.11.2016)
2 vuotta ollut käytössä. Ollut parilla lapinreissulla, metsätöissä, mökkireissuilla ja kotonakin takan vierustalla on klapeja pienitty. Retkikirveet ja vesurit on voinut unohtaa tämän oston jälkeen. Helvetin hyvä kahva kesät talvet, ei lipeä käsistä. Ahkeralla väärinkäytöllä olen saanut pari lovea terään, mutta nekin on tahkoamalla saatu siliäksi. Vähänkään metsässä kuljeskeleville todella hyödyllinen kapistus, ei mee sormi suuhun vaikka unohtuis se pienempi puukko kotiin.
13
1
I would recommend for a friend
Harri K.

13.11.2016 (Edited 18.11.2016)
- voiko tähän ihmeitä lisätä, on vain eräs terä-aseita, jolla pärjää paremmin, kuin jollain halpis "survival-veitsellä"
- suosittelen!
7
0
I would recommend for a friend
Daniel H.

21.11.2016 (Edited 29.11.2016)
I have had had this for a year or so, and I love it. I am currently running a passaround review on BCUSA.
14
0
I would recommend for a friend
Nicholas D.

16.12.2016 (Edited 20.12.2016)
This is one awesome knife. Chops, carves, the whole nine yards. I can't say enough good about this blade. The quality of the materials and workmanship is outstanding at this price point. I'd give it more that five stars if I could. Hands down one of the best knives I own.
44
4
I would recommend for a friend
Mikael S.

20.02.2017
JAWOHL! The post-apocalyptic zombies and bears of the forests must go hungry again...
4
0
I would recommend for a friend
Jerome F.

23.02.2017 (Edited 29.03.2017)
I first wanted a hukari, but this blade replaced it, so I got one from the first batch, hoping. And I still have it. Bought one more stainless steel, with the two sharpened angles on the blade. Still have both after some good outdoor beating and sharpenings.
8
1
I would recommend for a friend
Veronica N.

01.03.2017
After owning custom knives such as Randall made knives, I have to say the Skrama is as good as many custom blades. Varusteleka has hit the mark with this knife as well as the 110 & 140!!!!!
25
2
I would recommend for a friend
Josh P.

07.03.2017
Just amazing. A true all around blade. It is a an uncompromising chopper/battoner and a well balanced utility blade. Awesome!
12
1
I would recommend for a friend
Elias N.

12.03.2017
I would recommend for a friend
Patrik A.

24.03.2017
An amazing knife! I got i today and went to the forrest at once and used it for several hours in all its areas and i am so happy with it!
12
0
I would recommend for a friend
Derek D.

29.03.2017 (Edited 06.04.2017)
This has to be the best value blade i have brought ever. If it was twice the price it would still be a bargain.
80crv2 is a premium steel and holds a savage edge for long time. It reminds me of 5160 with edge retention of a powdered steel. Highly highly recommend this superbly well thought out bush knife. Best out there by far..
23
0
I would recommend for a friend
Douglas R.

02.04.2017
Just buy it if it is in stock. Simply put the best knife i have ever owned/touched/looked at. I only regret i have 2 hands to hold 2 knives as they are like forged pieces of heaven in my hands.
14
0
I would recommend for a friend
Ville T.

02.04.2017
Oikeesti laadukas veitsi hintaansa nähden, myös nahkatupen osalta. koko yllätti vaikka on hyvät kuvat ja mittojakin silmäilin mittanauhasta.. ei mikään taskuveitsi ole tämä.
2
0
I would recommend for a friend
Justin N.

04.04.2017
This is a knife I won't ever leave at home. The quality of this knife is second to none razor sharp right out of the box not even joking it almost cut me just looking at it. This knife I would is the only tool you need for the out doors you can chop wood make feather sticks with ease and carve with I cant give this knife enogh praise. If your on the fence just buy it you won't regret it
5
1
I would recommend for a friend
Vesa H.

19.04.2017
Ei tarvitse kirvestä tai sahaa tai puukkoa, hoitaa homman jokaisessa tapauksessa. Isokin kaatunut puu on polttopuuta hetken kuluttua, kiehiset saa vuoltua helposti.

Jokaiseen hommaan on erikoistyökalut, mutta Skrama hoitaa nuotten erikoistyökalujen hommat yhdessa paketissa erinomaisesti.
3
5
I would recommend for a friend
Jarno H.

04.05.2017 (Edited 03.12.2017)
Tämä vehje on jokaisen eräjorman unelma. (Tulevat varusmiehet huomio!)
Tosissaan vuoden nyt tällä lätkitty vaikka mitä poikki ja halki - eikä kyllä loppua näy. Parhaiten Skrama pääsi loistoon asepalveluksessa kun leikki vähän väliä tiedustelutimppaa ja tulenjohtorosvoa. Intin kirveet/hukarit meni aina paskaks metässä joten tämä tuli ostettua - ei muuten enään ollu tekosyytä olla hakematta naveja varten keppejä tai pilkkomatta halkoja yöksi!

Älkää säikkykö hiiliteräksen ruostumistaipumusta. Vaikka monen yön metsässäs paskasateessa tetsatessa terä pääsi ruostumaan kun joutu keskittyä epäolennaisiin sotilastehtäviin - kyllä se ruoste poiskin lähtee ja terä on kuin uusi! (Asehuollon yhteyksessä aina tipottelin myös Skramalle omat öljyt ja loppu se ruostumisongelmakin kun muisti myös kuivata terän käytön jälkeen) Suosittelen aidosti, jos on vähänkään tarvetta niin lyökää rahat tiskiin!
Erään yliluutnantin sanelut: Ettehän työ oppilas tarvitse edes ysivitosta (Rk-95) kun tuolla vehkeellä saa kaikki listittyä?!

- Tulenjohtoaliupseeri

Update - Nyt vasta "jouduin" terottamaan terän, että on kyllä hyvin kestänyt käyttöä. Hiiliteräs nyt on vaan paras teräs!
7
1
I would recommend for a friend
Jarmo E.

15.05.2017
Monikäyttöinen ja ennen kaikkea mukava käyttää. Korvaa helposti retkikirveen ja puukonkin.
3
0
I would recommend for a friend
Kayus D.

20.05.2017 (Edited 13.06.2017)
HÖGT REKOMMENDERAR---TACK
10
1
I would recommend for a friend
Kurt J.

05.06.2017
This is a great blade. I have bought expensive knives in the past that I have been reluctant to put to heavy use, this thing is a solid chunk of confidence, ready to work. I was not sure about the ability to use it as a chopper and for fine work, I thought the compromise would be too much but it's totally acceptable for both, yes it's a compromise but not as much as you might think.
Stop thinking and buy it. Use it, love it and let it get rusty, use it some more, it loves it. Great steel.
6
1
I would recommend for a friend
David J.

06.07.2017
Ok what has not yet been said, to praise this wonder of a tool that the great designer Stefan M (many blessing upon his head) brought to us mere mortals by the grace of the everlasting spring of good quality equipment varusteleka (a thousand praises for each pair of thumbs currently employed under this most venerable enterprise).

Yes most things has already been said so far, but here is my take on it. It might not be a carving knife but with some nimble fingers you can use it as one. It can not cleave as good as an axe but I have battoned throu logs as tall as myself with relative ease, without ever worrying about the blade itself. Easy maintenance scandigrind is the king always has been always will be you can sharpen it in your sleep and still get a good edge and then of course a drop of oil a day keeps the rust away.

In the end, I have used it as a cleaver, machete, carving knife, wood planer, nail puller (the blade hole really comes in handy) crowbar, hammer, and last but not least shot serving tray.

It has performed above and beyond my wildest expectations but being from sweden it is my national duty to claim any and all Mora knifes to be superior, but I have clearly found the exception national pride or not.
20
1
I would recommend for a friend
Olof L.

13.07.2017
This is simply put, the best chopper I have tried, that is good enough for the light stuff, for me to consider it, as the only kife to bring to the woods. My first and second world war pattern khukris for instance, are obviously better choppers, but they are not light enough and lacks the right balance for the lighter work, so if i bring any of those to the woods, I will need a lighter knife for the finer jobs. WIth the hand-and-a-half grip, the knife can be either front heavy for chopping, or nimble for lighter jobs. I would recommend the plastic liner and the MOLLE cheath, as that combination can easily be fastend to or inside the backpack, or attached high on the hip, when the backpack is of. On the hip, that combination is surprisingly comfortable for me, for being such a large knife. With the lower hanging leather cheath, I suspect, that the knife will tend to dangle and interfere with the legs.
6
0
I would recommend for a friend
Robbert H.

18.07.2017 (Edited 18.07.2017)
This Skrama sliced through my left hand knuckle tendons like butter! Would buy again.
77
2
I would recommend for a friend
Sampsa A.

19.07.2017
Aikani pohdiskelin retkikirveen hommaamista kunnes eteeni avautui varustelekan sivu ja SKRAMA. Prkl että on toimiva kapistus. Vuoleminen onnistuu, polttopuut halkoo, leikkaa evästomaatit kirurgin tarkkuudella, näyttää hyvältä ja tuntuu hyvältä kädessä (kun pitää kahvasta kiinni, terää en ole iskenyt vielä käteen). Mutta ehdottomasti suositeltava hankinta eräretkille mukaan kaikille. Itsellä aina mukana metsässä....
4
3
I would recommend for a friend
Tomas B.

31.07.2017
I would recommend for a friend
Aleksandrs S.

06.08.2017
Upon receiving/using this knife i can safely say - it is more versatile, more ergonomically made using (imho) better steel, funnier to use, better balanced than esee, ka-bar, tops, cold steel and some other choppers of similar size. The only knife that gave me the same amount of pleasure when used was dpx 12 chop(400+€). But skrama performes better in terms of chopping accuracy, giving you 100% control over whole lenght of the blade. Handle material as my primary concern turned out to be of an excellent quality providing perfect grip and strong enough to stay unmarked after missed blows while battoning. Strangely the shape of the blade's tip provided a good stabbing penetration without much force applied. The only thing I haven't fully appreciated was the variation in grind bevel which proved to b irrelevant once the knife was touched up with wetstone.
Coming up next - over one month of field testing in Africa , if won't b pinched during airline transfer:)
12
1
I would recommend for a friend
Ian S.

13.08.2017
Was being careless and sliced open my finger pretty bad. Had to go to the emergency room and get stitches. This thing is SHARP right out of the box. 5/5 stars.
14
0
I would recommend for a friend
victor m.

01.09.2017
I got my TS today, totally blown-away by its design. Its robust, the leather quality is top notch. The knife size and weight is just perfect for
me. For the price I pay, this field grade knife sure won't disappoint you.
9
0
I would not recommend to a friend
Arttu A.

11.09.2017
Oli suuret odotukset, vähän liiankin suuret skramaa kohtaan. Ajattelin muiden arvosteluiden perusteella, että tässä olisi oikeasti teräaseiden multitool ja voi suosiolla jättää puukon ja retkikirveen kotiin. Lähdin siis viikon Lapin reissulle tämä mukana, onneksi en sitten lopulta sitä perus puukkoa jättänyt kotiin. Päällimmäiset ajatukset skramasta on, että se soveltuu vähän joka juttuun kyllä, mutta helvetin huonosti kaikkeen. Retkikirvestä se ei todellakaan voita pitkän teränsä takia ja sen, että kirveen lyönti kohdistuu pienemmälle alueelle ja terän takaa, toisin kuin skramassa lyöntivoima kohdistuu pitkälle alueelle ja tulee samalta tasolta terän kanssa. Pienet, siis hyvin pienet klapit skramalla pilkkoo ihan ok, mutta vähänkin isompien kanssa tarvitaan avuks toinen klapi lyöntiin apuun ja silloinkin homma on vaivalloista. Vuolemiseen sopii helvetisti paremmin tavallinen puukko kuin massiivinen skrama, toki se skramallakin onnistuu mutta huonommin. Se mihin skrama sitten soveltuu on raivopäiseen huitomiseen, puskan harvennukseen ja vesurimaiseen hakkaamiseen, tähänkin itse vesuri olisi huomattavasti parempi. Toki sitten hieno leikkikalu skrama on niille jotka odottaa zombejen hyökkäystä, itse en odota. Todellisuudessa skrama siis soveltuu huonosti kaikkeen, mutta soveltuu kuitenkin.

Sitten tuppiin, ostin muovituppisen mallin ja siihen molle-päällisen. En tiedä, olisko nahkatupillinen ollut parempi, mutta molletupilla saa heittää vesilintua. Muovituppi menee väkisin survomalla mollen sisään mutta pysyy siellä helvetin huonosti. Lisäks tupin nauhakujat on aivan liian tiukkoja ja vinoon ommeltuja jolloin tuppi on hyvin tuskainen laittaa mihinkään kiinni, varsinkin jos muovituppi on jo laitettu sisään. Sitten kun tuppi on saatu tuskalla ja lukuisilla ärräpäillä kiinni ja yrittää vetää skraman sieltä tulee seuraavat ongelmat, joko muovituppi lähtee sieltä skraman mukana kun se skrama jää sinne aivan liian (lue: vaarallisen) lujasti kiinni tai sitten pahimmassa tapauksessa viiltää kätensä auki kun skramaa koittaa repiä tupesta. Tähän sellainen kehitysidea, että tehkää siihen muovituppiin jotain piikkejä tai koukkuja osoittamaan yläpäätä kun sen työntää molletuppiin, piikit purevat siihen kiinni eikä muovituppi lähde ulos.

Plussaa annan itse skraman laadukkaasta viimeistelystä ja hyvästä näppituntumasta.

Siinä jonkunlainen rehellinen mielipide ilman perseennuolemista, palauttaisin skraman jos vain voisi mutta käytetty on käytetty ja täytyy elää asian kanssa.
30
35
I would not recommend to a friend
Sami K.

13.09.2017
Olen samaa mieltä tuon ainoan ylläolevan kriittisen arvion kanssa. Hyvin tehty vehje, joka ei ole kätevä missään. Esimerkillistä mielikuvamyyntiä, johon aikanaan itsekin lankesin. Hävettää. Tää soveltuu ehkä vesuriksi etelän pusikoihin ja kukaties zombileffafantasioihin. Marttiinin jätkänvuolu & Gränforsin kevytkirves on kombo joka hoitaa jokaisen retkellä tarvittavan homman paljon paremmin ja taitaa painaakin vähemmän kuin tämä höpö machoveitsi. Eikä sitä kirvestäkään järkiretkeilijä tarvitse kuin hätävarana Lapin kairoilla talvisaikaan.
21
32
I would recommend for a friend
Rory O.

14.09.2017
I got one of these last year and used it extensively over that period. It's been mostly used for working, chopping small trees and delimbing them, a hundred or so trees a day, so a fair few. Normally I do this work with an axe but as long as the trees are not too thick I found the Skrama a far superior tool for the job, it's lighter than the axe, more controllable in the swing, less fatiguing on the arm over the long haul and, when cutting with the sweet spot, I found it slices through the green wood brilliantly.

I also use it on my last cycle tour (3 month duration), chopping branches for firewood two or three times a day, making pegs every evening, feather sticks (does this surprisingly well...better than my F1 or Terävä 140 in fact) on those crappy weather days, even as a "hammer" to get those pegs into tough ground. Its just bloody great, as close to a one tool option that I have ever seen.
7
0
I would recommend for a friend
Ben G.

18.09.2017
This is one superior product. I, like many others, have purchased many different outdoor tools including knives. Experience has taught me to approach my pack with a more minimalist/functional eye... concept buy a tool that performs many functions unless you really, really need a special tool. What shines in this product is the thoughtful design including outstanding ergonomics and steel choice for a very good price point. I find the handle to be a brilliant idea allowing multiple leverage points for the wood processing task at hand. Also, their customer service is outstanding with fast response to email question, and fast delivery as advertised to the USA. I look forward to visiting the shop if I have an opportunity to travel overseas.
8
0
I would recommend for a friend
William M.

18.09.2017
My Pasi Hurtilla Leuku stays home, the Skrama goes to the woods, nuff said.
4
0
I would recommend for a friend
Mika K.

20.09.2017
I would recommend for a friend
John A.

23.09.2017
Brilliant! Had the Skrama for over a year now and it's performed flawlessly. Dressing Rabbits, prepping firewood from logs to feathers sticks, clearing undergrowth...everything! Just returned from a weeks Survival course and the instructor was so impressed by it he's going to order one too. Buy one, you will not regret it.
20
0
I would recommend for a friend
Rod R.

28.09.2017
This is my second Skrama because I love it that much. It chops like a cleaver and shaves like a puukko. Puts to shame blades costing much more. The leather sheath is of high quality and beautiful. This is a design combo worthy of serious consideration. Super fast order processing and delivery from a company I will continue to do business with. Keep up the great work guys.
14
0
I would not recommend to a friend
Aapo A.

11.10.2017
Pääsin testaamaan skramaa kenttäolosuhteissa. Ajattelin itse hommaavani kyseisen tuotteen, mutta testata ennen ostopäätöstä, joka osoittautui viisaaksi valinnaksi.

Plussat:
-Erittäin laadukkaan tuntuinen kokonaisuus (veitsi+kahva). Tupesta ei ole kokemusta.
-Onhan se myönnettävä että aika äijän näköinen vehje ;)

Miinukset:
Olen eräillyt puukon ja kirveen kanssa paljon, jonka takia olin hieman skeptinen aluksi tällaiseen jokaisen oman elämänsä rambon superveitseen, mutta otin sen käsiini avoimin mielin.
Esimmäisenä piti halkaista pari klapia vähän pienemmäksi että saa tulet tehtyä. No siittähän ei tullut mitään. Ja voimasta ei ole kiinni. Kyseessä ei siis ollut mikään pajupuska kuten skraman esittelyvideolla, vaan ihan tavallinen suht kuiva koivuklapi. Kirveellä yksi kopautus riitti.
No sitten koitettiin sitä vuoluterän pätkää, jospa sillä saisi kiehisiä tehtyä.. Se onnistu kyllä, mutta _paljon_ kömpelömmin kuin puukolla.
Seuraava homma oli pätkiä alle ranteen vahvuinen kaatunut männyn karahka pariin pienempään osaan, että saa nuotiopuita tehtyä. Siittä ei tullut mitään! Kaira kaiku ja se ainoa kuukkeli lähitienooltakin lähti rajan taakse karkuun kun hakattiin meneen.
Hetken jälkeen se risu oli kuin majavan jäljiltä, muttei poikki. Retkisaha ei ollut mukana (harmi), joten kirveellä taas "naps vain". Tässä muutama esimerkki kokeilureissulta.

Loppuun haluan sanoa että onneksi en itse mennyt tuotetta ostamaan, vaikka se alkuun kovasti houkuteli mielikuvallaan.
Se EI korvaa puukkoa EIKÄ kirvestä (liikaa painoa puukoksi, liian vähän kirveeksi).
Se sopii kaikkeen huonosti, muttei mihinkään hyvin. Puukko, retkisaha ja kirves hoitaa kaikki oman osa-alueensa 100%.
Ymmärrän jos joku partiolainen tai softaaja haluaa tän tuotteen roikkumaan näkösälle zombien tai pajunoksien varalta mutta ns. Erämiehen ostos tämä ei ikäväkyllä ole.
Pienellä kehittelyllä siittä voi ehkä saada vesurin vertaisen tuotteen?
1 tähti laadukaasta tuntumasta ja työnjäljestä. Arvostan suomalaista työtä ja laatua, mutta tähän jouduin vähän pettymään. Kiitos.
28
31
I would recommend for a friend
William R.

12.10.2017
great product, I love the knife....BUT,
However if you buy just the blade, chances are slim that you will be able to buy the sheath at a later date.
Even though you will see the skrama and sheath sold as a package.
It seems when any sheaths come in they are paired with the skrama and sold that way rather than offered for sale to the people that have bought the blade thinking they could get the sheath at a later date. WAIT and buy the skrama and sheath as a package or you probably won't get a sheath. Disappointing for me, as I bought 4 of these for Christmas presents and now can't get a sheath unless I look for one elsewhere.
Since I will have to get a sheath custom made for the three Skramas I bought without a sheath, the cost will very likely triple, or more.
4
8
I would recommend for a friend
David K.

22.10.2017
Excellent design and execution for a working knife. The design of the blade and handle, the grind and edge geometry, even the plunge lines, are all excellent. Very well thought out for a hard use tool and survival tool. Just a great value. No dissapointment whatsoever.
6
0
I would recommend for a friend
chad G.

08.11.2017
A very well designed big knife. Paired up with a small blade, a folding saw and some ingenuity you will have every woods processing tool you need. I have been using this knife for close to a year now and am very happy with it. Get yourself one. If you don't like it you will have no problem trading or selling it second hand. Thanks for making a classy workhorse of a blade.
4
1
I would recommend for a friend
David P.

09.11.2017
I would recommend for a friend
Jayson L.

09.12.2017
I would recommend for a friend
Frank S.

14.12.2017 (Edited 10.01.2019)
Again a product from Varusteleka that has an uncommonly high quality for the price. This thing is fun, although it needs to grow on you a bit. My main uses for it are wood splitting (batoning), bark removal from logs and all kinds of brush clearing. We have a lot of brambles and such in this area, flexible stuff, and I found that my Tramontina bolo machete did a better job on those. But after I reworked the grind on the Skrama - it is now convex and scary sharp - it sliced through the flexible vines instead of bludgeoning them. Even with the keener modified grind it remains very sturdy and has excellent edge retention.

Sizewise it just fits in a Särma assault daypack (see there). I got it in the molle sheath as I don't see myself carrying such a large chopper knife dangling from my belt, no matter how nice the leather sheath is. With the molle and a sling I can carry it crossdraw under my left armpit when in the field. At home it sits in the plastic blade protector (I got a second one so I don't have to pull the other one out of the molle sheath) and just hangs on the wall from its lanyard hole next to my Silky saw and my Gransfors Bruks axes (I believe in using the best tools for wood processing - split fullsize logs with the axe, baton the smaller sections down to kindling with the Skrama).

If you don't mind carrying the extra weight on a hike, this thing will give you piece of mind. But I would not take it as my only fixed-bladed knife, it must be paired with a smaller blade for normal knife tasks, especially food preparation. It is also great to keep in the boot of your car if you travel through woodland a lot.

Again, well done. :-)

Update after a year of use: I love this thing even more now. But I did sand down the 'knob' halfway down the handle that separates the rear and forward grip positions. On mine that knob is now just a belly. It hurt my ring finger when I gripped the handle in the forward position. Much better now. Note that it is pretty easy to sand down the handle to any shape you like, the hard rubber takes it well.
My Skrama is now my preferred delimbing tool. Reprofiled with a convex edge it flies through branches so well that you sometimes hardly realize they were there. Flick, swipe, gone. A five centimeter (two inch) maple branch takes two blows, sometimes just one if you hit it just right. Batoning firewood into kindling (after splitting the really big stuff with a proper axe) is a blaze, too. I don''t think there is any large chopper knife out there that is actually better. There may be a few that are just as good, but they cost a lot more. Just watch a few videos on the web of guys trying to chop through some stuff, beating like mad with some supposedly super chopper, and you will burst out in evil laughter if you have a Skrama. It is on its way to becoming the standard one measures any other chopper against.
I added a utility strap to the molle sheath and carry it baldric-style diagonally from my right shoulder to my left hip, or rather under my left armpit. Very good way to carry it in the field.
3
0
I would recommend for a friend
Tommy M.

14.12.2017
Ollut nyt kolme vuotta jokasella partioreissulla mukana ja toiminut äärimmäisen hyvin kaikessa mitä olen keksinyt.
Sen verran voin sanoa että kiiloja tehdessä kannattaa kattoa että se toinen käsi ei oo siellä minne lyöt tai voi joutua soittamaan sairaalabussin.
2
0
I would recommend for a friend
Alan H.

06.01.2018
Awesome knife for the price. Had been thinking about it since they first appeared. Eventually found them in stock and I have not regretted the purchase. It has been dealing with everything from kindling, clearing small branches and brambles to jointing and chopping game. Well balanced and superbly sharp, it has made light work of everything so far. Envious looks from work colleagues seem to reinforce my first impression that this is a well made and well designed knife. Only downside is the need to keep it dry and oiled to prevent rust - but that goes for any carbon steel knife. Will it replace my trusty Kukri in the long term? - I don't know yet but the signs are that it will.
Buy one -you know you want to!
0
0
I would recommend for a friend
Alan H.

06.01.2018
Awesome knife for the price. Had been thinking about it since they first appeared. Eventually found them in stock and I have not regretted the purchase. It has been dealing with everything from kindling, clearing small branches and brambles to jointing and chopping game. Well balanced and superbly sharp, it has made light work of everything so far. Envious looks from work colleagues seem to reinforce my first impression that this is a well made and well designed knife. Only downside is the need to keep it dry and oiled to prevent rust - but that goes for any carbon steel knife. Will it replace my trusty Kukri in the long term? - I don't know yet but the signs are that it will.
Buy one -you know you want to!
7
0
I would recommend for a friend
Joe S.

14.01.2018
This blade is a beast! Not only does it chop, it slices and dices, and if you're not used to the long handle it can be discerning . But I have played with it and I am VERY impressed. Only draw back I have, is its a right handed sheath, and I'm left handed. For the price, it can't be beat,
6
0
I would recommend for a friend
Juha P.

16.02.2018
Paras vehje mitä olemassa on. Terävä kuin mikä, ja tarpeeksi painava kaikkiin askareisiin.
3
0
I would recommend for a friend
Ryan S.

18.02.2018 (Edited 20.11.2018)
If you encounter god, god will be cut.
6
5
I would recommend for a friend
Dax B.

18.03.2018
My buddy gave me one of these knifes as a gift and I absolutely LOVE it. I take it with me where ever I go. I keep it in my car. I've used it at bbq's to cut meat and watermelon. I've used it make hot dog sticks. One day I forgot my drywall knife at work and I used it as my dry wall knife. The thing is still sharp. I am sure it will still cut tomatoes. Which is why I am here leaving a positive review. I highly recommend this knife. I have never seen a knife quite like this one. This is, by far, my go to survival knife!
4
1
I would recommend for a friend
Ben

23.03.2018
Ditch the axe (unless you intend to fell some tree's with it!) and get a Skrama instead.
It'll handle all of your heavy chopping and cutting with no issue and is actually surprisingly good at some of the finer detail carving work.
The grip is nice to use and it'll just keep on going, total tank of a knife.

Like I said for the Jääkäripuukko, get in in stainless or get it in carbon, but just frigging get one!
5
0
I would recommend for a friend
Tony E.

14.05.2018 (Edited 14.05.2018)
First off it's not the prettiest of knives , matter of fact it's probably the fuglyest knife I've ever seen or owned ! But it chops through wood like an engineless chainsaw , it cuts though underbrush like a machete but it will also prepare feather sticks like a small camp knife . You can tell a shit load of thought went in too it's design from the two different grinds on the blade to the extended handle as two examples.
Not saying it's ugly BUT If it was a person you could use there picture to keep the kids away from the fire , just stick it on the fireplace and they won't go near it ! Would I recommend it ? in a heart beat I would !
6
1
I would recommend for a friend
Sebastian H.

18.05.2018
Absolulty awesome knive for all needs. It workes very well for chopping any kind of wood and also workes for more filigran things like making feathersticks and stuff like that.
I used it for some outdoor/bushcraft activitys and tours and can only commend this Knive. Till i got it i didnt took my x7 and my Mora with me on tours because the Skrama is the only cutting and chopping tool i need for my activitys. Exelent to chop larger wood, works pretty nice for making feathersticks or scrach some fatwood. U can also use it to carve some rougher stuff and of course u can batone nearly everything with it. Got delivered razor sharp (got the CR80V2 model), love it.

To me the Skrama is the perfect all in one tool for an absolute great price. Would (and bet i will) buy it again, thats sure.

Thanks and greetings from Germany
6
0
I would recommend for a friend
Joern S.

29.06.2018
I would recommend for a friend
Mark L.

21.08.2018
Just received my Skrama today wow what a Knife can't wait to take it out with me into the woods I'd say I won't need my axe again!! Once again great service and speedy delivery from the guys at Varusteleka
7
0
I would recommend for a friend
Jeffrey M.

01.10.2018
I would recommend for a friend
Marco G.

16.10.2018
Grazie
Prodotto eccezionale sono molto soddisfatto
Credo che qualsiasi uomo appassionato di coltelli e che pratica survival o outdoor dovrebbe avere nella propria collezione questo spettacolare coltello.
Grazie di averlo ideato.
2
0
I would recommend for a friend
Teemu K.

22.10.2018
Koko ja paino ovat hyvässä tasapainossa, hyvää terästä, helppo teroittaa, mukava ja pitävä, turvallinen kahva. Yllättävän monikäyttöinen, vesurina oikeastaan parempi kuin vesuri ja puukonkin tehtäviä aika pitkälle hoitaa. Erinomainen retkellä ja puutarha/puuhommissa. Vyöllä roikkuessa tuottaa rauhaa ja mielihyvää.
1
0
I would recommend for a friend
Adam C.

12.12.2018
LOVE THIS BLADE. I have a wood-burning stove for heat in the winter, and like to split my logs into small pieces to get fires going quickly. I've replaced my hatchet with this bad boy and it batons like its going through butter. I haven't had it camping yet, but it holds up to daily splitting of hardwoods (oak, ash, cherry) with ZERO problems, so I have no fear it would hold up in any situation. I've paired it with a puukko 110, but it could easily work as a solo option in the bush.
0
0
I would recommend for a friend
Christian C.

20.12.2018
Don't have to say another time how great the Skrama is.
I'd rather ask the elephant-in-the-room question: Why the fuck do you leave
all the axe glory to the swedes???
If I want a piece of steel with an unpronounceable name, I want it from the fins.
GränsforBruks - Gesundheit!
Yes yes the Skrama is the better axe, we know, we heard.
Now give me a TERÄVÄ axe goddamnit!
13
0
I would recommend for a friend
Joseph B.

06.02.2019
Love it. Small enough to carry but powerful enough to do any job. Comfortable in the hand. Good Steel. Got mine engraved and it looks amazing. Thank You!
1
0
I would recommend for a friend
Paul M.

19.02.2019
Same as everyone has said, this is a real beast of knife. Tough and resilient, feels good in the hand, and is a sexy substitute for the common hatchet.
1
0
I would recommend for a friend
antti r.

20.02.2019
Äärettömän terävä, todella hyvä käteen tai kahteen. Pieni puukko ja retkikirves vaihtui tähän.
0
0
I would recommend for a friend
Farasha E.

11.03.2019
Great knife! Just don't use it to butter your toast in the morning.
1
0
I would recommend for a friend
Juha K.

19.03.2019
On kulunut viitisen vuotta kun teräaseiden teräase saapui postin mukana luokseni. Näiden viiden vuoden aikana Skrama on nähnyt useat kymmenet metsäreissut ja mualimaakin tullut kierrettyä. Tänään oli todettava Skraman repertuaariin kuuluvan myös pelkkahirsien kuoriminen. Työ saattoi suhteessa kunnolliseen kuorimarautaan olla hivenen hitaampaa, mutta ohuinkin nila-kerros irtosi puusta terän kanssa pyyhkimällä, mihin kyläsepän takomat kuorimaraudat eivät kunnolla kyenneet. Vielä ei tosiaan ole tullut toimenpidettä vastaan metsäolosuhteissa johon Skrama ei kykenisi. Jos jokin ostos on tehtävä kerran elämässä, se on tämä. Terävä Skrama on huippulaadukas työkalu jokaisen tosimiehen varustelaatikkoon ja tietenkin vyölle.
0
0
I would recommend for a friend
Chris M.

21.05.2019 (Edited 21.05.2019)
I've had my Skrama for over a year now, and I've got to test and use it a lot in that time. I've beaten the shit out of it,.......... clean, sharpen/deburr and oil it up, and it keeps coming back for more. A really good steel for its application, with that rough viking appeal to it! I love its unorthodox machete looks! She may not be much to look at, but beauty is in the eye of the beholder, and she damn well knows her way around the wood! ;)

Some people have talked about the rubber overmolded handle, start to have play in it after some heavy use, but so far, so good for mine. If I'm looking for weigh savings on my pack, I'll sometimes leave the camp axe at home, and just bring my Silky and my beloved Skrama, to process firewood. Shit...., over the past year, I've probably split the better part of 2 cords of hard wood with my Skrama, and that doesn't include the makeshift tables, beds, traps, bows, camouflage blinds and shelters I've made with it. FYI, I don't actually use the traps I make to catch game, as I feel that trapping is a cruel way of harvesting game, but I would not hesitate to use traps in a life and death situation. So, I like to build traps to keep up on my skills.

I'm a little disappointed that Varusteleka, doesn't seem to be carrying the Särmä TST Skrama PALS sheath anymore. After the last batch was sold out, I put my name in for a restock notice, with plans to purchase the Särmä TST Skrama PALS sheath from the next batch. No such luck this time! I guess, I'll have to make my own!

This is a machete for the temperate forests of the north! For the price of what you are getting, the Skrama is hard to beat! Great product!
1
0
I would recommend for a friend
Chris K.

27.06.2019
This knife is definitely worth every penny and for this price (less than 90$ with sheath) you won't get anything comparable anywhere.
High quality, robust, durable and very well balanced, this knife will do everything exceptional well. It comes razor sharp and if you decide to buy it with the leather sheath,
what I highly recommend, you will get an excellent tool that will last a very long time.
1
0
I would recommend for a friend
Matija K.

08.07.2019
I would recommend for a friend
Björn A.

16.07.2019
It's not a knife, not a axe, nor a machete. It's a Skrama.
So it's good at replacing all those tools.
2
0
I would recommend for a friend
Erno H.

19.07.2019
Jos ymmärtää isojen veitsien hyvät ja huonot puolet ja ne sopivat mielihaluihisi, niin skrama on ehdottomasti kokeilun ja todennäköisesti hankinnan arvoinen. Eihän tämä tietenkään lyö niin kovaa kuin iso kirves tai ole yhtä tarkka leirikyrväin vuolennassa kuin se laserinterävä pikku vuolupuukko, mutta tämä hoitaa monet hommat vähintään kelvollisesti, jotkut asiat suorastaan hyvin, ja muutamassa jutussa on ihan oikeasti lähellä sitä parasta työkalua tehtävään. Jos nyt ei sinne metsään sattunut ihan täyttä pakettiautollista työkaluja mukaan, niin esimerkiksi suomalaisten erikoisolosuhteiden risukon kaatamiseen tämä voittaa turhan kevyet machetet ja tietenkin liian kankeat ja lyhytteräiset kirveet, vaikkei vesurille pärjää. Oma yksilö tuli täysin käyttövalmiissa kunnossa ja riittävän terävänä, ainakaan toistaiseksi ei ole laadusta ollut valittamista ja etenkin tuppi on hyvä. Kahvan muotoilu on ovela ja toimiva myös näin epämiehekkään pienikätisille. Ei valittamista, ei oikeastaan parannusehdotuksiakaan. 4 tähteä siksi että vaikka isot veitset ovat seksikkäitä, ne ovat useimmiten vähän epäkäytännöllisiäkin.
0
0
I would recommend for a friend
HIDETOSHI N.

24.07.2019
I would not recommend to a friend
Fabian H.

25.07.2019
I have bought my Skrama this year in march and upon arrival I initially have been very happy as the fit and finish was just excellent and the Skrama was simply fun and joy to use.
I actually used it normally for slashing branches, preparing firewood and things which the Skrama officially is supposed to manage easily. Ddin't use it daily of course, only a few times so far and today suddenly the rubber handle was slighty moving backwards (when slashing off a few branches of a bush) and is now kindy bit loose.
Fairly disappointing as I can't really use it confidently anymore.
Don't know what to do with it now.
0
1
I would recommend for a friend
Mike C.

26.07.2019
Not a pretty knife in the classic sense, but beautiful that it is simply designed and built to perform, which it does perfectly.
This is the Glock pistol of the knife world.
0
0
I would recommend for a friend
Judson J.

31.07.2019
In addition to all its other virtues, it is hell on watermelons. Bought a second one for my son.
0
0
I would recommend for a friend
tommi v.

11.08.2019
Paras tämänkaltainen työkalu/veitsi, jonka olen omistanut ja olen omistanut monta. Vertasin kahteen survival/tactical ison kokoluokan huippuveitseen, hinnat yli 300€ ja yli 500€, tämä oli parempi. Selvästi. Ainoastaan vesuri on vesomisessa parempi, mutta hankalampi raahata mukana ja sillä ei sitten muuta tee. Jos olet yhden veitsen taktiikalla liikkeellä, niin vaikea keksiä parempaa vekotinta.
1
0
I would recommend for a friend
Kenneth W.

15.08.2019 (Edited 15.08.2019)
Okay, I must preface my thoughts on the Skrama by talking about the shipping speed of Varusteleka. I placed my order late on Sat Aug 10 & received the shipping notification on Mon Aug 12th. All normal so far right? What I am dumbfounded by is that it was delivered to my home in STONEVILLE NC.......FROM FINLAND on Wed Aug 14th??????? WTF?? I use Amazon Prime regularly and am used to 2 day shipping, but "Amazonian" like speed from Finland to NC says a lot about Varusteleka as an organization; pure professionalism at its best. I am not going to repeat everything said in the other reviews on here, other than I agree with all of the positive comments on this forum. I have been wanting one of these Skramas for well over a year after watching a DBK video of this blade "smoking" the hell out of a Fallkniven Modern Bowie in a head to head battle. The thing is that each time I would check, I could not find one in stock and after awhile I put this acquisition on the back burner. Last Sat, while checking out some vids on YouTube, low and behold, that DBK video popped up once again, reigniting the original fire I had. I could not believe when I immediately visited this site that it was IN STOCK!! I felt so fortunate and after receiving the Skrama yesterday I feel even better. I had some Fungi attacking 2 of the trees in my backyard and went straight outside to remove them easily & quickly with this knife. I then removed some useless lower limbs from a few of my trees and was simply amazed by the dexterity/finesse this blade provided me at odd angles. I can't wait to get out in the bush with this baby!! I am a Retired United States Marine (0311/8411/0369/0321) and must admit that this will NOT be the last purchase I make with Varusteleka. The Skrama checks all of the boxes I have been looking for in a bush knife with a multi positional handle, enclosed full tang for cold weather work, razor sharp edge and that AWESOME 90 deg spine! I really believe that if I had only one knife to take to the field, this would be an easy 1st choice for me. After showing this to my wife last night, her first response was "where is mine"? Uh oh! I forgot that after 29 yrs of marriage I had helped to create the perfect Marine Corps wife......damn! Looks like I'll be ordering another one or five of these very soon. PLEASE KEEP IN STOCK!! OUTSTANDING FREAKING BUSH KNIFE!!!!
1
0
I would recommend for a friend
Philippe M.

16.08.2019
I dislike hatchets. This has little to do with me having cut the top of my thumb off with one, but rather with the weight and awkward balance. I've long wanted a blade that could fill a hatchet's role for chopping smaller trees and firewood, while having the balance and feel of a good knife. The only thought I had was of a brush axe: obviously useless for backpacking due to it's weight, but it's amazing for clearing small trees brush. The idea in my head was that if a brush axe could do it, maybe a heavy knife would...

Maybe a machete? Naw, most on the US market are too light for that sort of work. Great for clearing poison ivy, especially since they're usually sold at disposable price points...but that's about it.

Enter the Skrama. I wanted one during an earlier run, but missed out. Now that Ive got one, I'll say that this sort of heavy stout blade is about what I had in mind. Chopping power of a hatchet, feel and balance of a knife. Felled a 5.5" (14 cm) maple tree in pretty short order, and made even faster work of small brush. Yep, for me this pretty well replaces my hatchet.
0
0
I would recommend for a friend
Ian P.

10.09.2019
Batons straight oak logs easily, a bit like a froe, but more awesome. Keeps a razor edge. Halves grapefruits with no resistance. Buries itself in the subfloor when you drop it straight down. Somehow actually lighter-weight than my previous knife, which was a rather pompous (on retrospect) Japanese kukri with paracord around the tang and a big heavy noisy sheath. That was a decent knife but the Skrama makes it look like a piece of shit. In all honesty the Skrama is one of the finest objects I have ever put my hands on. There are no extraneous or superfluous parts or features or whatever. It's perfect.
0
0
I would recommend for a friend
teemu p.

17.09.2019
Hirmuisen kätevä kapistus jos on tarvetta lyhentää kukkoja/kanoja pään verran.
0
0
I would not recommend to a friend
Rene N.

23.10.2019
I love this knife! I hope the stainless version will be available soon. I want to have both versions.
0
0
I would not recommend to a friend
Danilo M.

29.10.2019
Edge roll by chopping
0
1
I would recommend for a friend
Juha E.

04.11.2019
Laadukas nirhain.
0
0
I would recommend for a friend
Timo S.

12.11.2019
Hyvä monitoimikone mettähommissa. Tukeva, robusti työkalu. Hyvin suunniteltu. Tällä vuolee, silpoo, katkoo ja pilkkoo kaikki kyynärvartta ohuemmat. Periaatteessa jo yksinään tällä pärjäisi, mutta hyvä on terävä puukko ja retkikirves silti olla myös mukana.
0
0
I would recommend for a friend
Christian K.

18.12.2019 (Edited 19.12.2019)
Heilige Scheiße, dieses Messer ist großartig! Ich habe den halben Garten für den Test auseinander genommen. Ich war überrascht, wie gut es für gute Arbeit ist.
0
0
I would recommend for a friend
Theo M.

09.01.2020
Fantastic product! Great for blood oaths.

It cuts and chops logs wonderfully. Can try it's hand at some basic camp carving for practical purposes.
It's large enough to cope with serious tasks but still easier to pack than an axe. It's my go to too replace a knife+saw+axe combo.
0
0
I would recommend for a friend
Pekka H.

18.01.2020
Kerrassaan loistava kapistus. Kulkenut pitkään mukana metsissä ja leiripaikalla puiden vuoleminen, katkominen sekä halkominen sujuvat näppärästi samalla työkalulla. Mukavan jämäkkä työkalu vaativiin olosuhteisiin, eikä tarvitse pelätä että hajoaa käsiin.

- Totally reliable and robust , yeat able to do fine and sharp work also. What else can you need.
0
0
I would recommend for a friend
Jani N.

23.01.2020
Totuin lopulta zombie tappoaseen ulkonäköön ja ostin tämän. Ainoa vika on että tätä sai myös muovitupella... Nuukailin siinä ja askartelin ruman tekeleen muovitupen päälle jota ei kehtaa viedä ulos. Rahaakin siihen meni varmaan saman verran millä saisi kerralla valmiin. Terävä ja vaikuttaa kestävältä. Käyttö vesurin ja leukun korvikkeena
0
0
mobi

15.06.2016 (Edited 16.06.2016)
Owned mine for a good while now and used it a lot. Its my favourite bit of kit for wild camping. No modern fancy pants bollocks, just pure efficiency. A modern take on a very successful time proven tool. Great value, top quality steel and very well thought out design for a fantastic price. Does everything it says on the tin. Reviews elsewhere on the web may convince you if I haven't.
10
0
I would recommend for a friend
Jani S.

07.10.2016 (Edited 29.11.2016)
If you want to feel like a cyborg and/or experience perfection, this knife is so perfectly balanced for its purpose that you will feel like something equivalent to Edward Scissorhands, but with a knife instead. It's not equipped with cool shit like saw blades and titanium tanto killer edges, it just works perfectly for light to medium fieldwork. And pretty good for heavier stuff as well, sometimes with assistance from a baton (club etc.)

It's impressively not impressive, it just is the tool I always to reach for when I need to do something above the pay grade of my knife.
10
2
I would recommend for a friend
Sean L.

14.11.2016 (Edited 18.11.2016)
A tool that consistently performs above expectations. Many reviews singing it's praise, so rather than just parrot what has been said, I'll limit my observations to one aspect that isn't often discussed in depth, and that is balance. What makes this tool shine is how it can feel like two entirely different blades, depending on whether you use the forward or rearward grip. Holding from the rear, the blade is very forward weighted, and feels purposeful like a large chopper/survival knife such an RTAK II, Becker Bk9, Junglas, etc. and this forward weighting gives it serious chopping power. But the forward grip places the balance point right at your front finger, which makes the blade suddenly feel very light, lively and nimble. Vastly different feel with the illusion it is somehow lighter. I carry mine in the basic scabbard under the lacing on the side of my Italian Alpini pack, with Ranger Bands (cut from bicycle inner tube) for the lacing to run under and hold it securely. The lack of bling and candy plus the low cost makes this tool a real sleeper, but it's a true game changer against other one tool offerings and large choppers, and for me is the only multi-grip handle knife that got it right. I have also found the 80crv2 steel to be much more corrosion resistant than O1, 1095, 5160, and A2. Possibly close to D2. Very easy to care for. I will be buying more for my jeep emergency kit, and gifts. Well done, and thank you Stefan!

-S. Lewis, Canada
36
2
I would recommend for a friend
Vesa P.

19.12.2016 (Edited 13.06.2017)
Ilmeisen suosittu, koska jatkuvasti loppu -enkä ihmettele, paras käyttämäni voimaleuku. Kuvaavaa on, että Etelä-Afrikassa kaveri, joka jotuu aika usein käymään pusikoiden kimppuun töissään, ihastui puukkoon niin, että vaati saada ostaa sen, vaikka sikäläiseen tulotasoon tuo on suunnilleen samaa tasoa kuin JT Pälikön puukot meille (ne käännetyt ja kaulitut mallit). Annoin Sraman tuolle reippaalle kaverille ja ostin uuden heti kun palasin kotiin.

Tämä on suunniteltu oikeasti liioittelematta ja kaksoisteroitus on nerokas, sillä tästä on saatu loistopuukko päivä- ja viikonloppuretkeilyyn, sekä pilkkominen, että vuolu onnistuvat mainiosti. Pitkä kahva on huippu. Tämä on tosi mainio kaveri risukeittimelle, silloin kun käytettävät puut ovat pienikokoisia.

Minusta on kuitenkin ontuvaa ajatella tämän korvaavan kirveen. Polttopuiden tekemisessä pienikin kirves voittaa skraman. Tottumattomalle katkaisu on Skramalla helpompaa, mutta Skramalla jo reilun 10 sentin puun halkaisu vaatii ensin reipasta lyöntiä ja sitten monta reipasta lyöntiä hamaraan. Kunnon retkikirveellä vastaava puu halkeaa yhdellä, viimeistään toisella kunnon lyönnillä. Vaellukselle ottaisin mieluummin Rosellin retkipiilun tai vaikka Fiskarsin retkikirveen (molemmista on kastroidut lyhytvartiset mallit, ne ovat naurettavia, lisävarsi ei paina juuri mitään) ja pienen kätevän vuolupuukon.

Mutta kun arvostetaan käytännöllisyyttä tilanteessa kuin tilanteessa, niin vaikea on keksiä parempaa työkalua kuin Skrama. Pidän tuota aina autossa ja kanniskelen jatkuvasti metsässä.

Olisi hienoa, jos tästä tehtäisiin vielä L -versio. Terään 4-5 senttiä lisäpituutta, milli -paksuutta, leveyttä kasvattaisin vain muutaman millin. Ostan heti kun valmistuu.
29
2