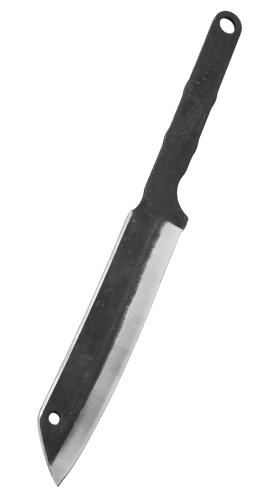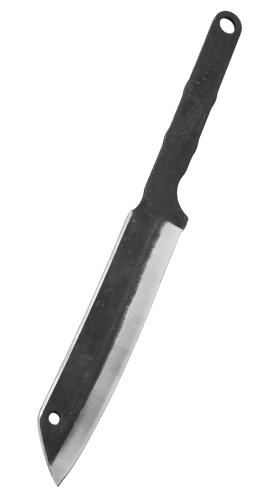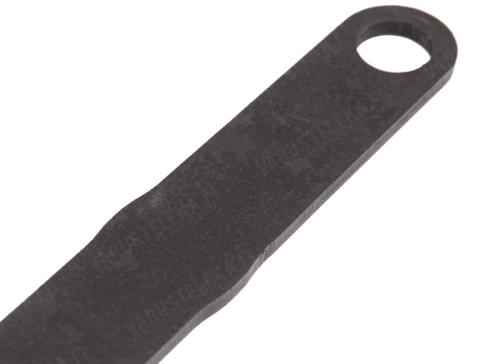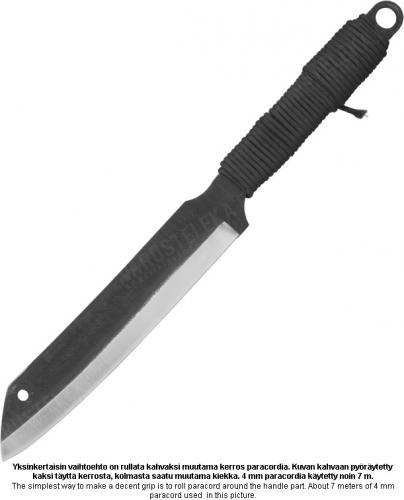 Terävä
Terävä Skrama 240 Bare Tang, Carbon Steel
Price 61.99 USD
excluding sales tax
The Skrama 240 for DIY fanatics. This is just the full tang blade in carbon steel without the rubber grip, so you can make your own handle from whatever material you like.
This product has used and returned variations. Used are washed and unbroken. Heavily used are also washed but might be missing buttons, have tears, main zipper can be broken etc. Read more about Kierto.
Trouble with the metric system? Try our converter: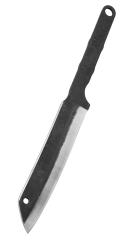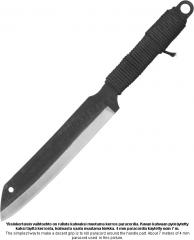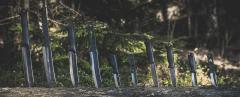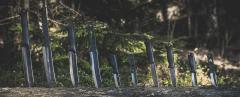 The Skrama 240 for DIY fanatics. This is just the full tang blade in carbon steel without the rubber grip, so you can make your own handle from whatever material you like.
The blade comes with a Plastic Blade Cover. If you want to make it into a sheath, note that it's designed to work with the ordinary rubber grip of the Skrama. Prepare to modify the blade cover or make a grip that fits it.
No need to say more here, read the full Skrama 240 description here: Skrama 240 bush knife
Kierto Circular Economy
Return this product used but clean and unbroken, and you'll receive half of the product's original price as Varusteleka credits. Service is available only in Finland. Only Registered users can make Kierto returns. See more information about Kierto.
Varusteleka Terävä
All Terävä knives and leather sheaths are manufactured by Laurin Metalli, a family business and Finland's leading knife blade manufacturer from Kauhava with roots going back to 1918. The Boltaron sheaths are made by Savotta in Karstula, Finland. Founded in 1955, Savotta is known for its simplistic and extremely rugged, Nordic designs. A Terävä blade is Finnish craftsmanship, pure and simple! And "Terävä", that's just Finnish for "sharp". For further reading check out the Varusteleka's Terävä page.
All products: Terävä
Recommendations
Loading products...
Reviews
You have already submitted a review. You can edit your text by clicking on it. You can filter the reviews by clicking on the elements of the summary.
Log in and write a review. You can filter the reviews by clicking on the elements of the summary.
Remove filter
Suomi
(2)
English
(5)
I would recommend for a friend
Jason B.

11.01.2019

Verified purchase
I just got this product in the mail and I am going to put it to some use tomorrow with a friend. Upon inspection, it is exactly what they described, except, somehow, bigger than i imagined (which is good, in my opinion). I can't wait to make a grip for it!




10
1
I would recommend for a friend
Maukka J.

26.02.2019

Verified purchase
I would recommend for a friend
Nick H.

13.03.2020

Verified purchase
My first investment in a Verusteleka ("Where Is The Liquor?"), Terava Skrama - and it's a beast. This will become an heirloom, to be passed on to successive generations - and by buying the version without a standard rubber grip, future users can carve a wooden handle or carry on with a double-thickness Paracord handle, as I have done. The double edge bevel is different - and potentially useful for fine work or more brutal bashing with big sticks (sorry, that's supposed to be called "Batoning"...). As a general-purpose camp tool, there is nothing else quite like it - unless you like the larger (but thicker, heavier and clumsier), Ka-Bar family..? Invest in a tube of "Corrosion Block" waterproof grease to keep the carbon steel blade rust-free when stored in damp conditions - or in the sheath.
And, finishing off this ramble with said sheath, the plastic-lined leather sheath is a Must-have - though both this one and the leather sheath that I ordered with my Jaakaripuukko 140 have the same slight imperfection - both would benefit from a "Slide-On" leather pouch for a Fallkniven DC3 or DC4 sharpener - combined with an 8mm (internal diameter), sleeve for a "Light-My-Fire", heavy-duty ferrocerium Firesteel. Such a combination (or new sheaths with these features integral to their build), would give any outdoors person the best blade, in the best sheath, with the best Fire-starting kit and the best sharpener - all in one package.
Please don't thank me for the positive review guys - just send me a sample sheath for my Puukko 140 with integral pouch & Firesteel sleeve, when you have perfected the design...!
Note: If you buy one of these without the factory-fitted grip, it is a good idea to apply several layers of "Plasti-Dip" liquid rubber (available on Amazon & eBay, with waterproof grease too), then let each layer cure before beginning your handle wrapping. That way, you can use one or both hanks of paracord in an emergency, yet still have a (reasonably), comfortable gripping surface on the knife tang.
And if you're desperate to add a Firesteel sleeve and DC3 or DC4 pouch to the sheath, you can use a short length of PVC tubing, gorilla-glued to the sheath edge seam (GG remains slightly flexible when set), with the original Fallkniven leather pouch glued to the sheath front, parallel with the firesteel tubing. Next is the neat application of several turns of (narrow), black, Gorilla duct tape - before winding a neat layer of paracord over the top of the tape. Leave the DS3 or DS4 in its pouch when taping and binding, with the same for your firesteel - and don't bind the cord TOO tightly. The plastic inner sleeve in each sheath will stop any cordage compression on the knife blade, thus leaving you with a complete survival kit in one, neat unit.
(All the way from deepest Dorset, in England).
Kiittos,
Nick.
20
0
I would recommend for a friend
Jett H.

22.03.2020

Verified purchase
An awesome cheap option for someone who is 14 dollars away from justifying the mighty Skrama to themselves and their friends, for a review on the knife itself, just look at the proper Skrama 240 store page, it's the same thing but with an actual grip. Anyone with a crafty spirit and about 20 feet of paracord 550 can make a really effective grip in just a few hours (it's a looong handle to braid, I recommend stopping about 1.5 inches from the end for aesthetics).
I did my grip in all black with an internal wrap made of gutted paracord, and an extremely easy "West Country Whipping Knot" on the outside, I decided to keep it simple since it's my first time,
I chose black instead of the generic OD green because I liked the look of the black rubber grip, and it somehow ended up looking like some sort of ninja choppa, it is also quite comfortable. Other good color matches may be earthy brown, light grey, blood red, purple, or your childhood favorite color.
9
0
I would recommend for a friend
Kristo J.

12.06.2020

Verified purchase
Yleensä taon veitset alusta asti, mutta halusin myös eräveitsen jonka lämpökäsittely olisi varmasti kohdallaan ja tässä se tosiaan on.

Tajusin tämän kun yritin porata ruotuun reikiä poskikahvojen koriteellisia niittejä varten. Jopa kaikista kovimmat cobolt kovametalli poranterät eivät pureneet siihen laisinkaan vaikka olin paikallishehkuttanut ruodun että se pehmentyisi. Lopulta sain reijät aikaiseksi hiomalla ne dremel laikalla ja viimeistelemällä reijät pylväsporakoneessa. (Silti erittäin hidasta)

Olen positiivisesti yllättynyt skraman laatuun. Tulee ehdottomasti käyttöön leirille. Terän tyvestä löytyvä vuoluterä on myös erittäin hyödyllinen. Tein skramalle kahvan katajasta kupari ja messinki niiteillä.
10
0
I would recommend for a friend
Raila R.

04.05.2021

Verified purchase
Followed Jett H's recommendation of 20' paracord for the handle. It turned out perfect! This knife is a knife. Well balanced, not goofily exaggerated, and great.
1
0
I would recommend for a friend
Jean F.

26.12.2022

Verified purchase
We shall see how this performs in the long run, but so far so good.
I found a cool hack to get rid of the sheath "wedge", which is prone to loss. Basically, I stuffed the end of the sheath with a heavy rubber band which stops and squeezes the tip of blade. I have added another heavy rubber band to lock the (bare) handle in place and I can move it easily out of the way with one hand.
Anyway.
Off to baton some wood!
0
0