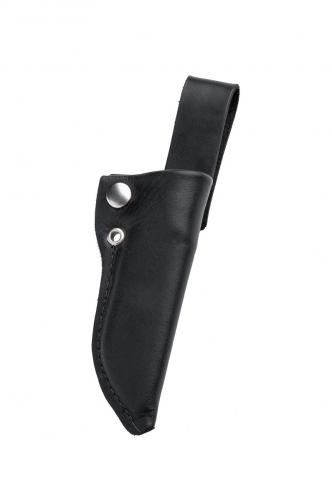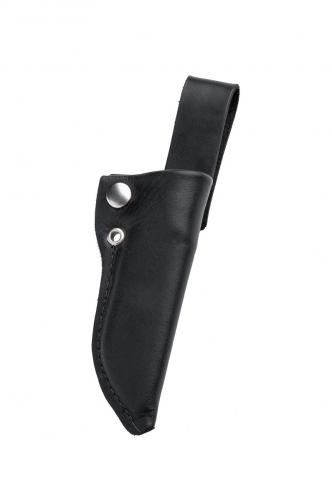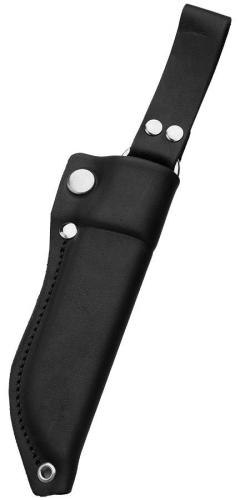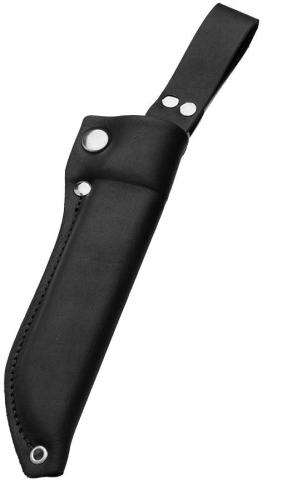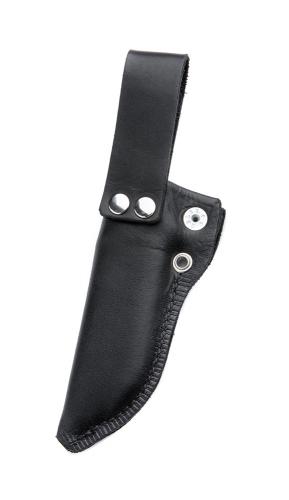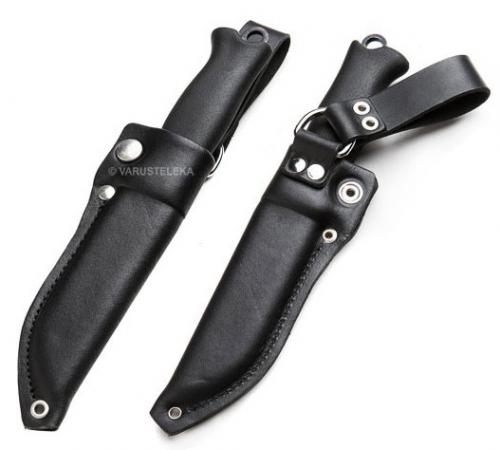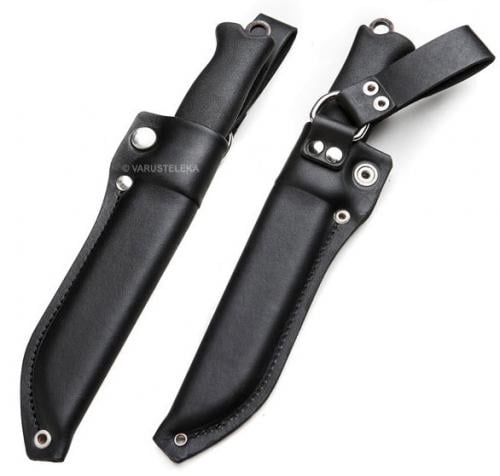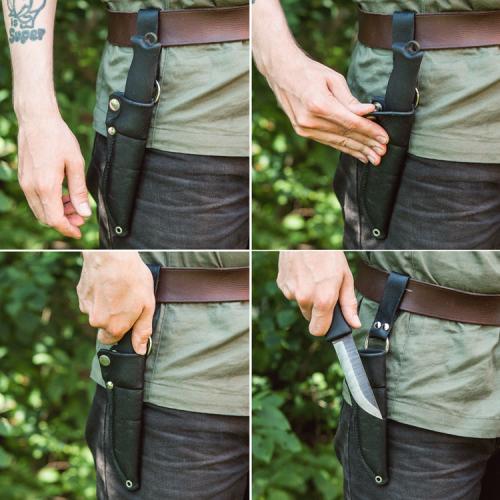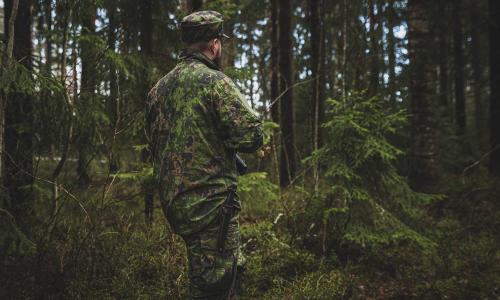 Terävä
Terävä Leather Sheath for Jääkäripuukko
Price 29.99 - 36.99 USD
excluding sales tax
Leather Jääkäripuukko sheaths, simple, functional and made in Finland just like the Jääkäripuukko itself.
Loading products...
Trouble with the metric system? Try our converter: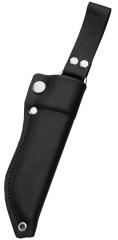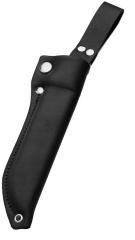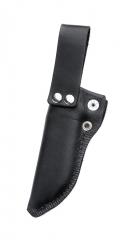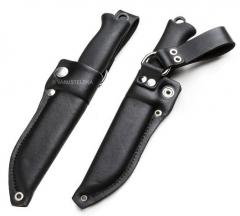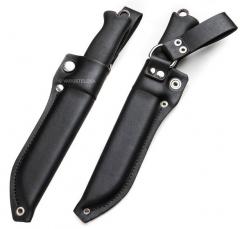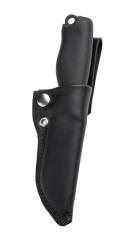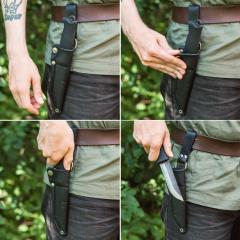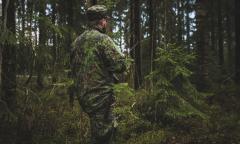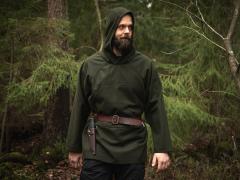 Leather Jääkäripuukko sheaths, simple, functional and made in Finland just like the Jääkäripuukko itself.
The sturdy dangler leather sheath is built with a roomy plastic liner, a traditional Finnish sheath construction style. The liner is roomy enough for water and crud to run through it and out the hole at the end. Around the mouth of the sheath, the leather is folded double forming a strong and stiff wide band, this band is closed tightly around the grip using a press stud. When you pull out the knife the edge runs nicely between the two leather sides, not cutting it up as is a common downside of the traditional "sock" style puukko sheaths. Even without closing the press stud, the sheath retains enough tension to keep the puukko in place, so around camp, you don´t need to be opening and closing the sheath all the time, just remember to snap it shut when you're on the move!
Do not force the knife out of the sheath without opening the press stud! Although this can be done it is not good for the press stud in the long run and may damage it. Just open the snap before pulling out the knife.
It's best to oil the snap fastener once in a while to prevent it from becoming stiff and nasty.
RIGHT OR LEFT?
The words "Right-handed" and "Left-handed" in the menu might confuse some folks, so let's clarify it a bit. It refers to your dominant hand, not the side of your body. You pull your knife out of the "Right-handed" sheath with your right hand (normal grip), no matter where the sheath is – left side, right side, or on the front. The "Left-handed" sheath goes vice versa.
If, for some reason, you prefer to pull your knife e.g. with your right hand from the right side with your knuckles between your body and the knife handle, only then take the "Left-handed" sheath so the blade edge will be facing forward. Simple!
Sustainable leather
The leather of Terävä sheaths comes from Pelo Leather, a family-owned Central Ostrobothnian tannery founded in 1897. In addition to producing top-quality sheath and Nappa leathers with a minimized waste of materials and emissions, they are respectful towards the source of the raw materials: the animals as well as the nature in which they live.
Pelo Leather uses elk and yak hides provided by hunters and nomads, and only cowhides that are a side-product of the milk and meat industries. The cowhides come from local abattoirs that have standards for ensuring the wellbeing of the animals. No animals are reared for the purpose of producing these leathers.
Their business quarter is 25 years and a lot of effort is put into the processes and logistics of the business, to provide a cleaner environment for future generations. We tip our hats at them and are proud to have their leather in our sheaths!
Kierto Circular Economy
Return this product used but clean and unbroken, and you'll receive half of the product's original price as Varusteleka credits. Service is available only in Finland. Only Registered users can make Kierto returns. See more information about Kierto.
Varusteleka Terävä
All Terävä knives and leather sheaths are manufactured by Laurin Metalli, a family business and Finland's leading knife blade manufacturer from Kauhava with roots going back to 1918. The Boltaron sheaths are made by Savotta in Karstula, Finland. Founded in 1955, Savotta is known for its simplistic and extremely rugged, Nordic designs. A Terävä blade is Finnish craftsmanship, pure and simple! And "Terävä", that's just Finnish for "sharp". For further reading check out the Varusteleka's Terävä page.
All products: Terävä
Recommendations
Loading products...
Reviews
You have already submitted a review. You can edit your text by clicking on it. You can filter the reviews by clicking on the elements of the summary.
Log in and write a review. You can filter the reviews by clicking on the elements of the summary.
Remove filter
Suomi
(5)
English
(13)
I would recommend for a friend
Tomas B.

20.05.2017

Verified purchase
It is one of the best leather sheaths I have ever seen. And I noticed this sheath is a perfect match even for Mora bushcraft series knives. So if you don't like the plastic ones I suggest you switch to this sheath. A great aftermarket sheath choice.
15
0
I would recommend for a friend
Lluís E.

10.12.2017

⚠ Unverified purchase
(110 carbon model with sheath)
Now this is a man's tool!
This thing is massively robust and when you first hold it, you feel like you could chop down a tree with it. Tried and true puukko blade with scandi grind, only beefier and FULL TANG. Full tang is good, because everything has to be as robust as it could conceivably be, 'cause i'm an autist. The mora companion doesn't deliver because it isn't full tang (I mean it's perfectly adequate for what it was designed, but it isn't full tang). Did I mention this is FULLTANG ®? Råbust, get knife.
It looks good, it performs great, cuts carboard like paper, and paper like air. It strikes the perfect balance between looking spartan enough to not feel bad to use it, and good enough to not look like some prison made shiv. It even smells good.
Sheath is full leather and pretty refined, can be set to normal retention (works pretty well) or you can close the snap button and then it won't budge.
Best knife for money out there by far, i'd say.
If you can't afford this and don't know how to make your own prison shiv, then get a mora companion. If you want to carve people and stab wood, get this.
20
0
I would recommend for a friend
Roland L.

17.12.2017

Verified purchase
It is a great sheath. The only disappointing thing for me was that it's made of bonded leather.
1
6
I would recommend for a friend
Steven D.

25.01.2018

Verified purchase
I would recommend for a friend
Steven D.

25.01.2018

Verified purchase
Over 40 knives and multi-tools in my collection. . .my partner forced an audit, darn it.


Well, how did I explain to her that this was the best of the lot by a long way and that there is considerable risk I might simply expire if I do not own at least 5?


She said that she only had one pair of shoes and one handbag. . .I prompty asked if she had the receipts as I needed another sheath.

Anyway, after I got up off the floor, I simply let her look (as touch was clearly out of the question), and that was it; job done.


So, for those wondering what a man's role is in today's age, here is the answer, just grab your club, your 3 110s and 2 140s (with sheaths of course) and head to the nearest rock cave, draw primitive cave drawings of said knives and start a whole new life.


Yes folks, they are that good.





As no-brainers go, this is the no-brainer of no-brainers.


Try saying that after a few pints down the cave. . .





Update. I gave in and bought her a pair of open-toe sandles (I still hold the receipt, you never know. . .) :-)

UPDATE:
Mora Garberg fits in the sheath.
15
0
I would recommend for a friend
Teemu H.

29.04.2018

Verified purchase
I would recommend for a friend
Juha L.

03.07.2018

Verified purchase
I would recommend for a friend
Timon M.

16.07.2018

Verified purchase
Now this is quite the sheath!



My experience with the 110 model is as follows:



It's design seems to follow the same philosophy as the Jääkäripuukko itself: combining tradition with modern functionality.

The leather quality is top notch, and while the finish is imperfect, it is in a way appropriate for an item which is meant to be used for actual work, nothing here that could hinder functionality.

The plastic liner provides great internal rigidity and protects the leather from receiving cuts from the inside without compromising on traditional puukko sheath design.

Having a dangler is great for this size, and the grommet could be useful if you prefer to use this with a sling.



My advice to anybody who will actively carry this sheath is to grease it, apply some leather conditioner and cream polish (colorless) at least every six months to keep the leather water-proof and supple during use.

good veg tanned leather should arrive relatively dry, but if you take care of it properly it can last you a lifetime, even through constant hard use.



This has now become my new favorite sheath, my advice is to get one when they are in stock.
8
1
I would recommend for a friend
Frank S.

02.02.2019

Verified purchase
This is just a great sheath. The genius is in the snap button. It works like the rubber retaining wheel in the sheath of a Peltonen Sissipuukko, holding the knife in solidly after the front finger guard has been pushed past the snap. This is less fiddly than the wheel in the Peltonen sheath. And the plastic insert protects the knife blade all around, not just on one side plus the cutting edge like in many classic puukko sheaths where the knife tip may push through the leather on the unprotected side. The whole thing is really sturdy. With the snap button closed I guess you could strap this knife upside down to the outside of a SpaceX booster rocket, fire it into near space and retrieve it after landing. That is how safe this sheath is once closed.
I use mine for crossdraw carrying, having folded the dangler down and strapped it tight to the sheath with a length of two-sided velcro tape to create a loop at the back. That is the only suggestion I would have: add a nice wide belt loop flat to the back of the sheath body so it can be carried high as well.
I also have the Peltonen Sissipuukko M07 with its leather sheath, which I like less than this sheath (the knife itself is fine). I found that with some mild adaptation (sanding down the front guard a bit) the Peltonen M07 can be made to fit pretty well into the Terävä 110 sheath, so anyone looking for an aftermarket sheath for a Peltonen knife may take a look at these.
If you buy a Terävä knife, do yourself a favour and get this sheath with it.
2
0