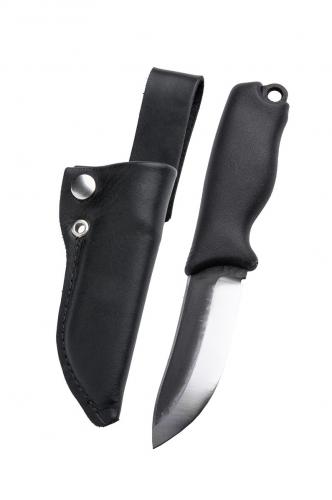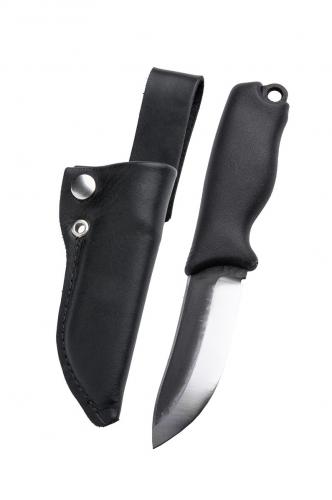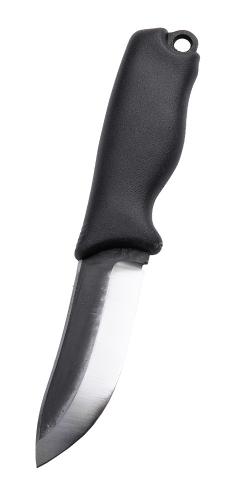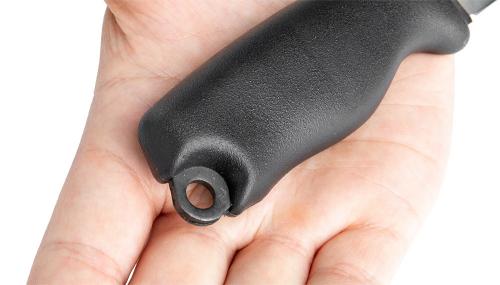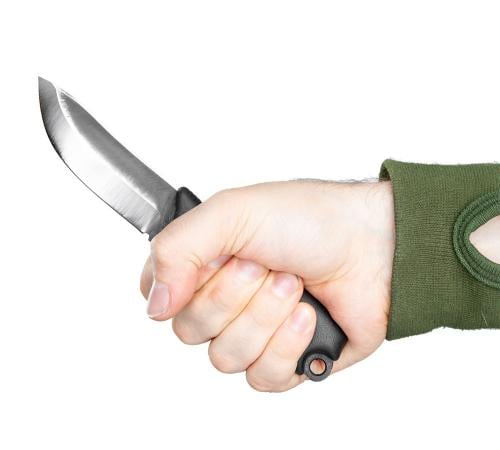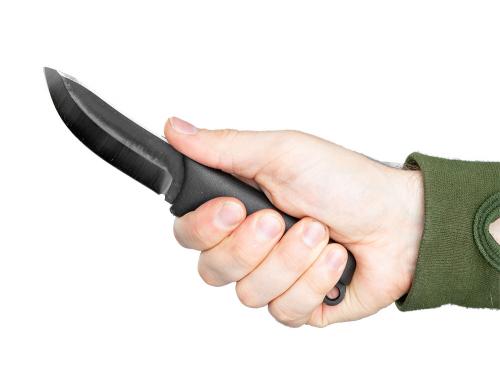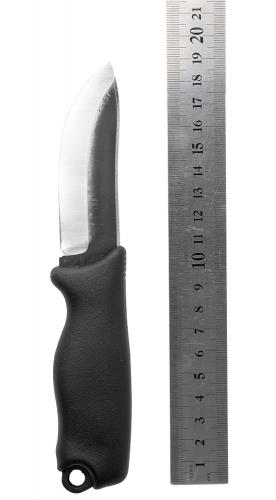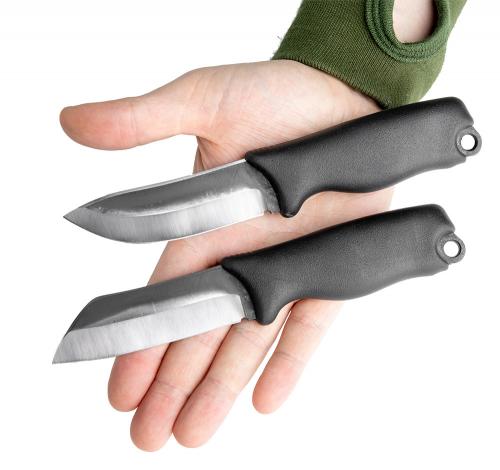 Jääkäripuukko 85 and Skrama 80 side by side. Note the ground and beveled spine for striking ferro rods.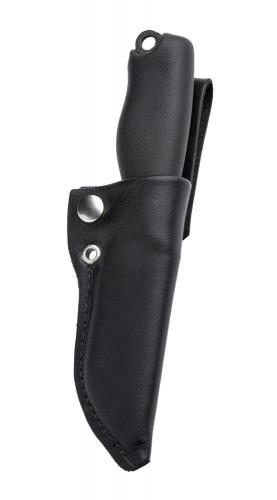 Available also with a leather sheath.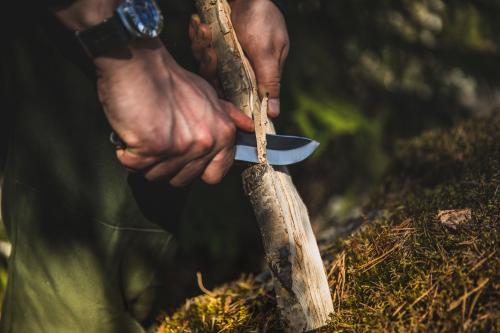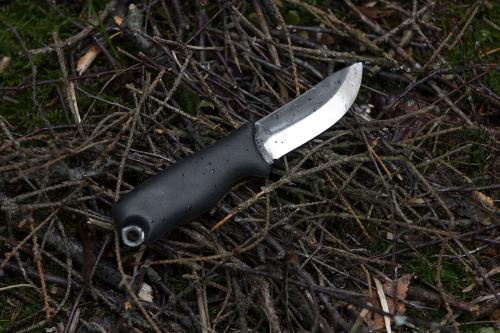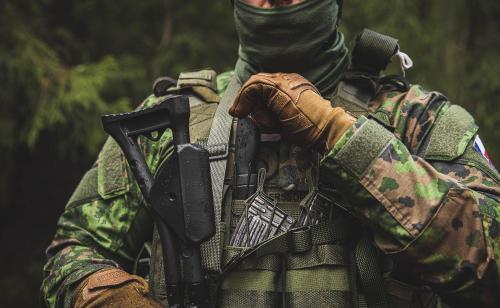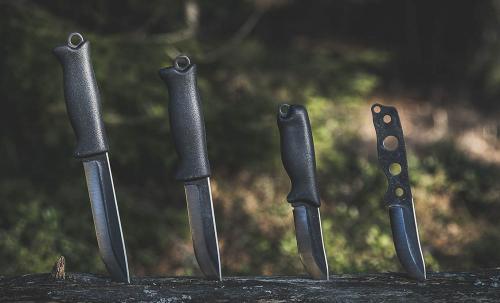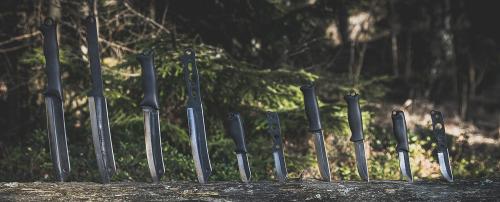 Terävä
Terävä Jääkäripuukko 85, Carbon Steel
Price 39.99 - 69.99 USD
excluding sales tax
A very small and handy little puukko knife for home and wilderness. Easy to carry, great for all those detailed tasks, and sturdy as hell. If you don't need to wrestle with abominable snowmen, this works perfectly as your primary knife. If you like 'em bigger, take one of these as a spare one.
Loading products...
Trouble with the metric system? Try our converter: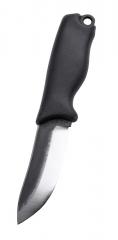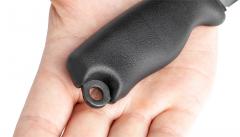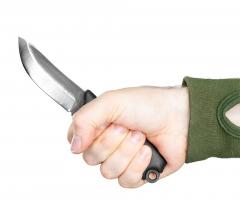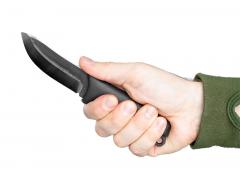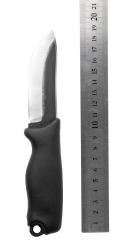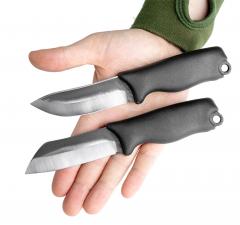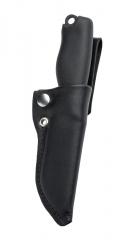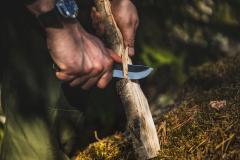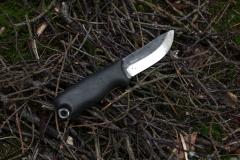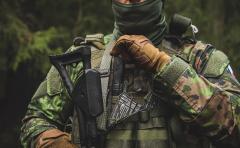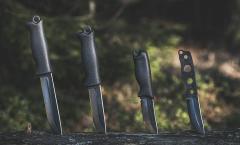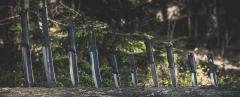 A very small and handy little puukko knife for home and wilderness. Easy to carry, great for all those detailed tasks, and sturdy as hell. If you don't need to wrestle with abominable snowmen, this works perfectly as your primary knife. If you like 'em bigger, take one of these as a spare one.
Weight: 125 g (4.41 oz)
Total length: 185 mm (7.28")
Blade length: 85 mm (3.35")
Blade thickness: 3.25 mm (0.128")
Edge angle: 23°
Steel: 80CrV2 carbon steel, 59 HRC
Made in Kauhava Finland, the region that has long traditions in puukko knife making
Use
A bigger knife isn't always better. Usually, a very small bladed puukko is just the tool you need for most tasks in the wild. For heavier chores, you can then use an axe or a big Skrama. It is also wise to carry a spare knife in case you manage to lose the primary tool. This is also perfect for opening packages, peeling oranges, whittling this and that, and any other common tasks at home. And one of these could also be nice in the toolbox of your car.
Blade and handle
Just like our other Jääkäripuukkos, this knife has a drop point puukko-style blade profile, and the spine is ground and beveled to strike sparks from ferro rods. You will be thankful for this when your clothes and matches are wet, the sky is falling, and you need a warming fire.
Very tough full tang blade with textured overmolded rubber grip that isn't slippery even when wet. The tang comes out of the back, forming a little knob with a hole for lanyards and such. Although the Jääkäripuukko 85 has a shorter handle than its siblings, it is still just the perfect fit for the human hand.
Sheath or no sheath?
You can acquire Terävä Jääkäripuukko 85 with a sheath, with a plastic blade cover, or as is. If you like to make your sheaths, just get the knife. If you want to protect the blade but don't want to carry the knife anywhere, just get it with the blade cover. If you want to carry the knife, your options are the blade cover with a belt loop or a leather sheath.
The high-quality leather sheath is designed with practicality in mind. It is made of 2 mm (0.078") thick Finnish vegetable-tanned leather. The stitching is further reinforced with rivets.
Tough sustainable leather
The leather of Terävä sheaths comes from Pelo Leather, a family-owned Central Ostrobothnian tannery founded in 1897. In addition to producing top-quality leather and sheaths with a minimized waste of materials and emissions, they are respectful towards the source of their raw materials: the animals as well as the nature in which they live. The cowhides they use are side-products of the milk and meat industries. The hides come from local abattoirs that have standards for ensuring the wellbeing of the animals. No animals are raised for leather production.
A lot of effort is put into their processes and logistics to provide a cleaner environment for future generations. We tip our hats to them and are proud to have their leather in our sheaths!
Steel and heat treatment
80CrV2 carbon steel is used in all our carbon steel knives. The thing is that it´s nothing special really, just really good tool steel that can take basically any beating and offers great edge retention.
The heat treatment we use leaves the surface of the steel softer than the inside. This actually functions a lot like fancy differential heat treatments, making these knives very tough.
The heat treatment and softer surface are also why we have added the bevels to the spine, a simple polished spine was not enough for use with ferro rods but with these little bevels that uncover the inner, harder steel we get a spine that strikes ferro rods really well!
Kierto Circular Economy
Return this product used but clean and unbroken, and you'll receive half of the product's original price as Varusteleka credits. Service is available only in Finland. Only Registered users can make Kierto returns. See more information about Kierto.
Varusteleka Terävä
All Terävä knives and leather sheaths are manufactured by Laurin Metalli, a family business and Finland's leading knife blade manufacturer from Kauhava with roots going back to 1918. The Boltaron sheaths are made by Savotta in Karstula, Finland. Founded in 1955, Savotta is known for its simplistic and extremely rugged, Nordic designs. A Terävä blade is Finnish craftsmanship, pure and simple! And "Terävä", that's just Finnish for "sharp". For further reading check out the Varusteleka's Terävä page.
All products: Terävä
Recommendations
Loading products...
Reviews
You have already submitted a review. You can edit your text by clicking on it.
Log in and write a review.
Remove filter
Suomi
(1)
English
(8)
I would recommend for a friend
Tamas V.

06.03.2019 (Edited 02.06.2021)
This knife is made of high quality materials. It is good looking and very handy, sharpened professionally and finished preciously. I am satisfied with price/value very much. I have good impression about sheat as well.
I have to recommend to all of you!
27
4
I would recommend for a friend
Tim M.

23.09.2019 (Edited 05.06.2021)
Awesome little knife
https://youtu.be/y32YMcQiIc0
10
1
I would recommend for a friend
Mikael Å.

30.03.2020 (Edited 06.06.2021)
I have the 240,200,140,110,and now 85 and i just love them all, but this have been my new go to knife . A perfect size. And many times i have the 140 in the bag and the 85 on my belt.
Just a awesome little thing!.
3
0
I would recommend for a friend
Nemanja M.

05.05.2020 (Edited 06.06.2021)
Great little knife, small enough to fit in your pocket but big and sturdy for most tasks. Fit and finish are great, even better than with more expensive knives such as mora garberg and such. Really sharp out of the box. And I am the kind of guy that usually finds small imperfections with new knives, but this one was great all around.
4
0
I would recommend for a friend
Nate K.

07.01.2021 (Edited 15.06.2021)
Perfect size, even for my wide paws. The thought and care that went into the design of this knife is obvious in the features of the blade, handle, and sheath; the craftsmanship of the manufacturers is equally obvious in the finish of the blade and the stitching and riveting of the sheath. Wish I could return the other full tang outdoors knives I own. Aim the sharp part away from arteries and don't lose it and this knife will last you a very long time.
2
0
I would recommend for a friend
FiL H.

01.07.2021 (Edited 28.07.2021)
This is a robust and extremely useful little knife that punches far above its weight. I've been carrying it on my belt while spending time on a rural property and I barely notice that it's there. It easily pruned 1.5 inch thick fir branches, chopped through tough broom bushes, trimmed some rotten deckboards, and pried out a few stuck things (shh, I know I'm not really supposed to pry with a knife). Sits very nicely in my hand. I was carrying an OKC RAT-1 folder, but this wee puukko is just as portable (if you are somewhere where carrying a visible knife is culturally acceptable), far tougher, and way more useful.
1
0
I would recommend for a friend
Clinton C.

27.08.2021
I had read earlier reviews stating that some of the Varusteleka puukkos were a bit rough around the edges. This little 85 is really nicely made. Great fit and finish on the sheath as well. The thing is, these Lauri blades look 'rough and ready' as they still have the scale on the outside. In my mind this is a plus as the scale also adds a nice look and a but of rust resistance. The grind on this knife are spot on - even and symmetrical on both sides. it is not quite a zero scandi grind, but more of a high sabre grind with a small secondary bevel. Mine came nicely sharp - I will probably end up slightly convexing the edge once I have used it for a bit. Overall this is a nicely thought out and executed little knife. Where else are you going to find a differentially tempered knife made to this quality point at this price?
4
0
I would recommend for a friend
Luke Y.

16.10.2022
The knife is great. The handle is very comfortable and out of the box the blade came sharp. The sheath is a nice design but the knife slightly rattles which was a slight disappointment. I'm not sure if its just the fit of the sheath I got or a how all of them fit. My Terävä Jääkäripuukko 80 has a much tighter fit in the sheath and does not rattle.
0
0
I would recommend for a friend
Perttu T.

15.10.2018 (Edited 01.06.2021)
Handle is very comfy in my medium-large sized hands. Out of the box it is very sharp.
17
2