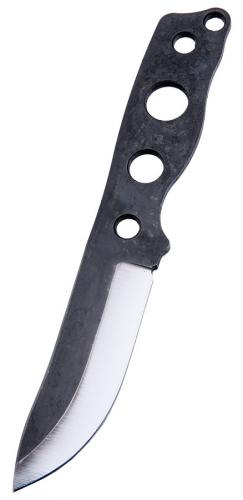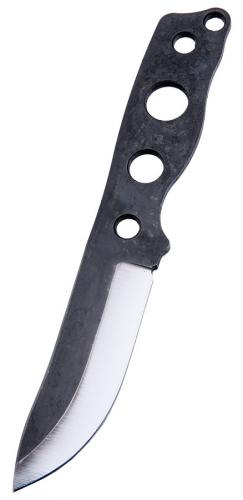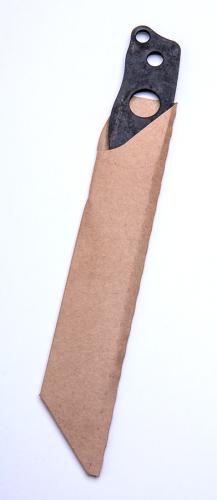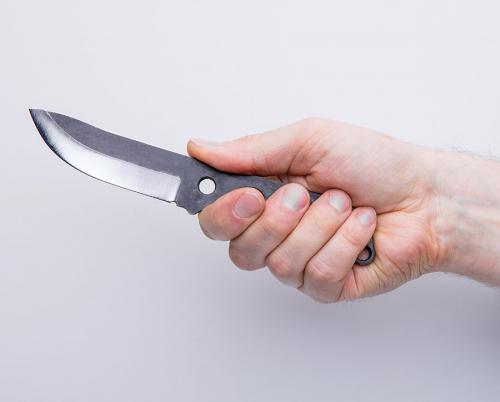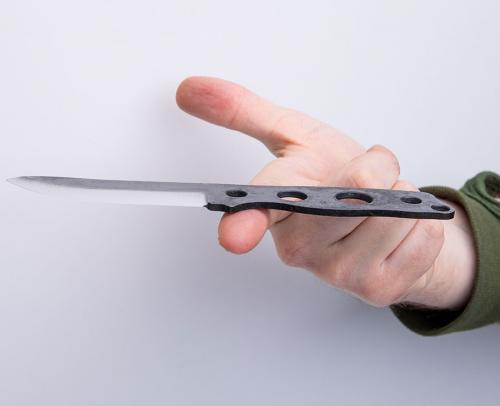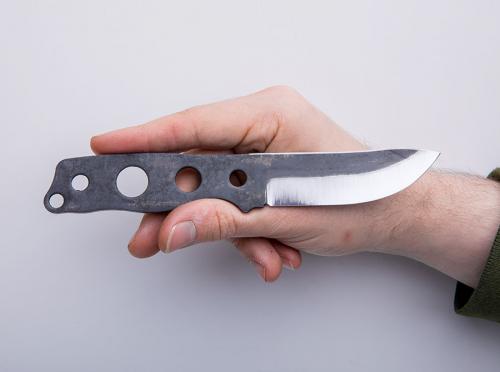 Terävä Jääkäripuukko 85 Bare Tang
Price 39.99 USD
excluding VAT
A very small and handy drop point bare tang knife, or neck knife if you will. Easy to carry and great for all those small tasks that you come across most often.
This product has used and returned variations. Used are washed and unbroken. Heavily used are also washed but might be missing buttons, have tears, main zipper can be broken etc. Read more about Kierto.
Trouble with the metric system? Try our converter: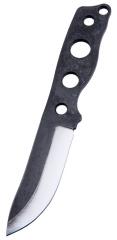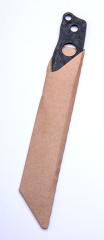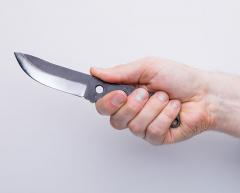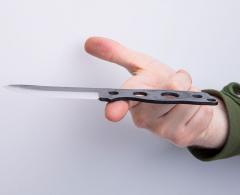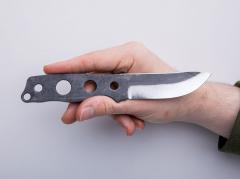 A very small and handy drop point bare tang knife, or neck knife if you will. Easy to carry and great for all those small tasks that you come across most often.
General features
Very small size, easy to carry and handle. Great companion for a large chopper or axe.
Jääkäripuukko-like drop point blade.
A notch at the root of the blade to ease sharpening over years of use and maintenance.
Spine ground and beveled to strike sparks from ferro rods.
Simple and functional bare tang grip, the user can add cordage etc. if desired.
Technical specs
Specs
Metric
Imperial
Weight
95 g
3.35 oz
Length
185 mm
7.28"
Blade length
85 mm
3.35"
Blade thickness
3.25 mm
0.128"
Edge angle
23°
Steel
80CrV2, 59 HRC
80CrV2 carbon steel and heat treatment
All Terävä carbon steel knives are made from 80CrV2. The "thing" is that this is really nothing fancy or special, just very good tool steel which can take a beating and offers good edge retention. 80CrV2 has over the decades earned a reputation as solid and reliable steel, especially for our purposes.
The heat treatment we use leaves the surface of the steel softer (approx. 52 HRC) than the inside (59 HRC). This functions a lot like fancy differential heat treatments giving the blade added strength. The surface is very resistant against any microscopic fractures or other blemishes, this results in virtually zero problems caused by material defects!
When the blade is ground the harder inner steel is revealed, even though the outer surface is only 52 HRC the actual edge is 59 HRC. This is also why we grind bevels onto the sides of the spine, otherwise, the spine corners would not be hard enough to strike sparks from Ferro rods!
A simple Paracord handle wrapping video
Varusteleka Terävä
All Terävä knives are manufactured in Kauhava, Finland, by our partners at Laurin Metalli, Finlands leading knife blade manufacturer with roots going back to 1918. A Terävä blade is Finnish craftsmanship, pure and simple! And "Terävä", that's just Finnish for "sharp".
Recommendations
Loading products...
Reviews
You have already submitted a review. You can edit your text by clicking on it.
Log in and write a review.
Remove filter
Suomi
(1)
English
(6)
I would recommend for a friend
Neeman C.

09.08.2017 (Edited 31.05.2021)
A very handy detail knife
A four finger grip means the knife is very controllable
Extremely strong full tang makes this one tough little number
Batons wood easily with no stress on the knife
Comes very sharp with a high scandi grind and a secondary bevel, so it slices and bite
I put the knife on to waterstones to grind on the flat scandi to minimize the secondary to a micro bevel, and it is now wicket sharp
Took duct tape and wrapped the cardboard blade so it now resistant to the elements
Unfortunately the knife does not come with a supplied sheath
When it does I am sure it will be the same excellence of their bigger knives
The knife fits a BHK #4 sheath, and it is well worth to search a secondary market sheath
I will not, but the handle is just waiting for a wrap of some kind colored paracord or the like
All in all a superb knife that I highly recommend and even more so for the price
19
1
I would recommend for a friend
Harri K.

20.09.2017 (Edited 31.05.2021)
Tuleekohan tämä joskus myyntiin muovilestalla. Voisi itse askarrella tupen ja tuunata kahvaakin...
15
0
I would recommend for a friend
Teo F.

12.05.2018 (Edited 01.06.2021)
I would recommend for a friend
Frank S.

11.06.2018 (Edited 01.06.2021)
I'll probably edit this later after some extended use... I just received this little one. (It came in a humongously large box that would have fitted three Skramas, which allowed a lot of living space for the knife in its sheath and one pair of M05 socks - I almost always get a pair of socks when I order something). This is one serious piece of steel. It can not get more no-nonsense. Some quick notes: I immediately removed most of the black forge residue, as I did with my puukko's 110 and 140. It leaves a sooty residue on food, and in this case, also my hands. 80CrV2 apparently must be oil-quenched and this is clearly burnt-in oil. For real use and not just looking at it in admiration, I prefer to clean it off, which is easily done with a kitchen sponge and some 1000-grit steel wool without damage to the knife. It always leaves a few solidly burnt-in stains, I just leave those as they don't stain anything and it adds to the rough, used steel looks of the knife.


It came shaving sharp, and I measured the main grind at something like 14 degrees inclusive. The bevel is very difficult to measure but I suppose the specified 23 degrees inclusive is about right. Together that makes a crazy sharp blade. Keep bandages handy. ;-)


With the sheath that is now for sale, you have a neat, very flat package that slips discreetly into a pocket, can be lashed to a calf and can be carried practically anywhere (within reason). Sure you can make your own beautiful wooden or other noble handle and then you will have a nice short puukko, like so many other nice short puukkos. Leave it as is and you have something a lot more special. But in that case, do get the sheath, which is truly meant just for the bare tang knife, simple but well made with a thick leather welt on the edge side to protect the stitching. I like it. Next I may kill that crazy large box it came in, with this knife, as it seems the ultimate shipping box destroyer.


Back here after some cutting tests. For now: this is a fun blade. Recommended. And get those socks. ;-)


Oh, for anyone thinking about wrapping something around the tang: just flip the knife over and slip the tang into the sheath first. Instant handle. lol



Update after some use... I don't think I will try to make my own handle for this thing. I love it as it is. Because it's so flat in its sheath you can tuck it away almost everywhere. The bare tang offers enough grip for doing real work, and as you can't damage a handle when you beat on it, you can actually use it very well for batoning - you can beat on the tang as well as the blade!

It cuts extremely well, as it has that high, keen grind and a blade that is one millimeter thinner than that of the larger puukkos. I love it for cutting good French bread, hard sausage and cheese.

In my opinion, if you want a knife that has a handle out of the factory, get one of the normal puukkos (the 110 or the 140). This thing is more fun in the nude. ;-)
Update 2: after about 6 months this is now my favorite daily bread and cheese cutting knife. It is always on the dinner table along with a small wooden cutting board.
8
0
I would recommend for a friend
charalampos v.

10.08.2018 (Edited 01.06.2021)
fast shipping to south europe..value for money the knife..i will buy one more
6
0
I would recommend for a friend
Alessandro R.

05.07.2020 (Edited 06.06.2021)
Hard carbon steel, sharp, effective not only for carving. Perfect companion for a more brutal blade.
2
0
I would recommend for a friend
Matt W.

03.02.2021 (Edited 15.06.2021)
This knife is ace. I bought it 3 months ago and it came sharp out of the box, I ground away the secondary bevel after a couple of weeks and it is super sharp now. Very nice to use, especially for food prep. It's very light and excellent to carry as a neck knife. Ace knife and even better for the price.
1
0
Kierto Circular Economy
Return this product used but clean and unbroken, and you'll receive half of the product's original price as Varusteleka credits. Service is available only in Finland. Only Registered users can make Kierto returns. See more information about Kierto.