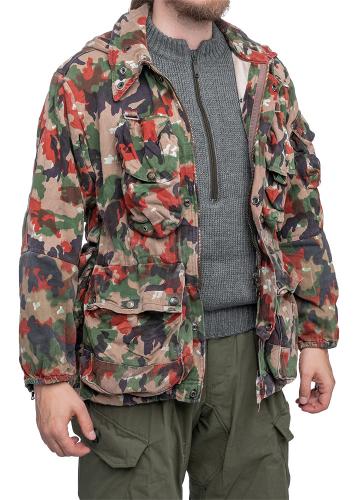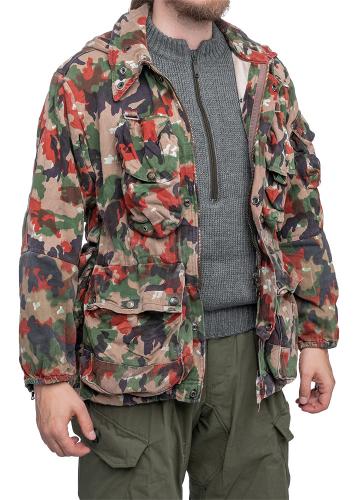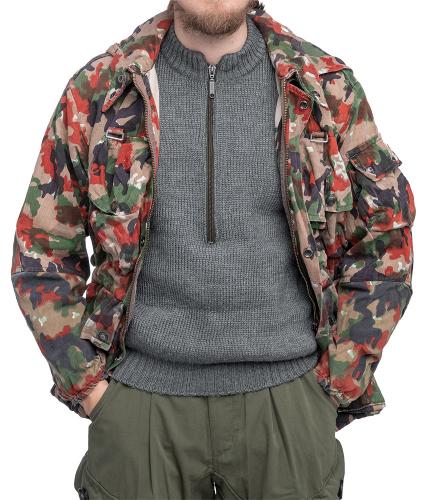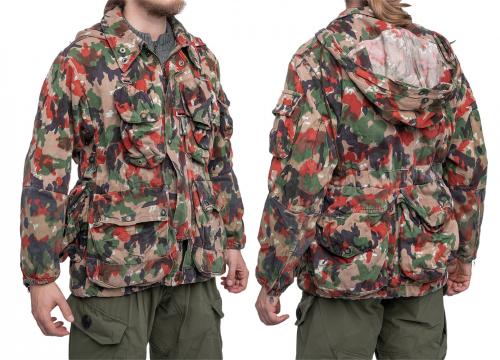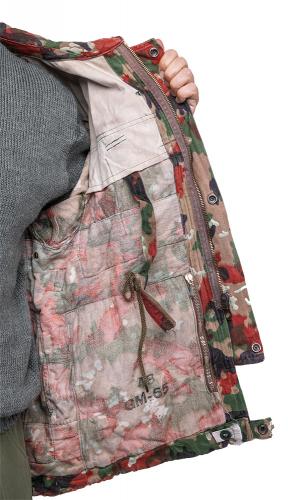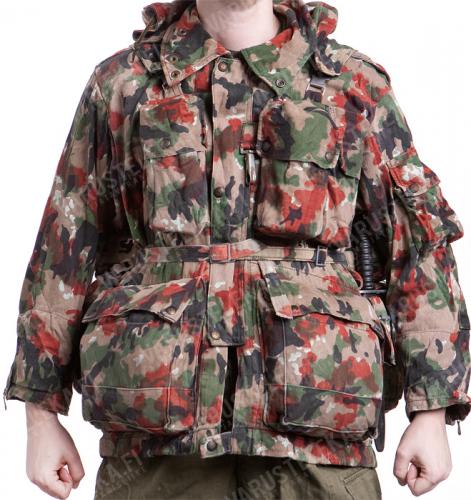 We filled the pockets to make them stand out.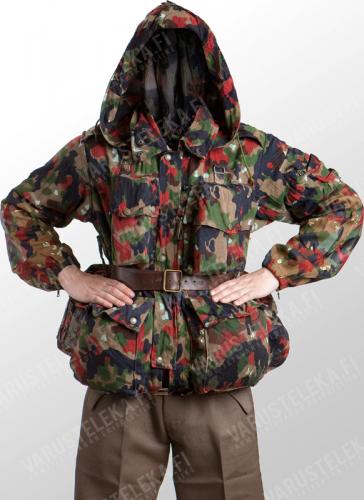 We filled the pockets to make them stand out.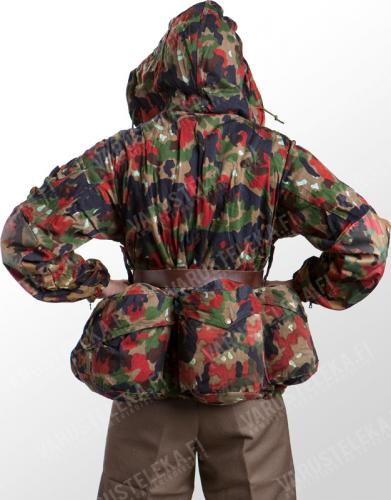 We filled the pockets to make them stand out.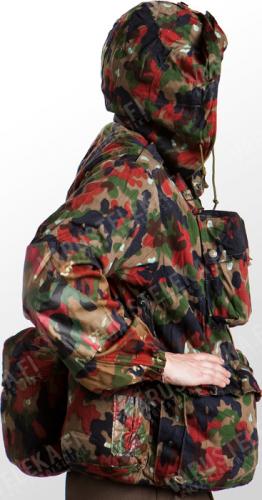 We filled the pockets to make them stand out.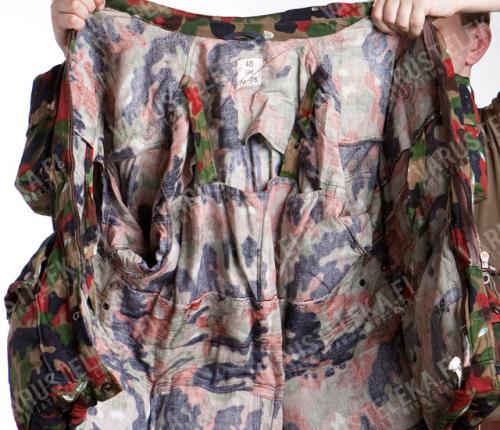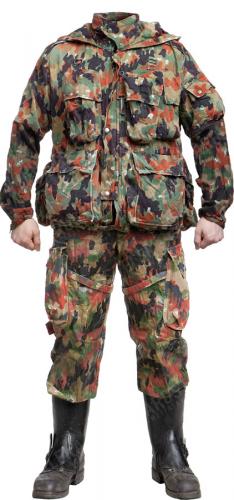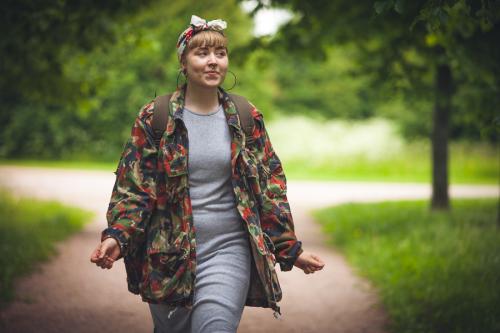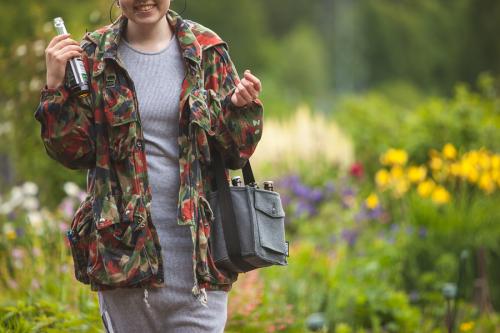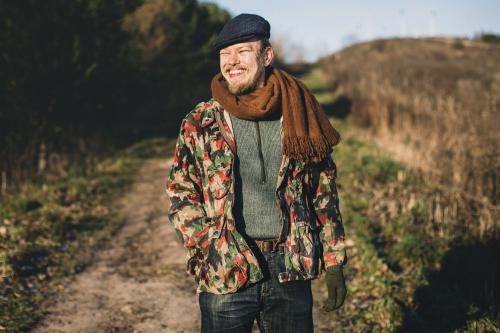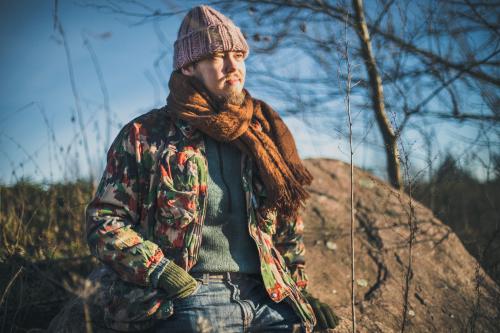 Switzerland
Swiss super field jacket M70, Alpenflage, surplus
Price 29.99 USD
excluding sales tax
The Swiss tend to make their gear with some pretty unique touches. This jacket is probably the best example of this trend - besides being a jacket, it acts as a combat load bearing system! To top it off, the camouflage is the legendary "Alpenflage".
Loading products...
Trouble with the metric system? Try our converter: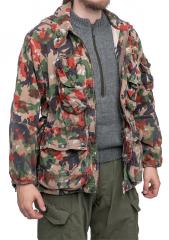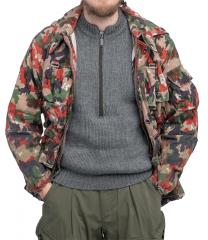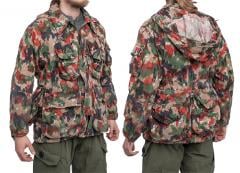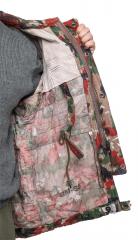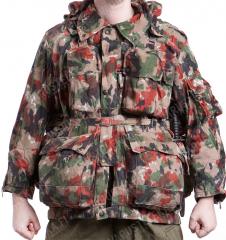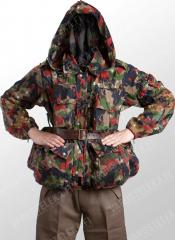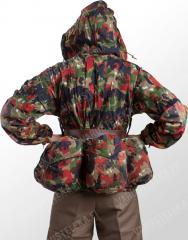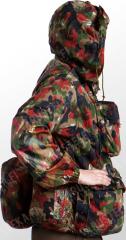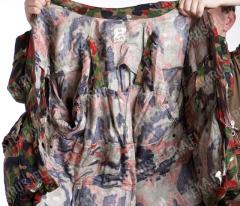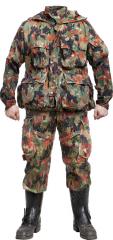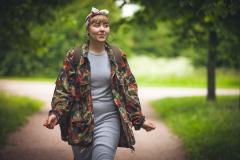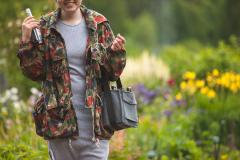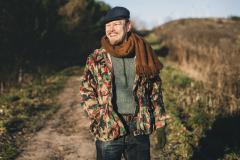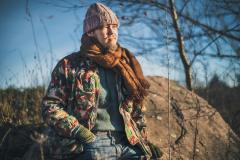 The Swiss tend to make their gear with some pretty unique touches. This jacket is probably the best example of this trend - besides being a jacket, it acts as a combat load bearing system! To top it off, the camouflage is the legendary "Alpenflage".
Note: The belt shown in the pictures is not included.
A strong, heavy cotton parka
A ridiculous amount of pockets
Made in Switzerland! Vintage!
That camo!
Overly practical Swiss design
The jacket has a ridiculous amount of field-proven features.
Zipper & snap closure.
Large, adjustable hood with a camouflage/insect net. The hood can be buttoned out of the way if necessary.
Normal collar, can be folded up.
Elastic hem band, can be removed if required.
Reinforcements in the elbows.
Zippered cuffs to ease rolling up the sleeves.
Large belt loops and vents in the armpits.
In the chest a snap hook for hanging the helmet.
Metal attachment loops for the combat pack, inside two cloth straps that, when attached to the trousers, help balancing the load.
Pockets, hoo boy
The pockets are numerous and large. This jacket makes small day-packs virtually useless!
Three magazine pouches in the front - two large ones and a smaller one.
The large pouches are divided into two compartments. According to our tests, the pouches will take the following magazines (total number in the brackets):

Stgw.57 (5)
SG550 (5)
20- and 30-rnd. M16 magazines (8)
G3, FAL, M14 (5)
AK-74 (5)
AK-47 (2)
AUG (5)

Two large hem pockets on the front
Two large pockets and one huge pocket on the back.
Sleeve pocket on the left sleeve.
Inside a large hidden pocket ("poacher's pocket"), and a smaller zippered pocket.
All pockets/pouches close with heavy duty snap fasteners.
The camo
The Alpenflage. Isn't it beautiful? Originally developed in the Third Reich but never got to use, the Swiss adopted it shortly after the war. It's nowadays replaced with something more brownish green, but the legendary status remains.
That's about it. If you don't like the camo, try dyeing the parka. Of course, we take no responsibilty for your escapades in this matter. However, we can say that the jacket is made mostly of cotton, which should take colour pretty well.
Sizing
Sizes given in the normal euro system. No different lengths, and the sleeves run pretty short. If you are tall (over 180 cm / 5' 11"), take one size bigger or roll up the sleeves.
Genuine Swiss army surplus
Used & serviceable. Going through these one by one would take a lifetime, so if you find some repairs or a sew loose seams, those won't count as defects.
Kierto Circular Economy
Return this product used but clean and unbroken, and you'll receive half of the product's original price as Varusteleka credits. Service is available only in Finland. Only Registered users can make Kierto returns. See more information about Kierto.
All products: Switzerland
Recommendations
Loading products...
Reviews
You have already submitted a review. You can edit your text by clicking on it. You can filter the reviews by clicking on the elements of the summary.
Log in and write a review. You can filter the reviews by clicking on the elements of the summary.
Remove filter
Suomi
(13)
English
(45)
I would recommend for a friend
jake w.

26.05.2017

Verified purchase
I am 5'10.5" and weigh 160lbs, bought the 52 and it fits perfect. Was worried about short sleaves but not an issue.
Mine came in good shape, minor repairs with some fading. The only bummer was that the camo face net had been torn out.
For the money though this is still an awesome deal.
As mentioned this is a heavy cotton jacket with that stored canvas smell.
Build and material quality is obviously tops. Even the snaps have brass rings in the female end.
I am especially impressed with how it carries weight. With all those pockets, I was imagining the coat being seriously awkward but its Swiss engineered, nothing else needed to say. I immediately loaded up the pockets with my Soloist mess kit, tarp/poncho, OR Basic bivy, Klymit sleep pad, light weight puffy jacket with plenty of room for more.
I like the high adjustable collar, coupled with the hood, the jacket provides great coverage to go in dense brush.
I plan on waxing with a bar of wax.
UPDATE!
Bought another in hopes of scoring one with the face net and got lucky. This latest buy is much newer condition with zero fade, however, the sleeves are just a bit short as in fitted short whereas with outdoor gear I much prefer longish sleeves but again this is nitpicking ,its still a killer deal. Having 2 I compared this with the other that the sleeves weren't bad and noticed it had been repaired with new sleeves from the top of the elbow reinforcement down so this repair lengthened the sleeves.
Lol, did try waxing but forget it. Unless you want to spend many hours and have a very heavy jacket skip it. I have used nearly 2/3rds of a Otter wax bar and still haven't fully treated just the hood. The cotton on this is just too thick. I now know that this treatment is best for very tightly woven cotton poly blends like G1000. Oh well.
26
1
I would not recommend to a friend
Ard-Pieter Z.

15.11.2017

⚠ Unverified purchase
As a tall dutch dude these sleeves are ridiculously short. the jacket probably weighs right about the same as the person wearing it. the camo is unique and very interesting, the face camo net came very crumpled but it was there at least! this is really not a great field jacket. you can probably fit enough stuff in this jacket to survive for months on end though, i am 188cm and 80 ish KG i got the size 56 jacket since that was the largest availible at the time but you either have to find a way to extend the sleeves or just roll the sleeves up. its a really neat jacket and interesting design, but as an actual jacket i have trouble recommending it.
it is heavier than any jacket that i have ever worn(yes even greatcoats and other quadruple layer winter parkas. you will probably not believe how insanely heavy it is untill you have it in your hands.
it is not particularly warm but is fitted so that you can wear multiple layers under it, probably like 5 layers or more.
the pockets are huge and handly but not like fancy new bags that open without any effort, they are pretty stiff and kind of akward to open and close (especially if you dont have the pockets fully filled up.
It will soak up water and become so damn heavy you will start hating yourself for even thinking this could by any stretch be a practical jacket. it also has no pockets on the inside which i found a bit odd.
the only real positives are novelty factor and the camo if you find it interesting.
i am still givingg it 4 stars because it is exactly what i ordered and the quality is amazing, the zipper alone is probably already worth 16 euros since its swiss made and way better than any modern zippers ive tried (even the swedish M/90 zippers) but as a practical piece its pretty useless
17
10
I would recommend for a friend
Kyle S.

04.12.2017

Verified purchase
A nice jacket, not as bulky as it looks in the pitcures, you can pretty much fit in small object in one of these pockets, which makes it prefect for light work, or a long walk. The zipper sucks though, I have yet to have made it work right, but the buttons work well. The hood also keeps falling down over my eyes as well, but that might have to do it being a little too big on me, rather than because of design.
3
2
I would recommend for a friend
Greg W.

10.12.2017

Verified purchase
Size 52, I'm 5'10' 166 lbs fit is great , sleeve length was perfect. It's a neat coat and mine came in near perfect condition. Only thing missing was the spring from the helmet hook and I fixed that out in the garage. Mine looks to be unissued or very light wear. Mine didn't have the netting in the hood, I'm ok with that ...for 14 bucks I can't complain about getting what is basically a new jacket of very good quality.
3
1
I would recommend for a friend
Haakon W.

19.02.2018

Verified purchase
It's a good, durable jacket, with a plethora of pockets (though curiously, none on the inside). Downside, all the snaps on the one I got are broken and unusable. When resources are available, will replace. Notwithstanding, is an amazing jacket.
3
1
I would not recommend to a friend
Erik Z.

21.02.2018

Verified purchase
No sane person can wear this jacket in public with a straight face. Ordered a size 58, received a size 52 but it fit adequately anyways. I ordered this with the ambition of dyeing it a dark brown shade, but scrapped the idea after trying the jacket on. Zippers, snaps and the metal helmet hook are great and would probably fetch a higher price at a crafting store than what I paid for them when attached to a jacket with ridiculous camouflage pattern. Weight of the jacket is 2 kilos, so the guy above complaining about the weight must either have spaghetti for arms or received a jacket with a different cut than mine. My jacket was issued but in OK condition, with repairing stitches in each elbow. The fabric is not wind or water resistant.The reason I will be sending this jacket back is that the zipper ends by the navel and the bottom snap is about 15 cm lower leaving a gap that shows of my groin. I'm pretty proud of my groin, but this design flaw leaves it unprotected from the harsh Swedish winter winds. If you want a smock you're much better of buying another product.
+ Cheap
+ lots of pockets
+ Quality workmanship
- not weatherproof
- groin exposed to elements
- not warm
+/- alpenflage
9
23
I would recommend for a friend
Jack M.

27.02.2018

Verified purchase
Incredibly good jacket, even better when you consider how low the price is. Sure the camo doesn't suit everyone's tastes, but what's good is what works, in my opinion. As for the dude above complaining about the short zipper.. it's that way so you can get to the zipped pockets on the inside without having to reach under the jacket. Also complaining about not being able to wear it in public.... dude if you're buying this shit for the street cred and aesthetics then you may as well go and shop at the mall. Aesthetics are never the point with military surplus, the main point is functionality and utility. This jacket has both qualities. I'm ~185cm and stocky, usually a size L in Aussie sizes, the size 56 here fits me perfectly.
25
10
I would recommend for a friend
Garrett A.

03.03.2018

Verified purchase
I'm 5'9" and this fit perfectly (it is a lot slimmer than appears in the photo), and at $16 is a deal. This definitely saw use, and there are sign of repair (it seems they swapped out the arms, and they repaired the button areas at places), but they tended to be well-concealed. I would recommend this, but at a caveat: if you are tall, pass up. This stops at my belt area, and the sleeves are just long enough at a 52, but I can't imagine this being long enough for anyone 6'+. The camo is definitely an acquired taste, but I've always liked the alpenflage.
2
1
I would recommend for a friend
darryl b.

09.03.2018

Verified purchase
buttons have taken a beating, plenty of repairs on them. jacket is in otherwise great shape. no fading, bug net intact. it's not too heavy but it is an odd bit of gear to be wearing to the mall. i would recommend to other weirdos.
7
2