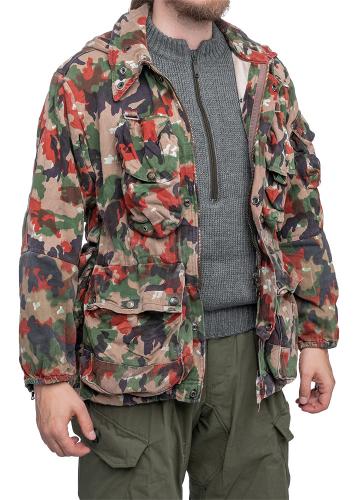 Swiss super field jacket M70, Alpenflage, surplus
Price 18.99 USD excluding VAT
Flat Rate Shipping to USA $9.99
88 % recommends
Sold 2 pcs in the last two weeks
Loading products...
Trouble with the metric system? Try our converter: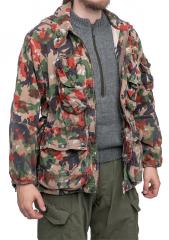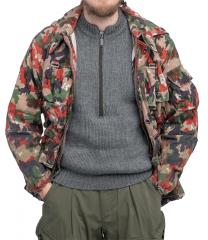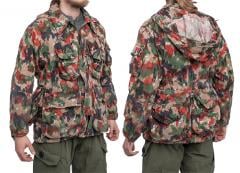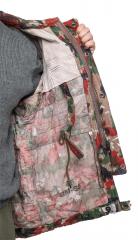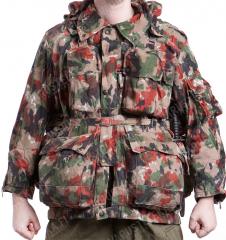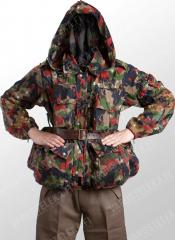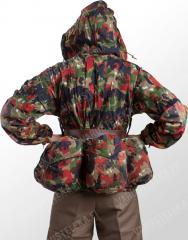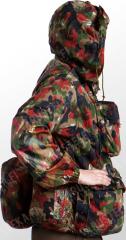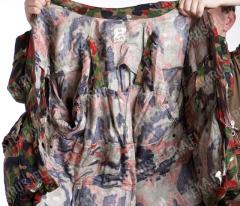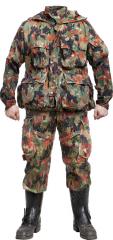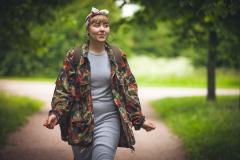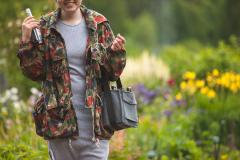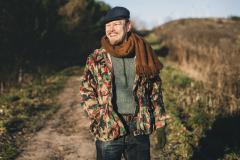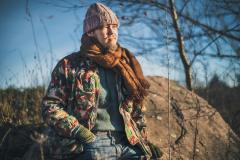 The Swiss tend to make their gear with some pretty unique touches. This jacket is probably the best example of this trend - besides being a jacket, it acts as a combat load bearing system! To top it off, the camouflage is the legendary "Alpenflage".
Note: The belt shown in the pictures is not included.
A strong, heavy cotton parka
A ridiculous amount of pockets
Made in Switzerland! Vintage!
That camo!
Overly practical Swiss design
The jacket has a ridiculous amount of field-proven features.
Zipper & snap closure.
Large, adjustable hood with a camouflage/insect net. The hood can be buttoned out of the way if necessary.
Normal collar, can be folded up.
Elastic hem band, can be removed if required.
Reinforcements in the elbows.
Zippered cuffs to ease rolling up the sleeves.
Large belt loops and vents in the armpits.
In the chest a snap hook for hanging the helmet.
Metal attachment loops for the combat pack, inside two cloth straps that, when attached to the trousers, help balancing the load.
Pockets, hoo boy
The pockets are numerous and large. This jacket makes small day-packs virtually useless!
Three magazine pouches in the front - two large ones and a smaller one.
The large pouches are divided into two compartments. According to our tests, the pouches will take the following magazines (total number in the brackets):

Stgw.57 (5)
SG550 (5)
20- and 30-rnd. M16 magazines (8)
G3, FAL, M14 (5)
AK-74 (5)
AK-47 (2)
AUG (5)

Two large hem pockets on the front
Two large pockets and one huge pocket on the back.
Sleeve pocket on the left sleeve.
Inside a large hidden pocket ("poacher's pocket"), and a smaller zippered pocket.
All pockets/pouches close with heavy duty snap fasteners.
The camo
The Alpenflage. Isn't it beautiful? Originally developed in the Third Reich but never got to use, the Swiss adopted it shortly after the war. It's nowadays replaced with something more brownish green, but the legendary status remains.
That's about it. If you don't like the camo, try dyeing the parka. Of course, we take no responsibilty for your escapades in this matter. However, we can say that the jacket is made mostly of cotton, which should take colour pretty well.
Sizing
Sizes given in the normal euro system. No different lengths, and the sleeves run pretty short. If you are tall (over 180 cm), take one size bigger or roll up the sleeves.
Genuine Swiss army surplus
Used & serviceable. Going through these one by one would take a lifetime, so if you find some repairs or a sew loose seams, those won't count as defects.
Reviews
You have already submitted a review. You can edit your text by clicking on it.
Log in and write a review.
Remove filter
Suomi
(5)
English
(29)
I would recommend for a friend
jake w.

26.05.2017 (Edited 12.07.2017)
I am 5'10.5" and weigh 160lbs, bought the 52 and it fits perfect. Was worried about short sleaves but not an issue.
Mine came in good shape, minor repairs with some fading. The only bummer was that the camo face net had been torn out.
For the money though this is still an awesome deal.
As mentioned this is a heavy cotton jacket with that stored canvas smell.
Build and material quality is obviously tops. Even the snaps have brass rings in the female end.
I am especially impressed with how it carries weight. With all those pockets, I was imagining the coat being seriously awkward but its Swiss engineered, nothing else needed to say. I immediately loaded up the pockets with my Soloist mess kit, tarp/poncho, OR Basic bivy, Klymit sleep pad, light weight puffy jacket with plenty of room for more.
I like the high adjustable collar, coupled with the hood, the jacket provides great coverage to go in dense brush.
I plan on waxing with a bar of wax.
UPDATE!
Bought another in hopes of scoring one with the face net and got lucky. This latest buy is much newer condition with zero fade, however, the sleeves are just a bit short as in fitted short whereas with outdoor gear I much prefer longish sleeves but again this is nitpicking ,its still a killer deal. Having 2 I compared this with the other that the sleeves weren't bad and noticed it had been repaired with new sleeves from the top of the elbow reinforcement down so this repair lengthened the sleeves.
Lol, did try waxing but forget it. Unless you want to spend many hours and have a very heavy jacket skip it. I have used nearly 2/3rds of a Otter wax bar and still haven't fully treated just the hood. The cotton on this is just too thick. I now know that this treatment is best for very tightly woven cotton poly blends like G1000. Oh well.
17
1
I would not recommend to a friend
Ard-Pieter Z.

15.11.2017
As a tall dutch dude these sleeves are ridiculously short. the jacket probably weighs right about the same as the person wearing it. the camo is unique and very interesting, the face camo net came very crumpled but it was there at least! this is really not a great field jacket. you can probably fit enough stuff in this jacket to survive for months on end though, i am 188cm and 80 ish KG i got the size 56 jacket since that was the largest availible at the time but you either have to find a way to extend the sleeves or just roll the sleeves up. its a really neat jacket and interesting design, but as an actual jacket i have trouble recommending it.
it is heavier than any jacket that i have ever worn(yes even greatcoats and other quadruple layer winter parkas. you will probably not believe how insanely heavy it is untill you have it in your hands.
it is not particularly warm but is fitted so that you can wear multiple layers under it, probably like 5 layers or more.
the pockets are huge and handly but not like fancy new bags that open without any effort, they are pretty stiff and kind of akward to open and close (especially if you dont have the pockets fully filled up.
It will soak up water and become so damn heavy you will start hating yourself for even thinking this could by any stretch be a practical jacket. it also has no pockets on the inside which i found a bit odd.
the only real positives are novelty factor and the camo if you find it interesting.
i am still givingg it 4 stars because it is exactly what i ordered and the quality is amazing, the zipper alone is probably already worth 16 euros since its swiss made and way better than any modern zippers ive tried (even the swedish M/90 zippers) but as a practical piece its pretty useless
9
7
I would recommend for a friend
Kyle S.

04.12.2017
A nice jacket, not as bulky as it looks in the pitcures, you can pretty much fit in small object in one of these pockets, which makes it prefect for light work, or a long walk. The zipper sucks though, I have yet to have made it work right, but the buttons work well. The hood also keeps falling down over my eyes as well, but that might have to do it being a little too big on me, rather than because of design.
1
2
I would recommend for a friend
Greg W.

10.12.2017
Size 52, I'm 5'10' 166 lbs fit is great , sleeve length was perfect. It's a neat coat and mine came in near perfect condition. Only thing missing was the spring from the helmet hook and I fixed that out in the garage. Mine looks to be unissued or very light wear. Mine didn't have the netting in the hood, I'm ok with that ...for 14 bucks I can't complain about getting what is basically a new jacket of very good quality.
1
1
I would recommend for a friend
Haakon W.

19.02.2018
It's a good, durable jacket, with a plethora of pockets (though curiously, none on the inside). Downside, all the snaps on the one I got are broken and unusable. When resources are available, will replace. Notwithstanding, is an amazing jacket.
1
1
I would not recommend to a friend
Erik Z.

21.02.2018 (Edited 31.03.2018)
No sane person can wear this jacket in public with a straight face. Ordered a size 58, received a size 52 but it fit adequately anyways. I ordered this with the ambition of dyeing it a dark brown shade, but scrapped the idea after trying the jacket on. Zippers, snaps and the metal helmet hook are great and would probably fetch a higher price at a crafting store than what I paid for them when attached to a jacket with ridiculous camouflage pattern. Weight of the jacket is 2 kilos, so the guy above complaining about the weight must either have spaghetti for arms or received a jacket with a different cut than mine. My jacket was issued but in OK condition, with repairing stitches in each elbow. The fabric is not wind or water resistant.The reason I will be sending this jacket back is that the zipper ends by the navel and the bottom snap is about 15 cm lower leaving a gap that shows of my groin. I'm pretty proud of my groin, but this design flaw leaves it unprotected from the harsh Swedish winter winds. If you want a smock you're much better of buying another product.
+ Cheap
+ lots of pockets
+ Quality workmanship
- not weatherproof
- groin exposed to elements
- not warm
+/- alpenflage
7
18
I would recommend for a friend
Jack M.

27.02.2018
Incredibly good jacket, even better when you consider how low the price is. Sure the camo doesn't suit everyone's tastes, but what's good is what works, in my opinion. As for the dude above complaining about the short zipper.. it's that way so you can get to the zipped pockets on the inside without having to reach under the jacket. Also complaining about not being able to wear it in public.... dude if you're buying this shit for the street cred and aesthetics then you may as well go and shop at the mall. Aesthetics are never the point with military surplus, the main point is functionality and utility. This jacket has both qualities. I'm ~185cm and stocky, usually a size L in Aussie sizes, the size 56 here fits me perfectly.
17
9
I would recommend for a friend
Garrett A.

03.03.2018
I'm 5'9" and this fit perfectly (it is a lot slimmer than appears in the photo), and at $16 is a deal. This definitely saw use, and there are sign of repair (it seems they swapped out the arms, and they repaired the button areas at places), but they tended to be well-concealed. I would recommend this, but at a caveat: if you are tall, pass up. This stops at my belt area, and the sleeves are just long enough at a 52, but I can't imagine this being long enough for anyone 6'+. The camo is definitely an acquired taste, but I've always liked the alpenflage.
1
1
I would recommend for a friend
darryl b.

09.03.2018
buttons have taken a beating, plenty of repairs on them. jacket is in otherwise great shape. no fading, bug net intact. it's not too heavy but it is an odd bit of gear to be wearing to the mall. i would recommend to other weirdos.
4
1
I would recommend for a friend
Elliott K.

07.04.2018 (Edited 07.04.2018)
I'm 180cm and about 60kgs, so usually go for medium jackets etc. I would have got the size 48 but brought the 52 which fits perfectly, these jackets are a far slimmer fit than other military ones I've worn so I recommend getting a size above what you usually do. Mine is practically brand new, apparently unused but still smells like surplus. Pockets are vast and plentiful. The snaps, zips, helmet hook and general construction are of excellent quality. It has lots of unusual but brilliant features such as waterproof elbows, zipped cuffs, an insect face net and inside pockets. Also, Alpenflange.



Downsides: not waterproof which is unusual for an outer layer. It also has a large gap between the end of the zip and the bottom of the jacket, leaving a large hole presumably for whipping out the Bratwurst without having to undo the jacket.

Overall, weird jacket but I definitely recommend, for the cheap price you get far more than you pay for.

ALPENFLANGE
2
2
I would recommend for a friend
Ken K.

17.04.2018
I freaking love this jacket. Came in great condition. Bug net intact, no holes, color still looking good, etc. I got a 52, I'm 5'11" and 160 and it fits fine, I can even wear a thin down jacket underneath in case of cold weather. This thing is heavy, about as heavy as my old leather jacket! Gets even heavier when it's loaded, but honestly I like it that way. It's obvious that was used, it has repairs all over, but they all seem very well done, and I'm not worried about any of them reopening. Gives the jacket some history in my opinion. Only negative is that the inside zipper pockets' zipper pull is broken, but it's not that hard to pull, and I don't intend on using that pocket that much, so I really don't mind. Overall I'm happy with my purchase and I have ALREADY recommended it to all my friends. Please start stocking the trousers if you can!!
2
1
I would not recommend to a friend
Ilja W.

27.05.2018
I wouldn't recommend it to a friend, because everybody would walk around in it! I do since 1994, this is my thirth. ;-)
"Inside a large hidden pocket ("poacher's pocket")": There belong the rain-poncho, folded with Swiss military precision, of course.
Inside the hood is a built-in klambu, also camouflaged. It's not a snipermask!
If necessary, it can be impregnated with Johnson & Johnson floor wax for tiles. Works pretty well, smells nice...
4
2
I would recommend for a friend
Janne S.

15.06.2018 (Edited 17.06.2018)
Tämä oli makea vehe. Tilasin kokoa 52 ja itsellä mitat 180/95. Sopii mainiosti kesätakkina pelkkä t-paita alla. Muuta ei oikein mahdu.

Sain vissiin ihan käyttämättömän tavaran (en voi luvata samaa tuuria muille tilaajille) €16 hinnalla löytö vaikka ei uutta saa. Laatu tuntuu olevan kova, eli sveitsiläinen.

Kiva vaihtoehto kalvovaatteille. Hiljainen ja pehmeä kangas. (Jos saden riski niin voi laittaa sadenviitan johonkin taskuun).

Punaiset värit voi muodikkaasti kutsua citystreeturban-camo tai whatever..

Housut olisi kivat
1
1
I would recommend for a friend
Marko N.

03.10.2018
Hyvä takki, ja erittäin käyttökelpoinen kahdesta suuremmasta lippaita varten olevista taskuista olen leikannut väliseinät pois. Takin voi tilata jopa 8-numeroa suurempana kuin oma koko,
niin kuin minä olen tehnyt. Tällöin vain tulee ottaa vyötäröltä löysät pois vyöllä, niin tällöin hihat ovat riittävän pitkät. Harmi vain kun olen lihonut niin ei ole takkiin sopivia housuja, muutoin pitäisin mielelläni tätä alppitakkia.
1
0
I would recommend for a friend
ted k.

10.10.2018
Amazing coat! amazing condition. No rips,holes tears. sniper veil attached.( like i need it) I cut out the poachers pocket and used the material to extend the sleeves an inch and a half. Yes the sleeves are short like everyone says. I,m 6' 200 lb and got the size 56. 58 would be better. Still lots of room to layer up a couple of sweaters. Well built,cant beat it for the money. I'd give it 5 stars except for the fact its heavy cotton and and will take days to dry.
0
1
I would recommend for a friend
Aidar D.

19.10.2018
Great jacket!

I bought it to wear as a mid/outer layer for when I ride a motorcycle or an ATV and need to throw on an extra layer with pockets in a jiffy and this fits the bill perfectly. The hood is actually so huge it can go OVER my helmet, which is a first for me.

Other than that this is a great, supremely well-made jacket. Mine was in a pretty good condition, some repairs here and there, which is to be expected, but everything works, zips, and buttons up as far as I can work out. The net that I imagine was sewn into the hood at one point is missing, but that's about it. There are about 11 pockets in total, two of which are on the inside. You would need an owner's manual to make sense of all this jacket's feature (which, of course, it had in one form or another when it was originally issued by the military).

As for downsides, well, the sleeves are a bit short, but that's by design so I am not docking it any points for this as I am not using it how it was intended, but that's something to keep in mind. It's not particularly warm (but it is heavy) because it's not meant to be worn on its own. Also most of the jackets sold here, as I understand, will lack a mosquito net in the hood which is a bit of a shame as I also use it when I go camping, but is not unexpected. As other people have said, the zipper stops somewhere around your belly button but, again, this is by design so you can reach into the inside pocket without unzipping or unbuttoning anything and you are really expected to wear an extra layer underneath for warmth in anything other than reasonably warm weather. The zippers for the inside pocket and the sleeves are a bit small and can be tricky to work, especially if you are planning to wear gloves with this. Other than that my only legitimate complaint is that this jacket is not waterproof (though there is some canvass-like lining on the shoulders and top of the chest area, so I imagine it would have repelled at least some water when it was new). Again, I understand why it is not waterproof (you were almost certainly expected to wear a separate poncho for that), but this is the one thing that would really make it perfect for my purposes.

All in all keep in mind that this is not really fit for everyday wear (you would look a right dork if you wear it around town, let's be honest) and that it is, basically, just one piece of a larger kit and is thus missing other items that would have addressed some of its shortcomings originally (e.g. waterproofing, short sleeves, etc). It is a great bit of kit - excellent value and very practical even on its own.
2
1
I would recommend for a friend
Hiroki A.

08.11.2018 (Edited 08.11.2018)
Not bought from Varusteleka, but more or less have the same thing, size 48; I am a size euro 44. These jackets will fit quite wide for small people as they do not have a cinch cord; you are supposed to wear a service belt for this purpose. That being said the sleeves must be quite short for most people, because they are just the right length for me; usually most jacket sleeves at this size are too long.



The funky camo will look familiar to WW2 enthusiasts; it's based off the German 'Leibermuster', and oddly, due to the properties of red light, the naked eye will ignore it at a distance and it will look like a muddy brown/grey colour, although this may have been accidental. I take this jacket for shooting and receive quite a few compliments!



This jacket has a metric fuckton of pockets as integrated webbing, which didn't work out too well in practice for the Swiss army but for most users today is quite a big boon; I can fit drinks, lunch, snacks, tools, phone with powerbank, etc. and it doesn't feel overloaded. The alpenflage backpack sold separately hooks onto the loops near the shoulders if more carrying space is needed. There is also a large concealed poacher's pocket on the interior, I assume this was for carrying the alpenflage poncho for foul weather.



The jacket is actually made out of fairly thin material but is heavy because of all the pockets, and this also insulates it slightly. I'd still layer up though for cold days, and the zipper is short to allow access to trouser pocket and the concealed hip pocket.



The hood is massive to accommodate a helmet, and has a concealed face veil which is nice. There are also buttons to keep the hood folded when not in use, or the fold the hood back slightly if you want it shorter.



All in all, I rate this highly because it's fun and has so many well thought out features; it really is all-in-one. The missing half star would be for the vinyl elbow patches, which to be honest aren't the best choice of material for wear and tear.
3
0
I would recommend for a friend
Fraser H.

27.11.2018
Really tidy and ideal for anyone going out and about little bit of water proof spray works wonders. Sizes seem to run a little on the small size so unless you sure of the sizing go one size up. Unfortunately I got sent the wrong size but varusteleka have sorted this out and anything I get for the too small jacket I'll donate to something.
0
0
I would recommend for a friend
Michael N.

03.12.2018 (Edited 03.12.2018)
Awesome jacket! I'm 5' 11" tall with almost 84cm long arms and I ordered a size 60 which fits the arm length. I normally wear a size 56 or 58 .The jacket I received looks barely used! Excellent service as always from Varusteleka! From the time I ordered the jacket to the time I received it at my doorstep was about 7 days to the US! Awesome!
1
0
I would recommend for a friend
stephane r.

07.12.2018
Just received my jacket got it in size 60 I'm 6 foot tall about 240 arms a little short but the jacket is in oresrine condition looks new never issued I hav3 room for a sweater or fleece liner can't wait to get our in the field and see how it goes thank you varusteleka for the excellent service and product
0
0
I would recommend for a friend
Etienne L.

08.12.2018
Just perfect like the condition
0
0
I would recommend for a friend
Richard M.

19.12.2018
Such a great jacket. I hope no one I know buys one, because part of how great it is is it's uniqueness, but if you don't know me then I absolutely recommend it. As others have said it is warm, made of a canvas that isn't particularly thick but does feel very sturdy, and is at the same time is very comfortable. The high zipper is definitely interesting but not a negative, I keep the lowest button closed whether I have it zipped or not and the zipper doesn't stick out. The reinforced elbows are definitely a big plus. I'm considering waxing it to make it waterproof, but I may actually hold off depending on how rainy it is this spring. I got the biggest size currently available, a 46 I believe, I'm 6 foot 1 inch tall and somewhere between 200 and 230lbs (working abroad and have lost a ton of weight and don't know exactly how much) and it fits great. Specifically, I often find jackets too short for me in the arms but it is perfect.

Along with my M70 jacket, I am so happy with Varusteleka. I am living and working in a small village in Kyrgyzstan. I was quite limited in what I was able to bring out here, I found myself needing a jacket for working around the farm, camping, and any other time I might get dirty and wouldn't want to wear my nice light or heavyweight jackets. I like this jacket so much I know wear it over a fleece sweater basically any time I'm not at work. I am so impressed that Varusteleka was able to get this to me so quickly.
1
0
I would recommend for a friend
Johannes J.

19.12.2018
Nice specimen with some minor wear. As man pockets as there are functions on a swiss knife
0
0
I would not recommend to a friend
Rune H.

05.03.2019
Base quality is top-notch, no doubt, as stated in other reviews. Mine however is very worn, to the point of being almost worn out. The snap fasteners are all (and there are a lot of them) very battered and worn, so that they are quite difficult to snap shut and open, even if you grease them. The zipper is likewise very worn, so that it is hard to both zip and unzip (even if you grease it with candle wax or some such), I fear it will break. And just yesterday I tore out a snap fastener trying to open a pocket, which also says a little about how worn the fabric is - very much in this case. Threadbare, actually.
I have obviously been unlucky, but this being the case I would say that buying this jacket is a bit of a gamble, so I'm not sure if I would recommend buying it (though it seems most buyers have been more fortunate than I)
Rune H., Denmark
1
0
I would recommend for a friend
Hugues C.

14.03.2019
Grüezi mittenand! Awesome and possibly the heaviest field jacket ever created. I'm 170cm/70kg or so, ordered a size 52 which fits perfectly. Quite a strong surplus smell but a few washes with vinegar and airing out should lessen that. Pockets, pockets, pockets everywhere! In great shape, unfortunately missing the camo face mask, bummer, but a common occurence. Varusteleka, can you get some?
Ya gotta love the Alpenflage! More fondue please and pass the Fendant!
Uf Widerluege!
0
0
I would recommend for a friend
Joakim S.

26.03.2019
I would recommend for a friend
Jeremy B.

05.04.2019
Very impressed with the condition of mine. It looks almost new with no fading and the face net is intact. Very cool jacket with a lot of storage options.
0
0
I would recommend for a friend
Elliot A.

12.04.2019
I would recommend for a friend
Juho S.

18.05.2019
Ihan hauska takki jolle on melko vähän käyttöä lähinnä erikoisen ulkomuodon ja valtavan painon takia. Taskujen määrä on suorastaan huvittava. Testattiin kavereiden kanssa ja saimme taskuihin mahtumaan 49 oluttölkkiä. Oli jo aika hankala pukea siinä vaiheessa mutta paksu kangas kesti painon hyvin.
2
0
I would recommend for a friend
Abraham A.

18.06.2019
It's been two weeks since I purchased this (great) jacket and now I can give my opinion and some points bout it:
First of all, it's old, and smells like it.
The vinyl patches on the elbows do not seem to take it well in washing machine. I recommend it to be washed by hand.
It needed some repairs on the elastics at the bottom.
The size that I bought fits perfectly. the chart of sizes from Varusteleka helped me a lot.
1
0
I would recommend for a friend
David B.

19.09.2019
Lovely jacket!! I highly recommend if you like a bomber style of jacket. All the pockets are awesome, no need for a backpack when you have this. Great in rain, and winter. Best suited for cold weather as it is a heavy jacket.
Its short on the sleeves so order a size one above your own (if it is available.)
0
0
I would recommend for a friend
Lila p.

28.09.2019
Fits 21 cans of beans (minimum) in pockets. Very good. Just buy it.
2
0
I would recommend for a friend
Väistämisvelvollisuus

12.10.2019
Ihan hyvä takki josta löytyy taskua kyllä kaikelle mitä keksit. Omani olen omistanut noin 3 kuukautta ja en ole pettynyt. Jos sää tarvitset takkia josta löyty taskut kaikelle mitä keksit kantaa ja samalla haluat vielä hemmetin komeen maastokuvion päälle on tämä takki juuri sinulle. Pari negatiivistäkin asiaa löytyy esim puuvillan takia täää takki kunnolla kastuessaan kestää noin 2 päivää kuivua ja koska olen suuhteelisen laiha on takki aikamoinen purje päälläni(tämä ei ole takin vika) mutta kyllä tää takki on sen 20:in arvonnen koska vaan
0
0
I would recommend for a friend
Ville H.

06.11.2019
Hyvinkin voi sanoa että parhaita maastokuvoita ja takkeja, vaikka voisi luulla että ei toimisi Suomen metsässä niin on aikalailla väärässä. Saatana että on hyvä.
0
0