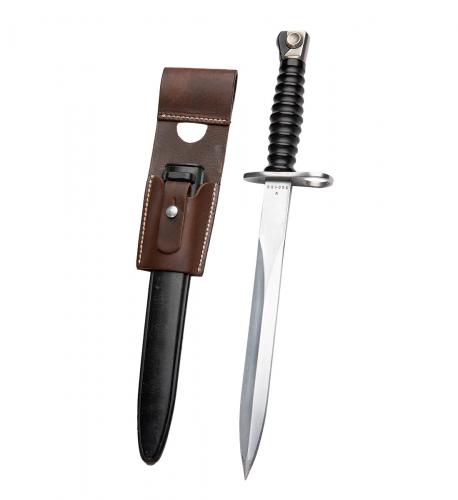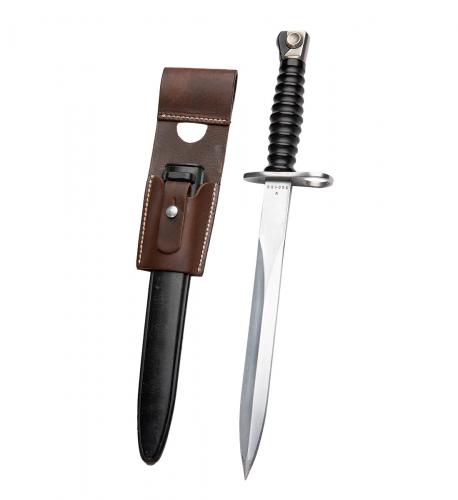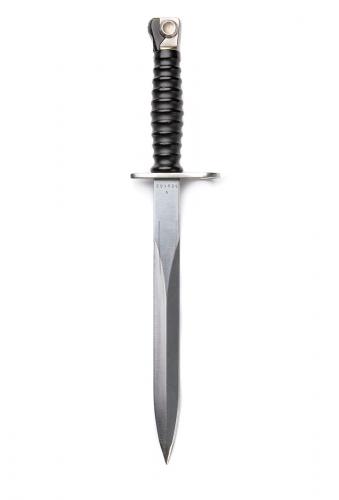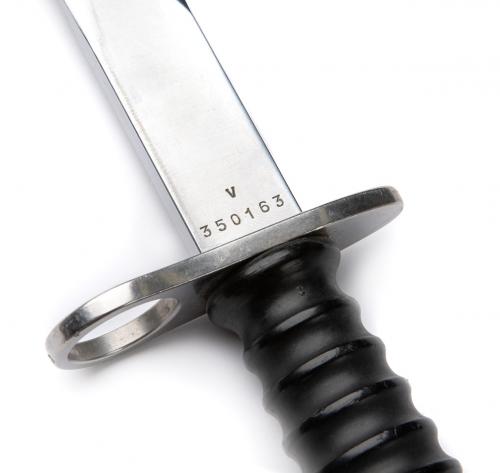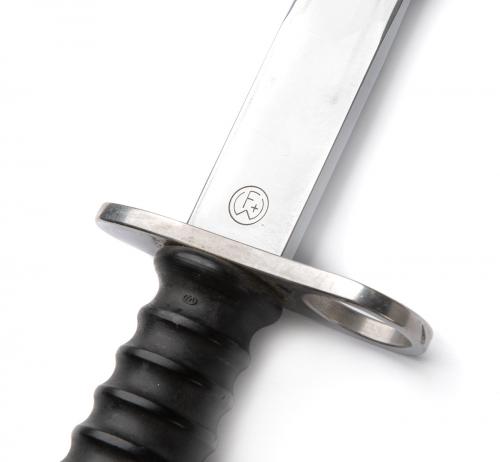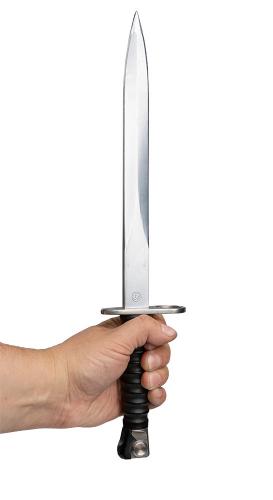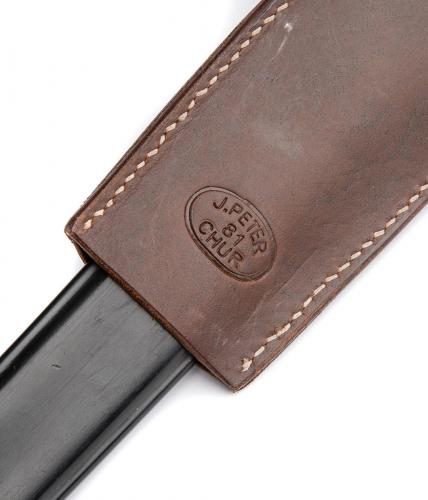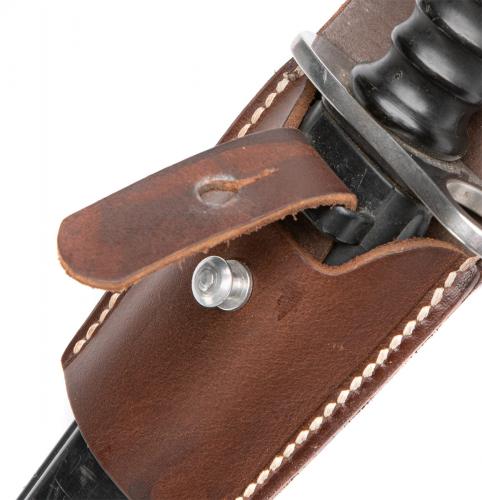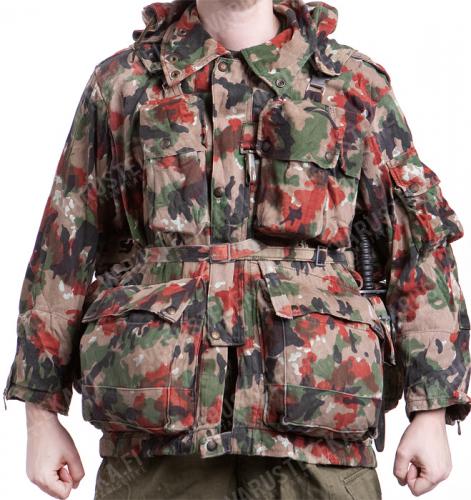 Switzerland
Swiss Stgw. 57 Bayonet with Frog, surplus
Price 59.99 USD
excluding sales tax
You probably don't own a Swiss Stgw. 57 rifle, but it's OK! Sharpen one of these bayonets and you have a fine tool for poking, prying, cutting, and dicing - all scenarios you run into in the kitchen!
Loading products...
Trouble with the metric system? Try our converter: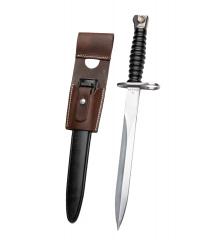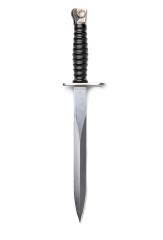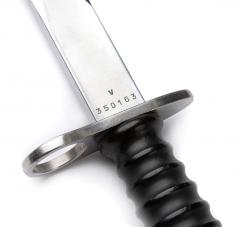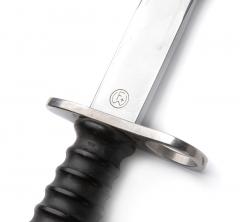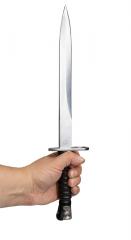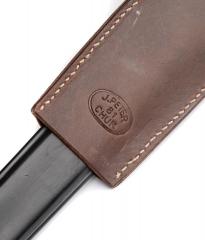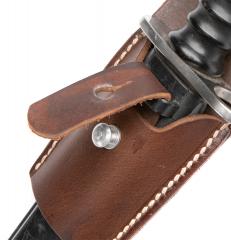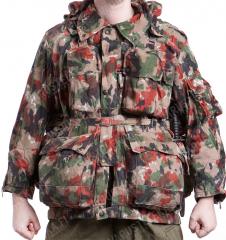 You probably don't own a Swiss Stgw. 57 rifle, but it's OK! Sharpen one of these bayonets and you have a fine tool for poking, prying, cutting, and dicing - all scenarios you run into in the kitchen!
Please note that these are sharpened at the factory, and they indeed are double-edged, which may limit importing them. If bayonets or double-edged blades are illegal in your country, you may end up in all kinds of shit for importing these.
Swiss militaria provides a rare combination of being made with phenomenal quality and having not being used in war since 1815, except a little bit in the 1940s. These bayonets are from the 50s or later and were manufactured about as long as the rifle itself.
The design is rather traditional with double edges and a blade length of 24 cm (~9.5"). The handle is black plastic and ribbed for your pleasure to prevent your hand from slipping when wet: in close combat, wet hands are a rule because of having your hands in your pants or drenching in the blood of your enemies.
The frog is olive green rubber or brown leather, depending on what we get. We separate these so you can choose.
Swiss army surplus
Used but in serviceable condition. The tip of the blade might have seen better days on some of the bayonets, as the most common actual use of a bayonet is poking the ground when practicing removal of land mines.
All products: Switzerland
Recommendations
Loading products...
Reviews
You have already submitted a review. You can edit your text by clicking on it. You can filter the reviews by clicking on the elements of the summary.
Log in and write a review. You can filter the reviews by clicking on the elements of the summary.
Remove filter
Suomi
(2)
English
(6)
I would recommend for a friend
Scott H.

17.01.2017

Verified purchase
Excellent Swiss quality, made of some sort of high-end steel alloy. Even if you don't have a Sturmgewehr 57 rifle, you need one of these!
17
0
I would recommend for a friend
Tommi T.

25.02.2017

⚠ Unverified purchase
Kyseinen pistin on nyt kohta kahdeksan vuotta löytynyt laatikosta joten olisi varmaan aika arvostella tuote. Ensimmäisenä se tärkein: veitsi on erittäin päheän näköinen. Ulkonäöstä tulee enemmän mieleen keskiaikainen tikari, kuin moderniin rynnäkkökivääriin kiinnitettävä pistin. Jos ei tätä pidellessä alaviisari värähdä, niin kannattaa harkita hormonitasojen tarkistusta. Veitsi on myös erittäin vankasti rakennettu, eikä mikään heilu mihinkään. Kestäisikö tämä sitten rajummassa käytössä? En voi tietää, koska veitsi ei sovellu muuhun kun verien päästämiseen vastustajista (ja kirjeiden avaamiseen).

Kuvista ja tuotetekstistä voi saada hiukan virheellisen käsityksen. Veitsen varsinainen terä alkaa vasta terän puolesta välistä eli ilman raskaampaa kalustoa tämän teroittaminen, vaikka keittiökäyttöön, on mahdotonta. Ettei nyt jäänyt varmasti epäselväksi, niin terä kapenee niin hitaasti kärkeä kohti, että terävä osuus alkaa vasta veitsen puolesta välistä. Hyvänä puolena veitsi ei ainakaan itselle tullut kunnolla teroitettuna, joten tuote on erinomainen kirjeiden aukomiseen.

Summa summarum:
-Osta, jos haluat kirjeiden avaajan.
-Osta, jos haluat esteettisesti jotain hyvin kaunista.
-Älä osta, jos haluat jotain millä voi oikeasti tehdä jotain.
17
0
I would recommend for a friend
Hans R.

07.08.2017

Verified purchase
My just arrived in pristine shape. The leather frog was even Well cared for.
When Varusteleka however writes that it is sharpened from the factory - it is not.
That is good for collectors, but it will need a good stone and a lot of elbow grease to become sharp.
4
2
I would recommend for a friend
Eric B.

22.08.2017

Verified purchase
Mine arrived in great condition, obviously there was wear from use and storage, but overall, the blade, handle, scabbard and frog were overall in good condition. Now, if you are a fan of bayonets, blades, Swiss militaria, and/or other related subjects, then this is for you. However, if you are not familiar with the Stgw. 57 Bayonet before hand, there are a few things you should keep in mind; namely, these blades are pure bayonets, the edges are not sharpened and this is intended only for thrusting. As well, the other big thing to keep in mind is the material that the blade is made from. After doing some poking around there are no solid numbers on what steel these are made from, but it appears to either be a stainless steel with high chromium content, or it is a soft carbon steel that is coated with chromium. Either way, this bayonet is not intended to be sharpened, and attempting to do so would probably be a waste of time as it would require a lot of time and effort for not much achievement. As such, if you are looking for a fun piece of history, these are great, but if you are looking for a functioning blade, then you may want to look elsewhere.
28
0
I would recommend for a friend
Ian G.

19.02.2018

Verified purchase
Great military surplus, as usual. Mine was unused as far as can tell. Nice collectors item which means DO NOT SHARPEN (even if you could).
2
0
I would recommend for a friend
Arick S.

03.08.2021

Verified purchase
Presuming the one you receive is near-mint, it's a lovely piece.

Mine was busted; the plastic was deeply cracked (and crappily glued) and the rearmost piece of the handle canted. So, I spent 3 hours dismantling it and using proper technique to reglue it.

Frog was mint, blade has some dings/chips, and now that it is repaired I can use it for various prodding applications, but I won't trust it as particularly sturdy due to the glue job.

I'd recommend it on the basis that, in all probability, you won't get one as mangled as mine.

Still looks cool as hell on my desk, and in a pinch I could probably commit at least a few war crimes with it, but as it stands it is retired from any prospect of front line service.
3
0
I would not recommend to a friend
Erik S.

29.08.2021

Verified purchase
mine was best characterised as a sort of a peculiar metal baton, chipped here and there. it would be safe toy for a tiny baby. it would quieten down any would-be assailant in a dark alley, but to actually subdue someone, I would recommend hitting them over their head with it rather than try to stab or cut.
for a collection show case, if you get one of the unused ones - it is rather nice and will stay shiny without much trouble, being stainless steel.
0
0
I would recommend for a friend
Mats K.

23.03.2023

Verified purchase
Alunperin tarkoitus oli ostaa pelkkä kannike muuta käyttöä varten, mutta muutama kymppi lisää niin tuli hieno koriste kaupan päälle.

Terä on hauskasti muotoiltu ja tyylikäs. Eihän näillä mitään voi tehdä eikä näitä ole tarkoitettu mihinkään muuhun käyttöön kuin sotimiseen. Pistimet ei kai koskaan ole teräviä tehtaalta, ne teroitetaan vasta kun niillä tarvitsee tappaa. (Paitsi RK:n pistin, joka lienee kansallisperinteikkäästi alunperin suunniteltu myös puukkokäyttöön) Eli mitään ei voi pistää eikä leikata ellei ensin aja terää aika pal alkuperäistä terävämmäksi. Mutta ei tämä tosiaan mitään toissijaista tai siviilikäyttöä varten ole tehty.

Oma yksilö on lähes käyttämättömän oloinen, pari kevyttä osumaa on tullut edellä olevan kypärästä taikka asvaltista terään joskus. Mietin onko Sveitsissä mahtanut olla pistinsulkeisia, niinkuin meillä oli vanhaan hyvään aikaan (valmiiksi veitsenterävien RK-Fiskarsien kanssa).
0
0