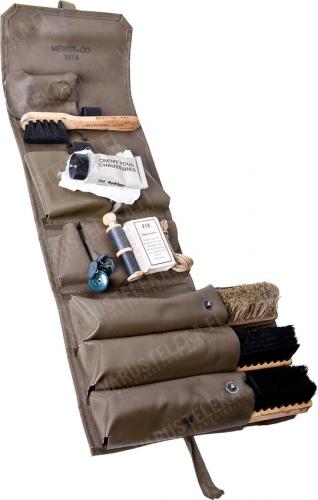 Swiss shoe care set, surplus
Price 6.99 USD excluding VAT
Flat Rate Shipping to USA $9.99
89 % recommends
Sold 48 pcs in the last two weeks
In stock 70 pcs. Also available in our walk-in store.
Trouble with the metric system? Try our converter: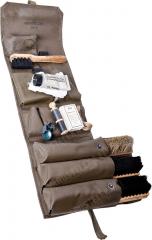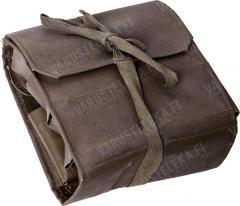 Full set of what you need to care for your leather footwear. Shoe creme might be used up though...
Includes at least:
Coarse cleaning brush
Fine cleaning brush
2x brushes to rub the polish on the shoe
Shining brush
2 tubes of shoe polish, might be empty. Not recommended for anything with a membrane (e.g. Gore-Tex).
Possible assorted surprise accessories, like "REX" or "FIX" Riemenwachs (leather wax), some sewing equipment and/or extra buttons. Or nothing.
Swiss army surplus
These sets and their contents are used, and they look like they've been used for shoe polishing. What a surprise! However, they have not reached the end of their service life.
Recommendations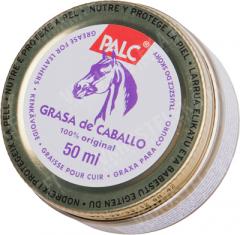 Palc honey leather grease, 50 ml
3.99 USD
Often viewed together.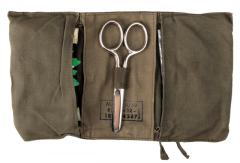 BW personal sewing kit, surplus
3.99 USD
Often purchased with.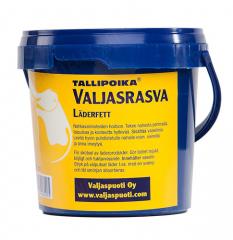 Tallipoika leather grease, 500 ml
7.99 USD
Often purchased with.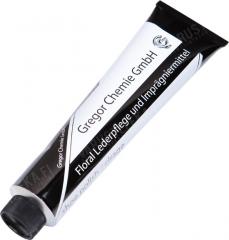 BW shoe polish
3.99 USD
Often purchased with.

Ekol Leather Oil, 0.25l
6.99 USD
Often purchased with.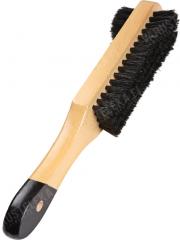 Shoe brush, dual action
5.99 USD
Similar product.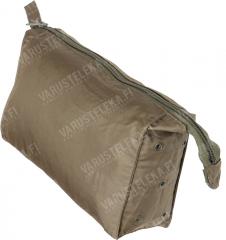 BW toiletry bag, olive drab, surplus
2.99 USD
Often purchased with.
BW butter can, aluminium, surplus
3.99 USD
Often purchased with.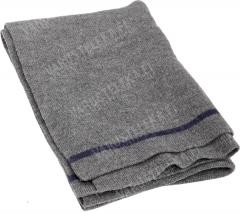 BW wool scarf, surplus
3.99 USD
Often purchased with.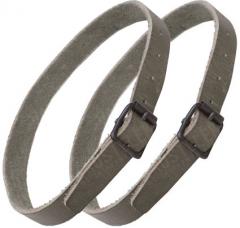 Swedish utility strap pair, leather, surplus
3.99 USD
Often purchased with.

Czechoslovakian work apron, brown, surplus
1.99 USD
Often purchased with.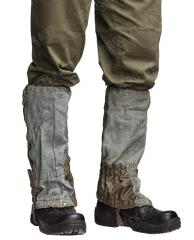 Swiss gaiters, grey, surplus
13.99 USD
Might be of interest. Temporarily out of stock.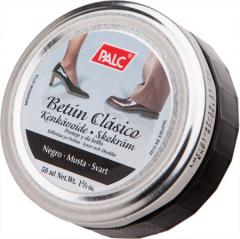 Palc Shoe Polish, 50 ml
4.99 USD
Might be of interest.
Reviews
You have already submitted a review. You can edit your text by clicking on it.
Log in and write a review.
Remove filter
Suomi
(18)
English
(21)
Alexander R.

11.06.2016 (Edited 15.06.2016)
Maybe I was just lucky, but I got one with quite alot in it. Everything that was advertised and then some. Even some extra stuff I didn't know what to do with because I'm not a real man.

You can't argue the price, and your boots will shine like a beacon of masculinity to yourself in the mirror naked, asking yourself how it came to this.
31
1
I would recommend for a friend
Konsta L.

11.11.2016 (Edited 18.11.2016)
6/5! Paras muutaman euro jonka olen käyttänyt. Ollut muutaman kuukauden jokapäiväisessä käytössä, ja hyvin pelittää. Hieno harja on hyvä kiilloitukseen, hieman karkeampi on hyvä puhdistukseen pesuaineen kanssa tai ihan kuiviltaan. Pesuaineeksi ehkä paras on mäntysaippua 30/70 liuoksella. Karkea harja on ERITTÄIN jäykkä, mutta sitä voipi käyttää hyvin erittäin likaisten kenkien putsaukseen (ei millekkään lenkkareille sun muille naisten ja lasten kengille).

Siis lähes kaikenkattava setti kenkien hoitoon. Purkki BW kenkälankkia ja menoksi!
6
0
I would recommend for a friend
Harri K.

17.11.2016 (Edited 03.05.2017)
- itselle osui boxi, johon lörähtänyt mustat lankit sisälle, harjoja sai pestä, jotta niistä lähti liiat lankit, eikä noissa kiillokkeissakaan paljoa ollut
- mutta, tulipahan opeteltua kumi-esineen peseminen + harjojen hoito
- boxista tuli lopulta setti, jossa eri kokoisia niittejä, neppareita, sekä niihin liittyville työkaluille tein taskut
- hintansa väärti, suosittelen
3
0
I would recommend for a friend
Kyösti L.

06.12.2016 (Edited 22.12.2016)
Todella loistava setti nahan hoitoon! Plankinlevitysharjat kaipasivat rankan putsauksen, samaten myös lokerot, joissa harjat olivat. Muut 3 harjaa on kuin pakasta vedettyjä. Erittäin hyvä paketti, jossa kaikki kamat pysyy hyvässä järjestyksessä. Lokeroita on myös ylimääräisiä, että voi säätää setistä sopivan omaan tarkoitukseen, kuten edellinen arvioija oli tehnytkin.
4
1
I would recommend for a friend
Markku S.

05.01.2017
Paras kauppa ikinä!
Vain pervitiini puuttuu.
Lankapuola-neularasia ja neulat ovat todella laadukkaat.
Ja halavalla!
8
0
I would recommend for a friend
Nikola T.

10.01.2017 (Edited 31.01.2017)
Got everything you will need for shoe cleaning. And it all rolls up nicely for easy storage.
14
1
I would not recommend to a friend
Hannu K.

31.01.2017
Minulle osui reippaasti homeinen pakkaus, jonka ansiosta sain tuulettaa muutkin tilaamani tavarat.
19
4
I would recommend for a friend
Tryggve H.

14.04.2017
Comically excessive value for money. Mine had everything advertised including two unopened tubes of polish that were probably worth the purchase price alone. Sewing thread thing has 3 sturdy needles living in little compartment. Both application brushes (polish & wax) had little oilskin covers with press studs. Even came with a little wooden spatula thing I believe is for cleaning seams and crevices. BTW - this is not a travel size kit, it's pretty substantial.
11
3
I would not recommend to a friend
Teemu P.

30.04.2017
Postista kotimatkalla ihmettelin autossa, mistä tulee kauhean ummehtunut haju. Varustelekan laatikon avattua asia kyllä kävi selvätksi mistä kyseinen haju tuli. Kengänhoitosarja oli homeessa ja haju oli myös tarttunut tilaamiini maihareihinkin. Pesin kaikki hoitosarjan vehkeet ja laukun tärpätillä ja harjalla, mutta haisevat edelleenkin aivan ummehtuneelle, samoin kuin tilaamani maiharitkin vaikka ovat ulkona olleet jo viikon tuulettumassa. Muuten kyllä olisi ollut varmasti ihan hyvä kengänhoitosarja, varustelekan pitäisi vaan tehdä "pientä" laadun tarkkailua ennen kuin tavarat asiakkaalle postittaa, luulisi homeen hajun käyvän tavaroitten pakkaajan nenäänkin.
29
3
I would recommend for a friend
Mikael O.

14.05.2017
Nice kit! Mine was filled to the brim with everything.
And the price is un-beatable. Just the tools in it is worth three times the pricetag.
9
0
I would recommend for a friend
Ian S.

16.05.2017
This had everything i needed and then some! Definitely used but still totally functional.
5
0
I would recommend for a friend
Kurt J.

05.06.2017
nice little set, the extra buttons were an unexpected bonus, and I'm sure I'll never actually use them, but it's a nice character touch.
4
0
I would not recommend to a friend
Jukka-Pekka G.

02.07.2017 (Edited 02.07.2017)
Pahin "varustelekadunkkis" ever!!! Meni suoraan roskikseen... Aiheutti myös allergisen reaktion, silmät vuotaa ja henki pihisee.
11
2
I would recommend for a friend
Samuel B.

07.09.2017
Used but in good condition. Had a half enmpty tube of Shoe polish and a Brand new tube of Lether care care in it with a sewing kit included.
5
0
I would recommend for a friend
Airyn Y.

26.09.2017
Very good value for $5. Mine included 1 coarse brush (for boot sole, I would guess), 1 cleaning brush, and 1 polishing brush. The polishing brush is a little coarse for my preference, but is entirely sufficient for most uses. It had 1 polish applicator and 1 grease applicator, both with the bristles compressed from storage. Also 1 unopened tube of polish, 1 lightly used block of grease or dubbing, a piece of something resembling scotchbrite, some buttons, a piece of linen about 5x5 inches, 2 oak boot scraping scraping implements, some twine(?), and, my favorite part, a turned beech needle case, with 3 or 4 needles, and 2 kinds of thread integrated, which I have used to repair a shirt. The case is solid, if a bit grubby. I took off one star for the smell, which is a strong storage mildew scent. However, it's a boot polish set, so the smell isn't really a big issue.
7
0
I would recommend for a friend
Stefan K.

19.10.2017
Got some partially filled tubes of polish in my set and the brushes had some minor use. Other than that it was in excellent condition. For such an insanely low price this is an excellent product.
3
0
I would recommend for a friend
Mikko A.

01.11.2017
Puhdistusharjojen perässä shoppailemassa tätä. Suht siisti setti löytyi myymälästä. Eiköhän tuo hintansa hauku.
4
0
I would recommend for a friend
Sakari S.

14.11.2017 (Edited 14.11.2017)
Saamani yksilö on huomattavasti siistikuntoisempi kuin kuvassa. Sisältö: 2x pientä levitysharjaa, toinen mustassa lankissa, toinen on uusi tai käyttämätön, pala vihreää karhunkieltä, aukaisematon tuubi rasvaa -
Lederpflege-creme neutral? lankapuola jossa valkoista ja vihreää lankaa sekä neuloja, muutama vihreä nappi, valkoinen rätti, puulasta ja kuvan isot harjat. Lankkia ei ollut enkä tarvinnut. 5e voisi tuhlata huonomminkin, näille tulee käyttöä.
3
0
I would recommend for a friend
Pyry P.

09.12.2017
Kaikkea mitä jalkinehoitoon tarvitsee + ylimääräistäkin. Pakkaus hyvä ja kestävä, väliin saa ujutettua oman kiillotusliinankin (=jalkarätin)
3
0
I would recommend for a friend
Perttu T.

17.12.2017
Ostin juuri parit kavereille joululahjaksi ja ulkoisesti ne olivat uusia, sisältä piti toisesta putsata molemmat lankkiharjat, toisesta vain yksi. Omani on jo muutamien vuosien takaa ja hyvin on palvellut.
1
0
I would recommend for a friend
Jesse K.

17.12.2017
I would recommend for a friend
Juhani Å.

05.02.2018
Itselläni oli paketissa:
3x isoa harjaa
2x pientä lankkiharjaa (toinen käyttökelvoton)
2x mustaa kenkärasvatuubia (toinen avaamaton)
+ sälää: kangaspala, vahapala?, karhunkieli, neulomiskitti...

Paketti lemusi erittäin pahasti, joten heitin sen pois.
Harjat olivat hyvin likaisia, mutta mäntysuopapesun jälkeen, sain kaikki niistä käyttökelpoiseen kuntoon toista lankkiharjaa lukuunottamatta.
Valitettavasti tärpättikään ei tehonnut enää tähän lankkiharjaan.
4
0
I would recommend for a friend
jani t.

25.03.2018
Kunnon hyvä satsi. Tilailin jonkin aikaa taakseppäin omani, pakkaus oli siisti mutta haisi kohtuullisen kovasti varasto dunkkis ylijäämälle jotenka annoin tekeytyä ulkosalla pari viikkoa ja kunnon tuuletus auttoikin eikä enää tuoksu silmiä kirvele. Harjat olivat aika hipaisemattoman oloset samoten plankkituubi oli neitsyt. Tuotoksesta huokuu se mitenkä latingin tuotteet, tehty tosiaan aikana milloin tehtiin näinkin simppelit esineet hyvin, ja sveitsiläisyys on kanssa vahvana tässä.

Tähän hintaan tuskin voi parempaa kattausta perinteiseen nahka tuotoksien hoitoon toivoa vahva suositus!
1
0
I would recommend for a friend
Max K.

31.03.2018
It had everything advertised, and the shoe cream was even unopened. On that note, the smell some people have noticed is probably from that. Since opening the tube, there's been a noticeable smell to the kit that wasn't there before.
1
0
I would recommend for a friend
Andrew S.

18.04.2018
Excellent deal. Came with one unopened tube of black shoe polish.
1
0
I would recommend for a friend
David F.

19.04.2018
I bought them for the bag and am happy. If you need to polish your boots, you'll be happy too.
1
0
I would recommend for a friend
Robin K.

27.08.2018
Came in excellent condition with quite literally everything they wrote could be in the kit. Wodnerful Swiss-army buttons, a wooden spool containing four sewing needles inside (aswell as having two gray spools of thread on them), every brush advertised in perfect condition, two nearly full tubes of shoe polish, the REX-wax stick, a polishing cloth and finally some hemp-thread for good measure. Easily my best purchase on Varusteleka; just incredible for the price!
3
0
I would recommend for a friend
Matija K.

02.11.2018
Totally worth getting!
0
0
I would recommend for a friend
ted k.

19.11.2018
What Robin E said. Everything in the description, 2 brushes slightly dirty. What a deal!
0
0
I would recommend for a friend
Terry H.

23.01.2019
Mine was fully stocked great deal. Had been used and sprayed with perfume "eau de Army Surplus" I love that sent.
0
0
I would recommend for a friend
Ossi K.

04.03.2019 (Edited 04.03.2019)
Tosi hyvä setti sain lankaan kolme neulaa ja paksua nurua sitten kolme hyvää isoa harjaa kaksi pienta hyvä ku toista levitys harjaa 2 tayttä pakettia kenkä lanki purkia ja tietenkin tuli kiillotus rätti (valkoinen puhdas) ja kasa nappeja missä on risti eli todenäköisesti kuulunut lääkintämiehelle tai lääkärille
1
0
I would recommend for a friend
Henry H.

21.03.2019
Top stuff. Mine came with three clean brushes and two smaller brushes both of which have enough polish caked in them to bull a thousand boots. Didn't come with any Fix but a block of the Sarma wax fits in there perfectly. One tube of clear polish was unopened and the black was half used but it hadn't dried out. Seems to me like the previous owner squirted half the black polish onto his brushes and then gave up and passed it on to Varusteleka. Very good value for money.
0
0
I would recommend for a friend
Jakob S.

15.04.2019
Man this brings back memories. Just looking at the picture of this kit I can hear the faint yells of my seargant in the background to polish our shoes until they are so fucking shiny that we can use them as a makeup mirror.
Btw. the second "polishing/shining brush" is a clothes brush by the way. Just make sure noone accidentially used it for shoe polish before you brush of your beige camel hair suit.
The "wooden spatula" is for getting rocks or dried mud out of the profile of your sole.
0
0
I would recommend for a friend
Andrés S.

16.04.2019
The brushes were in perfect condition and the unguents were either new or not even halfway used. I would have given five stars even without considering the price.
0
0
I would recommend for a friend
Onni-Pekka H.

26.05.2019
Minulla tässä oli:5 harjaa,2 lankkia ja lankaa.Ihan hyvä setti.
1
0
I would recommend for a friend
Roger M.

01.07.2019
Read the other reviews, they are spot on, this is a great kit for the money.

My brushes came caked in polish, so I cleaned mine by using a small bread tin (about the size of the brush) filled with mineral spirits/paint thinner (mild solvent). Agitate/brush the brushes against the bottom of the bread tin and the polish will break up. I had to change the mineral spirits out a few times because they were so dirty, but after maybe 1/4 gallon of mineral spirits (~3$ worth) the brushes all look brand new.
0
0
I would recommend for a friend
Austin T.

08.07.2019
I would not recommend to a friend
Juho V.

02.08.2019
Käärön sisältämät lankkiharjat olivat täysin jämähtäneessä mustassa lankissa ja siten käyttökelvottomat, tärpättikylvystä ja parvekekuivauksesta ei ollut mitään apua. Itse käärökin oli sen verran rasvainen ja pahanhajuinen, ettei sitä voinut käyttää edes parempien kengänhoitotuotteiden säilytykseen.
0
2
I would recommend for a friend
Greg B.

07.08.2019
Another unissued kit.And what a kit to.Has everything but the "spatulas".Used the thread and needles to repair a small warehousing hole in my new DPM shirt.$8CAD VERY well spent!
0
0