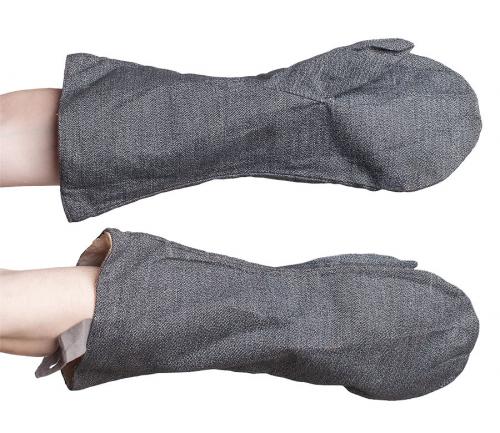 Swiss mittens with flannel lining, surplus
Price 4.99 USD excluding VAT
Flat Rate Shipping to USA $9.99
100 % recommends
Sold 12 pairs in the last two weeks
In stock 103 pairs. Also available in our walk-in store.
Trouble with the metric system? Try our converter: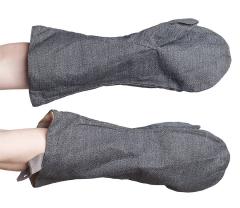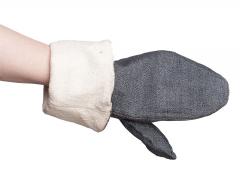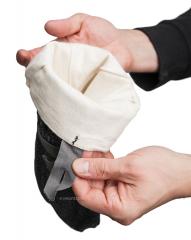 A proper ol' pair of mittens, these old Swiss army gauntlets are made of thick curiously textured cotton which you would be hard pressed to find today even with all kinds of Poirots and Sherlocks combined. The lining is ridiculously comfy flannel and the condition completely unissued. Made large enough to fit wool gloves underneath. Apparently meant originally as protective gloves for rocket launcher operator, these work well as regular gauntlets too.
Complete with superb adjustment straps, long length and button & tab to pair them together. Swiss army stuff generally is very very high quality and these are definitely no exception, and for this price they are a genuine steal to anyone looking for a pair of old timey mittens. Hell, buy an extra pair if you manage lose one.
One size fits all.
Condition
The mittens we received haven't been used at all, judging from the pristine shape. Just stored for decades. They probably made these from the 50's til the 80's or something. No idea how long these will be available, the same story like with most surplus - we might be able to keep them in stock for five years, or one month.
Reviews
You have already submitted a review. You can edit your text by clicking on it.
Log in and write a review.
Remove filter
Suomi
(5)
English
(8)
I would recommend for a friend
Roger S.

14.10.2016 (Edited 17.10.2016)
These ones were used to protect the shooter from burns using the Raketenrohr 80 (8.3 cm Rak Rohr 80).
Search for "RL-83 Blindicide" to find a picture seeing the shooter using these.
12
3
I would recommend for a friend
Jari K.

04.11.2016 (Edited 29.11.2016)
Muuten hyvät, mutta jos on XXL kädet niin ovat vähän pienet ja alle ei taatusti mahdu mitään. XXXL käsiin eivät mahdu ollenkaan.
1
1
I would recommend for a friend
John K.

06.01.2017
Funky high quality surplus! Good as mittens (if you want them warmer put a liner inside) or you could use them as super cool oven mitts!
9
1
I would recommend for a friend
Ville N.

29.05.2017
Toimiiko patalappuina? ...toimii! Tulikuumaa uunipeltiä pidellessä kyllä ne päästää lämpöä vähän nopeammin läpi kuin IKEAn virallinen triplasti paksumpi uunitumppu, mutta käsittelynäppäryys on ihan omaa luokkaansa. Ja lisäksi: kukapa meistä ei olisi joskus ottanut vähän liian leveää otetta kanavatia/kakkumuottia kurkotellessaan ja kärventänyt käsivarttaan uuniluukun reunaan? Suojaa siltäkin!
3
0
I would recommend for a friend
Bryan M.

23.11.2017
Comfy and straightforward for the price. These aren't super high tech gore-tex mittens, but they are perfect for shoveling snow, emergency kits or walking the dog in the chilly weather.

For the really cold days, they are roomy enough to use the ultra affordable Swiss wool gloves sold here as a decent liner. They are both very well made.
4
1
I would recommend for a friend
Michael N.

04.12.2017
Great mittens! They are in beautiful condition! I purchased wool gloves also to wear inside these for added warmth for cross country skiing or Using the snow blower for clearing the driveway.Very happy with the purchase!
2
0
I would recommend for a friend
David F.

27.01.2018
True to size, well made, light but warm. These also fold up well and take up little space, similar to a good Russian wool blanket. Would be great under larger mitten or mitten shells. These are not sexiest gloves around, but for the money, they are simply a steal. Mine came like new with no wear. These will outlast you.
0
0
I would recommend for a friend
Steven A.

15.02.2018
These things are HUGE and wonderful. Put a pair of "thin" gloves underneath and throw these bad boys over your gloves and cover the end of your jacket sleeve for good measure. Plan on buying a few more to store away in random places.
0
0
I would recommend for a friend
Jon K.

20.04.2018
I would recommend for a friend
Kang C.

09.09.2018
Nice and big mittens. A little on the thin side, but a nice and comfortable lining. Would be perfect with some wool mittens/gloves under these mittnes.
Also, they look great! Quite nice value for the money.
0
0
I would recommend for a friend
Janne M.

10.01.2019
Plussaa eritoten pitkästä varresta. Aivan yhtä lämpimäthän nämä eivät tosin ole kuin vuoratut nahkalapaset, mutta hintaansa nähden aika buenot. Suosittelen käsittelemään nämä rukkaset vettähylkiviksi, sillä muuten tuppaavat aktiivisessa talvikäytössä kastumaan. Toinen vaihtoehto on laittaa näiden päälle vettä paremmin hylkivät tumppuset, kuten vaikka ne Suomen armeijan nahkaiset ja valtavat patalaput.
1
0
I would recommend for a friend
Andrés S.

16.04.2019
They remove most of your motor skills while wearing them, but they will keep you warm. They look kind of goofy, but they will keep you warm. They are also old fashioned, from when the clothes were designed to keep you warm.
0
0
I would recommend for a friend
Jari K.

09.12.2019
Tumput mitkä minulle tulivat eivät ainakaan passaa 11 koon kouraan sitten millään.
Hyväkuntoiset ovat kyllä ja tosiaankin viiden euron tuotteeksi todella hyvät, varmasti lämpimät. Suosittelen toisten käsineiden sisään, vedenpitävyyttä ei ole.
Nämä menevät nyt lapselle kinttaiksi, en kehtaa näin halpaa tavaraa lähettää takaisin kun käyttöä löytyy.
Ainiin ja omissa tumpuissa oli liipasinsormelle reiät, fiksusti tumpun sisällä menee kangaslipare reiän päälle ettei kylmä pääse sisälle.
0
0