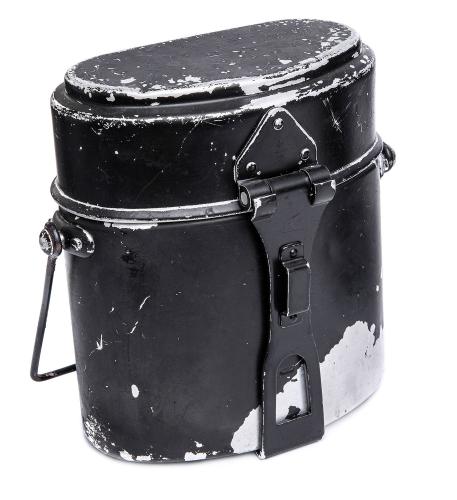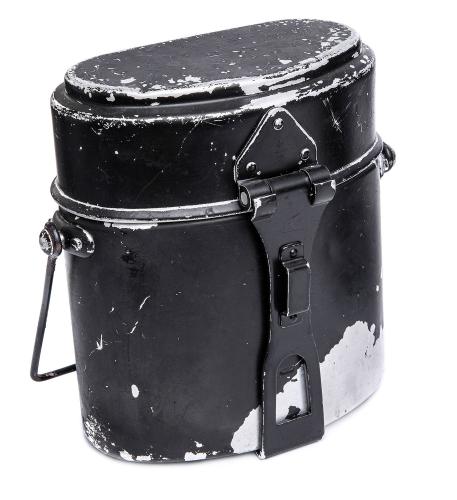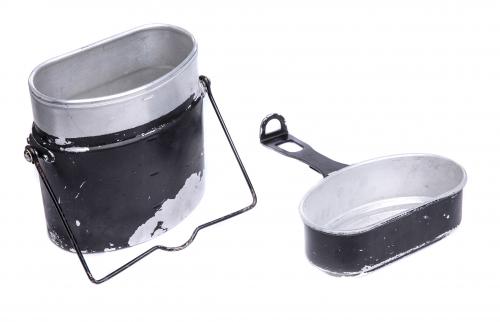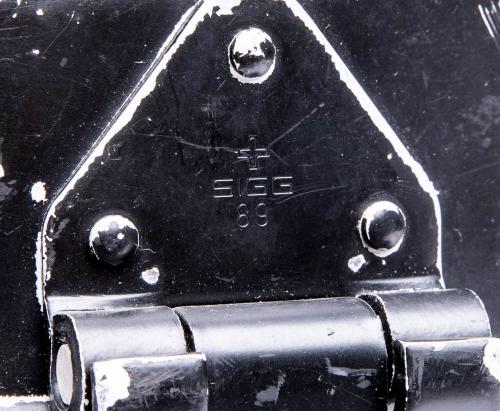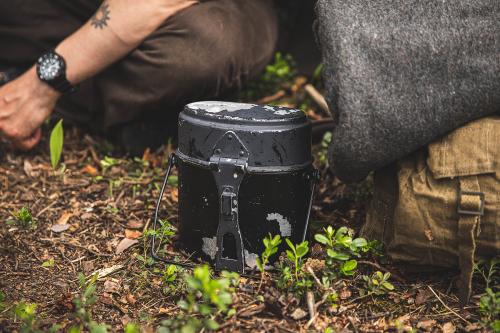 Swiss mess tin, aluminum, surplus
Price 18.99 USD
excluding VAT
The Swiss army mess kit is surprisingly like the usual kidney shaped mess tins, but bigger than usual. You could even cook for two in this! Being used they look a bit scruffy but work just as they should.
Sold 1 pcs in the last two weeks.
We don't know when this product will be restocked. With surplus the restock date is unknown due to sometimes poor availability. Request restock notification and we will email you as soon as this product is available.
Trouble with the metric system? Try our converter: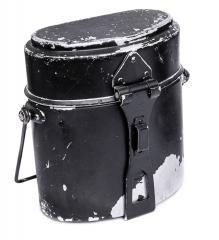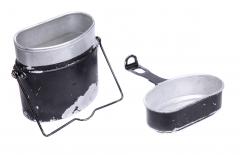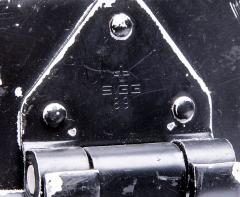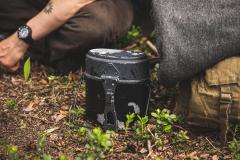 The Swiss army mess kit is surprisingly like the usual kidney shaped mess tins, but bigger than usual. You could even cook for two in this! Being used they look a bit scruffy but work just as they should.
Comprises of a large pot with a smaller lid with a folding handle. The steel wire carrying handle can be used to hang the mess kit over a flame for some traditional outdoor cooking. Normally these would have a third small pot, but none of these have it. It's not really a necessary piece either, so no harm is done. Naturally, the pot has a large enough bottom to be used with any field stove too.
Being made of aluminium these are quite light and will not rust. Weight only 185 grams (4.4 oz.), outside dimensions 19 x 20 x 10,5 cm (7.5" x 7.9" x 4.1").
Used Swiss surplus
In used, but good serviceable condition. Of course, being what they are, the outside appearance might be rough, but this doesn't hinder its use in any way. Of course, we suggest washing before use.
Recommendations
Loading products...
Reviews
You have already submitted a review. You can edit your text by clicking on it.
Log in and write a review.
Remove filter
Suomi
(2)
English
(6)
I would recommend for a friend
Thomas L.

30.04.2020
Having carried this for a good part of my military service, I can say it is seriously solid piece of kit. It has plenty space to carry ingredients for whatever you intend to cook in the field and I'd say, it's the piece of kit I've maintained best after my rifle. One I was issued at one point looked worse than the one in the photo (and may be in a bin in Helsinki for that reason now).
Shame the insert isn't available though. If you get one, do check back here regularly or look around for one, they make a world of difference in versatility of the thing.
19
0
I would recommend for a friend
Kalle K.

31.05.2020
Hyvä pakki on. Hinta on korkeampi kuin esim. unkarilaisilla pakeilla, mutta ollen kokonaan alumiinia ei ole huolta ruostumisesta ja kunto on ylipäätään hyvä. Omassa oli kahva vääntynyt sen verran ettei pysyny kiinni, mutta muutama napautus vasaralla korjaa ongelman. Vähän isompi tilavuus helpottaa ruoanlaittoa mukavasti.
3
0
I would recommend for a friend
Jeff D.

25.06.2020
While the outside looks like the mess kit has seen better days, do not let that deceive you. It is just the paint flaking off. The interior of mine looked clean and very good condition. The large pot will hold 2 liters and the lid will hold about 600m (of water). Mine was made by SIG, 1980. Hope to someday have the insert for it. I would concur that this is a seriously solid piece of kit. If you are looking for a mess kit of this type, it is a must buy item.
5
0
I would recommend for a friend
ryan v.

08.07.2020
I managed to get one of these a few weeks ago from a swiss friend who served in the army. Mine had the insert so i definitely hit the jackpot. Mix & match. The Pot was dated '83 the middle insert '97 and the lid was dated '08. Larger than your typical German or East bloc messkit.actually good for two persons.Swiss quality all the way!!! Will last a lifetime and then some.
3
0
I would recommend for a friend
Ben V.

24.07.2020
Fantastic product!
After a very long wait for shipping, my mess kit finally arrived and I have to say, I couldn't be happier. The paint condition is better than I expected and the whole kit is in really great shape. It's larger than I expected however the Swiss mess kits are larger than others. I plan on using it as a lunch box for work. I love this little mess kit.
3
0
I would recommend for a friend
Jaakko P.

26.08.2020 (Edited 26.08.2020)
Kaikki linkkuveitsi- tai rannekello-ostoksilla olleet tietävät että teksti "Swiss Made" tarkoittaa että on tullut hankittua laatutavaraa. Omassa pakissani pohjasta löytyy merkintä SIGG 87 ja kannesta SIGG 83. SIGG on siis sveitsiläinen valmistaja ja maalaisjärjen mukaan numerot kertovat valmistusvuoden. Pakissa on muuten lyöty kuperaan pintaan 0,5 litran välein merkki ja pakki vetää piripintaan täytettynä kunnioitettavat 2 litraa, kanteen menee puoli litraa tavaraa. Oma yksilöni on kuvan mukaan menettänyt osan mustasta suojamaalista mutta sehän vain lisää varusteen uskottavuutta. Pientä hankausjälkeä on pakin sisällä pohjassa nähtävissä, olisiko Sveitsin solttupojalla palanut fondue pohjaan? Muutoin pakista on havaittavissa hyvin vähäinen käyttö, lienee seissyt pari vuosikymmentä varastossa. Pakkiin mahtuu muuten hyvin sisään Savotan Big Bad Stove tai vastaavan kokoinen risukeitin ja vaikkapa kuivaa sytykettä ja polttopuuta.
1
0
I would not recommend to a friend
Pablo T.

22.11.2020
It's tall. It's aluminum. Half the black paint has flaked off already, and the other half seems to flake off just by staring at it. I don't know if the paint is important, but I don't expect it'll stick around for long even with minimal use. Hey, it's not a beauty pageant out in the bush, so I'm not devastated, but I'd look elsewhere if you're also thinking about getting a random mess kit.
1
10
I would not recommend to a friend
Iain L.

18.02.2021 (Edited 18.02.2021)
Rougher than I was expecting. Every time I look at it more of the paint falls off and mine had a couple of good dings in the bottom. Not a huge deal. I'll just have to take some steel wool or sand paper to it to get the rest of it off.

I do feel they should sell for cheaper because of the condition as the brand new BW made in China ones are about the same price and I know some Russian websites that sell the RUS version brand new for roughly 30% less than this one.

BUT as it states in the description, "Used but serviceable" which it is.
1
1