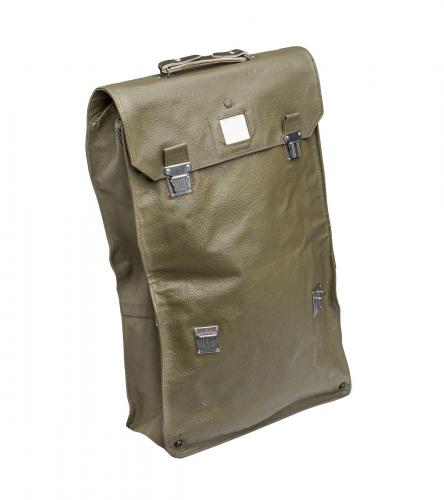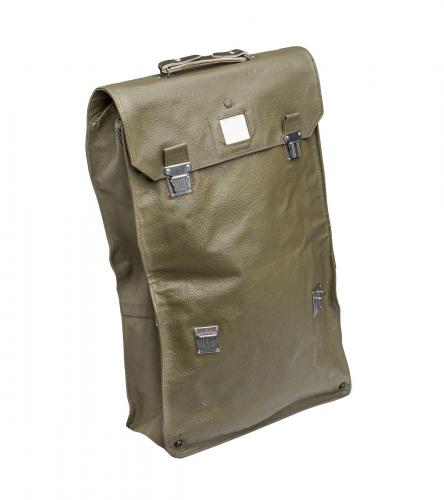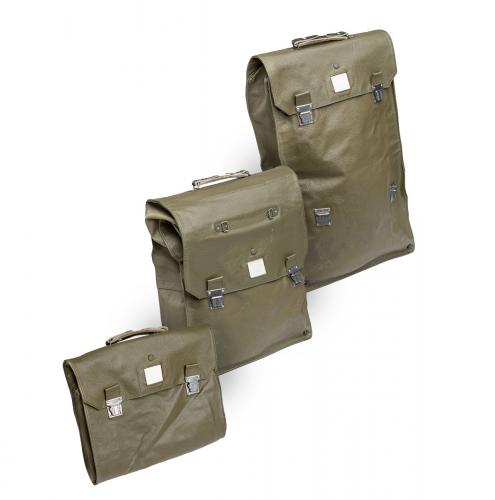 You can fold the bag into three sizes.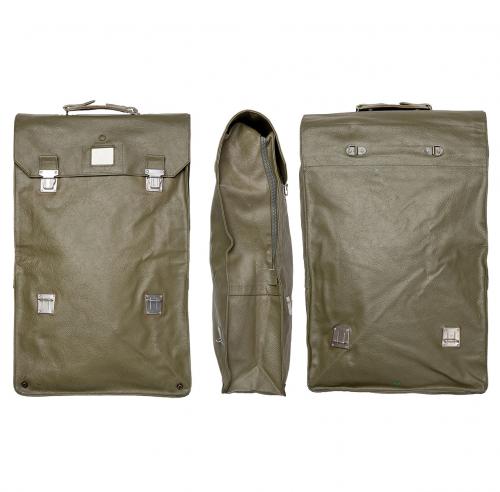 The position of the carrying handle can be altered.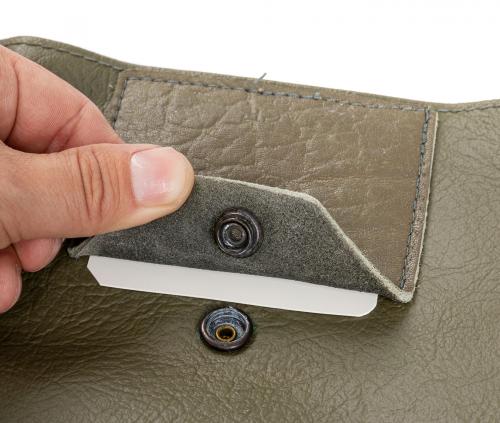 The bag has a slot for a name tag.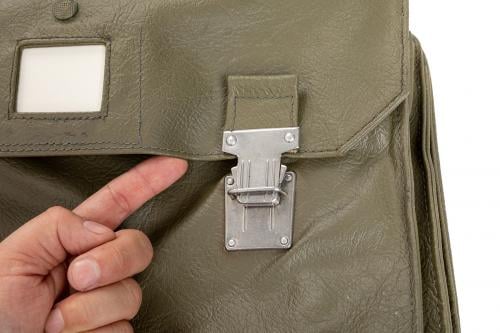 The bag has heavy-duty snap buckles.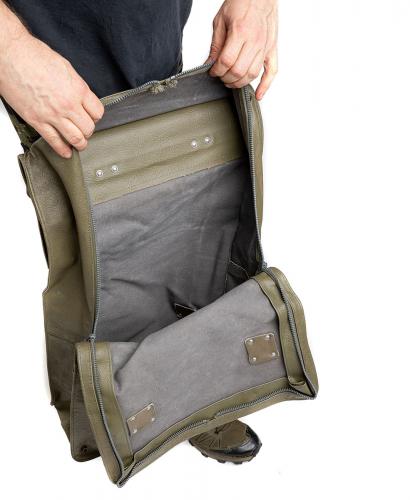 The bag has one zippered compartment.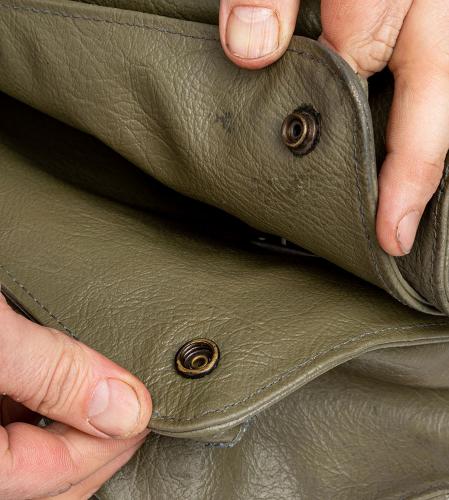 The bag is secured in the most compact position also with snap fasteners.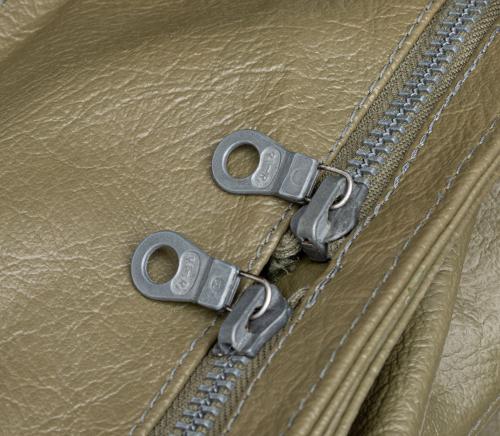 The bag has high-quality zippers by Riri.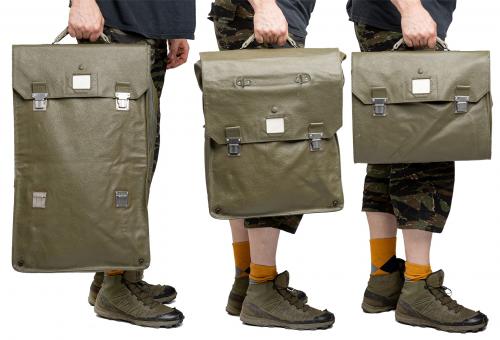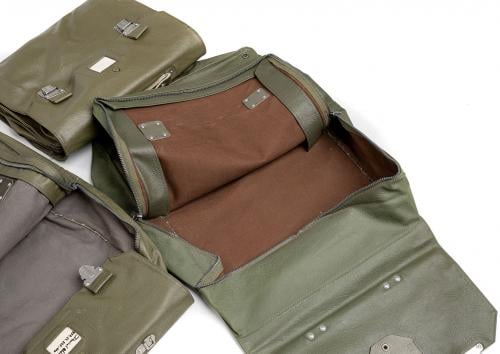 The inside color can vary.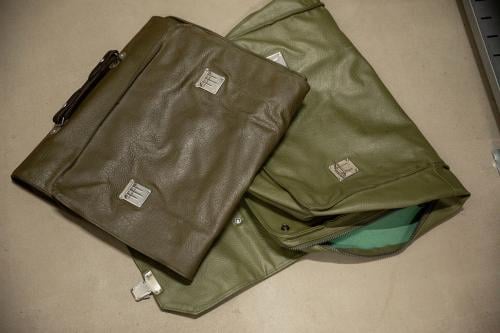 The outer color can vary a bit.
The color of the carrying handle can vary.
Switzerland
Swiss Garment Bag, Surplus
Price 9.99 USD
excluding sales tax
Here's something that every style-conscious home should have. A sturdy toxic green foldable vinyl-coated bag for clothes. Also works nicely as a (crap) laptop bag and slightly better as a beer carrier. Feels delightfully clammy and smells like a sex shop. What's not to luv?
In stock 21 pcs. Sold 6 pcs in the last two weeks.
Trouble with the metric system? Try our converter: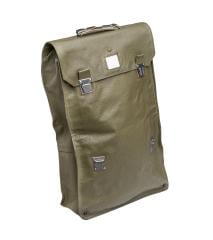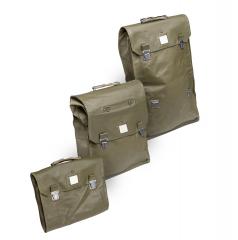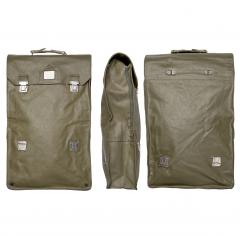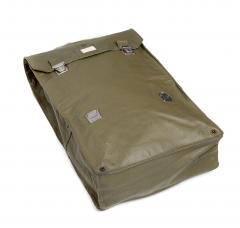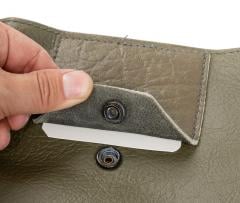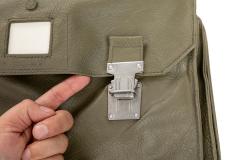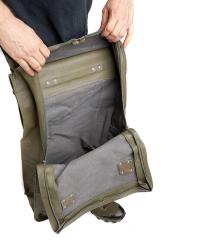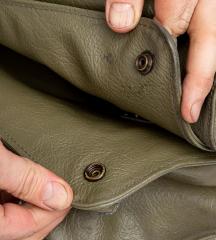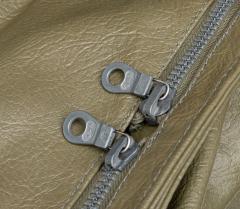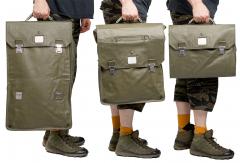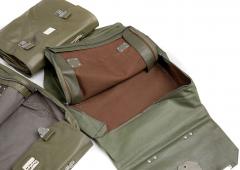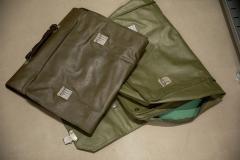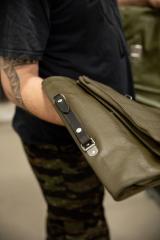 Here's something that every style-conscious home should have. A sturdy toxic green foldable vinyl-coated bag for clothes. Also works nicely as a (crap) laptop bag and slightly better as a beer carrier. Feels delightfully clammy and smells like a sex shop. What's not to luv?
Features
This is actually quite a smart and super mega tough bag. The vinyl is thick, the stitching proper n' good, and the metal parts true metal and not some shoddy crapolite. The Swiss folks know how to make their stuff! The zippers are made by Riri, which is known for high-quality zips. When you close this bag when surrounded by your friends, the authority-oozing click the snap buckles make them tremble with titillating anticipation. You can close the buckles at three heights and thus change the carrying size of the bag. You can also alter the place of the carrying handle. Look at the pics, they will explain it a lot better than mere words. The color of the carrying handle can vary, and there are no shoulder slings or straps.
The bag has a slot for a name tag so you can shout at the whole world that this sexy beast is yours! In case your taste is limited, put your worst enemy's name there. This is vinyl-coated, so water and other liquids won't go through it. The zipper isn't waterproof so don't try to hide dirty money inside a well in one of these. It will most likely also poison the well.
The color scale includes the whole range of neighborly emotions from bitterness to envy. Such a symphony of colors might irritate people who are obsessed with interior decoration but for us mere mortals these are all poison green and thus we won't pick and choose. The inside color can vary a bit more. Live dangerously and be pleasantly surprised.
Use
Originally this was used as a water-repellant garment bag. You put the clothes in and carry the bag as it is or make it more compact by folding. A gently folded coat gets less wrinkled than one that is sharply squished inside a suitcase.
Because these are used and smell of rubber, we don't recommend carrying your white drug lord suit or any other "proper" clothes in it unless you want to look like a shady '70s car salesman. This is better suited for more leisurely stuff. Carry your East German Dominatrix outfit in it or something equally fun.
In case you have always wanted your legs licked by the hazy 70s, buy a bunch of these and make yourself a pair of funky vinyl pants. Or cool vinyl curtains! Or indestructible underwear.
Put your beer inside
An obvious use for a strong heavy duty but flexible suitcase is carrying your beer ration to the target location - and beyond! Everything from "I'll just get slightly tipsy and call it a day" to "I'M A PIRATE LOOK AT ME OHH IT BURNS, OH WOW HAHA!!" is covered thanks to the adjustable size.
Sizing
This isn't a shoddy paper thin crap bag but good ol' synthetia, it weighs a nice 1.7 kg (3.75 lbs). The outer measurements of the zippered compartment are 40 x 60 cm (15.75" x (23.5") but the bag folds into a smaller and even smaller size.
Condition
Psst, would you like to buy used Swiss military surplus? This is exactly it. These may have some stains and other signs of use but they are perfectly serviceable. As a bonus, you get the arousing scent of vinyl that has been lying in a warehouse. A lot more arousing than the fucked up weewee medicine made from rare animals.
Note that these have some muck on the surface that makes your hands dirty. It isn't dangerous and can be easily washed off. It feels a bit like participating in politics for the first time. First, you feel uncomfortable but when you wash your hands of the whole thing, you will eventually get used to it. If you don't want to get used to it, you can wash the bag first. Since this is vinyl-coated, the purification operation is easy and doesn't require chemical warfare.
Kierto Circular Economy
Return this product used but clean and unbroken, and you'll receive half of the product's original price as Varusteleka credits. Service is available only in Finland. Only Registered users can make Kierto returns. See more information about Kierto.
All products: Switzerland
Recommendations
Loading products...
Reviews
You have already submitted a review. You can edit your text by clicking on it. You can filter the reviews by clicking on the elements of the summary.
Log in and write a review. You can filter the reviews by clicking on the elements of the summary.
Remove filter
Suomi
(3)
English
(8)
I would recommend for a friend
Roger S.

09.07.2021

Verified purchase
it's called "Eff-Sack" in the swiss army for "Sack" (=bag) for your "Effekten" (=miscellaneous things that are not in the backpack or combat harness like personal items, additional spare socks, t-shirts etc. For military holydays/weekends you carry your dirty laundery in it to take home for a wash.)
I would only recommend if you find usage for it outside of the army ...
7
0
I would recommend for a friend
Bryce M.

24.07.2021

Verified purchase
This is a hard review to write. If not for one crucial flaw, I would give this 5 stars. Mine is in great shape, although it smells terrible. The handle is removable as where you would place it depends on how you're using it. But, mine came with no handle. This essentially makes it a piece of useless stinky vinyl. This would have been useful information before I ordered it. Normally there is some kind of warning if a crucial part will be missing.

After this review, I received a message saying that Varusteleka would send another one. It took a while because they haven't been in stock, but true to their word, a new even better bag showed up yesterday — with a handle. Both bags are in pretty much perfect condition and I recommend them as a small yet very useful garment/travel bag. I have had very few problems with all my orders and Varusteleka has always made things right at their expense. I have nothing but the best things to say about their customer service. Kiitos!!
14
0
I would recommend for a friend
Jeffrey H.

26.05.2022

Verified purchase
Mine came perfectly intact. There were some stains of oxidized bronze here and there and some parts were slightly worn, but nothing serious or even bothersome. So, pretty much in perfect condition. It does smell heavily of rubber and vinyl as advertised. Also, very smooth zipper.

While the bag was made of vinyl, I found that the handle was made of leather. After some conditioning, the colour got darker and less contrasted with the rest of the bag, and had a good patina.

The name tag and holder makes me feel like a fancy food company executive. Overall, this is great bag with a lot of character.
3
0
I would recommend for a friend
John H.

09.06.2022

Verified purchase
My wife said: "What do you need THAT for?!" I said, "95% of the stuff I own, I don't need...I just WANT!"

Why? Because Swiss-quality surplus, that's why!

I love sturdy stuff. The rubbery material this bag is made from, I don't think a pissed-off pitbull could bite through it. It's a bonus for my nose that it came with the "surplus smell" we all know and love. I haven't figured out WTF I'm going to use this bag for yet, but for the price you can't go wrong. If nothing else, it would make a very sturdy thing to place on wet or thorny ground if you want to sit down without getting your ass wet and/or punctured, and you could haul stuff like firewood in it without worries about the material getting pierced.

Or maybe use it as a "junk bag" in your car trunk, for the tire jack, bottles of motor oil, crap like that. It's big enough to hold a lot. And though the contents would get wet if you immersed the entire bag in water, I think the contents would stay dry in a hard rain storm, for example. (Obviously test this with newspaper or similar stuff before trusting it with your laptop or other precious crap.)
4
0
I would not recommend to a friend
Bang T.

19.08.2022

Verified purchase
Smells like death, but sturdy and as advertised. Don't buy this with other items, as they will come in the same package and it will make them all smell like a vinyl gas chamber.
3
0
I would recommend for a friend
Ilkka F.

14.11.2022

Verified purchase
Näppärä laukku kaltaiselleni arvokonservatiiville. Vinyyli on tietenkin hippyeiden materiaaali, mutta kerranko sitä joutuu julmassa maailmassa kompromisseja tekemään. Soljet ovat tosiaan hienot. Jo niiden takia kannattaa laukku hankkia. Ompeleet sen sijaan eivät olleet "kunnolliset" kuten Varustelekan propagandööri valehteli, vaan jouduin niitä ihan omakätisesti korjailemaan. Mihinkään ei voi enää maailmassa luottaa. Autojen nahka- ynnä vinyylistuinten puhdistamiseen tarkoitettu aine palautti vinyylin taas alkuperäiseen kuosiinsa. Hajusta ei tosimies valita (=lähti tuulettamalla). Suositeltava tuote, varsinkin kun sitä kannetaan perin miehekkäästi kädessä eikä pilalla olevan nykynuorison tapaan selässä tai neitimäisellä olkahihnalla varustettuna.
2
1
I would recommend for a friend
Karl R.

21.02.2023

Verified purchase
Exactly what I was looking for and at the best price.
A smelly old bag to keep and transport my bushcraft outfit. The smell is not for the faint of heart however.
5/5 Would recommend to a friend because my friends are not weaklings.
1
0
I would recommend for a friend
Anonymous customer

05.03.2023

Verified purchase
Mitäs tässä valittamaan, se on sveitsiläinen lärpäke johon tunkea tavaraa. Toimii yllättävän hyvänä laukkuna sähköauton latauspiuhalle kun on jotenkin käytännöllisen mallinen kasaan taitettuna. Haisee vähän jännältä, mutta haju ei yltä takaluukusta kuskin paikalle, eli ihan jees. Sujahtais varmaan aika hyvin normaalin auton etupenkinkin alle jos sellaiseen käyttöön tarvitsisi.
1
0
I would recommend for a friend
Eithan B.

07.03.2023

Verified purchase
Really great item in perfect condition, but... The smell is very strong, and difficult to remove!

Highly recommended.
1
0