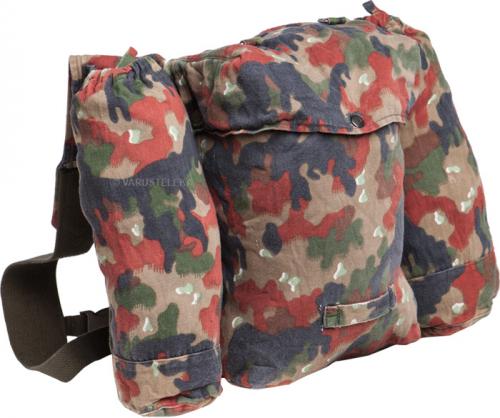 Swiss combat pack, Alpenflage, with BW suspenders, surplus
Price 7.99 USD excluding VAT
Flat Rate Shipping to USA $9.99
81 % recommends
Sold 10 pcs in the last two weeks
In stock 18 pcs. Also available in our walk-in store.
Trouble with the metric system? Try our converter: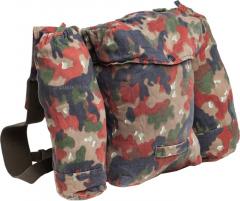 A small daysack with the lovely "Alpenflage" camouflage. On both sides of the main compartment there are two open tubular side pouches for rifle grenades.
The Germans who supplied these to us thought the original (in many ways original) carrying system had to be replaced with Bundeswehr suspenders so these can be carried on their own.
Made of cotton, so these will probably soak in dye pretty well. The suspenders probably not so well.
Swiss army surplus
Used, but serviceable condition.
Recommendations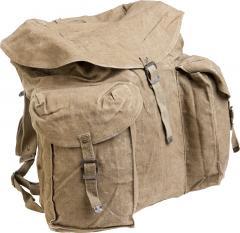 Italian mountain rucksack, surplus
13.99 USD
Viewed together.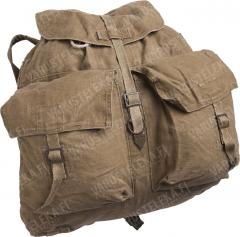 Czechoslovakian M60 backpack, w/o suspenders, brown, surplus
14.99 USD
Similar product.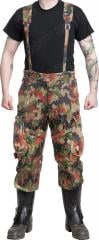 Swiss M70 field trousers, Alpenflage, surplus
22.99 USD
Sometimes purchased with.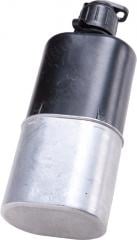 Swiss M84 canteen with metal cup, surplus
9.99 USD
Sometimes purchased with.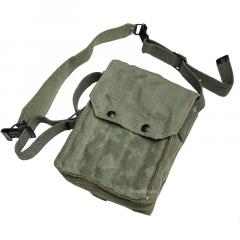 French MAT-49 magazine pouch, surplus
7.99 USD
Sometimes purchased with.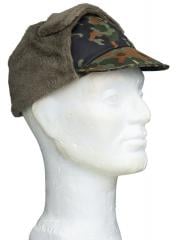 BW field cap, cold weather, Flecktarn, surplus
9.99 USD
Sometimes purchased with.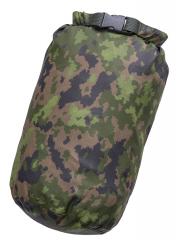 Särmä TST Dry Bag
13.99 - 27.99 USD
Might be of interest.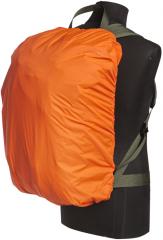 Särmä backpack rain cover, orange
9.99 USD
Buy also.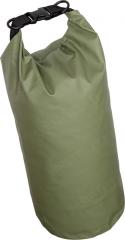 Mil-Tec waterproof bag
14.99 - 21.99 USD
Might be of interest.
Reviews
You have already submitted a review. You can edit your text by clicking on it.
Log in and write a review.
Remove filter
Suomi
(5)
English
(11)
I would recommend for a friend
Henri H.

03.08.2016 (Edited 04.08.2016)
Reppu oli hyvässä kunnossa ja mitään suurempaa kulumaa ei ollut. Kangas ja valjaat ovat sellaista tekoa, ettei ihan heti luulisi menevän rikki. Hihnat olivat melko pitkät, joten otin alhaalta valjaiden ompeleen irti repusta, ja laitoin perus repun muovi kiinnikkeet tilalle. Nyt hihnojen pituutta voi säätää kuten normaaleissakin repuissa. Helpolla tuunailulla sai tästä todella hyvän repun arjen rientoihin.
4
2
I would recommend for a friend
Nyt L.

12.08.2016 (Edited 01.09.2016)
Ilman hihnoja kiinnittyy mainiosti sveitsiläiseen m70 -takkiin ja ne yhdessä muodostavat melkoisen kokonaisuuden tavaran kuljettamiseksi. Ei kyllä ole mikään kevyt kokonaisuus - ainakaan niiden pakattavien roinien kanssa.
9
0
I would recommend for a friend
Jaakko K.

01.03.2017 (Edited 01.03.2017)
Hieno
6
0
I would recommend for a friend
Jean-François G.

03.03.2017
This bag is awesome! Thumbs up!
6
2
I would recommend for a friend
Alexander A.

07.03.2017 (Edited 23.05.2019)
Awesome! This backpack almost got me laied by a vintage fan girl
29
1
I would not recommend to a friend
jake w.

12.07.2017
It is what it is. Looks neat and holds stuff but the fit is abysmal, gotta be honest.
Kinda wish the Germans left it alone as it would have probably fit better attached to the matching jacket than with the straps.
Cheap and worth a try but in hindsight I would skip this.
3
9
I would recommend for a friend
Patrice B.

09.08.2017
With a little bit of work , we can make something very good and effective ! I like it !!
6
1
I would recommend for a friend
William P.

04.10.2017
The main pocket won't fit a 12 pack of beer (but it's ever so close), so it lost a star. It became my camera bag. Main pocket holds the waterproof cases with gear, and the side pockets are perfect for the tripod and a rolled tarp. Top has attachments to hang the solar panel while walking about. It makes a great small studio set up that people mistake for something else. Besides, Alpenflage is cool in the US.
6
0
I would not recommend to a friend
Ard-Pieter Z.

15.11.2017
Can fit 2 pringles cans and 4 dead cats. as it is its fit is abysmal and would be better if it did not have the BW straps attached. you can probably try and stuff a foam sleeping mat in the back and replace the straps with an alice system but really i dont think thats worth it. it is a cotton bag that looks neat and i bought just to match my alpenflage jacket. the price made that worth it for me but if you are looking for an actual bag to carry stuff for longer than 15 minutes i would look into almost all bags that are not this one. even the polish puma camo bag would probably work better. the fabric is fine for what it is but even a russian veshmok would work better than this .. thing
2
4
I would recommend for a friend
joseph m.

17.01.2018
like mine for short walks holds enough for a day outside. the price is great.
3
0
I would recommend for a friend
Ken K.

17.04.2018
Pro's: matches the jacket, side pocket fits my hatchet perfectly.
Con's: The fit is weird, the straps are gigantic and are not adjustable at all.
Basically, I really wish they had never changed the strap system. I'm trying to think of a way I can bring it back, so I can strap it to my jacket. I can't give this a bad review for not fitting well though, it's an $8 rucksack.... If anything you can scrap it, and now have some backup straps for your bag and some alpenflage pockets to do with what you may.
3
0
I would recommend for a friend
Santeri I.

21.05.2018
Reppu oli sitä miltä se näytti sain omani hyvässä kunnossa mutta valjaat olivat ehkä vähän liian pitkät mutta muuten todella hyvä
2
0
I would not recommend to a friend
Jason C.

19.07.2018
Small, floppy, and the kludged-on straps are way too loose to be useful.
1
3
I would recommend for a friend
Sami T.

26.09.2018
Tämä tuote vaatii käyttäjältä mielikuvitusta. Itse sain kiinnitettyä ja kannettua mukavasti tässä teltan, makuupussin, vaihtovaatteet, keittimen, 1l lasipullon ja eväät yms. parin päivän reissulle metsään (kesällä 2018). Ainoa mikä jäi käteen oli makuualusta, mikä näin jälkikäteen mietittynä olisi sekin kiinnittynyt siihen jos ei vaan olisi niin urautunut välillä ajatuksiinsa. Hyvä ja helppo projekti, jolla voi sitten uhmata kaikkia uusrikkaita spandex pellejä autenttisuudellaan, kun rupee ilmasta maksaminen tarpeeksi keittämään.
2
0
I would recommend for a friend
Aaron G.

29.06.2019
Can't go wrong for the price, electrical tape the straps where it fits you because I'm 193cm and it sits long on me even
0
0
I would recommend for a friend
Tim K.

08.12.2019
The main pouch will hold a six pack of tall cans along with a jacket or something similar. The side pouches will accommodate a bottle of wine each or two tall cans of beer.

For non alcoholics the main pouch will hold a small first aid kit, a pair of work gloves and a battery pack for charging your phone. The side pouches will take a 1l wide mouth nalgene water bottle and a rolled up poncho. Great bag for the few things I need at work. It's also great cause it'll easily fit behind the seats in a standard cab work truck.
0
0