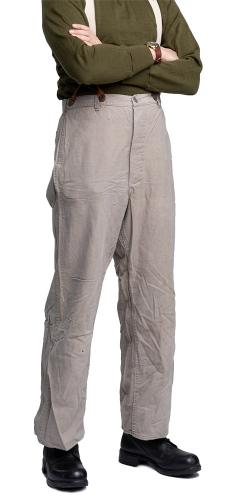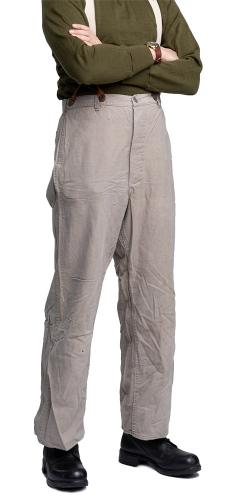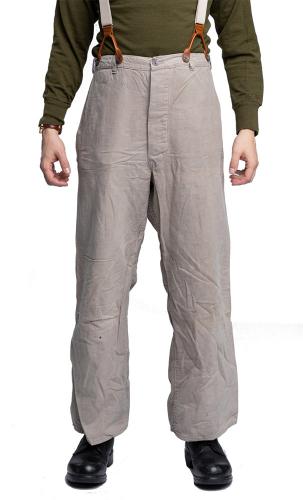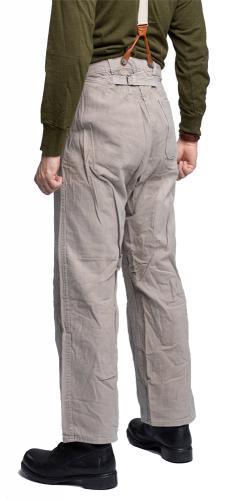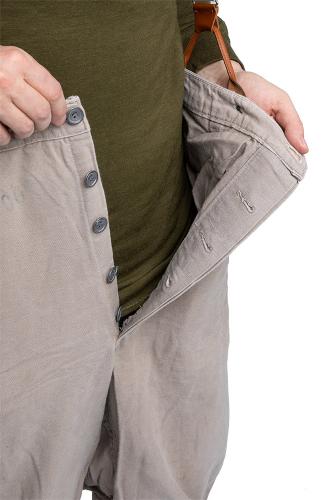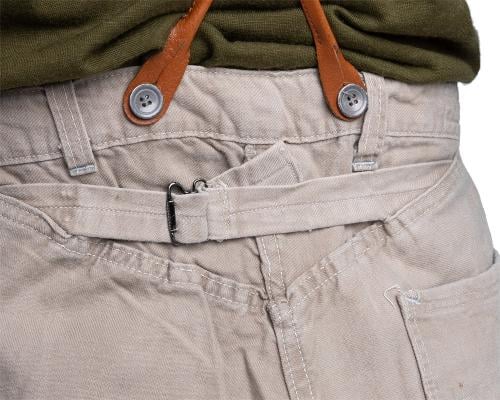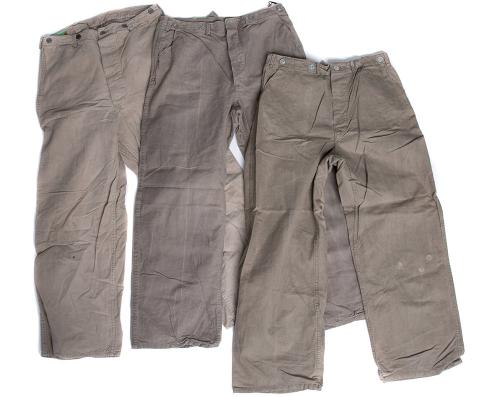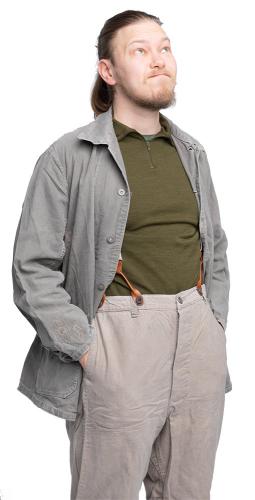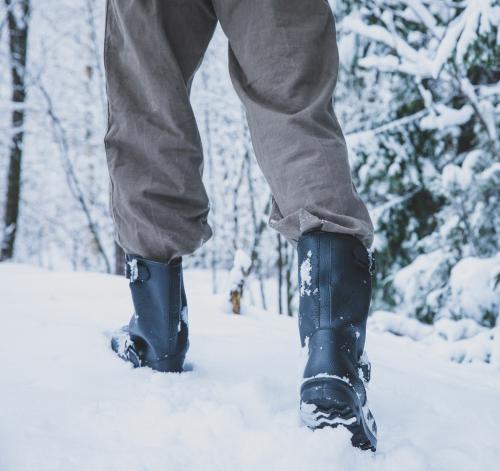 Swedish work trousers, gray, surplus
Price 20.99 USD
excluding sales tax
Gentlemen's fashion from our Western neighbor! These real-deal Worker Trousers are old - very old - Swedish army issue and still in very usable shape, although not too pretty anymore.
Loading products...
Trouble with the metric system? Try our converter: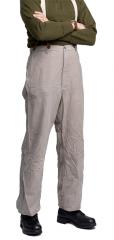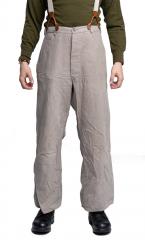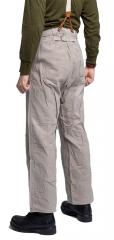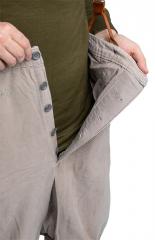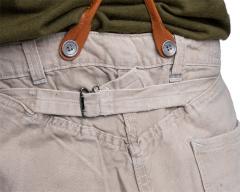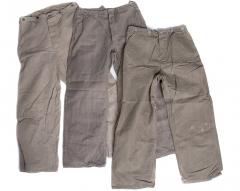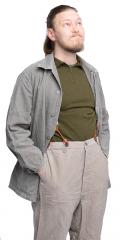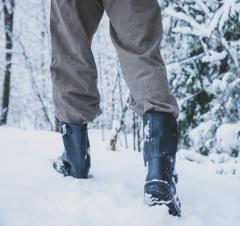 Gentlemen's fashion from our Western neighbor! These real-deal Worker Trousers are old - very old - Swedish army issue and still in very usable shape, although not too pretty anymore.
These old work trousers will wipe the table with this whole "slimmy fit" ideology of today's fashion world! Hailing from the era when trousers had proper width along the whole leg and waistline in the navel at minimum, they present an excellent opportunity to stock up for the next wave of fashion or anyone looking for a good solid pair of non-slim pants where you can actually move around in.
Apart from the stone grey colour (looks great in black & white photos!) these army work trousers could be any civilian trousers from that era. Made of thick cotton with button fly, smallish 3,5 cm wide belt loops and suspender buttons. Adjustment strap on the back to finish the fit! Some trousers have small metal grommets on the leg cuffs. These are meant to accommodate the adjustment string of your choice.
Can be washed in 60 degrees Celsius and being cotton, they soak in dye relatively well but no guarantees about the stitching.
Size info
Sizes in the Swedish version of the EU system, with user's recommended height and waist in centimetres in the brackets.
Old vintage
Like said before, these are old, most probably from the war years but still going pretty strong. All are used: usually faded, stained and repaired but serviceable.
Recommendations
Loading products...
Reviews
You have already submitted a review. You can edit your text by clicking on it.
Log in and write a review.
Remove filter
Suomi
(1)
English
(1)
I would recommend for a friend
Henri L.

Varusteleka employee

12.02.2019 (Edited 02.06.2021)
Taas kerran kunnon hyvät puuvillahousut. Näiden kangas on aika ilmavaa ja jonninverran joustavaa. Tämä yhdistettynä tilavaan leikkaukseen tekee näistä mukavimmat pöksyt ikinä. Harmi, että kivenharmaassa kankaassa näkyvät tahrat ja kulumat helposti, ja näissähän niitä on, käyttöpöksyinä kun ovat olleet. Mietin, että kokeilisin mustaa pesukoneväriä. Näissä ei pitäisi olla mitään polyesteriä seassa, joten värin luulis tarttuvan hyvin.

Sveitsiläisen vyö mahtuu just just vyölenkeistä läpi, mutta henkseleiden kanssa nämä ovat parhaimmillaan, sillä vyötäröltä voi fiilata ylimääräiset pois takapuolen säätöremelillä. Hitto, käynpä ostamassa toiset.
4
1
I would not recommend to a friend
Peyton B.

12.03.2019 (Edited 02.06.2021)
I had mixed feelings when I pulled these trousers out of the parcel. They are classic work trousers, which means they are tough as old nails, and look about as good, too. I originally ordered a size 92 (the last one!) but somewhere between the warehouse and my mailbox the trousers disappeared! The Varusteleka crew were awesome and sent me a replacement free of charge (a size 96). So, I was quite anxious to get my hands on these trousers when they finally arrived. Caveat emptor.

The pair I received looked like they had been through at least one war. There were two large patches on the rear of the cuffs where a previous owner had rather amateurishly patched some serious wear and tear. Several spots on the legs, and one on the crotch, had been patched with heavy duty thread (a dark green thread that unfortunately is quite visible at any distance - I guess the Swedes only make their thread in one color?). There were several small rust stains on various places and the fabric was quite faded. The buttons were all firmly sewn on and only slightly oxidized with a gray/green patina. The whole kit has that fine musky warehouse aroma. I assume that the exemplars used in the photos on the website are on the spotless end of the spectrum. My pair looked as if they had at least three previous owners.

I would not recommend these if you are looking for something casual to wear out and about on the town right out of the parcel. They are not pretty -not even as pretty as the ones in the pictures. However, these trousers feel like they will last another three or four decades if cared for and modified slightly. They fit fine and I am able to wear them comfortably without belt or suspenders (the adjustment tab in the back is surprisingly accommodating and effective). I will probably replace the old thread with something closer to the fabric color and may try to dye the fabric to cover the stains and faded areas. It may be worth it to replace the adjustment buckle in back as well (it is the old style with the very, very sharp prongs that are meant to stick right through the fabric). For gardening, tinkering with the bicycle or car, or tromping through the mud and dust to cut down timber and wrestle Sasquatch, these will do the job. Just don't expect to look like anything other than a lowly conscript while wearing them.
1
1