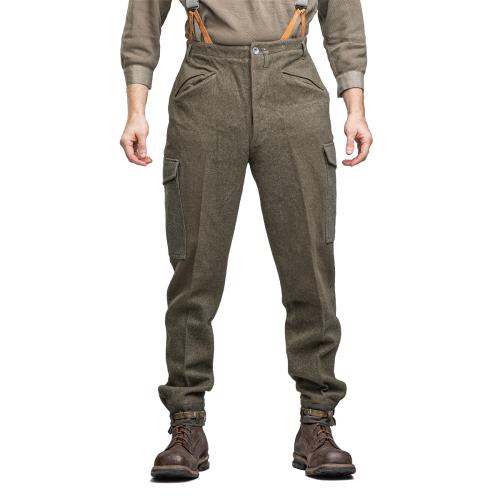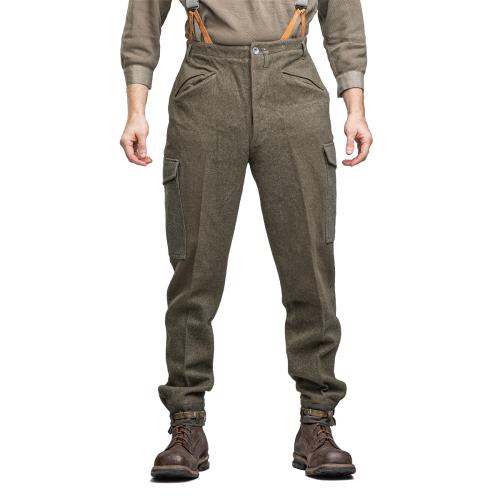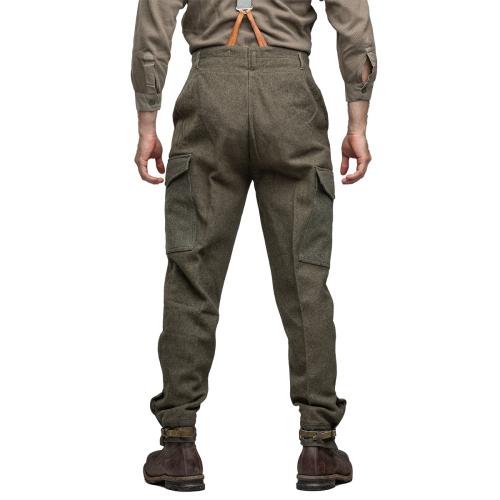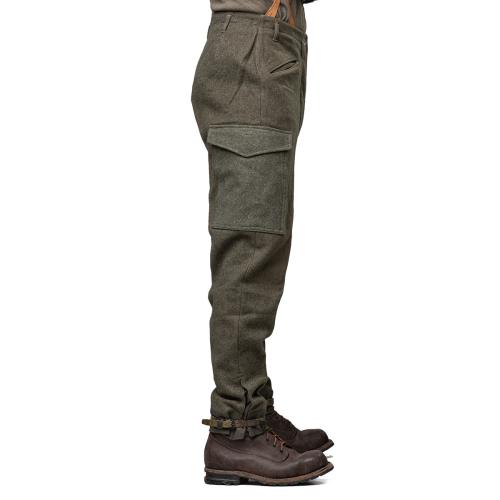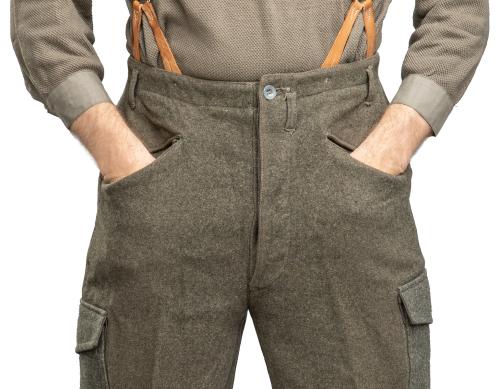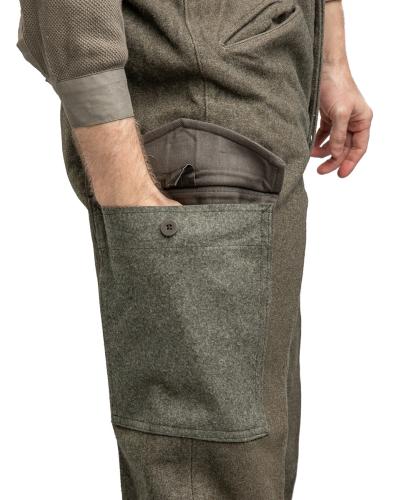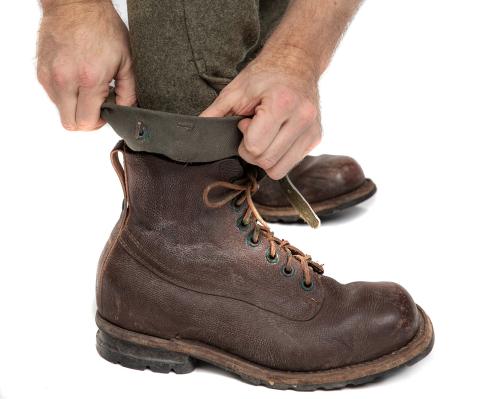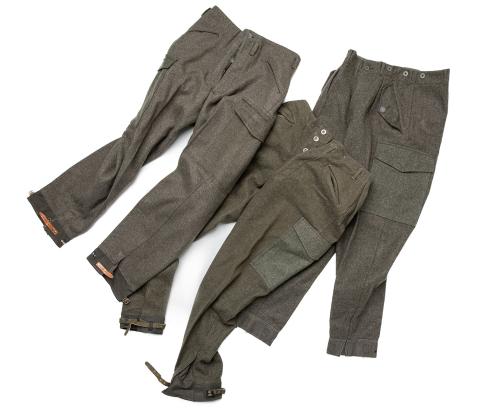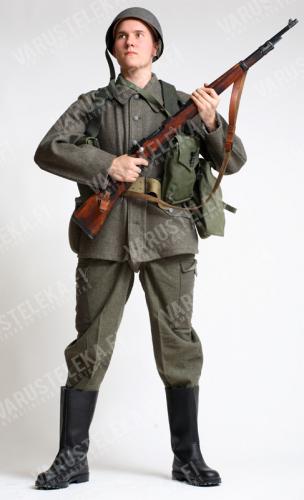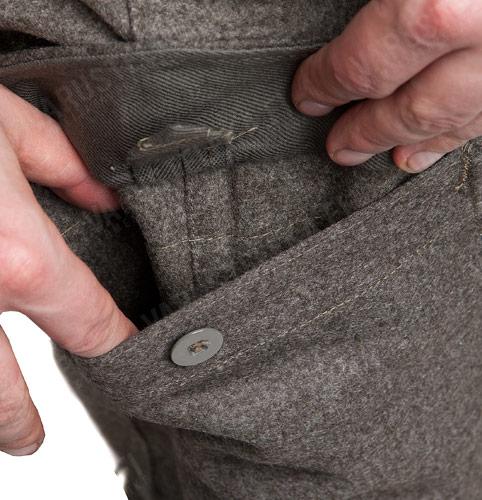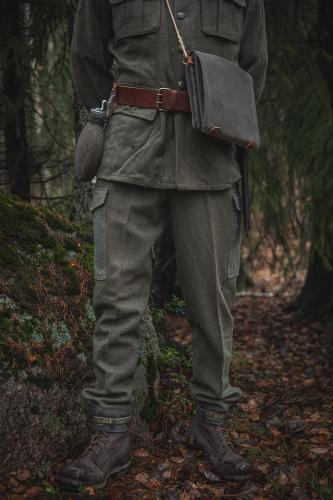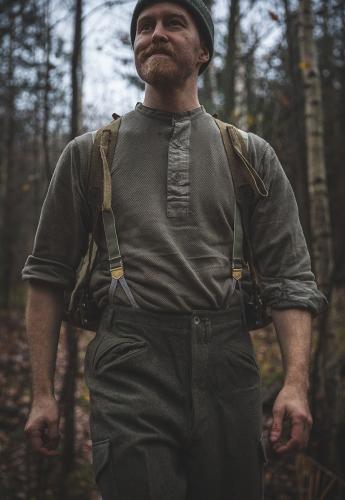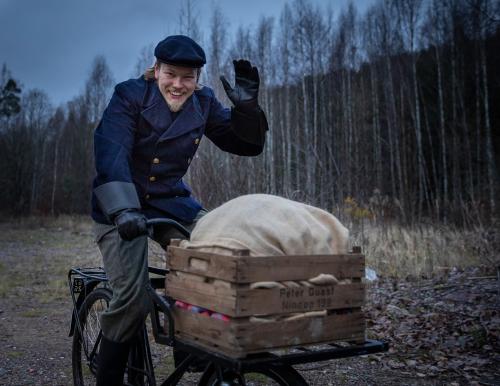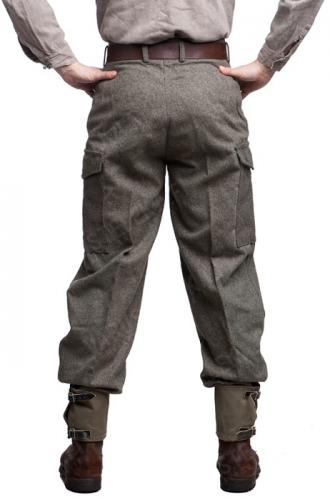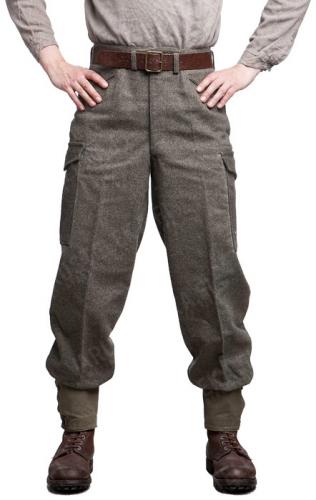 Sweden
Swedish Wool Trousers, Surplus
Price 34.99 USD
excluding sales tax
Old Swedish issue wool trousers, some from the World War 2 era. They don't make them like these anymore and this is no joke!
Loading products...
Trouble with the metric system? Try our converter: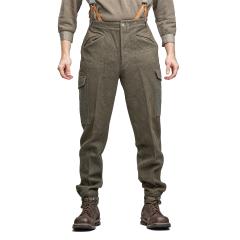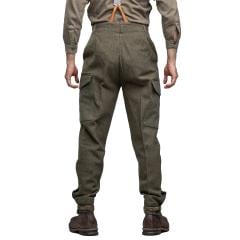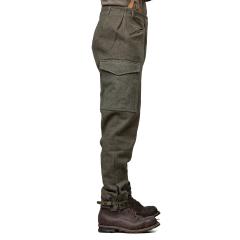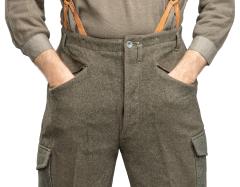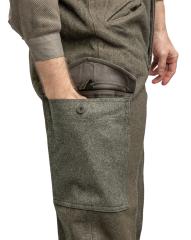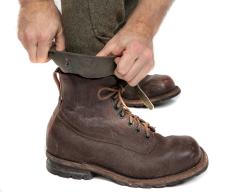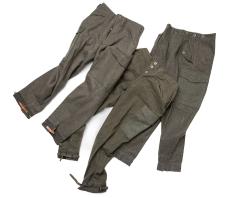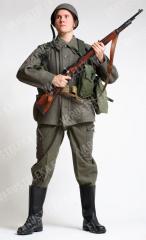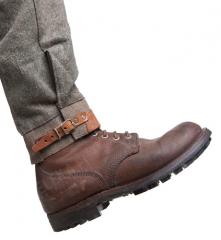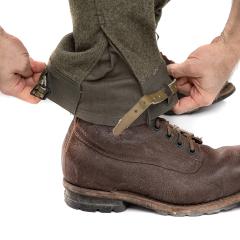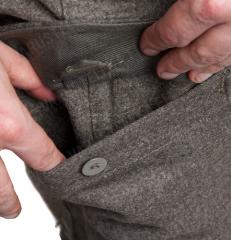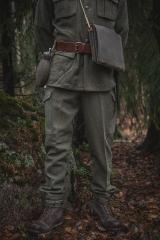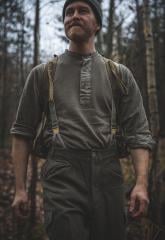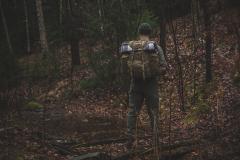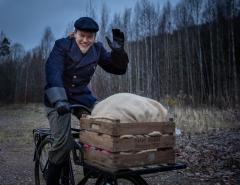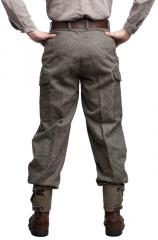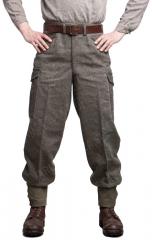 Old Swedish issue wool trousers, some from the World War 2 era. They don't make them like these anymore and this is no joke!
Finding a good pair of "skiing trousers" is nigh impossible. Well, now you don't have to look any further! The Swedish wool trousers feature a high waist, action cut, button fly, and buttons for braces. The leg cuffs have an adjustment system of some kind. In addition, these have belt loops. What's even better, the Swedes had the foresight to add cargo pockets to the sides, of course along with the normal slash pockets. The cargo pockets are a modification made after the WW2 to all of the trousers in the inventory and the Swedish army did such a proper job that you really cannot find a pair without them. We've seen maybe two specimens total. You can carefully cut them off if required.
Wool still works well in chilly weather and winter - it keeps you relatively warm even when wet, but doesn't get soaked without a good effort. It also resists soiling quite well. Of course it's not windproof, but the flipside is the good breathability. For windproofing needs you can wear some form of overpants. All in all, if you would require do-it-all trousers for the winter season, with these you can't go wrong!
Material and care
These are made of real and proper 100 % wool, the kind you will not find anywhere anymore, because it's so damn expensive to make. Wool is delicate when it comes to washing; machine wash in either cold water or 30 degrees Celsius with wool cycle. Hang dry. Usually you don't even need to wash these, just air them out overnight and give them some brushing. Wash is usually needed only if the trousers get really soiled!
Size information
First, the Swedish size marked on the trousers, then the measured waistband circumference and leg inseam. These might vary just slightly from pair to pair, usually upwards if something.
Condition
In used, but OK serviceable condition. Some of these are made during WW2 era, some after the war. There are two distinct models with the main difference being the lack of front pocket flaps on the older model, while the the newer one has them. We won't pick.
Kierto Circular Economy
Return this product used but clean and unbroken, and you'll receive half of the product's original price as Varusteleka credits. Service is available only in Finland. Only Registered users can make Kierto returns. See more information about Kierto.
All products: Sweden
Recommendations
Loading products...
Reviews
You have already submitted a review. You can edit your text by clicking on it.
Log in and write a review.
Remove filter
Suomi
(1)
English
(11)
I would recommend for a friend
Ladislav S.

04.02.2019 (Edited 02.06.2021)
Absolutely immense, fit as described, cuff of the leg is a little different, with no leather at all but some loops for a strap, with little metal hooks on the inside. Seemingly completely unused and dated 1941.
7
0
I would recommend for a friend
Eetu V.

17.09.2019 (Edited 05.06.2021)
Aivan käsittämätöntä, että saa näin hyvät housut pilkkahintaan. Omalle kohdalle sattui täysin käyttämättömät housu. Piti vain öljytä nahkaremmit, jotka olivat ajansaatossa kuivahtaneet. Olin varautunut, että housut on sellaista karhunkieli sarkaa, mutta olikin hemmetin pehmosta. Pystyy hyvin vetämään jalkaan ilman pitkiä kalsonkeja.
0
0
I would recommend for a friend
Ian H.

26.09.2019 (Edited 05.06.2021)
Very nice quality product but the sizing was way off. Even someone 3 sizes smaller than me could not close them.
3
1
I would recommend for a friend
Lars E.

26.09.2019 (Edited 05.06.2021)
Perfekt in fitting and as new and unworn...
0
0
I would recommend for a friend
David G.

07.10.2019 (Edited 05.06.2021)
Ordered two different sizes as wasn't sure what would fit my waist best, one pair was a perfect fit and still had the factory manufacturing tags on so had never been used.
The other pair look to have been hardly used but are only just a little bit too big in the waist, although could fit fine with some braces fitted or brought in by a tailor other than that fitted fine everywhere else.

Both pairs were dated 1940's as well and very well made, if I ever wear these out I would definitely consider buying more in the future provided I could find my size and the were as reasonably priced as they are here.
0
0
I would recommend for a friend
Alexander L.

10.11.2019 (Edited 05.06.2021)
These are a bit wide in the legs but they were perfect length and fit perfectly around my waist!
0
0
I would recommend for a friend
Karl N.

23.11.2021
I made a gamble by buying a waist size of 78, while I normally wear 80. They are *slightly* tight, but perfectly fine if I don't tuck in my sweater. The leather straps on the ankles are uncomfortable if tucked into a boot, but I suppose they are intended to be worn over anyways. Decent pockets, quite warm, and I now finally have a (almost) complete 40s Swedish Army uniform. Now just to find those damn shoes...
0
0
I would recommend for a friend
Kyle T.

24.11.2021
Nice pair of m39/58 trousers. I have a feeling these pants just sat in a warehouse after having the hip pockets sewn on, pants have little, if any, wear to em.
0
0
I would recommend for a friend
Julien B.

27.11.2021
Couldn't be happier with these pants ! Rugged, tough yet warm and comfortable. It's amazing to think that these date from the 40's ! They look basically brand new and except for that nice storage smell, there's nothing wrong with them. I fitted them with a nice pair of british braces and now I am warm when I go to work outside ! Thanks Varusteleka !
0
0