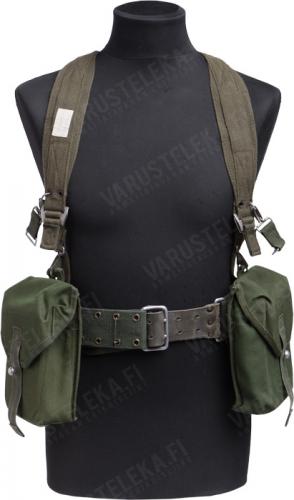 Swedish webbing set 304, used
Price 9.99 USD excluding VAT
Flat Rate Shipping to USA $9.99
100 % recommends
Sold 5 pcs in the last two weeks
Trouble with the metric system? Try our converter: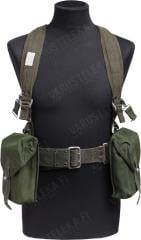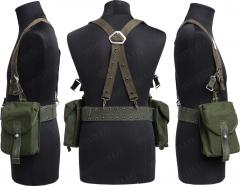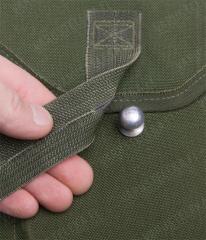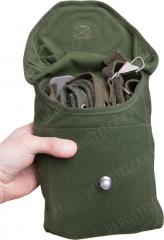 One of the last creations of the Swedish military when it relied on conscription is this webbing set. Nordic quality for peanuts.
When Sweden downsized its military to about two dozen soldiers and one tank, the old kit was dumped to surplus market for ridiculous prices. This stuff is still somewhat widely available. This webbing set represents the newer end of the kit spectrum.
A very traditional belt + suspenders type solution, the "304" is like a mix of older Swedish webbing and US ALICE stuff. Let's go through the components:
The belt is about 5 cm wide traditional combat belt with metal grommets for attaching the suspender hooks and adjustment pins, and once it's properly adjusted, you can use the leather belt part to quickly change it's size on the fly if necessary. The absolute maximum length of the whole belt is about 125 cm - apparently any larger men were deemed unfit for any roles where they might need webbing.
The suspenders are X-type and feature very good adjustments and ALICE-type metal hook attachment. The hooks attach directly to metal grommets on the belt or pouches.
The ammo pouches are made of tough nylon material, with silent metal knob closure. These take five M16 mags (the service rifle was at the time the AK-5, copy of the FN FNC), a few 7,62 NATO mags and even a couple of AK mags. The inside dimensions are about 15 x 20 x 6 cm.
Slap on a couple of water bottle pouches and a buttpack (the US models will fit) and you have a pretty decent webbing set on your hands.
Swedish army surplus
In used, but serviceable condition. We don't know when the old stocks will finally run out of the market, so if you need hard wearing kit for low price, we suggest taking action while these are still available.
Recommendations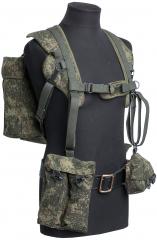 Russian RD-54 combat webbing, surplus
55.99 USD
Similar product.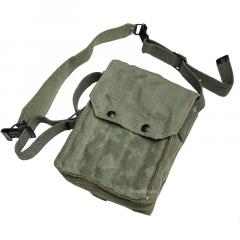 French MAT-49 magazine pouch, surplus
7.99 USD
Viewed together.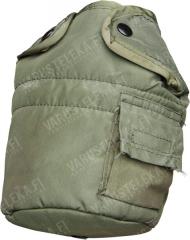 US ALICE canteen pouch, surplus
5.99 USD
Sometimes purchased with.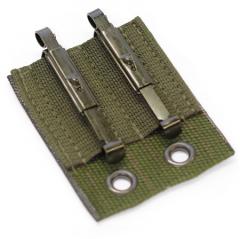 Mil-Tec ALICE adapter for BW pouches
3.99 USD
Sometimes purchased with.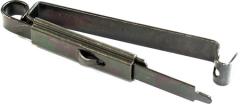 US ALICE keeper, surplus
0.99 USD
Sometimes purchased with.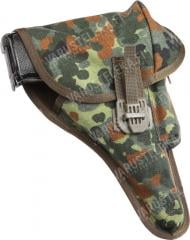 BW P1 holster, Flecktarn, surplus
6.99 USD
Sometimes purchased with.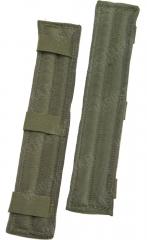 BW shoulder strap padding, pair, surplus
4.99 USD
Sometimes purchased with.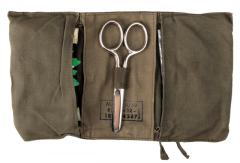 BW personal sewing kit, surplus
3.99 USD
Sometimes purchased with.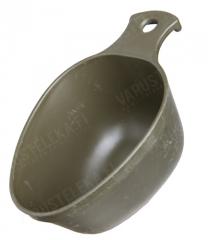 Swedish rigid plastic cup, green, surplus
2.99 USD
Might be of interest.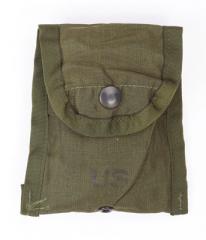 US ALICE first aid/compass pouch, usurplus
5.99 USD
Might be of interest.
Reviews
You have already submitted a review. You can edit your text by clicking on it.
Log in and write a review.
Remove filter
Suomi
(11)
English
(19)
I would recommend for a friend
Marko N.

19.11.2016 (Edited 29.11.2016)
Minullakin on tällainen koristeena! Ja erotuksena kuvaan minun tetsarissa on kenttäpullolle pussi/riipuke, ja ostin siihen ruottalaisen vanhan käytetyn kenttäpullon ja kävi siihen kuin nenä päähän!
7
0
I would recommend for a friend
Riku P.

20.11.2016 (Edited 29.11.2016)
Tilaamani tetsari oli heikommassa kunnossa kuin kuvien yksilö mutta pikkufiksailulla siitä sai erittäin hyvän kantolaitteen. Vakiotaskujen lisäksi kiinnitettynä omastani löytyy jenkkilän buttpackia, ensisidetaskua ja lipastaskua. Materiaali on erittäin jämäkän oloista ja vehje tuntuu muutenkin hyvältä
4
1
I would recommend for a friend
Jason S.

25.12.2016 (Edited 27.12.2016)
I would recommend for a friend
Steven H.

03.02.2017
Good webbing. Unbeatable at this price.
10
0
I would recommend for a friend
Daniel K.

28.03.2017 (Edited 28.03.2017)
I received an unissued one that hadn't even been unpacked. Unbeatable price for a high quality item like this. Contained the two ammo pouches and a open-top canteen cover that maybe will fit a 1 quart water canteen (I don't have one so I can't test, but a NVA 0,7 liter canteen fits well. Other plastic swedish canteens also is 0,7 liter but have a different form than the NVA one). Looks sort of like this one: https://www.varusteleka.com/en/product/us-alice-canteen-cover-surplus/10292

Al in all: Buy it if you need a good quality webbing set with a good amount of relative big pouches. Add a water bottle and you are good to go!
12
0
I would recommend for a friend
Mikael O.

14.05.2017
Best price I have found on the web!
Perfect for hunting, I made mine into a "canine-handler" kit ,easily carry stuff without a bag.
Could easily have a few more as "spares"
5
0
I would recommend for a friend
Everett A.

01.06.2017
Well built, affordable and stylish
4
0
I would recommend for a friend
Everett A.

01.06.2017 (Edited 19.06.2017)
I would recommend for a friend
Valtteri M.

06.07.2017
Hintansa väärti.
3
1
I would recommend for a friend
Thomas L.

17.08.2017 (Edited 17.08.2017)
Nordic quality for pennies. Yes, I have to agree. First impression when I opened the parcel was "Wow, these look f*cking great". I don't know what kind of soldiers were using these, but they must have had a very relaxed conscription period. If it wasn't for some initials written with chalk inside, I would have assumed these were unissued. They could still be unused though. For the price, I had expected a much worse condition. But of course, in Sweden you hardly have any sunshine at all, so you can't compare with British desert camo gear that is extremely faded after six months in some far away land. I bought a few of these, to have extra pouches. They all look basically the same, nice green color, hardly faded at all, manufactured between 1985 and 1992. Some with insulated water bottle pouches, some without. Each set of webbing packed perfectly in the two pouches - Sweden really used to be a very organized country. Surprisingly little warehouse smell, but I'm itching everywhere after trying them on... handwashing them could be a good idea. Perhaps that would also soften them up a bit, there are no shoulder pads and the material is quite old and stiff, not too comfortable right out of the box. Not at all like the German mountain backpack for example.

I heard that airsoft snipers like this webbing. You have the pouches on the sides of your body, which makes it easy to have a low profile when you are lying down. To sum it up: A lot of bang for the buck, but you will not win any fashion awards wearing these. They were introduced in the 1980s, but if I didn't know that, I would have guessed they were from the 1960s or 1970s, they look that old-fashioned to me. Buy two so you can cannibalize a bit and perhaps have two water pouches on each side and a third ammo pouch in the back. Wear this on top of your smock and head out into the woods for the weekend. Who cares if you look like a freak. You probably are anyway.
34
0
I would recommend for a friend
William W.

19.11.2017
Very good webbing set, my particular model came with a canteen pouch not shown in the pictures which was a nice surprise.
0
0
I would recommend for a friend
Samu K.

07.03.2018
Aivan käsittämätön laite tällä hintaa! Niin paljon remmejä ja lukkoja että ellei tetsaamaan halua lähteä niin kyseisistä remmeistä ja lukoista + vyöstä voisi jo tuon kyseisen hinnnan maksaa! Ja olen sanaton miten hyvässä kunnossa tämä kyseinen tetsari on! Kiitos!
3
0
I would recommend for a friend
Eric B.

05.06.2018
Great little webbing set for an unbeatable price. The one I received was unissued and as others have stated, it came with a canteen pouch along with the two magazine pouches. That said, the pouch might not be particularly useful for you depending on what kind of water bottles/canteens that you have; the pouch is much too small for your typical US style 1L/1qt canteen. If I recall correctly, the Swedish used a 700 mL or so canteen, so anything around that size should fit, though I do not have any canteens of that size to test that theory out. As well, the belt is indeed narrow enough that ALICE pouches can be attached, so you do have some options for what you want to stick on it. As well, the shoulder straps, while not really padded are wide enough that they do not put a lot of pressure on your shoulders making the webbing relatively comfortable.
1
0
I would recommend for a friend
Ladislav S.

06.06.2018
Seemingly unused, pretty much mint condition dated 1985. Mine also came with a canteen pouch, however as others have mentioned a 1L canteen is too large for it. Nice and simple webbing set, immense for the price.
0
0
I would recommend for a friend
Harri K.

08.06.2018
Näppärä kevyt valjastetsari. Olkahihnat ovat sen verran ohuet, että eivät haittaa repun tai isommankaan rinkan kantoa; kuitenkin niissä on leveyttä riittävästi. Olen käyttänyt tätä retki- ja jotoshommissa kenttäpullon, ea-pakkauksen ym pikkusälän kuljettamiseen. Jos sotimaan pitäisi lähteä, vaihtaisin toisen taskun peremmin lippaiden kuljettamiseen ja käyttöön sopivaksi; vaikka tuohon venäläiseen kolmen lippaan puuvillataskuun. Nuo alkuperäiset puolikovat "laatikot" eivät ole lipastaskuina kovinkaan hyvät, vaikka tilaa onkin.
1
1
I would recommend for a friend
Anonymous customer

15.06.2018
Hintaisekseen 5/5. Luulin käyttämättömiksi kunnes toisen laukun pohjalta löytyi kuusenhavu. Istuvat päälle hyvin, älyttömästi säätövaraa. Yleiskäyttöiset kaksi laukkua (ja omassani liian pieni laukku vesipullolle).
Rumat ja eivät pärjää Bundeswehrin värkeille mutta uskomaton hinta-laatu-suhde.
Jos näitä on vielä ensi viikolla, haen 1-2 lisää koska kaiken muun hyvän lisäksi nämä eivät pakattuina vie kuin leivänpaahtimen kokoisen varastotilan.
2
0
I would recommend for a friend
Michael W.

29.09.2018 (Edited 29.09.2018)
Mine arrived in nearly unused condition and was easy to assemble.

Light weight, low complexity, easy to adjust, and relatively good coloring for woodland conditions that won't clash too badly with camouflage. The pouches have a comfortable amount of space for carrying various bits if magazines aren't an issue.

The canteen pouch I received with it has a surprisingly fluffy interior, although because of the small size you may have to settle for a bottle of water in place of a canteen if you can't track down one that will fit

I bought it because I was interested in web gear and wanted what I thought was the "cheap" option so I wouldn't regret it - the price doesn't reflect quality, this surplus is legitimately a good purchase and a starting point if you, too, are unsure about web gear.
2
0
I would recommend for a friend
Alex R.

13.10.2018
A very solid and very clever web system. Mine also came with a small canteen pouch — which fits the Finnish military canteen with a bit of coaxing.
2
0
I would recommend for a friend
Elliot Ö.

18.11.2018
Didn't get the water bottle pouch with mine, but I got two multipurpose clips so I could attach a (original kit) butt pack. Couple that with a water bottle, boom complete kit for 20€.
0
0
I would recommend for a friend
Juha E.

22.11.2018
Saamani setti on kovasti käytetty/paikattu, mutta ehjä ja jämäkän tuntuinen.
Aivan kuten tekstissä mainitaan.

Vyö on aika ruokottomassa kunnossa siisteydeltään ja on nyt homeen poistossa saavissa.
Huolellinen putsaus ympäriinsä ja nahkaosien rasvaus, niin uskon näistä tulevan kelpo kantovälineet harrasteisiin.

Hintaan peilaten ihan tyytyväinen.
2
1
I would recommend for a friend
Léo A.

21.02.2019
Out of the 2 pouches , one was in a very good condition.
The other one had some small repair/stiching , and a big chunck of some sort of strap on it , i'd say 4/10 for the look but very much usable.
Belt was still good but the harness has a lot of oxydation , still usable tho.
Overall a good price for what you get. I'l try to get a other good looking pouche to sew on my lk35 tho.
Gotta love that swedish gear.
0
0
I would recommend for a friend
Mikko L.

11.03.2019
Ahkion vetovaljaat tehty näistä ja kelkkahommii tarkoitus hommata toiset pikkutilpehöörin jne kantamista varten. Taskuista ollut paljon iloa muissakin hommissa.
1
0
I would recommend for a friend
Tuomo K.

22.03.2019
Ostin pääasiassa vyön ja valjaiden vuoksi jotka vaikuttavat lähes käyttämättömiltä, metalliosissa jotain pientä hapetumaa joka ei haittaa, taskuissa osa tikkauksista on kulahtanut uusintakuntoon. Tuoksu on viipyilevä, makeahko, rehevän sitruksinen ja aavistuksen tamminen varastohomeen rehellinen haju. Lisätkää valikoimaan Särmä otsonointipalvelu meille luonnosta vieraantuneille kermanenille jotka ei haluta kaikkia tuotteen autenttisia ominaisuuksia :D
3
1
I would recommend for a friend
Aleksi B.

31.05.2019
Omani oli kuin uudet. Laitoin vielä kaksi juomapullon taskussa, jenkkinen butt packin ja IFAK:in kiinni, todella hyvä pohja oli rakentaa tarkka-ampujan kevyt tetsari.
0
0
I would recommend for a friend
Ignacio N.

03.06.2019 (Edited 23.07.2019)
Mine was in perfect condition. The belt a bit stiff but otherwise great. Got the water cantine pouch. Belt a bit too big but no big deal. Now, as a real use is a bit pointless. The pouches will fall if you put some weight. If you want this for some serious jumping running hard action I would go for a better one. Maybe for airsoft is enough but I doubt it. I bought it as an affordable option for putting weight in my body for training but the pouches fall all the time in pull ups and basic training As I said might not meant to be for that but I expected more since this is for actual combat...
0
3
I would recommend for a friend
Lemonificent

08.06.2019
Recieved the webbing along with the canteen pouch, whole set in immaculate condition and giving off that trademark surplus smell.
Easy to set up and amazingly comfortable webbing, for this price i don't think you could do better.
0
0
I would recommend for a friend
Jacob G.

22.07.2019
Solid. Mine came lightly used. Easy to set up.
Important: Make sure to look over yours carefully before any serious use. Especially check the belt eyelets for any protruding metal.
1
0
I would recommend for a friend
Kyle T.

11.08.2019
Bought a set outta impulse and curiosity. Money well spent. Magazine pouches basically brand new, a brown green color, a canteen pouch, which was an olive green color.
The webbing straps had some wear to em, oxidation on the eyelets, and some dryness to the leather strap. They cleaned up well though!
0
0
I would recommend for a friend
Andrei S.

30.08.2019
I am so happy i have bought this webbing set. Mine it came in a sligtly used but very good condtion whatsoever. 2 big pouches + 1 pouch for a 0,7 L canteen. Recommend you grab one set while you can.
0
0
I would recommend for a friend
Markus E.

16.10.2019 (Edited 20.10.2019)
Ostin näitä kaksi. Laite on periaatteessa hyvin hintansa väärtti pätevä kantolaite, mutta käytännössä yhden nahkaosa oli ihan poskettoman homeinen, ja toisenkin ihan riittävän homeinen. Näkyvää hometta oli lisäksi vain yhdessä taskussa, mutta molemmat setit löyhkäsivät niin kuolemalta että ne oli pakko heittää parvekkeelle laimentumaan ennen homeenpoistoyrityksiä. Varastohome ja lemu lähti parin päivän puhdistusrumbassa eikä ole vielä muutamassa päivässä palannut, nähtäväksi jää heikentyikö tetsari käsittelyssä.

Suosittelen jos olet arvan osuessa valmis rankkaan homeenpoistoon, mutta muovipussi suojaamaan saman tilauksen vaatteita olisi paikallaan, näiden lemu kun on jotain hirvittävää.
0
0
I would recommend for a friend
Agostino V.

15.12.2019
Absolutely amazing and so cheap it's almost unfair. Basically mint condition.

Gifted one to a friend, and I regret not having bought one for myself. It came with a surprise canteen pouch plus all the rest of the gobbins you see on the pictures.
The magazine pouches will really fit anything and their mother.

As soon as you see ths item available, get it.
0
0