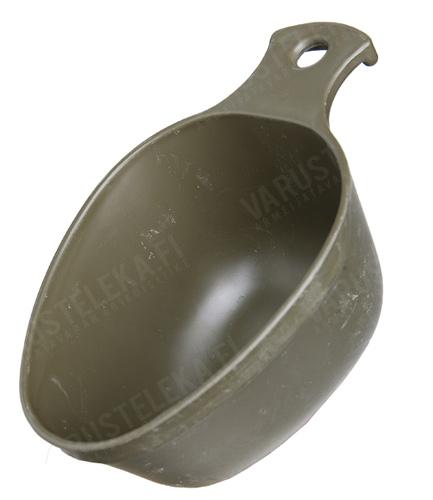 Swedish rigid plastic cup, green, surplus
Price 2.99 USD excluding VAT
Flat Rate Shipping to USA $9.99
100 % recommends
Sold 14 pcs in the last two weeks
In stock 722 pcs. Also available in our walk-in store.
Trouble with the metric system? Try our converter: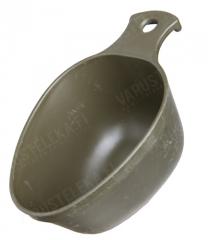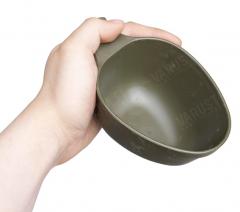 A virtually indestructible hard plastic cup. An extremely cheap yet invaluable piece of outdoor kit, never leave home without one! Way back they actually used to issue these for the troops in the Swedish army.
The volume is some 4-5 dl. Run a cord or carbine hook through the hole in the handle to hang the cup from your gear. Fits perfectly inside the Swedish military mess kit!
Genuine Swedish military issue
Used and, apart from normal wear like scratches and such, in very nice condition. Just don't be an idiot and expose this to flame, and it'll serve from father to son.
Reviews
You have already submitted a review. You can edit your text by clicking on it.
Log in and write a review.
Remove filter
Suomi
(7)
English
(9)
I would recommend for a friend
Glenn

18.04.2018
Got one of these some years ago, and they are great! I use it for soup, mostly, but it makes for a good drinking or scooping cup regardless of what you put into it. Works for digging small holes too, for those moments when there is no latrine left behind by other campers
5
0
I would recommend for a friend
Oskari K.

22.04.2018 (Edited 22.04.2018)
Monitoimikuppi, joka pelastaa jokaisen asepalvelusta suorittavan suomalaisen aamut.

Aamusta iltaan, metsästä kasarmille. Toiset kantoivat metsässä vyöllä puukkoa, minä kannoin ruotsalaista kuksaa. Sillä voit ammentaa tunturipurosta elämän vettä, sekoittaa pikapuurot sissiteltan pimeydessä ja hörppiä kasarmilla kahvia rennosti istuskellen.

Varmaan siviilielämänkin retkiin kelpaava tuote.



Tuote, joka olisi ansainnut viisi tähteä viidestä mutta minut on pakotettu lohkaisemaan pois puoli tähteä, koska tuote on NIIN laadukas ja haluttu, että joku palvelustovereistani sen minulta varasti, kun sen viattomasti olin jättänyt kuivumaan VMTK-tiloihin kahvihetken jälkeen.
2
0
I would recommend for a friend
Harri K.

24.04.2018 (Edited 30.04.2018)
Kuksan ja sen kahvan muoto ja mitoitus ovat sellaiset, että se on selvästi suunniteltu kuljetettavaksi ruotsalaisen soikean pakin, ns snuskburkenin, sisällä. Tällainen muovikuksa oli pakin lisäksi joka varusmiehen jakokamaa ainakin silloin, kun Ruotsissa oli vielä asevelvollisuusarmeija.
1
0
I would recommend for a friend
David F.

09.05.2018
I ordered 3 and am so glad I did! If you metal detect in water or sand...these are perfect and cheap! Drill a few holes in the bottom and these are plenty sturdy! I guess you could slurp creek water out of one if you are too lazy to bend down too. Very well made in any case and well worth the money.
5
0
I would recommend for a friend
Carolyn W.

23.06.2018
It's just a regular cup with a handle but this thing will live through the end of Earth and be floating in space laughing without a scratch. Get one!
5
0
I would recommend for a friend
antti k.

25.06.2018
Tästä syödään ja juodaan!
0
0
I would recommend for a friend
tat w.

08.11.2018
the ones i received seem brand new.
great ergonomic design.
a joy to use.
don't burn your lips in your billy can.
turns everything into comfort food.
2
0
I would recommend for a friend
Andreas B.

15.12.2018 (Edited 15.12.2018)
No idea why I bought this in the first place. I was somehow attracted to it.



I'm glad I did!



This is really a multi purpose tool.



It serves well as an ordinary coffee cup but it's really perfect when used for soup or things like chilli or goulash. I also use mine on a regular basis to hold screws and small stuff when building or repairing something. The shape of the thing is also perfect to warm your hands at (given it's filled with something hot, ofc). And it's also much less noisy when hung to the outside of your backpack.



One of the small and inexpensive gems that makes ones life enjoyable.

BTW: it's totally dish washer proof as well.
0
0
I would recommend for a friend
Chris K.

26.01.2019
One holds 1.5 cups/12 oz for the metrically challenged and can be nested. I pack two. One is my outdoors shaving mug holding a hard soap puck, double edge razor, blades and travel brush. Gillette be damned! I am secure in my manly standards including grooming.
1
1
I would recommend for a friend
Harri K.

02.03.2019
- hankittu partavaahdon tekoastiaksi; kätevä koko ja toimii siinä hyvin
- toinen harkinnassa ihan siihen alkuperäiseen käyttöön
- suosittelen
0
0
I would recommend for a friend
darryl b.

04.03.2019
bigger than i thought it would be.
0
0
I would recommend for a friend
J-P M.

14.06.2019
Ostin 2 kpl toisesta alan liikkeestä. Ihan käteviä muovikuppeja, tukevaa tekoa. Reuna on tosiaan vielä muuta kuppia paksumpi eli varmasti kestää vaikka aamukahvia/-teetä juodessa vituttaisi niin että tulee puraistua kupin reunaa. Menevät toistensa sisään oikein nätisti ja helppo puhdistaa kun on niin avoin.

Savottahan tekee tai ainakin joskus teki samanmallisia muovikuppeja, mutta ne ovat ihan aavistuksen pienempiä ja heppoisemman oloisia tähän alkuperäiseen verrattuna, käytännön eroa ei kuitenkaan ole.
0
0
I would recommend for a friend
Mark W.

03.07.2019
Original cup, hard plastic, mint condition, never issued! Three crowns stamp on the back. These cups fit perfectly inside the Swedish Mess Kits. Amazing cup at an amazing price!
0
0
I would recommend for a friend
Aapo R.

09.09.2019
Propsit koosta mikäli kahvihammasta kolottaa enemmänkin. Ei jää sydämenlyönti välistä jos lattialle tippuu toisin kuin Iittalan tai Arabian kanssa
0
0
I would recommend for a friend
Eemil J.

13.09.2019
Paras muovikuksa ikinä, Tämä on vähän isompi miltä kuvissa näyttäisi ja perkuleen helppo pestä puhtaaksi vaan pikkasen vettä ja raaputtelemaan ruuanjämiä sporkilla niin alkaa kiiltämään.
0
0
I would recommend for a friend
Richard T.

19.11.2019
Fantastic cup - needed a good clean, but perfect for my needs. Will be buying more!!
0
0