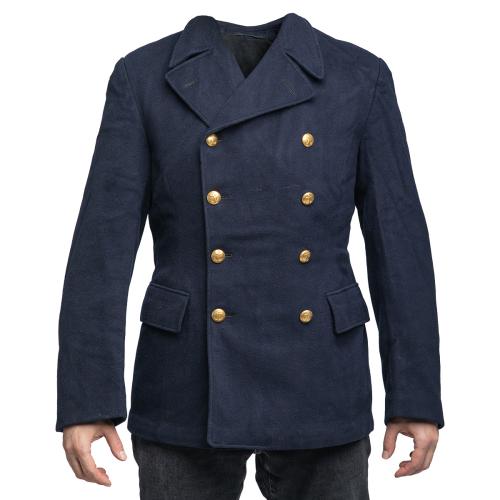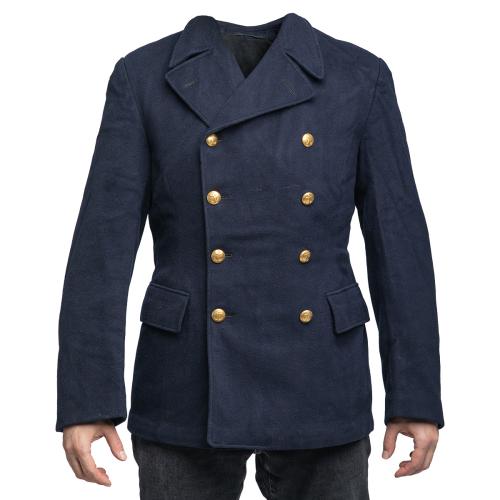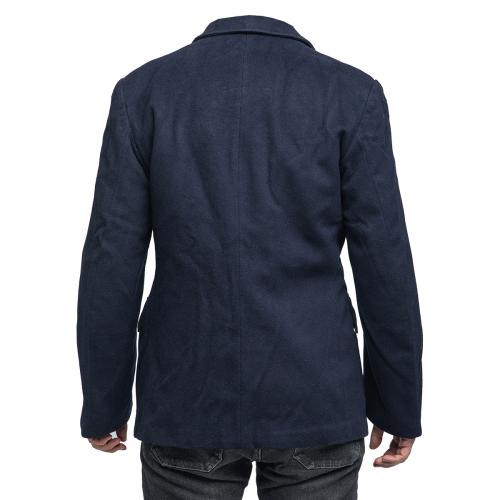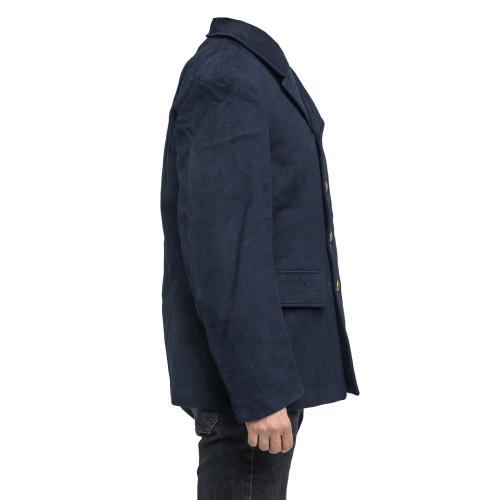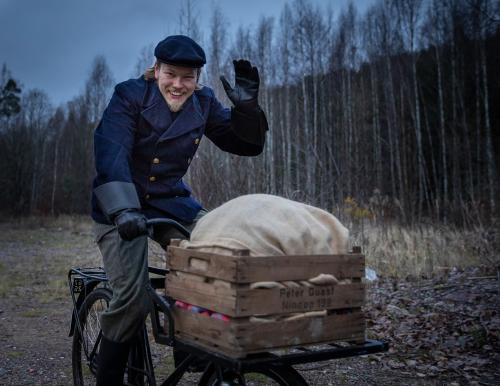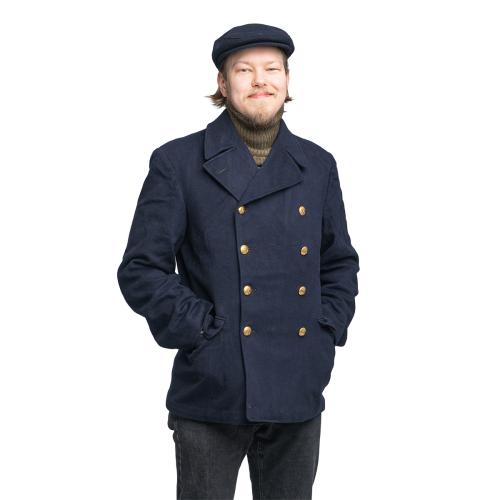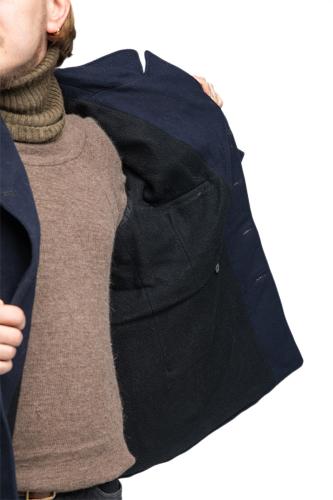 More wool fabric on the inside. The lining is usually faux silk on the upper back to ease donning.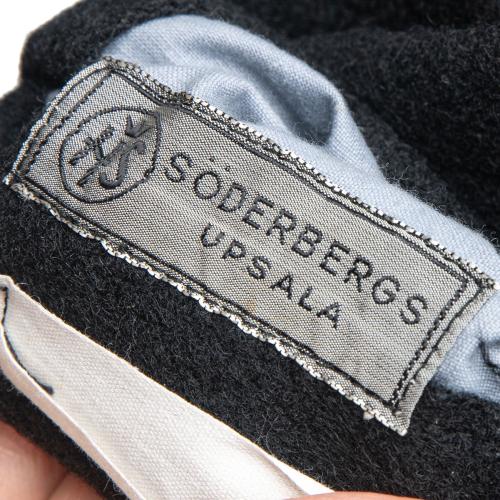 This specimen was made in Upsala, Sweden. They're all made in Sweden. Everything's made in Sweden! Aaaargh!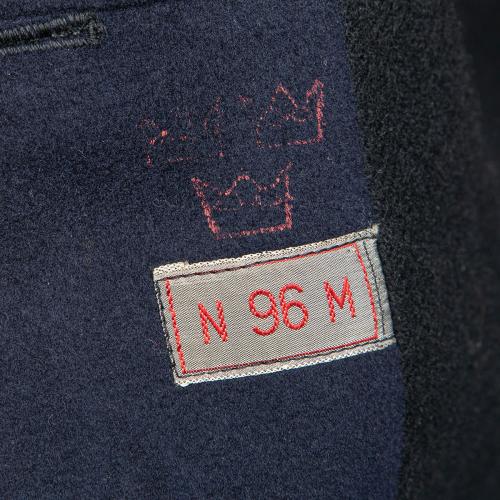 The king of Sweden has approved each of these, as indicated by the Three Crowns stamp.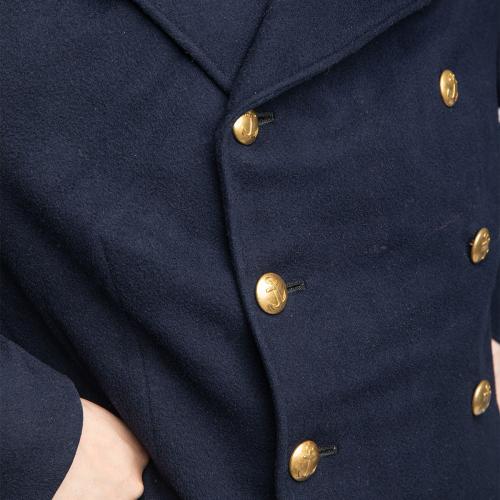 Ahh, buttons like they're supposed to be in a sailor's garment!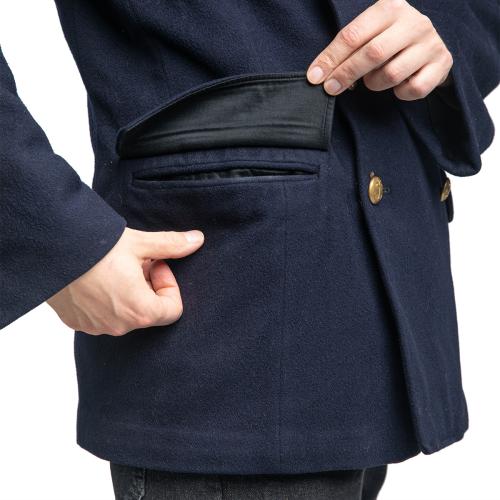 Flap-covered pockets keep your belongings safe even if you're flying with the gale.
Sweden
Swedish Pea Coat, Surplus
Price 59.99 USD
excluding sales tax
Proper nice old-fashioned pea coats, these are genuine Swedish navy surplus. Not some fluffy pseudo wool usually found in clothing stores, but the real deal. Made in Sweden during the Cold War.
Loading products...
Trouble with the metric system? Try our converter: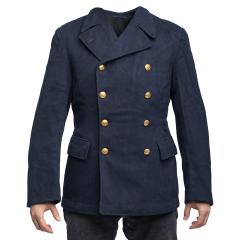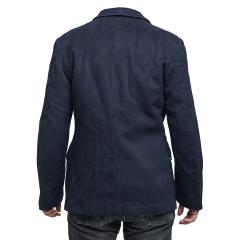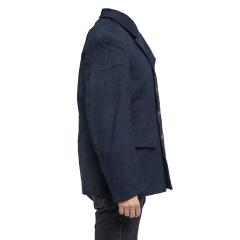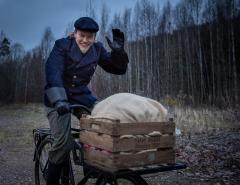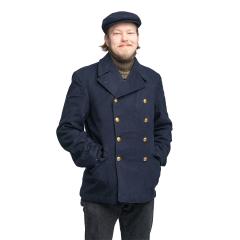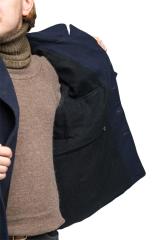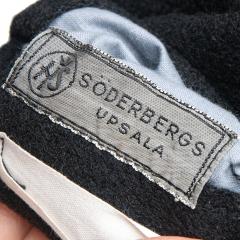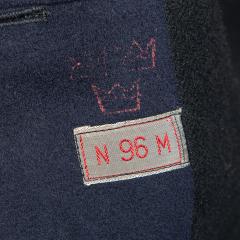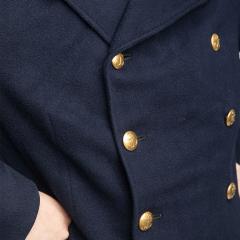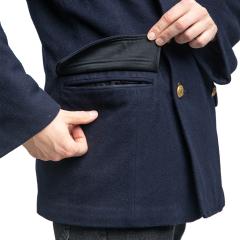 Proper nice old-fashioned pea coats, these are genuine Swedish navy surplus. Not some fluffy pseudo wool usually found in clothing stores, but the real deal. Made in Sweden during the Cold War.
Are you after a good pea coat made for real action between men and hopelessly obsolete by modern military standards? You're on the right track! This coat is a conservative model with brass buttons and good quality wool fabric. Not the coarse "man-wool" usually found in East European or Russian stuff, but civilized Swedish production.
On the inside you'll find a thinner lining fabric to ease donning and to protect against wind. There are two outside pockets and one on the inside. The pocket styles vary, some are diagonal, some are horizontal, but they always serve the same purpose. The buttons are traditional brass ones and can be replaced for a more toned-down look. Of course, we would leave it as it is.
Material and care
Made of woolrich fabric. We do not know if there's a percentage of synthetic fibers mixed in or not - might also depend on the year of production. Anyway, it's good stuff. These do not require washing, just airing it out and brushing it once in a while will work as regular maintenance.
Size info
The labels on the jackets vary between two different sizing systems but these are very similar in principle. The important thing to know is that the EU size system is always half of the chest circumference e.g. a European 48 is made for a 96 cm chest. This is the user's measurement - the garment itself has some clearance.
These jackets are form-fitting and are to be worn with pride. You can fit a dress shirt and a midweight shirt underneath if you pick the size that matches your exact measurements.
We have divided the jackets roughly into three length groups, short ones first. If you want to make it simple, pick your length and see if there's a suitable chest size available.
If people incorrectly call you autistic when in reality you're just thorough and careful, read on and you might be rewarded with a much better fit.
Numbers mean width
As some jackets are labeled to EU sizes, these have a small number like 48. Another jacket of the exact same size may be labeled 96. Both of these mean the same: a 96 cm chest circumference.
Prefix letters mean the cut
All sizes have a prefix letter I, N, or U / B, C, or D. These mean "drop" i.e. how much the waist tapers compared to the chest. The I means an athletic V-form and U allows for a bit of a belly. The waist is smaller than the chest about this much:
I or B (slender waist): -12 cm
N or C (normal waist): -8 cm
U or D (stout waist): -4 cm
Suffix letters mean length
Some sizes have a suffix letter K, M, or L. These designate a length, K is short and L means tall like so:
K (short): 166-172 cm
M (regular): 172-178 cm
L (tall): 178-184 cm
If the suffix letter is missing, the user height is designated right after the prefix letter: tall sizes have an additional "1" while regular lengths have nothing.
Examples: C150 is the same as C50 but taller. C150 is the same jacket as N100L, just with a different kind of label.
Swedish military surplus
These have been used and the age shows, but in general not that scruffy at all. It's not like these were used for infantry combat exercises.
All products: Sweden
Recommendations
Loading products...
Reviews
You have already submitted a review. You can edit your text by clicking on it.
Log in and write a review.
Remove filter
Suomi
(2)
English
(4)
I would recommend for a friend
Alex T.

10.12.2021 (Edited 10.12.2021)
Oman takkini tilasin koossa B154 / I108L. Alle mahtuu sopivasti välikerrastoa, kyllä tähän kokoluokkaan mahtuu poolo ja villapaita, kun rinnanympärykseni on 104cm ja pituutta tällaiselle humanoidille löytyy 188cm. Pituuskin on varsin sopiva.
Värimaailma on todella todella tumma laivastonsininen, yhtä tumma kuin BW:n kansitakissa, toisin kuin kuvat antavat ymmärtää. Lisäksi omani tuli ankkurinappien sijaan varustettuna tre kronor -napeilla, tämä tosin ei haittaa yhtään, jollain kierolla tavalla toivoinkin, että tulisi tre kronorit. Materiaali on sarkakankaaksi yllättävän hienojakoista, kuin raskasta fleeceä... olisin toivonut materiaalin olevan karkeajakoisempaa, kuten SA-manttelit. Loppujen lopuksi, en voi kuin suositella. Kokojärjestelmän selvittäminen ja oikeakokoisen takin tilaaminen on juuri sopiva autismikärsivällisyystesti ylikierroksilla käyvälle sukupolvelle. Hyvää harjoitusta.

Miinusta kuitenkin kokojärjestelmän hankaluudesta, olisi sen helpomminkin voinut tehdä, kuten rinnanympärys/vyötärönympärys/käyttäjän pituus ;)
Syytämme ruotsalaista eläintä tästä vaikeudesta, mutta syytökset Lekan suuntaan, kun helpot kootkin olisi voinut mitata, eikä kokoapuri toimi tuotteen yhteydessä :/
2
0
I would recommend for a friend
Petteri A.

10.12.2021
On tämä tosi jees ja kerrankin LAIVASTOuniformuja! Päällekin meni koko-U116K , vaikka KORT, siis K oli se K ja toki hihat olivat sentin liian lyhyet. Mutta meni siis päälle....sitä ihmettelen...;).
Nyt on hyvä seilailla!

Niin ja Ruotsin Laivasto seilailee koko ajan. Ei ole lopettanut toimintaansa, koska ME emme haamulaivaston kanssa seilaile ja meillä on paljon yhteistoimintaa eli Ruottin sukellusveneet ovat meidänkin sukellusveneitä! Jos ette usko, menkää katsomaan.
Merivoimien esikunta perustettiin kylmän sodan aikana rakennettuun Muskön maanalaiseen tukikohtaan ja nainen komentaa niitä-Kontra-amiraali Ewa Ann-Sofi Skoog Haslum.
Eli vielä kerran-emme seilaile lentävien hollantilaissotapaattien kanssa, vaan ihan tehokkaan ja modernin laivaston kanssa, jonka sukellusveneet herättävät kauhua kaikissa Itämeren rantavaltioissa.

Ja takin olisin lähettänyt takaisin, jollei siinä olisi ollut ankkurinappeja! Sen verran ylpeyttä on laivastolla, että emme alennu maakrapujen ja ryynäreiden kanssa mihinkään! Sotalaivat seilaavat ylpeästi maailman meriä...;)

Silakka I/84
2
4
I would recommend for a friend
RICHARD C.

14.12.2021 (Edited 17.12.2021)
Just received the Swedish Navy Pea Coat: Excellent condition, very little signs of wear, the fit was great, thanks to the sizing info and helpline advice. Came with the three crowns 'everbrite' buttons rather than the solid brass anchor buttons but that's OK. Overall great value and I'm very happy with the purchase. As always, super quick delivery via DHL and great service from Varusteleka! Thanks
6
2
I would recommend for a friend
Lucas L.

22.12.2021 (Edited 22.12.2021)
The ones I got seemed more or less new, but there is a bit of strangeness to consider. I ordered two, one in C46 and the other in C48. The one in 48 is as pictured, but looks much nicer in person. The one in 46 doesn't look like a pea coat and instead looks more like a single breasted overcoat with some sort of removable hood attached. The latter, despite being 46, is much looser fitting than the 48 pea coat to the point where I could almost wear the pea coat underneath. The single breasted coat looks nice enough that I actually prefer it to the pea coat. The only way I could figure out which was which size, due to lack of sizing tags, was that the single breasted one had 46 written on the collar in permanent marker. Both are great, the only way I could tell these were used is the oxidation on the brass buttons.
2
0
I would recommend for a friend
George W.

24.01.2022
Really high quality coat- size was accurate and the coat seemed almost new. Fantastically warm, smart coat, perfect for winter in a city!
0
0
I would recommend for a friend
Scott N.

21.02.2022
This is a great pea coat. accurate sizing, fantastic quality, I am super happy with this coat!!
0
0