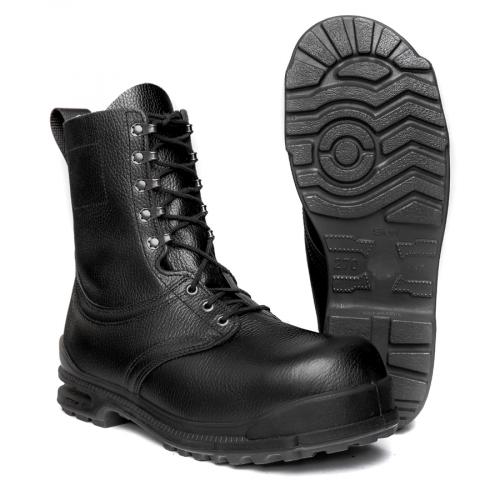 Swedish M90 winter combat boots
Price 73.99 USD excluding VAT
Flat Rate Shipping to USA $9.99
100 % recommends
Sold 43 pairs in the last two weeks
Loading products...
Trouble with the metric system? Try our converter: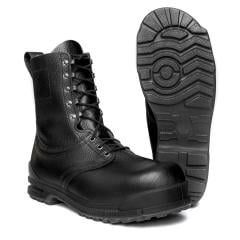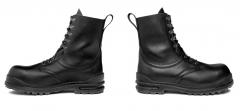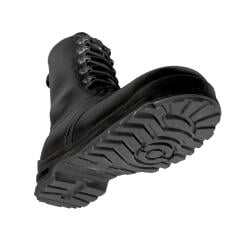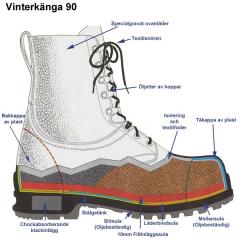 Someone said you can't survive winter temperatures with a regular lace-up boot. Well, how about making the boot big enough to accommodate all kinds of warm stuff inside? Despite the bulky looks, the boot is comfortable, at least with the right sock choices. 2nd quality class, these have some surface imperfections. Boo-hoo.
Definitely made for field use: utilitarian looks, thick leather, no membranes whatsoever so you can grease the leather and keep it in good shape, speed lacing and proper tread pattern. The boot also features an internal toe reinforcement, which also helps to keep the ski bindings firmly in place - yes, these are meant to be skiing compatible.
For some reason the Swedish army contracted the manufacturing to the Finnish company Sievi.
2nd quality?
In reality this means the punctual quality control of peace time. These have some surface imperfections on the leather, mainly something that could be described as scratches and dings. Nothing major, won't affect the use one bit. Normally these would go for like 150 EUR, so it's a good deal.
Size info
Your foot length in millimetres (Mondopoint). First of all, these are quite wide, so we are confident you don't have to concern yourself about that when choosing the size. Just look at the millimetre size; this is the suitable foot length.
When you pick the correct size, you'll get 15 mm clearance for the toes. I.e. if your foot is 270 mm long, pick size 270.
Finding our your foot length is very simple, draw your foot on paper and measure the length from the heel to the big toe. If you have to round, round up (result 267 mm for example = pick 270 mm).
If you are shocked and confused, we have given approximate French/EU sizes too.
Made in Finland
Factory new, made by Sievi in Finland.
Recommendations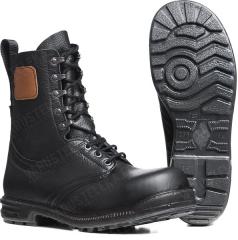 Swedish M90 combat boots, with safety toe
73.99 USD
Similar product.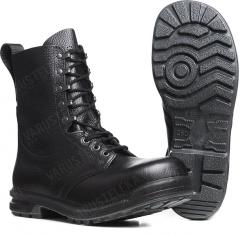 Swedish M90 combat boots
73.99 USD
Sometimes purchased with.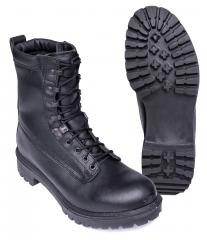 British Cold Weather Combat Boots, Gore-Tex, surplus
73.99 USD
Viewed together.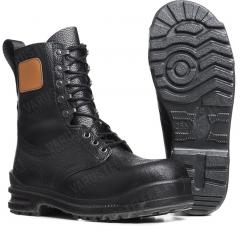 Swedish M90 winter combat boots, with safety toe
73.99 USD
Sometimes purchased with.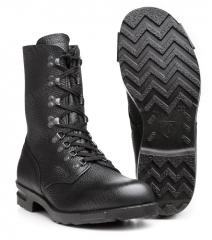 Norwegian M77 combat boots
128.99 USD
Sometimes purchased with.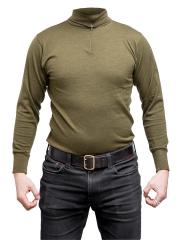 Italian turtle neck shirt, olive drab, surplus
18.99 USD
Sometimes purchased with.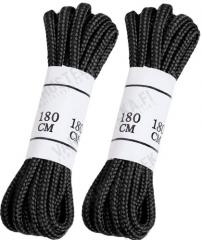 Mil-Tec shoe laces, polyester, two pairs
1.99 - 2.99 USD
Might be of interest.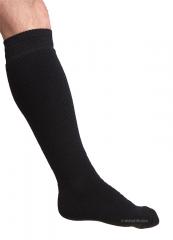 Särmä Knee Socks, Merino Wool Terry
13.99 USD 18.99 USD
Buy also.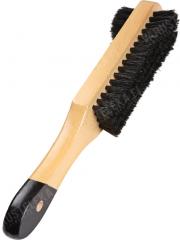 Shoe brush, dual action
5.99 USD
Buy also.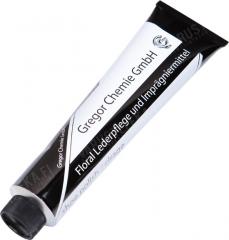 BW shoe polish
3.99 USD
Buy also.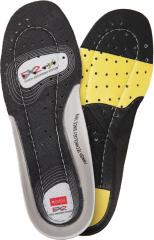 Jalas FX2 insoles
21.99 USD
Might be of interest.
Reviews
You have already submitted a review. You can edit your text by clicking on it.
Log in and write a review.
Remove filter
Suomi
(8)
English
(3)
I would recommend for a friend
N.N.

27.10.2017 (Edited 02.11.2017)
Nämä on siitä hyvät, että mahtuu sisälle kunnon vuori. Ja pohjassa on 10mm huopapohjallinen. Nuo yhdistettynä pitävään pohjaan tekee näistä ihan huippu talvikengät. Ja hiihtäessä mukavammat kuin kumisaappaat. Tosin siteiden pitää olla mallia ruotsi, niin toimii parhaiten.
Nämä on sitten n. 5mm isommat kuin kesäversio, eli mahtuu enemmän eristettä. Jalkaterän alueella thinsulate eriste, eli ei pitäs varpaita vilustaa. Näihin kun nikkaroi huopavuoret, niin ei tarvi kylmää varoa.
Istuvuus omaan jalkaan parempi kuin kesäversiossa.
13
2
I would recommend for a friend
Matti A.

30.10.2017 (Edited 30.10.2017)
Eristävä, pitävä pohja, paksu pohjallinen, paljon tilaa varpaiden liikutteluun... kolme talvea näillä portsarina ovella ilman nuhaa. Hiukka painavat talviseen marssikäyttöön, mutta se on rimpulakinttuisten ongelma. Koitan löytää uudet kunhan vanhoista aika jättää.
7
2
I would recommend for a friend
Pete M.

31.10.2017
Slovakialaisen huopavuoren laitoin näihin, melkolailla keli kuin keli talvella niin pärjää.
6
1
I would recommend for a friend
Thorsten H.

07.11.2017
A great quality boot at a price that makes this a no-brainer. I was unable to find any imperfections that would have made these 2nd quality - they look perfect. They are also really comfortable. However, as mentioned, they are very roomy. My foot is 270mm and that's what I ordered...I still have room for several pairs of extra thick socks!
8
1
I would recommend for a friend
Miika L.

06.12.2017
Todella lämpimät maiharit talvikäyttöön ja pohja varsin pehmeä askeltaa. Näillä kengillä on tullut nyt tehtyä sisäänajoa n. 20-30km ja tuntuu asettuvan aina vaan paremmin jalkaan.
Voisi oikeastaan verrata näitä maihareita, BW:n 2000 mallin maiharia ja Jalaksen Fantom Drylockia intin kolmeen eri malliin:
BW:n olisi m70 (ns. puupohja), nämä m91 ja Jalas m05.
Suosittelen hankkimaan samalla esim. Särmän saapassukan ja käyttämään ainakin alkuun tuplasukkaa jolloin sisäänajo on miellyttävämpää (ainakin itsellä on jokin sauma, joka tuntuu ilman tuplasukkaa joskin nyt jo vähän vähemmän)...
6
1
I would recommend for a friend
Jeffrey H.

01.03.2018
These boots are workhorses you can rely on, you are ment to wear double socks with these boots, thin long socks and thick wool socks,.
2
2
I would recommend for a friend
Tommi M.

06.08.2018 (Edited 06.08.2018)
Itsellä tosi leveä lesti ja kenkä on kuin tehty leveälle jalalle. Sisään ajoa 20km ja harmikseni yksi rakko kantapäähän muuten kenkä toimii maastossa tosi hyvin. Kesti vesilammikotkin hyvin kun ensimmäisenä laittoi tervaa sauma kohtiin ja vielä 50/50tervaa ja valjasrasvaa sen jälkeen. Paksut merinovilla sukat riitti sellaisenaan hyvin ja tilaa jäi vielä yhdelle sukkakerrokselle. Ja koko taulukko piti ainakin paikkansa omassa koossa
3
0
I would recommend for a friend
Adam R.

26.10.2018 (Edited 26.10.2018)
Super quality, very sturdy soles. I had a small deep gash on one of my boots but nothing too major other then that the boots look brand spanking new. While there is a lot of room inside so you can wear about 3 thick pairs of socks it wasn't as much as I would have thaught but that's not really a problem, if you want to wear even more socks then 3 thick pairs then get one size larger that should be more then enough. As it stands it's enough for me. I haven't used them much yet so I hope to get them into action soon. For the price they are a steal, I don't know what Sweden paid for them brand new but your looking close to £200 if not more a pair.

I have no idea how easy it would be to resole the boots when the soles wear down but I hope it's possible because the leather is too good to bin the boots if the soles wear down. A bit like the Jalas M05 boots, the leather is so good that the soles will wear down first. Just hope you can resole those soles as well because it would be a real shame to have to bin them.
1
0
I would recommend for a friend
Kari J.

08.12.2018
Muuten olen aika lailla samoilla linjoilla muiden arvostelijoiden kanssa, mutta itselleni tuli näissä täytenä yllätyksenä pohjan aivan onneton pito esim. tamppaantuneella lumella tai vähän jäisemmillä pinnoilla. Kaikista omistamistani maihareista (5-10 paria eri valmistajilta) näissä on aivan selkeästi huonoin pohja pidon kannalta - jopa lenkkareissani tuntuu hankalilla pinnoilla olevan välillä pitoa enemmän. Mutta kokonaisuutena muuten hintaansa nähden hyvin laadukkaat kengät, kunhan varauksella suhtautuu pohjaan ja sen kuviointiin. (Niin joo, ja mukana tulevat nauhat ovat vähän rimpulat, kandee vaihtaa)
2
1
I would recommend for a friend
Anka R.

30.12.2018
Käytän näitä kenkiä kaksilla sukilla talvella ratsastuksessa ja näistä on tullut mun ihanat lempparijalkineet! Laitoin vanhasta muistista retkipatjasta leikatut pohjalliset eristykseksi, mutta varmasti muutkin sopivat. Normikoko oli hyvä valinta, mahtuu villasukkaa ja mikä parasta, myös pystysuunnassa mahtuu varpaita liikuttelemaan! Ehkä juuri sen takia varpaat eivät palellu niin helposti, kun ilmatilat eristää! Mistään eivät ole hanganneet (ooh!) ja näillä tassutellaan metsässä heppaherran kanssa kelissä kuin kelissä. Suosittelen!
1
0
I would recommend for a friend
Pasi J.

12.02.2019
Ostin parin näitä syksyllä kun tuntui että mustan talven ennustuksista huolimatta saattaisi olla käyttöä talvijalkineelle, jolla ei varpaat palelisi kylillä kulkiessa ja jotka olisivat kevyempi vaihtoehto vaelluskengille esim. lumikenkien sekä murtomaasuksien kanssa käytettäväksi.

En voisi olla tyytyväisempi näihin.

Ensialkuun koko vähän säikäytti, tuntui Pelle Hermannin ja Hessu Hopon välimuodolta leveine lesteineen ja ylimääräisine varvastiloineen, mutta tämän talven pakkasten tultua paksua, eristävää pohjaa on tullut arvostettua, samoin kuin tilaa villasukille. Lumikenkien kanssa nämä ovat ihanteelliset keveytensä sekä lämmöneristävyytensä ansiosta, oletan että suksien kanssa toimii aivan yhtä hyvin.

Isot, kolhot maiharit joilla menee kolmen vuodenajan kelissä kuin kelissä.
1
0