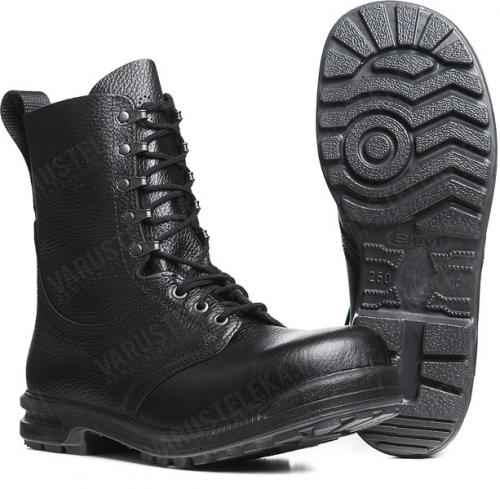 Swedish M90 combat boots
Price 46.99 USD 83.99 USD excluding VAT
Flat Rate Shipping to USA $9.99
Loading products...
Trouble with the metric system? Try our converter: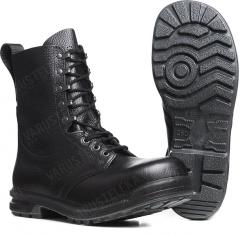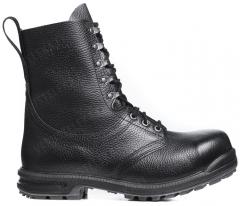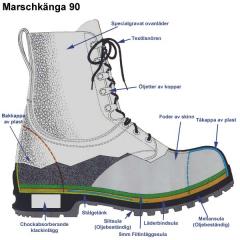 The current issue Swedish army combat boot looks just like the Finnish model 2005, but resembles slightly more a brick and is probably just as tough. Despite the bulky looks, the boot is comfortable, at least with the right sock choices. 2nd quality class, these have some minor surface imperfections. Boo-hoo.
Definitely made for field use: utilitarian looks, thick leather, no membranes whatsoever so you can grease the leather and keep it in good shape, speed lacing and proper tread pattern. Ski groove on the heel. Naturally the boot also features an internal toe reinforcement.
In case you are unfamiliar with standard leather combat boots made in the Nordic countries, remember that these are meant to be used with at least double socks for a proper fit.
For some reason the Swedish army contracted the manufacturing to the Finnish company Sievi.
2nd class quality?
In reality this means the punctual quality control of peace time. These have some surface imperfections on the leather, mainly something that could be described as scratches and dings. Nothing major, won't affect use one bit. Normally these would go for like 150 EUR, so it's a good deal.
Size info
Your foot length in millimetres (Mondopoint). First of all, these are quite wide, so we are confident you don't have to concern yourself about that when choosing the size. Just look at the millimetre size; this is the suitable foot length.
When you pick the correct size, you'll get 15 mm clearance for the toes. I.e. if your foot is 270 mm long, pick size 270.
Finding our your foot length is very simple, draw your foot on paper and measure the length from the heel to the big toe. If you have to round, round up (result 267 mm for example = pick 270 mm).
If you are shocked and confused, we have given approximate French/EU sizes too.
Made in Finland
Factory new, made by Sievi in Finland.
Recommendations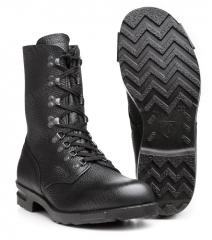 Norwegian M77 combat boots
129.99 USD
Similar product.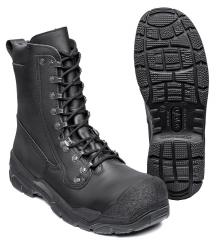 Jalas FDF M05 Combat Boots
148.99 USD
Similar product.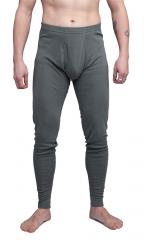 Dutch long johns, grey, surplus
9.99 USD
Often purchased with.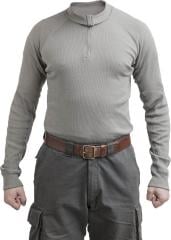 Dutch turtleneck undershirt, zippered, gray, surplus
13.99 USD
Often purchased with.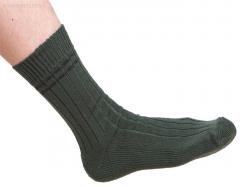 Särmä TST Boot Socks, Merino Wool
6.99 - 12.99 USD 12.99 USD
Might be of interest.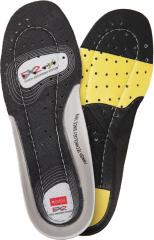 Jalas FX2 insoles
21.99 USD
Might be of interest.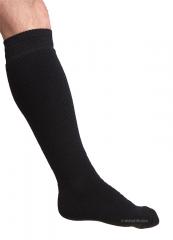 Särmä Knee Socks, Merino Wool Terry
13.99 USD 18.99 USD
Buy also.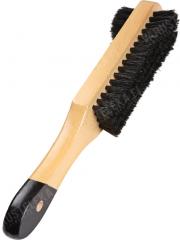 Shoe brush, dual action
5.99 USD
Buy also.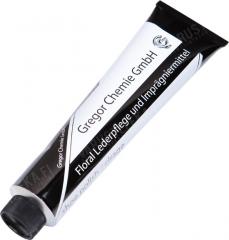 BW shoe polish
3.99 USD
Buy also.
Reviews
You have already submitted a review. You can edit your text by clicking on it.
Log in and write a review.
Remove filter
Suomi
(4)
English
(3)
I would recommend for a friend
N.N.

24.10.2017 (Edited 06.11.2017)
Vihdoin tarpeeksi leveät kengät! Oma lättäjalka istuu kuin valettu nähin.
Pohja on pitävä, paljon parempi kuin BW:n luistimissa. Muutaman kilsan testin perusteella paljon miellyttävämpi kuin m05, pohja on jäykempi, ei tunnu jokainen pikku kivi läpi.
Ai niin, Jalaksen FX:t kannattaa sit tilata mukaan, parantaa fiilistä huomattavasti.
13
0
I would recommend for a friend
J-P M.

10.11.2017 (Edited 28.03.2018)
Joo. Tilasin 285 kokoiset kun jalkani sellaiset sattuvat olemaan, ja kummastus olikin suuri kun sain ihan sopivan kokoiset (280 olisi ollut varmaan ihan hyvä myöskin). Varpailla on tilaa temmeltää ja tavallisen puvunsukan lisäksi mahtui paksu saapassukkakin mukaan ihan kivasti. Jalkani on ihan helvetin rintava, joten siitä nyt vähän puristaa mutta sisäänajo korjannee asian. Lesti tosiaankin on leveä, enää eivät mielikuvitusliikavarpaat mulle vittuile.

Minkäänlaista kakkoslaatuun viittaavaa en pintapuolisella tarkastelulla löytänyt, ei naarmuja eikä pohjassakaan näyttänyt olevan mitään vikaa, ellei minimaalisia ilmakuplia lasketa sellaisiksi. Mukana tuli jotkut kerrassaan inhoittavan perusmallisen oloiset kovat huopapohjalliset. Heitin niiden päälle jalaksen fx2 pro-pohjalliset, voihan ne originaalit ottaa poiskin myöhemmin kesällä ja talvellakin jos yhä ahdistaa. Nilkassa oleva vetolenkki tuntuu olevan tukevaa tekoa ja tulee tosiaankin tarpeeseen, siitä mahtuu kaksikin sormea läpi. Nauhat ovat myös ihan peruskamaa, aika ohuehkot ja vähän heppoisen oloiset. Nämäkin voi vaihtaa, ihme ja kumma.

Kai nää on ihan hyvät. Nyt vaan rasvat päälle ja sitten kovaa sisäänajoa. Neljä pistettä annoin ensivaikutelman perusteella ja koska olen kuitenkin perusnegatiivinen sikakoira.

***
Muokkaus 28.3.2018: Noniin, nyt kun näillä on tullut ostohetkestä lähtien käveltyä lähes päivittäin vähintäänkin lyhyet työmatkat, pitänee tehdä hieman lisäyksiä. Kengät ovat aika helvetin hyvät, mutta pienin varauksin.

Ensinnäkin rakenne on niin jämäkkä, että ainakaan omat jalkani, "oikean koon" valittuani, eivät juuri muokkaa kenkää miksikään. Tämä ei sinänsä haittaa, koska tuplasukillakin näiden kenkien jalkaansopivuusastetta voi kotonaan simuloida ottamalla valmiiksi hyvin sopivat kengät, leikkaamalla kenkien kärjet irti, ja sitomalla nauhat nilkan ja säären ympäri tiukkaan, niin paljon on varpailla tilaa. En pysty edes omilla räpylöilläni levittämään varpaitani niin paljon että ne ottaisivat johonkin kiinni.

Pohjat ovat vielä kestäneet ihan hyvin terävän hiekoitussepelin. Pohjan kuvio itsessään vaikuttaa ensinalkuun mainiolta, mutta kerää aika helvetin tehokkaasti juurikin tuota karkeaa hiekoitussepeliä. Pito on ihan ok, mutta kyllä näillä luistelemaankin pystyy jäällä tai tasaiseksi pakkautuneella lumella. Maastossa pito tietenkin on erilainen.

Kenkien jalkaan laittaminen vie yllättävän paljon aikaa, mikäli ne kunnolla haluaa jalkaansa. Nauhat luistavat aika huonosti rei'issä ja lenkeissä, mutta eivätpähän löysty itsekseen. Lenkit myös syövät nauhoja aika tavalla, mukana tulleet nauhat katkesivat jo parin kuukauden jälkeen ja polyesteriset markettinauhatkin ovat jo jännän näköiset.

Mikäli ulkonäkö on sinulle tärkeää, kannattaa harkita muita kenkiä mikäli olet vähänkin isojalkaisempi. Leveydestä johtuen näillä nimittäin saa aika hyvät pellehermannilarppaukset aikaan, varsinkin jos käytät jotain vastenmielisiä pillifarkkuja. Efekti voimistuu entisestään jos sääresi ovat mallia tikut. Armeijakäyttöönhän nämä tosin on tehty joten ulkonäköasioista nillittäminen lienee turhaa.

Tässä tämmöisiä omia vääriä mielipiteitä kengistä niin! Kesäksi kyllä taidan ostaa yhtä kokoa pienemmät, tai sitten ihan jotkut muut, paljon sirommat...
5
1
I would recommend for a friend
William D.

02.02.2018
I've had these boots for a couple weeks now. Sizing description is accurate - plenty of room, especially in the toebox. Good leather, seems durable. The boots are much lighter than expected, and the rubber between the leather and the tread of the boots seems to be a foam rubber. looking at the pictures closely, you can see the sole is 2 pieces molded together, upper and lower. Boots are comfortable, and don't slip around.
4
0
I would recommend for a friend
Jeffrey H.

01.03.2018
These boots are workhorses you can rely on, you are ment to wear double socks with these boots, thin long socks and thick wool socks,.
2
1
I would recommend for a friend
Ari H.

01.03.2018
Hyvät kengät sanoisin 200 km sisäänajon jälkeen. Ovat sopivat leveään jalkaani myös pito on hyvä. Toivottavasti löydän leveälestiset kengät myös kesäkäyttöön. Kävelen 4000 km vuodessa.
Terveisin. Mies joka kulkee omia polkujaan.
3
0
I would not recommend to a friend
Ville L.

19.03.2018
Plussaa:
- Tosi hyvän oloinnen pohja
- Laadukkaasti tehty

Miinusta:
- Kakkoslaatu tarkoitti syvähköä naarmua jalkapöydän kohdalla
- Näissäkin maihareissa loppuu varresta kiristysvara kesken hennoille nilkoilleni
6
3
I would not recommend to a friend
Björn R.

29.09.2018
Didn't buy them here, but used them during service. Even though they're called (directly translated) march boot 90, I didn't feel that they are too good at walking. The toe box is extra big, which is a big plus (it is like that, so that you can wiggle your toes easily to improve circulation. Another plus is that they have the cutout at the heel, so that one can use them as ski boots for the "white lightning" skies (Swedish military skies).
0
0