Product added to cart
X
Recommendations
Show all Recommendations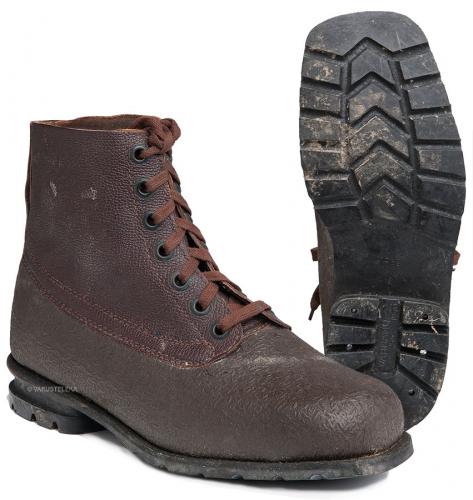 Swedish combat boots, rubber and leather, brown, surplus
Price 18.99 - 22.99 USD excluding VAT
Loading products...
Trouble with the metric system? Try our converter: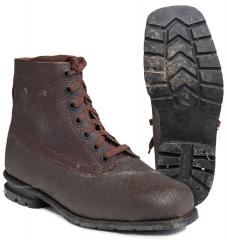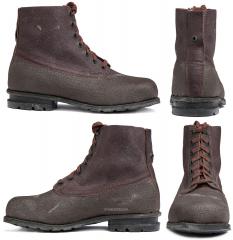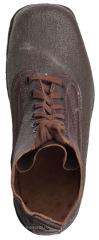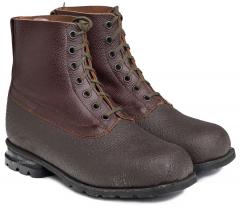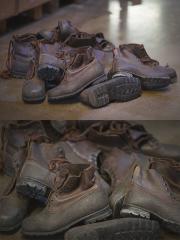 Extremely well made, tough ol' ankle boots, these are the classic Tretorn combat boots! No GTX, but good ol' honest rubber and leather instead. Yes, the lower part is completely made of some pretty tough quality rubber, these are practiaclly waterproof, especially paired with proper gaiters. Old used Swedish army surplus from the times when things like 'planned obsolescence' were not fashionable. These are getting a bit rare - we got two Euro pallets and that's all there's going to be.
Small sizes go for very very very cheap!
The leather used on these is about 2,5 mm thick and of extremely high quality, while the rubber is something that probably does not disintegrate ever. A very nice detail for shoe model as old as these is the bellowed tongue that won't let water seep in from the sides. No wonder the British SAS favoured these and the full leather variant during the Falkland conflict over the standard issue DMS Boots.
On the heel you'll find a ski groove, the kind that accommodates, say, the old Finnish ski bindings or just about any snow shoes. Couple that with the overall generous sizing for many pairs of socks and you have excellent, old school skiing boots!
A word of warning: the rubber of the soles is not as supple as it was when new. This means it's probably not as grippy as it was back then (if it ever was grippy at all...). It's still tough as nails and will take ages to wear out. In addition, a cobbler should be able to glue on more rubber if needed.
Being ankle boots, these encourage the use of puttees, anklets or gaiters to provide extra support and keep snow out. Or just fold your wool sock over the shaft.
Usually included is a pair of laces, either leather or cloth. In any case it might be wise to invest in a new pair as they are old and thus might be unreliable. Some meter-and-a-half should be OK. No insole included.
Size info
Sizes in user's foot length in millimetres, with a comparable EU/French size in the brackets.
The fit is very roomy, these are meant to be used with many pairs of socks or socks and footwraps, and thick insoles. These fit more like rubber boots or jackboots. We dare say the last will not cause problems for people with wide feet.
Condition
1: Used and tossed around in warehouses for decades. Most have spots of old talcum powder or grease, dead surface mold or some other type of dirt, just rub it off with a rag. There's also a slightly musty ol' warehouse smell, a real first world problem. Grease them well, first time preferably before use. The lace eyelets are brass and usually have that bluish green oxidation. They might come off in use, but are easy to replace or just leave out. Some "used" boots are unissued ones with just a lot of oxidation in the eyelets.
2: Unissued, but old. Might have the same surface imperfections as used boots and of course some storage scuffs, but they have never been worn. We recommend the same treatment as with used boots. The eyelets seemed to be overall much less oxidated than on the used boots.
Reviews
You have already submitted a review. You can edit your text by clicking on it.
Log in and write a review.
Remove filter
Suomi
(3)
English
(8)
I would recommend for a friend
David V.

17.12.2016 (Edited 22.12.2016)
Bought a pair of these from a place here in the States. This because more than one size conversion makes me nervous, otherwise Varastulka has the better price.

For reference, Swedish size 275 is loose on my US size 10 feet. But mine came with no insoles. Sure need some.

Dry and stiff indeed, nothing a soak and some oil didn't fix.

My 2 pairs were dated 1968 and 1969. They will likely last just as much longer
13
1
I would recommend for a friend
John K.

06.01.2017
Super great value, you can't go wrong even if you replace the soles with a more modern grippy version, then they would be even better!
13
1
I would recommend for a friend
Björnerik J.

12.01.2017
Great boots, used som "Viking fiskarsmorning" And now they look just as new.
Will probably last my lifetime with proper care (I'm 20 years old)
15
1
I would recommend for a friend
Joose V.

30.01.2017
Halvat ja hyvät, siinä vasta paradoksi. Monot ei tosin ole läheskään niin slimmit kun kuvista voisi päätellä, vaan kyseessä on massiivisen ja kovan kumisaappaan alaosa yhdistettynä maiharin varteen. Nahkakin on kovaa kun mikä, ja ainakin uudenveroisten kanssa pitää varautua pitkään kipujaksoon kun niitä ajaa sisään. Jos sen kestää, eikä kaipaa kauniita popoja, niin tässä on pilkkahintaan pomminkestävät huonon kelin bootsit. Mitä kokoon tulee, niin näissä on tarkoitus olla paljon tilaa, että mahtuu sisään erinäistä rättiä, pohjallista yms. Isot monot toimii talvikäytössäkin, mutta jos niitä haluaa käyttää pääasiallisesti lämpimällä kelillä niin voi tod näk ottaa koon tai pari pienemmän kun tavallisesti.
4
0
I would recommend for a friend
Alvaro V.

01.10.2017 (Edited 01.10.2017)
I don't get it why the swedes got rid of such good stuff.
12
3
I would recommend for a friend
Janne K.

02.10.2017 (Edited 02.10.2017)
"Rumimmat kengät mitä olen ikinä nähnyt", sanoi vaimo kun nämä ekan kerran näki. Se on ihan totta, mutta metsässä nämä toimivat aika hyvin.

Ei kannata luulla että tässä saisi parillakympillä modernia vaelluskenkää mukavuudeltaan vastaavat kengät. Ei saa. Mutta kärsivällisellä rasvauksella ja vieläkin kärsivällisemmällä sisäänajolla tästä saa aikasta hyvät kengät syksyiseen ja keväiseen suomalaiseen metsään. Kilometrien nielemiseen on omat kenkänsä ja vakavammin vaeltamista harrastavat käyttäkööt niitä, mutta nämä ovat yksinkertaiset ja pomminvarmat valinnat vähän rauhallisempaan menoon kosteisiin paikkohin - eli käytännössä kaikkialle kulutettujen polkujen ulkopuolelle muutaman kesäkuukauden ulkopuolella.

En ole vielä löytänyt useammasta palasta ommeltuja nahkakenkiä mitkä saisi luotettavasti vedenpitäviksi millään rasvalla tai vahalla, mutta näiden kumisilaus toimii hyvin. Jalat pysyvät koko päivän kuivana jopa kosteassa heinikossa taaperrettaessa, vaikka välillä astuisikin vähän lätäkköön tai mutaan. Päiväretkille ja sienestyksen tai marjastuksen, miksei metsästyksenkin kaltaiseen vähän rauhallisempaan puuhailuun oiva valinta - kun olen tälläinen pihi, niin säästän mieluusti kalliita goretex-kenkiä vaativammille jotoksille.

Pohja on suunnilleen yhtä jäykkä kuin jäykemmissä moderneissa vaelluskengissä, eli tasaisella ei ole niin hyvä, mutta kivikossa sitäkin parempi. Pohjakumi on myös kovaa, mikä tarkoittaa (toivottavasti) hyvää kulutuskestävyyttä, mutta liukkaat nämä voivat olla. Nahka on siinä määrin kuivaa, että armoton rasvaus ennen käyttöä on ihan välttämätöntä jos meinaa, että kengät kestävät yhtään. (Rasvaa kannattaa laittaa surutta myös kengän sisään: sisältä nämä ovat nahkakengät, kumi on vain päällä.) Sisäänajoa joutuu tekemään vähintään pari viikkoa, ellei enemmänkin, ja rakkoihin on syytä varautua. Yllättävää kyllä, vaa'an mukaan painoa on vain 100 grammaa enemmän kuin viimeisen mallin mukaisilla goretex-vaelluskengillä (1,1 kg vs 1 kg koossa 45).

Kaiken kaikkiaan hinta-laatusuhteeltaan oivat kengät rauhallisempaan ulkoiluun.
3
0
I would recommend for a friend
N.N.

05.10.2017
Nää on hyvät. Itse asiassa ostin toiset ns "reserviin"
Vaatii sisäänajon, öljyä ja kärsivällisyyttä. Jos nyt jotain moittii, niin pohjat on liukkaat, mutta eiköhän suutari jotain keksi.
Ja kannattaa tarkistaa vastaavien Lundhagsien hinta, on vaan aika monta euroa enemmän ;)
0
0
I would recommend for a friend
Simon H.

07.10.2017
These boots are made like tanks. I think you could do almost anything to these and they would survive. They're a little stiff, but that's temporary.

Only problem is that they're a little large. I've got insoles and everything in them and they're still a bit loose. Maybe order a size down from what you usually get.
10
1
I would not recommend to a friend
Erik Z.

21.10.2017 (Edited 21.10.2017)
Just so that people know what they're getting into. I spent € 19.90 on size 265 (41) unissued boots, which seems like a bargain. They cleaned up nice with a sponging of lukewarm water, and generous amounts of grease (both elbow and the kind for shoes). The boots are of very generous sizing, so I added 2 layers of felt insoles (€ 5 per pair) and heel inlays for cushion (€ 12). The laces needed replacing (€ 7) and I had a cobbler replace one of the metal eyelets (€ 5). After that another 6 eyelets fell out so I bought an eyelet tool and 30 replacements (total € 20). The funky smell of mold and storehouse has somewhat subsided after 3 weeks on a balcony, but any socks I use in them will absorb some of the funk.
With Swedish military woolen socks (€ 9) and Coolmax hiking socks (€ 5) on my feet the stiffness of the soles and leather are still very noticeable. I've just walked some 20 km in them, and I hope they will form after my feet before 100 km...

The boots look cool and the materials are of very durable quality and won't ever wear out of you care for them, but I'd take my Meindl as hiking boots any day of the week.

The boots were € 19.90 but I needed another € 68 to make them close to bearable to wear, which still make the setup worth it, IF I can break them in properly.

The reason us Swedes got rid of these are we upgraded to the M90 boot almost 30 yrs ago. The M90 is possibly the best boot I've ever worn and beats the M58 (the boots I'm reviewing) by a long shot. I was issued a new pair on conscription and I had to leave them when I was released from service, and if Varusteleka was ever to get their paws on some I'd recommend them to anyone.

In the Swedish military forums the M58 are generally considered to be way too stiff, and the rubber soles too slippery. Some valiant souls have managed to break these beasts in, but that seems to take time, distance and lots of grease to happen...
8
1
I would recommend for a friend
Jeffrey M.

24.10.2017
These are sturdy, well-made boots. Mine are stamped 1943 near the ankle and 1963 on the soles...so they have lived a long life and been resoled. I added a memory foam insole and wear a thick wool sock over my regular boot sock...and boy are they comfortable.
4
3
I would recommend for a friend
Koby F.

26.11.2017
Just as described these boots are super roomy. Let me say that again SUPER ROOMY, I need almost 4 pairs of socks and it is still lose, these are huge and looks very funny on the feet. However, these are so cheap and almost brand new. I bought them as an impulse buy and probably wont wear them but they are super cool. Get them while you can!
1
0