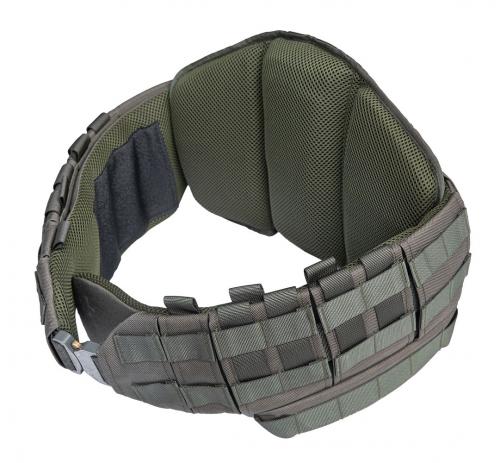 Sioen Tacticum Battle Belt, NIJ IIIA
Price 404.99 USD excluding VAT
Flat Rate Shipping to USA $9.99
Sold 1 pcs in the last two weeks
Trouble with the metric system? Try our converter: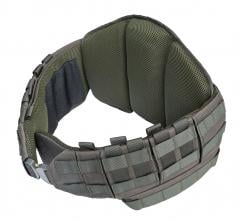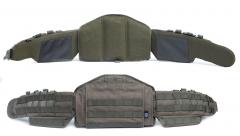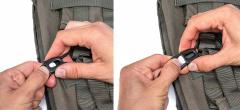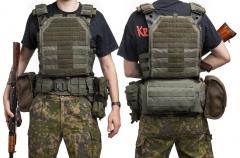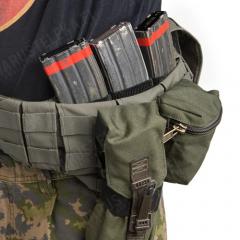 A ballistic battle belt, or blast belt if you will, is a great way to further enhance your armour coverage when using a plate carrier. This battle belt naturally features a whole lot of PALS attachment points as well as a regular webbing belt.
As a plate carrier only covers your most vital organs it also leaves the lower part of your stomach, sides and back exposed. This Level IIIA battle belt covers those parts offering protection against small arms and shrapnel. The belt is very comfortably padded and rigid enough to be worn comfortably for long periods.
Features
Closes with a AustriAlpin Cobra buckle (the hottest shit on the market).
The belt and it's ballistic inserts extend under the buckle to provide full, gapless cover.
10 x 2-3 PALS matrix on the sides.
6 x 3 PALS matrix on the back.
Beneath the PALS on the sides runs a standard webbing belt strap which can be brought out for attachment of pistol holsters or other belt-worn kit.
Inside the side panels are elastic open top mag pouches, best suited for AR15 style mags, but also AK types fit.
On the back is a compartment for a first aid kit or other mid-size items.
Removable NIJ IIIA panels with +15J stab protection
Total weight 1,80 kg (3.97 lbs).
NIJ 0101.04 explained
There are many standards but this one is the most common in Europe and widely used worldwide. Soft panels offer IIIA at most, from there it's hard plates.
| Caliber | NIJ IIA | NIJ II | NIJ IIIA | NIJ III | NIJ IV |
| --- | --- | --- | --- | --- | --- |
| .22 LR LRN | OK | OK | OK | OK | OK |
| .380 ACP FMJ RN | OK | OK | OK | OK | OK |
| 9x19 mm FMJ RN | OK (341 m/s) | OK (367 m/s) | OK (436 m/s) | OK | OK |
| .357 Mag JSP | FAIL | OK | OK | OK | OK |
| .44 Mag SJHP | FAIL | FAIL | OK | OK | OK |
| 7.62 NATO FMJ | FAIL | FAIL | FAIL | OK | OK |
| .30-06 AP | FAIL | FAIL | FAIL | FAIL | OK |
| | |
| --- | --- |
| LRN | Lead Round Nose |
| FMJ | Full Metal Jacket |
| RN | Round Nose |
| JSP | Jacketed Soft Point |
| SJHP | Semi-Jacketed Hollow Point |
| AP | Armour-Piercing |
Size
These are one size, nominally Medium-Large, but adjustable down to Small size users (32" waist in the picture and adjusts even smaller).
The length of the belt is adjusted by interwoven straps and a super-strong elastic cord inside the back panel. If you need to weave the elastic cord to make large adjustments, simply disassemble the cord lock to make things easier. See pictures for reference.
Made by Sioen Ballistics
The Tacticum series of body armour was originally developed and produced by Verseidag Ballistic Protection (one of Finlands leading producers of ballistic equipment and a huge supplier of the Finnish defence forces). In 2017 Belgium based Sioen purchased Verseidag, the gear is still the same only under another name.
Reviews
You have already submitted a review. You can edit your text by clicking on it.
Log in and write a review.
Remove filter
I would recommend for a friend
Sami A.

16.08.2017
Vihdoinkin battlebelt, jossa taskut ei lerpata, pistoolikotelo pysyy asennossaan, suojat löytyy sisältä, eikä lähde liukumaan aikuisen miehen synnyttäjälantiolta. Säädöt on riittävät ja mahdollisuus yhdistellä monipuolisesti vyöhön kiinnittyviä taskuja PALS taskujen kera on aivan priimaa.
11
2
I would recommend for a friend
Rami H.

17.05.2018
I would recommend for a friend
Sami R.

05.07.2019
Läskisamille kannattaa tähän vyöhön hommata valjaat. Vyön leveyttä säätävät kumiremmit on sidottu käsittämättömän surkealla muovikäikäleellä mikä kannattaa ensi töikseen viskata helvettiin ja tehdä kunnon solmu tilalle. Sivujen PALS-kujastot ovat vähän löperöjä ja kanttaavat open-top taskuissa lippaita ulospäin. Pistoolin lipastaskuille PALSsit ihan ok, kiväärin lippaat kannattaa tunkea lähempänä kylkiä oleviin open-top lokeroihin tai päältä suljettuihin taskuihin. Muuten on kestävä kampe ja mukava päällä hyvillä säädöillä varustettuna. Urheiluampujille on parempia vaihtoehtoja mutta ressuhommiin aika ässä. Halutessaan tähän köyttää jumalattoman määrän tavaraa kiinni kunhan hommaa mukavat valjaat.
2
1