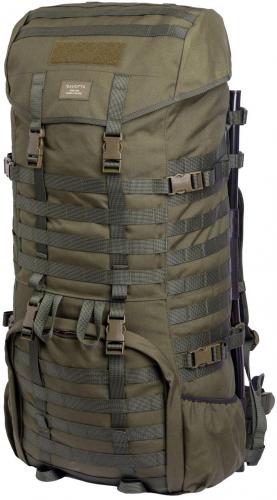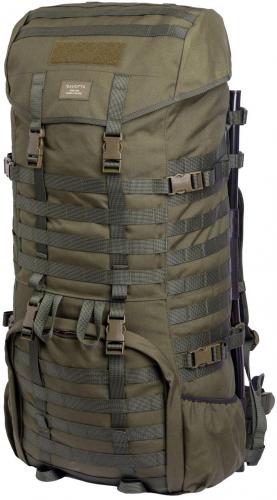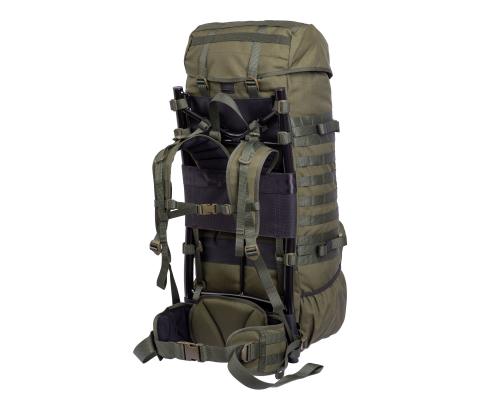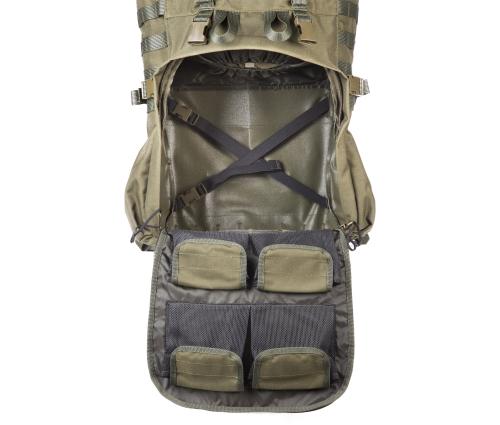 Fast access to mesh organizers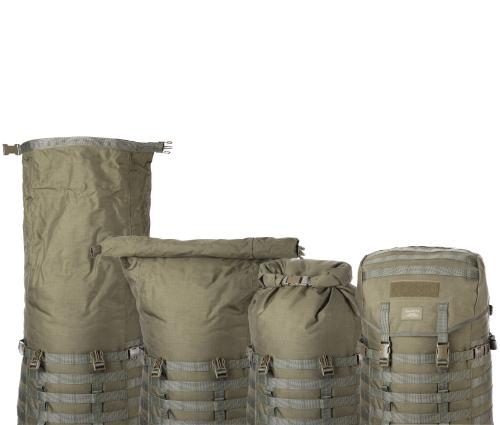 The roll-top is weatherproof and can be sized down as necessary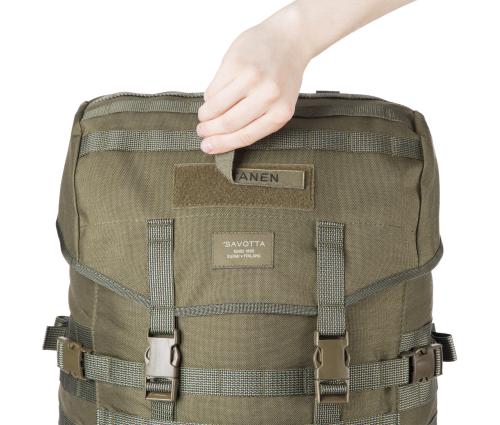 Loop base for a name tag, flag or whatever you like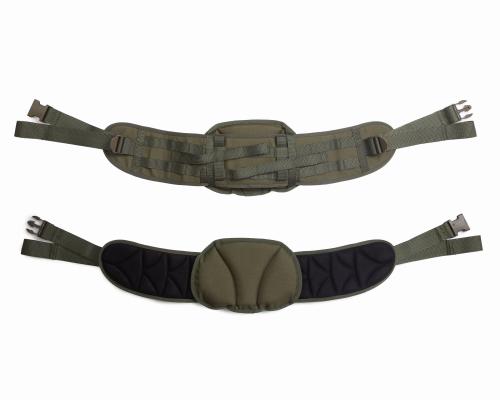 The removable hip belt doubles as an equipment belt or to drag a sledge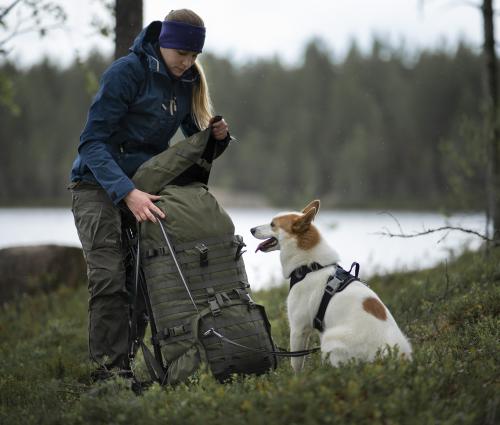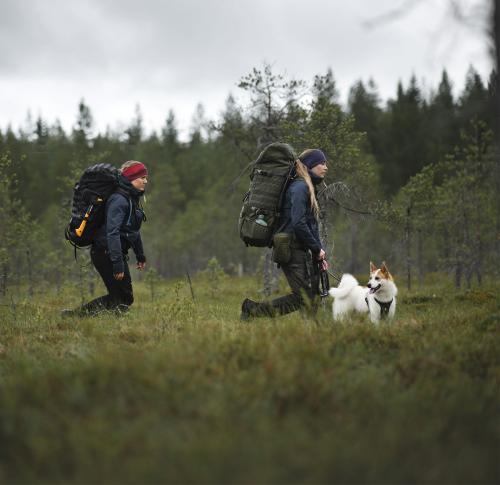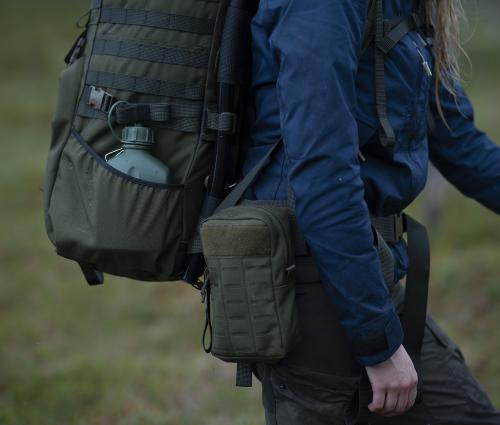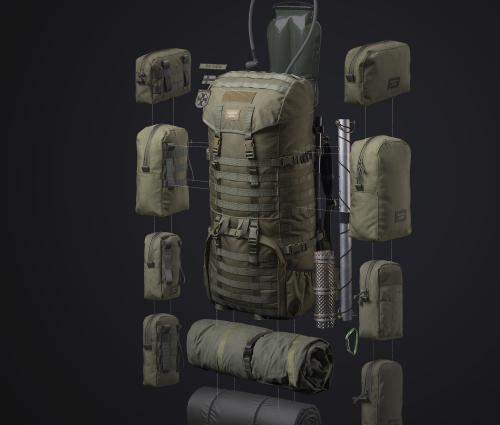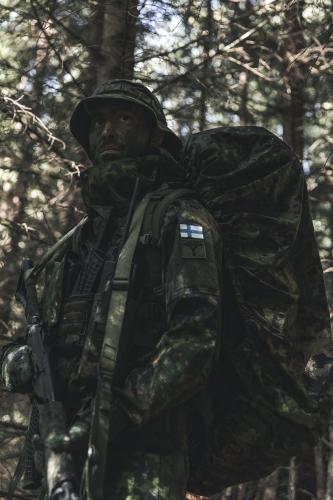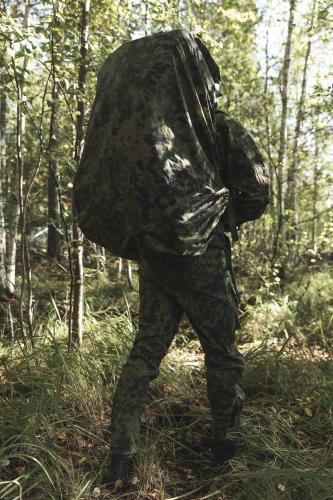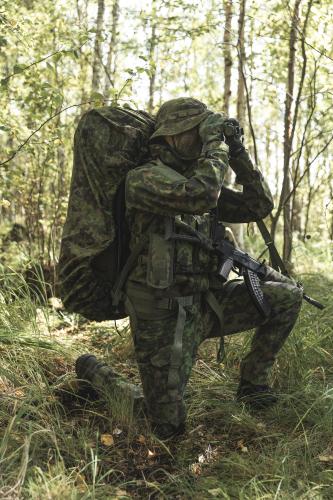 Savotta
Savotta Jääkäri XL rucksack
Price 597.99 USD
excluding sales tax
This XL size carrying device of the Jääkäri rucksack family is much more than just an ordinary rucksack. The carefully thought-out details and extensive MOLLE webbing make this rucksack a truly modular and versatile tool that adapts to the needs of the user. Due to the slim shape, the rucksack is ideal for those who are skiing or hiking in difficult and demanding terrain.
In stock 14 pcs. Sold 6 pcs in the last two weeks.
This product has used and returned variations. Used are washed and unbroken. Heavily used are also washed but might be missing buttons, have tears, main zipper can be broken etc. Read more about Kierto.
Trouble with the metric system? Try our converter: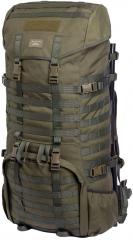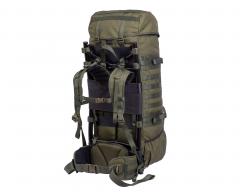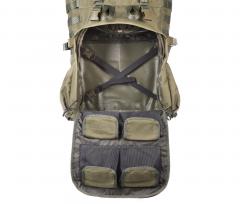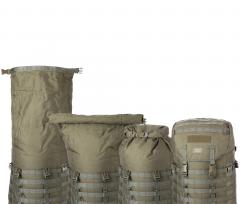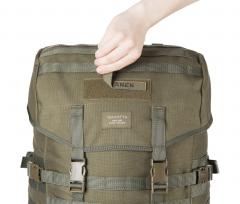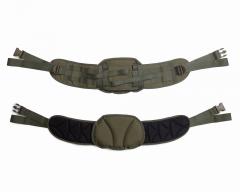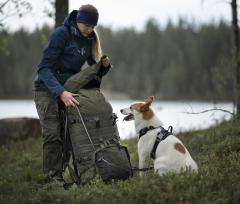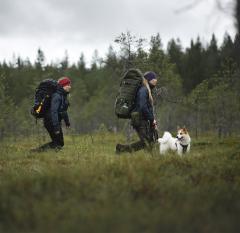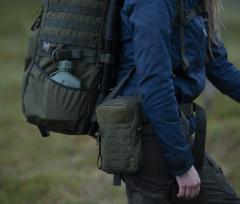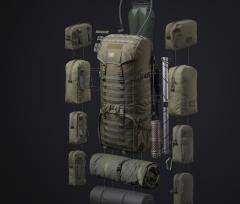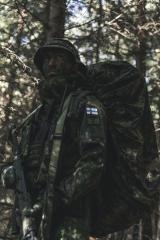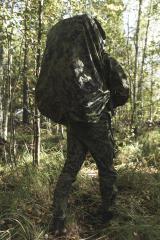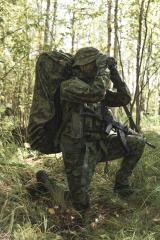 This XL size carrying device of the Jääkäri rucksack family is much more than just an ordinary rucksack. The carefully thought-out details and extensive MOLLE webbing make this rucksack a truly modular and versatile tool that adapts to the needs of the user. Due to the slim shape, the rucksack is ideal for those who are skiing or hiking in difficult and demanding terrain.
A rucksack is a vital piece of equipment in the woods because it's used to carry everything else. Most importantly, you should be able to haul things without breaking yourself, but the Savotta Jääkäri XL rucksack does that and then some. This pack was formerly known as "Jääkäri-rinkka".
Features
Dimensions of the rucksack are approximately 84-112 x 32 x 23 cm (33" - 44" x 12.5" x 9") with volume of 80-100 liters (4900-6100 inch³). With overpacking, you'll gain up to 20 liters (1200 inch³) more volume. Weighs around 3.9 kg (8.58 lbs).
Main compartment
The main bag of the Jääkäri rucksack has been designed to hold the necessary supplies even for a longer hike or mission. The opening of the bag is closed with a waterproof rolltop method that enables freely adjustable overpacking. The rolltop opening is locked with a quick-release fastener of 25 mm (1") and is covered by a flap, which hugs the top of the backpack and is secured with straps.
The generous length of the straps provides a lot of space under the flap for extra supplies, such as a sleeping bag. Furthermore, there is a very spacious zippered pocket for storing valuables.
Inside the bag is a divider that can be closed to split the bag into two sections. The top section includes a pocket against the back that will easily hold a modern 13.3-inch laptop or smaller pads. In the middle at the lower section of the rolltop, there is a protected exit for a hydration bladder hose, cable, or antenna.
The contents of the bottom part of the bag can be accessed quickly through a zippered opening. The back of the bottom section has adjustable elastic bands with quick-release fasteners for tying gear. Additionally, the bottom part flap has four mesh pockets for storing loose objects and valuables.
Compression and external carrying capacity
With the rolltop and compression straps of the bag, the Jääkäri rucksack can be tightened so that it sits firmly and does not jiggle around even when not full. The compression straps have been equipped with quick-release fasteners, and they can be detached easily.
Using the compression straps, it's also possible to easily hang items outside the bag. The straps have been sized to be long enough to extend over the backpack all the way to the opposite attachment point, if necessary.
The bottom of the backpack has two rows of MOLLE through which the straps can be run. This means that equipment can be tied to the bottom of the backpack as well. Tying to the bottom is an excellent carrying method for rolled sleeping mats, for example. There are also attachment points on the hip belt of the rucksack.
On the sides, there are pockets with an elasticized opening where you can place small supplies or a long tool or a water bottle, the neck of which can be tied firmly in place with a strap.
Carrying system
Thanks to its strong, manually welded DUR aluminum frame, and fully-adjustable carrying system, the Jääkäri rucksack is very sturdy to carry. The support frame holds the Jääkäri XL firmly in shape and distributes the burden anatomically to your hips so that you are never overstrained even with the largest of loads.
The wide shoulder straps of the rucksack have been designed with ergonomics and comfort in mind. The shoulder straps also have a separate adjustment for the distance of the rucksack's frame. This is used according to the terrain and/or when you want to transfer more of the burden to your hips.
The detachable hip belt is fastened with a sturdy quick buckle and has a padding pillow against your back. The inward-tightening buckle is easy to open, but will not open by accident.
The comfortable hip belt has an adjustment range of 70–140 cm (27.6"–55"). The length is the user's hip circumference with clothes on. Savotta has made the hip belt a bit smaller to ensure that the rucksack is comfortable for a wider range of users.
Materials
The fabric is the same PUR coated waterproof and extremely tough MILSPEC 1000D Cordura used to make Finnish military M05 gear! All hardware is military-grade; ITW Nexus buckles and zippers by Kroko of Belgium. The materials, construction, and attention to detail are all top-notch!
Frame is made of DUR aluminum.
All materials (fabric, webbing, buckles, threads...) meet the Mil-Spec NIR reflectance properties as specified by the Finnish Defence Forces. This means you won't be a shining beacon to someone with night-vision goggles, at least not because of this pack.
Warranty
The product has a 10-year warranty against material and manufacturing defects.
Kierto Circular Economy
Return this product used but clean and unbroken, and you'll receive half of the product's original price as Varusteleka credits. Service is available only in Finland. Only Registered users can make Kierto returns. See more information about Kierto.
Made by Finn-Savotta Oy
Founded in 1955, Savotta is known for its simplistic and extremely rugged, Nordic designs. For decades, Savotta has been the go-to supplier of outdoor gear and equipment for individual outdoor people as well as various aid groups and defence forces, most notably of course the FDF.
ISO 9001:2015, AQAP 2110 Ed D, Facility Security Clearance
ISO 14001: 2015 Environmental certificate
NATO CAGE: A444G
Savotta makes a large share of their products, all of their tents, ruck frames, and all non-sewing work in Karstula, Finland, where all of the design and development takes place. Large production runs are distributed to Savotta's second factory in Estonia, which is tooled for sewing only, and Poland. The product label has the exact country of manufacture and the quality is always guaranteed.
All products: Savotta
Recommendations
Loading products...
Reviews
You have already submitted a review. You can edit your text by clicking on it. You can filter the reviews by clicking on the elements of the summary.
Log in and write a review. You can filter the reviews by clicking on the elements of the summary.
Remove filter
Suomi
(5)
English
(9)
I would recommend for a friend
Antti B.

10.03.2018

Verified purchase
Mine came with a very minor manufacturing defect which Savotta fixed right away. And they even sent free stuff as an apology. Very good service on their behalf.
Rucksack itself is absolutely perfect and I think its going to be the last backbag Im ever going to buy. Carrying system is very easily adjusted and its hell of a hoot to haul through wilderness. So far the longest trip Ive done with it was 10 days of fishing and hunting in lapland. The bag weighted about 25-30kg with a gun but I didn't even get sore once. I cant think anything negative to say about it... Well maybe the price but Im sure this rucksack outlives me. Buy once, cry once.
78
0
I would recommend for a friend
Eetu K.

09.12.2018

Verified purchase
Bought one last summer and I have only one bad thing to say about this product, and it has to be it's high price. Good thing you only pay for it once, and by the looks of the quality I won't be needing another one in my life. Pretty simple to adjust settings for you, after that you can pretty much pack it full of rocks and you won't notice them. If you are thinking if this is worth the euros, it is. If you buy this, you won't regret it.
25
0
I would recommend for a friend
ANDERS B.

03.09.2019

Verified purchase
I'm a strong believer in "You get what you pay for".
As soon as I took this bag out of the box I could feel the quality and instantly grew a beard! I took it out for a weekend expedition and was impressed how comfortable it was even with the metal frame. The bag was lightweight and supportive with the hip & chest strap. My previous bag was a 80L MEC bag (Mountain Equipment Co-op) and there was nothing wrong with it but is was a bit small for those three-four day hikes, especially during the winter. With the front opening design of the bottom part of the bag it made it very easy to pack. It will take me a few expeditions to figure out how to best utilize the space and how to properly pack it but I absolutely look forward to my next camping trip. I am about 175 cm, ~80kg, with a waist of 30cm. I found the hip strap a bit too big but if I wear a jacket or thick sweater it is fine. If need be I can just get a smaller hip strap or drink more beer. 12/10 would recommend.

*Update*
After almost a year of heavy year round use this bag shows no sign of wear. Just love and memories.
During hunting season I carry around 60+ kgs of gear (including Rifle & Apples) so this pack is definitely strong!
Now during summer time/fishing season I can fit everything I need for 3-4 days (Plus beer) without unrolling the top. Like i mentioned before it just takes some time to figure out how to best utilize the design and space.
21
0
I would recommend for a friend
Dirk W.

03.10.2019

Verified purchase
Does anyone know if the Materials of this Rucksack are NIR compliant?
25
0
I would recommend for a friend
James S.

22.10.2020

Verified purchase
I have had this beast for a few months now and I have put a few hundred miles on it with a 60ish lbs load. Worth every penny. I will do a better review later on because this beauty deserves it.
6
0
I would recommend for a friend
Matthew G.

22.01.2021

Verified purchase
I've just opened the box and I am so far vary impressed and looking forward to trying it out
3
15
I would recommend for a friend
Johan Ö.

18.04.2021

Verified purchase
I bought this pack a while back and I must say I'm impressed. It doesn't get much more heavy duty than this, and still it's not absurdily heavy in itself. The rubbarized inside feels more quality than most well-known brands put out today. Savotta just became my new favorite supplier of equipment.
11
0
I would recommend for a friend
Jesse N.

13.09.2021

Verified purchase
I would recommend for a friend
Antti N.

15.10.2021

⚠ Unverified purchase
Kun on kerran käyttänyt Savotan putkirunkoista rinkkaa, ei paluuta muuhun ole. Kun parikymmentä vuotta palvelleen Savotta 906 -rinkkani vetoketjut olivat sököt ja kertaalleen uusittu kantolaitekin alkoi jälleen olla kypsä, niin hieman tilavampi Jääkäri XL alkoi kiinnostaa. Ja oivallinen kapistushan tämä on, tilaa piisaa ja PALS/Mollea myös. Vain rungon yläkaaren puuttumiseen on vähän joutunut totuttelemaan - siihen oli helppo ripustaa poikittain teltta ja makuualusta sekä sadevaatteet, märkä pyyhe yms... Nyt teltta ja makuualusta kulkevat pystyssä Molle-kujastoon kytkettyinä, ja märempiä varusteita varten on alaosan läpän kujastoon kytkettynä "majavanhäntä"-tyyppinen ratkaisu. Ja tietysti valikoima Molle-taskuja.

Jääkärin kokonaan aukeava alaosan läppä on muuten paljon käytettävämpi kuin vanhan 906:n alaosan sivuissa olleet pystysuuntaiset vetoketjut. Vielä kun vaihdoin sen vetoketjuun kääntyvällä lipalla olevat vetimet, niin vot! Sen sijaan repun päälle tulevan läpän tasku oli 906:ssa parempi, mutta mahtuu ne A4-kokoiset kartat Jääkärinkin läpän sisäpuolella olevaan taskuun.
0
0