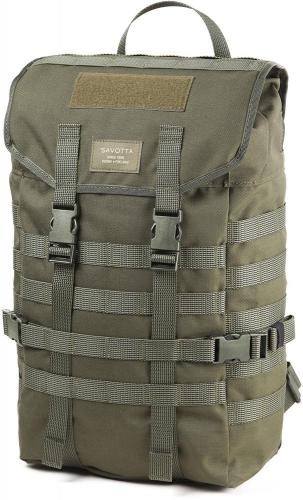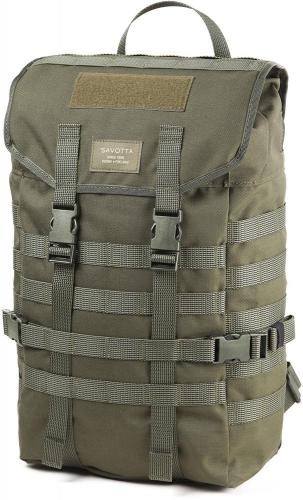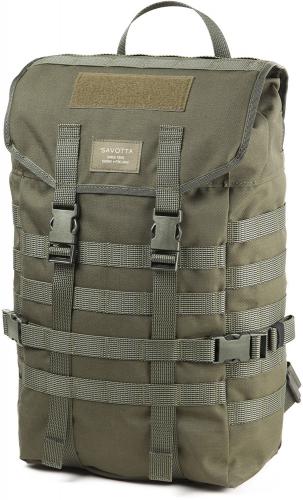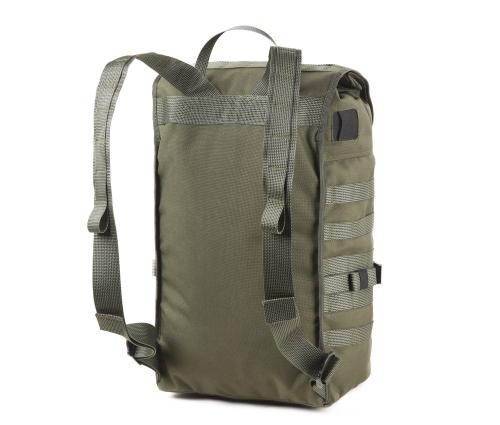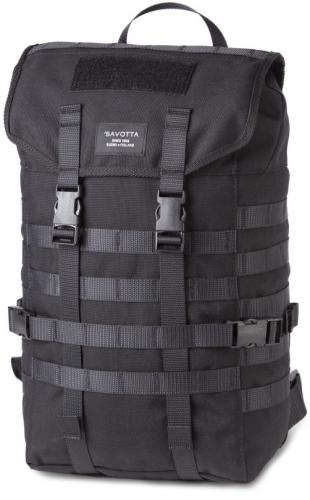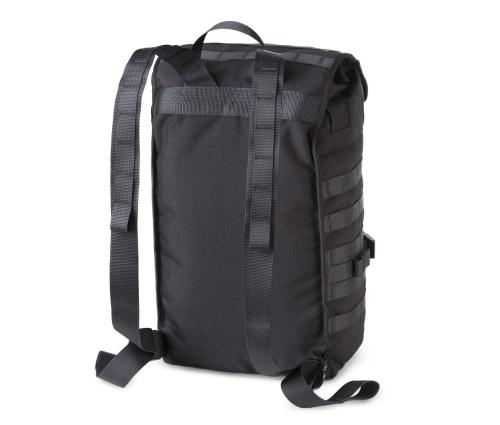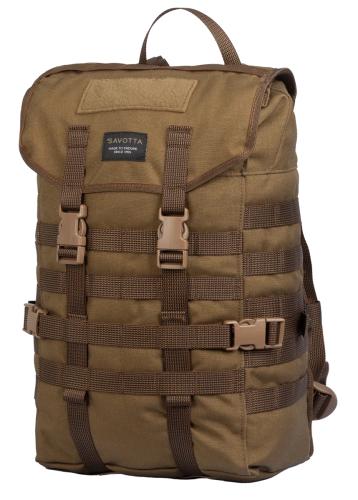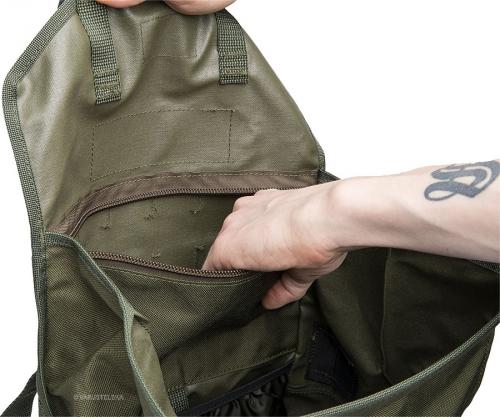 Zippered pocket in the flap.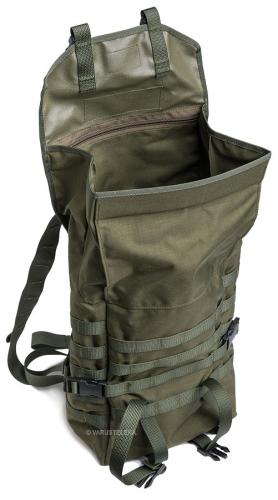 The top folds to close securely.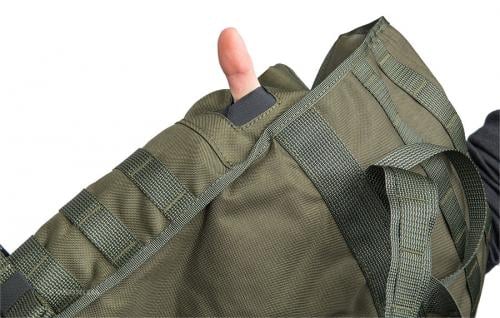 Passage for a hydration tube or finger.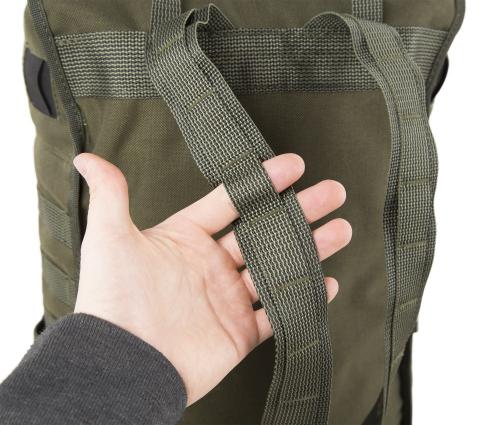 The shoulder straps feature 25 mm (1") webbing.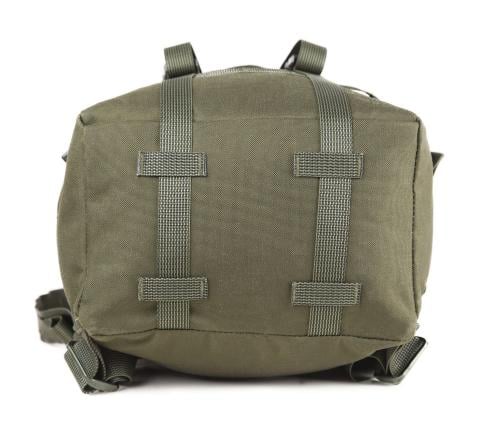 Utility strap attachment points in the bottom. The integrated straps can also be used to tie down stuff.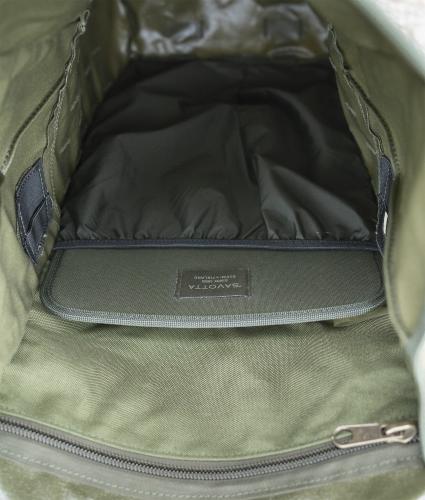 You can slip a Savotta MPP Foam Mat as a stiffening panel. (Sold separately.)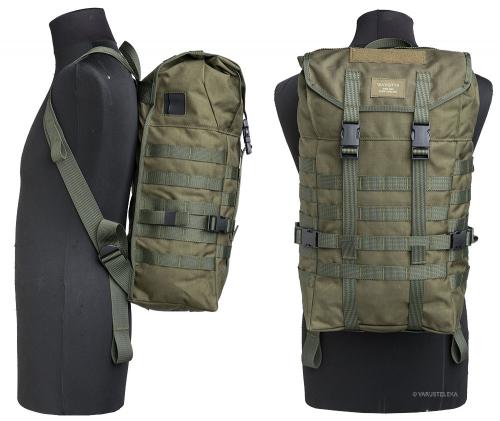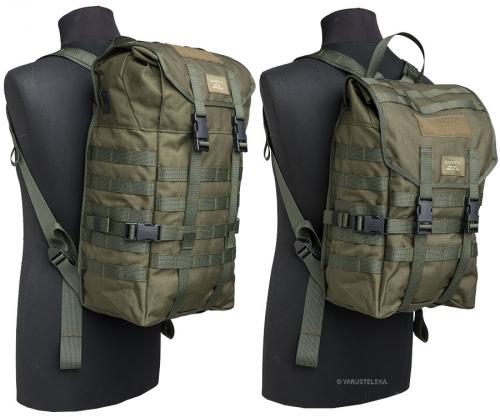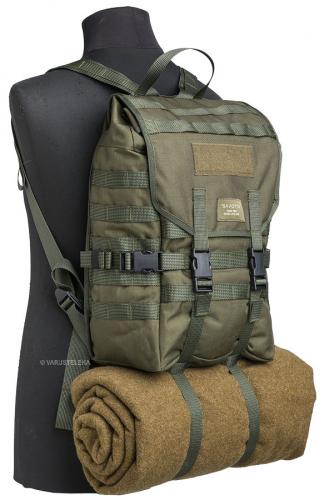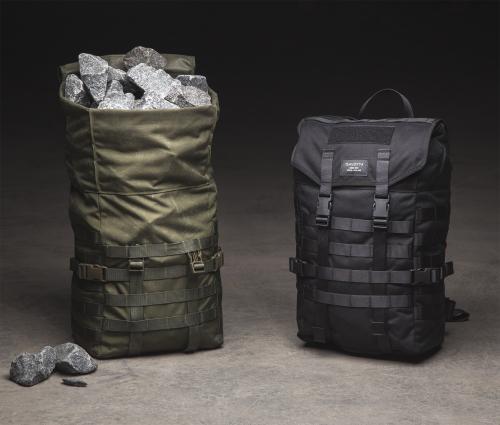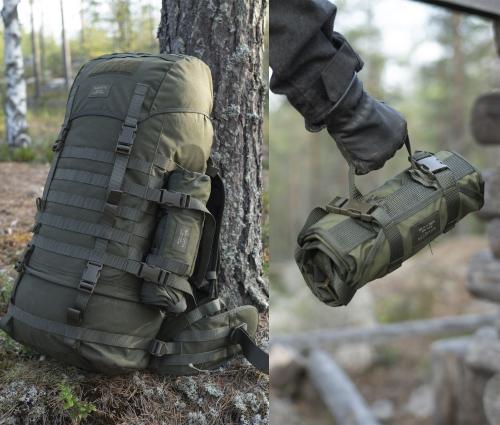 The Jääkäri S can be rolled into a small package to keep with you as a patrol pack.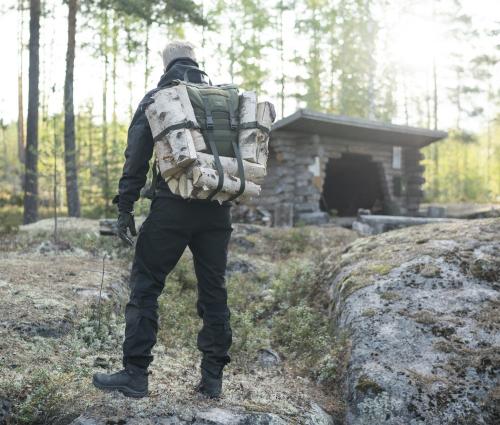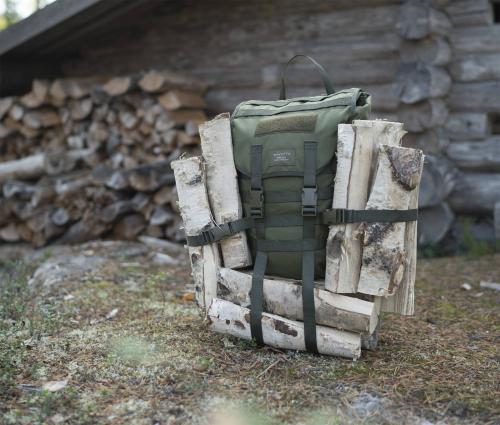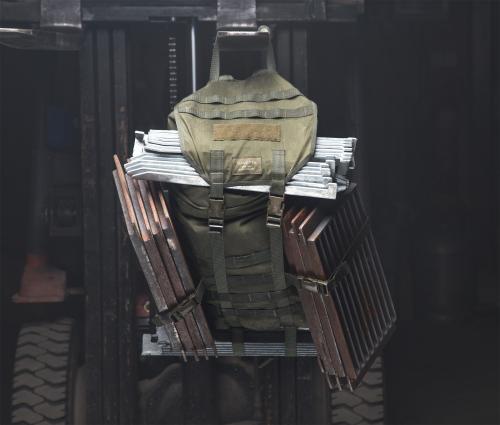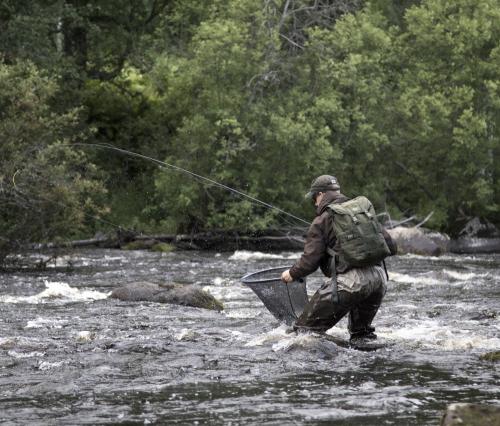 Savotta
Savotta Jääkäri S backpack
Price 129.99 USD
excluding sales tax
Let's play a game! Find a weak spot in the Jääkäri S backpack. Difficulty level: nightmare. This pack was formerly known as "Minijääkäri".
Loading products...
Trouble with the metric system? Try our converter: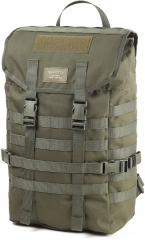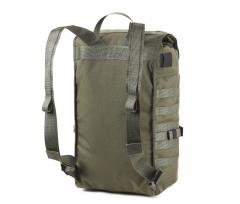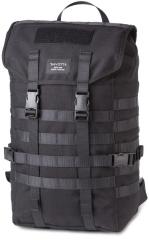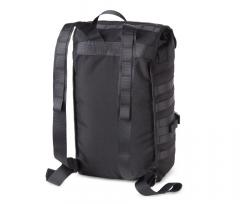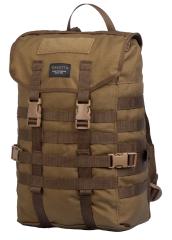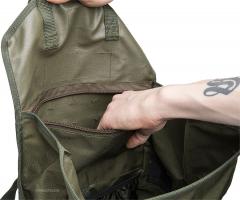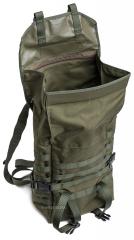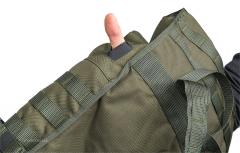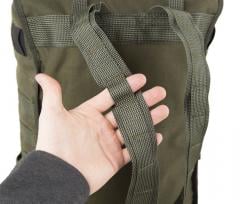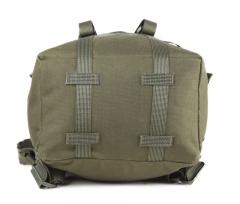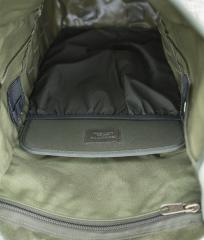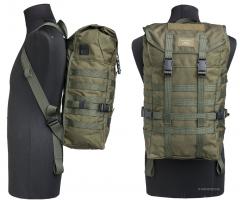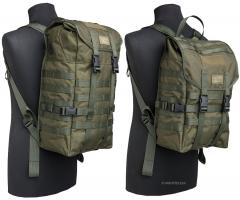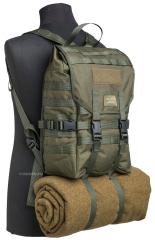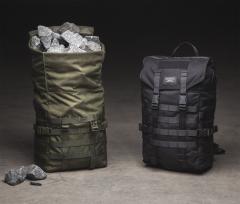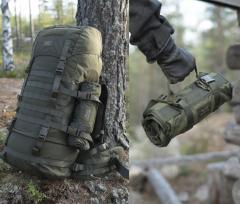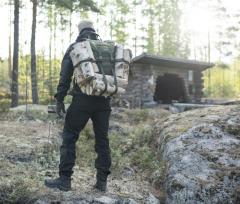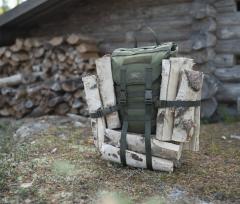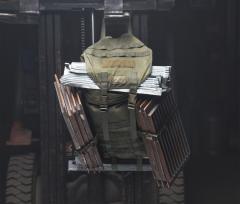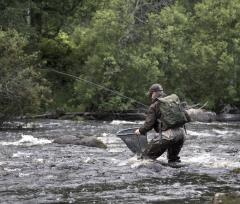 Let's play a game! Find a weak spot in the Jääkäri S backpack. Difficulty level: nightmare. This pack was formerly known as "Minijääkäri".
Despite the name, this is actually a proper sized 20 liter (1220 inch³) day pack, simple in construction and appearance. A roll-top closure means there are no zippers to fail, and rain doesn't fall into your stuff. All straps, buckles, stitches, and so on are tough as nails, so you can really push yourself through anything, and the pack will be your trusty companion.
The main compartment is simple, with just one zippered pocket on the inside of the flap for valuables and a kangaroo pouch for a hydration bladder or 13.3" laptop. The pack has elastic passages for the hose (or headphone cord) on both sides at the top. Anything else you want to pack separately goes easily on the outside thanks to the PALS webbing: even the carrying straps have PALS for pouches you want to keep really easily accessible, or just for a sternum strap.
When you're not carrying a full load, the flap folds down to a compact size, and side compression straps reduce the bulk further. The volume is there when you need it, but barely noticeable on your back when you don't.
The flap has a 13 x 5 cm (5.1" x 2") velcro base for a name patch or morale stuff.
Specifications
general
| | | |
| --- | --- | --- |
| Height (adjustable) | 45-55 cm | 17.5" - 21.5" |
| Volume | 18-22 liters | 1010 - 1350 cu in |
| Width | 26 cm | 10.2" |
| Thickness | 17 cm | 6.7" |
| Weight | 775 g | 27 oz. |
details
Valuables stash
15 x 25 cm
6" x 10"
Kangaroo pouch
25 x 37 cm
10" x 14.5"
Min. PALS slot strength
100 kg
220 lbs.
1000D polyamide (Cordura) with PUR-coating
Delrin buckles
Warranty: 5 years (materials and workmanship)
All materials (fabric, webbing, buckles, threads...) meet the Mil-Spec NIR reflectance properties as specified by the Finnish Defence Forces. This means you won't be a shining beacon to someone with night-vision goggles, at least not because of this pack.
Care
Brush off dirt
Wash by hand with mild detergent
Talk gently to your backpack on every Sunday
Leka-hack
The good folks at Savotta think the shoulder strap adjustment should be close to your pack at the hip and tightened by pulling up and forward. We prefer the regular "nipples position" because we're so mainstream. To complete the hack, all you need is two 40 mm ITW DWSR buckles. The hack is reversible and requires no sewing at all.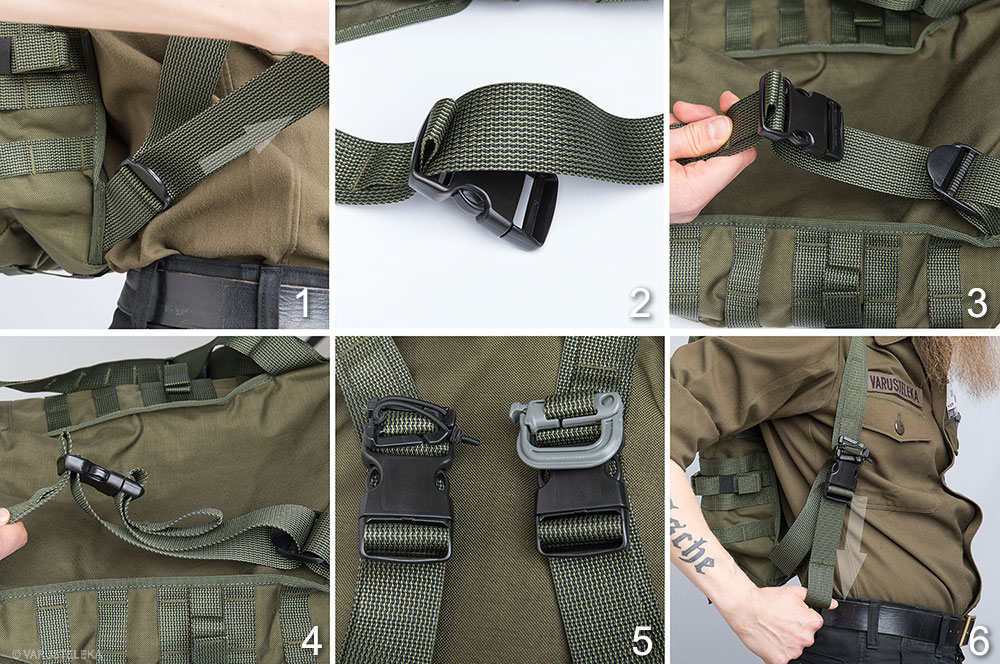 The initial Savotta tightening direction.
Undo the shoulder strap and weave it through the female DWSR buckle. The 25 mm part should poke out and form a loop.
The strap goes through a single slot in the original adjustment buckle.
Finally the strap is weaved though the male DWSR part.
Lock the 25 mm strap with a Web dominator, Grimlock or anything you have handy.
The new pulling direction.
As a nice side-effect, you can now quickly extend the strap and have less excess hanging about.
Kierto Circular Economy
Return this product used but clean and unbroken, and you'll receive half of the product's original price as Varusteleka credits. Service is available only in Finland. Only Registered users can make Kierto returns. See more information about Kierto.
Made by Finn-Savotta Oy
Founded in 1955, Savotta is known for its simplistic and extremely rugged, Nordic designs. For decades, Savotta has been the go-to supplier of outdoor gear and equipment for individual outdoor people as well as various aid groups and defence forces, most notably of course the FDF.
ISO 9001:2015, AQAP 2110 Ed D, Facility Security Clearance
ISO 14001: 2015 Environmental certificate
NATO CAGE: A444G
Savotta makes a large share of their products, all of their tents, ruck frames, and all non-sewing work in Karstula, Finland, where all of the design and development takes place. Large production runs are distributed to Savotta's second factory in Estonia, which is tooled for sewing only, and Poland. The product label has the exact country of manufacture and the quality is always guaranteed.
All products: Savotta
Recommendations
Loading products...
Reviews
You have already submitted a review. You can edit your text by clicking on it. You can filter the reviews by clicking on the elements of the summary.
Log in and write a review. You can filter the reviews by clicking on the elements of the summary.
Remove filter
Suomi
(21)
English
(23)
I would recommend for a friend
John H.

15.06.2017

Verified purchase
I would recommend for a friend
Jaakko M.

28.07.2017

Verified purchase
Noniin saatana. Johan on reppu. Jykevä, näppärä, mukava. Etenkin kun lisäsi Särmä pehmikkeet ja rintaremmin. Syö melkoisen paljon tavaraa sisäänsä ja palssilla lisää. Vahva suositus!



Ainiin. Nappasin juomarakkotaskuun vanhan istuma-alustan jäykisteeksi. Savotan "virallista" myyntiin odotellessa.



Lupasivat muuten tähän tulevan lantiovyön. En heti keksi miten aikovat sen kiinnittämisen hoitaa.



EDIT: Nyt on käyttöä takana likipitäen vuosi. Reppu on ollut päivittäisessä käytössä työ- ja reenikamojen kuljettamisessa, erilaisilla viikonloppureissuilla niin metsässä kuin mökeissäkin ja tietysti kaiken maailman muussa rymyämisessä ja päiväretkillä. MIkään paikka ei ole ruvennut purkamaan tai edes osoittamaan kulumisen merkkejä. Hattua pitää nostaa.



Repun etuosaan olen pultannut pysyvästi edullisesti nappaamani Savotan kiinantuontato admin taskun (taisi olla Inttistoren jäämistöä). Sopii eteen kuin nenä päähän ja antaa kaivattua vetoketjullista lisätilaa sälälle johon pitää päästä käsiksi päälokeron ollessa suljettu. Bonuksena sain lisää pintaa läpsiä moraalimerkkejä.



Kaapissa on reppuja erikokoisia kirjaimellisesti kymmeniä, mutta kuluneen vuoden aikana valinta on osunut lähes poikkeuksetta tähän. Jopa siinä määrin, että pitänee osa muista laittaa myyntiin.



EDIT2: 2018-08
Taas on aikaa kulunut lisää ja olen entistäkin tyytyväisempi. Repun modulaarisuus on myös päässyt näyttämään kyntensä, kun tarpeiden muuttuessa muuttuu myös taskujen määrä ja asemointi. Reppu on nähnyt erittäin kovaa käyttöä, mutta mikään paikka ei repsota. Päivittäisenä kantovälineenä siinä kulkee työ- ja reenikamat, eväät ja ovelan rakenteen ansioista myös ruokaostokset (kun kotimatkalla joutuu aina hakemaan unohtunutta piimää tai vastaavaa). Tämän lisäksi reppua on retuutettu pitkin metsiä ja pusikoita. Vahva suositus Savotan omalle istuma-alustalle, on riittävän jäykkä nostamaan kantomukavuutta huomattavasti. Jos nyt jotakin negatiivista pitäisi etsiä, niin repun säätö on yhä varsin jäykkää. Mutta eipähän liu omia aikojaan. Lisäksi välillä tulee väistämättä tilanteita, jossa repun pitäisi olla ihan aavistuksen isompi ja lantiovyöllinen. Mutta siihen onkin toinen Jääkäri olemassa.
15
1
I would recommend for a friend
Topi T.

09.11.2017

Verified purchase
I would recommend for a friend
Matt M.

06.02.2018

Verified purchase
Very good pack! So many of my packs zippers have failed. No zippers, no cry. I put a Särmä TST General purpose pouch XL on each side. Awesome. Added the shoulder strap pads and the Särmä TST Modular multi purpose strap, 2-piece, as a sternum strap. Also have the Särmä TST Backpack cover, M05 woodland camo, 25. Wish the cover was about 3" wider to include the XL pouches but they are 90% covered. Also check out Varusteleke slide on quick release buckles for backup incase one breaks.
22
1
I would recommend for a friend
Mika S.

06.02.2018

Verified purchase
Vajaan vuoden olen nyt omistanut Minijääkärin eikä hetkeäkään ole kaduttanut. Pienintäkään kulumisen merkkiä ei ole havaittavissa, ei nukkaantumista, ei harsottavia langanpätkiä, jopa remmien soljet ovat yhä uutta vastaavassa kunnossa. Tätä reppua ei vaan voi hypettää liikaa, tällainen pitäisi lisätä äitiyspakkaukseen, jotta jokainen saisi omansa halusi tai ei.





Reppu on sopivan pieni, ettei sitä ole ikävä kanniskella tyhjänäkään, mutta riittävän suuri, että yllätyksellisistäkin tilanteista selviää. Juuri viime viikolla fillaroin hakemaan tilaamaani läppäritaskua olettaen postissa odottavan ohuen, vähän tavan kannettavaa suuremman paketin, mutta taskuhan olikin pakattu kaljakorin kokoiseen pahvilaatikkoon. Läpän sulkuremmit ulos etuosan pals-lenkeistä, reppupussi lyttyyn ja laatikko kulki nätisti selässä repun omilla remmeillä, irto-sellaisia ei olisikaan ollut matkassa. Remmien pituus ei kyllä ollut lähelläkään loppua kesken. Viikon sukulointireissuun tämä riittää mainiosti ja päiväreppuna vetää mukisematta sisäänsä koulutarvikkeiden lisäksi puolen viikon ruokaostokset. Lisätaskujakin olen tarvinnut vain juomapullolle silloin, kun repussa on jotain, joka ehdottomasti ei saa kastua.





Toisin kuin 99% reppujen kohdalla, myös yläreunan kahvaremmi on sopivan iso, eikä Minijääkäriä harmita nostella ja kanniskella siitä tilanteen vaatiessa kovassakaan vauhdissa. Kehuja saa myös olkahihnojen pals-lenkit, joista alin "vapaa silmukka" on juuri hyvällä korkeudella jousihaan kiinnittämiseen. Toiseen olen laittanut vakiovarusteeksi pienen karabiinin, jossa kulkee mm. pyöränavain helposti saatavilla aina polkiessa, ja kannoinpa siinä kerran pukupussiakin sisältöineen, kun matka kävi bussilla juhliin toiselle paikkakunnalle.





Monet tuntuvat suosittelevan tähän hihnapehmikkeitä, itse en ole moisia kaivannut. Muutaman kerran on tullut lastattua reppu niin painavaksi, että hartiat puutuu, mutta en usko asian muuttuvan pehmikkeillä. Myöskään rinta- tai lantioremmiä en ole osannut kaivata, lyhyehköt ja ylhäältä kapealle kiinnitetyt olkaremmit pitävät repun hyvin aloillaan kävellessä, juostessa, hyppiessä ja pyöräillessä. Selkää vasten on hyvä hommata joku vahvike/pehmike, itse olen pärjännyt vanhan muovisen leikkuulaudan ja solumuovipatjasta leikatun palasen kombolla kaikissa tilanteissa, ja kengurupussissa on vielä tilaa viikatulle kesto-ostoskassille sekä pienelle läppärille. Jos oikein keksimällä pitäisi keksiä jotain moitittavaa, niin reppu hiostaa selkää aika paljon varsinkin painavaksi lastattuna, mutta se on yksinkertaisen no bullshit -rakenteen ja avaruussukkulatuuletuskanavien puutteen hinta.





Mainittakoon vielä bonuksena, että itseni lisäksi myös perheen kauniimpi puolikas (joka yleensä nyrpistää nokkaansa kaikelle, mitä Varustelekan paketista tulee) on ollut 100% tyytyväinen repun ulkonäköön. Ainoa mussutus on tullut tarrapaikkaan laittamistani maltillisista moraalimerkeistä. Nappituote siis, en muista kovin montaa ostosta johon olisin ollut yhtä tyytyväinen kuin mustaan Minijääkäriin.





PÄIVITYS 8.10.2018:
Löytyihän se heikko kohta lopulta. Minijääkäristäni oli kengurutaskun molemmat alanurkat sekä yläreunan kuminauhan toinen pää ratkenneet irti saumoista. Lähetin repun Savotalle, joka käsitteli kaikki rikkoutumiset ikävänä valmistusvirheenä. Itse kyllä veikkaan ainakin alanurkkien ratkenneen taskussa olleen leikkuulaudan vuoksi: käsillä eteenpäin kurkottaessa olkahihnojen alapäät liikkuvat eteenpäin, mutta selkää vasten painuva jäykkä muovipa ei päästäkään taskupussia joustamaan repun selkämyksen mukana. Kehoittaisinkin varovaisuuteen niiden leikkuulautojen kanssa, itse korvasin sen nyttemmin lasiliikkeestä ylijäämänä huokeasti saadulla polykarbonaattikaistaleella, joka on niin paljon kapeampi (10 cm), ettei se estä taskukankaan joustamista selän mukaisesti. Oli miten oli, koko takuumenettely meni kaikkineen Savotan piikkiin. Eivätkä he tyytyneet lähettämään uutta tuotetta tilalle, vaan korjasivat vanhan reppuni ja lähettivät sen takaisin uusia kantamuksia odottamaan. Mielestäni Jääkäri-tuotteen aatteen ja arvojen mukainen menettely, sillä Minijääkäriä tilatessani halusinkin ostaa repun, joka kestää isältä pojalle ja jota kannattaa tarpeen tullen korjata, eikä heittää roskiin. Pisteet kotiin siis Savotalle, ei ole kertaakaan kaduttanut heidän asiakkaaksi ryhtyminen.
47
0
I would recommend for a friend
Tuukka P.

10.02.2018

Verified purchase
Vuoden päivät tätä on tullut päivittäin käytettyä ja voin todeta, että reppu on erittäin laadukas ja sopii raskaampienkin +10kg taakkojen kantamiseen. Aluksi laitoin olkaimiin kiinni rintaremmin, mutta sitä ei loppujen lopuksi tarvitse edes painavimmillakaan takkoilla, kunhan reppu on kiristetty tukevasti. Aluksi olkaimet painoivat suuremmilla taakoilla, mutta siihen tottui muutamassa viikossa. Kokeilin myös lekan omia olkaimien irtopehmusteita, jotka toimivat kuten pitää, mutta ovat toisaalta minijääkärin kaltaisessa repussa turhat. Reppuun on tullut kiinniteltyä erinäisiä taskukokoonpanoja ja mollen avulla repun laajennettavuusmahdollisuudet ovat erittäin hyvät. Yksi tähti pois koska repun mukana ei tule minkäänlaista selkälevyä. Ilman selkälevyä minijääkäriä ei voi käyttää niin kuin se on suunniteltu. Reppupussin sulkusolkien hihnoissa ei myöskään ole sormustimia, mikä on repun hinnan huomioon ottaen jo piheyttä.
8
0
I would recommend for a friend
Jüri A.

07.03.2018

Verified purchase
Erinomainen reppu! Korkea laatu, vahva ja mukava. Sitä tarvitsin. Erittäin hyvä jokapäiväiseen käyttöön. Kiitos Savotta!
4
0
I would recommend for a friend
Mathias D.

26.04.2018

Verified purchase
(updated)
I'd been perfectly happy with this pack for the first two years. But things are changing now because of some aging issues. Hence this update, with the downgrade from 5 stars to 4.

I use this pack for everything and pretty much every day, from carrying a chainsaw or a car battery to carrying my daughter's spare diapers. It works very well, doing its job and getting out of the way. It is very roomy for a 20L pack : I moved all the contents of a can't-close-the-zips-full Maxpedition Vulture II (34L) into the Savotta and still could close it cleanly with the flap just about covering the top. The opening system is interesting, managing to be simple and quick, and good for overloads or strapping large things on the outside. Its small con is that the sides can gape a bit when the pack is half empty and not closed with caution, letting a bit of rain come in or smaller items drop out if you hold the pack upside down.
With 12kg inside, the unpadded shoulder straps aren't too much of an issue provided I take care to place them properly over the muscles near the neck. With that, I don't have a problem with the absence of back padding : I don't expect the same strong points in a 20L pack and a 80L external frame.

As said I've been perfectly happy with it for all this time. But now I've noticed that inside the fabric is fraying and unravelling on the edges around the main bottom stitches, creeping in closer to the stiches. These edges haven't been protected, either with a strip or by folding. I've been trying right now to stabilize the problem by cutting the threads that come loose everywhere and then melting the edges with a lighter, but it's a bit difficult to do this well due to the very close proximity of the stitches which I don't want to damage with the heat. I may try other methods. However that is a bit disappointing.
15
0
I would recommend for a friend
Isaac L.

27.06.2018

Verified purchase
On it's size and category, I think it is definitely the best backpack i've ever used, i am completely satisfied, it is very confortable just like it is, I even tried the extra shoulder padding but it was more confortable without them. I like using it with extra molle pouches, it is just perfect for one day trips, no matter if i am in an urban environment, the woods or the mountains.
9
0