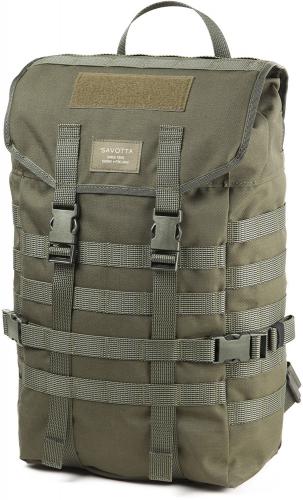 Savotta Jääkäri S backpack
Price 114.99 USD excluding VAT
Flat Rate Shipping to USA $9.99
100 % recommends
Sold 12 pcs in the last two weeks
Loading products...
Trouble with the metric system? Try our converter: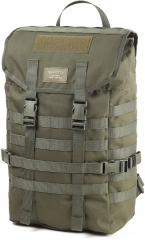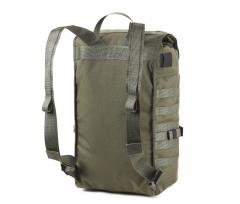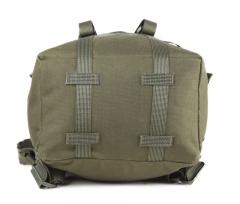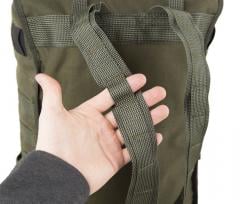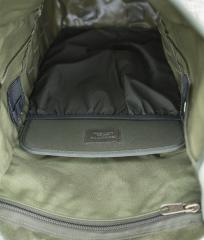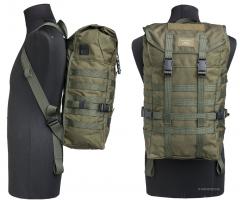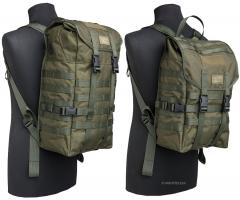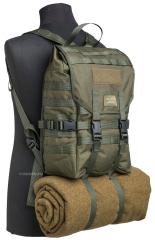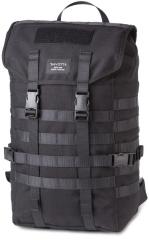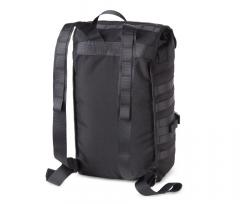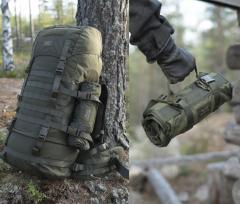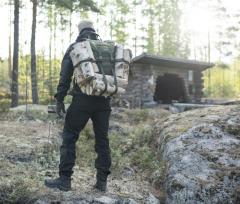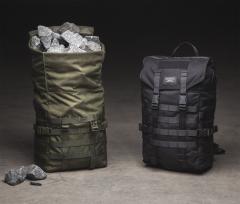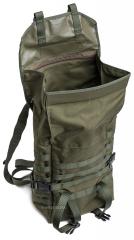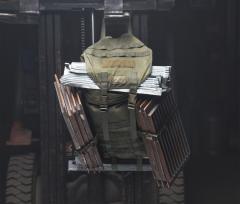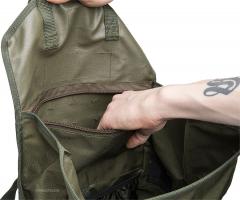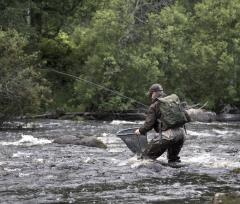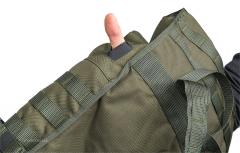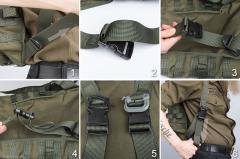 Let's play a game! Find a weak spot in the Jääkäri S backpack. Difficulty level: nightmare. This pack was formerly known as "Minijääkäri".
Despite the name this is actually a proper sized 20 litre day pack, simple in construction and appearance. A roll-top closure means there are no zippers to fail and rain doesn't fall into your stuff. All straps, buckles, stitches and so on are tough as nails, so you can really push yourself through anything and the pack will be your trusty companion.
The main compartment is simple with just one zippered pocket on the inside of the flap for valuables, and a kangaroo pouch for a hydration bladder or 13.3" laptop. The pack has elastic passages for the hose (or headphone cord) on both sides at the top. Anything else you want to pack separately goes easily on the outside thanks to the PALS webbing: even the carrying straps have PALS for pouches you want to keep really easily accessible, or just for a sternum strap.
When you're not carrying a full load the flap folds down to a compact size, and side compression straps reduce the bulk further. The volume is there when you need it, but barely noticeable on your back when you don't.
The flap has a 13 x 5 cm velcro base for a name patch or morale stuff.
Specifications
general
Height: 45-55 cm (adjustable)
Volume: 18-22 litres
Width: 26 cm
Thickness: 17 cm
Weight: 775 grams
details
Valuables stash: 15 x 25 cm
Kangaroo pouch: 25 x 37 cm
1000D polyamide with PUR-coating (Cordura)
Delrin buckles
Single PALS slot durability: over 100 kg
Warranty: 5 years (materials and workmanship)
Care
Brush off dirt
Wash by hand with mild detergent
Talk gently to your backpack on every Sunday
Made by Finn-Savotta Oy
Founded in 1955 Finn-Savotta, or just Savotta, is known for their simplistic and extremely rugged designs. For decades Savotta has been the go-to supplier of hiking gear for the Finnish civilian market and combat gear and tents for the defence forces.
Today Savotta operates two factories, one in Karstula, Finland, where they make all their tents and metal components and one in Estonia where they do about 50% of their sewing.
Leka-hack
The good folks at Savotta think the shoulder strap adjustment should be close to your pack at the hip and tightened by pulling up and forward. We prefer the regular "nipples position" because we're so mainstream. To complete the hack all you need is two 40 mm ITW DWSR buckles. The hack is reversible and requires no sewing at all.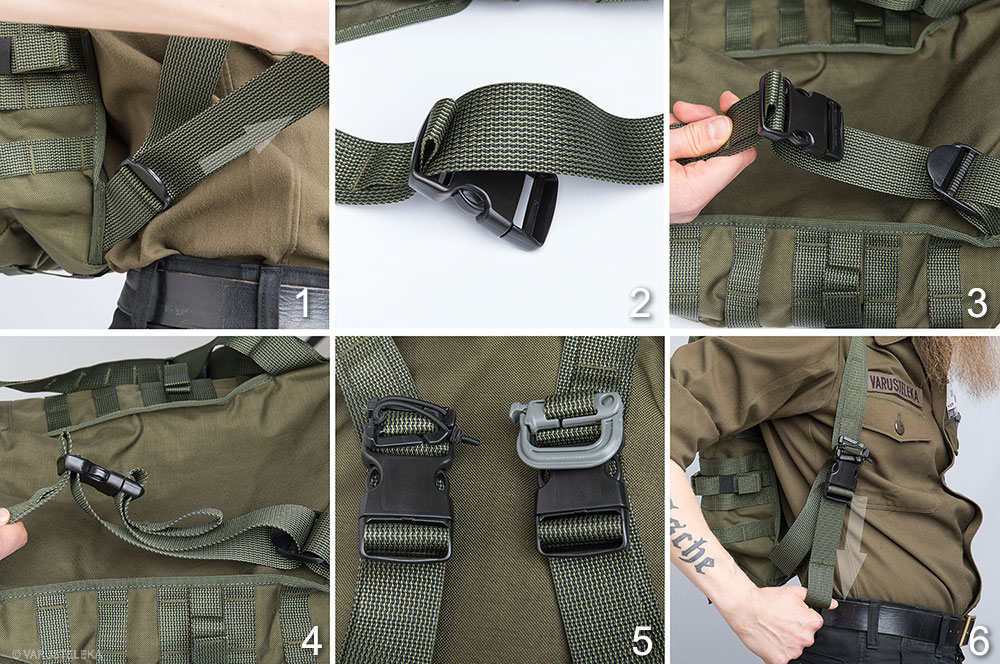 The initial Savotta tightening direction.
Undo the shoulder strap and weave it through the female DWSR buckle. The 25 mm part should poke out and form a loop.
The strap goes through a single slot in the original adjustment buckle.
Finally the strap is weaved though the male DWSR part.
Lock the 25 mm strap with a Web dominator, Grimlock or anything you have handy.
The new pulling direction.
As a nice side-effect you can now quickly extend the strap and have less excess hanging about.
Torture test videos
Forklift test
Trebuchet test
Reviews
You have already submitted a review. You can edit your text by clicking on it.
Log in and write a review.
Remove filter
Suomi
(12)
English
(6)
I would recommend for a friend
John H.

15.06.2017
I would recommend for a friend
Jaakko M.

28.07.2017 (Edited 20.08.2018)
Noniin saatana. Johan on reppu. Jykevä, näppärä, mukava. Etenkin kun lisäsi Särmä pehmikkeet ja rintaremmin. Syö melkoisen paljon tavaraa sisäänsä ja palssilla lisää. Vahva suositus!



Ainiin. Nappasin juomarakkotaskuun vanhan istuma-alustan jäykisteeksi. Savotan "virallista" myyntiin odotellessa.



Lupasivat muuten tähän tulevan lantiovyön. En heti keksi miten aikovat sen kiinnittämisen hoitaa.



EDIT: Nyt on käyttöä takana likipitäen vuosi. Reppu on ollut päivittäisessä käytössä työ- ja reenikamojen kuljettamisessa, erilaisilla viikonloppureissuilla niin metsässä kuin mökeissäkin ja tietysti kaiken maailman muussa rymyämisessä ja päiväretkillä. MIkään paikka ei ole ruvennut purkamaan tai edes osoittamaan kulumisen merkkejä. Hattua pitää nostaa.



Repun etuosaan olen pultannut pysyvästi edullisesti nappaamani Savotan kiinantuontato admin taskun (taisi olla Inttistoren jäämistöä). Sopii eteen kuin nenä päähän ja antaa kaivattua vetoketjullista lisätilaa sälälle johon pitää päästä käsiksi päälokeron ollessa suljettu. Bonuksena sain lisää pintaa läpsiä moraalimerkkejä.



Kaapissa on reppuja erikokoisia kirjaimellisesti kymmeniä, mutta kuluneen vuoden aikana valinta on osunut lähes poikkeuksetta tähän. Jopa siinä määrin, että pitänee osa muista laittaa myyntiin.



EDIT2: 2018-08
Taas on aikaa kulunut lisää ja olen entistäkin tyytyväisempi. Repun modulaarisuus on myös päässyt näyttämään kyntensä, kun tarpeiden muuttuessa muuttuu myös taskujen määrä ja asemointi. Reppu on nähnyt erittäin kovaa käyttöä, mutta mikään paikka ei repsota. Päivittäisenä kantovälineenä siinä kulkee työ- ja reenikamat, eväät ja ovelan rakenteen ansioista myös ruokaostokset (kun kotimatkalla joutuu aina hakemaan unohtunutta piimää tai vastaavaa). Tämän lisäksi reppua on retuutettu pitkin metsiä ja pusikoita. Vahva suositus Savotan omalle istuma-alustalle, on riittävän jäykkä nostamaan kantomukavuutta huomattavasti. Jos nyt jotakin negatiivista pitäisi etsiä, niin repun säätö on yhä varsin jäykkää. Mutta eipähän liu omia aikojaan. Lisäksi välillä tulee väistämättä tilanteita, jossa repun pitäisi olla ihan aavistuksen isompi ja lantiovyöllinen. Mutta siihen onkin toinen Jääkäri olemassa.
6
1
I would recommend for a friend
Topi T.

09.11.2017 (Edited 20.08.2019)
I would recommend for a friend
Matt M.

06.02.2018
Very good pack! So many of my packs zippers have failed. No zippers, no cry. I put a Särmä TST General purpose pouch XL on each side. Awesome. Added the shoulder strap pads and the Särmä TST Modular multi purpose strap, 2-piece, as a sternum strap. Also have the Särmä TST Backpack cover, M05 woodland camo, 25. Wish the cover was about 3" wider to include the XL pouches but they are 90% covered. Also check out Varusteleke slide on quick release buckles for backup incase one breaks.
11
0
I would recommend for a friend
Mika S.

06.02.2018 (Edited 08.10.2018)
Vajaan vuoden olen nyt omistanut Minijääkärin eikä hetkeäkään ole kaduttanut. Pienintäkään kulumisen merkkiä ei ole havaittavissa, ei nukkaantumista, ei harsottavia langanpätkiä, jopa remmien soljet ovat yhä uutta vastaavassa kunnossa. Tätä reppua ei vaan voi hypettää liikaa, tällainen pitäisi lisätä äitiyspakkaukseen, jotta jokainen saisi omansa halusi tai ei.





Reppu on sopivan pieni, ettei sitä ole ikävä kanniskella tyhjänäkään, mutta riittävän suuri, että yllätyksellisistäkin tilanteista selviää. Juuri viime viikolla fillaroin hakemaan tilaamaani läppäritaskua olettaen postissa odottavan ohuen, vähän tavan kannettavaa suuremman paketin, mutta taskuhan olikin pakattu kaljakorin kokoiseen pahvilaatikkoon. Läpän sulkuremmit ulos etuosan pals-lenkeistä, reppupussi lyttyyn ja laatikko kulki nätisti selässä repun omilla remmeillä, irto-sellaisia ei olisikaan ollut matkassa. Remmien pituus ei kyllä ollut lähelläkään loppua kesken. Viikon sukulointireissuun tämä riittää mainiosti ja päiväreppuna vetää mukisematta sisäänsä koulutarvikkeiden lisäksi puolen viikon ruokaostokset. Lisätaskujakin olen tarvinnut vain juomapullolle silloin, kun repussa on jotain, joka ehdottomasti ei saa kastua.





Toisin kuin 99% reppujen kohdalla, myös yläreunan kahvaremmi on sopivan iso, eikä Minijääkäriä harmita nostella ja kanniskella siitä tilanteen vaatiessa kovassakaan vauhdissa. Kehuja saa myös olkahihnojen pals-lenkit, joista alin "vapaa silmukka" on juuri hyvällä korkeudella jousihaan kiinnittämiseen. Toiseen olen laittanut vakiovarusteeksi pienen karabiinin, jossa kulkee mm. pyöränavain helposti saatavilla aina polkiessa, ja kannoinpa siinä kerran pukupussiakin sisältöineen, kun matka kävi bussilla juhliin toiselle paikkakunnalle.





Monet tuntuvat suosittelevan tähän hihnapehmikkeitä, itse en ole moisia kaivannut. Muutaman kerran on tullut lastattua reppu niin painavaksi, että hartiat puutuu, mutta en usko asian muuttuvan pehmikkeillä. Myöskään rinta- tai lantioremmiä en ole osannut kaivata, lyhyehköt ja ylhäältä kapealle kiinnitetyt olkaremmit pitävät repun hyvin aloillaan kävellessä, juostessa, hyppiessä ja pyöräillessä. Selkää vasten on hyvä hommata joku vahvike/pehmike, itse olen pärjännyt vanhan muovisen leikkuulaudan ja solumuovipatjasta leikatun palasen kombolla kaikissa tilanteissa, ja kengurupussissa on vielä tilaa viikatulle kesto-ostoskassille sekä pienelle läppärille. Jos oikein keksimällä pitäisi keksiä jotain moitittavaa, niin reppu hiostaa selkää aika paljon varsinkin painavaksi lastattuna, mutta se on yksinkertaisen no bullshit -rakenteen ja avaruussukkulatuuletuskanavien puutteen hinta.





Mainittakoon vielä bonuksena, että itseni lisäksi myös perheen kauniimpi puolikas (joka yleensä nyrpistää nokkaansa kaikelle, mitä Varustelekan paketista tulee) on ollut 100% tyytyväinen repun ulkonäköön. Ainoa mussutus on tullut tarrapaikkaan laittamistani maltillisista moraalimerkeistä. Nappituote siis, en muista kovin montaa ostosta johon olisin ollut yhtä tyytyväinen kuin mustaan Minijääkäriin.





PÄIVITYS 8.10.2018:
Löytyihän se heikko kohta lopulta. Minijääkäristäni oli kengurutaskun molemmat alanurkat sekä yläreunan kuminauhan toinen pää ratkenneet irti saumoista. Lähetin repun Savotalle, joka käsitteli kaikki rikkoutumiset ikävänä valmistusvirheenä. Itse kyllä veikkaan ainakin alanurkkien ratkenneen taskussa olleen leikkuulaudan vuoksi: käsillä eteenpäin kurkottaessa olkahihnojen alapäät liikkuvat eteenpäin, mutta selkää vasten painuva jäykkä muovipa ei päästäkään taskupussia joustamaan repun selkämyksen mukana. Kehoittaisinkin varovaisuuteen niiden leikkuulautojen kanssa, itse korvasin sen nyttemmin lasiliikkeestä ylijäämänä huokeasti saadulla polykarbonaattikaistaleella, joka on niin paljon kapeampi (10 cm), ettei se estä taskukankaan joustamista selän mukaisesti. Oli miten oli, koko takuumenettely meni kaikkineen Savotan piikkiin. Eivätkä he tyytyneet lähettämään uutta tuotetta tilalle, vaan korjasivat vanhan reppuni ja lähettivät sen takaisin uusia kantamuksia odottamaan. Mielestäni Jääkäri-tuotteen aatteen ja arvojen mukainen menettely, sillä Minijääkäriä tilatessani halusinkin ostaa repun, joka kestää isältä pojalle ja jota kannattaa tarpeen tullen korjata, eikä heittää roskiin. Pisteet kotiin siis Savotalle, ei ole kertaakaan kaduttanut heidän asiakkaaksi ryhtyminen.
6
0
I would recommend for a friend
Tuukka P.

10.02.2018
Vuoden päivät tätä on tullut päivittäin käytettyä ja voin todeta, että reppu on erittäin laadukas ja sopii raskaampienkin +10kg taakkojen kantamiseen. Aluksi laitoin olkaimiin kiinni rintaremmin, mutta sitä ei loppujen lopuksi tarvitse edes painavimmillakaan takkoilla, kunhan reppu on kiristetty tukevasti. Aluksi olkaimet painoivat suuremmilla taakoilla, mutta siihen tottui muutamassa viikossa. Kokeilin myös lekan omia olkaimien irtopehmusteita, jotka toimivat kuten pitää, mutta ovat toisaalta minijääkärin kaltaisessa repussa turhat. Reppuun on tullut kiinniteltyä erinäisiä taskukokoonpanoja ja mollen avulla repun laajennettavuusmahdollisuudet ovat erittäin hyvät. Yksi tähti pois koska repun mukana ei tule minkäänlaista selkälevyä. Ilman selkälevyä minijääkäriä ei voi käyttää niin kuin se on suunniteltu. Reppupussin sulkusolkien hihnoissa ei myöskään ole sormustimia, mikä on repun hinnan huomioon ottaen jo piheyttä.
5
0
I would recommend for a friend
Jüri A.

07.03.2018
Erinomainen reppu! Korkea laatu, vahva ja mukava. Sitä tarvitsin. Erittäin hyvä jokapäiväiseen käyttöön. Kiitos Savotta!
2
0
I would recommend for a friend
Mathias D.

26.04.2018
Have used it every day for a week now, moving on the hills, around the village, and going to work. These are first feelings.

- built like a tank, no doubt about that. The very slim profile makes it even better in dense brush.
- unbelievably roomy for a 20L pack : I moved all the contents of a can't-close-the-zips-full Maxpedition Vulture II (34L) into the Savotta and still could close it cleanly with the flap covering the top.
- Savotta invented a really pleasant opening system, that manages to be both ultra-simple in construction yet very quick and user-friendly. I like it much more than roll-tops, and more than the usual stuff with cinch-cords. The way the flap seems to magically disappear when you overload with long items is interesting, instead of the usual flap getting to rest onto your neck.
- with 9kg inside, the unpadded shoulder straps aren't too much of an issue provided I take care to place them properly over the muscles near the neck. Otherwise you realize that padding DOES matter. With that, I don't have a problem with the absence of back padding : it allows the pack to be made very small and stuffed into large pack very easily. I don't expect the same strong points in a 20L pack and a 80L external frame.
- speaking of shoulder straps, adjusting them from below doesn't bother me the least. To me it doesn't feel neither better nor worse than the usual construction.

Bottom line : I absolutely love the stuff. If i get a 3L pouch to strap on the back of it, I won't have any use for my (old and slightly beaten up) Vulture anymore.
8
0
I would recommend for a friend
Isaac L.

27.06.2018
On it's size and category, I think it is definitely the best backpack i've ever used, i am completely satisfied, it is very confortable just like it is, I even tried the extra shoulder padding but it was more confortable without them. I like using it with extra molle pouches, it is just perfect for one day trips, no matter if i am in an urban environment, the woods or the mountains.
7
0
I would recommend for a friend
Eric W.

04.07.2018
Best rucksack I've ever used!

I use my pack on a daily basis, commuting on bike to work, going to the gym, and for shopping. (Can carry more stuff home!)
I can easily fit my lunch for the day, a full set of clothes and shoes. My training clothes, a small towel and another set of shoes.... And then get a few more smaller items from the store. It's insane how much this thing can carry!

And with a heavy load, it's much more comfortable than you'd think. 10kg is easily carried around town for an hour or so.

It's built like a tank, I don't see this wearing out any time soon!

The only drawback this pack has, is that it's hard to find items in the pack. I have the black version, and since the inside is the same colour as the outside, seeing anything inside without a flashlight is difficult.
7
0
I would recommend for a friend
Jack T.

15.11.2018
I would recommend for a friend
I.G. N.

01.04.2019
Hyvää repussa on se, että siitä saa omanlaisensa ja kuljet varmaan vanhainkodissakin tämä kourassa. Ostin BW:n olka"pehmusteet" ja niiden suomalla lisäpinta-alalla olen kantanut erittäin painavia lasteja, lähinnä kiviä nuotiopaikan tekoon. Tilaa on enemmän kuin tavanomaisessa päivärepussa, koska tilaa ei ole jaettu taskuiksi. Tarpeen tullessa kujastoon saa kiinni lisätaskuja vaikka kaikista suurimmat viritykset jäävätkin haaveeksi. Myös lantiovyö ja rintaremmi puuttuvat vaikka jälkimmäisen voi järjestää. Selkälevy kannattaa järjestää jos sitä tarvii, itse taivutin kiukaan pellistä selkäni kaareen sopivan palan. Selkälevyn lisääminen tietenkin taistelee repun perimmäistä ideaa vastaan, joka tuntuu olleen se, että repun saa käärittyä pieneksi mytyksi isomman rinkan pohjalle ja siten käytettyä päiväreppuna. Hintaan nähden olettaisi että edes jotain edellämainituista olisi paketissa mukana eikä ostajan tee-se-itse hengen varassa.
1
1
I would recommend for a friend
Philip R.

02.05.2019 (Edited 02.05.2019)
Would it surprise you if I said you can get a whole 13.5 tog single duvet (with cover) in this? Or that it swallows a completely filled and xipped up tight 30 litre Patagonia duffel bag, and can still be shut?


Well it surprised me - it's bigger than it looks.


I have yet to use it on a good long up-country trip, but I can tell already that this thing is built like a brick shithouse . . . except it is LIGHT. Really light actually. The absence of padding of any sort has contributed to that.


I did my usual tinned goods test, loaded it up and was surprised at how comfortable it was. Adding in the Savotta padded back/mousemat thingie made it even more comfortable. The straps sit incredibly well, and even though there's no waistbelt, moving around, the pack stays pretty damned still. I think that is because of it's narrowness. I also added some TST shoulder pads and they work with the shoulder straps very well - I've no doubt I'll be able to haul all sorts of useless shite for miles and miles with no discomfort.


The only thing that I might pick a hole with is the elastic strap tidy on the side compression straps - I am not sure how that will hold up with time, but it is easily rectified anyway. And that's it - one small thing - that's impressive.



If you are looking for a small to medium sized rucksack then I would say go for it. You can pimp it up with some side pockets (I went with a pair of the SA-MPP ones - again incredibly well made) and lash all sorts of things to it with the MOLLE - in short it is limited only by your imagination . . or maybe if you decided you really did need to take 15 extra jumpers and 12 pairs of shoes with you!
In other words, realise it's limitations (a VERY conservative 18-22 litres) and work with them.



Now for the big thing - this is made in Europe, by real people who sign their names on inspection chits because they are proud of (and stand by) their work. This is a big thing. It isn't a faceless pack from a big corporation. It is beautifully made with integrity and sold at a price that is surprising for such quality. It will last longer than you will. No two ways about that.
7
0
I would recommend for a friend
Joni K.

06.05.2019
Erittäin kestävä ja yksinkertainen reppu. Pitää sateen hyvin ulkopuolella. Reppu on kallis, mutta toista vastaavan kokoluokan reppua et todennäköisesti joudu vuosikausiin ostamaan, koska laatu. Suosittelen ostamaan samalla mpp foam matin kaveriksi.
0
0
I would recommend for a friend
Petri L.

05.06.2019 (Edited 05.06.2019)
Hommasin rouvalle tämmöisen Minijääkärin, kun itselleni olin hommannut numeroa isomman eli M-koon repun. Ennen kuin Ministä tuli rouvalle toimiva peli, piti hommata selkäpehmuste, olkaremmien pehmusteet ja hihnojen Leka-viritykseen tarvittavat soljet. Hinnanero Minin ja M:n välillä jäi näin 20.45 euroon. En nyt puolivalmisteeksi väittäisi, koska kelpoja reppuja kumpikin, mutta vähemmällä söhräämisellä on siis saatavana ihan käyttövalmiskin M- koon reppu. Kumpikin sopii lentokoneessa käsimatkatavaramittoihin.
0
0
I would recommend for a friend
Henry H.

29.08.2019
Best daypack ever. The spaghetti straps are remarkably comfy with a heavy load but you sure feel it the next morning!
0
0
I would recommend for a friend
Anna B.

14.10.2019
Sain tällaisen lahjaksi viime jouluna ja voin rehellisesti sanoa, että paras reppu mitä minulla on ikinä ollut. Vaikea nähdä repussa minkäänlaista kulumaa, vaikka se on päivittäisessä käytössä. Tavaraa mahtuu sisään yllättävänkin paljon ja ennen kaikkea tätä reppua on todella mukava kantaa, vaikka se ei siltä välttämättä näytä. En ole kaivannut olkapehmusteita tai rintaremmejä. Miltecin pullotaskun ja M -kokosen taskun olen ottanut käyttöön pikkutavaroita varten, tuonne pieneen sisätaskuun mahtuu lähinnä passi ja hammasharja.

Suosittelen selkäosaan hommaamaan vahvikkeen, jos vajaaksi täytettynä kantaa. Istuu paremmin niin. 13" Macbook myös sopii hyvin sinne.
0
0
I would recommend for a friend
Simo H.

16.02.2017 (Edited 20.06.2017)
Kyllä, myt kävi niin että kuppainen "kettureppu" sai väistyä.
Laitoin samoin tein Varustelekan hihnamodaukset, mutta ne kyllä hakkaa kainaloita sen verta että pitänee palautaa alkuperäiseen muotoonsa. Muuten reppu on kyllä juuri sitä mitä haluan. Kiitos Savotta. Kiitos myös Leka.
35
2