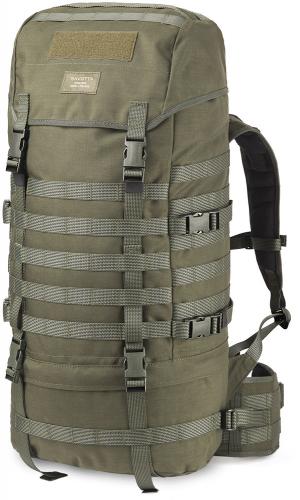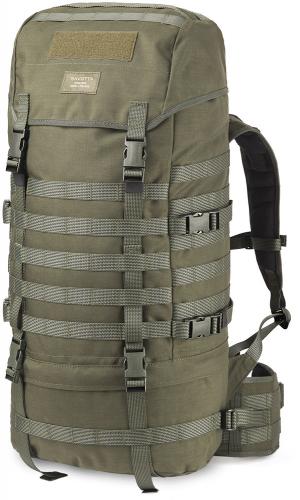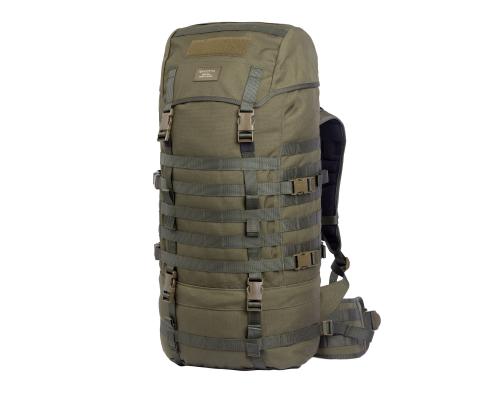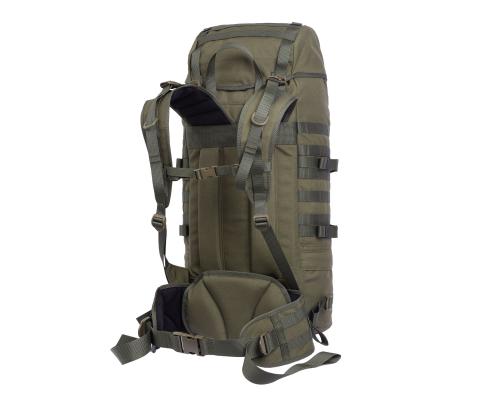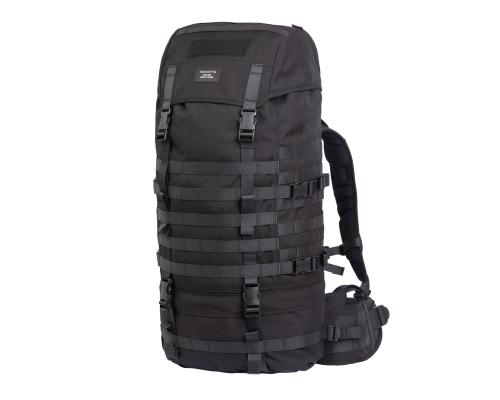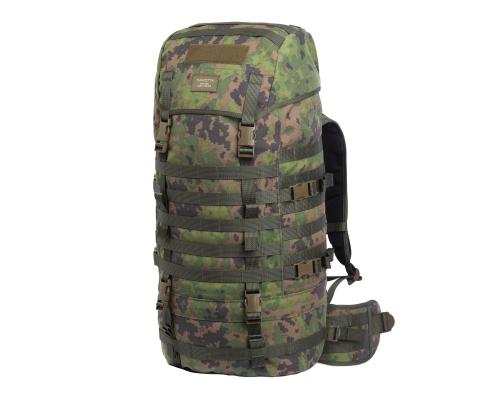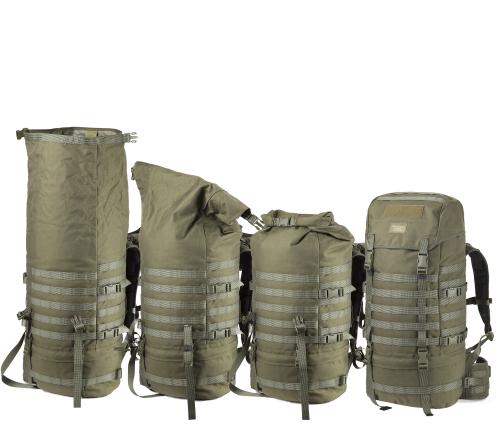 The Rolltop closure is durable and secure.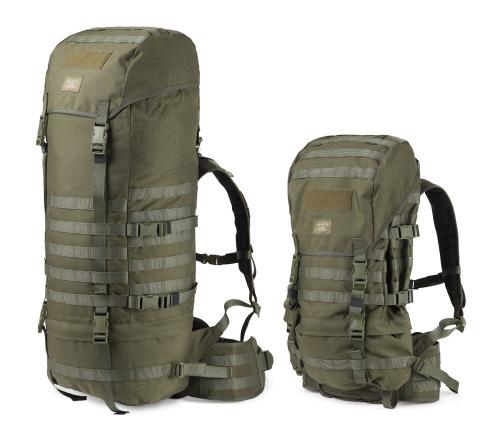 Overpack or compress as the situation requires.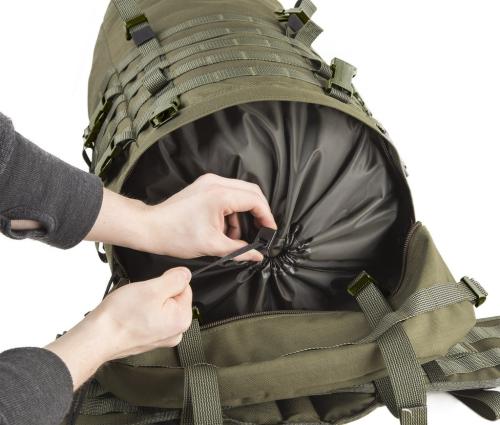 Tightening sleeve in the top.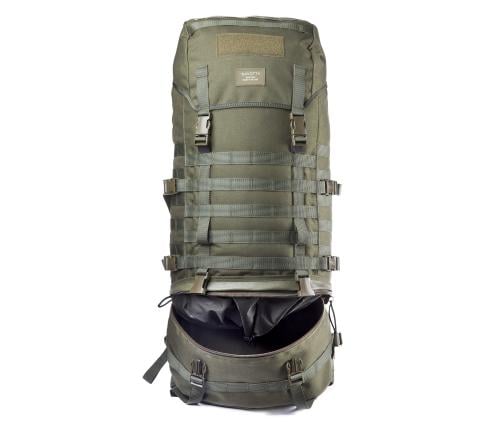 Zippered access to bottom compartment with a drawcord divider.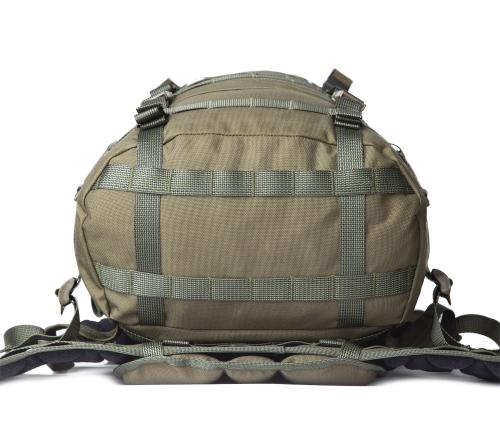 Utility strap attachment points in the bottom. The integrated straps can also be used to tie down stuff.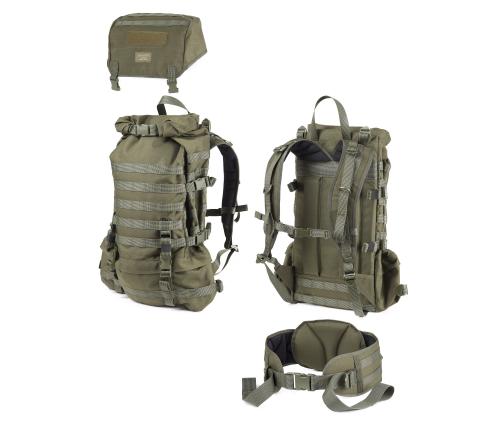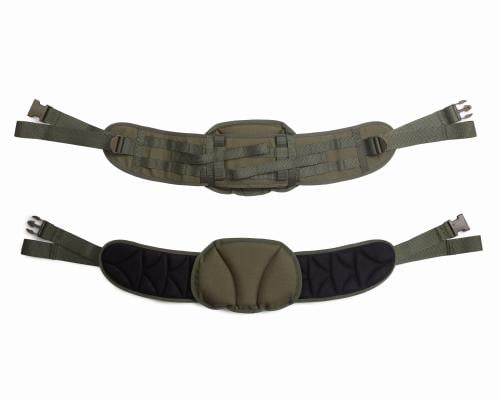 Removable hip belt works as an equipment belt on its own.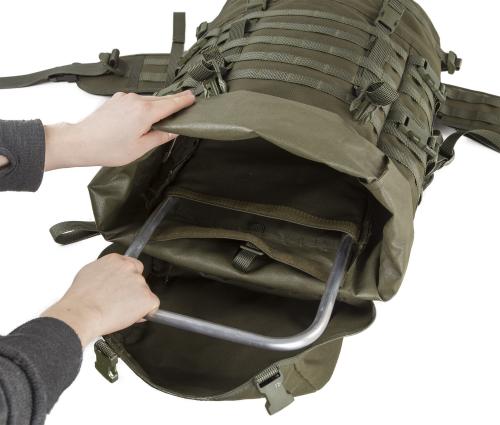 Lightweight aluminum alloy internal frame.
Lightweight aluminum alloy internal frame.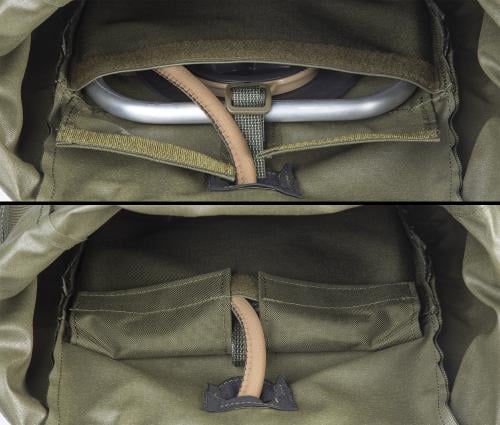 Hydration bladder compatible.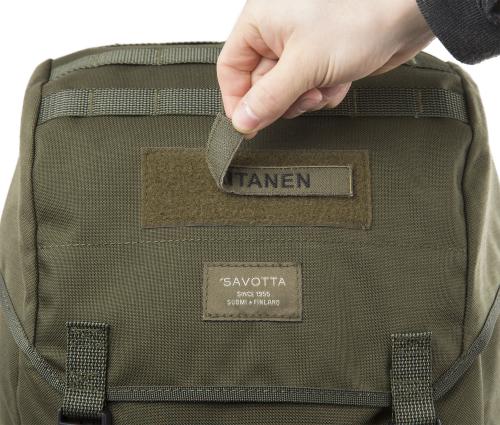 Loops base for name tag, morale patches, flags etc.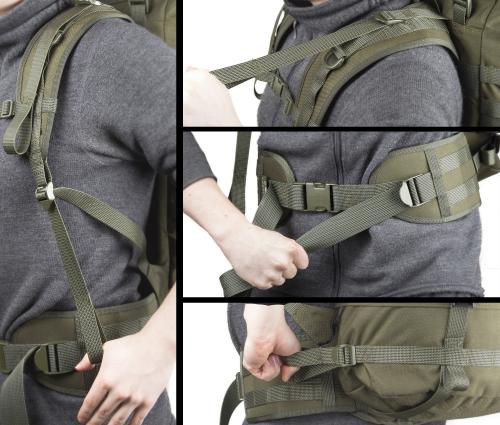 Fully adjustable for ergonomics and stability.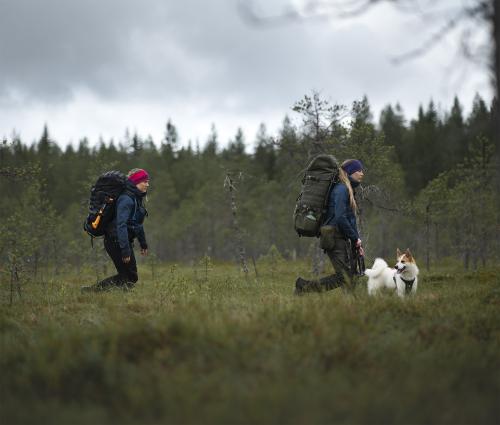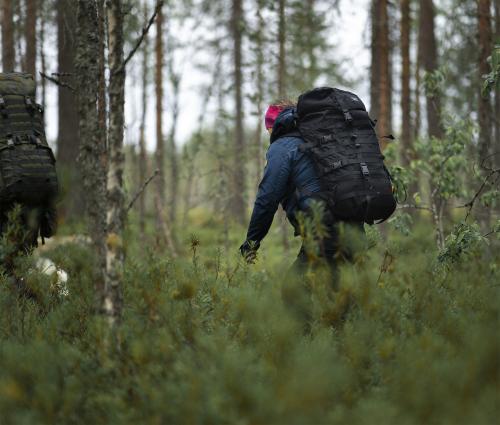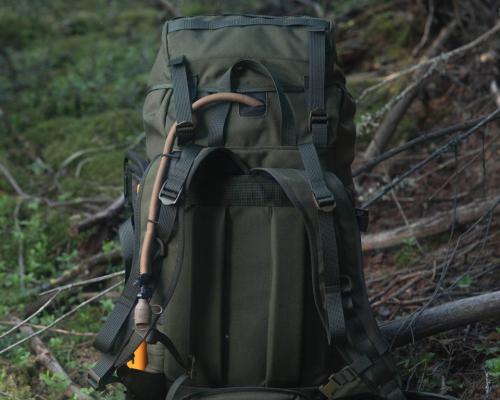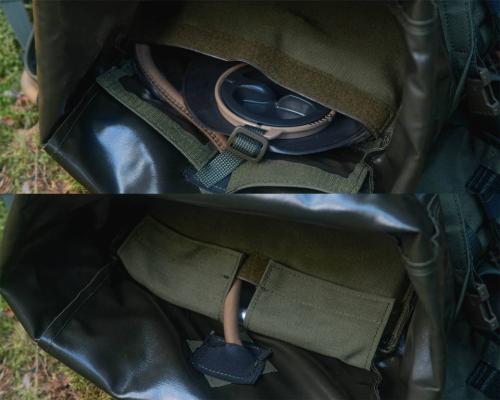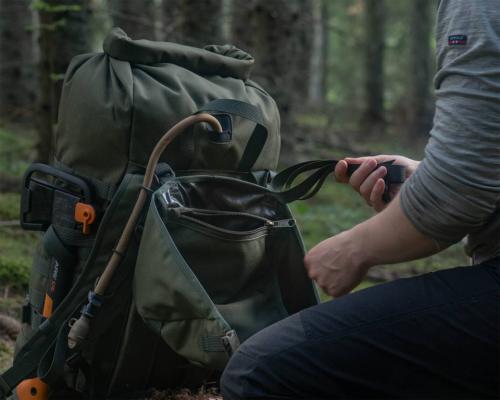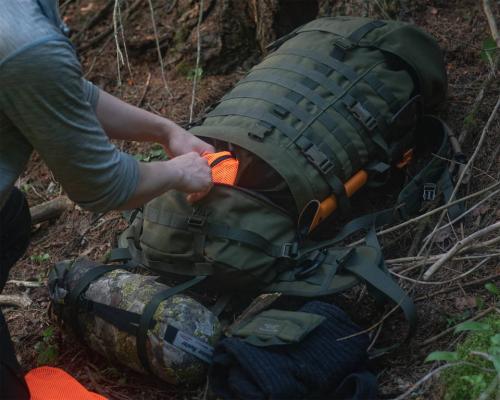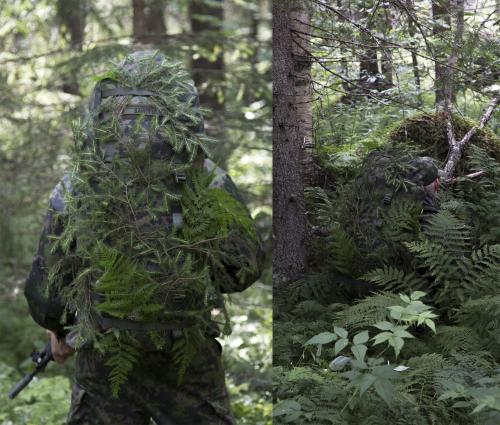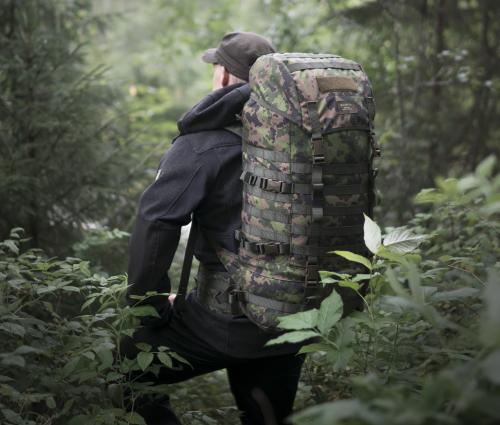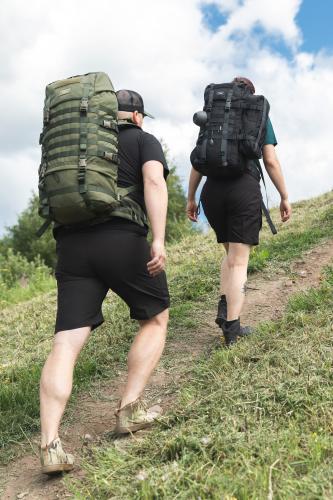 Green Jääkäri L and black Jääkäri M with side pouch.
Savotta
Savotta Jääkäri L rucksack
Price 368.99 - 378.99 USD
excluding sales tax
The Jääkäri L is a large, multi-day pack designed as an update to the old 1980s Finnish Border Guard patrol pack. A very versatile, relatively simple, and bombproof military-grade pack. The generous amount of PALS webbing allows for a wide array of different extra pouches to be attached, depending on your personal needs. This pack was formerly known as "Rajajääkäri."
Loading products...
Trouble with the metric system? Try our converter: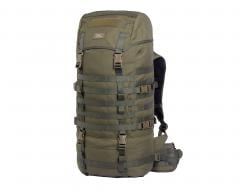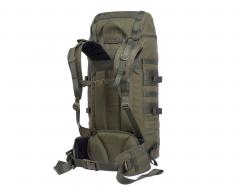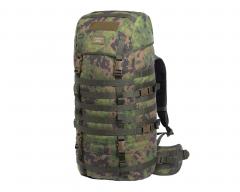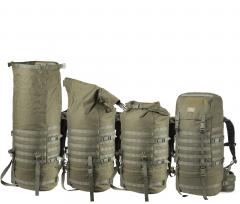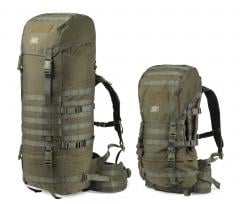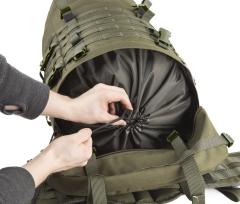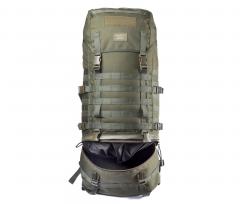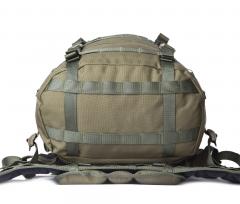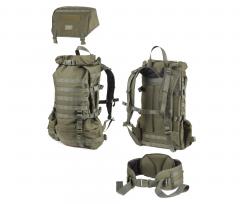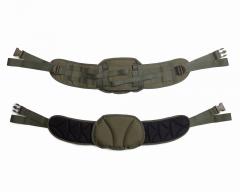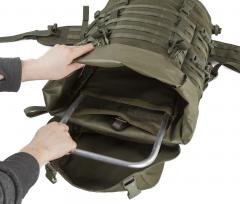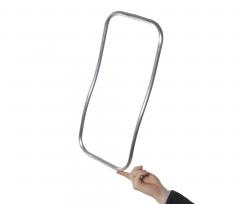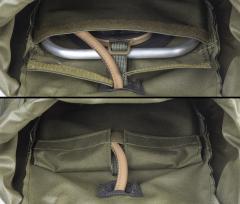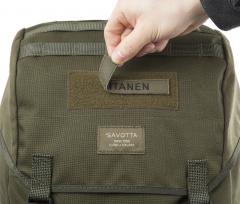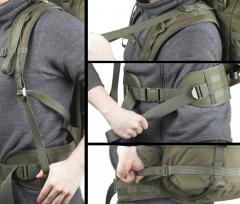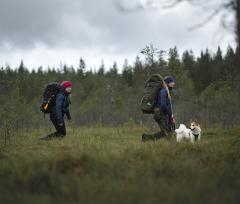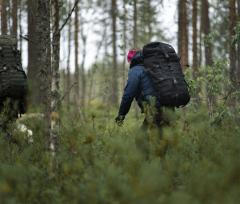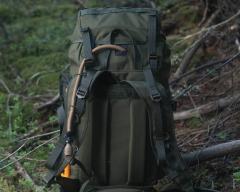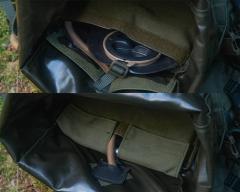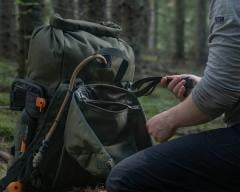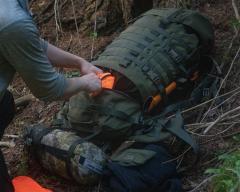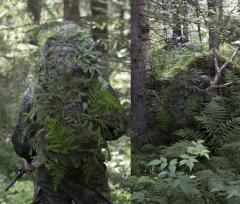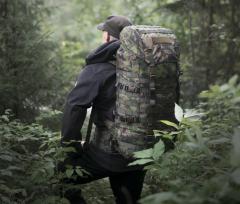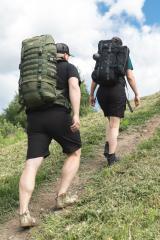 The Jääkäri L is a large, multi-day pack designed as an update to the old 1980s Finnish Border Guard patrol pack. A very versatile, relatively simple, and bombproof military-grade pack. The generous amount of PALS webbing allows for a wide array of different extra pouches to be attached, depending on your personal needs. This pack was formerly known as "Rajajääkäri."
| | | |
| --- | --- | --- |
| Width | 31 cm | 12.2" |
| Height | 65 cm | 25.6" |
| Depth | 22 cm | 8.7" |
| Volume | 55 liters | 3356 cu in |
| Weight | 2380 g | 5.24 lbs |
Features
The main compartment of the Jääkäri L rucksack has been designed to be slim but still spacious enough for a multi-day hike. The top of the bag is closed with a waterproof rolltop method that enables freely adjustable overpacking. The rolltop is locked with a 25 mm / 1" side-release buckle and is covered by a floating lid, which hugs the top of the backpack and is secured with straps.
The removable lid extends about 15 cm / 6" for overpacking purposes and increases the total volume by the displacement of a medium-sized muscle car engine. Furthermore, there is a very spacious zippered pocket for valuables inside.
Inside the bag is a divider that can be closed to split the bag into two sections. The top section includes a pocket against the back that holds the aluminum support frame. Above the pocket, there's a hanging loop for holding items, such as a hydration bladder. The top of the bag features an exit for a bladder hose, cable, or antenna. The contents of the bottom section of the bag are quickly accessible via a separate zip. The zip includes two pullers with strings so that the bottom section can be opened at the chosen point, even while wearing gloves.
Compression and external carrying capacity
The many details and extensive MOLLE webbing make the rucksack a truly modular and versatile tool. Due to its slim shape, the rucksack is ideal for skiing and hiking in demanding terrain where being able to keep your hands free and available for use is a must.
With the four compression straps on the sides of the Jääkäri rucksack, the bag can be compactly tightened even if it is not full. The compression straps are equipped with quick-release fasteners, and their ample dimensioning enables their use for attaching long items on the sides of the rucksack.
Carrying system
Jääkäri L is not your average anatomical rucksack but a tool designed for a demanding user that will not fail you when the going gets tough. The sturdiness of the original Border Patrol rucksack has received so much praise that Savotta decided not to change the support structure. The bag and carrying system, however, underwent such a drastic modification that it is difficult to recognize the forefather of Jääkäri L.
Due to the strong internal aluminum frame and completely renewed shoulder straps and hip belt, Jääkäri is sturdy to carry. The support frame holds the pack firmly in shape and distributes the burden anatomically to your hips so that your back and shoulders are not overstrained even with a large load. With the compression straps of the bag, even a pack that is not full can be tightened so that it sits firmly and does not jiggle around.
The comfortable hip-belt has an adjustment range of 70–140 cm (27.6"–55"). The length is the user's hip circumference with clothes on. Savotta has made the hip belt a bit smaller to ensure that the rucksack is comfortable for a wider range of users.
Materials
The fabric is the same PUR coated waterproof and extremely tough MILSPEC 1000D Cordura used to make Finnish military M05 gear! Even though the material is waterproof, some water can get in through the stitching if the pack is exposed to rain for extended periods of time. We recommend using a rain cover in rainy weather.
All hardware is military-grade; ITW Nexus buckles and zippers by Kroko of Belgium. The materials, construction, and attention to detail are all top-notch!
All materials (fabric, webbing, buckles, threads...) meet the Mil-Spec NIR reflectance properties as specified by the Finnish Defence Forces. This means you won't be a shining beacon to someone with night-vision goggles, at least not because of this pack.
Frame is made of DUR aluminum.
Warranty
The product has a 5-year warranty against material and manufacturing defects.
Kierto Circular Economy
Return this product used but clean and unbroken, and you'll receive half of the product's original price as Varusteleka credits. Service is available only in Finland. Only Registered users can make Kierto returns. See more information about Kierto.
Made by Finn-Savotta Oy
Founded in 1955, Savotta is known for its simplistic and extremely rugged, Nordic designs. For decades, Savotta has been the go-to supplier of outdoor gear and equipment for individual outdoor people as well as various aid groups and defence forces, most notably of course the FDF.
ISO 9001:2015, AQAP 2110 Ed D, Facility Security Clearance
ISO 14001: 2015 Environmental certificate
NATO CAGE: A444G
Savotta makes a large share of their products, all of their tents, ruck frames, and all non-sewing work in Karstula, Finland, where all of the design and development takes place. Large production runs are distributed to Savotta's second factory in Estonia, which is tooled for sewing only, and Poland. The product label has the exact country of manufacture and the quality is always guaranteed.
All products: Savotta
Recommendations
Loading products...
Reviews
You have already submitted a review. You can edit your text by clicking on it. You can filter the reviews by clicking on the elements of the summary.
Log in and write a review. You can filter the reviews by clicking on the elements of the summary.
Remove filter
Suomi
(13)
English
(11)
I would recommend for a friend
Isaac L.

09.01.2018

Verified purchase
Den bästa ryggsäcken i världen!
26
0
I would recommend for a friend
Martin D.

13.02.2018

Verified purchase
First impression report after the first week of use:

Simple, sturdy and well thought out construction. I can't see how anything on this pack could break. I'm tired of all that lightweight crap that breaks as soon as you walk through a shrubbery, so this pack looks very promising. I love the feature that you can detach the hipbelt. I can see numerous uses for that. I've already used it separately as a Combat/ load carrying belt with pouches attached and the pack without the hipbelt are easier to handle and more useful as a daypack with light loads.

Negative impressions:

Well, nothing major but I would prefer to have the zipper for the compartment in the top-lid on the outside for easier access to the small things you normally store there. Another thing that I find somewhat annoying is that the grab handle flaps forward and starts nagging on the back of my head. No problem when wearing a smock or similar but it could be a pain in warmer conditions. It could probably be fixed with a few centimetres of Velcro.

Uppdate arter more than a year of frequent use.
I bought a few pouches to use with this pack and to the Jääkari M. The pack itself with roll top and all really lack easy access to those things you want to have quickly available during the day. I would say that some pouches are a very useful, almost necessary addition to this pack. There are plenty of room for smaller pouches on the hip belt. That is good. The bad thing about this is if you are very slim it's not possible to tighten the hip belt enough to make it useful. Another disadvantage with this pack are the limited adjustments of back lengths and widthp. if you are a standard sized male this is no problem but neither my wife or my teenagers at home could make this pack comfortable with heavy loads. So you better make sure it will fit before you buy it.

I still love this pack and wouldn't change it for anything. It fits me perfectly and it will last forever. But if you value loads of feature and adjustablilities them you might look for something else.
14
0
I would recommend for a friend
Pasi K.

17.02.2018

Verified purchase
Kelpo kantolaite. Lantiovyön kun poistaa, sopiva esim päivän pilkkireissulle. Kesän reissuja odotellessa.
9
1
I would recommend for a friend
Mika K.

26.04.2018

Verified purchase
I would recommend for a friend
Andre S.

16.05.2018

Verified purchase
In my opinion one of the best backpacks in the world. Nearly unbreakable. When you touch it the first time you feel the thoughness of the material, you hear the snap when you close the buckles..the sound of quality..perfect carrying system.
Would i change something? Ney.......
31
0
I would recommend for a friend
Jonas K.

21.05.2018

Verified purchase
Not the cheapest backpack you can buy. But it's not to small, not to big, it's just the way you want it at the time being. Bus and metro with laptop, some change clothes and towel for training? No problem, remove belt, roll up and compress. Your 5 year old want to go to the woods building an orc palace and playing ninjasoldier? No problem, don't roll up, don't compress, attach side pockets, carrying big loads of food and old tarp for palace construction is a great workout. It keeps the your ass rock hard even if middle-aged. Finally, if you just want to be yourself for a moment, go fishing, pack the bag like in the pictures, it will fit all you could need without any side pockets.
It has the same level of comfort as many sporty neon colored bags, but it can take a bit more abuse. It will not rip open if you pass by a bush at looking distance. I have not tried to use it as a chin up rack as in the company's commercial, neither have I passed it over with my car, I leave that to professionals. Have used savottas side pockets, size L. Perfect when you bring a small child who carries no load on his back or worries in his heart. If weather gets colder and food gets less, the pockets can be easily removed and packed, quite light weight material but still sturdy, folds well.
My only problem with this superior product was in deciding whether to buy or not. The price is an issue. You can buy about 2-3 Berghaus backpacks for the price of this one. Actually not a bad choice. I was issued a Berghaus as a conscript 23 years ago, a Berghaus trident, I actually liked that one, but I like my savotta better. As the Americans say " buy once, cry once, a faster way to complacency "
I would buy this product again, I don't think it will be necessary judging by the quality this far, but you never know, thieves are abundant in this crazy world.
All in all I recommend that you buy it.
104
0
I would recommend for a friend
Sebastian V.

22.06.2018

Verified purchase
Pidän erityisesti rinkan kapeasta ulkomuodosta ja tietynlaisesta askeettisuudesta. Vasta talvimakuupussin hankittuani, olen joutunut investoimaan lisätaskuihin. Rinkkaa on hyvä kantaa eikä tarvitse kyseenalaistaa sen luotettavuutta metsässä. Rinkka on myös miellyttävä näky verkkokalvoille huoneen nurkassa.
5
0
I would recommend for a friend
Elbert R.

08.09.2018

Verified purchase
A great bag if it fits you. Unfortunate it doesn't seem to be made for joe sixpack. I've hiked over 200 km this summer in two weeks with this bag with a load of about 15 kg. The fit for me wasn't the worst nor the greatest. I'm 187 cm tall with a waistline of about 80 cm. And the hip belt is a bit too big. I have to tighten it all the way to the max and it still doesn't properly sit a the correct height of my hips and there is too much pressure on my stomach. Even at the highest setting for back length (lowest row of PALS webbing) there is stil too much weight going to the shoulders. I also think the PALS webbing on the back side should be more rigid because it seems to me the fabric starts to collapse under load. So consider your body type before purchasing. (i might recommend to a friend)
21
0
I would recommend for a friend
Joonas K.

22.01.2020

Verified purchase