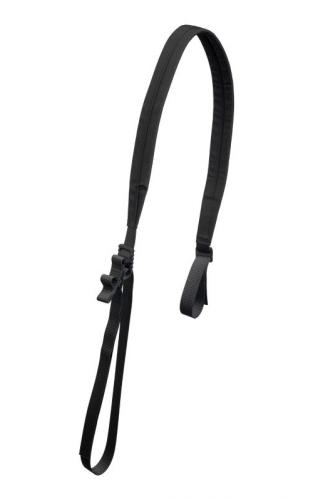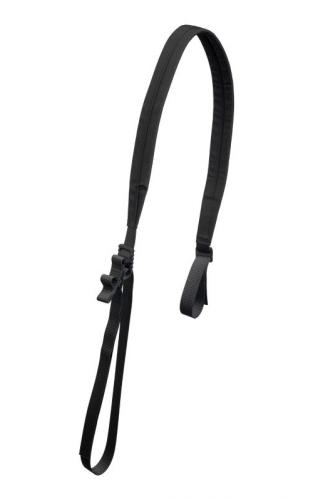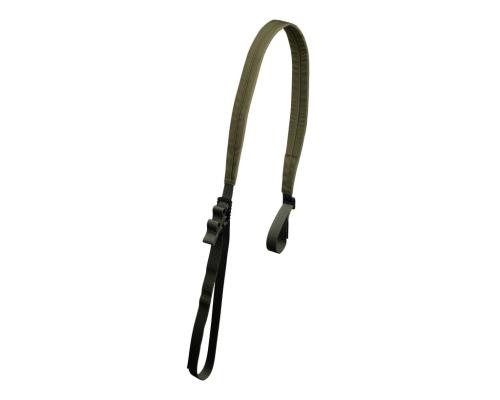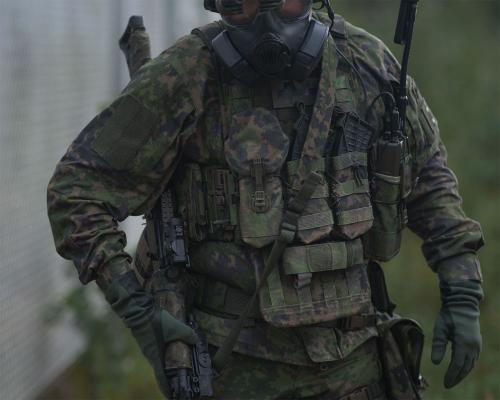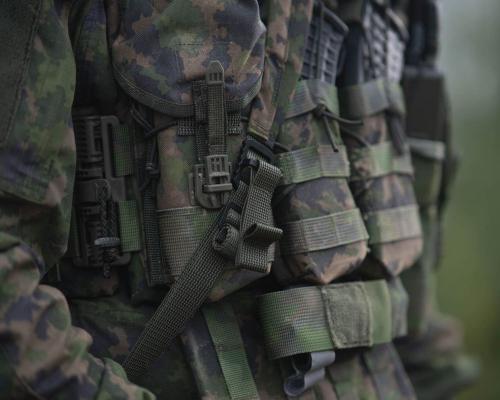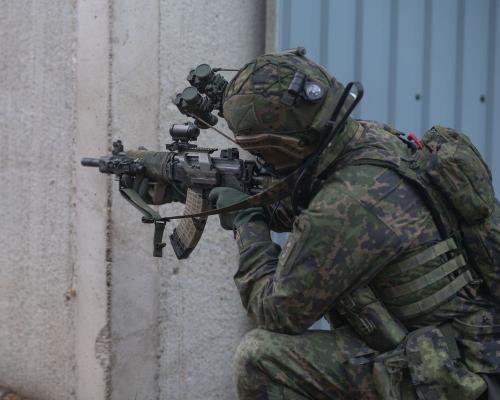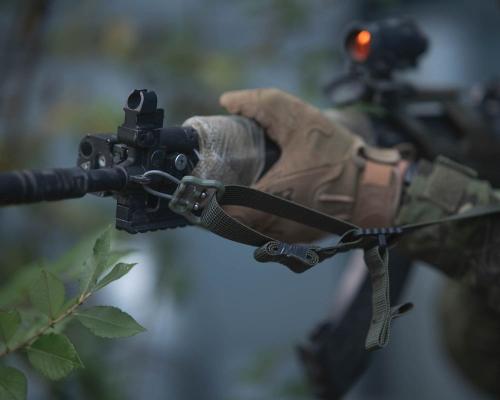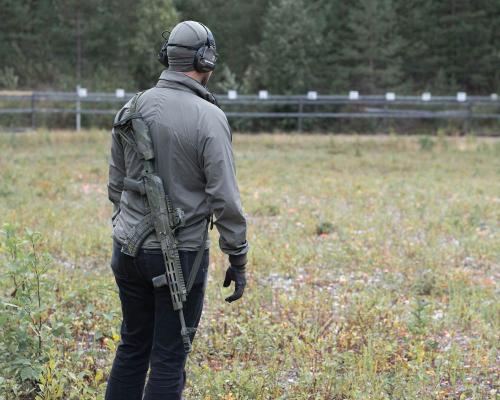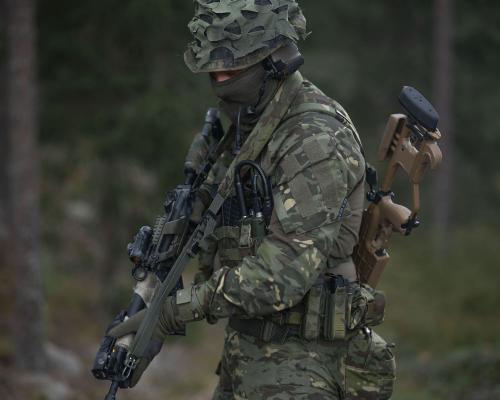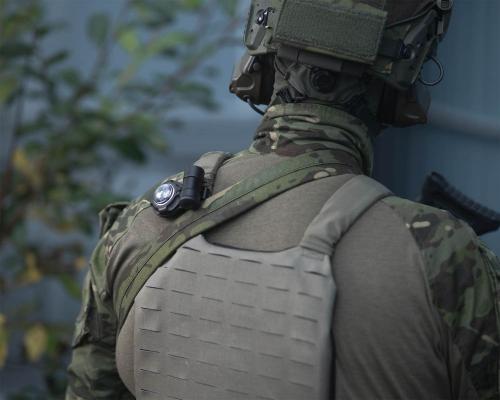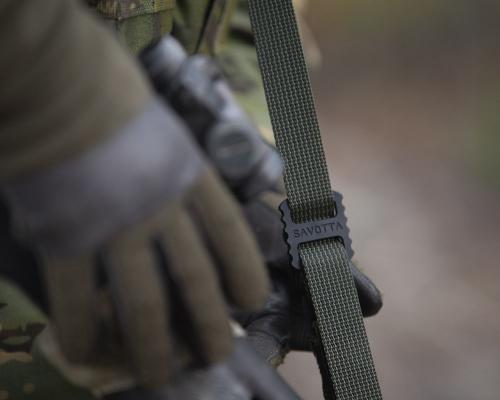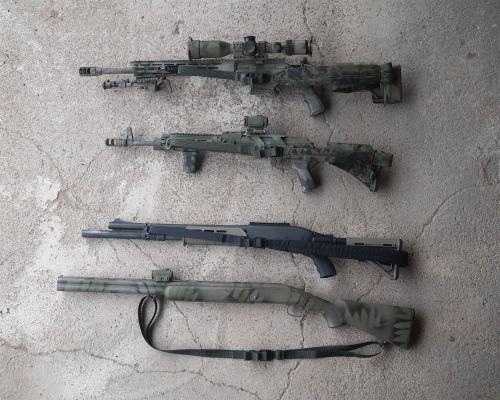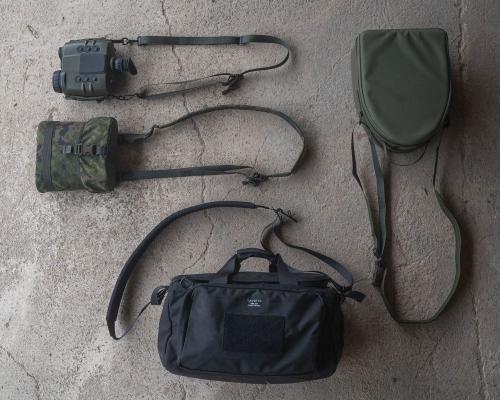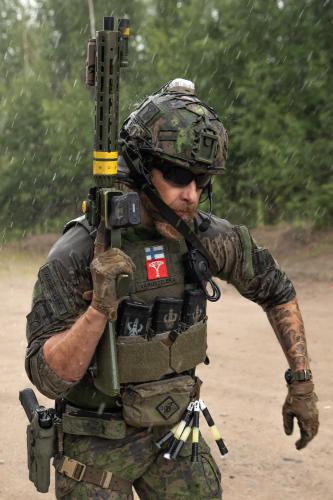 Savotta
Savotta Griffin Sling MW
Price 42.99 USD
excluding sales tax
The Savotta Griffin Sling is a family of effective, simple, and reliable two-point slings with rapid adjustment. Available in three weight options for various small arms from submachine guns and PDWs to sniper rifles and machine guns. Named after a mythical creature or Family Guy, we're not sure.
Loading products...
Trouble with the metric system? Try our converter: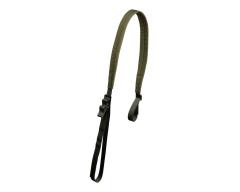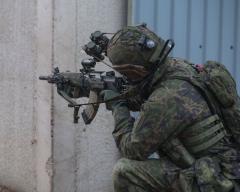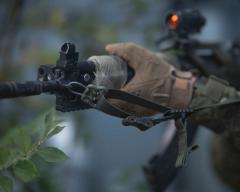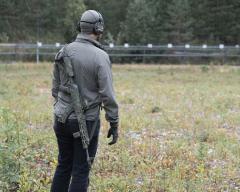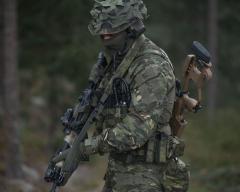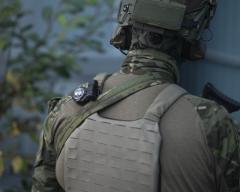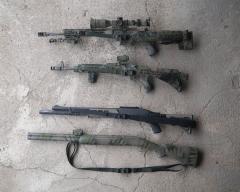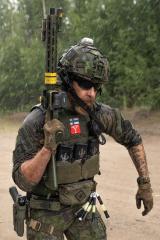 The Savotta Griffin Sling is a family of effective, simple, and reliable two-point slings with rapid adjustment. Available in three weight options for various small arms from submachine guns and PDWs to sniper rifles and machine guns. Named after a mythical creature or Family Guy, we're not sure.
This is the most universal MW version. The Griffin Slings in three weight options (LW, MW, and HW) were originally designed for a military client with specific requirements for a 2-point rapid adjustment sling. Conveniently, these requirements also describe the slings in a nutshell:
Wide, padded section to distribute the weight of heavier firearms (MW and HW only)
The adjustment buckle moves forward for lengthening the sling
Compatible with various sling mount hardware
Reliable and easy to use in adverse conditions and lowered cognitive state (freezing cold, sleep deprivation, winter gloves, NVG's that prevent seeing anything at arm's length...)
Griffin Slings Video
Savotta made this informative video about the Griffin slings. It features less suspenseful music and fewer action cuts but offers more information and dry humor with a deadpan delivery. Check it out!
Simple and effective features
The MW has some padding which most users will prefer with ordinary rifles and carbines.
All metal hardware (steel and aluminium)
Thin 35 x 4 mm / 1.38" x 0.16" closed cell foam padding
Rapid adjustment slider with webbing grip tab
Pulling forward lengthens the sling and moves support hand forward
Adjustable front rapid adjustment loop
A continuous piece of 25 mm / 1" webbing runs through the whole sling
The ends of the sling form 25 mm / 1" webbing loops for universal attachment
5 year material and workmanship warranty
Made in Finland
RAPID ADJUSTMENT SLIDER
The heart of the Griffin Sling is Savotta's proprietary rapid adjustment slider. Quick and effortless adjustment provides easy transitions between carry-shoot-carry etc. in all conditions. The world is full of sling adjustment buckles and most of them are pretty good too. Savotta chose to design their own adjustment hardware due to these simple reasons:
It should be solid metal without any moving parts
It should have proper serrations and protrusions for gripping
It must be be grip tab compatible for use with winter handwear
And it should preferably be made in Finland
If you hate the webbing grip tab more than Karl Lagerfeld hates everything, you can cut it off. The serrated sides and solid pull-tab loop offer good grip as is.
INSTALLATION
As this is a modern two-point sling, you don't need to play around with numerous ends of webbing, just two. The 25 mm / 1 " webbing fits most sling swivels and mounting hardware out there. We make these with long enough webbing ends to fit around most people.
First, open up the rear webbing loop by threading the webbing end out through the steel tri-glide buckle. Loop the webbing through the sling swivel, buckle, stock, or whatever you have in the back. Rethread the webbing through the buckle and do a U-turn to lock it into place.
Next, open up the front quick adjustment webbing loop and remove the steel tri-glide entirely from the webbing. Loop the webbing through your front sling swivel or buckle, reattach the steel tri-glide, loop the webbing around the rapid adjustment slider and back through the steel tri-glide. Finish here with a U-turn as well.
Play around with different adjustment lengths for the front and rear. When you've found the suitable setting, you can roll and tape the excess webbing ends into neat bundles. Or - if you dare - cut and burn the ends.
Length
185 cm
73"
Weight - LW
80 g
2.8 oz.
Weight - MW
115 g
4.1 oz.
Weight - HW
140 g
4.9 oz.
Fabric
500D Cordura
Webbing
100% Polyester
Slider
Aluminium
Buckles
Steel
Made by Finn-Savotta Oy
Founded in 1955, Savotta is known for its simplistic and extremely rugged, Nordic designs. For decades, Savotta has been the go-to supplier of outdoor gear and equipment for individual outdoor people as well as various aid groups and defence forces, most notably of course the FDF.
ISO 9001:2015, AQAP 2110 Ed D, Facility Security Clearance
ISO 14001: 2015 Environmental certificate
NATO CAGE: A444G
Savotta makes a large share of their products, all of their tents, ruck frames, and all non-sewing work in Karstula, Finland, where all of the design and development takes place. Large production runs are distributed to Savotta's second factory in Estonia, which is tooled for sewing only, and Poland. The product label has the exact country of manufacture and the quality is always guaranteed.
All products: Savotta
Recommendations
Loading products...
Reviews
You have already submitted a review. You can edit your text by clicking on it. You can filter the reviews by clicking on the elements of the summary.
Log in and write a review. You can filter the reviews by clicking on the elements of the summary.
Remove filter
Suomi
(1)
English
(5)
I would recommend for a friend
Samuel A.

17.10.2021

Verified purchase
I would recommend for a friend
Gaëtan D.

21.10.2021

Verified purchase
Best slings I've ever owned ! Until Savotta advertised it will hit the market, I've counted the days… and no regret. I purchased the HW for my 200str with bolthorn chassis and its vortex razor. The rifle is +\-9kg and it felt like a feather.. Despite the non bulky padding. I also bought the MW for a lighter rifle.
The adjustment is pure happiness, when it's set properly.
5
0
I would recommend for a friend
Sergiu B.

22.11.2021

Verified purchase
Bought the Medium in black.
Materials appear to be above average. Slider slides nicely only when moved by hand but stays put on its own. Metal trigliders save on bulk and make it stream lined.
Comparing it to American slings the webbing used is not so stiff/thick/rigid as the American counterparts. I like this better compared to the 5.11 Viking Padded sling that I have because it saves on weight and bulk, it bends more easily and is less abrasive.
The padded section is narrower, less bulky and less abrasive compared to the Viking but still more than enough for a medium weight rifle-I have mine mounted on a 4.2 kg platform and it is OK. But for a heavier one you might want to go for the heavy weight sling.
Over all I find it to be a very good design and would recommend it to others.
4
0
I would recommend for a friend
Dylan D.

01.08.2022

Verified purchase
Not as simple or "cheap" as the Särmä two point quick adjust sling, but where it lacks there it makes up in the elusive, subjective "feel" category. While the webbing isn't as pleasing on the fingers, and with the added padding, it still feels lower profile than the Särmä counterpart, and I like the quick adjust system just a little bit more. Not as confusing, and while setup has more steps it feels faster and makes a bit more sense to me than the Särmä's contraption. The only issues I had were that for the life of me I couldn't figure out how to get the damn thing on the front end of my AR without watching the video 3 times (even a mouth breather like me can figure out the Särmä sling by looking at it), that and the extreme amount of slack you end up with (its nuts, have electrical tape or blade+lighter handy), but those are more me problems than anything worthy of taking a star off.
I love this sling, it's effective, it's rugged, and damn is it handsome in Green. Thank you Savotta and thank you Varusteleka!
1
0
I would recommend for a friend
Miikka S.

24.12.2022

Verified purchase
Aivan mahtava asehihna, rakastuin välittömästi siihen että hihna pitenee kun sitä vetää eteenpäin eikä taaksepäin kuin PV:n taktisissa hihnoissa. Hihnaa pystyy säätämään myös vetimillä helposti.

Myös suhteellisen halpa verrattuna muiden valmistajien hihnoihin.

Itsellä kun on MW hihna kun halusin vähän pehmustetta hihnaan hartioita säästäen ajatellen.

Varusveijareille huomio! Itse käytin tätä palveluksessa pitkän aikaan kenenkään kiinnittämättä huomiota ja kun huomasivat niin tuli kyllä sanomista että soo soo ei omia varusteita, osa kyllä tykkäsi mutta mitä suuremmat nappulat sitä suurempi tuomio. Eli ei ole majuriturvallinen.

En voi muuta kuin antaa 5/5 aivan mahtava hihna.
3
0
I would recommend for a friend
Sebastian S.

26.04.2023

Verified purchase
To put it into simple words. I do like it a lot so far, tho it is not perfect. But for the Price, it's one of the Best slings I ever owned. Works perfectly well. Practical usage and Durability really Savotta 10/10. Simple rough construction. Nothing fancy, nothing to go wrong with.

The only critic I have is that the comfortability is maybe 7/10. On a 3.9 kg rifle, the Cordurda is not doing my neck a favor. But I would take durability over comfort any time, so I do recommend this sling. Much more worth your money than any other shitty $90 tactical Plastic Sling.
0
0