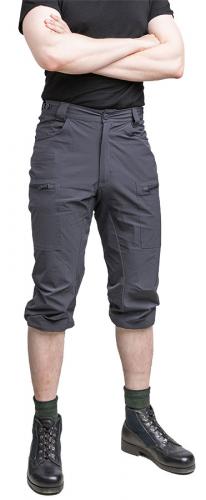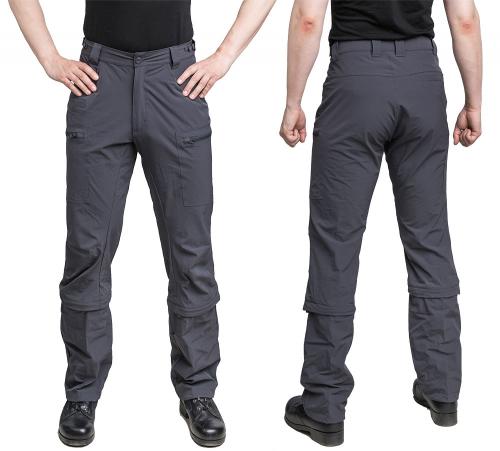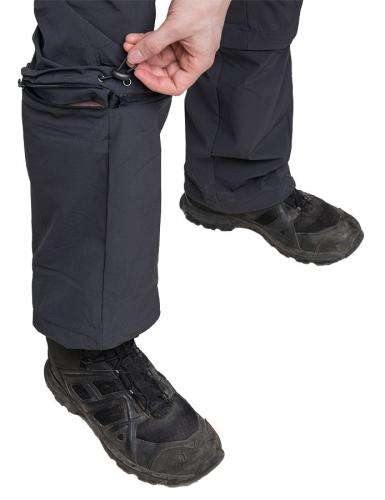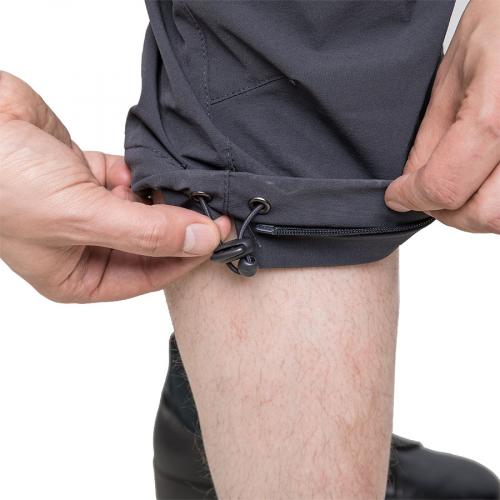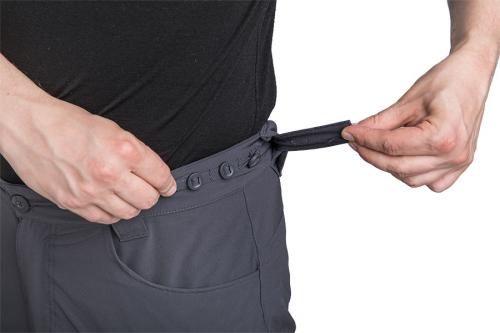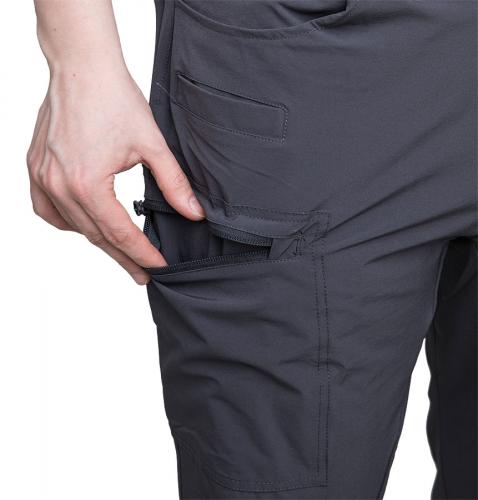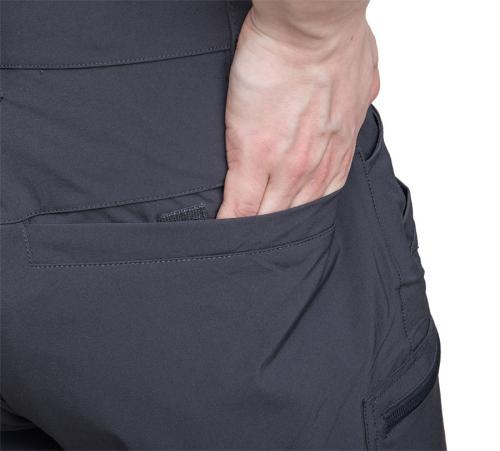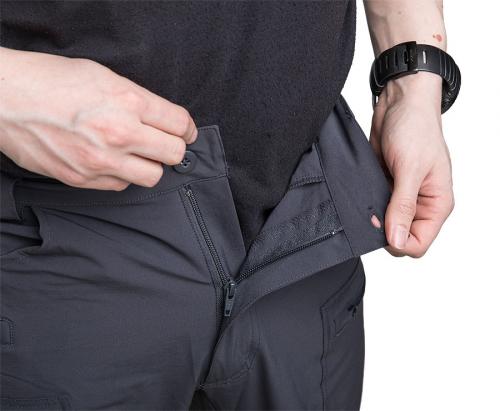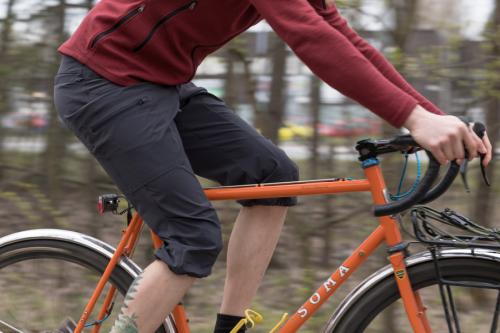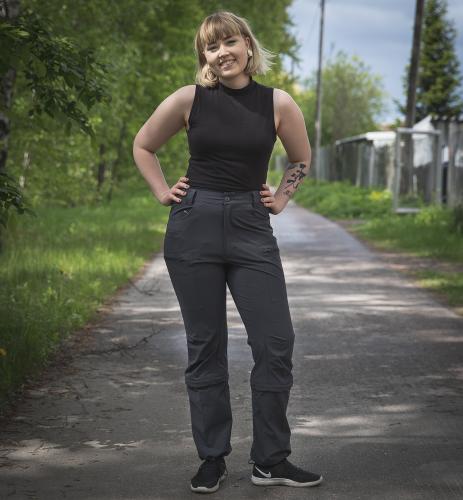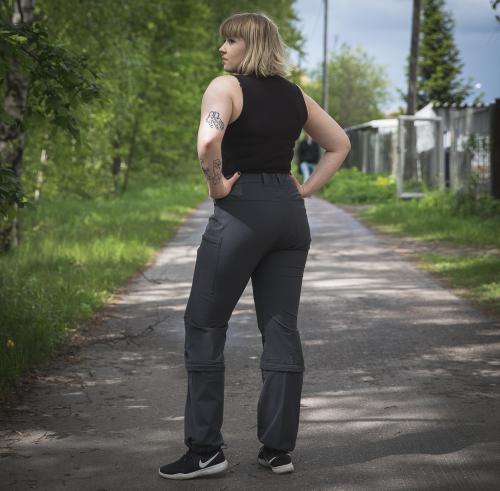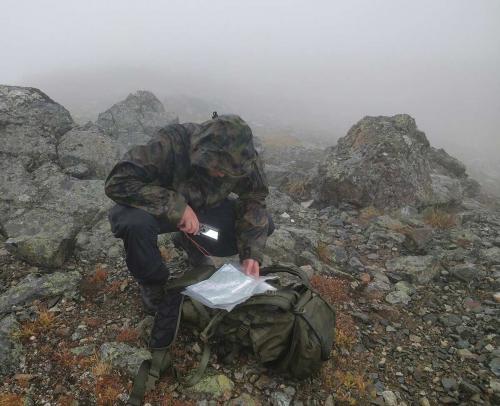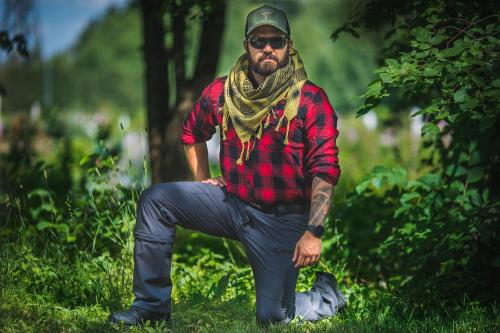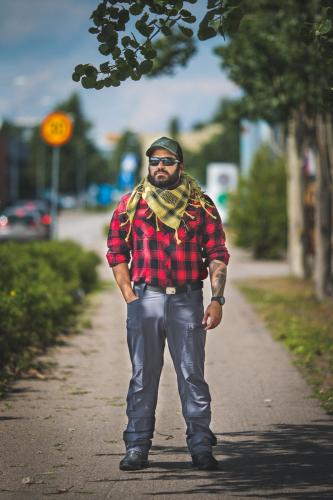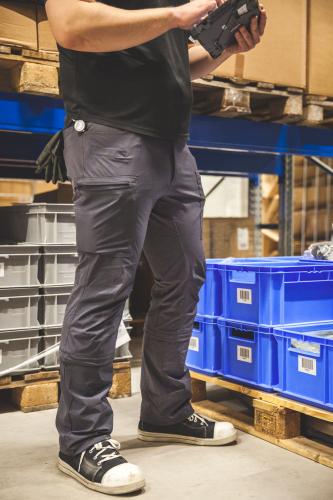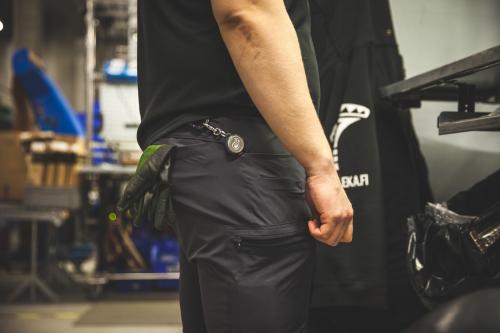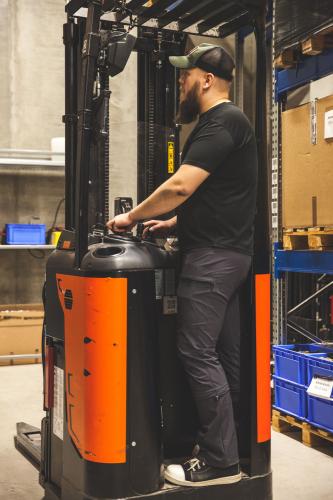 Särmä Zip-off trousers
Price 30.99 USD 41.99 USD excluding VAT
These are lightweight trousers with a zip-off feature for intermediate weather such as British summer. We're not talking about sweat bags, yet these repel some wind. Should a shower cause these to soak, the fabric will dry rather quickly even as you wear them. These convert to 3/4 shorts and cover the knees.
Loading products...
Trouble with the metric system? Try our converter: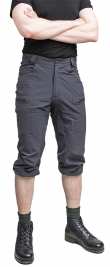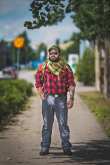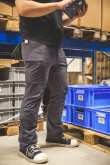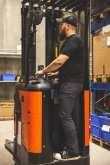 These are lightweight trousers with a zip-off feature for intermediate weather such as British summer. We're not talking about sweat bags, yet these repel some wind. Should a shower cause these to soak, the fabric will dry rather quickly even as you wear them. These convert to 3/4 shorts and cover the knees.
In addition to the obvious length adjustment, these are suitable for various environments around the year: wear them indoors as light and stretchy pants, or as a shell layer over long johns when you go outside in freezing or near-freezing temperatures.
Comfy and practical features
The waist has a button adjustment to eliminate the need for a belt. Thigh cargo pockets with zippers and a mobile device pocket in the front. The backside features a single pocket, which is very large and will fit a U-lock for example. Smaller sizes (S and M) can be stuffed into the back pocket from the inside.
The inseam at the crotch is split away from the centreline with a gusset to prevent pressure points and chafing. Both sleeve lengths are adjustable with an elastic cord.
Material, care and colours
92 % polyamide, 8 % elastane, 140 g/m2, DWR-treated. This kind of material is usually found in summer hiking clothes. It dries quickly, breathes well yet repels water quite nicely. Wear resistance is also incredible considering the weight. All zippers are of good quality and waist adjustment buttons are Canada type.
Machine wash with synthetics program at 30 degrees Celsius (86 F). In practical terms you won't damage these if you go for 40 degrees (104 F), you don't wash these so often anyway. DWR doesn't wash off right away but with time/necessity you may treat these with a spray-on for water resistance.
Sizing
We made this simple, just your usual Small, Medium, Large etc. with a suggested user height and maximum waist circumference in the brackets. A close fit at the waist means a close fit elsewhere also, but the cut and stretch won't restrict you. If you have pronounced curves or want a loose fit you can pick a larger size and tighten the waist adjustments as necessary.
The main picture features a 175 cm / 5' 9" tall person with an 84 cm / 33" waist, wearing size Small Regular. The waist is forgiving in this regard if you want closely fitting pants. Below a chart with the actual trouser measurements, these are NOT the user's recommended sizes:
Centimeters
| Size | Waist circumference (non-stretched) | Leg inseam | Leg inseam till zip-off |
| --- | --- | --- | --- |
| Small Regular | 78 | 82 | 50 |
| Medium Regular | 88 | 82 | 50 |
| Large Regular | 98 | 82 | 50 |
| X-Large Regular | 108 | 82 | 50 |
| 2X-Large Regular | 120,5 | 82 | 50 |
Inches
| Size | Waist circumference (non-stretched) | Leg inseam | Leg inseam till zip-off |
| --- | --- | --- | --- |
| Small Regular | 30.5" | 32.5" | 19.5" |
| Medium Regular | 34.5" | 32.5" | 19.5" |
| Large Regular | 38.5" | 32.5" | 19.5" |
| X-Large Regular | 42.5" | 32.5" | 19.5" |
| 2X-Large Regular | 47.5" | 32.5" | 19.5" |
Made in China
There's a good quality to be found in the PRC, as long as you don't choose the lowest bidder.
Varusteleka Särmä
Särmä is our own brand of clothing and equipment. When you buy Särmä you get purpose-built stuff at a decent price, something that will fill it's intended role well and not cost you an arm and a leg!
Särmä products are covered by a 12-month warranty against defects in materials and workmanship. For further information please read our detailed warranty guide.
Recommendations
Loading products...
Reviews
You have already submitted a review. You can edit your text by clicking on it.
Log in and write a review.
Remove filter
Suomi
(18)
English
(7)
I would recommend for a friend
Tommi S.

12.06.2017
Erittäin mukavat housut. Täytyy ostaa toiset. Mutta tällaisena tappijalkaisena toivoisin lyhyempilahkeisia malleja. TAI - liikeidea - kun nämä ovat zip-offit, niin eri pituisia "jatkopaloja".
25
4
I would recommend for a friend
Harri H.

14.06.2017
Loistavat pökät. Itse en oikein tyköistuvista välitä, joten ihan ei koot itselle täsmää. XL on vyötäröltä löysä, mutta reisistä sopiva. Uskon, että L-koko olisi reisistä taas liian tiukka jo.
0
0
I would recommend for a friend
Mika K.

14.06.2017
Lyhyen testin perusteella housut vaikuttavat sinänsä mukavilta, mutta kokohommeli ei oikein toimi. Normaalisti itselläni koot liikkuvat siellä L/XL -maastossa, joten tilasin L-koon housut. Olen 185 cm pitkä ja vyötäröltä 93 cm, joten ajattelin että L menisi. No, lahkeet (pitkinä) olivat hieman lyhyet, mikä oli odotettavissa. Mutta sen lisäksi lahkeet olivat myös lyhennettyinä hieman turhan lyhyet. Tämä ennenkaikkea siksi, kun tykkään käyttää Särmän polvisukkia viileämmillä keleillä ja tällä pituudella tuppaa istuma-asennossa ihoa välillä vilkkumaan polven seudulta, mikä ei ole mukavaa.

Myös vyötärö jäi L-koossa löysäksi, vaikka vyötärönympärys asettui selkeästi tuon esitetyn maksimin alle. Ilman kiristystä housut putoavat jalasta, kiristyksen kanssa nippanappa ok jos on vyö kehissä. Ilman vyötä hieman liian löysä ja housut saa edelleen putoamaan vyötäröltä ilman että nappia tarvitsee aukoa. Lisäksi en yleensä pidä siitä, että vaatteita joutuu kiristelemään, sillä housujen malli yleensä kärsii siinä. Niin nytkin: housut eivät tunnu oikein istuvan hyvin vaan tuppaavat nousemaan liikaa.

Näin ollen joutunen valitettavasti palauttamaan housut tällä erää. Toivon että mallistoon tulee pikaisesti Long-versiot, sillä housun idea sinänsä on hyvä ja tarpeellinen. Tällaisia housuja olen odotellut pitkään ja ikävä että nyt joudun pettymään. Jos/kun pitkiä malleja tulee, kokoa Medium-long varmaankin tulee kokeiltua.

Suosittelu sillä varauksella, että sattuu nykyisten kokojen piiriin. Suosituspituuden suhteen pari senttiä ei varmaan haittaaa, mutta kuten tuli todettua 5 cm on omaan makuuni hieman liikaa. Lisäsuosituksia: jos vyötärönympärys menee vain pari senttiä yli pienemmän koon, ota pienempi. (Itselläni 5 cm, mutta luulen että medium olisi ollut parempi)

Kolme tähteä vain ja ainoastaan koko-ongelmista. Materiaali ym. viiden tähden luokkaa. Jos istuvuus osuu kohdalle, housut lienevät viiden tähden arvoiset.
3
2
I would recommend for a friend
Tero B.

17.06.2017 (Edited 28.06.2017)
On muuten hyvät housut. Ei kinnaa eikä kiristä. Muokkaus: Nyt pitää pistää vähä kritiikkiäkin. Saumat on vajaan 3 viikon kevyen käytön jälkeen alkaneet vähä irvistää parista kohtaa. Kangas kestää mutta lanka on ilmeisesti katkennu. 1.5tähteä pois jos vain osais.
4
3
I would recommend for a friend
Juha K.

19.06.2017
Ensityypit otettu näistä housuista. Vaikutelma on positiivinen, mutta kritiikkiäkin löytyy. Ensin koko-asiaa. Itselle nämä olivat aika passelin kokoiset. Otin suositeltua kokoa yhden pienemmät (M, vyötärö n. 100cm), jolloin housut olivat mukavan napakat. Materiaalihan joustaa mukavasti ja nämä tulivat minulle pääasiassa pyöräilykäyttöön. Jos housut hankkii vain retkeily tai ulkoilu -käyttöön voi suositeltu koko olla parempi vaihtoehto.

Ensimmäinen natina löytyy normitaskuista, jotka eivät ole ommeltu kiinni. Tasku nousee pussina ulos aika helposti. Muuten taskut vaikuttavat erittäin hyviltä ja mukavan isoilta. Reisitaskut olivat myös mukavan napakat, joten esim. avain ei heilunut pyöräilyn aikana niissä niin, että sen olisi huomannut.

Housujen malli ei ole ehkä itselleni se kaikkein parhain. Itse olisin halunut mielummin housut joista lahkeet saa pois polven yläpuolelta. Jos lahkeissa olisi viellä ollut velcrokiriste sääressä niin ne kävisi about kaikkeen liikuntaan ja käyttölämpötilaalue olisi ollut laajempi. Shortsimallia olisin myös suosinut siksi, koska polvihousuina nämä ovat aika lämpimät kun asteita 20 tai enemmän. Itse olen kyllä hikoilevaa sorttia, joten jollekkin asteluku voi olla paljon enemmänkin. Materiaalin piikkin lämpöisyys ei siis mene ja tukalat nämä eivät olleet. Housuja tulee luultavasti käytettyä kylmemmillä ilmoilla, joita Suomessa toki piisaa.

Lahkeisiin olisin toivonut jotain parempaa kiristysmekanismia (esim. velcro sääressä), koska lahkeiden kanssa nämä eivät oikein pyöräilyyn sovi. Toki lahkeet toimivat hyvin after-ride tilanteissa kun ilma jo viilenee.

+ Koko (itselleni)
+ Materiaali
+ Taskut

- Päätaskut eivät ole ommeltu kiinni
- Malli varauksin
2
2
I would recommend for a friend
Jon V.

14.07.2017
Mielestäni kuvat valehtelevat hieman, aika tavalla näistä tulee tuulipuvun housut mieleen. Mukavan joustava materiaali ja todella hyvät reisitaskut, toimii sekä lahkeilla että ilman. Itse olen 187cm pitkä ja pituus oli juuri sopiva.
1
0
I would recommend for a friend
Mark K.

20.07.2017 (Edited 29.08.2020)
Well fitting pants, comfortable material and good design features make these work. Stitching on the buttons could be better.

After a while: Stitching opens up after a while on all kind of seams.
0
0
I would recommend for a friend
Kalle P.

28.08.2017
Suomen kesään mainiot housut. Näitä on nyt tullut käytettyä ihan ihmisten ilmoilla asioilla, liikkuessa esim fillarilla, mökillä, veneellä, ja metsässä retkeiltäessä. Kaiken kaikkiaan kesän käytetyimmät housut. Istuvat hyvin kun vaan malttaa sovittaa oikean koon*. Istuvuus on erinomainen ja housut seuraavat hyvin liikettä eivätkä ahdista. Hengittävyys on myös kohdallaan vaikka vähän puskisi hikeä, eivätkä housut tunnu nahkeilta lämpimälläkään kelillä. Taskut ovat kaiken kaikkiaan toimivan kokoiset ja hyvilä paikoilla ja jopa inhoamani reisitaskut naamioituvat kokonaisuuteen. Leikkaus on sopivan istuva, eivätkä lahkeet lepattele esim. polkupyörän rattaissa.

Käytöstä sen verran että tuulenpitävyys on sitä luokkaa että yli 15C lämpötilassa leikkaavat viiman veneellä tai saaristossa niin ettei tule kylmä. 10C alle mentäessä alkavat sitten tuntua vähän viileiltä jo päällä. Vedenhylkivyyttä näissä en paljon käytännössä huomannut, vaikka hätäpäissäni ehdin jo kerran kyllästää varmuuden vuoksi. Johtunee kosteutta siirtävästä kankaasta joka imee veden itseensä, mutta eipä tuo pienessä sateessa haitannut kun myös kuivuvat todella nopeasti. Kaiken kaikkiaan hyvät housut päällä ja ao. varauksin voin suositella vähintään kuivan kelin jokapaikanhousuiksi. Nyt kun näistä vielä saisi vähän paksummasta ja vettähylkivämmästä materiaalista samalla kaavalla pitkät housut talveksi. Ehkä jopa sellaiset joissa on piilotetut reisutaskut.

Suurimpana haasteena näissä on ehkäpä laadunhallinta. Parin kuukauden käytöllä saumat alkoivat parista kohtaa irvistää. Haarasauman ratkeamiseen voisi auttaa kyllä jos haaroissa olisi erillinen kiilapala, niin liikkuessa kankaan ei tarvisi joustaa niin paljon. Vaihto kävi kyllä hyvin ja niin päin pois, mutta sitten kun katselin rekistä uutta paria niin ompelun työnjälki ei ole kovin tasaista. Ylipäätään laadun tuntu on vähän sellainen 'hyvä taistelu, mutta ei ihan maali'. Se tuntuu yksityiskohdissa, kuten tosiaan huolimattomat saumat, taskut joita ei ole ommeltu kiinni, taskujen ompelu samasta joustavasta kankaasta mikä ei ole yksinomainen etu, jne. Nämä housut on niin mukavat päällä ja perustoimivat, että nämä yksityiskohdat on helppo ohittaa, mutta samalla olisin iloinen nähdessäni viimeisen särmäyksen joka tekisi näistä 5:n tähden vermeet.

*Näissäkin on menty vähän hyvän mielen koko-merkinnöillä ja 120kg/190cm miehelle meni tavanomaisen 2-3XLL sijaan XL-Regu.
3
0
I would recommend for a friend
Erik Z.

08.09.2017
My balls remain unsqueezed!
I've worn these non-stop all through the three proper Swedish summer months (june, July, August) in temperatures between 5-25°C, and now I fear for autumn as my legs again have to endure ball-squeezing blue jeans.
These are the best and most comfortable pants I've worn in years, and I'd recommend them to anyone who's into Slav-squatting, playing on the ground with small children, or summer hiking outside the mountain range. Will buy more, and I'd love a navy blue model for 2018. Sizing is very forgiving, but on the large side so pick the smaller size if you are between sizes.
8
1
Kierto Circular Economy
Return this product used but clean and unbroken, and you'll receive half of the product's original price as Varusteleka credits. Service is available only in Finland. Only Registered users can make Kierto returns. See more information about Kierto.