Särmä Worker Trousers
Price 73.99 USD excluding VAT
Flat Rate Shipping to USA $9.99
94 % recommends
Sold 16 pcs in the last two weeks
Loading products...
Trouble with the metric system? Try our converter: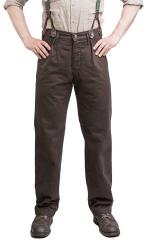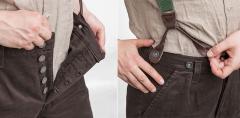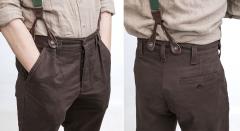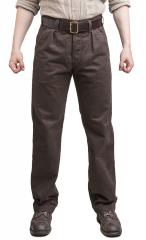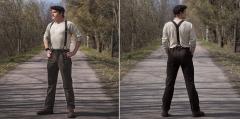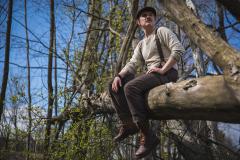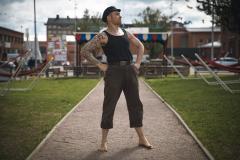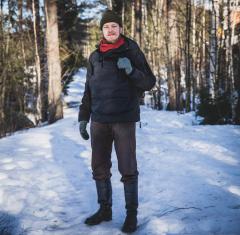 Classic design back when men's clothing was both practical and good looking. The best thing about these are the darts in the back and pleats in front. These give more room around the hip area, so the trousers do not crush your balls like all modern trousers do.
Straight leg, comfortable vintage inspired trousers
Slightly elastic cotton fabric
Wear with suspenders!
Old Swedish army work trousers are the best, albeit the colour is ugly and they simply are not available any more. We modeled our worker trousers after them. These are actually much like jeans, back in the day when jeans were work clothing. Strong, thick fabric and practical, roomy cut. We can't emphasize enough the importance of darted waist - modern undarted waist must be the women's revenge from years of oppression, or simply a cost saving measure. With these pants your dingly parts are free from oppression no matter what your posture is. Added plus is that your legs have complete freedom of movement and your pocket contents are actually accessible. These are so comfortable you'd think you're wearing sweatpants. Of course when you think about it, the extra space provided to the hip area by the darted waist should be fine for the ladies too - it's a deal where everyone wins!
The belt loops are suitable for up to 50 mm (2") belts, but for the practical working man we have included buttons for attaching proper braces. Wear them up when working: hanging braces are a signal that you are off duty. The fly is also buttoned.
Materials
The first batch is made from dark brown fabric with 98% cotton and 2% elastane. Expect other colours and materials later. We had plans of making these out of 100% cotton, however decent weight full cotton fabric is suprisingly hard to come by these days. The first sample from the factory was sent with this brown fabric and even though it had that 2% unnecessary elastane, it was just spot on good looking and feeling fabric that we went with it.
The fabric is nice and soft, works during warmer weather too. During winter you just throw a good pair of long johns under these and you're set.
Sizing
If you know how to buy jeans, you'll do fine: just the waist and inseam in inches. Note that you can pick a precise waist: the thighs and ass won't be in your way. If you fall between two sizes, pick the smaller one. Lengthwise these are easy to shorten if necessary, or just turn the cuffs.
Our model is officially size 33/30 and wears size 32/32 trousers. It's all good.
Below you can find a size chart with the actual centimetre measurements. These are pre-shrunk so they won't get any tighter; if anything, the small elastane content will forgive a bit and just finish the fit.
| Horizontal size | Waist | Hip | Cuff |
| --- | --- | --- | --- |
| W28" | 76.5 cm | 98.5 cm | 40 cm |
| W30" | 81.5 cm | 103.5 cm | 41.2 cm |
| W32" | 86.5 cm | 108.5 cm | 42.4 cm |
| W34" | 91.5 cm | 113.5 cm | 43.6 cm |
| W36" | 96.5 cm | 118.5 cm | 44.8 cm |
| W38" | 101.5 cm | 123.5 cm | 46 cm |
| W40" | 106.5 cm | 128.5 cm | 47.2 cm |
| W42" | 111.5 cm | 133.5 cm | 48.4 cm |
| W44" | 116.5 cm | 138.5 cm | 49.6 cm |
| W46" | 121.5 cm | 143.5 cm | 50.8 cm |
| W48" | 126.5 cm | 148.5 cm | 52 cm |
| Vertical size | Inseam |
| --- | --- |
| L32" | 81.5 cm |
| L34" | 86.5 cm |
We just took the most popular sizes in stock for now. More sizes, essentially meaning long sizes, might become available if these prove to be a sales hit!
Made in Estonia, proper stuff.
These are designed in Finland and manufactured in Estonia.
Employee's comments
These are definitely a proper pair of go-to trousers for general use from work to town. The little details like the high, darted waist and deep pockets make these very comfortable to wear - trousers shouldn't have to be tight and hung low just for show. These instead have an old fashioned functional charm of their own (well they are modeled after old work trousers, so...).

I would maybe gripe a bit about the suspender buttons digging into the waist if worn tight with a belt, but since I only use these with braces, I have no complaints.

Pro tip: if you want a very similar pair of trousers but in black, get a pair of BW Moleskin trousers and carefully remove the cargo pockets.


Henri L.


Varusteleka Särmä
Särmä is our own brand of clothing and equipment. When you buy Särmä you get purpose-built stuff at a decent price, something that will fill it's intended role well and not cost you an arm and a leg!
Särmä products are covered by a 12-month warranty against defects in materials and workmanship. For further information please read our detailed warranty guide.
Reviews
You have already submitted a review. You can edit your text by clicking on it.
Log in and write a review.
Remove filter
Suomi
(22)
English
(13)
I would recommend for a friend
Jaakko L.

05.05.2017
Tosi hyvät, kankaan pehmeys ja mukavuus oli positiivinen yllätys. Metallinapit, luulisi kestävän. Isot taskut. Pidän henkselien kanssa, ainakin näin näyttävät hyvältä ja istuvat jalkaan. Toivottavasti kestävät mahdollisimman pitkään.
6
0
I would recommend for a friend
Ville L.

06.05.2017 (Edited 04.01.2018)
Aika uskomatonta: housut, jotka istuu perseestä puristamatta reisistä tai munista. Matsku on tosiaan yllättävän pehmeää ja mukavaa, pinta vähän samettinen. Tyylikkyydessä/siisteydessä laittaisin nämä jonnekin farkkujen ja suorien housujen väliin.



Metalliset niittinapit henkseleille on aika HC ratkaisu ja ne voi painaa esim. repun kanssa. Itse otan yleensä 33 vyötärön housut, näissä 34 oli sopiva ja 32 liian pieni.



Ostan toisenkin parin viimeistään kun tulee eri värillä tai matskulla!


Edit: nuo niitit saa helposti ja siististi sivuleikkurin ja vasaran avulla vääntämällä helkkariin.
7
0
I would recommend for a friend
Ali L.

09.05.2017 (Edited 10.05.2017)
Erinomaiset housut. Mukavan pehmeää materiaalia. Isot, syvät taskut joihin saa jotain mahtumaankin. Normaali 34/34 housukokoni oli näissä liian tiukka vyötäröltä, piti ottaa 36/34. Henkselinapit ovat ongelma. Korkean vyötärön takia napit tulevat just sille korkeudelle, johon reppu asettuu alaselässä :-(
13
0
I would recommend for a friend
Antti K.

13.05.2017
Ensivaikutelma on tosi hyvä. Koon 34/34 Istuvuus vyötäröltä, lantiolta ja reisistä on täydellinen ja lahkeen pituuskin on aika sopiva (itse olen 188 cm / 87 kg). Jos jotain pitäisi muuttaa, niin lahje saisi omaan makuun olla aavistuksen kapeampi, ettei lepattaisi niin pahasti.
4
6
I would recommend for a friend
Matti M.

05.06.2017
I would recommend for a friend
Antti H.

13.06.2017 (Edited 20.06.2017)
Herranjestas, ensimmäiset housut vuosiin jotka oikeasti istuu päälle ja mitkä ei hitsaa kiinni kun koittaa liikkua. Reisille ja persiille on sopivasti tilaa ilman että housut roikkuisi vyötäröltä. Vyökäyttäjälle henkselinapit ovat hiukan epämiellyttävät, toisaalta jos ei koe tarvitsevansa henkseleitä voi niitit helposti nipsaista irti. Taskut ovat sopivan isot. Tosin kehitysehdotuksena toivoisin seuraavaan versioon pienen "kolikkotaskun" lisäämistä päätaskun sisälle.

Laitan ehdottomasti toiset tilaukseen kun uusia värivaihtoehtoja tulee jakeluun!
7
0
I would not recommend to a friend
Jesse Ö.

18.06.2017
Matsku ja leikkaus mainiot, siistit mutta käytännölliset. Tilavat taskut.

Metallitapit henkseleille on kyllä tosi huono idea. Vyön ja repun kanssa painaa aika äkkiä, samoin oudoissa asennoissa (esim. maantiepyörällä polkiessa). Ei noi tapit nyt housuja käyttökelvottomiksi tee, mut en oikein koe voivani täysin tuotetta noiden kanssa suositella.

Jos metallitapit vaihdetaan ommeltuihin nappeihin niin nää ois mulle täydelliset arkipöksyt.
33
6
I would recommend for a friend
BürgermeisterKäsekrainer

12.07.2017
Maailman Parhaat Housut™. Ainoa miinus siitä, että henkselinapit saattavat painaa vyön kanssa, mutta siksi asiantuntijapiirit käyttävätkin henkseleitä.
10
2
I would recommend for a friend
Antti V.

12.08.2017
Housut ovat todella, todella mukavat ja vyötärö tuumakoon mukaan täsmälleen oikea. Palautin kuitenkin tuotteen ja toivon, että tästä tulee päivitetty revisio, jolloin voin sijoittaa näihin, ja parannusehdotukseni ovat a) henkselinapit, jotka voisi jättää myös vyön kanssa paikalleen, b) kapeammat lahkeet, ja c) väri - tai oikeammin värjäys, joka olisi tummempi ja kankaan taitekohdista vähemmän kuluvan oloinen. Jos nämä mainitut asiat eivät haittaa sinun käyttötarkoitustasi, ehdottomasti suositeltavat housut jo tässä muodossaan.
4
3
I would recommend for a friend
Marko K.

27.08.2017
Siistit, samalla mukavat ja venyvät housut. En ihan vielä ole lämmennyt henkseleille mutta kyllä nämä vyönkin avulla hyvin saa jalkaan. Käyttökelpoiset housut moneen eri tilanteeseen.
3
0
I would recommend for a friend
Adam W.

08.09.2017
I'd happily wear these trousers everyday, from now on. The material and cut are very comfortable, and they've made me a believer in the joys of braces.

I look forward to more colors, in the future. And can we please have two back pockets? While I appreciate the old-fashioned design, some of us use all those pockets...
17
0
I would recommend for a friend
Ville K.

16.09.2017
Tässä meni nyt kaikki kohdalleen, siistin näköiset housut, joiden etutaskuihin mahtuu heittämällä 0,7 yhden tähden jallupullot. Suuri bonus ovat kunnon hyvät napit sepaluksessa ja henkseleitä varten. Ostin kahdet, ja ostan vielä kolmannet.
7
0
I would recommend for a friend
Kalle L.

15.10.2017
Lisätkää mallistoon musta versio näistä. Tällaisille housuille on kysyntää, mutta pitäisi saada muissakin väreissä. Musta ei voi ikinä mennä pieleen, oli kyseessä mikä tahansa vaate.
12
2
I would recommend for a friend
Juho H.

30.10.2017
Mukavat käyttää, pienet koot sopii luikummallekin kaverille ja näyttäväkin vielä helvetin tyylikkäiltä. Ainoana miinuspuolena henkselinapit painavat ikävästi selkään oudoissa asennoissa, sekä repun kanssa kyykistellessä.
2
0
I would recommend for a friend
Antero B.

03.11.2017
Aivan loistavat housut, tyylikkäät.
1
1
I would recommend for a friend
Thorsten H.

01.12.2017
Description is dead on...most comfortable trousers ever. I will be buying at least one other pair.
8
0
I would recommend for a friend
Hillevi P.

24.12.2017
I'm a tall woman with fairly slim hips and normally a skinny jean size w32. These trousers in w30 fits me perfectly and are very comfortable.
1
0
I would recommend for a friend
Ana M.

29.01.2018
Amazing pair of trousers, love them!

I wear (and recommend wearing) these exclusively with braces, they look brilliant on a butch woman like myself, and remain extremely comfortable.
2
0
I would recommend for a friend
Bruce C.

07.04.2018
Great pair of trousers, good fit, comfortable, and solid braces buttons. I may never take them off!
1
2
I would recommend for a friend
Jorma H.

13.04.2018
Hyvät housut, mukavat päällä, eikä kiristä. Suosittelen.
1
0
I would recommend for a friend
Henri L.

Varusteleka employee

18.07.2018
Joo siis, nää on just nimenomaan Käyttöhousut oikein isolla K:lla, semmoiset siistit ja mukavan vanhanaikaisen näköiset go-to -pöksyt, jotka sopivat töihin ja siitä suoraan kylille, paljon siistimmät kuin reisitaskuhousut. Näinkin yksinkertaiset jutut kuin korkea vyötärö, tilava lantioalue ja syvät taskut ovat arkikäyttöesineessä maailman ihanin asia - housujen ei ole todellakaan pakko olla ihonmyötäiset ja matalavyötäröiset pyllynvilkkumiskalsarit, melkein puistattaa katsella sellaisia. Miten näin hyvän malliset pöksyt edes aikoinaan pääsivät häviämään katukuvasta? Joku meni seuraamaan vallitsevaa muotia tai jotain?

Tietty sinänsä hienon näköiset niitatut napit eivät vältsiin ole parhaat mahdolliset vyön kanssa. Tämä on oikeastaan mun nähdäkseni housujen ainoa oikea miinuspuoli. Jos ei vyötä aiokaan käyttää, niin homma ei varmaan ole ongelma. Henkselit ovat muutenkin hienompi ja pirteämpi vaihtoehto.

Kangas on aika tiivistä ja pehmeätä, ja on kestänyt käyttöä ihan mallikkaasti. Vielä kun tämmöiset tulisivat sarkaisina...
5
1
I would recommend for a friend
Robin B.

18.07.2018
Best fitting pair of regular pants I've ever owned, really comfortable. Will likely buy another pair, potentially more if more versions are released.
1
0
I would not recommend to a friend
N.N.

24.09.2018
I would recommend for a friend
Teemu K.

22.10.2018
Housuissa yhdistyvät tyylikkyys ja mukavuus tavalla, jota nykyihmisen on vaikea tajuta. Nappihenkseleiden kanssa täydelliset. Mitoitus pitää hyvin kutinsa. Näiden housujen innoittamana ompelin napit pariin muuhunkin housupariin ja tämä toimenpide nosti niidenkin mukavuuden (ja tyylin) uudelle tasolle. Ainakin pirteän harmaa värivaihtoehto olisi hieno näihin housuihin.

Great pants, sizing is spot on, awesome with suspenders, very comfy and stylish.
1
0
I would recommend for a friend
Scott M.

12.12.2018
Why haven't these become wildly popular and sold out a thousand times over so they can be in a bunch more colors? I LOVE these pants. They are well made, take a beating and look great. I'll be ordering another pair soon but I would buy two of every color if it was made in other colors.
4
0
I would recommend for a friend
Ignacio N.

06.05.2019
Great pants. Super comfortable, stylish, good fit. And pretty tough. Actual working trousers. Veeery nice. For not being cargo trousers you can stuff a lot in the pockets.
0
0
I would recommend for a friend
Veeti R.

08.05.2019
Pakko antaa täydet pisteet koska juuri tälläisiä haluan nähdä teiltä lisää. En halua muita housuha käyttää koska nämä ovat älyttömän mukavat ja korjaavat kaikki muiden housujen ongelmat kuten ahtaat taskut ja takamuksen paljastumisen. Ostan toiset jos tulee toisessa värissä esim. tummanharmaassa. Pari pientä miinusta löytyy, esim henkselinapit voisi korvata perusnapeilla ja vyön kanssa nämä eivät itselläni toimi, sakkaavat takaa ja tapit painavat, henkseleillä mennään. Oma koko oli turhan tiukka, joten vaihdoin yhtä isompaan.
0
0
I would recommend for a friend
Ian R.

08.05.2019
Very robust, very comfortable, yes lots of ball room! Really nice to wear. Best with braces because the buttons are pretty substantial metal ones which dig in a bit if you have to pull the trousers in really tight with a belt. But then braces are best! My wife doesn't think they look flattering, but that is because they have plenty of ball room! I love them.
1
0
I would recommend for a friend
Jarmo H.

17.07.2019
Ihan perkeleen hyvät housut, todella mukavat eikä näitä malta riisua millään.
1
0
I would recommend for a friend
Atte R.

13.08.2019
Ollakseen duunarihenkiset housut, ovat nämä todella sileää ja pehmeää materiaalia ja siten erinomaisen mukavat päällä. Elintasomahan kanssa nämä toimivat erinomaisen hyvin, koska vyötärö on erittäin korkea, eivätkä housut siten luisu alamäkeä pitkin kuten vaikka melkein kaikki farkut. Plussaa henkselitapeista, jotka eivät irtoile kuten napit, ja koska ne on sijoitettu housujen vyötärön ulkopuolelle, eivät henkselit myöskään purista selkää tai mahaläskejä vasten, minkä lisäksi henkselit on helpompi kiinnittää tappeihin kiinni. Myös viiloissa on metallinapit, jotka eivät hevillä lähde irti. En löydä näistä mitään huomautettavaa, vaan just tällä hetkellä ovat parhaat housut mitä kaapistani löytyy.
0
0
I would recommend for a friend
JK M.

30.08.2019
very comfortable. Always wear with braces.
please more colours.
1
0
I would recommend for a friend
Marc-Alexander N.

31.10.2019
Friggin' AWESOME! Gaines some pounds in the last year, still 32/32 is a perfect fit.
Very comfy and roomy, just as I like it.

Please add a left backpocket in the next batch!!!
1
0
I would recommend for a friend
Connor A.

27.11.2019
Sturdy quality. Great comfort. Pockets deep enough to scratch your balls. Don't think I could have wanted anything more from a pair of every day trousers. Fit was bang on for me with 34/32. I'm 177cm tall with a 36inch waist.
0
0
I would recommend for a friend
Markus L.

02.01.2020
These trousers are the perfect combination of good looking and every day comfortable. I look forward to a restock to get more of them. I like the one pocket design on the back and the deep pockets, large enough to fit even the biggest phone or bear paw. Get the suspenders with them. It's a great look and so ultimately comfortable. They are quite light and you don't sweat much in them. If you want it warmer, there is enough space left for long johns as a base layer.

They also wash well.
0
0
I would recommend for a friend
Mikael G.

23.01.2020 (Edited 23.01.2020)
Hyvät housut. Ei purista. Liikkumavaraa on. Sopivan löysät ja ilmavat. Sääskenperkeleet ei iske läpi. Paremmat vois olla kulutuksen suhteen. Minulla kulunu polvet suhteellisen nopeaa näissä housuissa, toinen polvi juuri repesi.Taskujen ympäristöt ovat kuluneet aikalailla, varsinkin alareuna, reikäkin on ilmestynyt oikealle puolelle oikeakätisenä. Olleet käytössä suurimman osan ajastani ympärivuotisesti (käyttöönotto 09/18), mutta kulutusta vaativissa hommissa käyttänyt niihin soveltuvia housuja. Kaikenmoiseen liikkumiseen/tekemiseen sopivat (en pidä toki reppua/rinkkaa selässä). Näistä vois tehdä mielellään version jossa kulutuspinnoille parempaa kangasta (mainittakoon polvet ja taskut vaikka..) . Hyvät ovat, jos ei kauheesti duunaile mitään missä nää vois kulua..
0
1