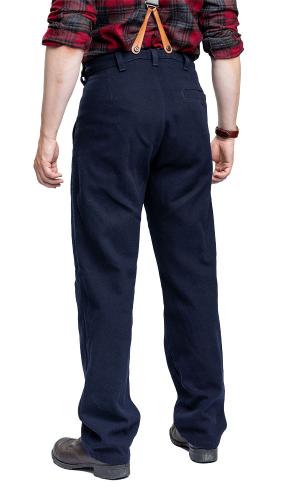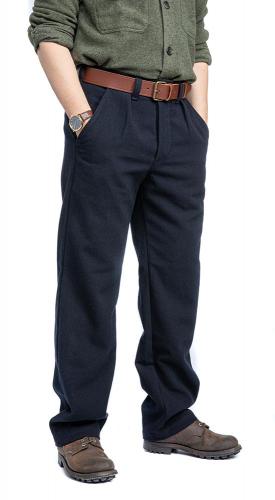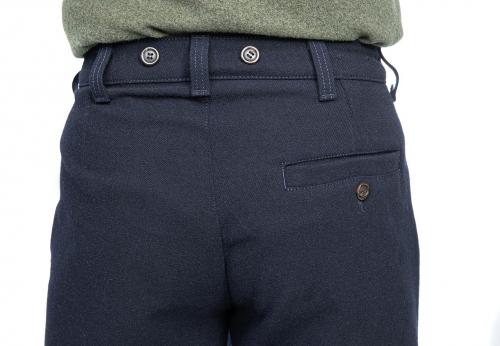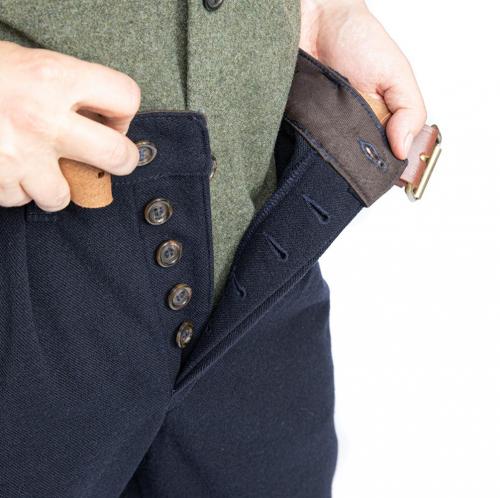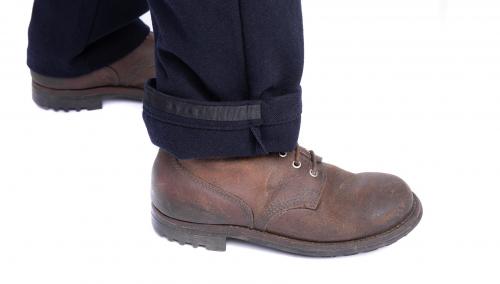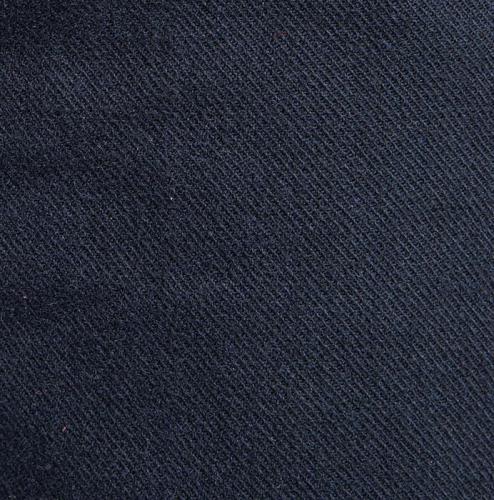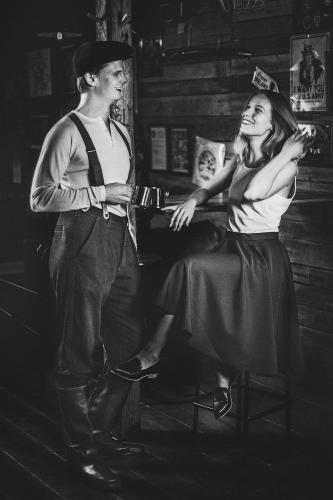 Särmä Worker Trousers, Wool
Price 104.99 USD
excluding VAT
Särmä Worker Trousers in wool! Classic design from back when men's clothing was both practical and good looking. The best thing about these is the darts in the back and pleats in front. These give more room around the hip area, so the trousers do not crush your balls as all modern trousers do.
Loading products...
Trouble with the metric system? Try our converter: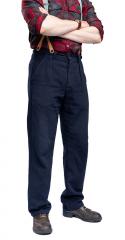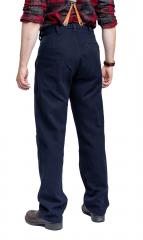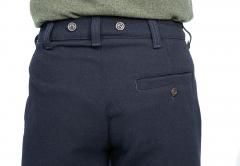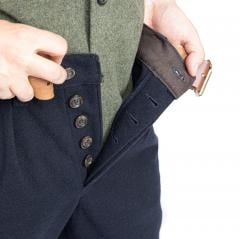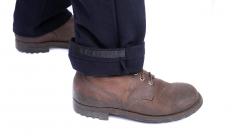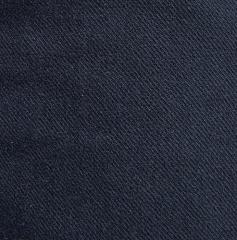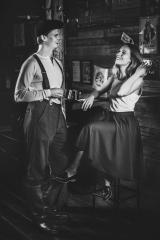 Särmä Worker Trousers in wool! Classic design from back when men's clothing was both practical and good looking. The best thing about these is the darts in the back and pleats in front. These give more room around the hip area, so the trousers do not crush your balls as all modern trousers do.
50/30/20% wool/polyester/acrylic
Straight leg, comfortable vintage inspired trousers
Made in Estonia
Old Swedish army work trousers are the best, albeit the color is ugly and they simply are not available anymore. We modeled our worker trousers after them and changed the cotton fabric to wool because hell yeah. The color is dark blue.
We can't emphasize enough the importance of darted waist - modern dartles waists must be the women's revenge from years of oppression, or simply a cost-saving measure. With these pants, your dingly parts are free from oppression no matter what your posture is. Added plus is that your legs have complete freedom of movement and your pocket contents are actually accessible. These are so comfortable you'd think you're wearing sweatpants. Of course, when you think about it, the extra space provided to the hip area by the darted waist should be fine for the ladies too - it's a deal where everyone wins!
These have a cotton reinforcement inside the waistband, as well as reinforced cuffs.
The belt loops are suitable for up to 50 mm (2") belts, but for the practical working man, we have included buttons for attaching proper braces. Wear them up when working: hanging braces are a signal that you are off duty. The fly is also buttoned.
Materials
The suitable fabric was hunted down from Italy: 50% wool because wool is best, 30% polyester for strength, and 20% acrylic came in the side. Fabric weight 540 g/m2, comparable to old-timey civilian trousers and not overly bulky. From the outside, it's "unbrushed" because we wanted the slightly rough, matte look for these. On the downside, it collects a lot of hair.
These are definitely at their element during the chillier time of the year, so during summer, you should wear something else, like the cotton version of the Worker Trousers. For really cold you can even layer them up, wool on the bottom and cotton on top, thus negating the need for any further trouser purchases, hohhohhoo.
Sizing
If you know how to buy jeans, you'll do fine: just the waist and inseam in inches. Note that you can pick a precise waist: the thighs and ass won't be in your way. If you fall between two sizes, pick the smaller one. Lengthwise these are easy to shorten if necessary, or just turn the cuffs.
Below you can find a size chart with the actual centimeter measurements. These are pre-shrunk so they won't get any tighter; if anything, the small elastane content will forgive a bit and just finish the fit.
| Horizontal size | Waistband | Hip | Cuff |
| --- | --- | --- | --- |
| W28" | 73 cm | 98.5 cm | 40 cm |
| W30" | 78 cm | 103.5 cm | 41.2 cm |
| W32" | 83 cm | 108.5 cm | 42.4 cm |
| W33" | 85.5 cm | 111 cm | 43 cm |
| W34" | 88 cm | 113.5 cm | 43.6 cm |
| W35" | 90.5 cm | 116 cm | 44.2 cm |
| W36" | 93 cm | 118.5 cm | 44.8 cm |
| W38" | 98 cm | 123.5 cm | 46 cm |
| W40" | 103 cm | 128.5 cm | 47.2 cm |
| W42" | 108 cm | 133.5 cm | 48.4 cm |
| W44" | 113 cm | 138.5 cm | 49.6 cm |
| W46" | 118 cm | 143.5 cm | 50.8 cm |
| W48" | 123 cm | 148.5 cm | 52 cm |
| Vertical size | Inseam |
| --- | --- |
| L32" | 81.5 cm |
| L34" | 86.5 cm |
Made in Estonia, proper stuff.
These are designed in Finland and manufactured in Estonia.
The test run
I was figuring these out with our Särmä design team and this is what we got (my number one color suggestion, dark Bordeaux, didn't fly). After some hot sourcing and arduous thinking our R&D team found a suitably priced yet nice quality fabric and what do you know, one day we received the first factory samples.
The team threw the sample trousers at me and demanded tough use for a year. At first, I had my suspicions about the fabric, containing as many artificial fibers as it did. Well, I was wrong; these became my number one trousers for the fall, winter, and spring and I hated having to pack them in the closet for summer. They saw washing, hiking, biking, general walking 'round the town and even work use. The fabric does pile up just a bit from the most wear-prone spots. Fortunately, these are easily removed with a wool comb and the piling is very mild. However these do suck in every hair they come in contact with so they should be aired out once a day after use - you should actually make this a standard procedure with each garment you use daily to keep them fresh. Other than that, oh my God these are great.
So, this is how we got a pair of trousers which are designed in Finland and manufactured in Estonia of Italian wool fabric for a very reasonable price. Hell yeah!
- Henri Lindberg
Varusteleka Särmä
Särmä is our own brand of clothing and equipment. When you buy Särmä you get purpose-built stuff at a decent price, something that will fill it's intended role well and not cost you an arm and a leg!
Särmä products are covered by a 12-month warranty against defects in materials and workmanship. For further information please read our detailed warranty guide.
Recommendations
Loading products...
Reviews
You have already submitted a review. You can edit your text by clicking on it.
Log in and write a review.
Remove filter
Suomi
(4)
English
(4)
I would recommend for a friend
Jussi Y.

13.10.2019 (Edited 28.02.2020)
Mainiot housut! Ja mukavat! Mutta! Kyllä tämän hintaisissa ja -laatuisissa housuissa kuuluisi olla takasaumassa vähän ylimääräistä kangasta...JOS vaikka sattuisi vyötäröltä vähän kasvamaan myöhemmin. Ja vyötäröltä napakat nimenomaan kannattaa ottaa, jotta muu istuvuus olisi tarkoituksenmukainen. Vielä jäi seuraavallekin iterointikierrokselle vähän kehitettävää.

EDIT 280220:
Vedätkö pitkät kalsarit talvella slimmien toimistohousujen alle, ihan vaan työmatkaa varten? Ihan turhaa. Nämä kun vetää housujen PÄÄLLE niin on paljon parempi vaihtoehto.
1
0
I would recommend for a friend
Veeti R.

10.01.2020
Täsmälleen sitä mitä toivoin, ihan kuin puuvillaisetkin, paitsi että napit ovat merkittävä parannus. Viininpunaisetkin ostan jos teette.
2
0
I would recommend for a friend
Maxence L.

18.02.2020
Great, they have a very nice 1930's ample cut. I wear them for folk dancing, and look like a hipster when I put the braces, but it's so comfy ! An exceptionnal product.
3
0
I would recommend for a friend
Henrik N.

18.11.2020
Yes yes yes. Comfortable and very sharp-looking when worn with braces. I have a 96.5cm waist, and while the recommendation was to size down if between two sizes, I do need a bit of space for my bum and thighs, so I took the 38/32. They fit very well as I prefer a more relaxed fit in pants. The Helsingin Olkain braces are a match made in heaven for these, supremely comfortable and not half-bad looking.

The fabric is thick and overall quality is high. Strong stitching that should last decades, plus the buttons for braces have better stitching than on the cotton worker trousers.
2
0
I would recommend for a friend
Teemu A.

12.12.2020 (Edited 18.12.2020)
Hieman huonosti istuviin farkkuihin tottuneena voin vilpittömästi sanoa, että nämä ovat valehtelematta parhaat housut, mitkä omistan. Istuu vyötäröltä juuri sopivasti. Vyötärö on myös sopivan korkealla ja laskosten ansiosta housut ovat sen verran väljät, että housujen kanssa myös löhöilee mielellään ilman, että ne hiertävät mistään. Enää ei tarvitse kotiin tultaessa vaihtaa heti olohousuja jalkaan. Housut ovat ainakin näin pikkupakkasilla juuri sen verran lämpimät, että pitkiä kalsareita ei tarvitse. Saa nähdä, miten näiden kanssa tarkenee sitten kun on ihan kunnolla pakkasta.

Oman kotini valaistuksessa housut näyttävät lähes mustilta, vaikka ovatkin väriltään tummansiniset. Ei sillä, että asialla olisi mitään väliä. Mustat tai siniset, kummatkin kelpaavat minulle.
0
0
I would recommend for a friend
Philipp H.

17.01.2021
Comfortable, durable and good looking. very happy with these
0
0
I would recommend for a friend
Kevin B.

27.02.2021
These pants are awesome. The guy is so far from the hipster slim fit that we men have been plagued with for the past few years. Please make them in more colors (maybe grey or brown herringbone). I am between sizes , and went up, which is what is fat Americans always do. I am supremely satisfied. One pleat in the front makes a lot of difference when you sit down. Bravo...
0
0
I would recommend for a friend
Mikael N.

04.04.2021 (Edited 04.04.2021)
Kierto Circular Economy
Return this product used but clean and unbroken, and you'll receive half of the product's original price as Varusteleka credits. Service is available only in Finland. Only Registered users can make Kierto returns. See more information about Kierto.