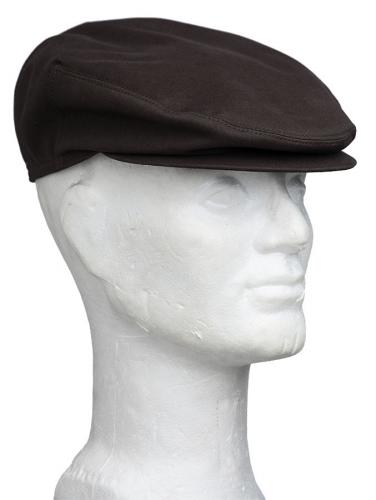 Särmä Worker Flat Cap, brown
Price 32.99 USD excluding VAT
Flat Rate Shipping to USA $9.99
100 % recommends
Sold 3 pcs in the last two weeks
Loading products...
Trouble with the metric system? Try our converter: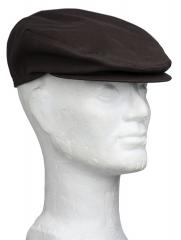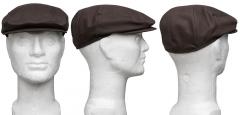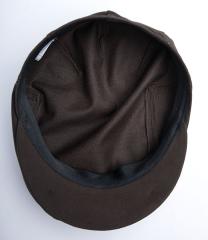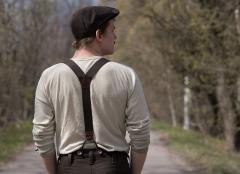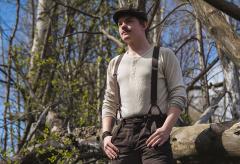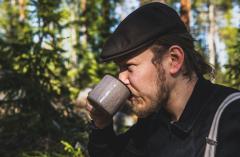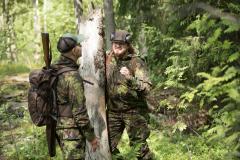 A basic flat cap, and that's what's so nice about these; timeless colour and form, no flashy logos or ugly details. It's a hat you could wear with anything. At the same time this cap will demilitarize anything else you are wearing. Just add braces to your trousers and you look all ready for a proper bar fight!
A proper classic, the humble flat cap is the cornerstone of traditional "working class" headwear, although it fits just about any human being regardless of age and gender. The one who came up with this kind of cap must have been a genius. As a historical note, these actually slowly evolved from the medieval Tudor hats. Our hat follows a very basic and clean style, looks good and sits properly on yer noggin.
Material
The Flat Cap is made from the same dark brown fabric with 98 % cotton and 2 % elastane as Särmä Worker Trousers.
Care
Dry clean only, don't throw this into the washing machine! You could also try to scrub the soiled spot (probably the sweatband) with a sponge, water and mild soap.
Even after many years of use the sweat band is pretty easy to replace by just sewing on a new one of similar thickness. This hat has a very long service life, unless you lose it.
Sizing
One centimetre increments between 56—62 cm, talking head circumference here. The fit is loose enough to allow a few fingers between the cap and head; definitely no need to size up for relaxed wear. For a taut fit one size smaller than usual might come into question.
Varusteleka Särmä
Särmä is our own brand of clothing and equipment. When you buy Särmä you get purpose-built stuff at a decent price, something that will fill its intended role well and not cost you an arm and a leg!
Särmä products are covered by a 12-month warranty against defects in materials and workmanship. For further information please read our detailed warranty guide.
Made by Fredrikson in Estonia.
Reviews
You have already submitted a review. You can edit your text by clicking on it.
Log in and write a review.
Remove filter
Suomi
(10)
English
(6)
I would recommend for a friend
Jason S.

17.08.2017 (Edited 12.01.2018)
Great quality cap on par with my Jack Pyke countryman flat cap. Get a size smaller if you want more of a snug fit. Size 60 which normally fits for me was too loose so I soaked it in hot water and it now fits perfectly.
3
0
I would recommend for a friend
Mika J.

09.09.2017 (Edited 23.05.2019)
Ette muuten usko miten monella tavalla tämä hattutyyli osataan nykyään pilata ennen kuin alatte etsiä sellaista. Ostamatta olisi edelleen ilman tätä Lekan kulttuuritekoa.
15
1
I would recommend for a friend
jake w.

15.09.2017
Very pleased.
Simple well made hat from great materials. I am a bit over 57cm but wanted a 56 after reading how they fit and wanting the hat to fit snug but they only had 57. Glad I got the 57. While not tight, it fits about perfect, not loose as I had imagined but just enough to grab my shaved dome perfectly. The fabric has just a bit of stretch to it which helps.
Think8ng about waxing it but dunno if I want to mess with it.
4
0
I would recommend for a friend
Ana M.

29.01.2018
I would recommend for a friend
Juho H.

03.02.2018
Istuu napakasti päähän, suojaa luonnonvoimilta, ja demilitarisoi hyvinkin militantin asukokonaisuuden yhteiskuntakelpoiseksi. Tekee siis minkä lupaa.
1
0
I would recommend for a friend
Mikko T.

02.05.2018
Hattu sopii päähän kuin valettu kunhan sen ensin hetkellisesti uittaa kuumassa vedessä ja antaa kuivua jonka nälkeen se näyttääkin hyvältä, ilman tätä proseduuria on lätsä luokkaa perunasäkki vaikka koko olisikin oikea. Hinta vaan on aika kova ollakseen vain ohuesta kankaasta vailla mitään vuoria tehty, ainoastaan kevät/kesä-käyttöön siis kun ei vettäkään mokoma kauheasti pidä. Myöskin risuja siitä että itse varsinainen pään kattava osio on ommeltu lippaan kiinni vain kahdella ompeleella (yleensä tämän luokan hatut on kolmella) jolloin lätsä voi valua liian alas päässä ja näyttää vähän hassulta, onneksi neula ja lanka korjaa tämänkin.
2
0
I would recommend for a friend
Joonas P.

10.05.2018
Pään ympärys 62,5 , lakki kokoa 62 sopii juuri tosi hyvin. Siitä paljon plussaa, joskus kun on vaikea löytää sopivaa päähinettä.

Hintaahan nyt voi vähän korkeana pitää näin simppelille lätsälle, mutta mikäpä siinä jos toimii ja kestää.
2
0
I would recommend for a friend
Antti K.

15.05.2018
I would recommend for a friend
Tomi M.

25.08.2018 (Edited 26.08.2018)
Hyvä lätsä. Miinusta tulee ohuesta lipasta jota ei voi taittaa haluttuun muotoon. Vanhan kunnon V-käyrän taitto on aika mahdoton tällä riekaleella.
2
0
I would recommend for a friend
Joakim M.

05.04.2019
Ekan kerran kun asetin sen hellästi kauniiseen päähäni, aloin heti puhumaan rivosti todella painavalla irlantilaisella aksentilla, teki mieli mennä vetäseen kylmä Guinness huiviin ja lähtee polkemaan brittejä pois "mun maasta".

Yleensä pidän näppini kaukana moisista vempeleistä joita hipsterit on ominut "kulttuurinsa", mutta koska pää on kokoa molo niin monet hatut ja lippikset näyttävät helvetin tyhmältä päässä.
Kyseisen ongelman takia käytän pelkästään pipoa talvisin. Tämän nähtyä heti välähti mieleen, että ehkei tarvikkaan enään saada terminaalista lämpöhalvausta joka saatanan kerta kun astun kesäsin ulos.
Jouduin kaksi eri kokoa tilaan (nettishoppailun huonoja puolia I guess), koska eka koko (vaikka oli omaa) oli hiukan liian väljä. Yhtä kokoa pienempi niin istuu näpäkästi päähän ja piilottaa sekä pakenevan hiusrajan, että myös 1/4 massiivisesta päästä. Laadultaan ihan hyvä ja muutenkin nopeasti katsottuna aika kestävä vehje, mutta sehän nähdään ajan myötä.

Ei ole hinnalla pilattu! HInta-laatusuhde hyvä.
1
0
I would recommend for a friend
Bjornar M.

16.06.2019
Estonia really gotta be the Mexico of Finland if they can produce such a fine hat for pennies.
That cotton fabric is really something.
4
0
I would recommend for a friend
Marko S.

18.06.2019
Plussat
- Peittää tyylillä kantasian kaljun
- Hengittävä, ei tunnu kuumalta auringossakaan

Vähän miinusta:
- pesu ei onnistu
- hintava
1
0
I would recommend for a friend
Verneri S.

07.10.2019
Tämä on just sellainen hattu kun kuvausteksti ja kuvat antavat ymmärtää, eli 5/5.
0
0
I would recommend for a friend
Rolf J.

25.11.2019 (Edited 25.11.2019)
Nice piece of fashion. It is everything as described. Sizing is just a bit large/loose but it fits okay. I do not think I would want it any smaller. The only thing not perfect is that the fabric is much thinner than expected.
0
0
I would recommend for a friend
Miikka S.

21.12.2019
Hyvä Lätsä, parempiakin on.
0
0
I would recommend for a friend
Chris L.

24.12.2019
It's a perfect summer cap, but be aware that the material is light. Try the Jämä flat caps for cooler temperatures.
0
0