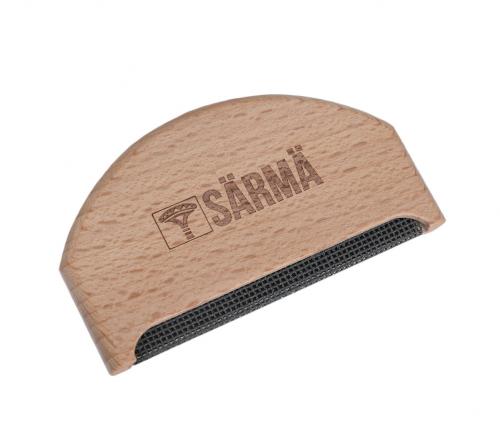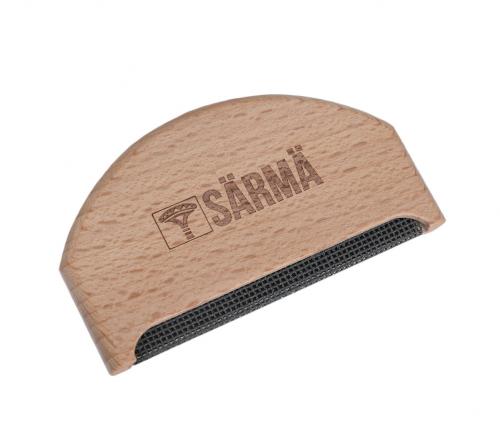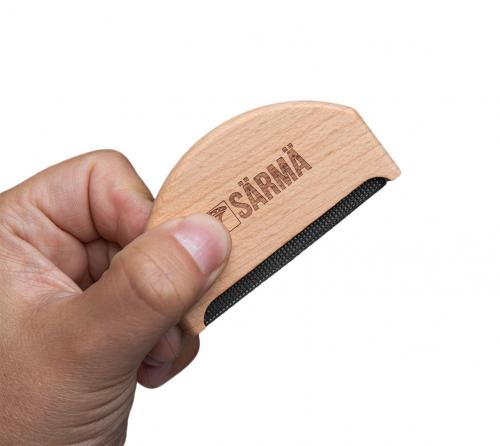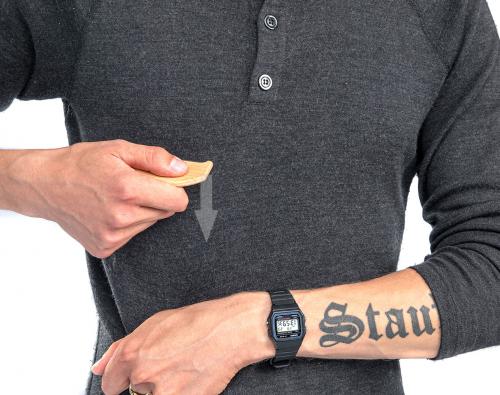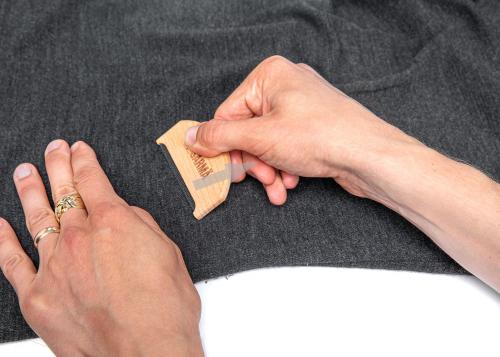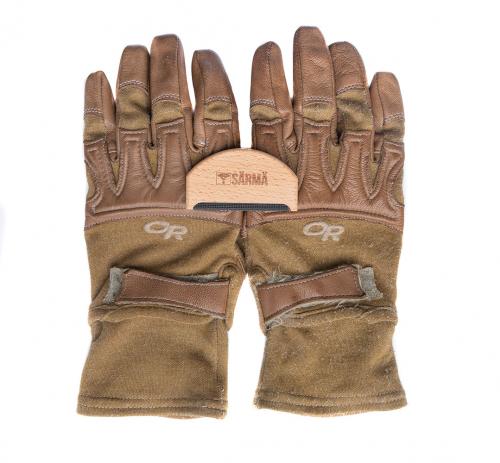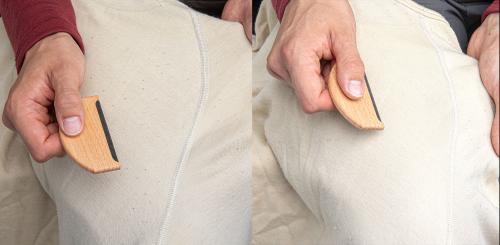 Särmä Wool Comb
Price 3.99 USD excluding VAT
Wool comb, cool womb. Ha-ha! So what is this thing and why would you need one? If you wear clothes made of wool or synthetic knits, you have seen little fuzzy bobbles appear as the garment wears. Pilling is the problem, meet the cure!
In stock 2908 pcs. Also available in our walk-in store. Sold 98 pcs in the last two weeks.
Trouble with the metric system? Try our converter:





Wool comb, cool womb. Ha-ha! So what is this thing and why would you need one? If you wear clothes made of wool or synthetic knits, you have seen little fuzzy bobbles appear as the garment wears. Pilling is the problem, meet the cure!
What is pilling and how to prevent it?
Wool pilling happens when the fibres are broken through chafing, washing and generally just wear. The broken ends of the fibres intertwine and form knots, which appear commonly to the sides of sweaters, cuffs and inner arms. It can also happen to 100 % synthetics, the key here is broken fibres, natural or not.
High-quality clothes have longer and stronger fibres, which makes them less prone to pilling. Also, if your wool fabric is sleek like on a suit (worsted to align and bind the fibres), pilling will take a longer time - but could still happen. Blends are more susceptible to pilling compared to 100 % wool: even when polyamide or polyester makes the fabric more durable overall, the wool fibres break as easily as before.
To avoid pilling in the first place, choose clothes with high-quality materials, wash them with the appropriate program (not too hot, don't spin hard, not in a completely full machine etc.) and avoid rubbing them, if possible.
How to get rid of pilling?
While avoidance buys you a little time, you are definitely going to find pills on some of your clothes and they will look worn. That's where a wool comb comes in: the pills get caught in the net-like blade of the comb as you stroke along the knit.
You can do this while wearing the garment or on your thigh: pull the pilled area lightly taut and go gently over the pills. The comb does slightly wear the fabric in the process, so don't ham-fist it or use the comb as a daily routine.
Another way to use the wool comb is to place the garment on a table and use the comb at an angle. This allows you to target just the pills and keep the blade off the knit itself.
Särmä Wool Comb
This small (76 x 44 mm / 3" x 1.75") wooden piece is easy to use, requires no batteries and won't suddenly cut holes in your clothes. Make your older clothes look sharp with ease!
Manufactured in China.
Varusteleka Särmä
Särmä is our own brand of clothing and equipment. When you buy Särmä you get purpose-built stuff at a decent price, something that will fill it's intended role well and not cost you an arm and a leg!
Särmä products are covered by a 12-month warranty against defects in materials and workmanship. For further information please read our detailed warranty guide.
Recommendations
Loading products...
Reviews
You have already submitted a review. You can edit your text by clicking on it.
Log in and write a review.
Remove filter
Suomi
(5)
English
(3)
I would not recommend to a friend
Lila p.

28.09.2019 (Edited 28.09.2019)
Just shit, really. Disappointing. Tried lots of different angles, pressure, surfaces, materials, hoping that my lack of luck with it was my own fault. Actually, the material is far too gritty and does not get rid of pills, it just moves them and damages the textile underneath. It's like rubbing your clothes against a skateboard. Glad it wasn't expensive, but I would have been more glad if it actually did the job.
Instead, take some small sharp scissors, and swiftly and gently any pills and excess fibres.
7
2
I would not recommend to a friend
Ville L.

30.09.2019
Kokeilin nukkaantuneeseen pikeepaitaan ja hommasta ei kyllä tullut yhtään mitään. Pikku nukkapallerot istuivat kankaassa kuin tatti siinä itsessään. Rankemmin en uskaltanut käsitellä kankaan tärveltymisen pelossa.

Kokeilen ehkä vielä johonkin toiseen vaatteeseen kunhan toivun pettymyksestä.
4
0
I would recommend for a friend
Juho R.

06.10.2019
Onhan tämä työläämpi ja sotkuisempi kuin sähköllä pyörivä nukanpoistaja mutta toimii ihan hyvin kunhan uskaltaa käyttää. Mihinkään hennoon villasilkkipaitaan en kuitenkaan käyttäisi.
2
0
I would not recommend to a friend
Oskari N.

07.10.2019
Pettymys. Huomattavasti tehokkaampaa oli nyppiä käsin nukkapallerot villapaidasta, kuin koittaa saada niitä tarttumaan tähän "kampaan".
Sileämmistä materiaaleista pienetkin pallerot lähtee rapsimalla, mutta myös materiaali kuluu ikävästi.
3
1
I would recommend for a friend
Roope L.

02.04.2020
Hyvin on toiminut omassa käytössä, kun olen paria hupparia ajan kanssa rassannut. Isommat nukkapallerot lähtevät tehokkaasti ja vähän pienemmätkin huolella työstäen. Ihan pienimpiä palleroita ei tällä pois saa, mutta hinta-laatu suhde on kuitenkin mainio.
1
0
I would recommend for a friend
Jukka T.

04.07.2020
Kokeilin totaalisen nyppyyntyneeseen Mil-Tecin "Multi Function Head Wrap" -putkikauluriin; kaulan ja alaleuan sänki oli ajan mittaan tehnyt kankaasta tasaisen nukkapalleropinnan.
Toimii parhaiten kun alla on jotain vähän joustavaa, esim.reiden päälle levitettynä; ensimmäinen veto ei näyttänyt tekevän mitään, mutta useamman kevyen vedon jälkeen pallerot alkoivat hajoamaan ja n. 10 pyyhkäisyn jälkeen olivat kadonneet työstettävältä alueelta.
Bonuksena käsitelty pinta tuntuu nyt huomattavasti pehmeämmältä, nyppyyntynyt pinta on siihen verrattuna hiekkapaperia.

Mikään hätäisen heebon vehjes tämä ei ole, aika Zen-meininkiä rauhallisesti ja kevyesti pyyhkiä pelikortin kokoista aluetta, käänttää uusi kohta työn alle ja taas pyyhkiä, pyyhkiä. Mutta toimii eikä hintakaan ole juuri mitään :)
0
0
I would recommend for a friend
Tilman K.

14.08.2020 (Edited 16.08.2020)
Got the wool comb recently and tested it today on my approx. one year old Särmä wool flannel shirt. Wow! This tool is really useful! The amount of pilling you can remove by hand is nothing compared to what the comb can remove.
Hope the coating on the metal mesh will last, at least after the first shirt I can't feel any difference. Well done!
0
0
I would recommend for a friend
Sebastiano B.

28.08.2020
I recommend not using this on wool as it is very aggressive and likely to damage the fabric, however I found it works well on cotton and synthetic, provided the material isn't too soft.
It seems relatively pricy for what it is and it's not too precisely assembled.
0
0