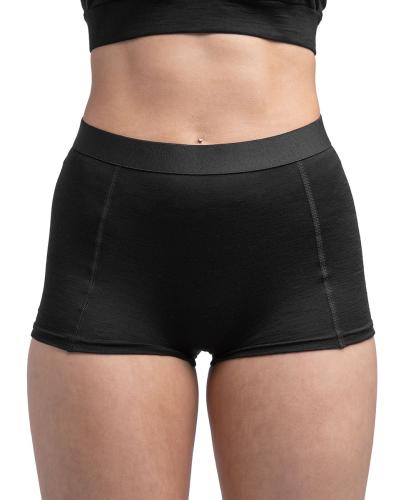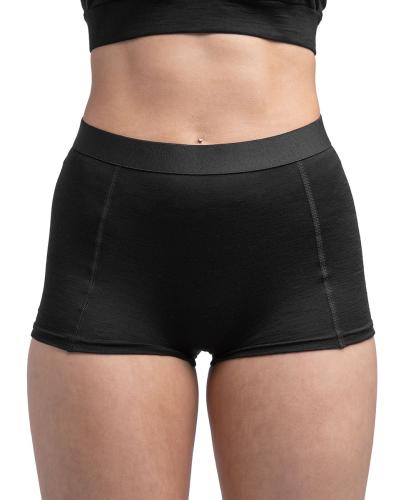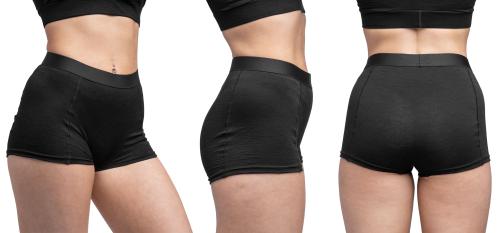 Särmä
Särmä Women's Merino Boxers
Price 19.99 - 25.99 USD
excluding sales tax
Merino wool boxers for women! Snug fit, proper good material and overall superbly comfy piece of underwear.
Loading products...
Trouble with the metric system? Try our converter: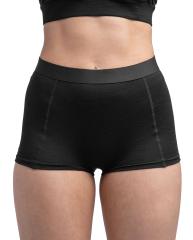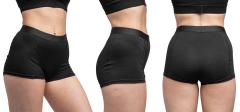 Merino wool boxers for women! Snug fit, proper good material and overall superbly comfy piece of underwear.
We already have made hipsters, these boxers have more merino-content and a bit longer leg.
Features
Material 96% merino wool, 4% elastane.
Weights 160g/m2 / 4.7 oz/yd2
16.5 micron
Wool wash in 40 degrees Celsius (104 F).
Flat seams and waistband; you can wear these taut without uncomfortable pressure points. Slight inseam, mid-height waist. Thanks to material stretch you can wear these as high up as you like.
Made in EU (Lithuania).
Size info
Standard ladies' EU sizing. The material has generous stretch and doesn't shrink to mention. If you like a secure, tight "hug", it is safe to pick one size smaller.
Care instructions
Wash in 40 degrees Celsius (104 F), wool program. We recommend detergents specially made for wool. Washing these is not necessary as often as with cotton or synthetics, because wool is naturally resistant to soiling, however being what they are, it's probably wise to wash them regularly.
We only use mulesing free Merino wool in our products.
Carbon Footprint
The estimated amount of greenhouse gas emissions from the production of one single item is 3.59 kg CO2e. The estimation includes the entire production of the item, from the raw materials up until the finalized product exiting the factory. Read more about the calculation method.
Varusteleka Särmä
Särmä is our own brand of clothing and equipment. When you buy Särmä you get purpose-built stuff at a decent price, something that will fill it's intended role well and not cost you an arm and a leg! For further reading check out the Varusteleka's Särmä page.
Särmä products are covered by a 12-month warranty against defects in materials and workmanship. For further information please read our detailed warranty guide.
All products: Särmä
Recommendations
Loading products...
Reviews
You have already submitted a review. You can edit your text by clicking on it.
Log in and write a review.
Remove filter
Suomi
(6)
English
(3)
I would recommend for a friend
Mitchell T.

26.02.2019 (Edited 02.06.2021)
I bought these for my wife along with the hipster briefs. As I said there she was surpised how soft and comfortable they are considering she thought of wool as scratchy.

I just switched from all poly gear to merino wool after years. I've been wearing these products everyday for a month now and am very impressed. There is slight pilling but to be expected, but the description is right these products do not take in smells very easily, just take care of your stuff. Varusteleka is PURE GOLD!
2
0
I would not recommend to a friend
Miu M.

06.07.2019 (Edited 05.06.2021)
Otin L koon jotta ei varmasti puristaisi vaelluksella, mutta vyötärönauha oli silti todella kireä, mutta taas muu osa mm. Pepun kohdalta löystyi niin paljon että olisi 3 peppua mahtunut samaan housuun. Lämpimät olivat kyllä mutta en osta uusia.
8
1
I would recommend for a friend
Farasha E.

24.08.2019 (Edited 05.06.2021)
So, soooo much better than the hipsters.
2
0
I would recommend for a friend
Päivi K.

09.11.2019 (Edited 05.06.2021)
Miellyttävät. Istuivat täydellisesti. Koko m (180/65) oli just hyvä. Ostin yhdet kokeeksi, nyt täytyy saada lisää.
0
0
I would not recommend to a friend
Merja T.

13.12.2019 (Edited 06.06.2021)
Ostin kesäkuussa 2019 kaksi paria näitä ja samaan aikaan kahdet merinohipsterit. Ajattelin, että nämä voisivat olla kestävyysjuoksussa mukavat, mutta näiden malli on kyllä vähän kummallinen "pötkö", hipsterit istuvat paljon paremmin.
Pahinta kuitenkin on näiden surkea laatu. Ensimmäiset hajosivat jo toisella käyttökerralla, toiset hajosivat nyt joulukuussa, enkä ole niitäkään ehtinyt käyttää kuin pari kertaa. Sormi mennä rusahti läpi sivusaumasta, kun olin riisumassa housuja ihan normaalisti (ei mitään kummallista kiskomista tai kiirettä, housut eivät olleet jumissa missään eli ovat ihan oikeaa kokoa, minulla ei ole pitkät kynnet, jne.)

Merinohipsterit sen sijaan ovat kestäneet käyttöä oikein hyvin ja ovat mukavat. Niitä uskalsin tilata kaksi paria lisääkin ja varovasti jo suositellakin, mutta näitä en suosittele kenellekään.
3
0
I would not recommend to a friend
Salla-Maija V.

01.06.2020 (Edited 06.06.2021)
En tiedä miksi nämä on valmistettu, mutta ainakaan alushousut ne eivät ole. Pultut löysivät ja rullaavat kaikkien housujen alla, joten kädellä pitää avittaa niitä suoriksi. Kuminauha on erikoisen tiukka verrattuna muuhun mareriaaliin.
Annan toisen tähden merino pehmeydestä. Joku näissä kuitenkin pehmensi minua vaikka toteutus on vähän kökkö. En osta uusia samanlaisia.
1
0
I would not recommend to a friend
Anna J.

28.06.2020 (Edited 06.06.2021)
Otin koon joka on minulle oikea, utta vyötärökuminauha on todella kireä. Ei siis kannata ainakaan pienempää kokoa ottaa jos on epävarma. Jos tuota kireää kuminauhaa ei oteta huomioon ovat todella mukavat. Näiden kanssa saa kuitenkin olla varovainen. Minulla nimittäin meni sormi läpi kun vedin näitä jalkaan ja se taisi olla toinen käyttöpäivä.
3
0
I would recommend for a friend
Raila R.

15.02.2021 (Edited 15.06.2021)
Excellent comfy undies. Soft, breathable. Get 5 pairs. Not paid to say this.
1
0
I would not recommend to a friend
Laura P.

05.08.2021
Olin riemuissani nämä nähdessäni, sillä olen pitkään kaivannut naisille tehtyjä boksereita, siis sellaisia missä lahje oikeasti yltäisi jalan puolelle, vaikka takamus ei olisikaan ihan lattana. Harmistus oli melkoinen kun nämä todellakin on ihan kauheat. Kuten aiemmat kommentoijat ovat jo todenneet, vyötärönauhan kireys on joltain aivan eri planeetalta kuin muun materiaalin: lopputuloksena nämä puristavat ihan törkeän epämukavasti nauhan kohdalta ja lerpattavat eivät-aivan-valtoimenaan muualta. Idea on hyvä mutta totetus aivan susi. Tulisipa näistä semmoinen kunnollinen kauttaaltaan napakka versio, mahdollisesti vaikka jostain muusta materiaalista sitten, eikä haittaisi yhtään vaikka lahjetta olisi vielä sentti pari enemmän!
2
0