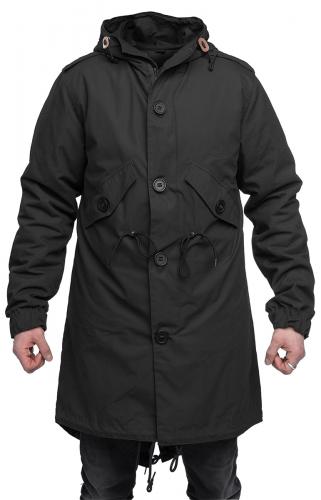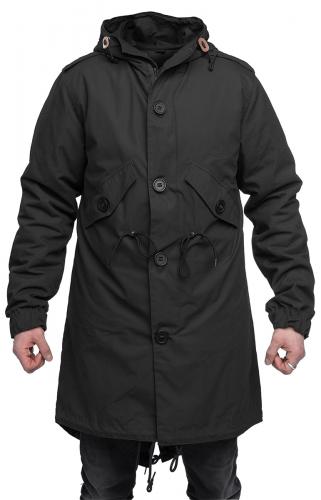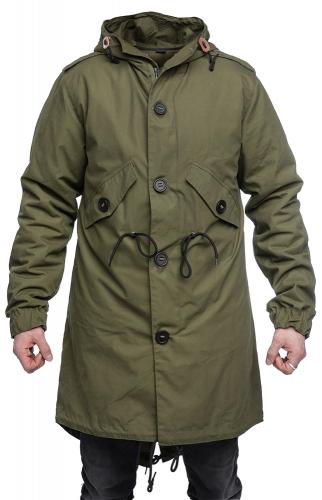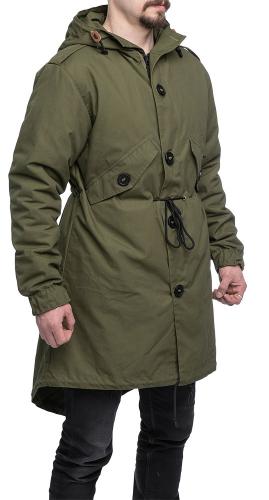 Model: 175 cm tall, 75 kg Parka size: Medium Regular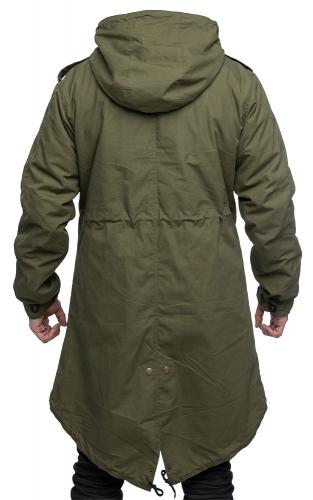 Model: 175 cm tall, 75 kg Parka size: Medium Regular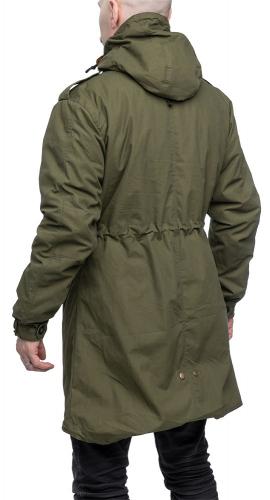 Model: 175 cm tall, 75 kg Parka size: Medium Regular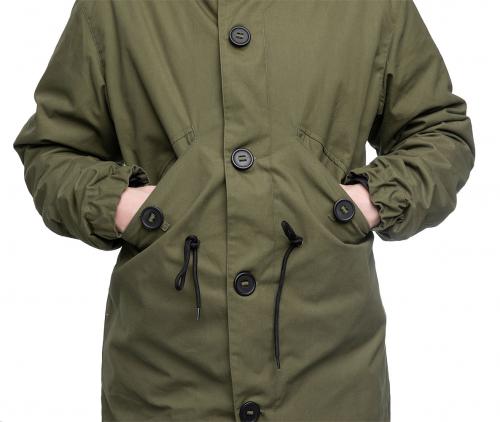 Hidden pocket under the storm flap accessible with a closed parka.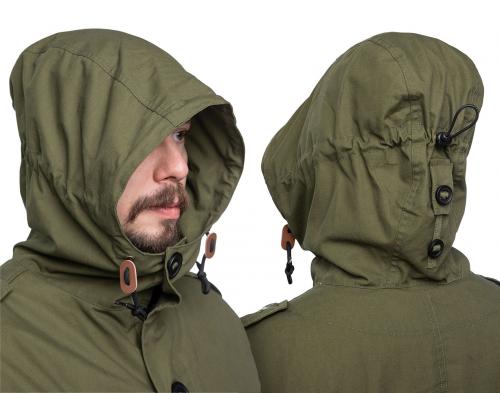 Generous and adjustable hood.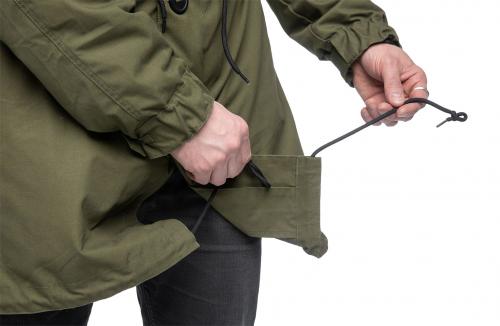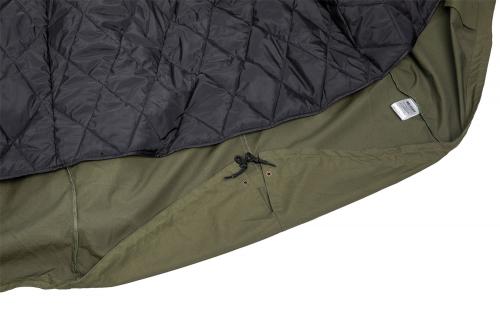 The fisthail folds in and snaps in place.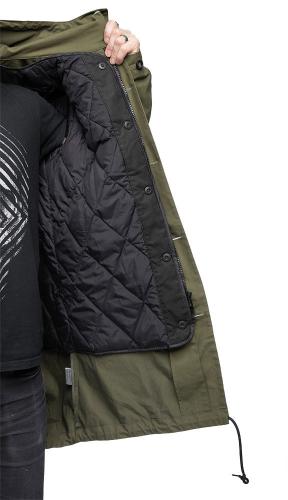 A warm insulating liner with button attachment is included.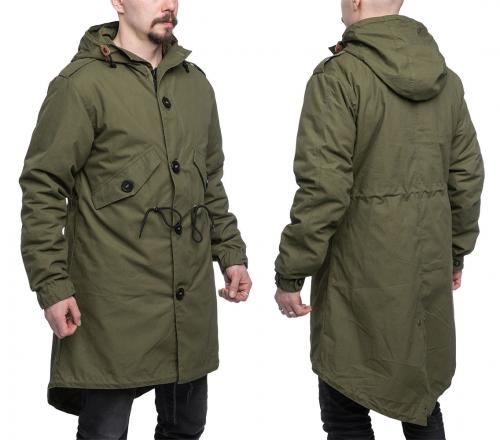 Model: 175 cm tall, 75 kg Parka size: Medium Regular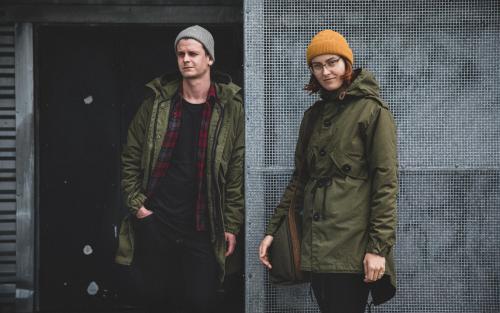 Two tall and slender models wearing Medium Regular and XS Short - you can adjust the fit and length by picking the "wrong" size.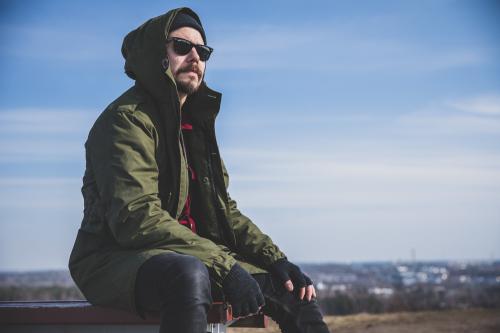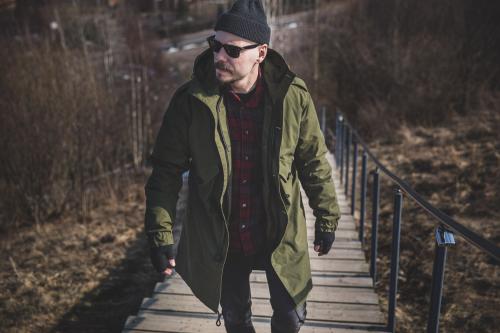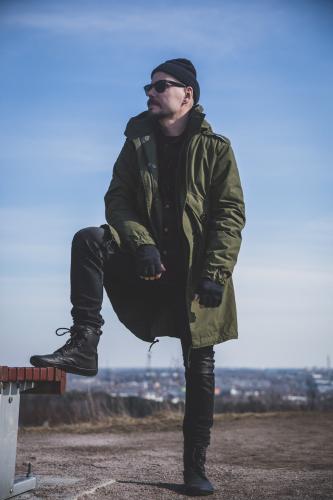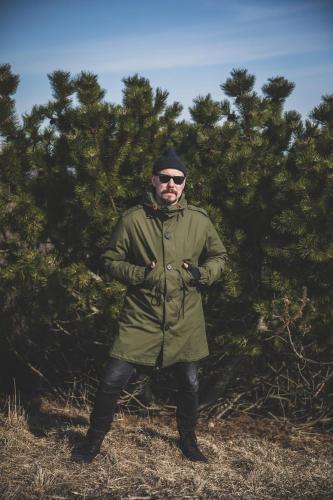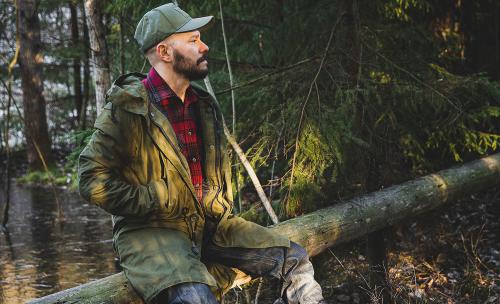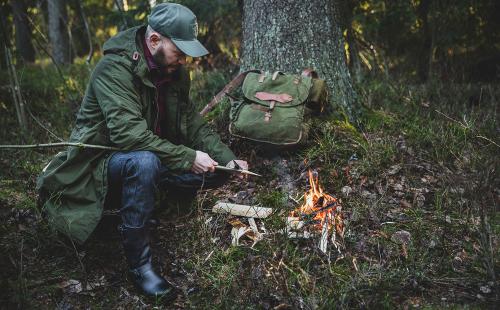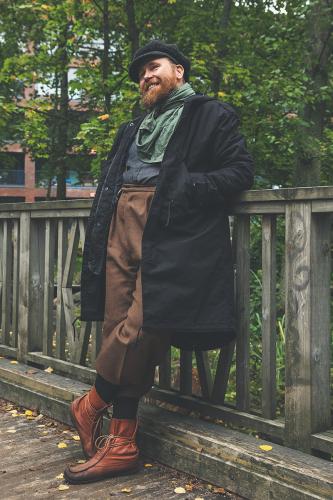 Särmä
Särmä Windproof Fishtail Parka
Price 119.99 USD
excluding sales tax
There are many Fishtail Parkas but this one is ours. Standing on the shoulders of the US M51 Parka, we developed our own version. It's a highly requested model so it had to be done.
Loading products...
Trouble with the metric system? Try our converter: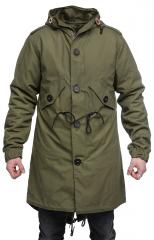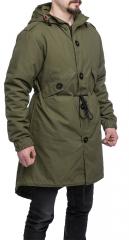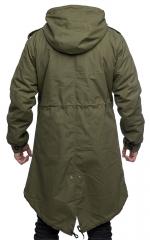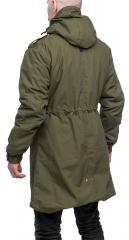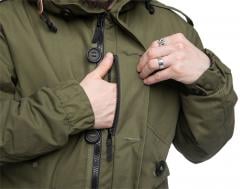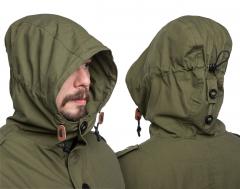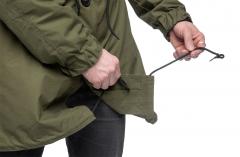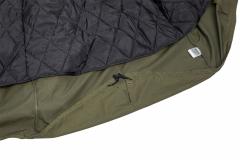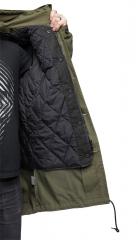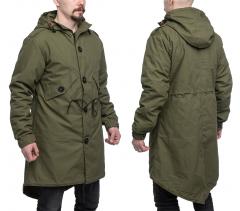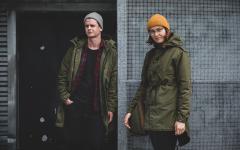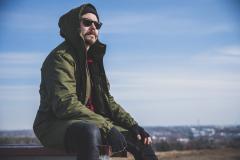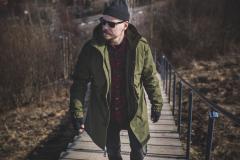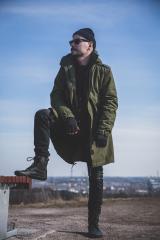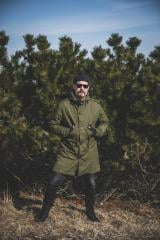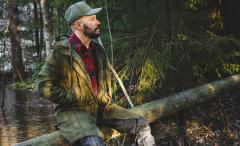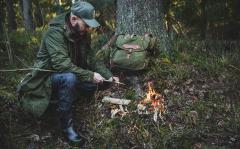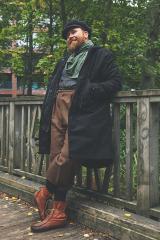 There are many Fishtail Parkas but this one is ours. Standing on the shoulders of the US M51 Parka, we developed our own version. It's a highly requested model so it had to be done.
Roomy shell parka with button-on liner
Windproof 65/35% polycotton fabric
Three length sizes: Short, Regular and Long
One of the most fashionable military jackets and the quintessential Mod jacket is the American M-1951 Parka, known to many as the Fishtail for obvious reasons. It's actually a good war jacket as well, so you could say form and function have blended together nicely.
The originals from half a century ago are scarcely available and you'll often see some kind of "inspired by"-jacket or reproduction items for sale. We've sold a pretty good repro for years, but many customers have turned away from it as the sizing and fit are extremely loose. We have fixed this issue with ours, along with some other improvements. We believe you'll be happy with it.
Features
Many features are based directly on the original or improved to meet modern-day use.
Durable poly-cotton fabric with a windproof PU coating on the inside
Long hem that can be wrapped around the legs, worn loose or snapped up
Large pockets with a flap you can stow or close with a button
Hidden pocket accessible under the storm flap
Removable liner with padding included (100 g / 3.5 oz.)
Generous hood with multi-adjustments
Adjustable cuff tabs with hidden elastic
Draw cord adjustments at the waist and hem.
The removable liner also fits the Särmä Windproof Smock and can also be bought separately.
Size info
The fit is significantly closer compared to the originals, which were designed to be worn over thick winter clothing. These have a regular outdoor jacket fit: no need to buy a smaller size to get a fitting one. On the contrary, if you want a very baggy fit you can choose a larger size.
To account for people of different heights, size Medium is available in three lengths. Smaller sizes have a Short option and larger ones come in Long as well.
Below are the actual circumference and sleeve length from the shoulder seam. The waist is 2 cm (7/8") smaller than the chest and tapers towards the hem. Please note that a parka has about 20 cm (8") clearance on top of your measured chest for the intended fit.
Metric size chart
Size
Chest
Sleeve
Centre back length
X-Small Short
104 cm
63,5 cm
100 cm
Small Short
112 cm
64 cm
103 cm
Medium Short
120 cm
64,5 cm
106 cm
Small Regular
112 cm
68 cm
107 cm
Medium Regular
120 cm
68,5 cm
110 cm
Large Regular
128 cm
69 cm
113 cm
X-Large Regular
136 cm
69,5 cm
116 cm
2X-Large Regular
146 cm
70 cm
119 cm
Medium Long
120 cm
72,5 cm
114 cm
Large Long
128 cm
73 cm
117 cm
X-Large Long
136 cm
73,5 cm
120 cm
Imperial size chart
Size
Chest
Sleeve
Centre back length
X-Small Short
41"
25"
39.5"
Small Short
44"
25.2"
40.5"
Medium Short
47.25"
25.4"
41.75"
Small Regular
44"
26.8"
42 1/8"
Medium Regular
47.25"
27"
43.3"
Large Regular
50.5"
27.15"
44.5"
X-Large Regular
53.5"
27.35"
45.5"
2X-Large Regular
57.5"
27.55"
47"
Medium Long
47.25"
28.5"
45"
Large Long
50.5"
28.75"
46"
X-Large Long
53.5"
29"
47.25"
Material and care
Shell: 65/35% polycotton. Some color may transfer from the product before the first wash. Wash at 40° C / 104° F. PU coated on the inside for windproofing.
Removable liner: PES padding between PES fabric, 100%
The Särmä Windproof fabric responds well to treatment with Särmä Fabric Wax or Woly Protector spray. A thorough impregnation with wax makes the garment waterproof. Apply as necessary!
Short history of the M-1951 parka
After the rough lessons in cold weather during World War 2, the US Army developed the M-1951 parka, which saw extended use in the Korean War. Practice proved it to be successful, which is often the case when development stems from actual use.
As the M-1965 system became the new standard, the parka got some minor updates and was reborn as the M65 Parka. Most prominently it got a removable hood instead of a fixed one. The M65 system became obsolete when the new ECWCS stuff was made in sufficient numbers to replace all the old stocks.
Made in China
There's good quality to be found in the PRC, as long as you don't choose the lowest bidder.
Kierto Circular Economy
Return this product used but clean and unbroken, and you'll receive half of the product's original price as Varusteleka credits. Service is available only in Finland. Only Registered users can make Kierto returns. See more information about Kierto.
Carbon Footprint
The estimated amount of greenhouse gas emissions from the production of one single item is 38.97 kg CO2e. The estimation includes the entire production of the item, from the raw materials up until the finalized product exiting the factory. Read more about the calculation method.
Varusteleka Särmä
Särmä is our own brand of clothing and equipment. When you buy Särmä you get purpose-built stuff at a decent price, something that will fill it's intended role well and not cost you an arm and a leg! For further reading check out the Varusteleka's Särmä page.
Särmä products are covered by a 12-month warranty against defects in materials and workmanship. For further information please read our detailed warranty guide.
All products: Särmä
Recommendations
Loading products...
Reviews
You have already submitted a review. You can edit your text by clicking on it. You can filter the reviews by clicking on the elements of the summary.
Log in and write a review. You can filter the reviews by clicking on the elements of the summary.
Remove filter
Suomi
(28)
English
(21)
I would recommend for a friend
Rudolf P.

26.08.2019

Verified purchase
Parka just arrived so it's probably too early to give definitive rating, but it made very good first impression.
Material and quality is very good, similar to Sarma Windproof Smock. Zipper is YKK Vislon, it doesn't get any better than this.
I'm 179cm tall, 95-100cm chest, 75kg and medium-regular fits well. Parka is roomy but not very loose. Hood has very good adjustability.
Can't test thermal insulation right now (it's summer) but insulation looks sufficient for winter if you wear more layers. Will test later.
20
0
I would recommend for a friend
Michael W.

04.09.2019

Verified purchase
TL;DR - Fit and feel is fantastic, liner is comfortable, buttons allow great accessibility, main zipper being on the left is slightly awkward, and thank goodness for all the adjustments. Material also does not make "swish" sounds when it rubs.

With the box being beaten to shit during its daring escape from New York, this Parka(and the rest of my order) arrived fashionably late and in perfect condition. It being about 75-or-so degrees fahrenheit with high humidity, I obviously had to throw it on and power through the sweat and discomfort.
Initially I wondered if I'd ordered a size too big(my fault for working on losing weight over the past two months) or if it just didn't fit right - but after adjusting the waistcord and just getting used to it, it feels perfect. I have wide shoulders and sometimes struggle with even extra large jackets/coats, but they line up just fine with the XL(Regular) size, and true to Varusteleka's assurance, it does have an outdoor jacket fit and will allow for at least a field shirt or flannel underneath without being too snug. The pockets are a bit past wrist deep, and with the large buttons should be easy to access while wearing gloves. The hood - my goodness, the hood - has so much room and is very refreshing on a newly made parka, it will be absolutely fantastic in the winter.
As a minor gripe, I can only disagree with the left-sided zipper and my not being used to it. Definitely not a fan, but the quality of the parka as a whole vastly outweighs such a minor setback that I can adapt to in short order.

This was my first Särmä purchase, and if this is the standard the brand is held to I'll be a repeat customer.
13
0
I would recommend for a friend
Josba W.

17.09.2019

Verified purchase
Kiva takki, olen 163cm, normaalivartaloinen, rinnanympärys 95, Hukuin S short kokoon eli pakko tilata xs, eli kovin pikkuruisille naisille ei tämä takki passaa.
0
0
I would recommend for a friend
perttu p.

18.09.2019

Verified purchase
Oikein hyvä takki, kevyt ja mukava. Jonkin sortin vettähylkivyyskäsittely täytyy varmaan laittaa vielä, sitten tällä pärjää pitkälle syksyyn.
Olen 178 cm pitkä, medium regular koko on just passeli.
0
0
I would not recommend to a friend
Alex T.

24.09.2019

Verified purchase
Muuten kai ihan hyvä, mutten tajua taskujen asettelukonseptia, sietäis olla matalemmalla. Myös ruskeat napit ja narut ois miellyttävämpi vaihtoehto vihreän kans.
7
9
I would recommend for a friend
mobi

02.10.2019

Verified purchase
Muutoin hyvänoloinen takki, mutta taskut merkillisen ylhäällä, jo 10cm alempana auttaisi paljon, ja nuo vyötärön kiristys narut voisi olla sisäpuolella.
23
0
I would recommend for a friend
Riku L.

23.10.2019

Verified purchase
Taskut tosiaan vähän hassut, jos kaverina olisi vaikka pienet kädenlämmittelytaskut alempana, niin tää olis viiden tähden takki.

Hieman lisäsin mehiläisvahaa hartioihin ja yläselkään, niin tämä menee pienessä sateessa sadetakkinakin. Tuulta pitää täydellisesti ilmankin.
0
0
I would recommend for a friend
Anonymous customer

23.10.2019

Verified purchase
Vajaan parin viikon käytön jälkeen takki osoittautunut erinomaiseksi. Pitää tuulta, mitoitus on erittäin hyvä. Napinlävet ja tikkaukset voisivat olla hieman laadukkaammat. Myös epoletit jättäisin pois mahdollisesta seuraavasta versiosta, "siviileille" teidän versio kuitenkin on tarkoitettu.
2
2
I would recommend for a friend
Juha K.

25.10.2019

Verified purchase
Tätä takkia on tullut käytetty nyt kuukauden päivät. Takki on ollut niin tuulessa kuin sateessakin käytössä ja toiminut ihan mainiosti. Laatu on on mielestäni kohdillaan. Isot napit nauhoineen on vähän ehkä turhan kantaaottavia mutta varmasti kestävämpiä pidemmässä juoksussa. Moni ei tunnu tietävän täällä mikä Fishtail parka on kun haluavat taskuja alemmas. Monessa kaupallisemmassa versiossahan on vielä ylimääräiset taskut alempana. Vetoketjukin olisi voinut tulla ylös asti mutta veikkaan että tässäkin on haettu mallia alkuperäisestä mallista. Itse 180 pitkä kohtuu solakalla olemuksella ja Medium Regular on ihan passeli.
4
2