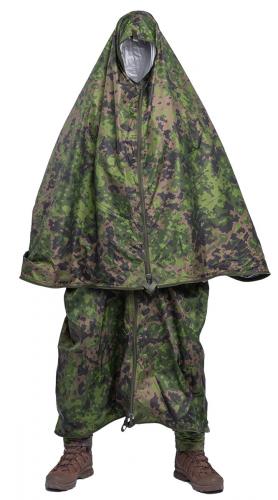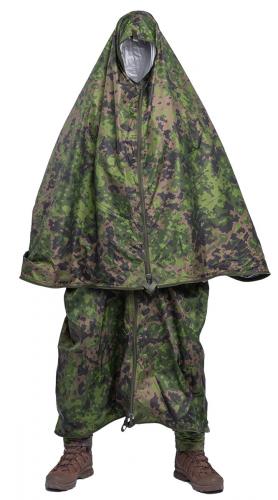 Non-insulated, M05 Woodland Camo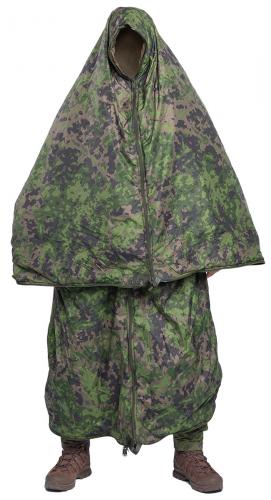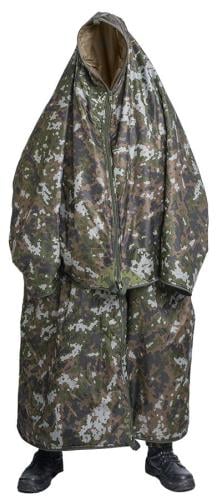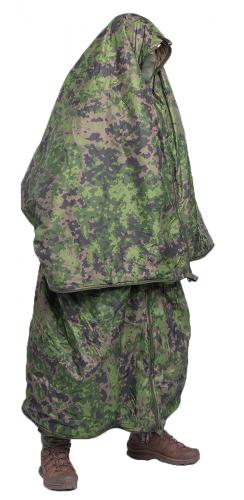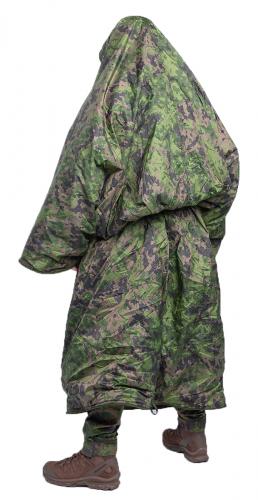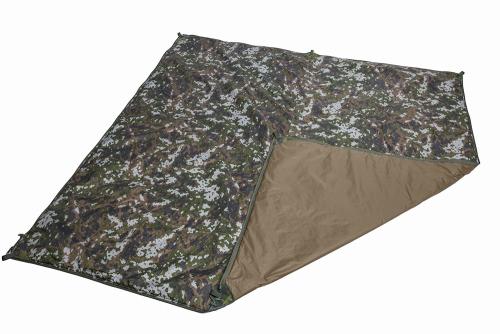 Completely opened and spread out, dimensions 216 x 216 cm.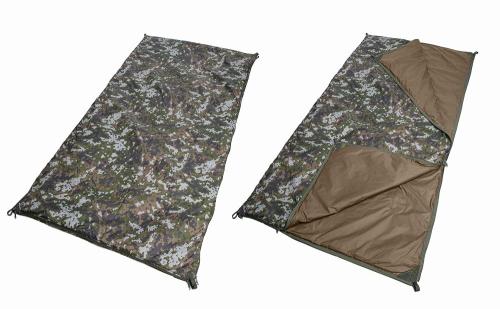 Folded and zipped shut, dimensions 216 x 108 cm.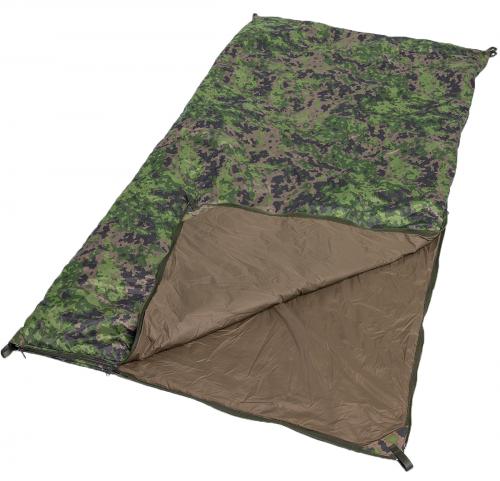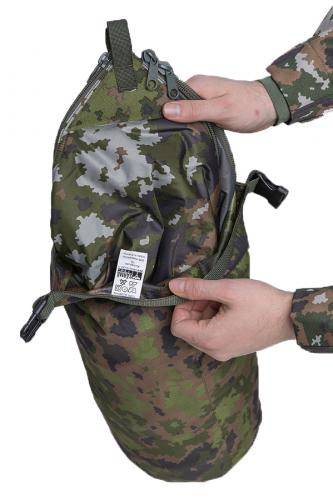 67 g/m2 Climashield insulated model) packed into a Särmä TST 10L dry bag.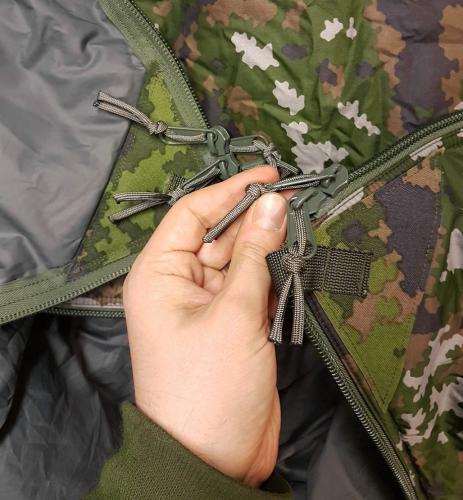 Pro-Tip: simple zipper pulls/silencers made from Paracord!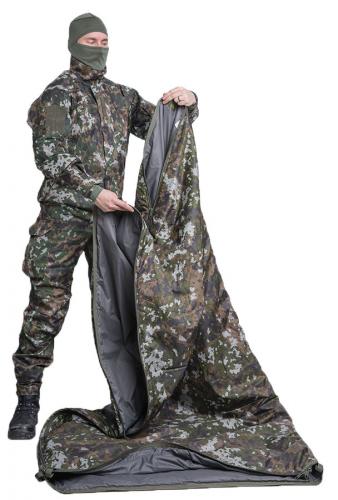 Preparations for cloak wear: fold over to form a bag, close the long side zipper halfaways, leave one short zipper (leg end) completely open and the other half open from the folded side's corner. Old version with gray lining.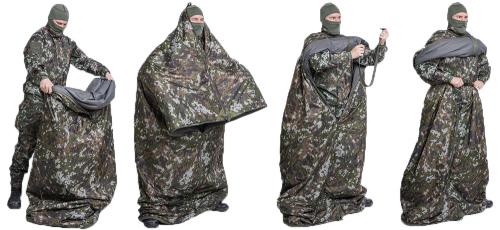 Dive into the bag, push your head out of it's opening, stick your arms out of their opening and tighten a belt around your waist. Old version with gray lining.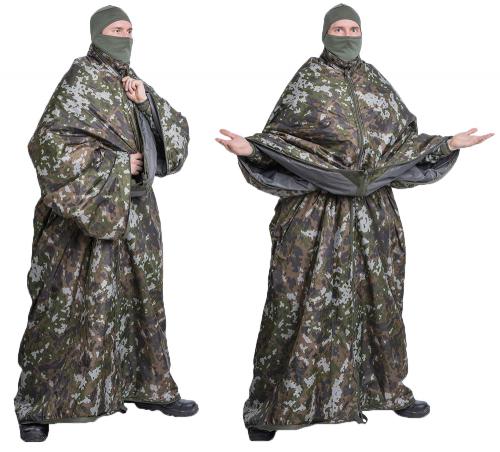 Finish off by adjusting zippers and you´re done! Old version with gray lining.
Allows acces to fighting gear and jacket pockets. Old version with gray lining.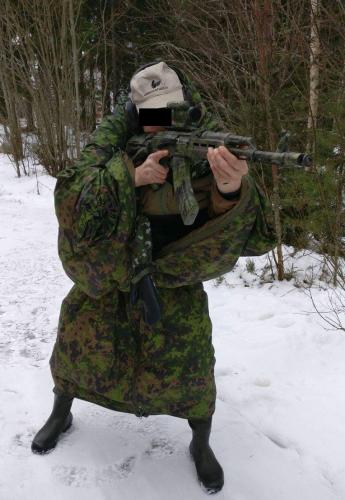 Early prototype testing involved shooting tests.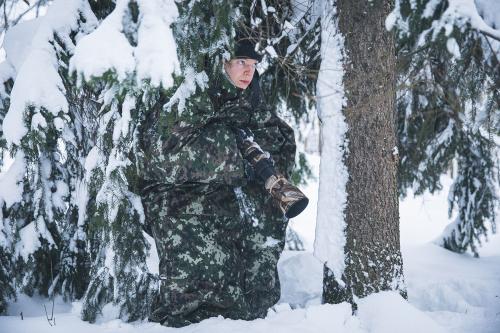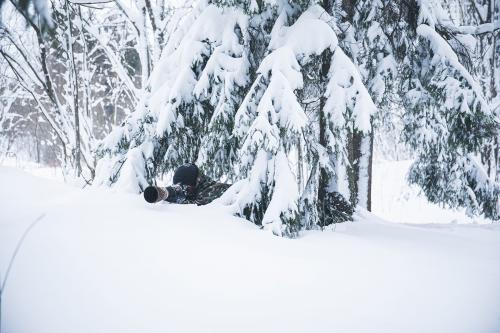 Särmä TST
Särmä TST Thermal Cloak
Price 219.99 - 348.99 USD
excluding sales tax
The multi-functional Thermal Cloak can be used as a coat/cloak, sleeping bag, and tarp or emergency shelter. The extremely simple yet astonishingly adaptable design makes this a valued piece of gear for a multitude of situations all year round.
Loading products...
Trouble with the metric system? Try our converter: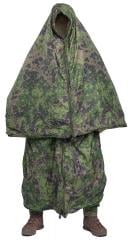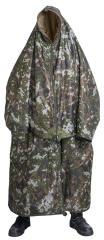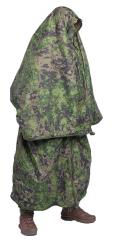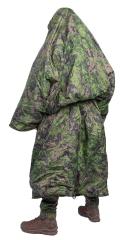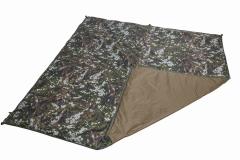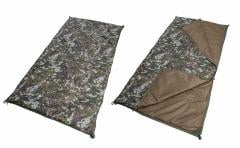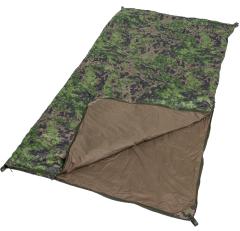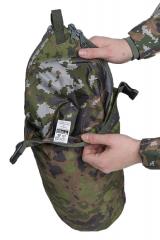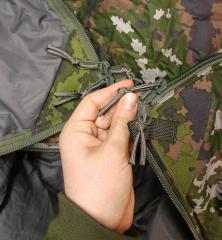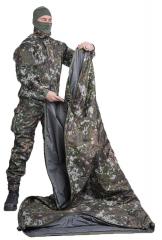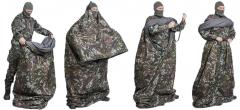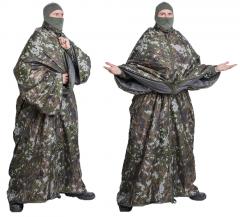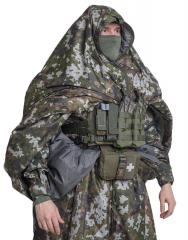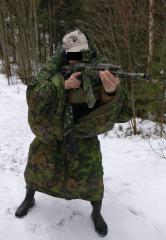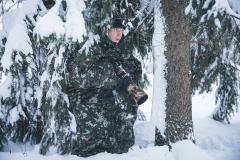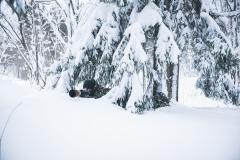 The multi-functional Thermal Cloak can be used as a coat/cloak, sleeping bag, and tarp or emergency shelter. The extremely simple yet astonishingly adaptable design makes this a valued piece of gear for a multitude of situations all year round.
Dimensions:

216 x 216 cm / 85" x 85" (opened and laid out flat)
216 x 108 cm / 85" x 42.5" (zippered shut as a bag)

Weight:

1500 g / 53 oz. (100 g/m2 Climashield insulated)
1300 g / 46 oz. (67 g/m2 Climashield insulated)
650 g / 23 oz. (Non-insulated)

Pack size compressed:

40 x 20 cm / 15.5" x 8" (100 g/m2 Climashield insulated)
35 x 15 cm / 14" x 6" (67 g/m2 Climashield insulated)
20 x 10 cm / 8" x 4" (non-insulated)

Three two-way, double sided zippers
A total of six tie-down webbing loops
Waterproof and thermal reflective shell fabric
Waterproof taped center seam
Materials:

Shell and lining: 100 % polyamide
Insulation: Climashield Apex
Reinforcements: 500D Cordura
All materials are NIR compliant
The Climashield insulated models double up as sleeping bags. The heavier 100 g/m2 insulated version is a bit heavier and bulkier than the 67 g/m2 variant but also offers roughly 50% more insulation, making it ideal for use in extreme cold. The non-insulated models have no insulation or lining, the silvered underside of the shell fabric is bare and visible. These unlined cloaks can be used as sleeping bag covers, similar to a bivvy bag.
If you´re in the need of a packing or compression bag, we recommend the following options:
For wear as a coat or cloak you will need a belt or similar strap. If you don´t own such a wonder already we recommend the Särmä TST utility strap.
The Thermal Cloak's roots and purpose
Since we believe in giving credit where credit is due: The Särmä TST Thermal Cloak is in all honesty our take on the Norwegian Jerven Fjellduk, a fantastic piece of kit which we've grown to love and respect over the years. Our design is basically the Finnish evolutionary offspring of its progenitor, adapted to suit our and other Finnish end-users needs based on our own experiences and feedback gathered from various users, especially military and law enforcement, around the country.
The design of the Thermal Cloak is outrageously simple, and that´s what it´s all about: from simplicity comes reliability, and this type of gear must be worth your trust. The Thermal Cloak is basically just a waterproof, insulated square but by the clever use of zippers and tie-down loops, it can be worn as a coat, used as a sleeping bag, or pitched like a tarp. This very versatile piece of gear adapts to a multitude of situations making it a valuable companion in the field, all year round.
The multiple functions of the Thermal Cloak

Sleeping bag or bivvy

The most simple trick is to use the Thermal Cloak as a sleeping bag. Fold and close it shut to form a bag and dive inside, or use it as a bivvy bag over a regular sleeping bag. The thermal reflective shell and Climashield insulation make the Thermal Cloak a sleeping bag on its own and an even better shell bag for use as a bivvy.

The 67 g/m2 Climashield insulated model is on its own roughly equivalent to a modern military summer sleeping bag. This is no exact science, but we suggest that the Comfort Limit is 5 °C (41 F) and Extreme Limit -10 °C (14 F).

The highest level of sleeping baggy pleasure is achieved when the Thermal Cloak is used in conjunction with an actual sleeping bag. In this configuration, you can keep your clothes and gear (especially any electronics or batteries) safe and warm within the Thermal Cloak whilst you yourself sleep comfortably inside the sleeping bag. The joy of getting into non-frozen-solid clothing on a cold winter morning is something you just have to experience first hand to truly appreciate.

Example: Thermal Cloak + Carinthia Defence 1 = a sure bet which keeps you going all year round in all but the very most extreme freezing temperatures. And if it gets really, really cold, like -35 °C (-31 F), just use a 3-season bag inside the thermal cloak and that´s it. A combo such as this gives you a quickly donned thermal shell coat, emergency shelter, and summer and winter sleeping bag all in one.

When using the Thermal Cloak as a sleeping bag we strongly recommend using a sleeping mat between the cloak and the ground. This protects the shell of the cloak from jagged rocks and sticks, a waterproof shell is not worth much if it´s full of holes.

Coat or cloak

When movement stops your own heat production slows down. In cold temperatures, it´s extremely important to add warm clothing fast when activity levels drop from high to low. For this purpose the Thermal Cloak can be worn like a coat or cloak:

Fold the cloak in half, zip up the long side halfway. The open section will become your armhole.
Zip shut one short side halfway starting from the previously left-open armhole corner. The open half will become your headway.
Leave the other short side completely open. This will become your feet hole.
Pull the sock-like bag over yourself, push your head out of the slit left for it, and your arms out of their large opening.
Take your belt/strap and tighten it around your waist and pull up the excess length of the cloak so it does not interfere with leg movement.
Your warm, insulated thermal cloak is ready!

You can lift or lower the "hood" as desired and adjust zippers for the perfect fit. Through the large opening for your arms, you can also access your jacket pockets and any chest-worn gear. This configuration is no acrobats dress, that is a reality, but whatever you need to do in such situations when wearing this makes sense - that you can do. If the need arises you can also operate firearms from this setup, we recommend some training beforehand.

If you´re really in no hurry to get going you can zip shut the feet end of the cloak to further conserve heat. In this configuration you´re basically a legless blob with arms and head, so don´t expect to get a quick running start if something happens.

Emergency shelter or tarp

Six reinforced tie-down loops along the sides and corners of the cloak allow for its use as a tarp or similar emergency shelter. There are numerous different setups that you can use depending on what you need, we recommend experimenting and learning what works for you.
Materials
Shell: 100 % polyamide with waterproof and heat-reflecting "silver" polyurethane coating. Practically non-breathable, but also totally waterproof. The heat-reflecting coating further enhances the warmth of the cloak resulting in great warmth with even a lightweight insulation.
Liner: 40D, 59 g/m2 100 % polyamide ripstop. Very lightweight, quick drying and really strong for such a lightweight material.
Insulation: Climashield Apex 67 g/m2 and 100 g/m2 insulation. This is some of the best insulation there is a fantastic weight-to-insulation ratio and great performance even in wet conditions. Apex is a continuous fiber filament, this means it does not need any attaching stitching as you would find on common polyester or down loft garments. By eliminating these stitches we also eliminate possible cold spots, further adding to the insulating properties of the garment.
Corner reinforcements are 500D Foxdura, tie-down loops are made from Finnish military-type webbing.
Sewn in the EU
These are now made in Latvia by Sia GPT.
Kierto Circular Economy
Return this product used but clean and unbroken, and you'll receive half of the product's original price as Varusteleka credits. Service is available only in Finland. Only Registered users can make Kierto returns. See more information about Kierto.
Carbon Footprint
The estimated amount of greenhouse gas emissions from the production of one single item is 37.2 kg CO2e. The estimation includes the entire production of the item, from the raw materials up until the finalized product exiting the factory. Read more about the calculation method.
Varusteleka Särmä TST
Särmä TST is Varusteleka's in-house brand of clothing and gear designed for military and law enforcement end-users. Our clothing and equipment are made in co-operation with a number of experienced manufacturers with a strong background in producing clothing and gear for military and law enforcement officials, most notably for the Finnish Defence Forces. For further reading check out the Varusteleka's Särmä TST page and Särmä TST Clothing System article.
Särmä TST products are covered by a 12-month warranty against defects in materials and workmanship. For further information please read our detailed warranty guide.
All products: Särmä TST
Recommendations
Loading products...
Reviews
You have already submitted a review. You can edit your text by clicking on it. You can filter the reviews by clicking on the elements of the summary.
Log in and write a review. You can filter the reviews by clicking on the elements of the summary.
Remove filter
Suomi
(11)
English
(11)
I would recommend for a friend
Tish T.

18.08.2018

Verified purchase
I purchased the Sarma TST Thermal cloak (insulated M05 woodland camo) on an impulse because of the very good price compared to the Jerven Fjellduken products - especially the Jerven Fjellduken Extreme I was a second away from purchasing. In addition, the M05 woodland camo is very similar to the Canadian Forces Cadpat. There were almost no youtube or internet reviews of the Sarma TST Thermal cloak unfortunately, and I hope to do a more thorough review once the cold Canadian winter arrives. I wore the cloak outside over night in the rain (15-16 degrees Celsius) and found that it worked well, not allowing rain to soak through. I did not notice any condensation inside the bag when opened it to dry out. I will be taking the Sarma cloak on expeditions in the fall (alternating hot and dry to cold and wet), where I will need the extra warmth and shelter while sitting at an instructors post in the woods waiting for my rotating classes of students to arrive. I look forward to properly field testing it in the winter in about minus 35 degrees Celsius temperatures (with my cold weather kit on, and also with a M05 - Carinthia based) sleeping bag. Despite not field testing it in the extreme cold yet, I am going to also purchase the unlined model. My only recommendations at this point are: 1.) PLEASE make available an EXTREME COLD WEATHER model similar to the Jerven Fjellduken Extreme, and 2.) PLEASE consider a larger model - ie. roughly 216 cm X 280 cm approximately.
68
0
I would recommend for a friend
Jari L.

Varusteleka employee

29.08.2018

Verified purchase
Jos metsään haluat mennä nyt, niin takuulla palelet… Tai sitten et kun otat tämän taikaviitan mukaan. Särmä TST Lämpöviitta on todella monikäyttöinen varuste. Palvelee taukovaatteena, kyttäyspussina, bivy-säkkinä, makuupussina, naamioi ja häivyttää tunnistettavia muotoja. Itse olen yöpynyt yhdistelmällä Särmä TST lämpöviitta ja Särmä TST L3 lämpötakki ja lämpöhousut -10 asteen pakkasilla oikein mukavasti. Carinthian Defence 1:n ja lämpöviitan yhdistelmällä on tullut nukuttua mukavasti vieläkin kovemmissa pakkasissa. Etenkin tähystystiedustelussa viitta pääsee oikeuksiinsa; tähyllä pötköttelystä tulee huomattavasti mukavampaa. Lisäksi viitta blokkaa mukavasti lämpösäteilyä, mikä vaikeuttaa lämpötähystimellä havaitsemista. Tää on tullut testattua muutamassa harjoituksessa Phantomilla. Lisäksi fiksusti puettu viitta mahdollistaa rivakan irtautumisen, toisin kuin makuupussiin kömpiminen.

If you want to go into the bush, you might get cold… Unless you take this elven cloak with you. Särmä TST Thermal cloak is a versatile piece of equipment. It serves as an extra warming layer during the breaks, works as a bivy bag or a sleeping bag, and it camouflages the user quite nicely. I have slept with Särmä TST Thermal cloak and Särmä TST L3 Loft jacket and trousers at -10 degrees Celsius. Using Särmä TST Thermal cloak as bivy with Carinthia Defence 1 sleeping bag, I have slept well even in colder conditions. Särmä TST Thermal cloak truly excels in reconnaissance in the observation post. Laying static for extended periods of time inside the cloak is pretty comfortable. A nice bonus is that Särmä TST Thermal cloak blocks thermal radiation very well, which reduces the heat signature and possibility to be noticed with thermal imaging.
17
1
I would recommend for a friend
IVAN R.

09.12.2018

Verified purchase
One of my friend bought the insulated version and having seen it, I have to say that Varusteleka did an amazing job with their version of the classic Jerven Fjellduken.

First of all, they used the BEST isolation on the market. Yeah yeah, I know, you're going to say Primaloft is the Best insulation on the market, but you should not listen to the marketing whispering you BS to your ears.
Just like Goretex is not the Best fabric against rain either...
Climashield, aka Lamilite, has better stability, does not loose its loft after a dozen of packing, does not hold moisture and have the same thermal properties. Shall I keep going?

The outside fabric, and its NIR property is outstanding, and fabric toughness is at the same level than the Jerven one.

BTW, to avoid Thermal detection, get the insulated version. Yes, it's heavier, but the non insulated version is not enough to hide you (the fabric will have a temperature between your outter clothes temperature and outside temperature, so you will get spotted).

Replacing the Jerven eyelets by tie down loops is so much better, avoiding water leaking inside the bag when it's raining.

The ONLY thing that makes me not buy it right now, is that the arms zip the Jerven Fjellduken have are missing.
You will probably say "Com'on, you don't need it, look at the product pictures to get the trick while holding a rifle! ". And you would be right.

But while sitting in the cold at an observation post, you're using binoculars too. And the Jerven arms zips are a very good solution for this. Note that Jerven didn't have them on their Fjellduken 15 years ago. They probably brought it because of customers demands.
Of course, it's a weak point, they are cold spots even when the bag is closed (because no insulation over them) but the possibility to get your arms out while the bag is closed is very interesting.

Last wish, a winter M05 white version, please?

Keep up the Good work Varusteleka.
38
2
I would recommend for a friend
Ville P.

14.01.2019

Verified purchase
On lämmin, pakkautuu pieneen (talviversio) ja materiaalit on laadukkaat. Pientä miinusta vetoketjuista jotka liukuu auki toisinaan ja on aikamoisia möhkäleitä (varsinkin noiden paracord-hiljentimien kanssa) jos eksyy selän alle yöllä.
3
1
I would recommend for a friend
Incognitus M.

03.03.2019

⚠ Unverified purchase
Bought the uninsulated version, which is down to the last detail, exactly what I have been searching for, for many many years now.
7
0
I would recommend for a friend
Oskari K.

07.03.2019

Verified purchase
Ostin tuotteen lähinnä kesämakuupussiksi ja tähyllä makoilua varten. Ensimmäinen PV tarjoama talvileiri todisti tuotteen toimivuuden makuupussina ja ynnyköitymisvaatteena. Mielestäni irroitettavat ja kiinnitettävät hihat ovat turha lisä, enkä näe miksi niitä tarvisi turhaa mukaan jo valmiiksi tilan puutteesta kärsivään rinkkaan tunkea ja myöhemmin tiputtaa irtautuessa metsään. Lisäksi on mahdollista laittaa lämpöviitta paksumman makuupussin (esim. M05 Cathrinan) sisään ja näin nauttia lämpimistä unista todella kylmillä keleillä. Nukuin yhden yön ulkona hieman alle - 10 asteisessa säässä ja se alkoi kuten ilmoitettu olla extreme limit kevyemmälle eristetylle 67g/m2 lämpöviitalle, mutta nukkuminen silti onnistui PV:n "Nalle/Helly" päällä. Erinomainen tuote, suosittelen.
7
1
I would recommend for a friend
Farasha E.

11.03.2019

Verified purchase
Marvelous! This and the Carinthia Defense 1 kept me warm down to -30C while hiking through the Vermont mountains.
12
0
I would recommend for a friend
Chris K.

27.05.2019

Verified purchase
I bought the Särmä TST Thermal cloak, 100gr Climashield, primarily to use it as a waterproof sleeping bag. It works very well and the zippers allow you to adjust it to a very comfortable coat/cloak. Well made and definitely worth the money. As to be expected, that thing doesn't breath at all. Therefore it will withstand the roughest weather and keep you warm and dry.
Update 03.09.2019:
I got two more of the un-insulated versions of this and I am still very happy and impressed. The insulated cloak is still most of the time in use as a sleeping bag, while the un-insulated cloaks replaced my tarp(s). If set-up correct, these are perfect as tarps and actually big enough to stay dry underneath. I usually connect the two to get some space for my gear, and that works great. Maybe there is a chance to design a connection-piece to make the zipper-connection, waterproof, when used as a shelter? This would allow the use of multiple cloaks for multiple people. Just thinking :-) Should be quite easy since the zippers are the same on all the un-insulated cloaks (not compatible with the insulated versions though, since they have bigger zippers).
12
1
I would recommend for a friend
Janne M.

03.06.2019

Verified purchase
Ostin itse 67g climashield -eristeisen version. Monikäyttöisyyden vuoksi sopii myös untuvapussi + laavukangas -combossa majoittuvalle grammanviilaajalle. Eipähän näet tarvitse erikseen kantaa kuoripussia ja taukovaatetta mukana reissuilla.
Taukovaatteena 67g -eristeinen viitta on ollut ihan riittävä jopa talven pilkkireissuille.

Hiukan miinusta tulee kuitenkin kahdesta seikasta:

1) Climashield -eristeinen versio ei omien kokemusteni perusteella sovellu hätämajoitteeksi sadekeleillä. Ulkokuori kyllä pitää sateen, mutta viitan alta (majoittujasta ja maasta) tuleva kosteus kertyy viitan sisälle, jolloin viitan paino lisääntyy merkittävästi. Rinkkaa on muuten sitten tosi mukava kantaa kun sinne pakkaa märän ja painavan lämpöviitan.

2) Viittaa ei saa suljettua vetoketjuilla kovin ilmatiiviisti. Esimerkiksi makuupussikäytössä lämmintä ilmaa pääsee karkaamaan jalkopäästä.


Kunhan muistaa huomioida kaksi edellämainittua seikkaa, on tuote mielestäni, mitä mainioin valinta erinäköiseen ympärivuotiseen retkeilyyn.
4
3