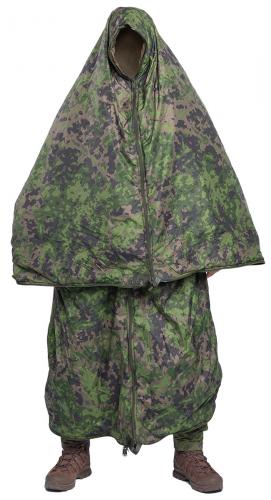 Särmä TST Thermal cloak
Price 159.99 - 249.99 EUR including VAT
Trouble with the metric system? Try our converter: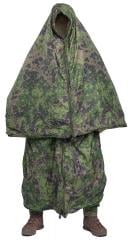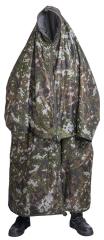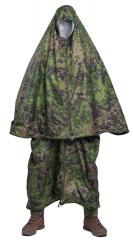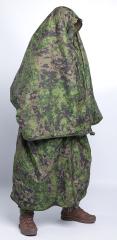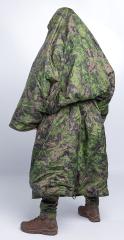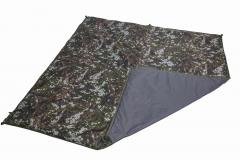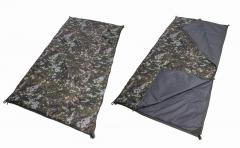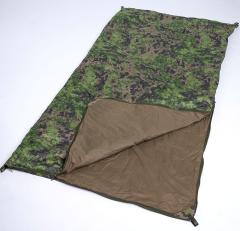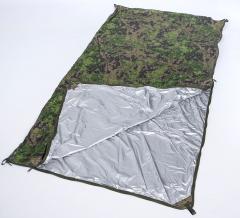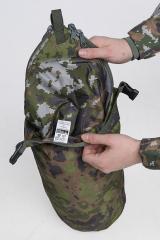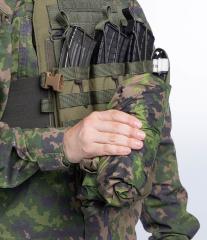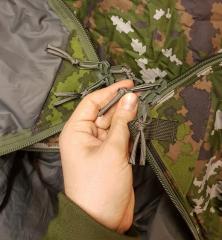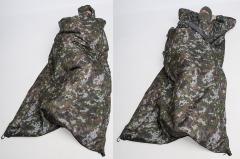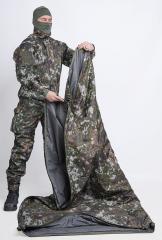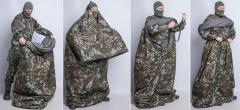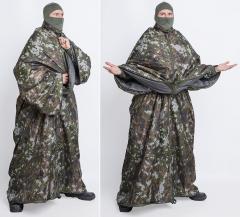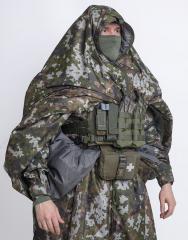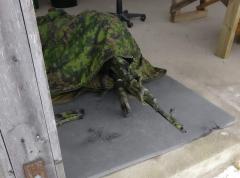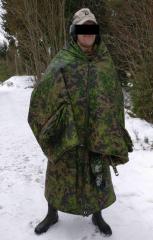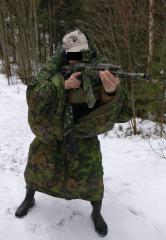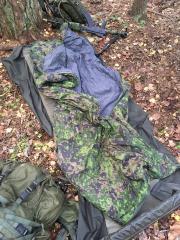 The multifunctional Thermal Cloak can be used as a coat/cloak, sleeping bag and tarp or emergency shelter. The extremely simple yet astonishingly adaptible design makes this a valued piece of gear for a multitude of situations all year round.
Dimensions:

216 x 216 cm (opened and laid out flat)
216 x 108 cm (zippered shut as a bag)

Weight:

1300 g (Climashield insulated)
650 g (Non-insulated)

Pack size compressed:

35 x 15 cm (Climashield insulated)
20 x 10 cm (Non-insulated)

Three two-way, double sided zippers
A total of six tie-down webbing loops
Waterproof and thermal reflective shell fabric
Waterproof taped center seam
Materials:

Shell and lining: 100 % polyamide
Insulation: 67 g/m2 Climashield Apex
Reinforcements: 500D Cordura
All materials are NIR compliant
The Climashield insulated model doubles up as sleeping bags. The non-insulated models have no insulation or lining, the silvered underside of the shell fabric is bare and visible. These unlined cloaks can be used as sleeping bag covers, similar to a bivvy bag.
If you´re in the need for a packing or compression bag, we recommend the following options:
For wear as a coat or cloak you will need a belt or similar strap. If you don´t own such a wonder already we recommend these:
The Thermal Cloak's roots and purpose
Since we believe in giving credit where credit is due: The Särmä TST Thermal Cloak is in all honesty our take on the Norwegian Jerven Fjellduk, a fantastic piece of kit which we´ve grown to love and respect over the years. Our design is basically the Finnish evolutionary offspring of it´s progenitor, adapted to suit our and other Finnish end users needs based on our own experiences and feedback gathered from various users, especially military and law enforcement, around the country.
The design of the Thermal Cloak is outrageously simple, and that´s what it´s all about: from simplicity comes reliability, and this type of gear must be worth your trust. The Thermal Cloak is basically just a waterproof, insulated square but by the clever use of zippers and tie down loops it can be worn as a coat, used as a sleeping bag or pitched like a tarp. This very versatile piece of gear adapts to a multitude of situations making it a valuable companion in the field, all year round.
The multiple functions of the Thermal Cloak

Sleeping bag or bivvy

The most simple trick is to use the Thermal Cloak as a sleeping bag. Fold and close it shut to form a bag and dive inside, or use it as a bivvy bag over a regular sleeping bag. The thermal reflective shell and Climashield insulation make the Thermal Cloak a sleeping bag on its own and and even better shell bag for use as a bivvy.

The 67 g/m2 Climashield insulated model is on its own roughly equivalent to a modern military summer sleeping bag. This is no exact science, but we suggest that the Comfort Limit is 5 °C and Extreme Limit -10 °C.

The highest level of sleeping baggy pleasure is achieved when the Thermal Cloak is used in conjunction with an actual sleeping bag. In this configuration you can keep your clothes and gear (especially any electronics or batteries) safe and warm within the Thermal Cloak whilst you yourself sleep comfortably inside the sleeping bag. The joy of getting into non-frozen-solid clothing on a cold winter morning is something you just have to experience first hand to truly appreciate.

Example: Thermal Cloak + Carinthia Defence 1 = a sure bet which keeps you going all year round in all but the very most extreme freezing temperatures. And if it gets really, really cold, like -35 °C, just use a 3-season bag inside the thermal cloak and that´s it. A combo such as this gives you a quickly donned thermal shell coat, emergency shelter and summer and winter sleeping bag all in one.

When using the Thermal Cloak as a sleeping bag we strongly recommend using a sleeping mat between the cloak and the ground. This protects the shell of the cloak from jagged rocks and sticks, a waterproof shell is not worth much if it´s full of holes.

Coat or cloak

When movement stops your own heat production slows down. In cold temperatures it´s extremely important to add warm clothing fast when activity levels drop from high to low. For this purpose the Thermal Cloak can be worn like a coat or cloak:

Fold the cloak in half, zip up the long side halfway. The open section will become your arm hole.
Zip shut one short side halfway starting from the previously left-open arm hole corner. The open half will become your headway.
Leave the other short side completely open. This will become your feet hole.
Pull the sock-like bag over yourself, push your head out of the slit left for it and your arms out of their large opening.
Take your belt/strap and tighten it around your waist and pull up the excess length of cloak so it does not interfere with leg movement.
Your warm, insulated thermal cloak is ready!
You might want to keep the cloak packed with everything ready for next use.

You can lift or lower the "hood" as desired and adjust zippers for the perfect fit. Through the large opening for your arms you can also access your jacket pockets and any chest worn gear. This configuration is no acrobats dress, that is a reality, but whatever you need to do in such situations when wearing this makes sense - that you can do. If the need arises you can also operate firearms from this setup, we recommend some training beforehand.

If you´re really in no hurry to get going you can zip shut the feet end of the cloak to further conserve heat. In this configuration you´re basically a legless blob with arms and head, so don´t expect to get a quick running start if something happens.

Emergency shelter or tarp

Six reinforced tie-down loops along the sides and corners of the cloak allow for its use as a tarp or similar emergecny shelter. There are numerous different setups that you can use depending on what you need, we recommend experimenting and learning what works for you.
Materials
Shell: 100 % polyamide with waterproof and heat reflecting "silver" polyurethane coating. Practically non-breathable, but also totally waterproof. The heat reflecting coating further enhances the warmth of the cloak resulting in great warmth with even a lightweight insulation.
Liner: Calendered 60D, 58 g/m2 100 % polyamide ripstop. Very lightweight, quick drying and really strong for such a lightweight material.
Insulation: Climashield Apex 67 g/m2 insulation. This is some of the best insulation there is, fantastic weight-to-insulation ratio and great performance even in wet conditions. Apex is a continuous fiber filament, this means it does not need any attaching stitching like you would find on common polyester or down loft garments. By eliminating these stitches we also eliminate possible cold spots, further adding to the insulating properties of the garment.
Corner reinforcements are 500D Foxdura, tie-down loops are made from Finnish military webbing.
Särmä TST
Särmä TST is Varusteleka's own in-house brand of clothing and gear designed for military and law enforcement end users. Our clothing and equipment are made in co-operation with a number of experienced manufacturers with a strong background in producing clothing and gear for military and law enforcement officials, most notably for the Finnish Defence Forces. For further reading check out the Särmä TST corner of our website.
Sewn in Estonia
These are sewn in Estonia, by an experienced factory that has a long history of producing clothing for military, law enforcement and emergency services.
These might also interest you
Log in and write a review.