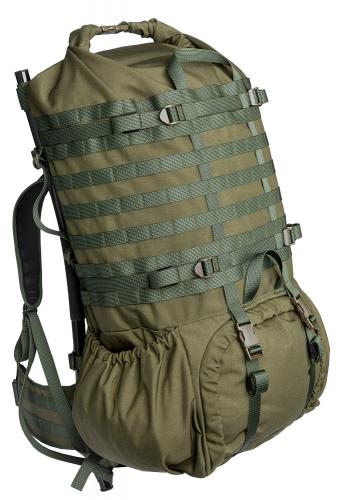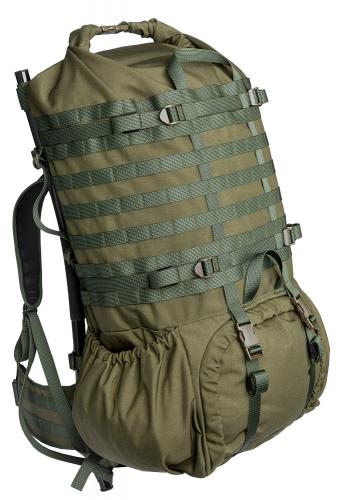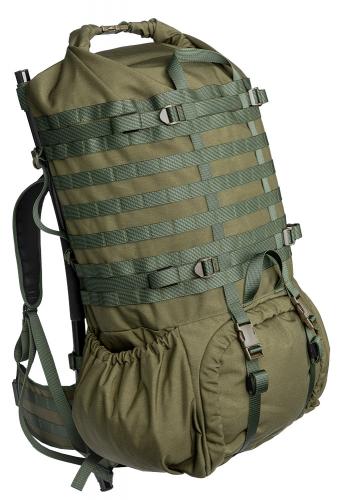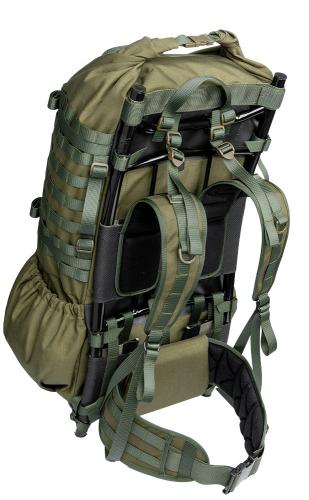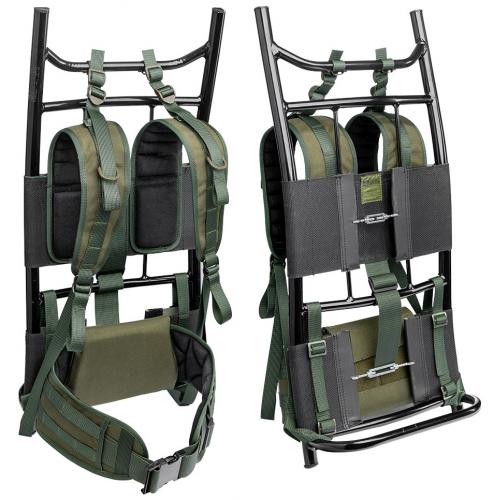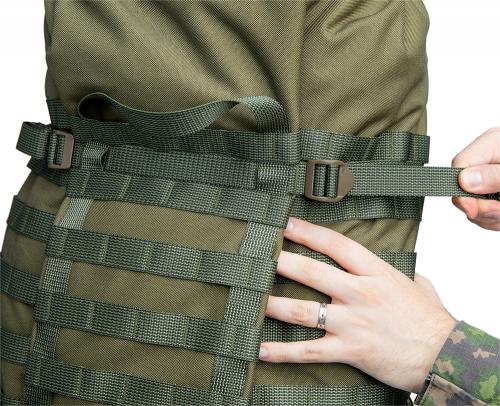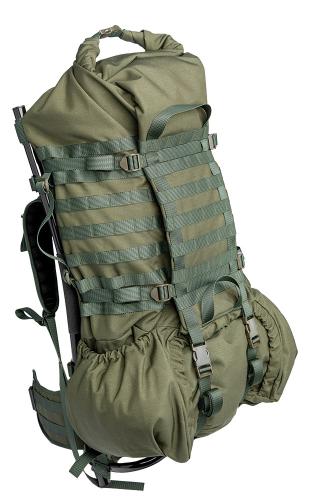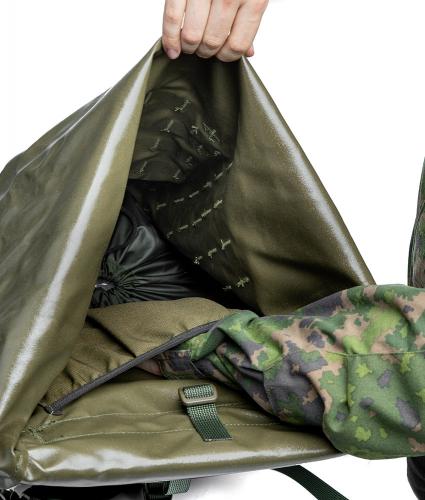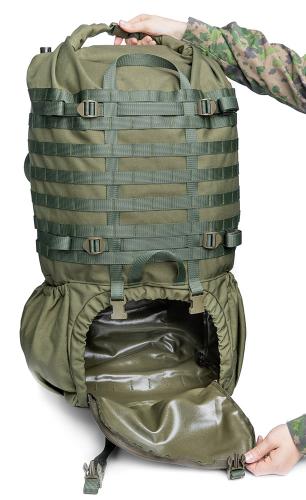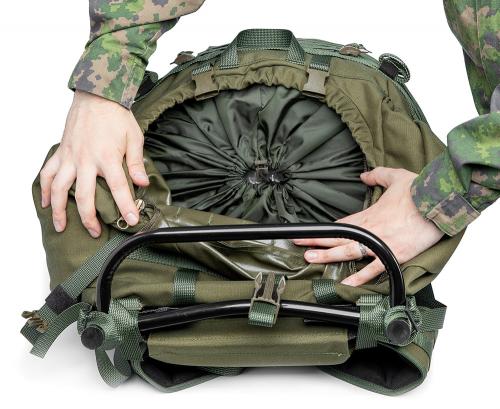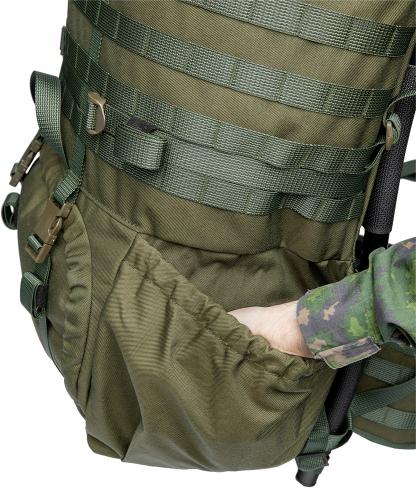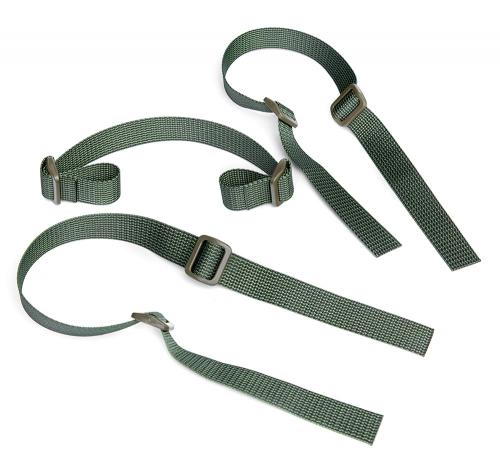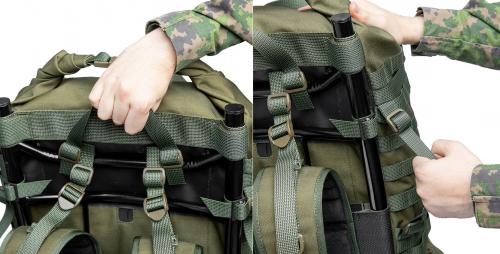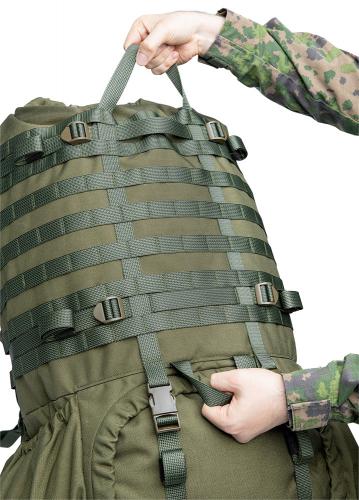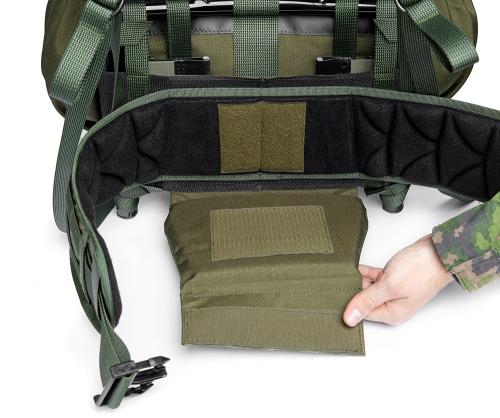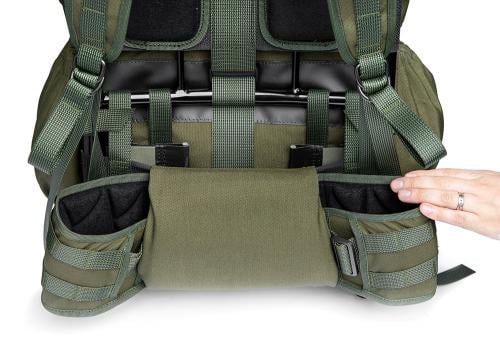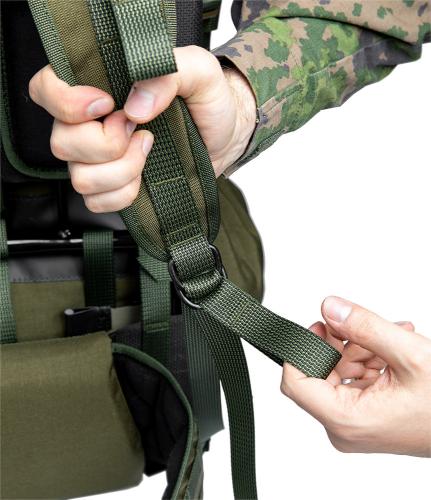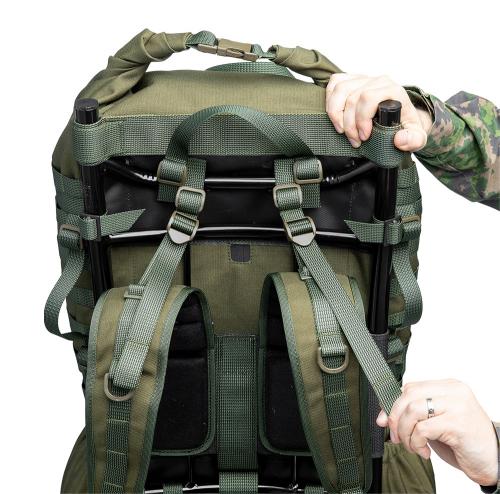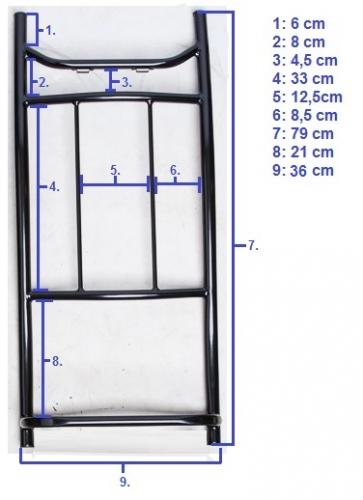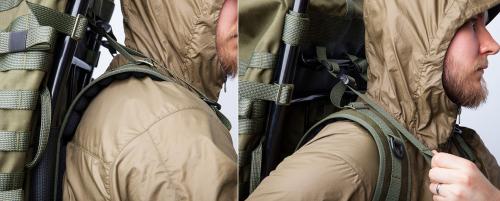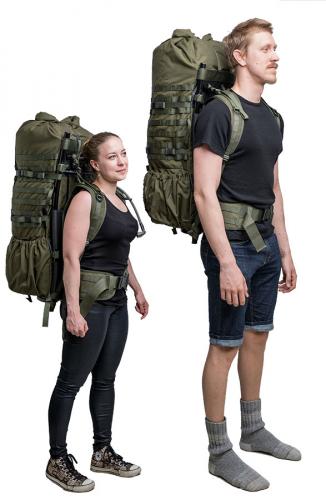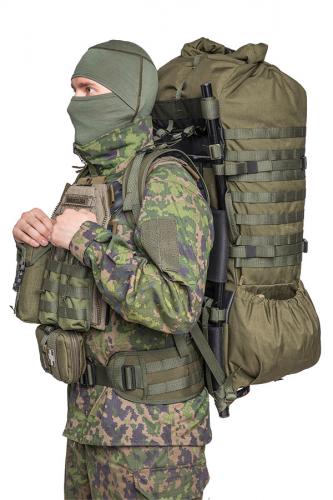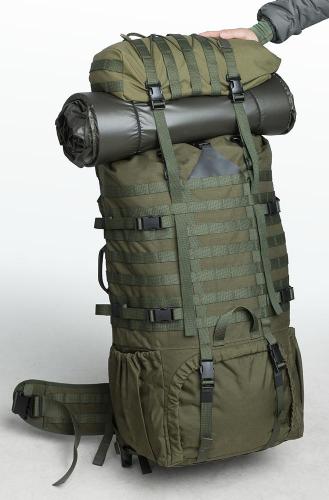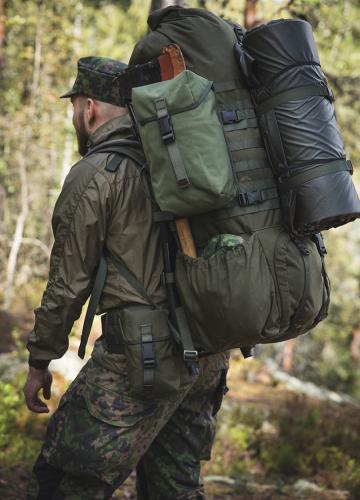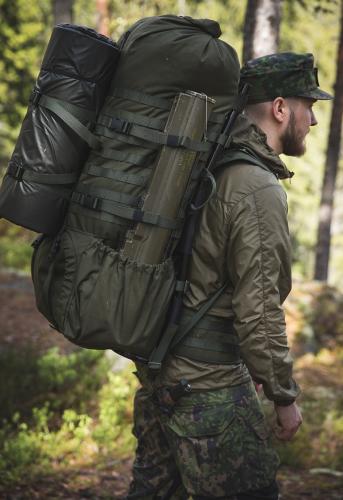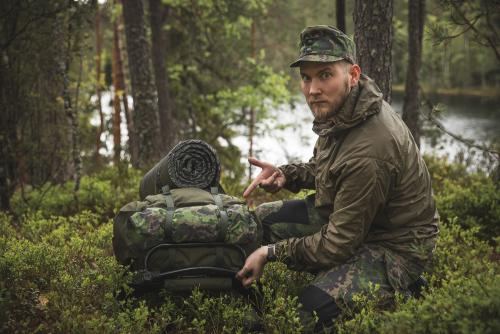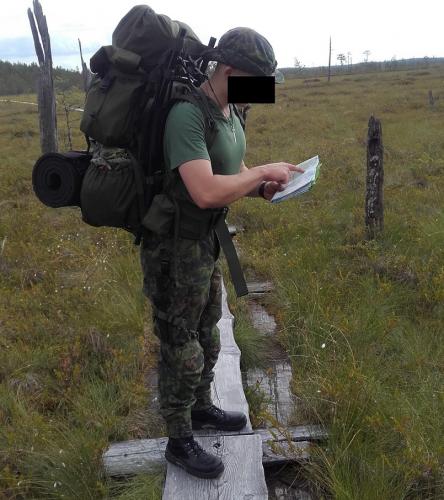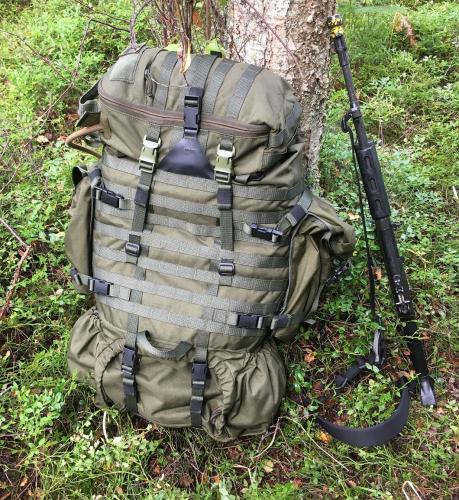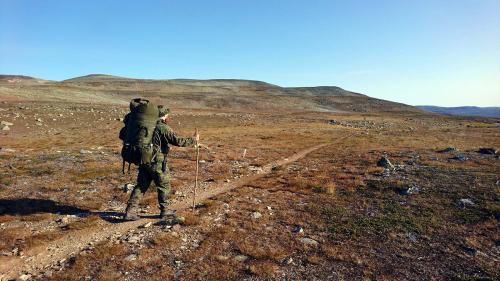 Särmä TST RP80 recon pack
Price 459.99 USD excluding VAT
The RP80 is a large, top and bottom loading sustainment pack that carries enough gear to keep you going for weeks. Although streamlined and straightforward the pack design offers almost endless possibilities for modular scaling and optimizing.
Loading products...
Trouble with the metric system? Try our converter: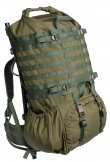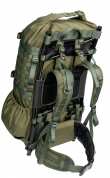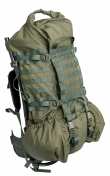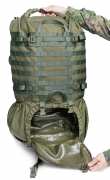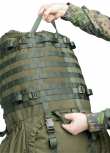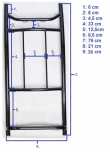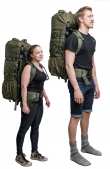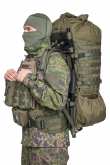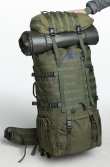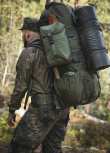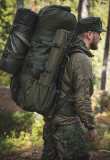 The RP80 is a large, top and bottom loading sustainment pack that carries enough gear to keep you going for weeks. Although streamlined and straightforward the pack design offers almost endless possibilities for modular scaling and optimizing.
Designed for the Nordic end-user, this requires large backpacks to be tall and slim, not short and wide as most European and American designs. This design keeps the weight closer and above your center of gravity and spine and allows for unrestricted arm movement when skiing.
Volume 80 l (4882 in3)
Weight: 3800 g (complete)

Main bag only: 1700 g
Frame only: 740 g
Shoulder harness only: 600 g
Hip belt only: 750 g

Adjustable carry system for user heights 160-200 cm
Roll-top top closure, zipper access at the bottom
Cinch cord divider inside main bag
Hydration compartment inside main bag
Large open bottom corner pouches
Side and bottom compression straps
PALS webbing on main bag and hip belt
Quick release shoulder harness for emergency ditching
Materials:

1000D Cordura
PES webbing
DUR-aluminium (frame)
Metal and ITW plastic buckles
All materials are NIR compliant
Assembly and height adjustment

The RP80 is delivered unassembled. Assemby and adjustment is your first challenge before taking your new pack into service. Understanding the construction, assembly and height adjustment of the pack are all equally important, so assemble and adjust with thought and care! Here are detailed instructions for RP80 pack assembly and adjustment.
The pack bag
Dimensions 85 x 37 x 25 cm + bottom corner pouches
Total volume 80 liters (4882 in3)
Two large bottom corner pouches. Volume approx. 2,5 liters per pouch
Drawcord divider inside, top compartment height 60 cm, bottom compartment height 25 cm
Roll top closure on top
Zippered bottom access with two security/compression straps
Two compression straps on each side
Hydration bladder compartment inside
Uninterrupted PALS matrix goes around the whole upper half of the bag
Two vertical attachment point straps along the back
Two fixed carry handles on the back of the main bag
Comes with three carry handle straps which can be attached wherever you want them!
Carrying system
The RP80 carrying system was designed from scratch instead of just using some ancient FInnish military designs or components. The end result is superior comfort in comparison to the old Finnish military issue systems. One of the most valuable feature of the RP80 carrying system is the adjustable back length. The system can be adjusted to fit users from 160 up to 200 cm tall.
Aluminium frame
The frame was designed especially for the RP80 rucksack, we didn´t simply take some outdated design and recycle it. Compared to the decades old Finnish military issue frames this one has a bottom shelf, wider and taller overall dimensions and two parallel vertical reinforcement rods on both sides of the center instead of a single centered one.
Shoulder harness
The padding is thermal moulded and stitched onto 1000D Cordura on top of which all the straps etc. are bartacked. What really sets this design apart from the old Finnish military issue harnesses is the big pads against the back which really make a great difference compared to just a flat length of wide webbing.
The rucksacks back length and overall fit is adjusted by lowering or lifting the attachment height of the shoulder harness. The load lifter straps that run from the top of the shoulder harness to the frame are used to adjust balance on the go, by loosening the straps the pack hangs further away from your body and the weight is transferred onto the hips. By tightening the straps the pack moves closer to your body and more weight is put on the shoulders.
The lower adjustment of the shoulder harness is done using two, virtually indestructible, welded steel D-rings which also offer a means of quick release by pulling the attached webbing handles upwards.
Hip belt
And once more, also the hip belt was designed from scratch instead of just copying some ancient Finnish military design. The hip belt is thoroughly padded and topped with PALS webbing for pouch attachment. The big lower back pillow can be opened up for the hip belt to be tucked away when you dont want to use it. The construction is overall really strongly padded and rigid.
Modular and configurable

Overall volume and many other features of the rucksack are easily modified according to user specific needs:

Tie-down straps: by running a couple of utility straps through the vertical attachment points on the back you can easily tie a sleeping mat or similar bundles to the far back of the pack.
Side pouches: add a few XL utility pouches for extra pack volume and added organizing options.
Hip belt: attach a bunch of pouches here for easy access to critical gear.
Daypack lid: a quick-detach top lid which transforms into a small daypack, possibly the smartest way of integrating a daypack into your sustainment load. Take a look at our illustrated tutorial on the subject: Särmä TST backpack use as daypack lids
Cargo panel: such as the Särmä TST Modular Beavertail a very simple and versatile addition which allows you to attach and compress all kinds of extra gear on the outside of the main pack.
Materials
Made of the same materials and hardware (1000D Cordura, webbing, ITW Nexus buckles etc.) that are used in the production of the Finnish military M05 combat equipment. High quality, totally NIR compliant and all that, naturally.
Made in Finland and Estonia
These manufactured in co-operation with Finn-Savotta Oy (Finlands leading military and outdoors gear manufacturer and the main load bearing equipment contractor for the Finnish Defence forces). Depending on the situation production runs are sewn either in Savotta's Finnish or Estonian factory, sometimes even partially in Finland and partially in Estonia. The little printed tags tell where exactly each particular product was sewn.
Särmä TST
Särmä TST is Varusteleka's in-house brand of clothing and gear designed for military and law enforcement end-users. Our clothing and equipment are made in co-operation with a number of experienced manufacturers with a strong background in producing clothing and gear for military and law enforcement officials, most notably for the Finnish Defence Forces. For further reading check out the Särmä TST corner of our website.
Särmä TST products are covered by a 12-month warranty against defects in materials and workmanship. For further information please read our detailed warranty guide.
Recommendations
Loading products...
Reviews
You have already submitted a review. You can edit your text by clicking on it.
Log in and write a review.
Remove filter
Suomi
(3)
English
(4)
I would recommend for a friend
Jacob H.

07.02.2019
Very robust and no nonsense rucksack, built like a tank and distributes weight very nicely, cleverly designed so you can roll it down small or release the compression straps for full capacity! A modular and dependable bag, would definitely recommend!
8
1
I would recommend for a friend
Miikka V.

05.03.2019
Puolitoista vuotta olen nyt rinkkaa ulkoiluttanut vaelluksilla, metsillä sekä packraft hommissa ja kovasti pidän! Omaani olen laittanut lisäksi kaksi savotan L-kokoista pystytaskua ja Berghausin mmps grab bag:in irroitettavaksi päiväreppuläpäksi jotta varmasti saan kulkemaan enemmän tavaraa kuin on tarve/järkevää. Parhaimmillaan rinkassa on kulkenut yhtäaikaa reppulautta kaikkine tarpeineen, kota ja kahden päivän syys-vaellukselle kaikki tarvittava, painoa koko komeudelle kerty hieman yli 30kg. Rinkan sai säädettyä siten että paino ei tuntunut kovinkaan pahalta vaikka kilometrejä kertyi soisessa maastosa reilustikkin.
Hyvin on rakennettu, ei ole kovallakaan käytöllä mennyt rikki ja on nähnyt mualimoo.

Suosittelen
2
1
I would recommend for a friend
Farasha E.

12.03.2019
I am in love with this backpack. I dislike ultralight hiking, and instead like to use the most durable and suitable equipment, which means I need a backpack that can handle the load and doesn't make me feel burdened. This is by far the most comfortable backpack I have ever used, even with ridiculously heavy loads. The modularity is also impressive. When you put it together, remember to grease the threads on the turn buckle to prevent galling. Also, some of the metal buckles really should have a rubberized coating, but since they don't I suggest cutting up strips of bicycle inner tube and wrapping them around the frame in all places in which rubbing could occur.
9
0
I would recommend for a friend
Foong H.

10.08.2019
The pack feels very solid and bulky, I fill the pack with gallon full of water and jogging with it. It doesn't feel uncomfortable at all and it stay on.

Also, do update the assembly instruction. Some part of the bag is slightly different and took me more time to figure it out.
3
0
I would recommend for a friend
Kenneth V.

23.09.2019 (Edited 27.10.2019)
Ei niitä turhia selkä tai hartia kipuja, mitä intissä sai kokea. Rinkka täyttää kaikki vaatimukset ja hieman ylikin. Suosittelen lämpimästi!
Modulaarien osto hyvin suotavaa.
0
0
I would recommend for a friend
Anonymous customer

23.03.2020
Muuten hyvä, mutta ensimmäistä kertaa Lappiin lähtiessä laitoin rinkkaan n. 25kg painoa. Kävikin ilmi, että lisäpainon kanssa rinkan liivekkeiden remmit luistavat auki aika pahasti.
1
0
I would recommend for a friend
Tanny N.

01.05.2020
This is an amazing rucksack!

Hello, I am a US Army Soldier and I really like this pack, it is undoubtedly the most comfortable rucksack I have ever used. I have used it is wet and rainy conditions and hot and dry conditions no matter what it functions as need. I have used it for training, duty during training and backpacking. It is very easy to adjust and get it to fit your person perfectly, and it is comfortable to wear with body armor and a plate carrier. It is great, but it is not perfect. I would have love if this pack was available in black or Multicam. It would have been nice to have additional pockets or pouches on the interior on the main pack or lower pack for small item organization. I would have been nicer to use a titanium frame in order to reduce weight and increase durability and it would have been nice to have buckle sidesteps instead of sew in side straps. not the less if you have a need for a heavy duty rucksack I would highly recommend the RP80.
1
1