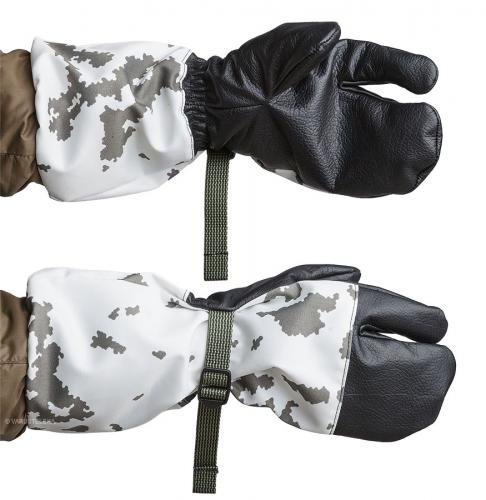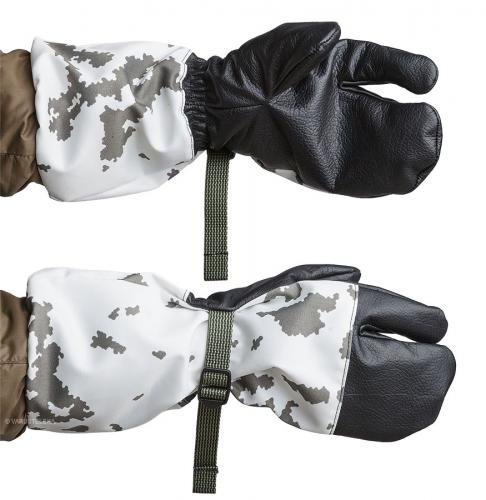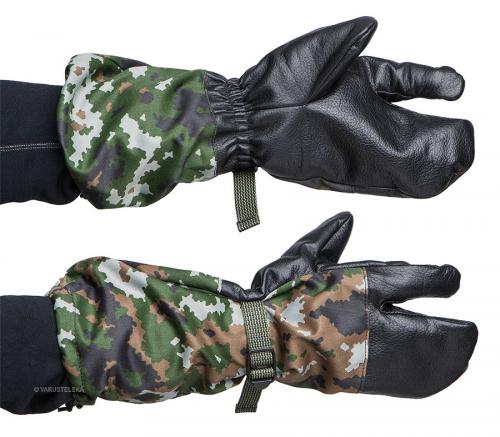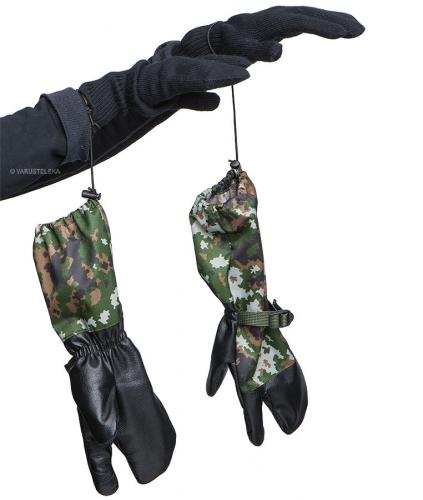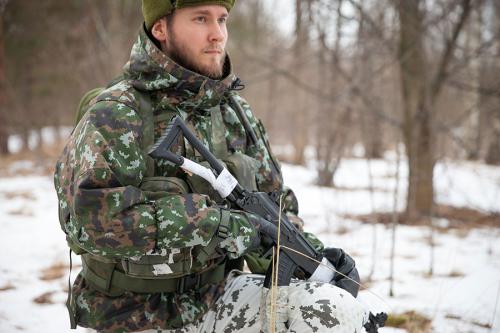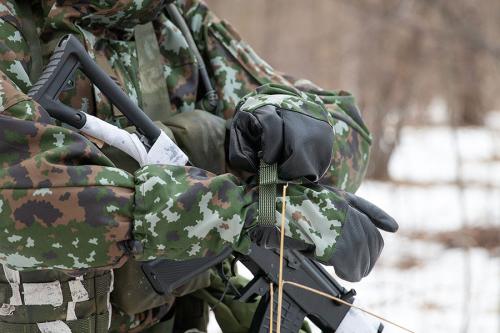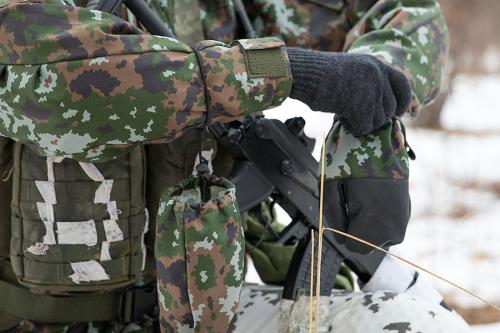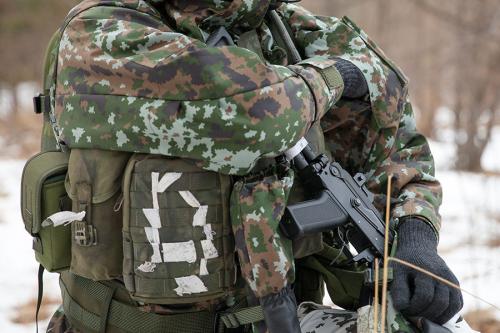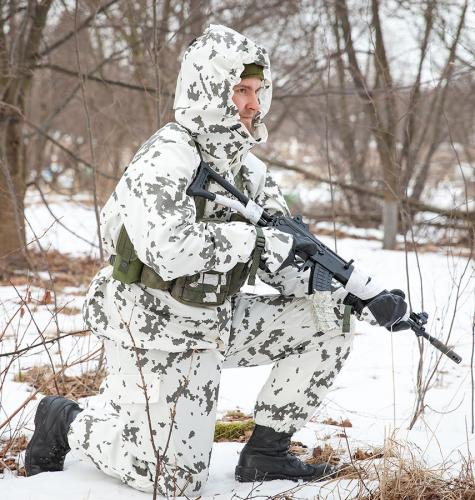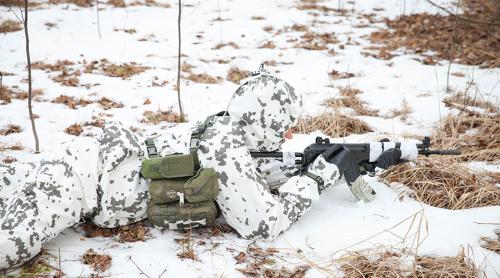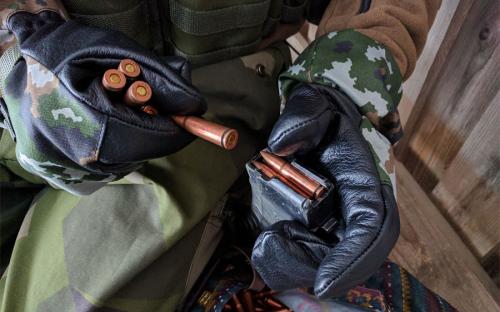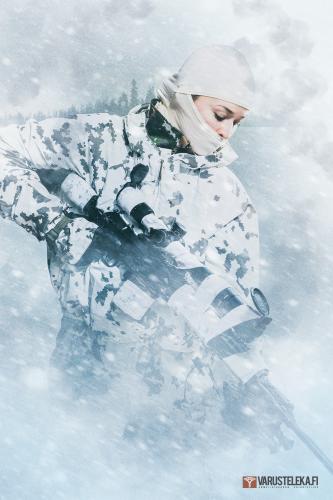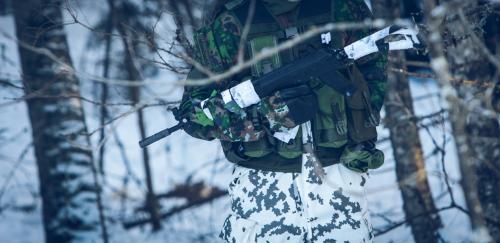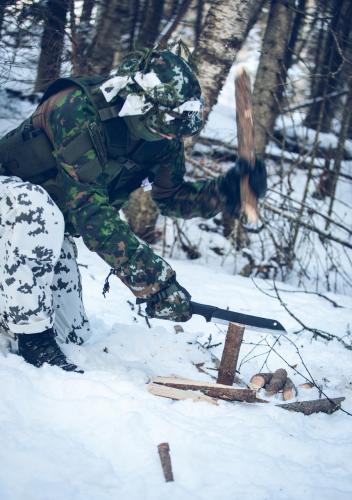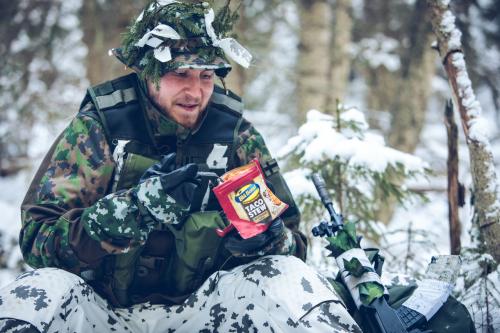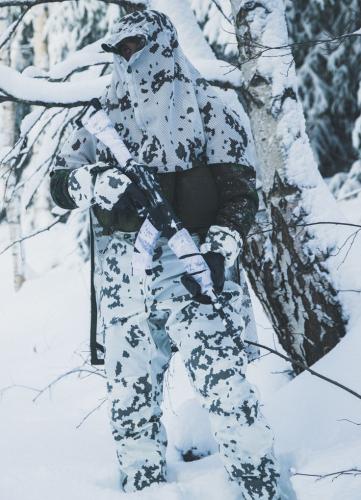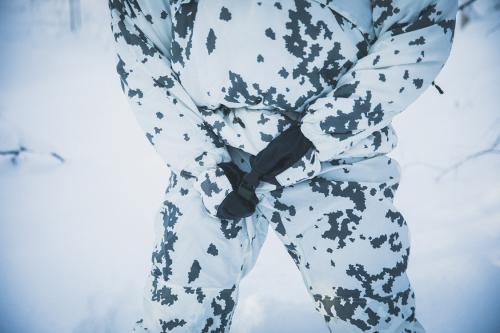 Särmä TST
Särmä TST mittens w/ trigger finger
Price 69.99 USD
excluding sales tax
Proper simple, rugged and functional outer shell mittens for military use. Trigger finger and leather/fabric construction with breathable Finnish M05 camouflage fabric shaft.
Loading products...
Trouble with the metric system? Try our converter: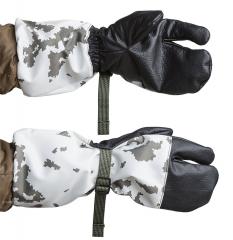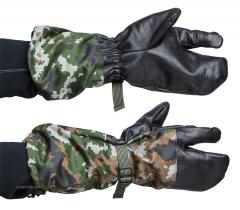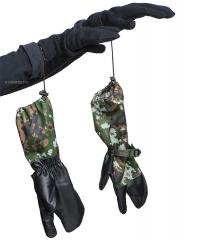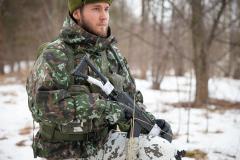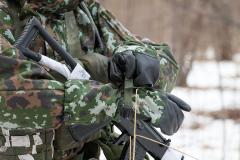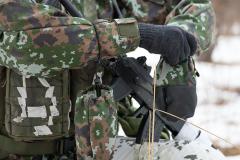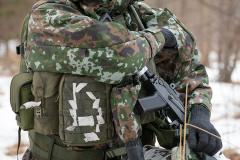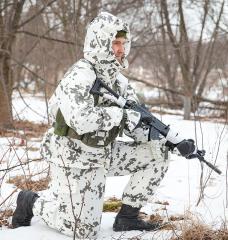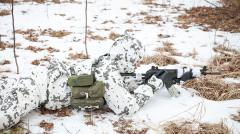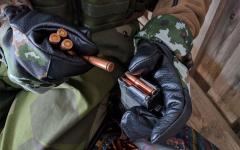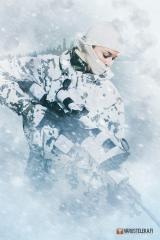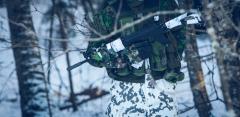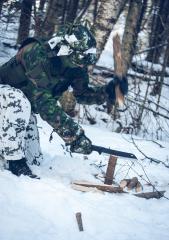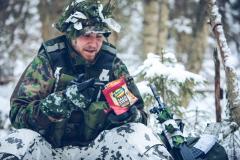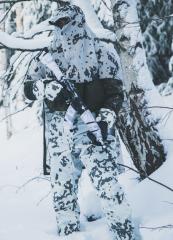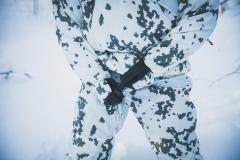 Proper simple, rugged and functional outer shell mittens for military use. Trigger finger and leather/fabric construction with breathable Finnish M05 camouflage fabric shaft.
Leather reinforced fingers, thumb and palm.
Shaft and back of the palm Finnish M05 camouflage fabric.
The long shaft offers great protection from snow
Adjustable tightness at wrist and cuff.
The cuff drawcords can be used to secure the mittens to your wrists.
Sized to fit knit wool gloves underneath.
Single layer construction is quick drying and easy to repair if necessary.
Sizing
Available in three different sizes. These are designed to fit "normal" knit wool gloves or mittens underneath. If you want to use some real thick liner gloves we recommend picking one size larger than normally recommended.
Finnish MILSPEC materials
The textile parts are Finnish military M05 winter camo fabric, 70/30 polyester/cotton. The leather is yak, apart from the little diamond-shaped piece at the fork of the index and middle fingers. The webbing used for the adjustment strap is the same hard-wearing stuff used in the production of Finnish combat gear. The buckles are high-quality ITW-Nexus LadderLocs. Completely NIR compliant.
Made in Finland
Kierto Circular Economy
Return this product used but clean and unbroken, and you'll receive half of the product's original price as Varusteleka credits. Service is available only in Finland. Only Registered users can make Kierto returns. See more information about Kierto.
Carbon Footprint
The estimated amount of greenhouse gas emissions from the production of one single item is 5.54 kg CO2e. The estimation includes the entire production of the item, from the raw materials up until the finalized product exiting the factory. Read more about the calculation method.
Varusteleka Särmä TST
Särmä TST is Varusteleka's in-house brand of clothing and gear designed for military and law enforcement end-users. Our clothing and equipment are made in co-operation with a number of experienced manufacturers with a strong background in producing clothing and gear for military and law enforcement officials, most notably for the Finnish Defence Forces. For further reading check out the Varusteleka's Särmä TST page and Särmä TST Clothing System article.
Särmä TST products are covered by a 12-month warranty against defects in materials and workmanship. For further information please read our detailed warranty guide.
All products: Särmä TST
Recommendations
Loading products...
Reviews
You have already submitted a review. You can edit your text by clicking on it. You can filter the reviews by clicking on the elements of the summary.
Log in and write a review. You can filter the reviews by clicking on the elements of the summary.
Remove filter
Suomi
(3)
English
(1)
I would recommend for a friend
Jacob A.

11.02.2018

Verified purchase
I would rate theese gloves 4 out of 5. Unfortunately I am not able to edit my rating, only the text.

I absolutely love theese gloves. I use them as shell-gloves with thin fingerless woolen glovelettes underneath for back-country skiing. Mind that theese gloves are NOT waterproof and thus theese gloves are better suited for sub-zero temperatures.

PROS:

Well made with great materials. Well made layout (besides part of stitching). VERY EASY donning, undonning and adjusting. Theese gloves are unlined and the leather is really subtle which allows for low weight, low bulkyness and great dexterity.

CONS:

Theese gloves unfortunately have a stiching line that runs around the base of the thump were most of the wear is when using ski poles. This stiching line have already begun to show signs of damage om both of my pairs and my guess is that the stitching at this exact spot will give in long before the rest of the gloves.

SIZING:

I normally use gloves size 8.5 to 9. I have theese gloves in both size medium and size large. Size medium is a nice roomy fit with more than enough room for thinner woolen gloves underneath. Size large is too big for my hands unless i wear thick woolen gloves underneath.

IMPROVEMENT POINTS - IN MY OPINION:

I really like theese gloves, do not get me wrong, but they are not more rugged than their weakest part, which is not very rugged. The stitching at the base of the thumb seems to be the critical point - at least if using ski poles. This area could be reinforced with a patch of scrap/waste leather (PacMan shaped) from the main manufacturing process. I would gladly pay the 6,62 euros extra for this 5 minute sewing operation.
26
0
I would not recommend to a friend
Petri P.

19.06.2018

Verified purchase
Ei kykene suosittelemaan.



Oma mokani oli luonnollisesti tilata hanskakoon mukaan ja vielä lukematta huolella tuotekuvausta - tarve kintaille oli kova ja hölmöyksissäni kuvittelin tähän hintaan saavani ihan oikeat kintaat. Pieleen meni ja pahasti.



Itku ja nauru siinä tuli, kun lähtöpäivän aamuna postista noudetut kintaat paljastuivatkin kalliiksi vitsiksi. Hanskakoon mukaan valittu kinnas oli sen verta ahdas mm. etusormesta, että väliin ei mahtunut yhtään mitään. Minkäänlaisen lämpöfyllin olemattomuus vielä lisäsi olemassa olon tuskaa. -20 asteessa olisi kaivannut edes sitä, jos kerran hanska on pitänyt suunnitella tiukaksi. Eihän tällaisia tarvitse käyttää lämpöisillä keleillä. Tämän lisäksi oikeasta hanskasta peukalon ja kintaan käsiosan ompeleet repesivät auki kahden viikon reissulla. Roskiin menivät.



Nyt kun vuodatus on vuodatettu, on aika syvemmälle ihmettelylle.



Mitoitus on tosiaan niin tiukka, että villasormikkaatkin olivat saman kokoisena kuin sormikkaat napattuna liian tiukat - ja nimenomaan etusormesta. Muut neljä mahtuivat ihan hyvin. Olisin hyväksynyt lämpövuoren olemassaolemattomuuden, jos hanskojen suunnittelussa olisi otettu huomioon se, että pakkasella näitä käyttäessä TARVITSET jotain paksua ja lämmintä väliin. Jos tämä olisi otettu huomioon, olisivat kintaat väljemmät, eli "liian suuret", kokoonsa nähden pelkällään käytettynä. Näillä harrastettavassa toiminnassa tästä ei olisi haittaa, mutta toistepäin on sitä enemmän. Erityisesti ottaen huomioon etusormen ahtauden. En usko, että itsellä olisi välttämättä auttanut edes kokoa isompi hanska.



Toisaalta taas muuten kintaat ovat väljät. Ehkä minulla on nakkiranne, mutta edes väkisintungetun hanskan kanssa ei rannekiristyksen naru riittänyt - siis kiristämään. Hihnan sai vetää kireälle, mutta hanskan ollessa muuten väljä, oli materiaalia vain liikaa. Lukko myös luistaa käytössä, joten sitä sai yhtenään nyhtää. Ranteen kiristysnaru oli lähinnä vitsi - varsi pussitti ja lopulta aina pullahti takin päältä paljastaen ranteet. -20 asteen pakkasilla puolireiteen yltävässä hangessa tämä oli todella tympeä ominaisuus.



Kurjinta oli kuitenkin, että 2 viikon varsin kevyen metsäkäytön loppuvaiheella oikean käden peukalon hangasta ratkesi ompeleet/nahka. Kohdassa on pientä nirhaumaa ilmeisesti pyssyn kahvasta tjsp, mutta ei mitään sellaista jonka takia ompeleen olisi tämän hintaluokan kintaissa pitänyt tuhoutua.



Huonosti istuvien Särmä M05 -housujen lisäksi nämä ovat olleet tähän mennessä ainoat Särmä ostokseni ja toistaiseksi myös sellaiseksi jäävät. Muita Särmä-arvosteluja vilkuillessani, on samanlaisista laatuongelmista ja suunnittelutöppösistä viestiä lähes jokaisessa tuotteessa. Hintaa pyydetään, mutta ei kyllä vielä mielestäni olla ihan siellä suunnittelun ja käytettävyyden huippuluokassa, miksi Leka itseään tituleeraa. Katsellaan sitten viiden vuoden päästä, kun on useammat iteraatio rensseleistä takana.
22
8
I would not recommend to a friend
Joona S.

20.01.2019

Verified purchase
Hyvä idea, mutta toteutus ontuu.

Tilaisin omaan 9-koon käteeni aluksi L-koon, mutta päädyin vaihtamaan sen M-kokoisiin. Isommissa käsi tuntui sveitsiläisten ohuiden neulerukkasten kanssa uivan, jälkimmäistä taas jouduin venyttämään etusormen kohdalta nahanvenytysaineella ja tiukaksi käärityllä sanomalehtirullalla.

Nämä kädessä pystyy oikeasti tekemään jotain, mutta toki paukkupakkasilla etusormet meinaavat jäätyä. Materiaalit tuntuvat ihan kestäviltä ja ompeleet ovat venyttelystä huolimatta kestäneet.

Kämmenen nahan leikkauksessa on vedetty mutkia suoraksi. Typerästi nahka pingottuu kättä avatessa keskisormen ja peukalon välistä. Sama kävi myös isommalla koolla.

Hieman harmittaa, kun en äkännyt ajoissa vastaavia Outdoor Researchin kuorihanskoja alessa samalla hinnalla. Juuri istuvuus kun tekee käsineet.

Näiden hanskojen/rukkasten valtiksi jäänee m05-maastokuvio.
7
1
I would not recommend to a friend
N.N.

06.02.2020

Verified purchase
Sama havainto kuin muillakin, etusormi on jäätävän pieni. Oma koko on 9 ja otin kooksi XL:n. Nyt alle sopii sveitsiläiset lapaset mutta jos paksumpaa tumppua tarjoaa niin ahtaaksi käyja kaiken huipulsi olen suht hoikkasorminen Muuten nahka on ok ja toimivuus ok. Vahvistus tosin saisi olla kämmenessä hiihtohommia varten.
Eli jos on paksut sormet niin ihan turha näitä on ostaa.
5
0