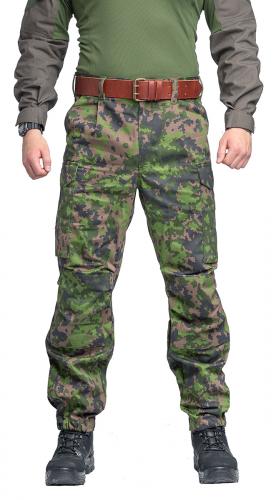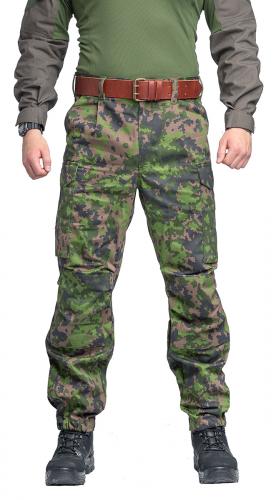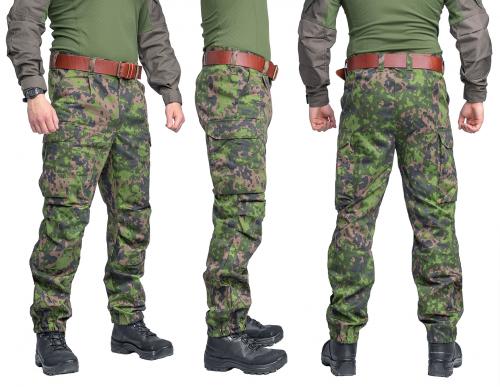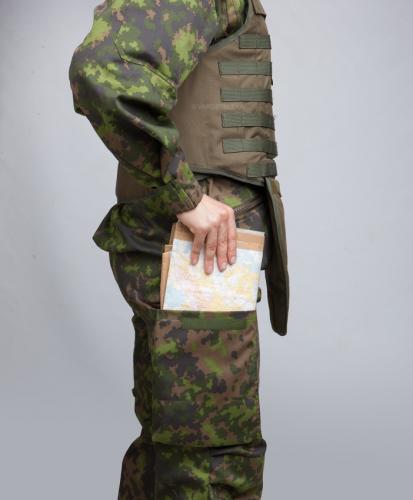 Our enlarged cargo pockets are now perfect for large military maps.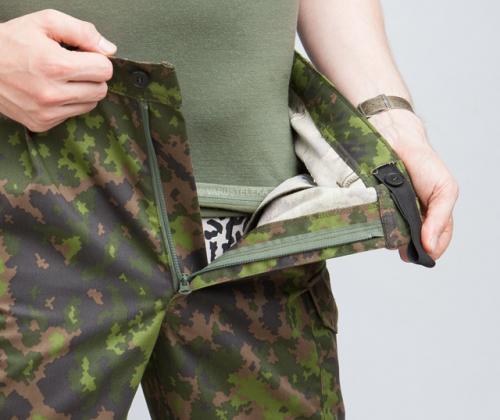 The waist is adjusted using this elastic band and button.

This is how you adjust the waist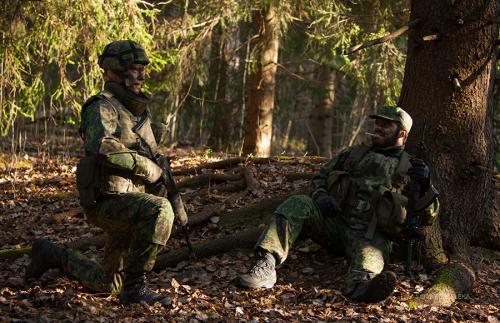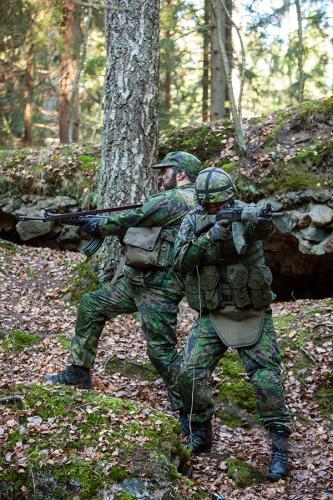 Särmä TST
Särmä TST M05 RES cargo pants
Price 99.99 USD
excluding sales tax
Our improved version of the Finnish military issue M05 summer woodland trousers. Looks just like the official issue stuff, but performs a little bit better! Officially approved for use in Finnish Defence Forces reserve practice (M05 RES)!
Loading products...
Trouble with the metric system? Try our converter: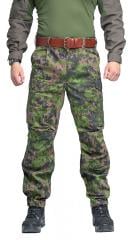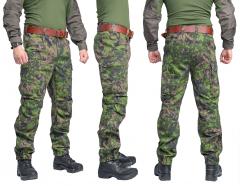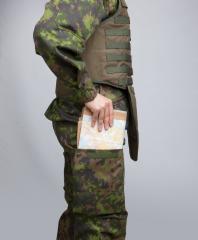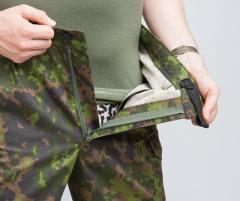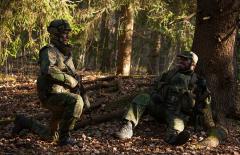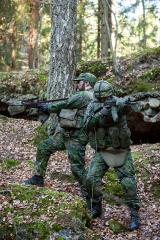 Our improved version of the Finnish military issue M05 summer woodland trousers. Looks just like the official issue stuff, but performs a little bit better! Officially approved for use in Finnish Defence Forces reserve practice (M05 RES)!
High waist with elastic band adjustment. The band has to be used to make the waist sit right! Otherwise these will feel very loose on the waist.
Zipper fly with button.
50 mm (2") wide belt loops.
Elastic bands in the leg ends.
Articulated knees and pockets for knee pad inserts.
Two side pockets and two cargo pockets.
Fabric: 50/50 CO/PES.
All materials are NIR compliant.
In comparison with the Finnish military official issue M05 trousers we have lifted the waist higher, made the side slash pockets deeper and enlarged the cargo pockets to better fit maps, etc.
Official M05 RES approved clothing

M05 RES is an official Finnish Defence Forces inspection and approval system for commercially produced military clothing. A garment that is M05 RES approved is officially approved for use in military military exercises and other fun activities that the FDF organizes.

The M05 RES system is a small step in the right direction and a huge change in the general attitude of the Finnish military complex. Whereas ten years ago a simple non-issue dump pouch could get you in trouble we now have the possibility to create commercial clothing that can be officially approved for use. For us Finns, this is a very, very welcome change and a good beginning to build on!
Sizing
Sizes are shown in US-style (eg. "Large Regular") followed by measurements, first waist circumference, then inseam length.
Official M05 sizing
In the trousers you will find a three digit number sizing as required by Finnish military. The first number (6—9) indicate length category and the next two (46—66) stand for width in the European standard men's sizing.
Suggested user measures for both size categories:
| Height | Metric | Imperial |
| --- | --- | --- |
| 6 (Short) | 160-170 cm | 5'3" - 5'7" |
| 7 (Regular) | 170-180 cm | 5'7" - 5'11" |
| 8 (Long) | 180-190 cm | 5'11" - 6' 3" |
| 9 (X-Long) | 190-200 cm | 6'3" - 6'7" |
| Waist | Metric | Imperial |
| --- | --- | --- |
| 46 (Small) | 80 cm | 31.5" |
| 50 (Medium) | 90 cm | 35.5" |
| 54 (Large) | 100 cm | 39.5" |
| 58 (X-Large) | 110 cm | 43.5" |
| 62 (2X-Large) | 120 cm | 47.5" |
| 66 (3X-Large) | 130 cm | 51.5" |
The trousers have a loose waist, because this is how the FDF specified it: should you choose a precisely fitting waist, the thighs and hips will prevent you from squatting. Please use the elastic waistband to adjust the fit: pull the width of your palm out for a good starting point.
Fashion fit: pick one size narrower than the official recommendation (realize you might not be able to squat)
FDF fit: tighten the waist adjustment (will be a bit tight around the thighs and butt)
Combat fit: pick one size wider and tug the elastic waistband until you're ready to kill-kill-kill!
The fabric will shrink in the first wash, this is accounted for in the cut. If you served in the Finnish army and these new clothes seem a bit larger than the issued ones, this is the reason.
These are one of our most returned products, all because people can't/don't use the waistband adjustment and the trousers are perceived as too large.
Materials
Fabric 3 50/50 polyester/cotton, 275 g/m2. This is the exact same material used in the latest production runs of the official issue uniforms. Naturally, the camo print is totally NIR compliant, so you don´t need to fear looking all lit-up when viewed through NVDs.
To make sure the fabric does not lose its NIR compliant properties we recommend careful wash using only detergents that are free of optical brighteners, basically, the more natural you get the better.
Sewn in Estonia
These are sewn in Estonia, by an experienced factory that has a long history of producing clothing for military, law enforcement, and emergency services.
Kierto Circular Economy
Return this product used but clean and unbroken, and you'll receive half of the product's original price as Varusteleka credits. Service is available only in Finland. Only Registered users can make Kierto returns. See more information about Kierto.
Varusteleka Särmä TST
Särmä TST is Varusteleka's in-house brand of clothing and gear designed for military and law enforcement end-users. Our clothing and equipment are made in co-operation with a number of experienced manufacturers with a strong background in producing clothing and gear for military and law enforcement officials, most notably for the Finnish Defence Forces. For further reading check out the Varusteleka's Särmä TST page.
Särmä TST products are covered by a 12-month warranty against defects in materials and workmanship. For further information please read our detailed warranty guide.
All products: Särmä TST
Recommendations
Loading products...
Reviews
You have already submitted a review. You can edit your text by clicking on it.
Log in and write a review.
Remove filter
Suomi
(25)
English
(17)
I would recommend for a friend
Gelmi G.

18.11.2016 (Edited 28.11.2016)
Great camo and great item, size run big: I take 750 and I wear an EU XL (100cm waist, US L, 52/5 Russian)... it runs a little bigger and I need to use the "elastic band" to shorter it... blocking botton is missing in my pants but not a real problem ;)

Over all it a great item!

Gelmi
9
0
I would recommend for a friend
Jacob A.

19.01.2017 (Edited 02.10.2017)
Preliminary out-of-the-box opinion. Not properly field tested! UpDated 24.01.2017.

Overall impression:
This jacket is not comparable in workmanship to the Arktis line of jackets, but neither is the price tag. You will have to pay two times as much for the Arktis B110 and more than three times as muck for the Arktis B221. You could also get better quality for less money if you would be lucky enough to find the "right" surplus uniform, in near-pristine condition, and in your size. For your money, you get a reasonable priced, european produced jacket without all the unnecessary "whistles and bells" seen on some jackets and with an acceptable quality.

General appearance:
This jacket is made from single layer fabric which is M05 "summer" camo on one side and plain white on the other side. There are no lining and there are no special reinforcements on the elbow area or other places like the shoulder area. The fabric seems to be kind of doubled over the elbow area and lower under arm. The fabric appears to be of good quality (maybe excellent?) but I am no tailor and have only had this uniform for days not years.

Sizing:
Take into account that I have not been washing my uniform as of yet. I am 175 cm and 85-90 kg with large thighs, standard to large chest, short legs and short arms. I will normally wear size M to L in jackets and size 34/30 in trousers. I have a size 750 jacket and size 750 trousers. The jacket is a nice fit for me. The trousers is a nice fit standing but seems to be a little too tight when squatting down. If you have large thighs you might consider to og up one size in width. Trousers in size 752 would propably have been a better fit for me. This uniform is available in a large array of sizes which of course is a trade off between fitment options and overall production costs and logistical costs.

Remarks (my personal opinion):
As mentioned this fabric is M05 "summer" camo on one side and white on the other side. This is not preferable, but not the end of the world either. I guess it keeps production costs down as the fix would be to have a more complex and thus more expensive dyeing process. The positive side is that you could turn the inside out and use this uniform as a kind of winther camo, but only with internal pockets (irony). The negative side is obvious in a tactical environment. This is not a problem with the trousers (as no male enemies are supposed to see the inside of your trousers), might be a nuisance with the jacket (in camp) and is a nuiscance with the hood as the inside of the hood is clearly visible when the hood is resting flat against your upper back. You will thus have to make sure that the hood is always cinched up whenever it is not in use. This will make it more annoying to use the hood. But this is propably more of an annoyance than a real problem.

I would have preferred normal buttons (not nescessarily canadian style buttons) at the thigh (cargo) pockets. Velcro is noisy, might freeze up in winther and hard to repair in field - all of which are not a problems with buttons.
I would have preferred some kind of dedicated reinforcement (cordura) at kness area for durability and water proofing.
I would have preferred smaller thigh (cargo) pockets on the shorter size trousers. Items, especially hard ones, wil thus bang against the back of your knees - a well known problem that is normally fixed by having two diffenret pocket sizes - one size for shorter size trousers and one size for normal and longer size trousers. This problem can be DIY fixed by closing off lower 1-2 inches of pockets with safety pins or with a horizontal stitching.
I would have preferred larger openings for the front (hand) pockets.
I would have preferred to have one or two open style back pockets. These are great for when you just need a "fast" temporary place for ear plugs and the like.
I would have preferred some kind of dedicated reinforcement at lower back area (lower 20 cm) for durability and water proofing.
I would have preferred some kind of dedicates reinforcement at crotch area. All "serious" heavy duty trousers should have some kind of reinforced wedge shape at this point or at least reinforced stitching.
5
9
I would not recommend to a friend
Risto R.

20.01.2017 (Edited 31.05.2021)
Onhan ne ihan hyvät päällä, mutta nappi irtosi ensimmäisellä käyttökerralla ja näkyy koko kampe olevan ommeltu samalla melko heikolla langalla. Epäilen että ompeleet ei tule kestämään kovaa kenttäkäyttöä kovinkaan montaa kuukautta. Urbaanitaistelijalla kestänee vähän pidempään.
30
7
I would not recommend to a friend
Teemu H.

23.02.2017 (Edited 31.05.2021)
Toivottavasti tästä tuotteesta tulee vahvistettu versio eli paikat polviin ja takapuoleen. (Esim teesarin housuissa ei oikeen haaroissa saumat pidä "kovemmalla" käytöllä). Odotan parempaa hinta/laatu-suhdetta tältä tuotteelta, 80€ housuihin pitäis kuulua jo vahviketta. Hienot ne muuten on.
23
7
I would recommend for a friend
Gary S.

06.03.2017 (Edited 31.05.2021)
Very happy with these, fit well and very adjustable. Might replace the velcro and zip with buttons at some point, but no biggie; these are solid and good to go, can't fault workmanship.
6
1
I would not recommend to a friend
Juuso H.

11.07.2017 (Edited 31.05.2021)
Mulla on ollu tässä vuosien mittaa kolmet reisitaskuhousut kalastuskäytössä. Särmä reisitaskuhousut, BW Molskihousut ja nämä M05 housut. Särmät ja molskit kestänyt hyvin, mitä nyt nappeja joutunut vaihtelemaan. M05:ssa ekalla käyttökerralla vetoketjusta veto-osa hajalle, korvasin sen avainlenkillä. Metsässä kävellessä kangas antoi periksi parin reissun jälkeen reisien kohdalta pelkästään oksiin ja kiviin raapimisesta, ja kerran ylittäessäni puunrunkoa repesi haaroista sauma oikein urakalla. Avaimet syöneet myös molemmat sivutaskut hajalle. Tätä ei ole muiden housujen kanssa tapahtunut, joten heikoilta tuntuu tuommoisessa perus metsä kävelyssä.
17
7
I would recommend for a friend
Leif M.

05.08.2017 (Edited 31.05.2021)
I am 185cm with about 98cm waist and 94cm Leg. So I Thought '854' would serve me right.
Wrong.
I understand there will be some shrinkage after the first washing, but how much can that be?
Right now I look like a tacticool Circus Clown.
On the other hand I do like the camo and the quality seems to be good. So I will order me a new pair in a much smaller size.
6
1
I would not recommend to a friend
Samu S.

Varusteleka employee

04.09.2017 (Edited 23.10.2018)
Reisitaskuihin ei mahdu laittamaan paljoa ennen kuin lahkeet puristuu reiteen kiinni, oman kokoiset housut kinnaa polvisuojat asennettuina joka suuntaan jalkojen ollessa hikiset ja pelkkä jalkojen nostelu on ikävää. Kokoa suurempi vaihtoehto tosiaankin voisi toimia paljon paremmin, kuten tuotekuvauksessakin kerrotaan. Kiertotalouspalautin housut ja vaihdoin Särmä TST L4 housuihin.
12
13
I would recommend for a friend
Christian F.

12.10.2017 (Edited 31.05.2021)
Very happy!Love the camo!Fits very well.
2
2