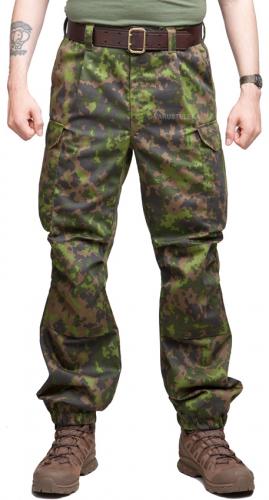 Särmä TST M05 RES cargo pants
Price 73.99 USD excluding VAT
Flat Rate Shipping to USA $9.99
Sold 58 pcs in the last two weeks
Loading products...
Trouble with the metric system? Try our converter: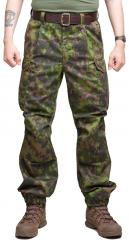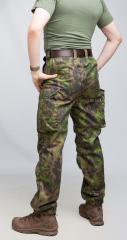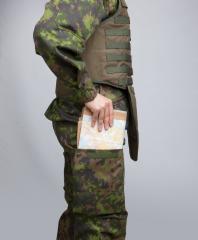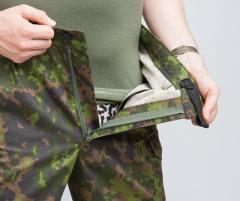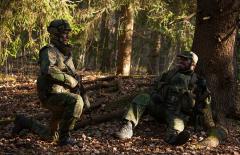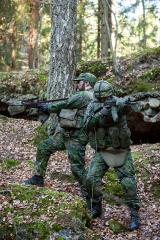 Our improved version of the Finnish military issue M05 summer woodland trousers. Looks just like the official issue stuff, but performs a little bit better! Officially M05 RES approved!
High waist with elastic band adjustment. The band has to be used to make the waist sit right! Otherwise these will feel very loose on the waist.
Zipper fly with button.
50 mm (2") wide belt loops.
Elastic bands in the leg ends.
Articulated knees and pockets for knee pad inserts.
Two side pockets and two cargo pockets.
Fabric: 50/50 CO/PES.
All materials are NIR compliant.
In comparison with the Finnish military official issue M05 trousers we have lifted the waist higher, made the side slash pockets deeper and enlarged the cargo pockets to better fit maps etc.
Official M05 RES approved clothing

M05 RES is an official Finnish Defence Forces inspection and approval system for commercially produced military clothing. A garment that is M05 RES approved is officially approved for use in military military exercises and other fun activities that the FDF organizes.

The M05 RES system is a small step in the right direction and a huge change in the general attitude of the Finnish military complex. Whereas ten years ago a simple non-issue dump pouch could get you in trouble we now have the possibility to create commercial clothing that can be officially approved for use. For us Finns this is a very, very welcome change and a good beginning to build on!
Sizing
The first number (6—9) of the three-digit size means length and the next two (44—60) stand for width in the European standard men's sizing. This is the official FDF standard.
The trousers have a loose waist, because this is how the FDF specified it: should you choose a precisely fitting waist, the thighs and hips will prevent you from squatting. Please use the elastic waistband to adjust the fit: pull the width of your palm out for a good starting point.
Fashion fit: pick one size narrower than the official recommendation (realize you might not be able to squat)
FDF fit: tighten the waist adjustment (will be a bit tight around the thighs and butt)
Combat fit: pick one size wider and tug the elastic waistband until you're ready to kill-kill-kill!
The fabric will shrink in the first wash, this is accounted for in the cut. If you served in the Finnish army and these new clothes seem a bit larger than the issued ones, this is the reason.
These are one of our most returned products, all because people can't/don't use the waist band adjustment and the trousers are perceived as too large.
Materials
Fabric 3 50/50 polyester/cotton, 275 g/m2. This is the exact same material used in the latest production runs of the official issue uniforms. Naturally the camo print is totally NIR compliant, so you don´t need to fear looking all lit-up when viewed through NVDs.
To make sure the fabric does not lose it´s NIR compliant properties we recommend careful wash using only detergents that are free of optical brighteners, basically the more natural you get the better.
Särmä TST
Särmä TST is Varusteleka's own in-house brand of clothing and gear designed for military and law enforcement end users. Our clothing and equipment are made in co-operation with a number of experienced manufacturers with a strong background in producing clothing and gear for military and law enforcement officials, most notably for the Finnish Defence Forces. For further reading check out the Särmä TST corner of our website.
Särmä TST products are covered by a 12-month warranty against defects in materials and workmanship. For further information please read our detailed warranty guide.
Sewn in Estonia
These are sewn in Estonia, by an experienced factory that has a long history of producing clothing for military, law enforcement and emergency services.
Reviews
You have already submitted a review. You can edit your text by clicking on it.
Log in and write a review.
Remove filter
Suomi
(14)
English
(10)
I would recommend for a friend
Gelmi G.

18.11.2016 (Edited 28.11.2016)
Great camo and great item, size run big: I take 750 and I wear an EU XL (100cm waist, US L, 52/5 Russian)... it runs a little bigger and I need to use the "elastic band" to shorter it... blocking botton is missing in my pants but not a real problem ;)

Over all it a great item!

Gelmi
9
0
I would recommend for a friend
Jacob A.

19.01.2017 (Edited 02.10.2017)
Preliminary out-of-the-box opinion. Not properly field tested! UpDated 24.01.2017.

Overall impression:
This jacket is not comparable in workmanship to the Arktis line of jackets, but neither is the price tag. You will have to pay two times as much for the Arktis B110 and more than three times as muck for the Arktis B221. You could also get better quality for less money if you would be lucky enough to find the "right" surplus uniform, in near-pristine condition, and in your size. For your money, you get a reasonable priced, european produced jacket without all the unnecessary "whistles and bells" seen on some jackets and with an acceptable quality.

General appearance:
This jacket is made from single layer fabric which is M05 "summer" camo on one side and plain white on the other side. There are no lining and there are no special reinforcements on the elbow area or other places like the shoulder area. The fabric seems to be kind of doubled over the elbow area and lower under arm. The fabric appears to be of good quality (maybe excellent?) but I am no tailor and have only had this uniform for days not years.

Sizing:
Take into account that I have not been washing my uniform as of yet. I am 175 cm and 85-90 kg with large thighs, standard to large chest, short legs and short arms. I will normally wear size M to L in jackets and size 34/30 in trousers. I have a size 750 jacket and size 750 trousers. The jacket is a nice fit for me. The trousers is a nice fit standing but seems to be a little too tight when squatting down. If you have large thighs you might consider to og up one size in width. Trousers in size 752 would propably have been a better fit for me. This uniform is available in a large array of sizes which of course is a trade off between fitment options and overall production costs and logistical costs.

Remarks (my personal opinion):
As mentioned this fabric is M05 "summer" camo on one side and white on the other side. This is not preferable, but not the end of the world either. I guess it keeps production costs down as the fix would be to have a more complex and thus more expensive dyeing process. The positive side is that you could turn the inside out and use this uniform as a kind of winther camo, but only with internal pockets (irony). The negative side is obvious in a tactical environment. This is not a problem with the trousers (as no male enemies are supposed to see the inside of your trousers), might be a nuisance with the jacket (in camp) and is a nuiscance with the hood as the inside of the hood is clearly visible when the hood is resting flat against your upper back. You will thus have to make sure that the hood is always cinched up whenever it is not in use. This will make it more annoying to use the hood. But this is propably more of an annoyance than a real problem.

I would have preferred normal buttons (not nescessarily canadian style buttons) at the thigh (cargo) pockets. Velcro is noisy, might freeze up in winther and hard to repair in field - all of which are not a problems with buttons.
I would have preferred some kind of dedicated reinforcement (cordura) at kness area for durability and water proofing.
I would have preferred smaller thigh (cargo) pockets on the shorter size trousers. Items, especially hard ones, wil thus bang against the back of your knees - a well known problem that is normally fixed by having two diffenret pocket sizes - one size for shorter size trousers and one size for normal and longer size trousers. This problem can be DIY fixed by closing off lower 1-2 inches of pockets with safety pins or with a horizontal stitching.
I would have preferred larger openings for the front (hand) pockets.
I would have preferred to have one or two open style back pockets. These are great for when you just need a "fast" temporary place for ear plugs and the like.
I would have preferred some kind of dedicated reinforcement at lower back area (lower 20 cm) for durability and water proofing.
I would have preferred some kind of dedicates reinforcement at crotch area. All "serious" heavy duty trousers should have some kind of reinforced wedge shape at this point or at least reinforced stitching.
2
8
I would not recommend to a friend
Risto R.

20.01.2017
Onhan ne ihan hyvät päällä, mutta nappi irtosi ensimmäisellä käyttökerralla ja näkyy koko kampe olevan ommeltu samalla melko heikolla langalla. Epäilen että ompeleet ei tule kestämään kovaa kenttäkäyttöä kovinkaan montaa kuukautta. Urbaanitaistelijalla kestänee vähän pidempään.
24
6
I would not recommend to a friend
Teemu H.

23.02.2017
Toivottavasti tästä tuotteesta tulee vahvistettu versio eli paikat polviin ja takapuoleen. (Esim teesarin housuissa ei oikeen haaroissa saumat pidä "kovemmalla" käytöllä). Odotan parempaa hinta/laatu-suhdetta tältä tuotteelta, 80€ housuihin pitäis kuulua jo vahviketta. Hienot ne muuten on.
19
6
I would recommend for a friend
Gary S.

06.03.2017
Very happy with these, fit well and very adjustable. Might replace the velcro and zip with buttons at some point, but no biggie; these are solid and good to go, can't fault workmanship.
5
1
I would not recommend to a friend
Juuso H.

11.07.2017
Mulla on ollu tässä vuosien mittaa kolmet reisitaskuhousut kalastuskäytössä. Särmä reisitaskuhousut, BW Molskihousut ja nämä M05 housut. Särmät ja molskit kestänyt hyvin, mitä nyt nappeja joutunut vaihtelemaan. M05:ssa ekalla käyttökerralla vetoketjusta veto-osa hajalle, korvasin sen avainlenkillä. Metsässä kävellessä kangas antoi periksi parin reissun jälkeen reisien kohdalta pelkästään oksiin ja kiviin raapimisesta, ja kerran ylittäessäni puunrunkoa repesi haaroista sauma oikein urakalla. Avaimet syöneet myös molemmat sivutaskut hajalle. Tätä ei ole muiden housujen kanssa tapahtunut, joten heikoilta tuntuu tuommoisessa perus metsä kävelyssä.
12
6
I would recommend for a friend
Leif M.

05.08.2017
I am 185cm with about 98cm waist and 94cm Leg. So I Thought '854' would serve me right.
Wrong.
I understand there will be some shrinkage after the first washing, but how much can that be?
Right now I look like a tacticool Circus Clown.
On the other hand I do like the camo and the quality seems to be good. So I will order me a new pair in a much smaller size.
4
1
I would not recommend to a friend
Samu S.

Varusteleka employee

04.09.2017 (Edited 23.10.2018)
Reisitaskuihin ei mahdu laittamaan paljoa ennen kuin lahkeet puristuu reiteen kiinni, oman kokoiset housut kinnaa polvisuojat asennettuina joka suuntaan jalkojen ollessa hikiset ja pelkkä jalkojen nostelu on ikävää. Kokoa suurempi vaihtoehto tosiaankin voisi toimia paljon paremmin, kuten tuotekuvauksessakin kerrotaan. Kiertotalouspalautin housut ja vaihdoin Särmä TST L4 housuihin.
7
9
I would recommend for a friend
Christian F.

12.10.2017
Very happy!Love the camo!Fits very well.
0
2
I would not recommend to a friend
Juho E.

30.10.2017 (Edited 31.12.2017)
Ostin kerran ja vaihdoin, olen kokoa 178cm pitkä ja vatsaleveys 120-130cm. Otin ensin koon 868 housuissa ja takissa, joutusin palauttamaan kun oli liian isot. Tilasin molemmat kokona 764-66, saapui tänään. Pöksyt on ihan LIIIIIAN väljät, ja lahkeet liian pitkät. Reisien kohdassa törröttää vaikka kuinka ylimääräistä kangasta. Takin hihat ovat ihan liian leveät ja paksut. Takki on ainoa mitä voisi harkita käyttää vähän pienemmällä varauksella, mutta saa katsoa mitä teen, palautanko ja otan rahat takaisin vai pidänkö..

Päivitys: 31.12.2017:

Käytössä ollut nyt joka viikon lauantaina, eikä ole vielä pettänyt kummassakaan mikään. Takin taskujen vetoketjut on vain hieman vaikeat. Arvosana 3/5
0
2
I would recommend for a friend
Esa P.

24.01.2018
Hyvät jalassa ja kestävät urbaanikäytössä. Pulskalla ja lyhytjalkaisella jää lahkeet kantapäitten alle, lähes joka pöksyillä. Kaipaisin M62-kuviota.
2
0
I would recommend for a friend
Kimmo S.

11.02.2018
Näitä ei voi olla vertaamatta intin housuihin, ovathan ne kohdallani menestyksekkäästi korvanneet esikuvansa maanpuolustustoiminnassa.

Mitoitus on kohdillaan. Ei kulkusia kiristä eikä persvako vilku. Saman koon otin kuin mitä puolustusvoimissa olen käyttänyt ja istuvat just eikä melkein. Istuminen onnistuu nyt ilman kassien hioutumista. Reisitaskuun mahtuu mukavasti Lekan karttatasku, mutta myös karvalakki menee sinne jemmaan kätevämmin kuin esikuvassaan. Kestävyys tuntuu vähintään yhtä hyvältä kuin firmankin puvuissa, mihin ei paljoa vaadita, koska jakotavara on herkkää repeämään. Näitä en vielä ole saanut rikki, vaikka monet kerrat on metsässä tullut oltuakin näissä.

Hankin ennen näitä Inttistoren (rauha hänen muistolleen) m05-pukua kaksin kappalein, mutta toisen myin pois nämä saatuani ja toiset vein mökkikamppeiksi. Tosin jos housuja tulisi omaa kokoa vielä, niin todennäköisesti korvaan mökkikamppeetkin näillä. Erityisesti housuissa kun istuvuus on tärkeää.
1
2
I would recommend for a friend
Toutou S.

24.04.2018
Great quality, not tested yet on field (bough for airsoft purpose), i'm 189cm for 100kg (115cm waist and i picked up the 860 (180-190 / 104-116 cm) )
The cut is really loose, i think there is almost 20cm loose at my waist, but this is ok since we have spring tensioner at the waist, this can work well in winter with few layers under. Anyway -0.5 star for "not that close" size charts

The overall quality seems solid.
Really happy with this trousers and my wife will order one soon :)
1
1
I would recommend for a friend
Alexander B.

30.04.2018
Very comfortable with nice features and large pockets. The elastic bands however are a bit loose and can slide off your boots if you crawl around a lot and the sizes run a bit large. I'm 173cm and sizes in the 600 range are actually quite good length-wise. The pockets for knee padding are nice, but they'd probably be better if they were on the inside instead. They're perfect for airsoft use and are very durable compared to other pants in the same price range.
0
1
I would recommend for a friend
Albert H.

30.07.2018 (Edited 20.12.2018)
Ihan kelpo housut metsässä seikkailemiseen. Polvisuojakolo on uhka ja mahdollisuus; polvet ei hengitä, (sama ongelma kun 91 puvussa) mutta halutessaan voi iskeä sinne ne suojat. Ratkoin itse pois ne, nyt on aivan perkeleen hyvät hiostavillakin keleillä
0
2
I would recommend for a friend
Erkki J.

15.08.2018
Oikein juhlavat maasto-housut ja mitat on justiinsa oikeat. suosittelen ostamaan.
3
2
I would not recommend to a friend
Juho m.

23.08.2018
Ihan hyvät housut jalassa, mutta erittäin heikot saumat.. 5kk käytön jälkeen haaroista petti sauma ja housut muuttui kaksi osaiseksi..
4
2
I would not recommend to a friend
Simo S.

10.09.2018
Housut palvelivat minulla ehkä kuukauden arvosta reservin maastopäiviä kunnes kangas repesi haaroista (sauman vierestä) noustessani kuorma-autoon. Vaikka Varusteleka mainostaa korkeampaa vyötäröä parannuksena, minulle siitä on ollut lähinnä haittaa, sillä housujen istuessa lantiolla haaroväli laskee reisien puoliväliin, mikä johtaa liikeradan selkeään rajoittumiseen. Housuissa ei myöskään ole henkselikiinnikkeitä, joilla korjata valumista.

Intin aikana en onnistunut kertaakaan repimään housujani, enkä kokenut liikeratojeni olleen samalla tavalla rajoittunut kuin näiden kanssa, joten PV:n leikkaus vie siinä suhteessa voiton.
13
4
I would recommend for a friend
Tommi M.

14.09.2018
Hyvät housut kyllä kieltämättä! Toinen sivutasku oli vaan ommeltu lähes kiinni mikä oli minusta aika erikoista. Eipä siinä, äkkiähän nuo puukolla ratkes ja sain käden housuun (tai taskuun).
4
3
I would not recommend to a friend
N.N.

20.10.2018
Ostin kahdet yhdellä kertaa, ensimmäiset ja viimeiset.
5
4
I would recommend for a friend
veeti l.

14.11.2018
hyvät yleis/ampumis/softaus housut
4
0
I would recommend for a friend
Jeffrey M.

20.02.2019
Great set of pants. I am larger sized and have trouble finding pants that are rugged enough for the outdoors and the guys at Varusteleka were more than happy to help me out and recommend me these. I bought one set just to be safe, loved them and bought some more. Also got the foam inserts for the knees for kneeling on rough ground. Very well made and rugged. great size range as well so make sure you measure yourself and they will have the best fit for you.
0
1
I would recommend for a friend
Chris K.

27.05.2019
I really like the M05-camo since they work very well in my area and I had to wear German Flecktarn for four years every day. That being said, these pants are well made and fit well enough. Quite baggy, but that seems to be the new trend. The pockets are huge and a bit too big for myself. If you fill them up, the hook and loop closure has trouble to keep the pocket closed.
0
0
I would recommend for a friend
Arian W.

13.08.2019
Great quality, very practical and cheap considering what you get. They fit like a bag however and unless that is your thing i wouldnt wear them for fashion, sizes run very big and the waist is so high that with a beerbelly its basically a luxurious potato sack. That is no critisism when using them for practical ends and it gives your "equipment" plenty of breathing room. If neat fitting stylish trousers are your thing tho i would reccomend the more expensive variant wich is superior in every way exept for the price tag.
0
0