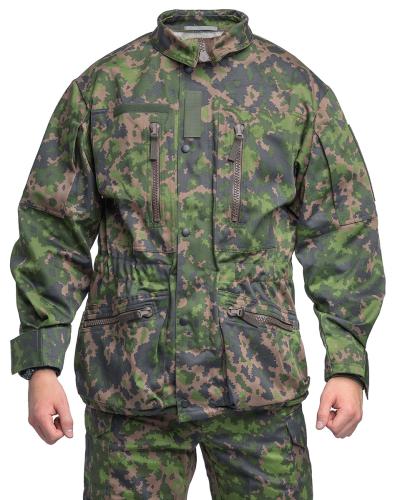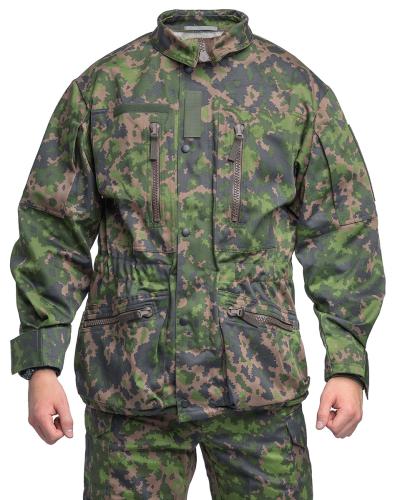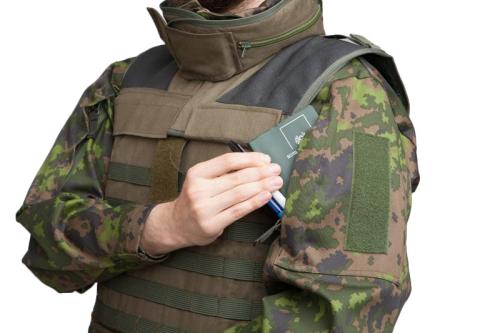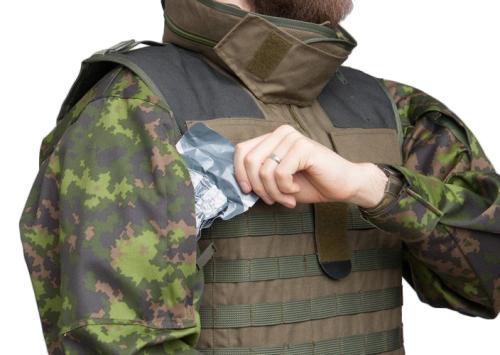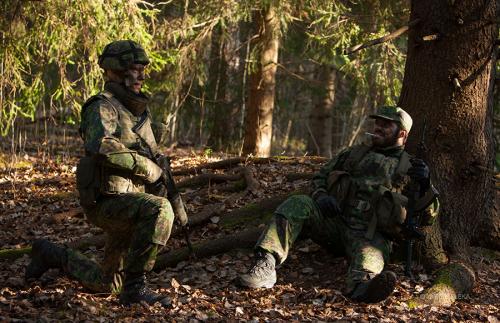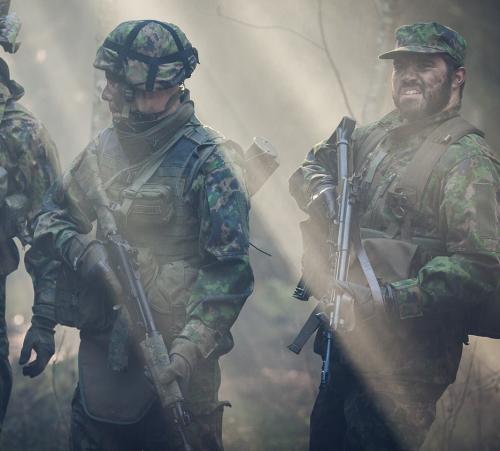 Show all: Särmä TST
Särmä TST M05 RES camo jacket
Price 104.99 USD
excluding sales tax
Our improved version of the Finnish military issue M05 summer woodland jacket. Our enhanced version features two zippered sleeve pockets and better adjustable cuffs. Looks just like the issue jacket at first glance, but functions a little bit better. Officially M05 RES approved!
Loading products...
Trouble with the metric system? Try our converter: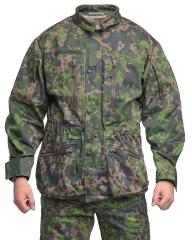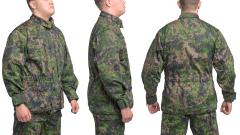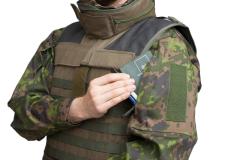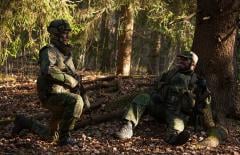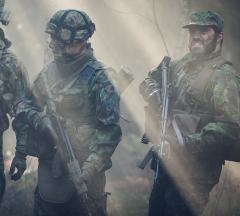 Our improved version of the Finnish military issue M05 summer woodland jacket. Our enhanced version features two zippered sleeve pockets and better adjustable cuffs. Looks just like the issue jacket at first glance, but functions a little bit better. Officially M05 RES approved!
Roomy, generous cut.
Full length front zipper with press stud flap.
Fold up collar for protection against wind.
Hook-and-loop adjustable cuffs.
Elastic cord adjustable waist and hem.
Two hem pockets, two chest pockets and two sleeve pockets.
Loop for name, rank and sleeve insignia.
Fabric: 50/50 CO/PES.
All materials are NIR compliant.
In comparison with the Finnish military official issue M05 jacket we have improved the cuffs for better adjustment range and added two practical yet quite inconspicuous zippered sleeve pockets!
Official M05 RES approved clothing

M05 RES is an official Finnish Defence Forces inspection and approval system for commercially produced military clothing. A garment that is M05 RES approved is officially approved for use in military military exercises and other fun activities that the FDF organizes.

The M05 RES system is a small step in the right direction and a huge change in the general attitude of the Finnish military complex. Whereas ten years ago a simple non-issue dump pouch could get you in trouble we now have the possibility to create commercial clothing that can be officially approved for use. For us Finns this is a very, very welcome change and a good beginning to build on!
Sizing
The first number (6—9) of the three-digit size means length and the next two (44—60) stand for width in the European standard men's sizing. This is the official FDF standard.
| Length | Length number | User height | User height inches |
| --- | --- | --- | --- |
| Short | 6 | 160-170 cm | 5' 3" - 5' 7" |
| Regular | 7 | 170-180 cm | 5' 7" - 5' 11" |
| Long | 8 | 180-190 cm | 5' 11" - 6' 3" |
| X-Long | 9 | 190-200 cm | 6' 3" - 6' 7" |
The jackets have a loose cut to fit layers of clothing underneath and offer unrestricted movement. For a tighter fit you may consider sizing down, but in any case the elastic waist adjustment is meant to be used: start with at least two open holes visible on both sides.
The fabric will shrink in the first wash, this is accounted for in the cut. If you served in the Finnish army and these new clothes seem a bit larger than the issued ones, this is the reason.
Materials
Fabric: 50/50 polyester/cotton, 275 g/m2 / 8.1 oz/yd2. This is the exact same material used in the latest production runs of the official issue uniforms. Naturally the camo print is totally NIR compliant, so you don´t need to fear looking all lit-up when viewed through NVDs.
To make sure the fabric does not lose it´s NIR compliant properties we recommend careful wash using only detergents that are free of optical brighteners, basically the more natural you get the better.
Sewn in Estonia
These are sewn in Estonia, by an experienced factory that has a long history of producing clothing for military, law enforcement and emergency services.
Varusteleka Särmä TST
Särmä TST is Varusteleka's in-house brand of clothing and gear designed for military and law enforcement end-users. Our clothing and equipment are made in co-operation with a number of experienced manufacturers with a strong background in producing clothing and gear for military and law enforcement officials, most notably for the Finnish Defence Forces. For further reading check out the Varusteleka's Särmä TST page.
Särmä TST products are covered by a 12-month warranty against defects in materials and workmanship. For further information please read our detailed warranty guide.
Recommendations
Loading products...
Reviews
You have already submitted a review. You can edit your text by clicking on it.
Log in and write a review.
Remove filter
Suomi
(3)
English
(9)
I would recommend for a friend
Jacob A.

19.01.2017 (Edited 06.04.2017)
Preliminary out-of-the-box opinion. Not properly field tested! UpDated 24.01.2017.

Overall impression:
So I have had some time to correct my review. I really like this jacket, but I really do not like the zipper solution. This jacket is not comparable in workmanship to the Arktis line of jackets, but neither is the price tag. You will have to pay two times as much for the Arktis B210 and more than three times as muck for the Arktis B221. You could also get better quality for less money if you would be lucky enough to find the "right" surplus uniform, in near-pristine condition, and in your size. For your money, you get a reasonable priced, european produced jacket without all the unnecessary "whistles and bells" and with an acceptable quality.

General appearance:
This jacket is made from single layer fabric which is M05 "summer" camo on one side and plain white on the other side. There are no lining and there are no special reinforcements on the elbow area or other places like the shoulder area. There is a piece of membrane on the inside over the elbow area and lower under arm for water proofing.The fabric appears to be of good quality (maybe excellent?) but I am no tailor and have only had this uniform for days not years.

Sizing:
Take into account that I have not been washing my uniform as of yet. I am 175 cm and 85-90 kg with large thighs, standard to large chest, short legs and short arms. I will normally wear size M to L in jackets and size 34/30 in trousers. I have a size 750 jacket and size 750 trousers. The jacket is a nice fit for me. The trousers is a nice fit standing but seems to be a little too tight when squatting down. If you have large thighs you might consider to og up one size in width. Trousers in size 752 would propably have been a better fit for me. This uniform is available in a large array of sizes which of course is a trade off between fitment options and overall production costs and logistical costs.

Remarks (my personal opinion):
As mentioned this fabric is M05 "summer" camo on one side and white on the other side. This is not preferable, but not the end of the world either. I guess it keeps production costs down as the fix would be to have a more complex and thus more expensive dyeing process. The positive side is that you could turn the inside out and use this uniform as a kind of winther camo, but only with internal pockets (irony). The negative side is obvious in a tactical environment. This is not a problem with the trousers (as no male enemies are supposed to see the inside of your trousers), might be a nuisance with the jacket (in camp) and is a nuiscance with the hood as the inside of the hood is clearly visible when the hood is resting flat against your upper back. You will thus have to make sure that the hood is always cinched up whenever it is not in use. This will make it more annoying to use the hood. But this is propably more of an annoyance than a real problem.So is this a deliberate feature or a cost saving solution? I do not know and I both kind of like it and dislike it.
I would have preferred normal buttons (not nescessarily canadian style buttons) at the hip (cargo) pockets and the "light duty" zippers on the chest pockets. The "heavy duty" zippers used on the hip (cargo) pockets and on the chest pockets are not a great choice in my opinion. All theese four pocket zippers resist closing completely - they have a hard time going the last inch or so. You wil have to use both hands in order to close the pockets completely which is annoying. Might be fixable with some sort of grease though. The "light duty" zippers used at the upper arm pockets does not seem to have this problem. Zippers are noisy, might freeze up in winther and are hard to operate when placed horizontally - all of which is not a problem with buttons.
I would have preferred some kind of dedicated reinforcement (cordura) at elbow/underarm area for durability and water proofing but there is a piece of membrane on the inside though over this area.
I would have preferred larger hip (cargo) pockets.
I would have preferred to have a vertical "space" or "dump pouch" behind the hip (cargo) pockets. Such a space would be great for hand warming and for immediate use (magazines, grenades) when not wearing belt gear.
I would have preferred some kind of dedicated reinforcement at lower back area (lower 20 cm) for durability and water proofing.
I would have preferred a large horizontal inner pocket at lower back for one pair of (flat) thick woolen socks. This will also keep your lower back warm. I am used to this feature from the danish M/84 jacket.
14
16
I would recommend for a friend
Darren A.

03.04.2017 (Edited 31.05.2021)
Great quality again, be careful when ordering. If in doubt drop a size as postal returns from UK are expensive. Lots of pockets and very functional. Great woodland camo too. Very pleased.
12
4
I would recommend for a friend
Toutou S.

24.04.2018 (Edited 01.06.2021)
Great quality, not tested yet on field (bough for airsoft purpose), i'm 189cm for 100kg (115cm waist and i picked up the 860 (180-190 / 112-120 cm) )

The cut is really loose, but this is ok since we have waist spring tensioner and wrist velcro, this can work well in winter with few layers under.



The overall quality seems solid, the chest zipper can be difficult to close, but since you have the right move, no problem at all.



Really happy with this jacket and my wife will order one soon :)

Edit : Tested on field, this work perfectly, the loose cut allows almost every possible moves, perfect for my woodland airsoft combat use.
5
6
I would recommend for a friend
Erkki J.

15.08.2018 (Edited 01.06.2021)
Oikein juhlava Maasto-takki ja mitat jus, eikä melkein, suosittelen ostamaan.
19
7
I would recommend for a friend
Arian W.

03.10.2019 (Edited 05.06.2021)
Oversized seems to be a theme with the RES stuff, after tightening all the cords iam still wearing a bag. I should have ordered a size smaller (or 2) but unfortunately exchanging the item is too expensive right now due to the shipping cost.

Other then that the quality is good, its actually reasonably waterproof and has plenty of pocket space. For practical outdoor use even this oversized jacket will do very well. For a fashion fit however even 1 size smaller may be too big. While it is mentioned that this jacket is oversized i still feel varusteleka could give us more accurate sizes because picking the right size from the measurements they provide for it is just not possible unless you know just how oversized they actually are.

I would certainly reccomend this jacket to a friend but i would advice them a much smaller size.
0
2
I would recommend for a friend
Ari-Pekka D.

21.12.2019 (Edited 06.06.2021)
I have not used the jacket much yet, but the first impressions are good. I was about to get get the size 758 because numbers-wise it should be the right size for a 174cm/103kg fatso. But it's not, the 758 was like a tent to me and a bit too long making it somewhat baggy. Fortunately, being at the site, I was able to test other sizes in the rack and the 654 turned out to be a perfect fit. It's a loose fit, not a sausage skin, that allows you to put more clothes under it still not being tight at the same time not being baggy. And there's lots of room for shoulders and hands.
1
0
I would recommend for a friend
Kevin W.

24.04.2020 (Edited 06.06.2021)
I purchased this jacket several weeks ago and have worn it pretty much daily since. The jacket is very well made with excellent attention to detail in the sewing. It's unlined and not too heavy for mild Spring weather -- and has great pockets. I am 1,75m, weigh 75 kilo and a 32 waist jeans. Usually I wear a 50 suit jacket, sometime a 52 if they are cut tight. I purchased this jacket in size 750 as I didn't plan to wear a ton of things under it. The fit is perfect, loose enough to still allow free movement and still sits well on the shoulders. Very happy indeed! Another great product from a company I already admire. Keep up the good work!
4
0
I would recommend for a friend
Kamal b.

09.11.2020 (Edited 06.06.2021)
great product but can be better wapicially the zippers .
0
0
I would recommend for a friend
Vili L.

14.02.2021 (Edited 15.06.2021)
Juuri sitä mitä pitääkin olla, mutta nimikyltin pohjavelcropinta on häiritsevän leveä ja arvomerkin taas pitkä. Typerän näköinen kun PVn standardikokoisten nimikyltin ja arvomerkin reunoilta tulee paljon sitä pohjavelcropintaa näkyville.
3
0
Kierto Circular Economy
Return this product used but clean and unbroken, and you'll receive half of the product's original price as Varusteleka credits. Service is available only in Finland. Only Registered users can make Kierto returns. See more information about Kierto.